TERMS OF USE: There is a chance that some of the content on this page has changed since it was last updated. By reading this article, you consent to our Terms of Use and Disclaimer. Happy Travels!
DISCLOSURE: Some of our posts may contain affiliate links which we may receive a commission if you choose to book something through one of our links.
Europe has some amazing gay beaches where you can get your recommended daily dose of both Vitamin Sea and Vitamin D…!!
If you know us, then it should come as no surprise that we adore spending our free time playing among the sand and the surf. But suppose we were to be a bit more Pacific about the location of our favorite gay beaches. In that case, it might surprise you to know that the majority of those faves would be found in Europe.
We made this judgment based on a variety of criteria, including the cleanliness of the area, the size of the crowds, and the number of hot men proudly sporting their speedos. Based on our experiences alone, European gay beaches come out on top time and time again…and is also where you're most likely to find us unashamedly showing off our latest speedos or our humble birthday suit!
Feeling salty that we have yet to disclose the whereabouts of these slices of queer paradise? Well, it looks like today's your lucky day! The Nomadic Boys are here to show you the best gay beaches Europe has to offer travelers and locals alike, all in one comprehensive guide. Get ready to laugh, party, and take the best thirst traps of your life as you visit these glorious coastal havens.
1. Bassa Rodona beach – Sitges, Spain
Barcelona in Spain is like a gay haven for European gays. We all love it and have been there at least once. We've been many times and definitely consider it a place we'd want to live one day. The icing on the cake about Barcelona is its proximity to Sitges, a town 45 minutes train ride away, which we also rate as one of the best gay vacation destinations in the world.
Sitges is an old fishing village, located 22 miles (35km) southwest of Barcelona. Today it is a small coastal town with less than 30,000 inhabitants. It's super cute, with pretty, quaint, narrow streets, beautiful beaches, lots of bars, restaurants, and boutique shops.
And it's SO gay!
Throughout the year, Sitges is like a pilgrimage for the gay boys. The summer months are of course the peak times to visit when most of the Barcelona party crowd come here to hang out.
There are many gay beaches here that the place feels like a catwalk for gay swimwear fashion. The most popular is Playa de la Bassa Rodona, near Hotel Calipolis. Nudists will want to head over to Playa del Muerto or Playa de las Balmins.
Popular times to visit Sitges are in February for the Gay Carnival, June for Sitges Pride, July/August is peak summer season and in September for Bear Sitges Week. For more, check out our gay guide to Sitges and our gay guide to Barcelona.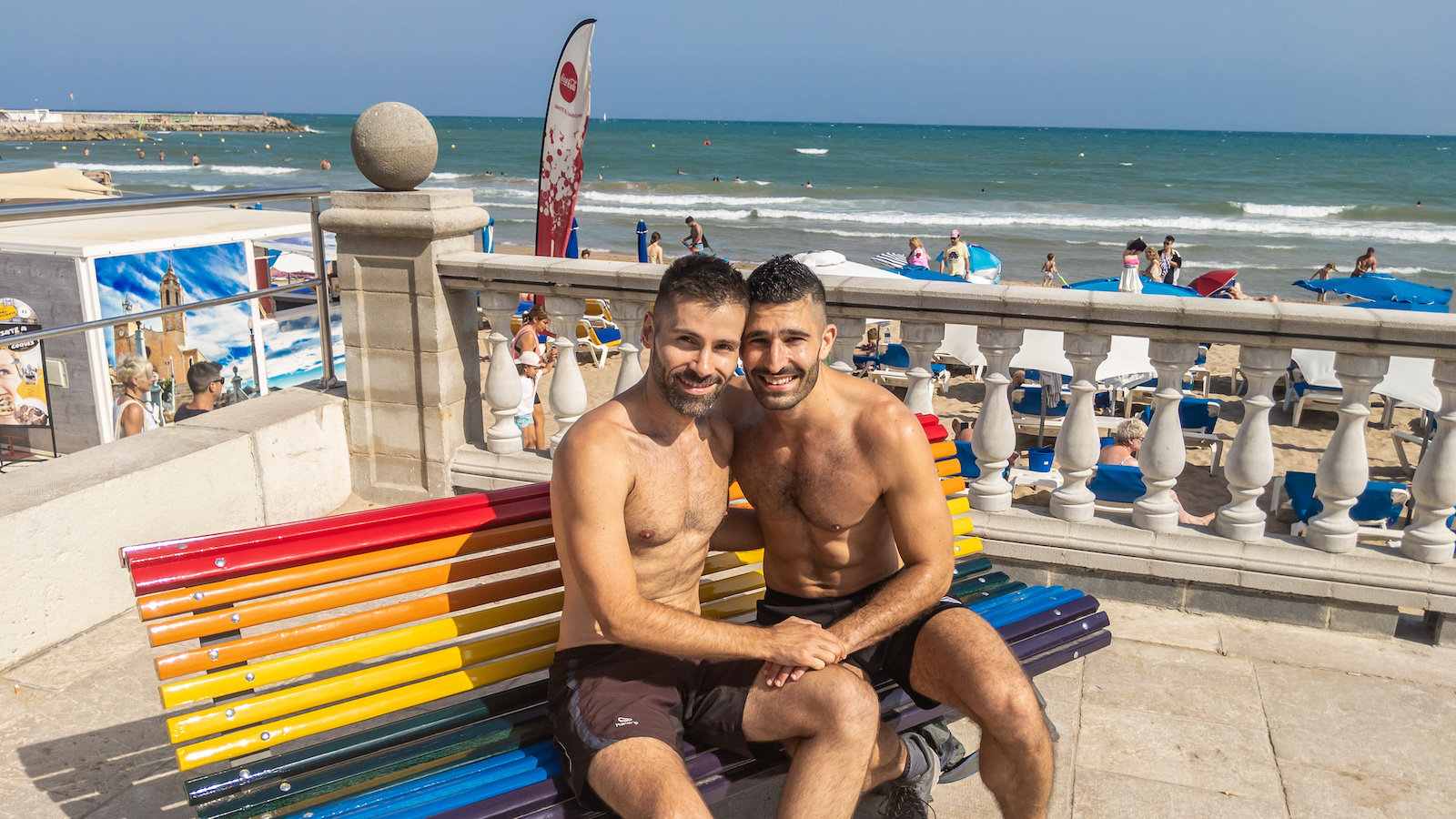 2. Elia beach – Mykonos, Greece
Next on the rite of passage for any good gay is Mykonos island in Greece, specifically the gay beaches on the south of the island: Elia, Paradise, and Super Paradise. Head here in July or August and they are packed full of gay boys.
Their popularity has grown so much that they've been discovered by the straight crowd who also now head here. Elia beach however remains the most popular with the gay crowds, with a rainbow flag standing proud. Beyond Elia beach is a second, more isolated beach, which is popular with nudists at its far end.
The summer months of July/August are the most popular, with the famous XLSIOR gay party taking place in late August/early September. If you're heading here in the summer months, do yourself a favor and be sure to bookmark and read our comprehensive gay guide to Mykonos!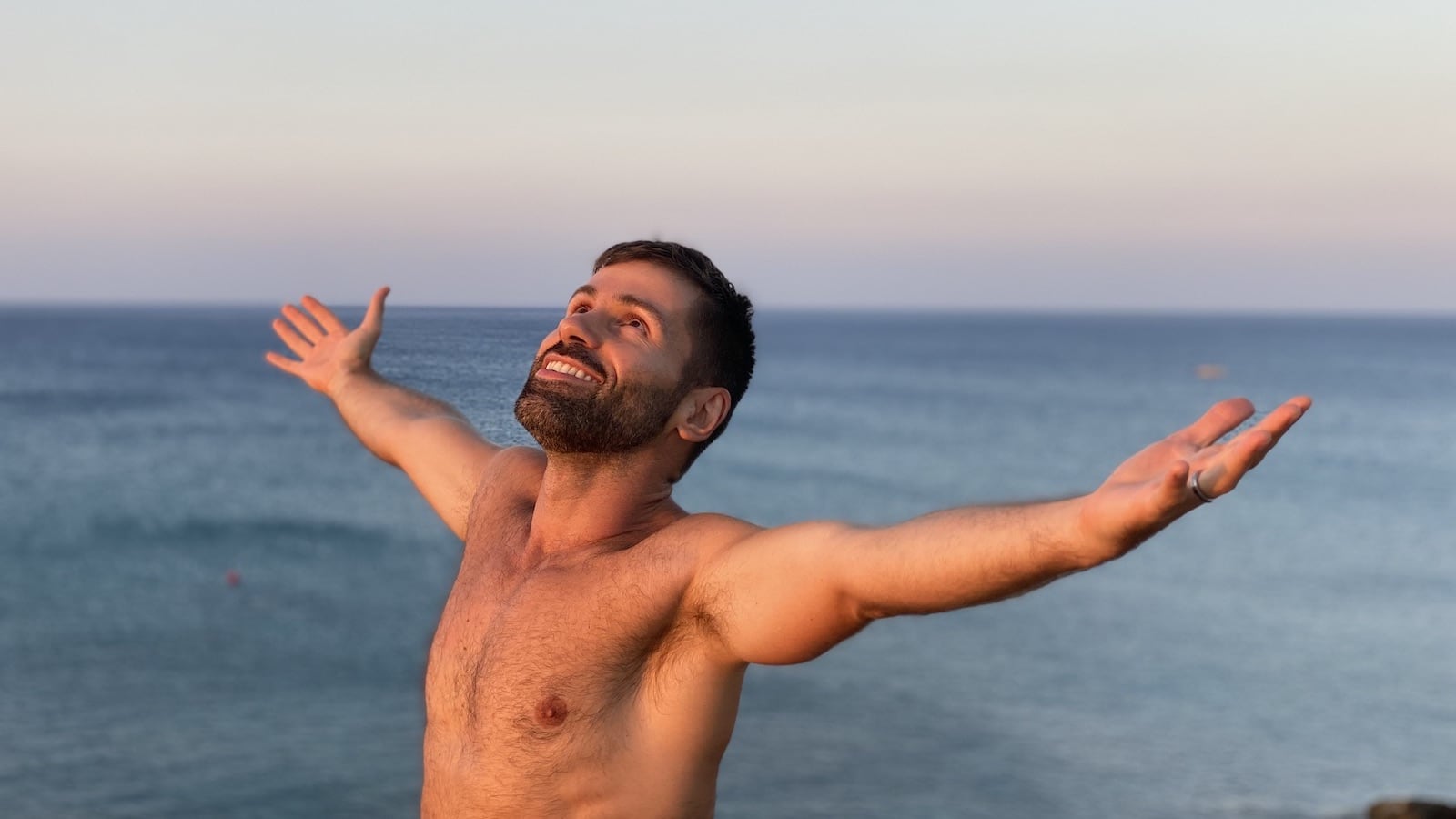 3. Es Cavallet beach – Ibiza, Spain
Ibiza island is like nowhere you've ever been before. We arrived at 3 am on a Wednesday morning in Ibiza main town and the place was just buzzing with atmosphere. It's an incredibly exciting place to be, whether you love partying or not. It's a very pretty island, with some of the most famous clubs in the world, and, it has one of our favorite gay beaches in the world.
Es Cavallet beach is located on the southern end of Ibiza, where all the gay boys hang out during the day. To reach it, you take the bus from Ibiza main town, then walk for around 20 minutes through a small forest. Because of the journey, you'll develop a sense of camaraderie with fellow travellers on board and will quickly make friends. The beach is of course stunning and has its own cruising area behind it amongst the bushy dunes. It's officially a nudist beach, so draws out gay men in their numbers.
Peak season for Es Cavallet beach is July and August when it's packed full of gays. If you prefer fewer crowds, then consider going in June, September and early October.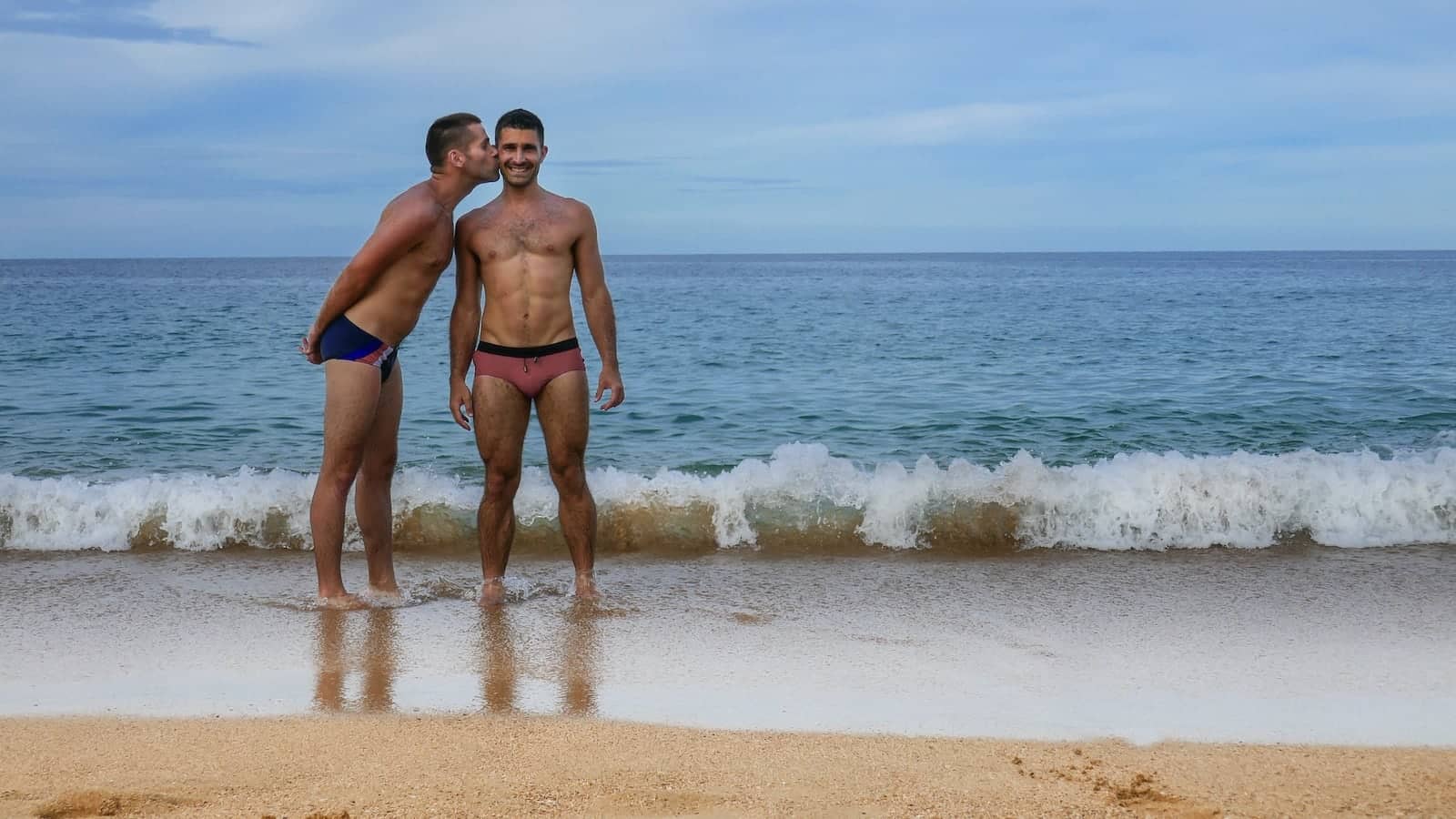 4. Kiosk #7 beach – Gran Canaria, Spain
That's the third one from Spain and for good reason. Not surprising as the country does have incredible beaches, but in addition, Spain is also one of the most gay friendly countries in the world.
Gran Canaria is a popular gay destination for us European gays, throughout the year. This Spanish island is part of the Canary Islands, which lies off the coast of Africa, therefore guaranteeing almost 365 days of great weather.
We also love it because in the southern part of the island in Maspalomas and Playa del Ingles there is a massive gay scene. The Yumbo Centre is the focal point, a large shopping mall full of gay bars, clubs, restaurants, and boutique shops. It's a gay man's paradise. Slightly further south of this is the large gay beach of the island, by Kiosk #7. It's almost busy here with guys in tight speedos as well as their full birthday suits! Yup – Kiosk #7 is another nudie beach and in our humble opinion one of the top gay nude beaches in the world to check out.
To reach the gay beach of Gran Canaria, start at Riu Hotel in Playa del Ingles, then head out into the sand dunes, following the trail of gay boys for around 20 minutes, until you hit the rainbow paradise on the other end. Read more in our gay guide to Gran Canaria.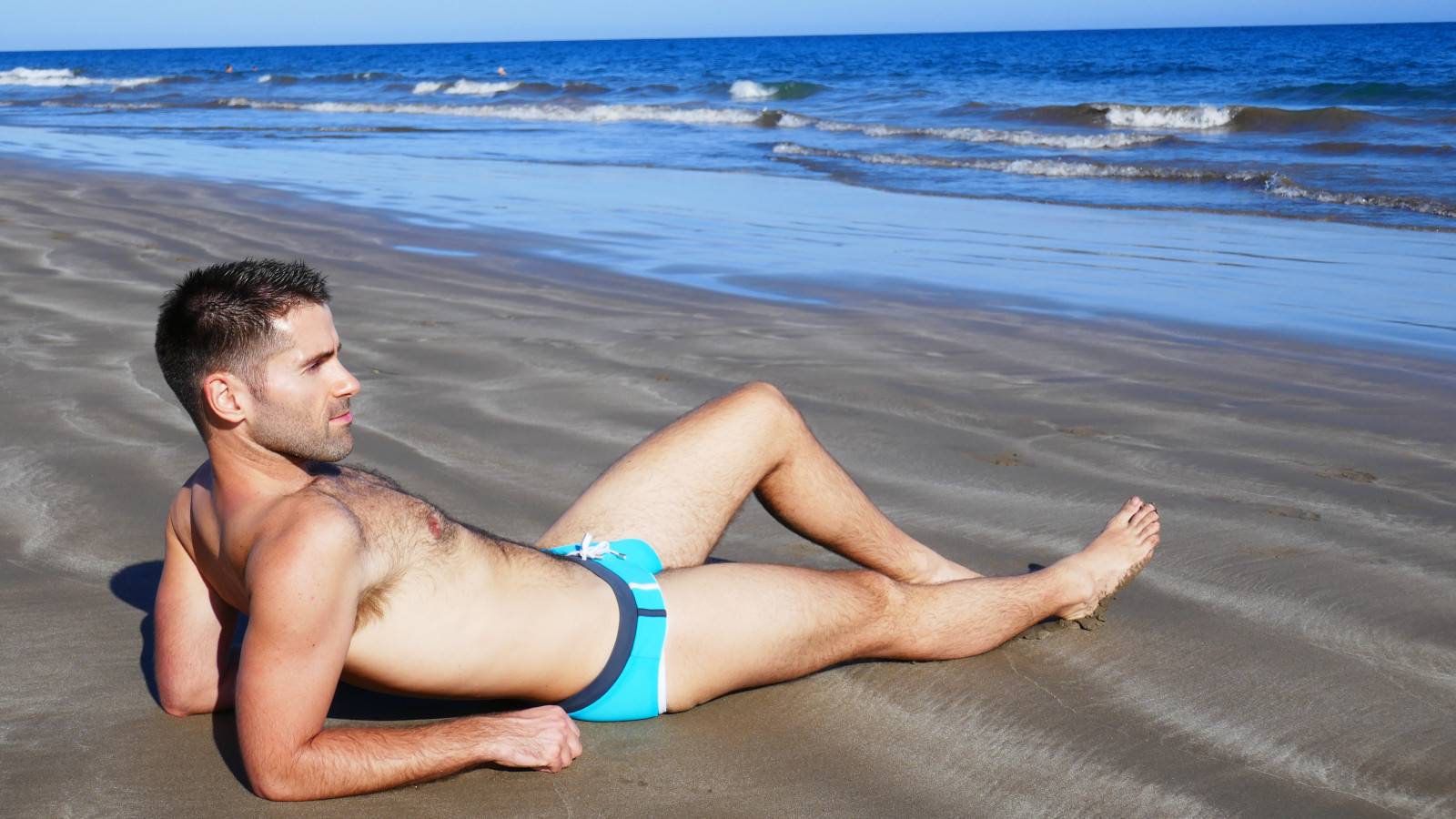 5. Beach 19 – Lisbon, Portugal
Lisbon is a completely underrated European city, offering a mix of ancient architecture, Instagrammable vistas, smoking hot guys and a fun party atmosphere, especially in the Bairro Alto neighbourhood.
However, the big draw for us in Lisbon during the summer months is the legendary Beach 19. Between April and October, those pretty Lisbon gay boys come here in large numbers to hang out.
Beach 19, or Praia de Bela Vista, is in fact a nature reserve along the Caparica Coast, around 12km south from Lisbon. Historically, Beach 19 was a famous cruising spot for closeted gays, but it has since evolved to become one of the best gay beaches in Europe and also for nudists.
You used to be able to get to Beach 19 via train but this no longer runs all the way, so the easiest way to visit is by getting a taxi or an Uber.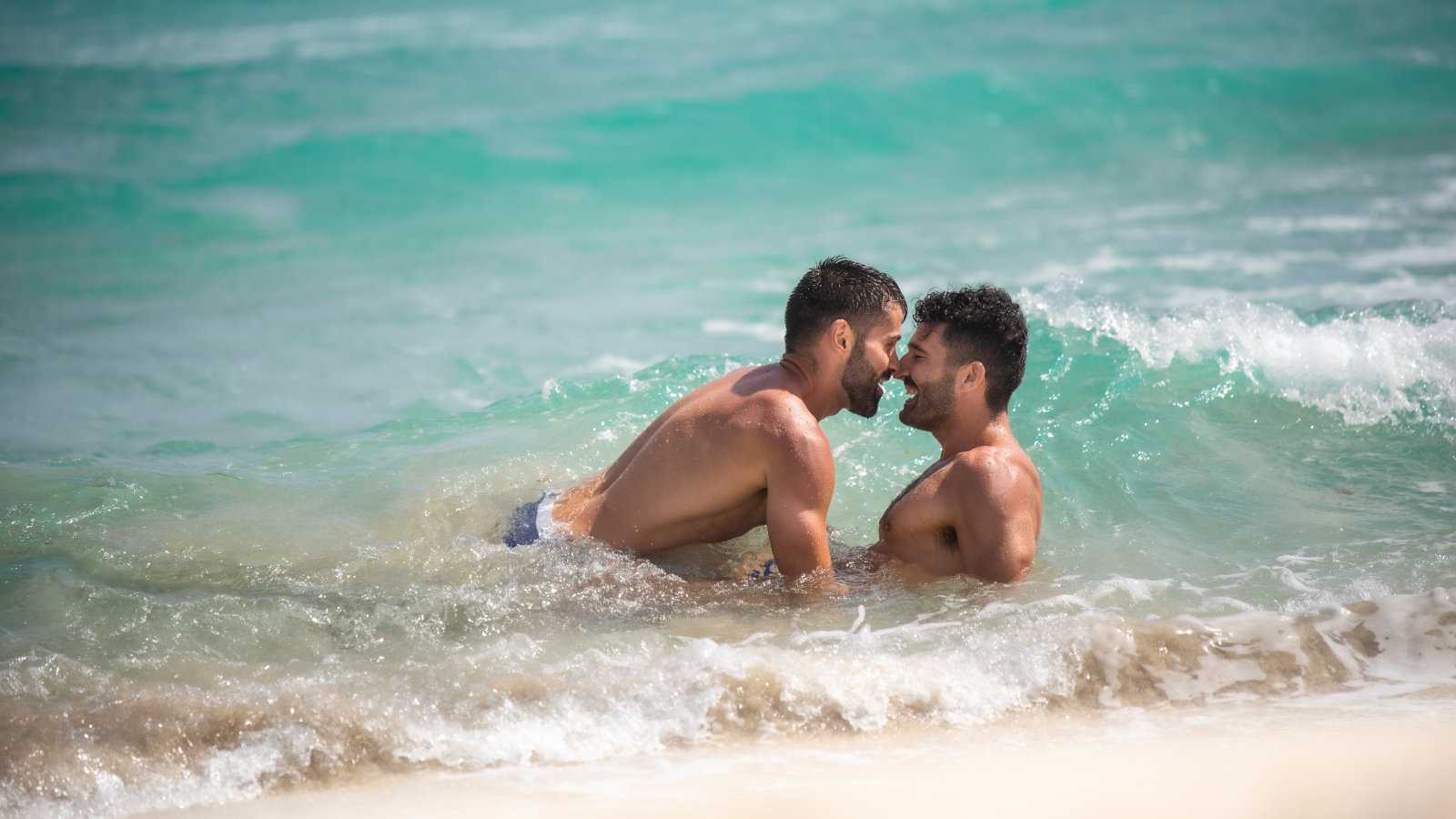 6. Mar Bella – Barcelona, Spain
In Spanish, the name Mar Bella literally transfers to "beautiful sea." Now, whether that phrase refers to the dazzling ocean waters or the alluring congregation of men dressed only in their birthday suits… We'll leave that up to you!
Despite all the time that has passed since its conception, Mar Bella beach has remained a pristine, unintimidating vacation spot for LGBTQ folks to unwind. Even though it is relatively close to the city, Mar Bella is a surprisingly quiet and well-maintained space for gay boys searching for some fun in the sun.
And with numerous facilities like a nautical base that offers kayaking excursions, a basketball court, a skating area, and a volleyball net, there is never a shortage of thrills. However, if you're in the mood to relax, feel free to spread across the sand with a book from the beach library. There is no judgment here whatsoever.
This beach is one of our all-time favorites – not just in Spain but across the entire globe. To this day, we will never forget our dear memories of chatting it up with some handsome boys before grabbing drinks at the on-site Chiringuito Begay bar and splashing the day away in the warm water… It's simply divine!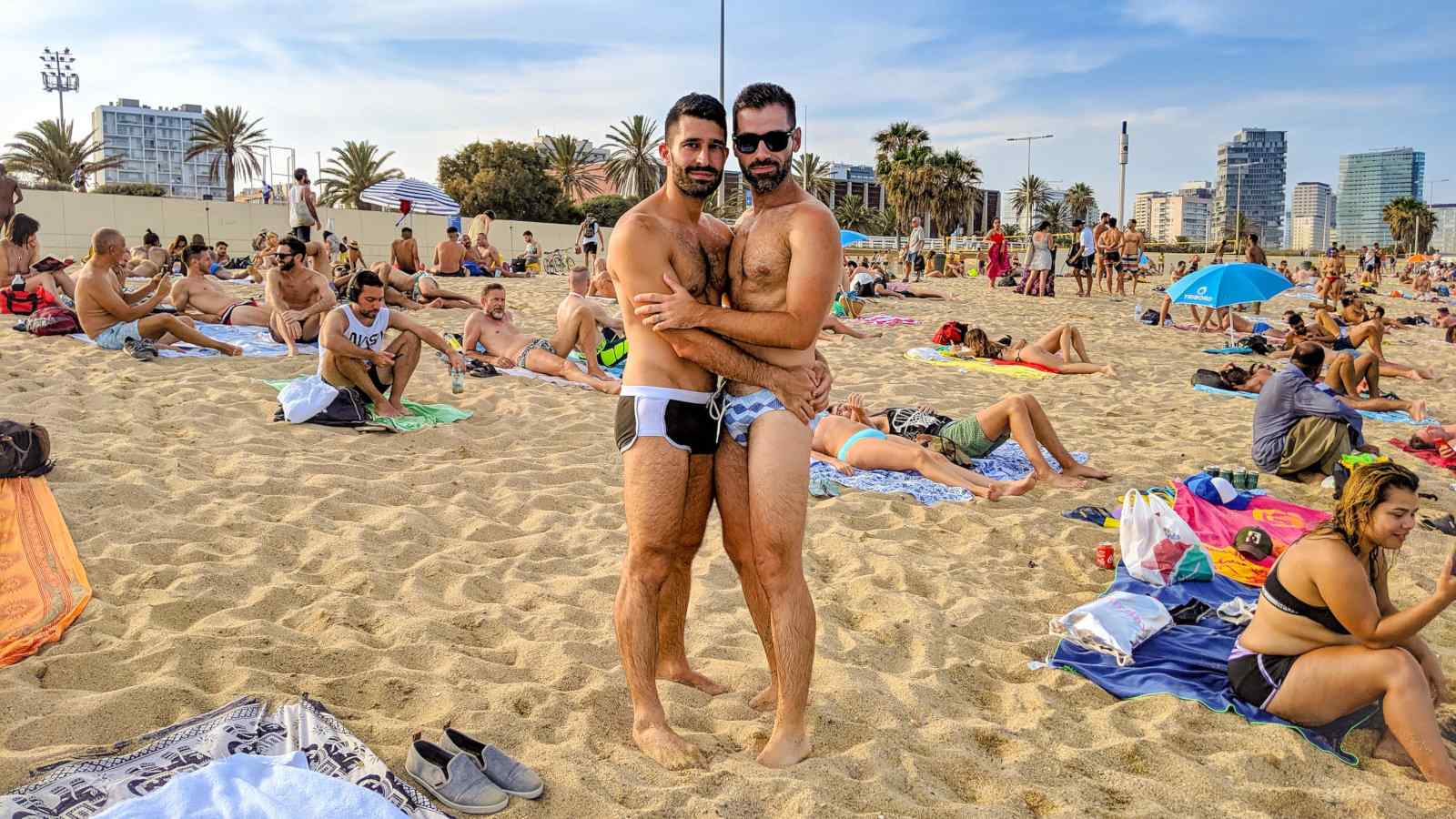 7. Il Buco – Rome, Italy
There are a handful of terrific gay beaches in Italy, but Il Buco is easily the best spot for those looking to carpe diem. You know… To seas the day!
Il Buco is likely favored due to its proximity to the Italian capital, Rome. That being said, do not expect anything fancy or contemporary upon your visit to these sandy shores. One hour of travel separates beachgoers from the main city. The entirety of the Capocotta Nature Reserve keeps the coastline tucked away. As much as you might try, you won't really find any amenities throughout your stay. We recommend packing a lunch alongside your towels and sunblock so that you can fully embrace your time away from the hustle and bustle of city living.
And while we understand that level of isolation might not sound appealing to some of you, let us phrase it another way… Thanks to this gorgeous beach's remote location, you will have a hard time encountering any children or straight people while you de-stress. That's right! It will just be you and a decent number of young, scantily clad Italian boys frolicking under the sun and splashing through the waves. Talk about perfection!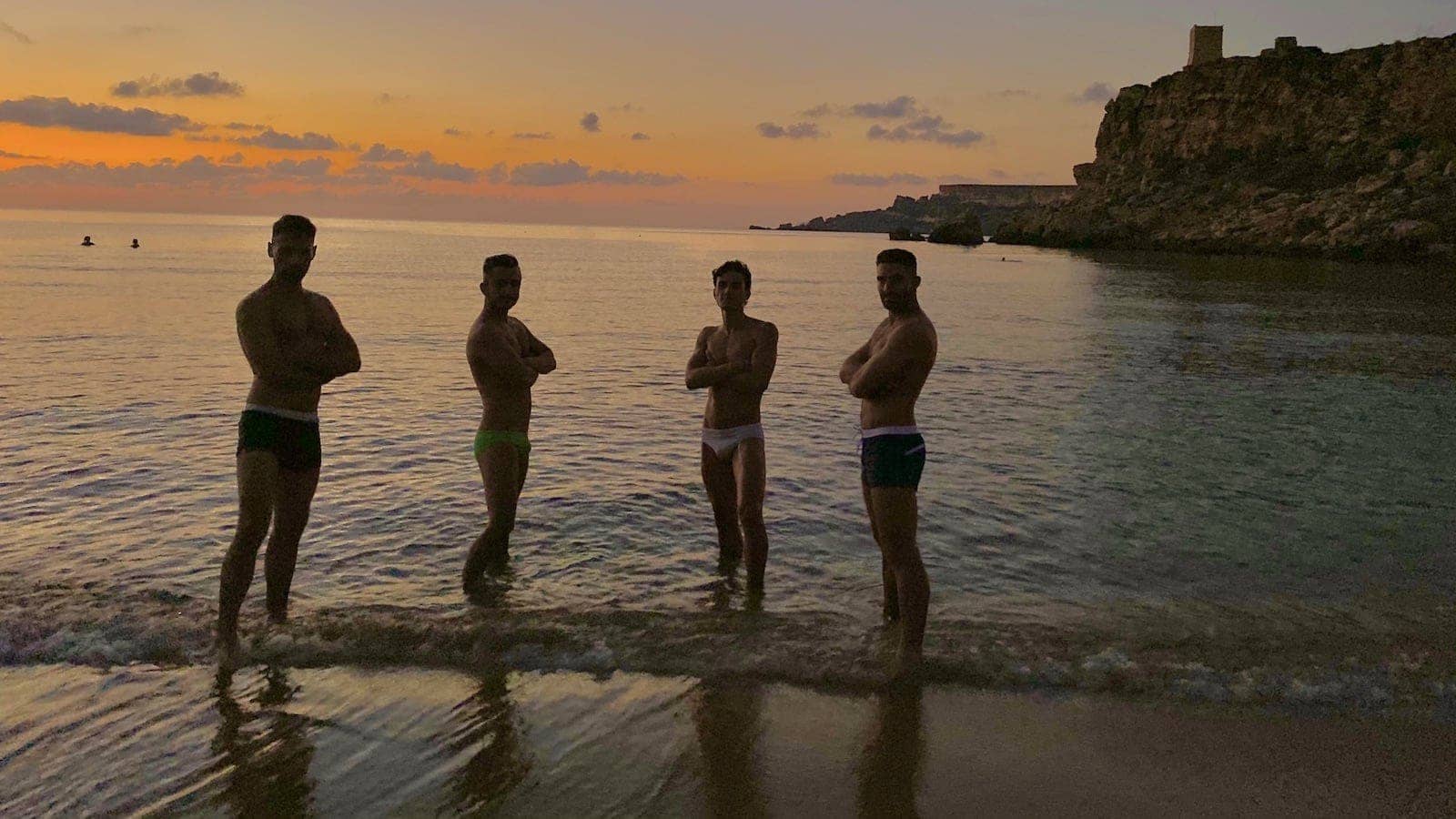 8. Mont Rose Beach – Marseille, France
Despite the plethora of LGBTQ-friendly bars and clubs scattered throughout the city, Marseille tends to be overlooked as a gay destination. Quite frankly, the phenomenon is not something we can fully understand… The area is large and beautiful. The food is fresh and delicious. Then, of course, located a quick forty-five minutes outside of the city is France's oldest gay beach – Mont Rose.
While the shore consists of more rocks than sand, Mont Rose exists as a picturesque landscape that is ideal for soaking up the sun and partaking in cheeky photoshoots. Plus, the space is always clothing-optional and peaceful, meaning visitors can enjoy a carefree, pleasant afternoon either by themselves or with their fellow queer adventurers. However, once daylight disappears behind the horizon, the atmosphere does experience a slight change. The gay boys who were previously looking to romp about in the water might be looking to enjoy a different kind of romping while hidden in the shadows of the beach's many hideouts.
So, whether you're interested in a tranquil day at the water's edge, a wild night nestled along the rocky coast, or perhaps a little bit of both, Mont Rose provides everything you could possibly desire!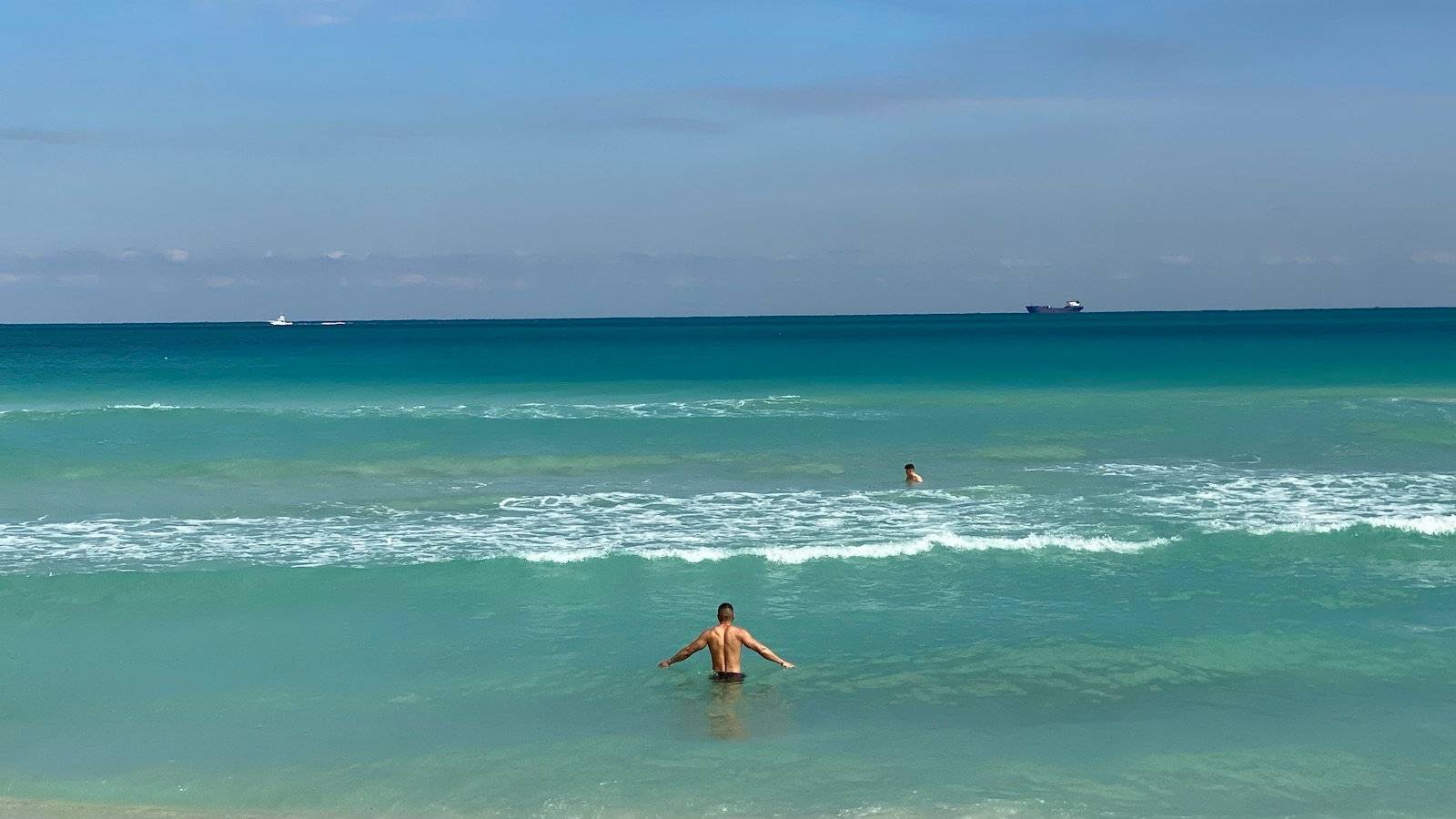 9. Nice gay beaches – Nice, France
Beach, please, you all had to have known that we would be mentioning good old gay Nice on this list, right? And with this coastal city being home to so many fabulous LGBTQ-specific beaches, there's no way we could possibly choose just one to highlight!
Let's start with the most popular gay beach in the city, shall we? St. Laurent d'Eze Plage can be challenging to reach, but once you arrive, you'll realize that the trip was well worth your time. The shoreline is somewhat isolated, with a slew of boulders and woodland spreading along the sides. However, this only adds to the appeal of the place. Undress to your au natural state of being and live your best life.
Though, you could easily have a similar experience at Le Plage de Coco. While this beach closer resembles a cliff's edge, there are still plenty of people sunbathing in the buff. Meanwhile, Castel Plage serves as a more refined beach excursion. This private spot has a pretty decent restaurant next to it, where visitors can rent sun loungers for the duration of their stay.
All three locations are popular with gay boys regardless of their status as tourists or residents, so at the end of the day, the beach choice is yours alone. The best part, even in the colder winter months the gay beaches of Nice are busy: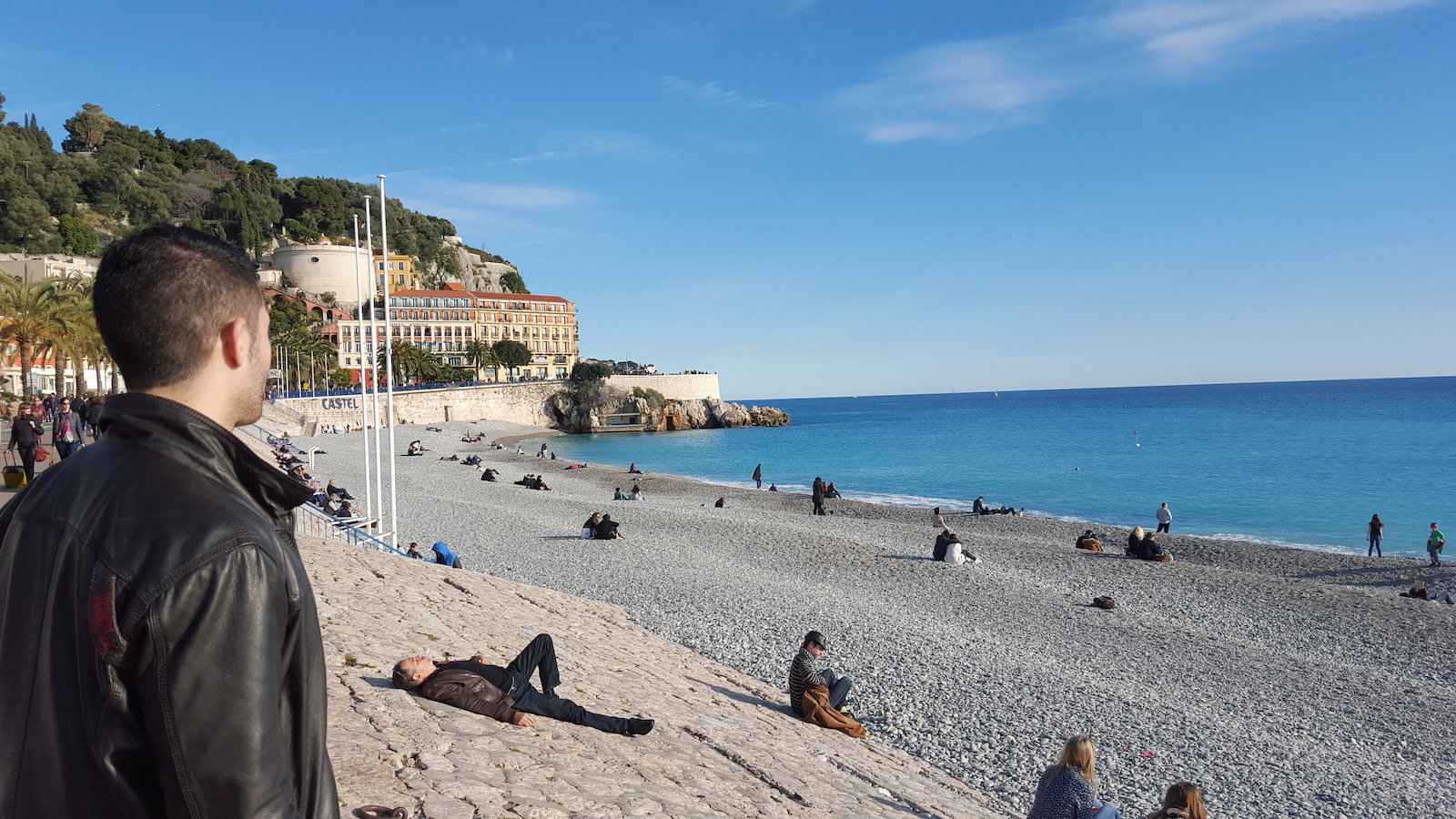 10. Espiguette Beach – Montpellier, France
You know what we love? A diverse queen. And that is precisely why we can't get enough of Espiguette Beach in Montpellier, France!
Unlike some of the other beaches we've included on this list, Espiguette Beach allows families, nudists, and gay people to gather together… More or less. The boundaries can become a bit blurry, but for the most part, each group tends to stick to their own distinct section, allowing for a simultaneous sense of closeness and privacy. And though the area can become rather busy in the summers, the shoreline never seems to end. This means you can always find a spot to yourself if you feel the need to get away from the crowds.
But, in our opinion, you will surely find lasting friends among the sprawling sand dunes and pine forests. Not only is Espiguette Beach home to one of the largest gatherings of queer folks in Southern France, but it is also a place where different kinds of people meet. So, to give you a recap, this beach is gorgeous with shallow, warm waters… The visitors are kind and open to everyone… Sounds like a win all around to us!
11. Lokrum – Dubrovnik, Croatia
Unless you're Game of Thrones nerds like us, you might not have heard of Dubrovnik, Croatia. Consider this your wake-up call! The destination is undoubtedly a must-visit spot because of its stunning, ancient streets, small gay scene, and the nearby island of Lokrum.
The island exists completely uninhabited and only requires a ten-minute ferry ride to reach its shores, along which you will find its nude, gay beach. Yes, you heard us correctly! Between Lokrum's rocky ledges, pine-filled forests, and historic monastery is a beach catering specifically to queer folks who want to undress and cut loose. Compared to the plain nude beach on the southern coast, the gay section is tucked away from roving public eyes. The area does consist more of rocks than it does sand, but in our eyes, that only adds to the adventure! Feel free to relax as you please or take a risk and leap from the clifftops into that sparkling, clean water.
Though, if you tire of the sun and the sea, perhaps you and one lucky man could venture into the nearby woodlands for a little bit of privacy, hm? Regardless of how you spend your time in Lokrum, you're sure to return to the mainland itching to replicate that deserted island lifestyle!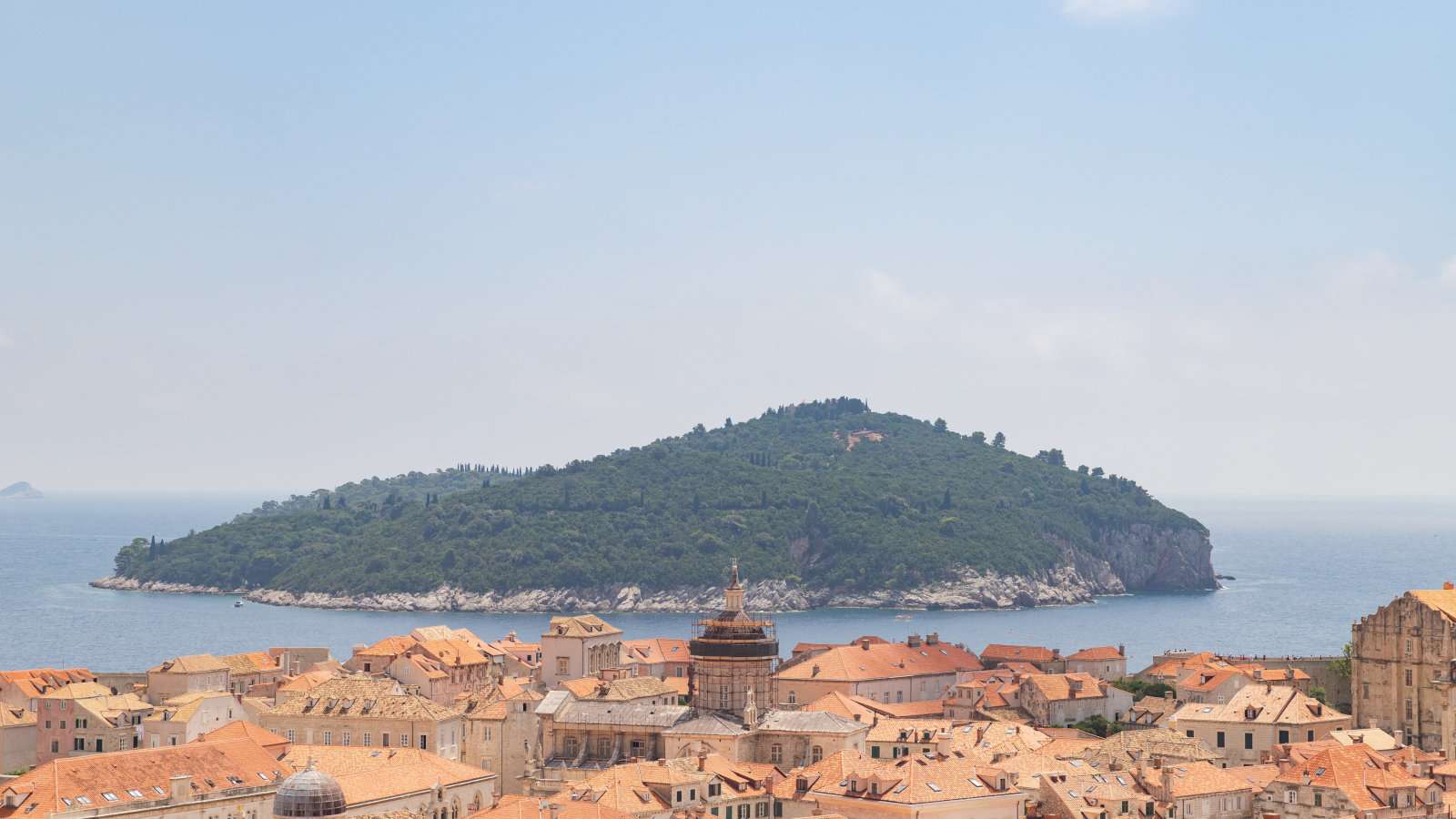 12. Zandvoort Nudist Beach – Amsterdam, Netherlands
Believe it or not, the best gay beach in Amsterdam is actually located in a quaint fishing town called Zandvoort.
This nude beach can be found about an hour away from the central hub of Amsterdam activity, which might seem excessive, but trust us – the payoff is worthwhile. Especially in the summertime, when it appears that the entire LGBTQ community has found their way from the gay scene of Amsterdam over to the coast! Settle yourself on the sands between poles 68 and 71 for your afternoon outing and prepare to be surrounded by beautiful, bare men hoping to fix their tan lines. And don't worry about packing food or drinks because every last one of the fish and chips stands strewn across the shore serve up delectable meals. Just make sure you save room for dessert if you plan to visit the popular cruising spot near the beach's southern sand dunes.
Even if you only make a brief stop into Zandvoort, we encourage you to venture out to the beach to enjoy a simple stroll where the ocean meets the land. The space is calm, clean, and gorgeous even during a storm. Do not let us catch you sleeping on this destination!
13. Bellevue Beach – Copenhagen, Denmark
Although Denmark is not famous for its beaches, we still could not resist giving a shout-out to the lovely, incredibly gay Bellevue Beach!
Roughly 6.5 miles (10km) away from Copenhagen sits this delightfully sunny safe haven. Bellevue Beach generally attracts a younger crowd who find joy in the finer things life has to offer – like playing their music loud and playfully splashing about in the water. However, if that isn't quite your vibe for a beach day, there are plenty of places where you can go to escape. Aside from the soft sand, there is a pleasant grassy area with gorgeous plants that is the perfect sitting spot for a picnic by the ocean. You can also walk down to the pier to observe the characteristic blue and white lifeguard towers designed by famous architect Arne Jacobsen.
If we were to describe our perfect day at Bellevue Beach, it would go as follows: spend the afternoon tanning on the clothing-optional portion of the beach, eat a quick meal, and then wander down to the pier right as the sun begins to set beneath the waves… Sounds fantastic, right? Shell yeah, it does!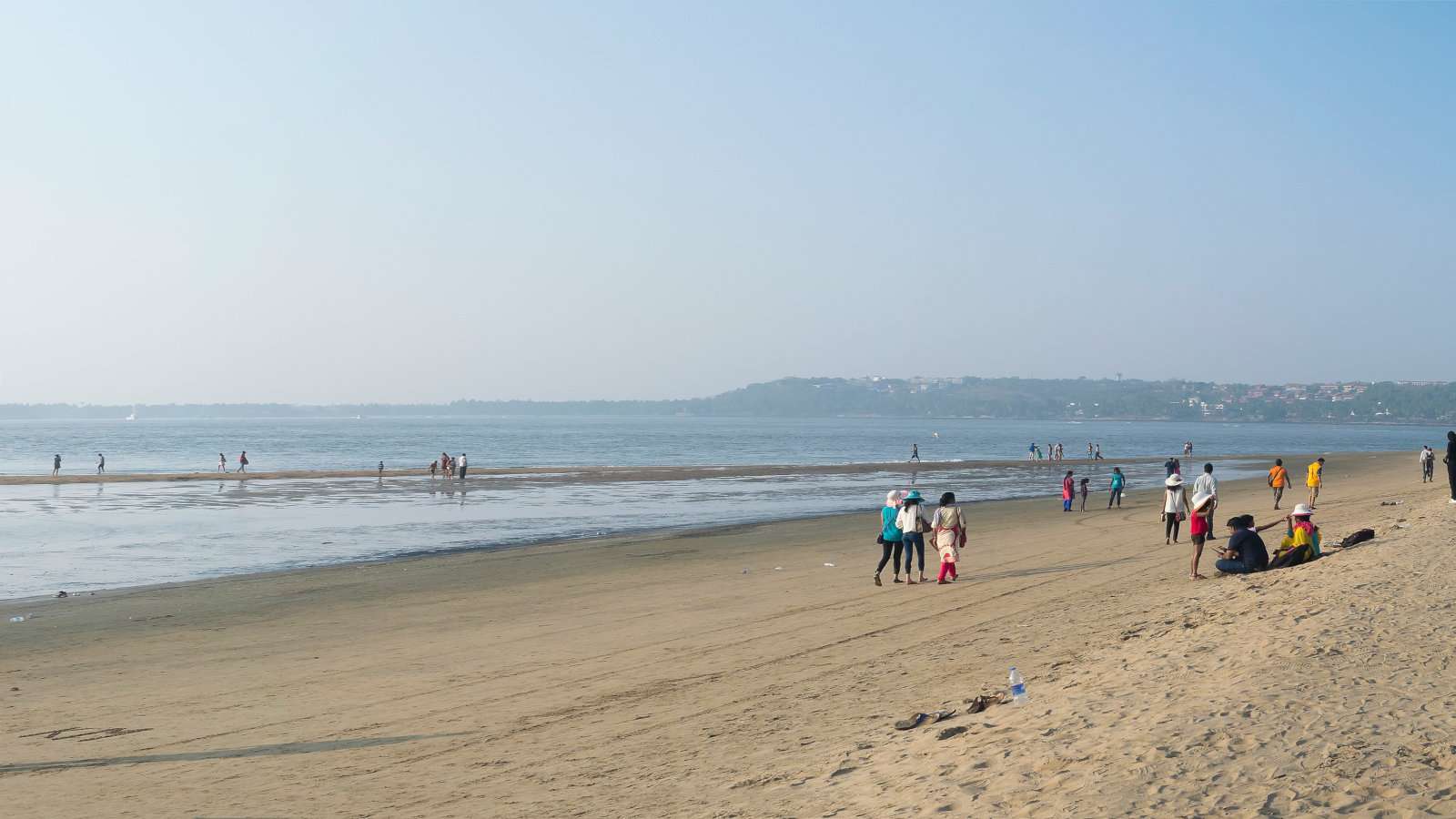 14. Brighton Naturist Beach – Brighton, UK
We understand how someone might feel uncomfortable at a nude beach. Still, when it comes to Brighton Naturist Beach, there is never any pier pressure to dress down!
The people you'll find at Brighton Beach are incredibly diverse, and every last one of them will welcome guests with open arms. Whether perusing the clothing-optional section or the Speedo sanctuary representing the remainder of the shoreline, queer folks will be ready to greet you and make friendly conversation. So, basically, prepare to walk away with a couple of new friends and drinking buddies! And due to the destination's accessible location, close to the Electric Railway Station and the city center, hunting down a pub to visit after your sunny excursion shouldn't be too difficult.
Our number one word of advice when visiting Brighton Beach? Pack a pair of water shoes and a comfortable tanning seat! Unlike other beaches, it's primarily pebbles and rocks with little sand. It's a slight inconvenience, but hey, considering all the other benefits of this attractive gay hangout, having to pack an extra pair of shoes isn't all that bad.
Also, facilities here are sparse as this is a National Trust-protected area. Therefore remember to bring water, snacks, and sunblock cream with you.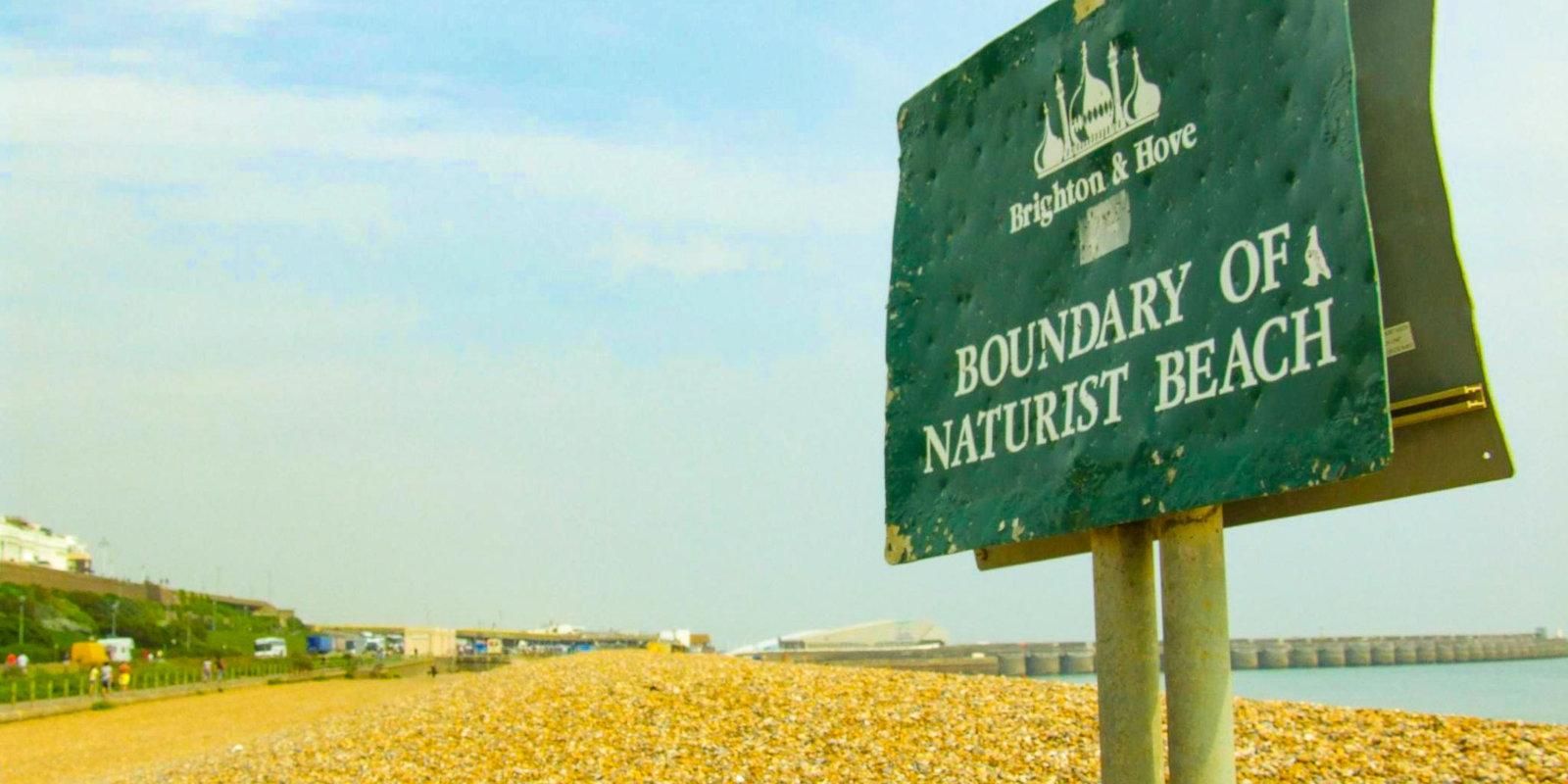 Happy travels are safe travels
We recommend you always take out reputable travel insurance before your next vacation. What happens if you suffer from illness, injury, theft, or a cancellation? Many gay travelers forget about it and regret it when something happens. Better to pay a small price and have peace of mind and not worry.
---
Like this post? Pin it