Lebanon is one of the most liberal, progressive and gay friendly places in the Arab world. This is saying a lot for a country where homosexuality is still a crime. However, by comparison to its Arab neighbours, Beirut has the best (albeit quite underground) gay scene, including one of the largest gay clubs in the Middle East called POSH.
We visited Beirut from Cyprus to celebrate Stefan's birthday over a long weekend and absolutely loved the food, the people and of course the many gay parties. This is our gay guide to Beirut featuring the best gay bars and clubs, events, gay friendly hotels and best things to do.
A word of warning to gay travellers to Lebanon, although the country is more progressive than places like Iran, Dubai and Abu Dhabi, it is still a largely Islamic influenced country where homosexuality remains illegal. Therefore, be careful with public displays of affection and avoid posting anything online that is LGBTQ related before/during your trip to prevent any problems at the airport immigration. Also, avoid having an Israeli stamp in your passport as Lebanon has an outright ban on anything related to Israel/Israelis. Be sure to check out our article about gay life in Lebanon for more practical safety tips.
Dont' forget…
Gay dating apps such as Grindr are blocked on mobile networks in Lebanon. Before heading off, make sure you get a VPN which will not only secure your internet connection wherever you are, but also keep your online activities private and allow you to surf the Net anonymously.
Gay friendly hotels in Beirut
As a rule of thumb, the large international hotel brands are likely to be gay friendly, wherever they are in the world because they usually abide by a strict set of international standards. Despite this, we strongly advise emailing/calling ahead first to double check they are ok to host gay travellers and will let you book a double bed.
These are the gay friendly hotels we stayed in during our trip in Lebanon which were aware that we are a gay couple and welcomed us:
We stayed at Le Vendôme as a birthday treat splurge for Stefan. It's absolutely gorgeous and the perfect choice for couples. It's located right by the beachfront on the Corniche. We definitely recommend splashing out on a room with sea view. For us, the icing on the cake was the staff. They are extremely friendly, helpful and very welcoming.
This is also an excellent base to visit the Pigeon Rocks in the nearby Raouche neighbourhood and also for a stroll in the Zaitunay Bay marina, both of which are walking distance away.
Rooms at Le Vendôme start from $295 / night.
The Phoenicia is one of the best 5* luxury hotels of Beirut. It's the sister hotel of the Phoenicia, and you can use the facilities of one if staying at the other. The Phoenicia has an excellent spa, indoor pool, outdoor pool and large fitness to burn off all the kanafeh calories. The Phoenicia also has a handful of high end restaurants and bars which are worth visiting even if you're not staying here.
The Phoenicia welcomes LGBTQ travellers and even made a point of it by including a lesbian moment in their "Define Love" campaign video for Valentine's Day (watch video below from 0:54 seconds).
Rooms at the Phoenicia hotel start from $325 / night.
Casi Cielo is a gay owned guesthouse located in Lassa, around 1 hour drive from downtown Beirut. It's the perfect place to stay to get a feel for the Mount Lebanon mountain area and also to get a flavour of local life. The Lebanese gay couple who own it are not only extremely personable, they also offer fun group activities like cooking classes, biking and hiking.
Rooms at Casi Cielo start from $175 a night.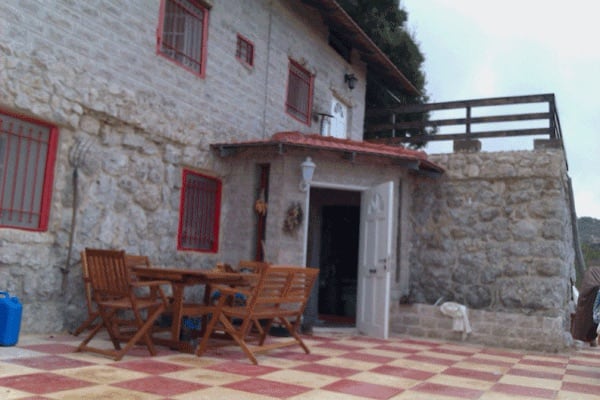 Gay bars in Beirut
As homosexuality is still illegal in Lebanon, places are careful not to advertise themselves as being openly "gay bars", preferring "gay friendly" instead, in order to prevent having any problems with the police. These are the main gay friendly bars in Beirut that are thriving despite the anti-gay laws:
Gay clubs in Beirut
There are a handful of gay clubs in Beirut, the main one of course is POSH:
Gay events in Beirut
Given the lack of legal protection for the gay community in Lebanon, there is nonetheless a handful of active LGBTQ organisations, which also host several events throughout the year. Sadly the larger they get, the more likely they are to receive police harassment:
Gay hammams in Beirut
As homosexuality is technically illegal in Lebanon, you will be hard pressed to find an official gay sauna in Beirut, particularly since the raid of the Hammam Al–Agha in 2014 when 36 people were arrested.
There are however Hammams were you may find discreet cruising like: "Al Bakawat" (the name for the re opened Al-Agha) and "Shahrazad" in the Al Massaken Street in Burj Hammoud but take care as they don't have the best reviews.
Things to do in Beirut
It's all about the delicious food here. The Lebanese cuisine is world famous for good reason. Along with the delicious different culinary discoveries, there are of course many not-to-miss touristic highlights in Beirut:
OUR FAVOURITE TRAVEL TIPS
⭐️ TRAVEL INSURANCE — We recommend you always take out travel insurance before your next vacation. What happens if you suffer from illness, injury, theft or a cancellation? With travel insurance, you can have peace of mind and not worry. We love World Nomads travel insurance and have been using it for years. Their comprehensive coverage is second to none and their online claims process is very user friendly.
⭐️ SAFETY & SECURITY — All travelers (gay or not) can sometimes encounter danger when traveling. CloseCircle is your "virtual body guard" mobile app which provides security alerts and support wherever you are in the world. They have a 24/7 emergency response team monitoring their users who will contact you immediately if the SOS swipe button is activated. Support can include anything from practical advice, to free evacuation from areas with extreme weather or security risks. You can read more about CloseCircle in our article about how to stay safe whilst traveling.
⭐️ ONLINE ANONYMITY — A VPN (Virtual Private Network) is a must in many countries: it allows you to surf anonymously and maintain your privacy whilst traveling. You'll particularly need it in countries where gay dating apps are blocked by the government. We recommend ExpressVPN, a reliable and cost effective service which we used and loved during our travels.
⭐️ HOTELS or APARTMENTS — When we plan a trip, we always look for the best hotel deals. We love Booking.com because not only do they have a comprehensive listing of accommodation options, they also offer the best prices. Added bonus: they provide 24/7 support and free cancellation for most listings.
⭐️ SIGHTSEEING and ADVENTURES — When we travel somewhere, we like to seek out the best experiences, whether it is cooking with locals in Bangkok, hiking on a glacier in Patagonia, or going on a wildlife safari in Sri Lanka. Our favorite place to look is GetYourGuide because they have over 30,000 highly rated activities, a user-friendly booking process with free cancellation and a 24 hour customer support.
This article contains affiliate links. If you click on them, we may receive compensation which keeps our website alive and helps us bring you to more destinations.
Pin to read later: