Lebanon is one of the most liberal, progressive and gay friendly places in the Arab world. This is saying a lot for a country where homosexuality is still a crime. However, by comparison to its Arab neighbours, Beirut has the best (albeit quite underground) gay scene, including one of the largest gay clubs in the Middle East called POSH.
We visited Beirut from Cyprus to celebrate Stefan's birthday over a long weekend and absolutely loved the food, the people and of course the many gay parties. This is our gay guide to Beirut featuring the best gay bars and clubs, events, gay friendly hotels and best things to do.
Gay rights in Lebanon
Lebanon doesn't have the best track record with regards to LGBTQ rights. Homosexuality is illegal, there are no anti-discrimination laws, there is absolutely zero recognition of same-sex partnerships and the LGBTQ community are banned from openly serving in the Lebanese army.
On the plus side, proactive steps are being taken by judges and some politicians to decriminalise homosexuality and it was declassified as an illness in 2013. In addition, the right to change legal gender was introduced in 2016. From our experience travelling in the Middle East, Lebanon definitely ranks as one of the most gay friendly Arab countries, but remember, this is an extremely conservative region of the world when it comes to LGBTQ rights.
Don't forget…
Gay dating apps such as Grindr are blocked on mobile networks in Lebanon. Before heading off, make sure you get a VPN which will not only secure your internet connection wherever you are but also keep your online activities private and allow you to surf the Net anonymously.
Is Beirut safe for gay travellers?
A word of warning to gay travellers to Beirut, although Lebanon is more progressive than places like Iran, Dubai and Abu Dhabi, it is still a largely Islamic influenced country where homosexuality remains illegal.
Therefore, be careful with public displays of affection and avoid posting anything online that is LGBTQ related before/during your trip to prevent any problems at the airport immigration. Also, avoid having an Israeli stamp in your passport as Lebanon has an outright ban on anything related to Israel/Israelis. Be sure to check out our article about gay life in Lebanon for more practical safety tips.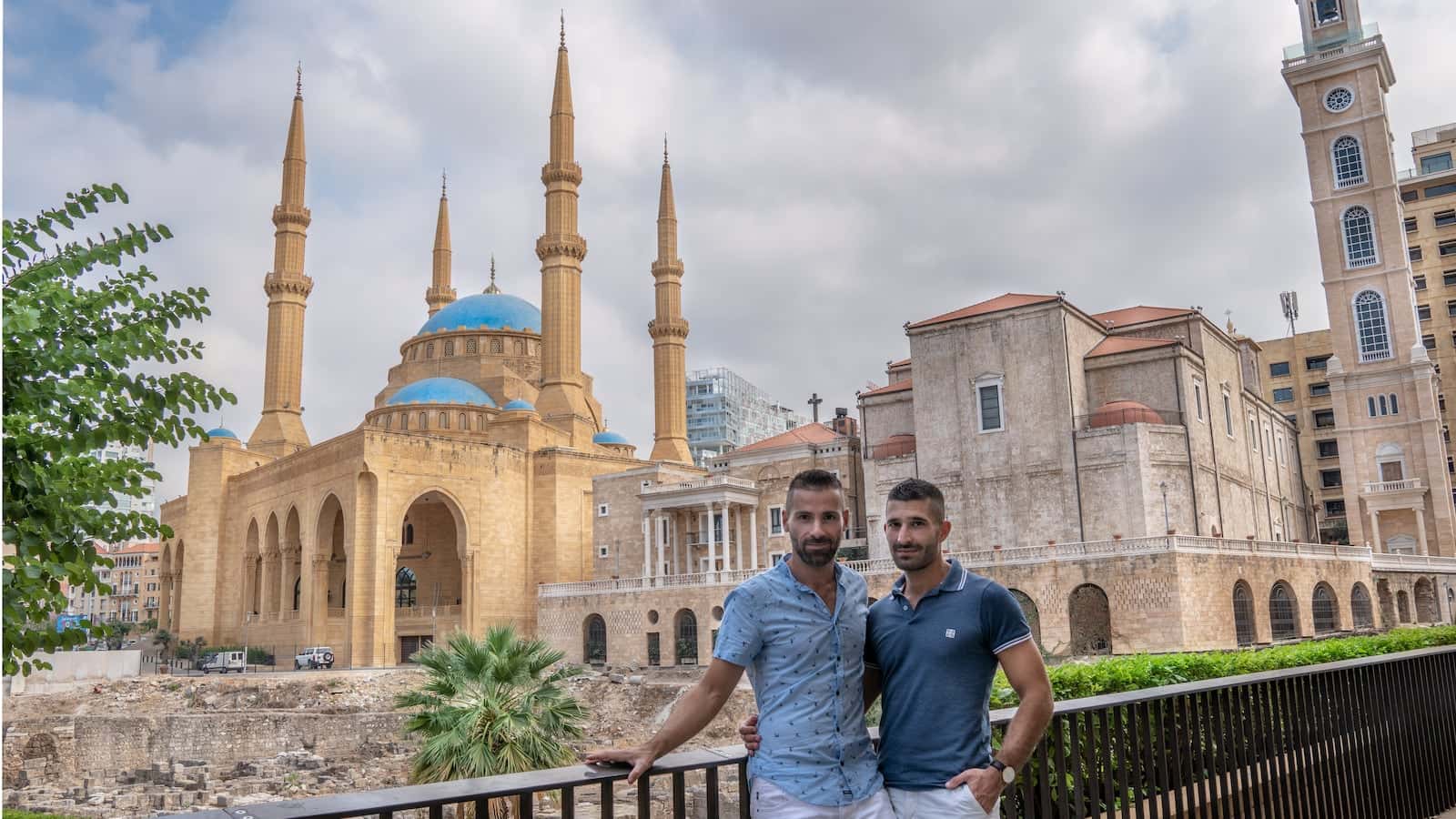 Gay friendly hotels in Beirut
As a rule of thumb, the large international hotel brands are likely to be gay friendly, wherever they are in the world because they usually abide by a strict set of international standards. Despite this, we strongly advise emailing/calling ahead first to double-check they are ok to host gay travellers and will let you book a double bed.
In Beirut, you'll want to stay in the centre around Hamra, which is where most of the touristic sites are. These are the gay friendly hotels in Beirut that we tried and welcomed us a gay couple.
We stayed at Le Vendôme as a birthday treat splurge for Stefan. It's absolutely gorgeous and the perfect choice for couples. It's located right by the beachfront on the Corniche. We definitely recommend splashing out on a room with sea view. For us, the icing on the cake was the staff. They are extremely friendly, helpful and very welcoming.
This is also an excellent base to visit the Pigeon Rocks in the nearby Raouche neighbourhood and also for a stroll in the Zaitunay Bay marina, both of which are walking distance away.
Rooms at Le Vendôme start from $295 / night.
The Phoenicia is one of the best 5* luxury hotels of Beirut. It's the sister hotel of the Phoenicia, and you can use the facilities of one if staying at the other. The Phoenicia has an excellent spa, indoor pool, outdoor pool and large fitness to burn off all the kanafeh calories. The Phoenicia also has a handful of high-end restaurants and bars which are worth visiting even if you're not staying here.
The Phoenicia welcomes LGBTQ travellers and even made a point of it by including a lesbian moment in their "Define Love" campaign video for Valentine's Day (watch the video from 0:54 seconds).
Rooms at the Phoenicia hotel start from $325 / night.
Casi Cielo is a gay owned guesthouse located in Lassa, around 1-hour drive from downtown Beirut. It's the perfect place to stay to get a feel for the Mount Lebanon mountain area and also to get a flavour of local life. The Lebanese gay couple who own it are not only extremely personable, they also offer fun group activities like cooking classes, biking and hiking.
Rooms at Casi Cielo start from $175 a night.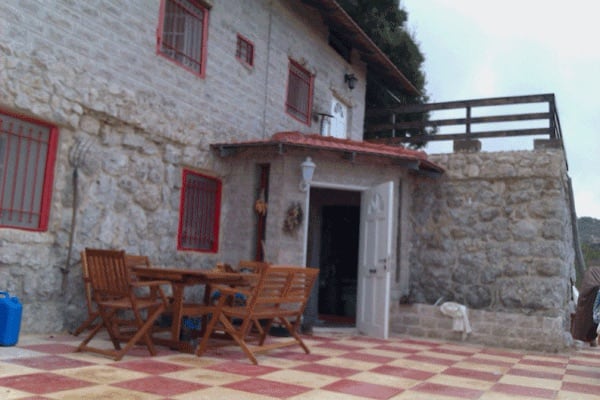 Get up to $55 off your next Airbnb booking
We've used Airbnb extensively during our travels because you can rent an entire home which usually works out a lot cheaper than a hotel room. It also allows you to have your own space with a kitchen, a living room and more. You can easily find places close to the gay scene by using the map function. If you've never used Airbnb before, simply click the button below to get up to $55 discount off your first booking.
Gay bars in Beirut
As homosexuality is still illegal in Lebanon, places are careful not to advertise themselves as being openly "gay bars", preferring "gay friendly" or "gay owned" instead. This is to prevent having any problems with the police. These are the main gay bars in Beirut that are thriving despite the anti-gay laws:
Bardo is one of the oldest and famous gay bars of Beirut. It is popular with twinks (and their fans) especially at the "Powerpuff Queens" party every Thursday. Generally it doesn't get busy until after 11pm. But if you come before, it's a lot quieter, which makes it great for a few cocktails, especially during the week when they have 2 for 1 happy hour offers. Bardo is open every day until 2am and is located in downtown Beirut on Mexico Street, just off Hamra Street.
Whilst the twinks of Beirut go to Bardo, the older gay boys come to Franj. For us this was our favourite gay hangout in Beirut. We found it to be so welcoming and quickly made friends here. It's more a restobar where you come to drink coffee, play cards with your friends and smoke shisha. They also have some of the best food we've tried in Beirut, especially the kebbeh pumpkin. Franj is open until 2am everyday and is located at Corniche Al Naher in the Bourj Hammoud (Armenian quarter).
Madame Om is a cosy gay friendly resto/bar named after the Egyptian diva Umm Kulthum. It's a popular spot for cocktails and was the base for Beirut Pride 2018 (before the police cancelled it). Madame Om is open every until 2am and is located at Rue Pasteur, Gemmayze.
This is a Bohemian gay friendly cafe in the heart of Beirut just off Hamra Street, perfect for people watching. They do excellent coffee, especially Lebanese coffee infused with Cardamon. Cafe Younes is open every day until early evening and is located on Nehmeh Jafet Street near where it meet Hamra Street.
Cloud 59 is a lesbian owned beach bar/restaurant located in Tyre, a seaside resort town around 1 hour drive south from Beirut. Although it's outside the capital city, we include it because this is one of the most popular gay friendly beaches in Lebanon where the Beirut gay boys like to hang out on weekends.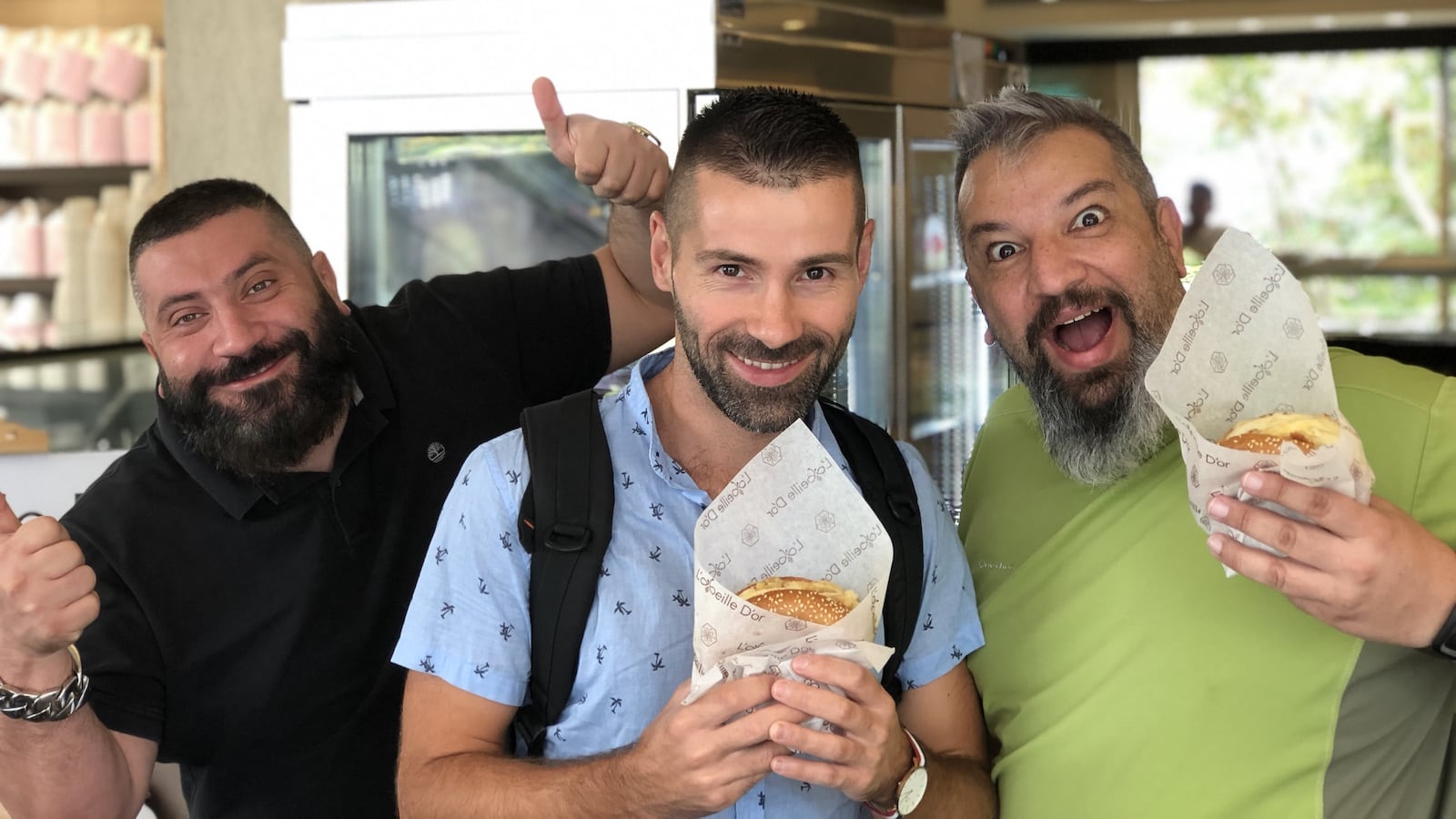 Gay clubs in Beirut
There are a handful of gay clubs in Beirut, but as with the bars, there are no "official" advertised gay clubs in order to prevent police interference and harassment. Also, absolutely no same-sex contact is allowed in the gay clubs of Beirut. If you try to embrace or kiss your same-sex partner, the bouncers will come over to warn you to stop; the owners work hard to keep their licence and prevent problems with the authorities.
These are the main gay clubs in Beirut to check out:
POSH is a gorgeous rooftop club located in Bourj Hammoud (the Armenian quarter). It's not only the largest gay club in Beirut, but also the largest from all the Arab countries. On Friday and Sunday evenings it has mainly Arabic music. Saturday is the big night with both Arabic and Western pop music. Security is extremely strict here because they are careful not to get into trouble with the police. Therefore use of phones for photos are not allowed and a strict "no kissing" policy is enforced! At the end of the night when leaving POSH, make sure you get a wristband for discounted entry on the gay after party, which is usually Ego. POSH club is located at Bourj Hammoud Seaside Road behind Gallery Vanlian and is open every Friday, Saturday and Sunday from 11pm till late.
This is one of the best gay after-parties in Beirut. Most people go to POSH first, then head here at around 3am and party into the early hours. It gets very busy, especially on weekends. Music is mainly electro and house. Overall, however, we found the crowd at Ego to be less friendly than at POSH. Ego is located at Projekt Jal El Dib, Seaside Road and is open on Friday and Saturday evening until around 6am.
B018 is pronounced B dix-huit locally. It is one of the most notorious clubs of Beirut that prevailed during the Civil War years in a chalet where customers had to use the code "B 018" to enter (named after the chalet's location 18 km north of Beirut). Today B018 is located at a different location but has retained the same name. Officially B018 is a straight club, but it attracts a large LGBTQ crowd. B018 is open Thursday, Friday and Saturday from late until 8am the next morning.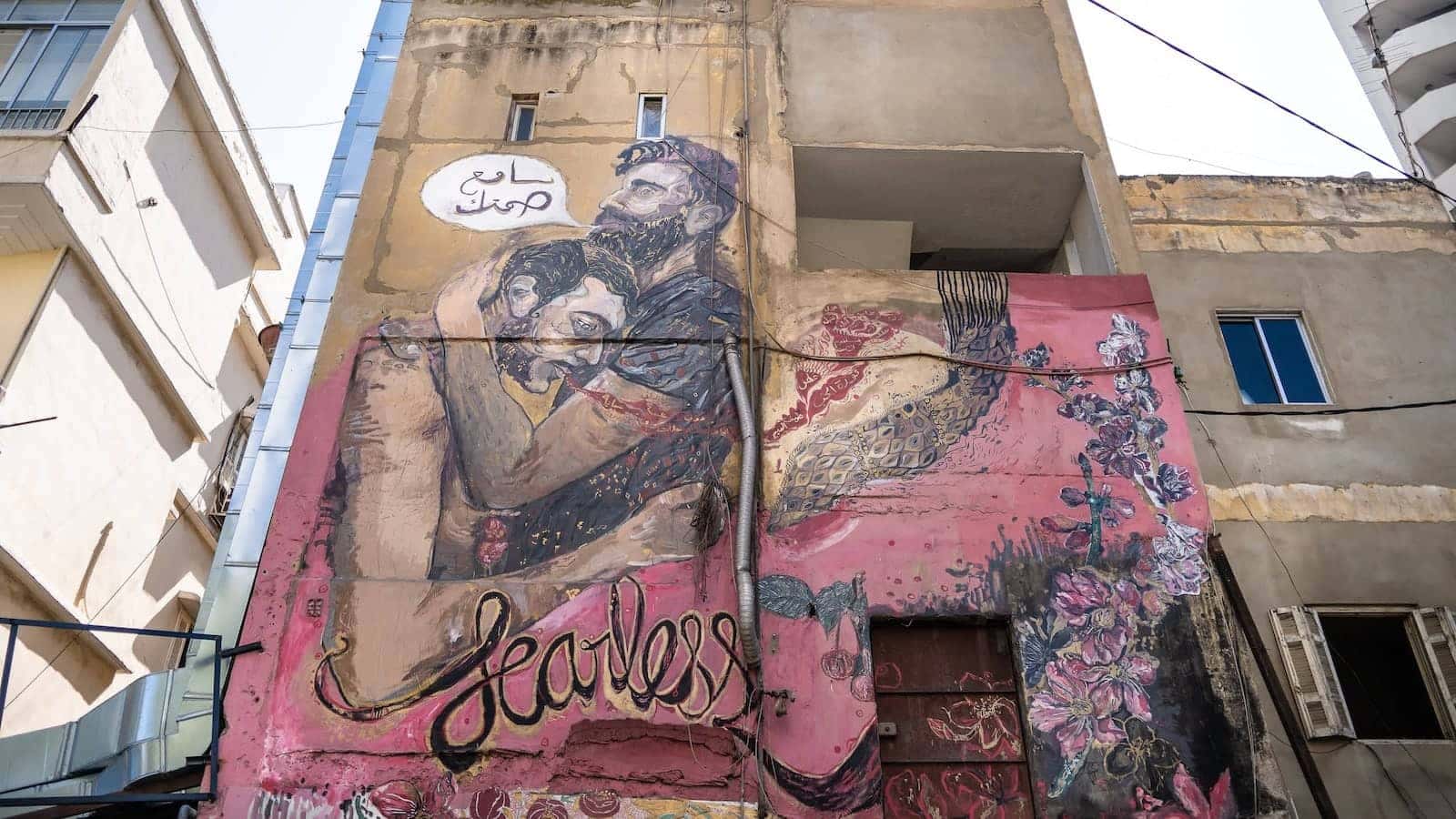 Gay events in Beirut
Given the lack of legal protection for the gay community in Lebanon, there is nonetheless a handful of active LGBTQ organisations who organise several gay events in Beirut throughout the year. The main gay events are Beirut Pride in late September and the weekly gay events organised by HELEM. We've also included a few other interesting non-gay specific events that you may want to check:
Helem was the first LGBTQ organisation in Lebanon, which has been going strong since 2004. Every week they organise several events for the gay community like a weekly lunch, storytelling night, movie night and more.
Beirut Fashion Week (April)
Has grown massively in popularity over the years and also includes the Beirut Fashion Awards.
Beirut Design Week (June)
One of the largest design festivals in the Middle East, going strong since 2012 aiming to promote "intercultural exchange, design education, social impact, and design entrepreneurship".
Baalbak Music Festival (July)
One of the most famous cultural events in Lebanon going strong since 1955. It involves theatre, classical/pop music and opera, attracting tourists from all around the world.
Lebanon was the first country in the Arab world to plan a Pride event in 2017. For the most part, it went ahead, but police harassment and Islamic violence meant that most of it was stopped. In 2018, the founder, Hadi Damien was arrested and only released on condition that he agreed to cancel it. The 2019 Pride is scheduled to go ahead without any problems fingers crossed!
Beirut Marathon (November)
The 42km marathon goes all around the city including Hamra and the Gemmayzeh neighbourhood before finishing at Martyr's Square.
Gay hammams in Beirut
As homosexuality is technically illegal in Lebanon, you will be hard-pressed to find an official gay sauna in Beirut, particularly since the raid of the Hammam Al-Agha in 2014 when 40 people were arrested. 
These are the gay hammams in Beirut where you may find discreet cruising:
Al Bakawat Hammam
The new name for the re-opened Al-Agha Hammam. It is open 24 hours a day (except on Mondays when it's only open 9am to 10pm). It usually attracts a large gay clientele, but also many local escort boys looking to top up their income. Entry is around $20. Bakawat is located in the Hamra neighbourhood behind the Bristol Hotel.
Shahrazad Hamman
Famous for being one of the hottest gay cruising areas of Beirut, but be careful as online reviews seem to suggest it has deteriorated recently. It includes a large day room where you can sit, talk, drink and smoke shisha. Shahrazad is located along Al Massaken Street in the Burj Hammoud neighbourhood near the Municipal Stadium. It is open daily from 2pm until around 2am and entry costs around $20.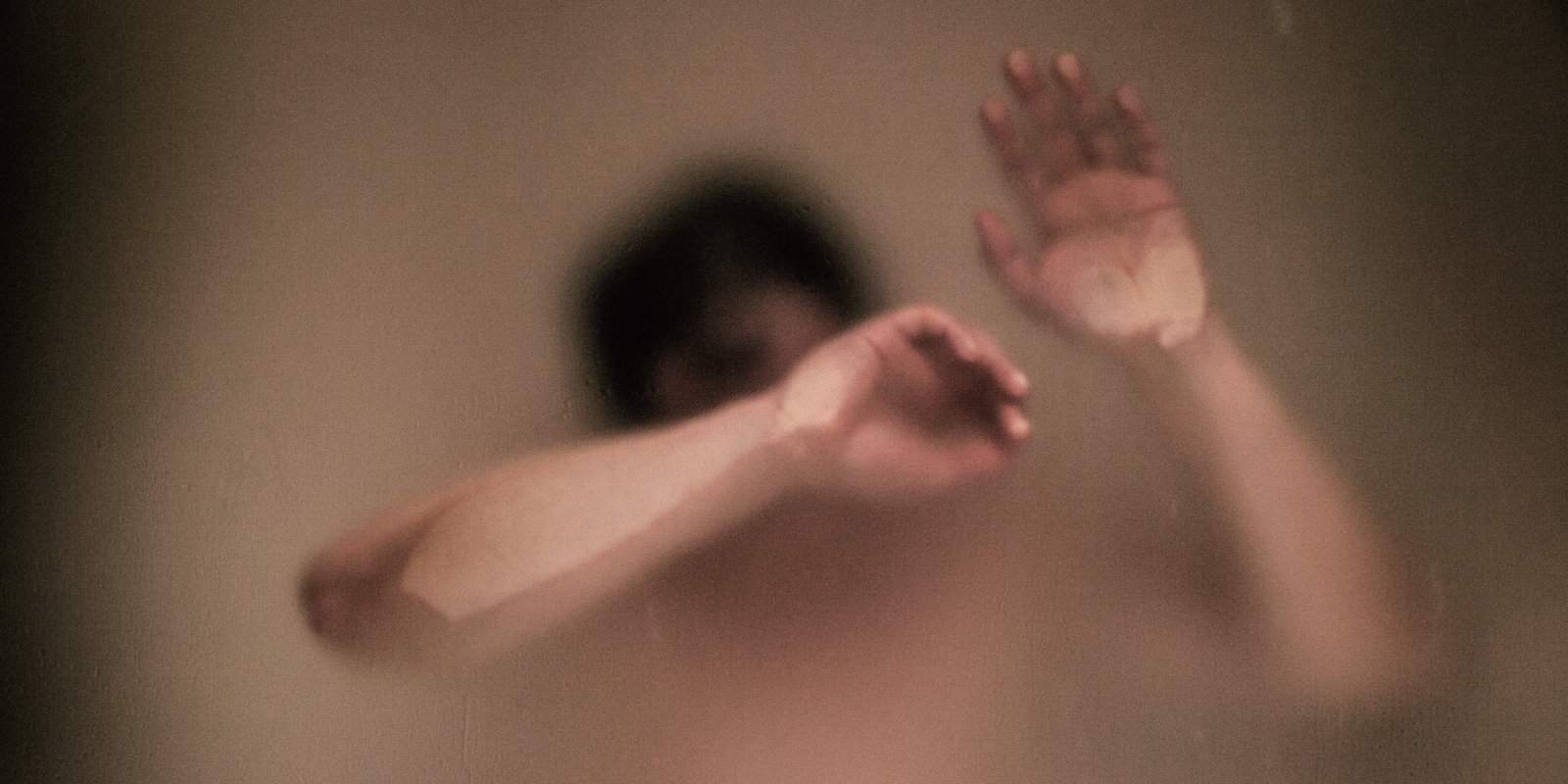 Things to do in Beirut
It's all about the delicious food here. Lebanese cuisine is world-famous for good reason. Along with the delicious different culinary discoveries, there are of course many not-to-miss touristic highlights in Beirut:
Hamra Street: the famous artery of Beirut with tight narrow roads lined with cafes and shops. It's always buzzing with life here, which makes it the perfect place for people watching at one of the cool cafes, with shisha to hand.
Gustav Innovation Sucree: this is one of the most highly rated pastry shops in Lebanon, which you need to check out. It's extremely gay friendly and another popular gem for the LGBTQ community in Beirut – you'll see lots of rainbow cakes on offer here. Their most famous is the pomegranate tart and various chocolate cake varieties. Leave the calorie counter at home and come check out Gustav!
The Roof at The Four Seasons: one of the best rooftop bars in Beirut. We celebrated Stefan's birthday here with a sunset cocktail overlooking the Mediterranean followed by a romantic dinner in the restaurant. Check it out on Wednesday evenings when they have live music.
Pigeon Rocks of Raouche: this is one of the iconic landscape images of Beirut located in the Raouche neighbourhood by the sea. They are 2 rock formations, which according to Ancient Greek mythology, are the remains of the sea monster that Perseus killed to save Andromeda. The sea monster is a rock because Perseus used Medusa's head on the monster to turn it into stone. Best time to see it in all its glory is at sunset.
Corniche: the Corniche is a 4.8 km (3 miles) seaside promenade lined with palm trees with both sea and mountain views. We love coming here for morning runs and then stopping at one of the coffee shops or restaurants.
Zaituna Bay Marina: this is Beirut's tranquil marina which is lined with lots of bars, cafes and restaurants. It's a cool spot to come for a drink and brief respite from the hectic traffic of the big city.
Basterma Mano: our favourite place in Beirut for shawarma. They are really good, especially the "Basterma pastrami" or "soujouk" spicy sausage shawarma. Just go easy on the heavier meats otherwise you'll have heavy garlicky burps/breathe all night! Basterma Mano is located in Bourj Hammoud (the Armenian Quarter) of Beirut.
L'abeille d'or: this is a famous chain cafe/bakery in Lebanon, which means "Golden Bee" in French. We love it because they do one of the best "kanafeh" dishes we've tried. Kanafeh is a Lebanese breakfast dish containing melted cheese and semolina dough that has been soaked in syrup, and served on Lebanese bread.
Other culinary highlights: as we said, this is the city to go food crazy! Other dishes we recommend looking out for include "manoushe" (a cheese pie breakfast dish), "foul" (fava bean based breakfast dish), "fatteh" (chickpeas, yoghurt and bread based dish), "tabbouleh" (salad with parsley, tomatoes, onions, cracked wheat, lemon and olive oil) and "fattoush" (salad with pomegranate molasses).
Should you boycott Lebanon?
We are always criticised for writing about places that have anti-gay laws. On the one hand, we quite understand the reason why. However, we strongly feel that this is not a productive way forward.
We feel it is more powerful to go over to places like Lebanon and be a positive, visible representation of the LGBTQ community. Visibility is the main thing that the local LGBTQ community is striving to achieve, so boycotting them we are simply assisting the homophobic government to achieve their objectives!
We believe it is more productive to get out there and support local gay friendly businesses to help them thrive rather than boycotting them altogether. For this reason, we strongly feel that you should not boycott Lebanon.
It goes without saying that you should take extra care, in particular, avoid overt public displays of affection and invest in a VPN so you can browse online anonymously. Also, take extra care who you meet on Grindr.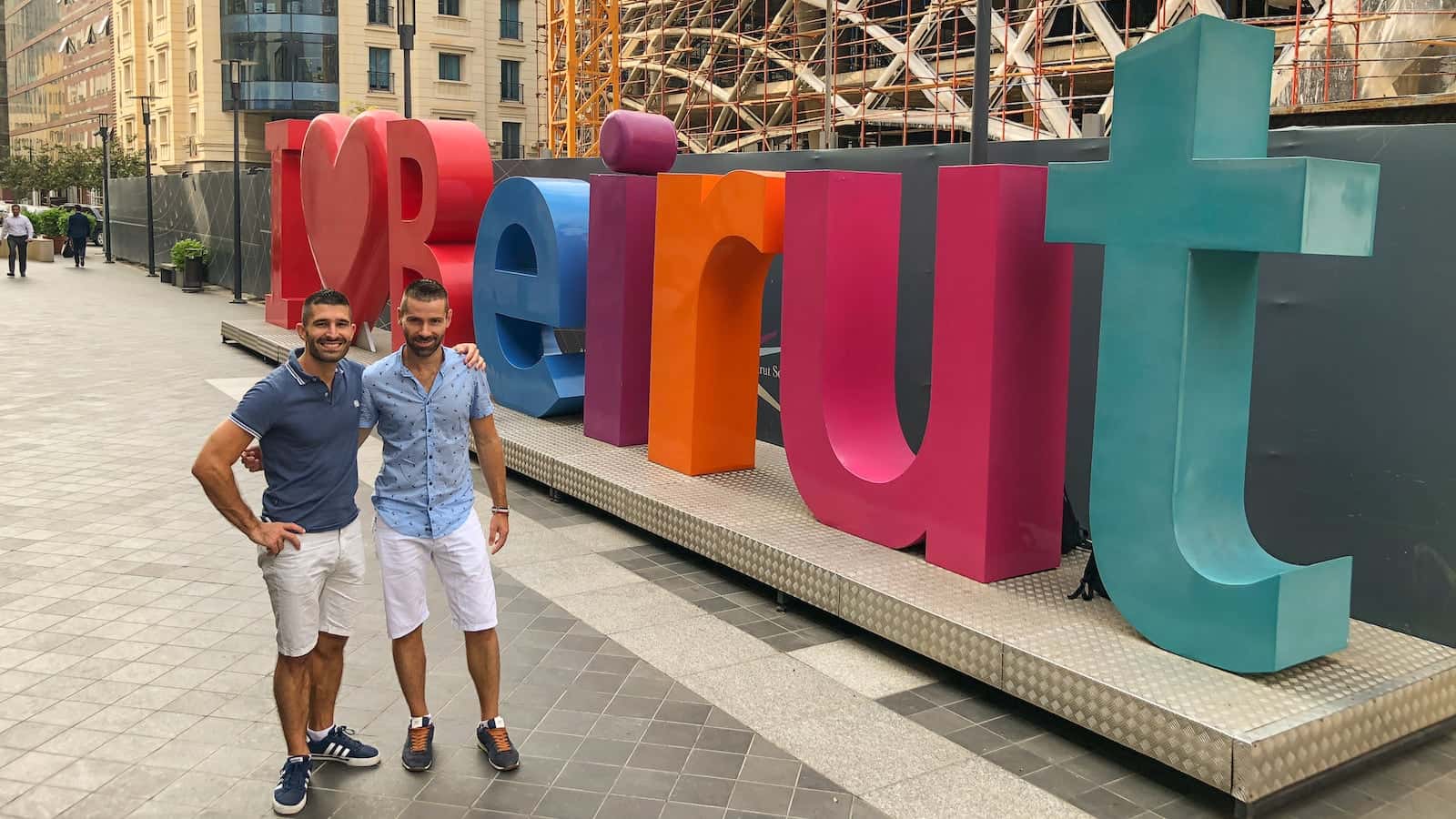 Happy travels are safe travels
We recommend you always take out travel insurance before your next vacation. What happens if you suffer from illness, injury, theft or a cancellation? With travel insurance, you can have peace of mind and not worry. We love World Nomads travel insurance and have been using it for years. Their comprehensive coverage is second to none and their online claims process is very user friendly.
Some of the links in this post are affiliate links. This means that if you book your accommodation, an activity or your insurance, we'll earn a small commission. There is never an extra cost to you for using these links and it helps us keep the site going.
Pin to read later: