TERMS OF USE: There is a chance that some of the content on this page has changed since it was last updated. By reading this article, you consent to our Terms of Use and Disclaimer. Happy Travels!
DISCLOSURE: Some of our posts may contain affiliate links which we may receive a commission if you choose to book something through one of our links.
America – 'Land of the Free. Home of the gays'.
Or was it 'home of the brave'? They both mean the same thing as far as we're concerned!
No matter where we travel to in the USA, we experience nothing but warm welcomes. There's the famous Southern hospitality, the sunny optimism of Californians, and the tough-but-helpful New Yorkers. Each US state practically battles for the title of 'friendliest place'. But how is each state when it comes to LGBTQ people? Mixed, to say the least.
With that in mind, we've rounded up the 10 most gay-friendly states, based on the LGBTQ population, local acceptance rates, prominence of their gay scene, and how progressive their laws are. Oh, and if you live in the USA and feel your state is robbed of a place on this list. Well then honey, go out and vote for better politicians!
All jokes aside, we know that no state is perfect – and that even in the most liberal, left-wing parts of the USA, queer people can still face discrimination or worse. Whereas in the more traditional, conservative parts, LGBTQ people are embraced with open arms. It's all about the right place, the right time, and the right people.
What makes a State "gay"?
You're probably wondering 'fellas… what makes a state gay?' By how much it blushes when you stroke it on a map…
Kidding…
In all seriousness, we used science to solve this conundrum. We started by looking at the biggest LGBTQ communities across the country, the size of the gay scene in each state, and the number of pro-LGBTQ festivals that take place each year. We also considered each state's laws, whether they had legalized gay marriage BEFORE the 2015 Supreme Court ruling, and how robust their anti-discrimination policies are.
If you're American and want your state to be more gay-friendly, head onto the United House of Representatives website. It allows people to find out who their state politicians are, check out how their policies measure up, and how to contact them to canvas for change.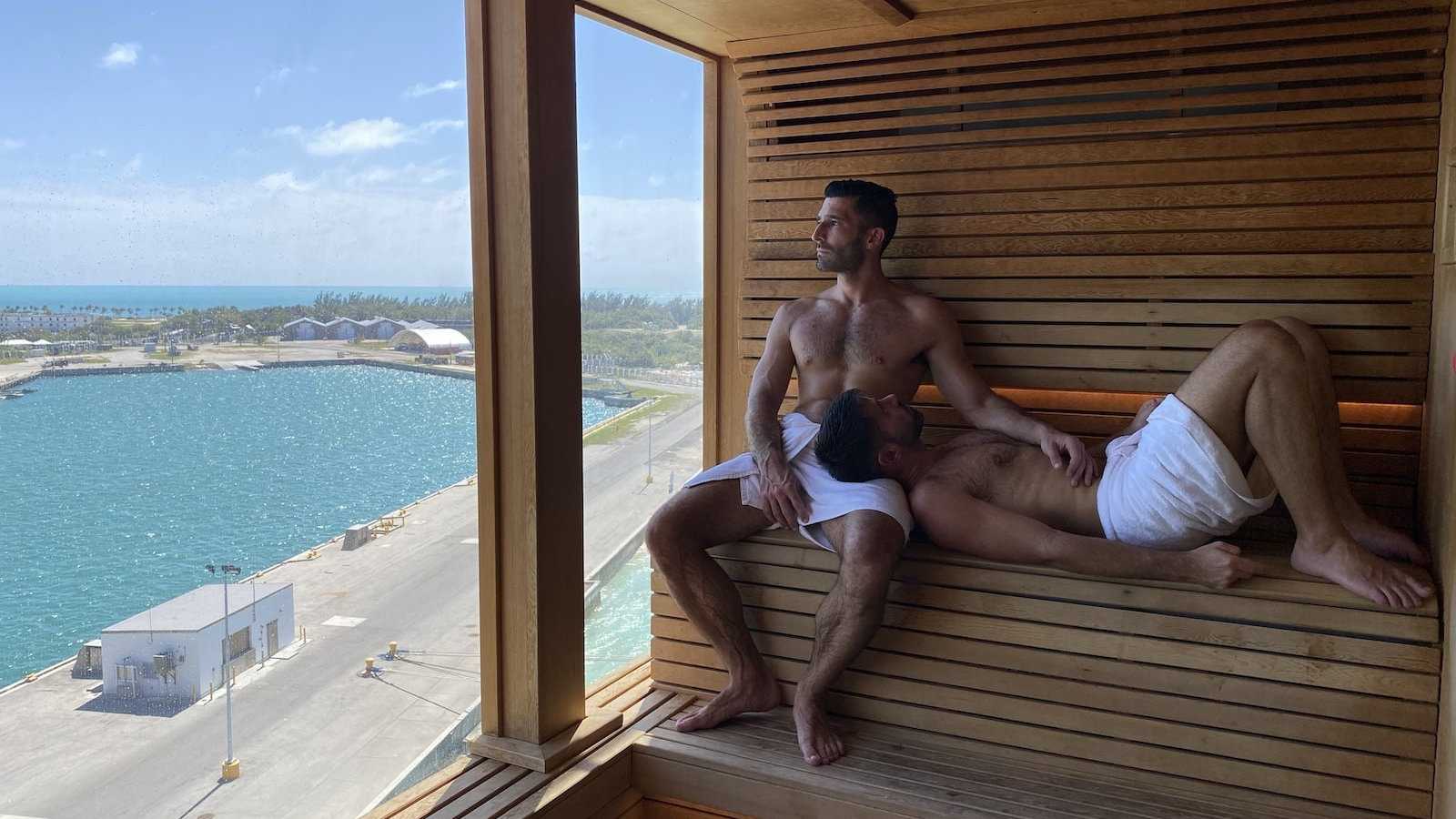 1. California
San Francisco, Palm Springs, Long Beach, Los Angeles, San Diego, and West Hollywood… just listing the gayest parts of California gets us out of breath!
After all, California is one of the most liberal places in the world, let alone in America. And whilst it has had the occasional hiccup (*cough*, Prop 8 *cough*, *cough*), it serves as a shining example for other places when it comes to LGBTQ rights.
San Francisco is irrefutably a gay paradise. With round-the-year events like events include the National Queer Arts Festival and Frameline: The San Francisco International LGBTQ+ Film Festival, heterosexuals barely have room to breathe.
Though that's nothing compared to the 40% LGBTQ residency of West Hollywood (we're truly taking over). Spots like Mickey's West Hollywood and Black Cat Tavern were the site of queer protests back in the 1960s that are still active and thriving today. Let's also point out that quite a fair number of our gayest cities in the USA are in good old Cali as is Black's gay beach, which is one of the best gay beaches in the world.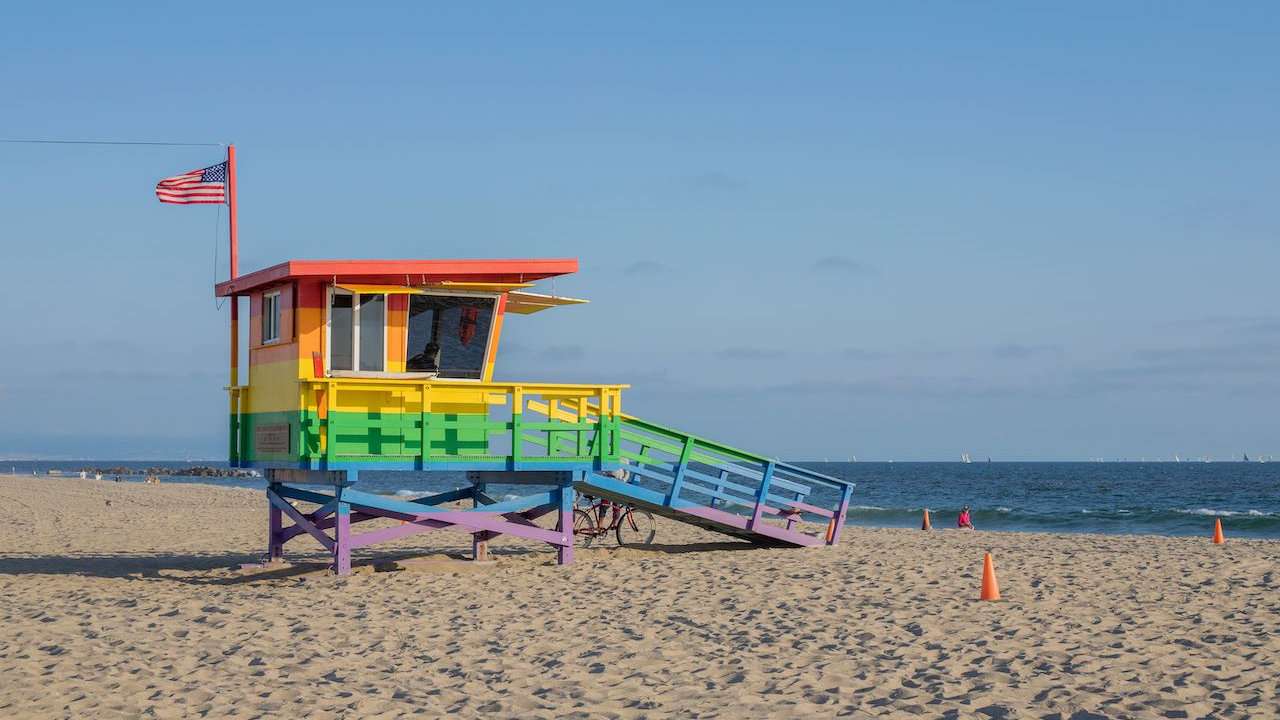 2. New York
No need to spread the news anymore… we know by now that gay old New York City is one of the most gay-friendly places in the world, let alone in the USA. After all, it's the birthplace of America's gay rights movement, it's home to Broadway, and boasts one of the biggest drag communities in the world.
New York was the 6th state in the US to legalize marriage equality and has excellent anti-discrimination laws that protect queer people in all areas.
Districts of New York City, such as Chelsea and Greenwich Village, are bursting with gay bars and clubs. And believe us when we say, there ain't no nightlife like New York's gay nightlife. There's the Alan Cumming-owned cabaret bar, Club Cumming, and the drag-tastic Barracuda Lounge, just for starters. There's also a whole bunch of gorg gay Airbnb listings you need to check out in NYC, and of course the huge NYC Pride every June.
New York's Pride Parade marches down the iconic 5th Avenue before heading into Greenwich Village each year. The city also throws the Queens Pride Parade and the Queer Liberation March.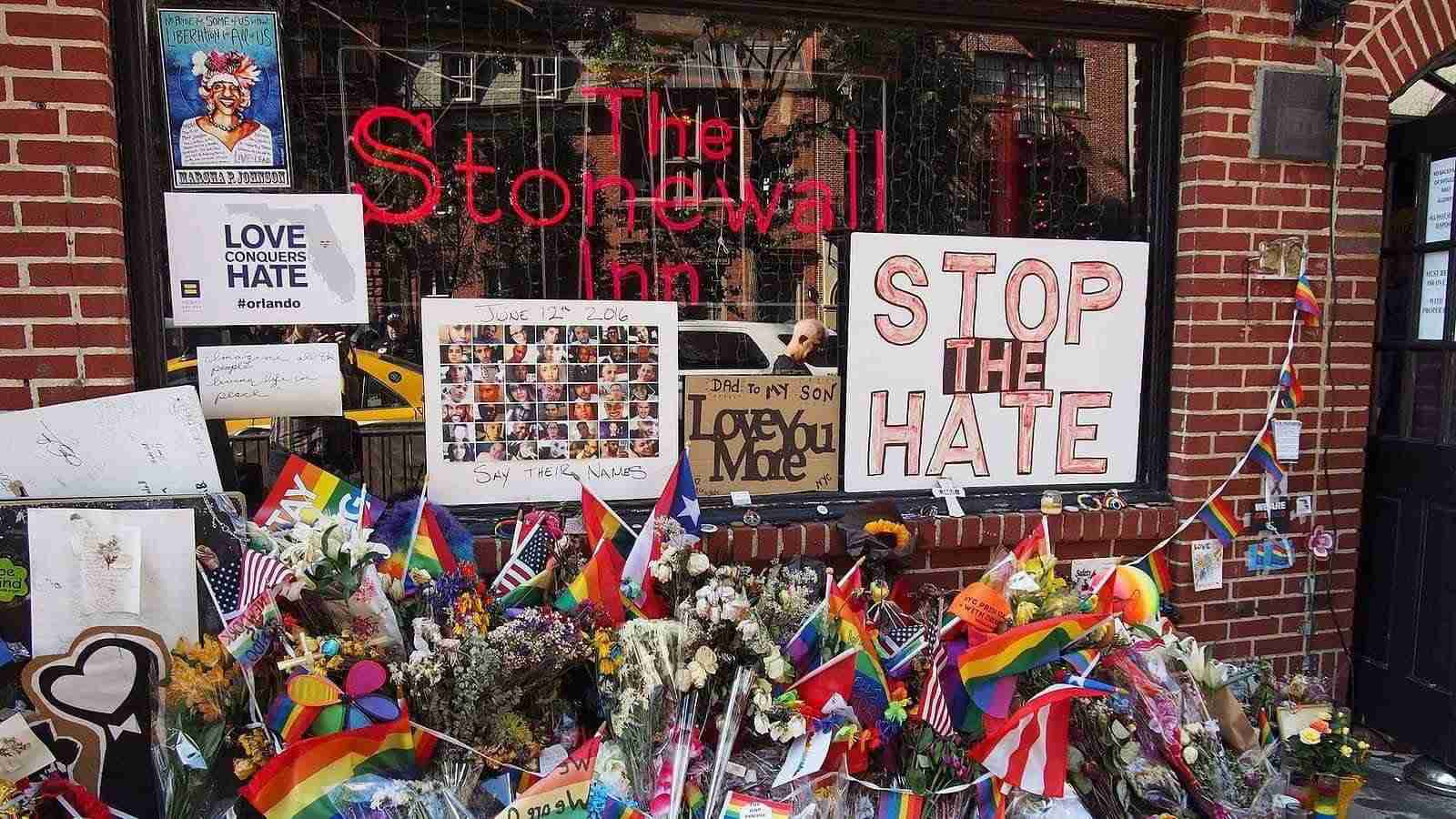 3. Nevada
Nevada has enacted anti-discrimination laws, granted gay couples adoption rights, and banned conversion therapy on minors. A 2017 survey found that 70% of Nevada residents support gay marriage as well – Hooray!
The Las Vegas nightlife scene is epic– they don't say 'what happens in Vegas, stays in Vegas' for nothing. But perhaps you don't know much about the LGBTQ scene that lives there.
Piranha is a euphoric, over-the-top, loud, and intense dance club – famous for fierce drag performers as well as themed nights. For cruising, you can't beat the Entourage Sauna, where men can enjoy steam rooms, dark rooms, and private rooms for all sorts of shenanigans.
Gay icons Lady Gaga, Celine Dion, Britney Spears, and Cher have famously performed Vegas residences in venues across the city, each of them putting on lavish shows to packed-out crowds every night. Tickets can be gold dust at the best of times, but these shows need to be experienced.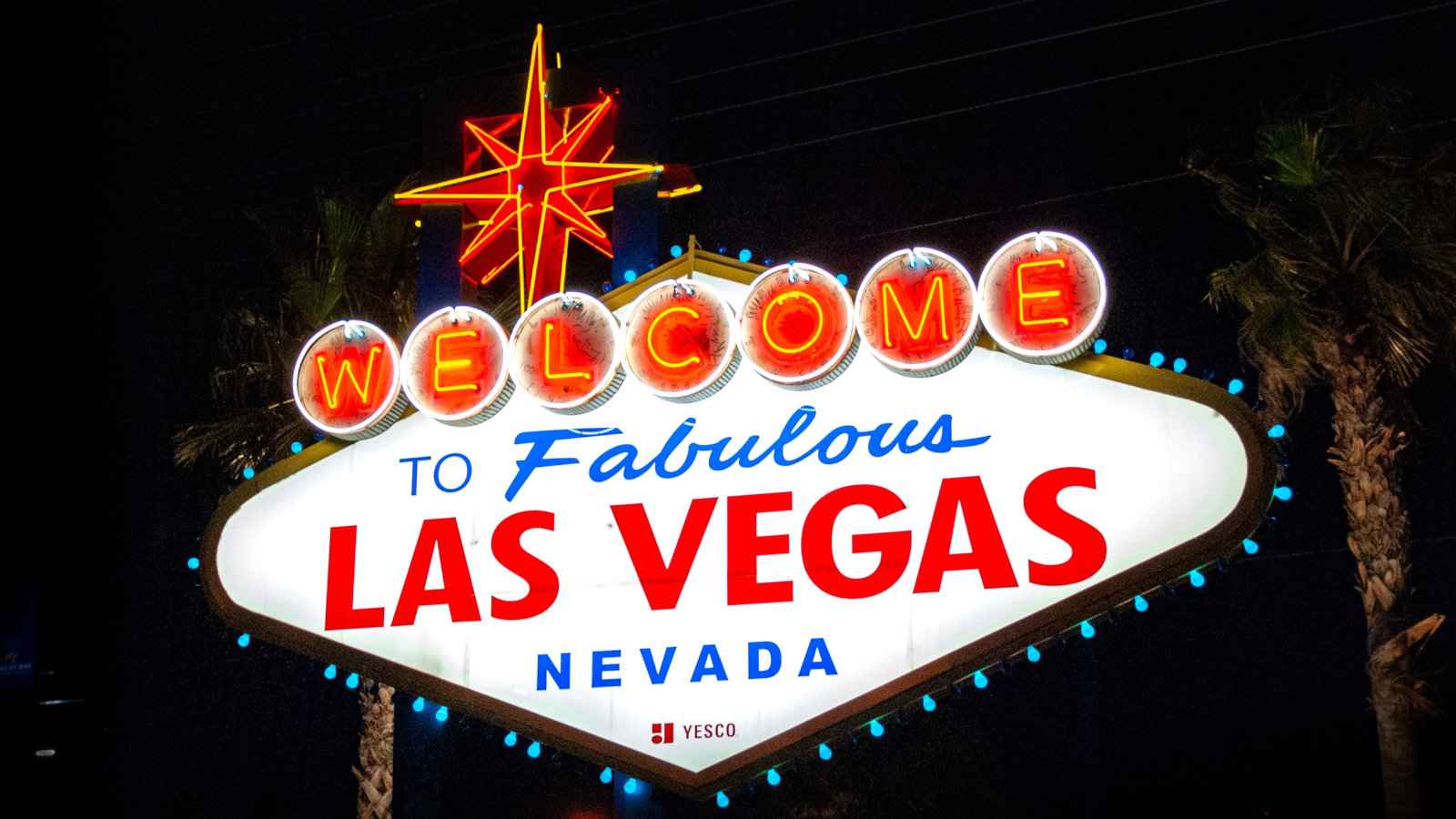 4. Washington DC
The District of Colombia – the seat of government of the United States, technically not a state, but we include it given its significance as the capital of the country. It's also super gay. With marriage equality having been made legal since 2010, a ban on conversion therapy for both minors AND adults, along with robust anti-discrimination laws, it's safe to say that Washington DC is an LGBTQ haven.
Green Lantern is a thriving gay bar, with a local vibe. There's a dancefloor upstairs, with massive screens for displaying videos. If you're feeling bold, go shirtless. On Thursdays, it'll get you a free drink between 10pm – 11pm. For even bolder guys, stripping to your underwear will get you free service between 12am – 12:30am.
And if you think that sounds wild, swing by Nellie's Sports Bar for a night of drag bingo. Or a spicy evening at the DC Eagle – known for its leather daddies and gritty atmosphere.
As for saunas, there may only be one – but it's one worth visiting. The Crew Club's Finnish-style bathhouse harbors 65 private rooms – wowza! It features a labyrinth of mazes, steam rooms, group showers, and lounges to enjoy.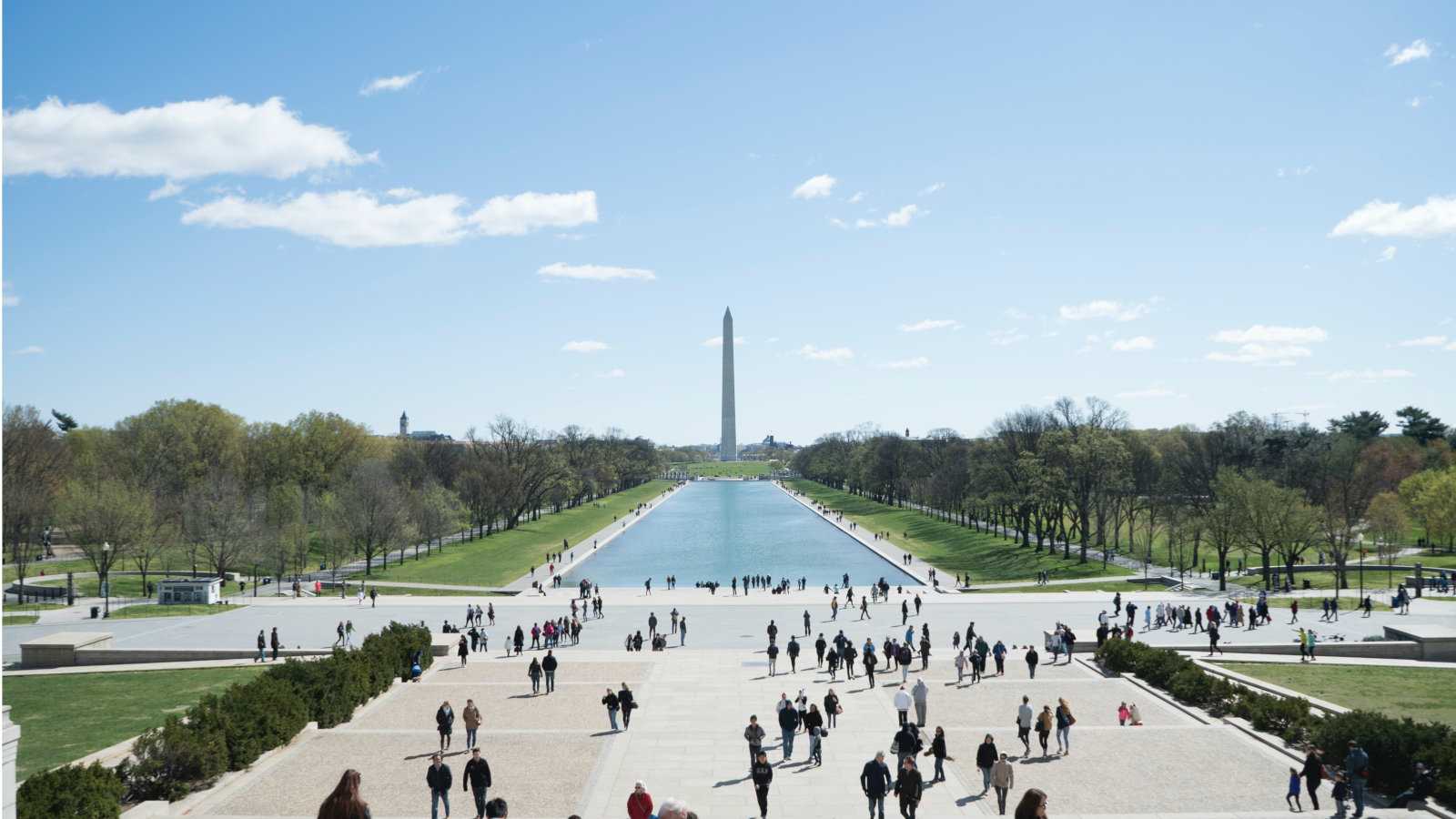 5. Illinois
New York may have had Stonewall, but Illinois broke barriers when it became the first state to decriminalize homosexuality in 1962. Today, Illinois has policies that protect LGBTQ students from being bullied, promote the teaching of queer history in schools, and prevent conversion therapy from being used on minors. Now, that's a place that cares about its gay youth!
Chicago followed in the footsteps of the Stonewall Riots, organizing their own Pride march in 1970. The event has since grown to attract up to 1 million people each year.
The gay district is situated in Boystown (could that be any more on the nose?) and is packed with LGBTQ bars, clubs, and restaurants. Center on Halsted is also based in the area, serving as an LGBTQ community center. They run dozens of events and programs throughout the year that aim to educate the public on LGBTQ issues, as well as provide a safe space for young, queer people.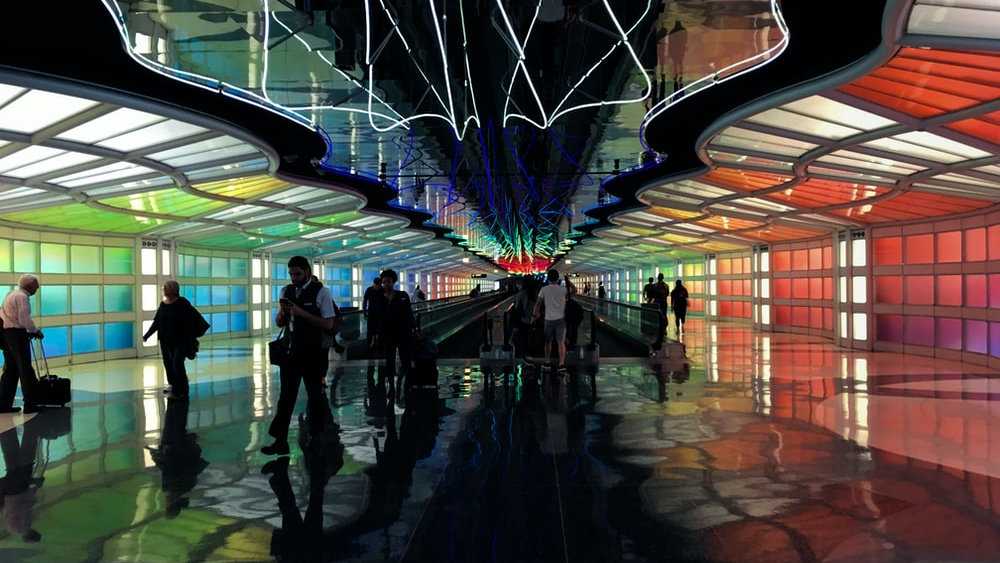 6. Hawaii
Pre-colonial Hawaii was very gay. Ancient tribes used the term aikāne to define someone who fell in love with a member of the same gender and the rest of their community didn't give a damn… that is until the colonizers arrived. Booo!
However, over the last few years, Hawaii has once again evolved to be a very gay-friendly place. Homosexuality has been legal since 1972, equal marriage has been legal since 2013, and the use of conversion therapy on minors has been banned.
Plus, the island is a gay nomad's dream! Warm weather, gorgeous beaches, and kind-hearted people – it's no wonder it's become the hot favorite for LGBTQ travelers. For the best dancing clubs, head to Honolulu. Bars like Bacchus have incredible cocktails, loud music, and are great meeting spots for local gay guys.
Though if you aren't in it for the nightlife, there is a trove of activity to get up to. From scuba diving to exploring the Waikiki beaches, Hawaii is one unstoppable gay adventure, and why we rate it as one of our top gay vacation spots in the world!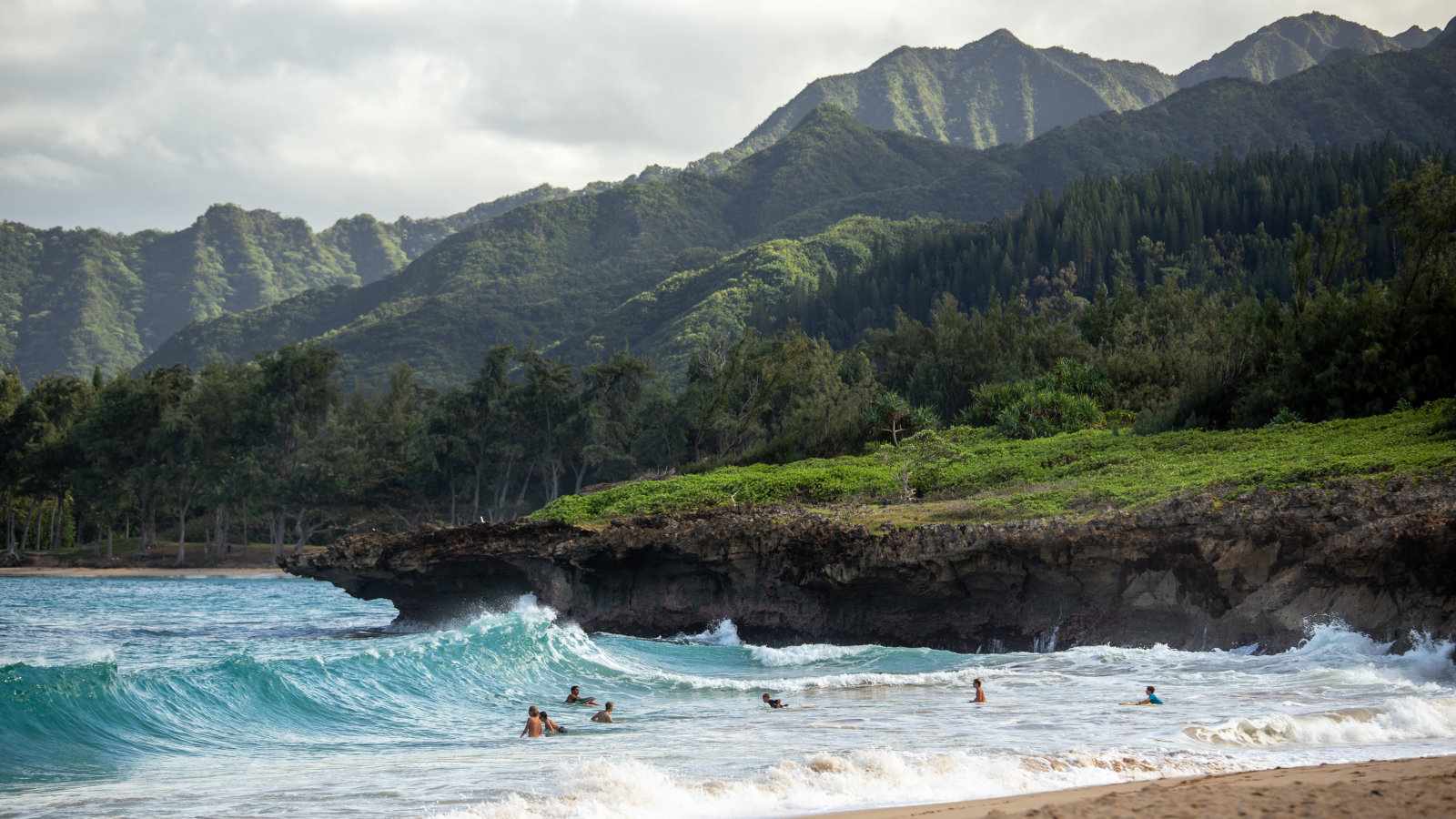 7. Washington
Washington State (not to be confused with Washington D.C) is often overlooked when it comes to gay travel destinations. Well, not on our watch!
In Washington State, over 5% of adults identify as LGBTQ. In addition, the state has had marriage equality since 2012, has legislated anti-LGBTQ bullying policies in schools, and allows for joint adoption by gay couples. That's one hell of a checklist!
Seattle's gay scene is ever-growing. Around Capitol Hill, there are several popular gay bars, clubs, and restaurants. Unicorn is a loud and carnival-like experience, with arcade games and (randomly) corn dogs. Wildrose is a lesbian bar bustling with karaoke nights and incredible DJ sets. Plus, the scandalous gay sauna, Steamworks Seattle is not to be missed.
Pride takes place in late June, with a massive march throughout the city, and parties around Capitol Hill. Seattle Out and Proud do incredible work to promote LGBTQ-inclusive events around the city. In the past, they've held singing competitions and family picnics.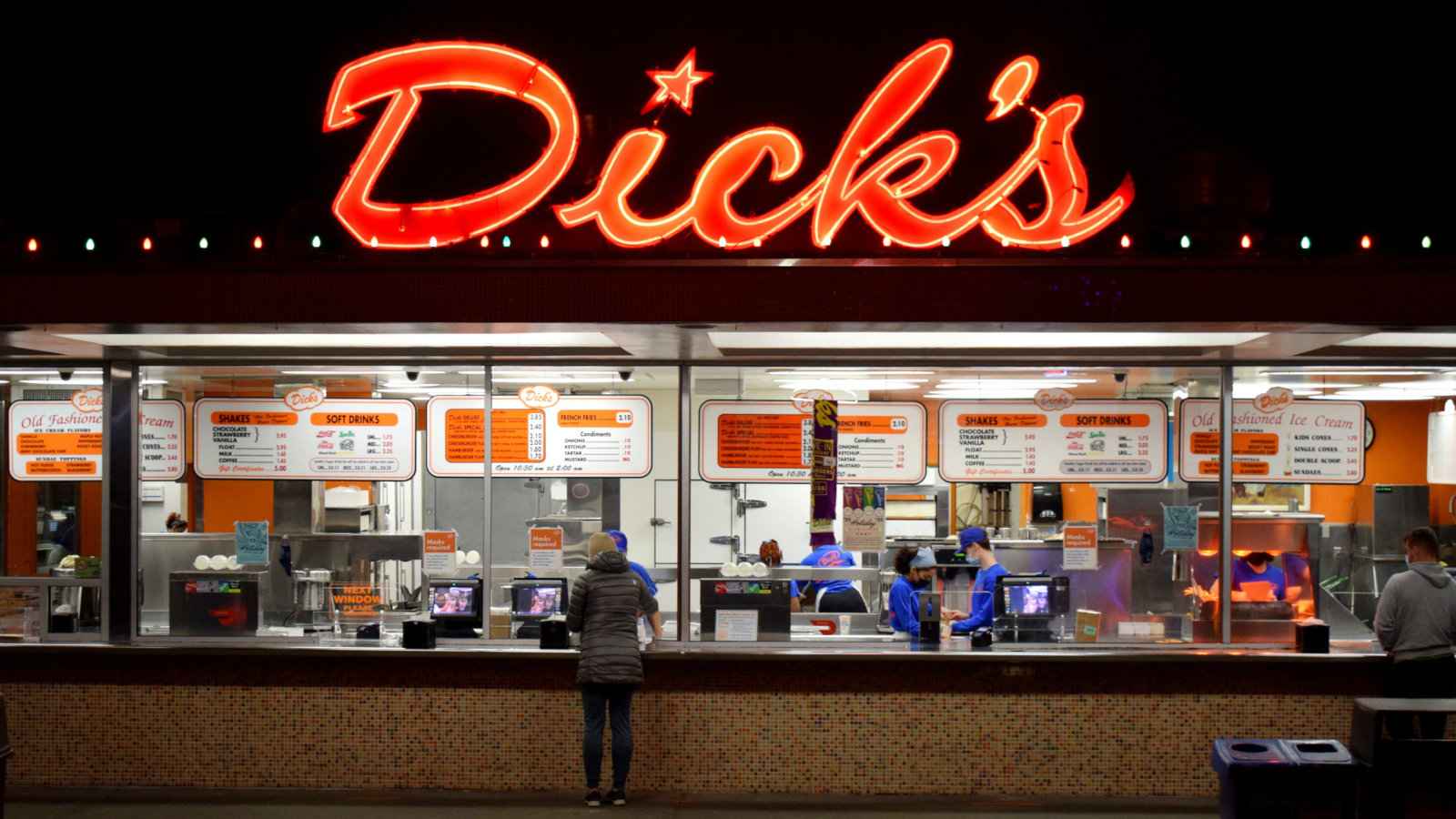 8. Massachusetts
Official stats tell us Provincetown is "the gayest city in the USA." Well, ya can't argue with maths.
But even if we didn't have that data to back up, we'd argue that the city, and especially the state, are among the most gay-friendly in the world. Massachusetts was the first state to legalize gay marriage. Plus, it was the first to have an openly gay state representative, Elaine Noble, who become elected to the Massachusetts House of Representatives all the way back in 1974!
Around Provincetown, they never stop showing love to their LGBTQ community. In June, they have Pride and a Womxn of Color Weekend. In August, there is the famous Provincetown Carnival, a weeklong celebration of all things queer. And there's a trans week in October!
And of course, you have the city of Boston. Where there is an abundance of alternative gay hangouts, like the leather-clad The Alley, the drag cabaret shows of Jacques, and dance crazy Trophy Room.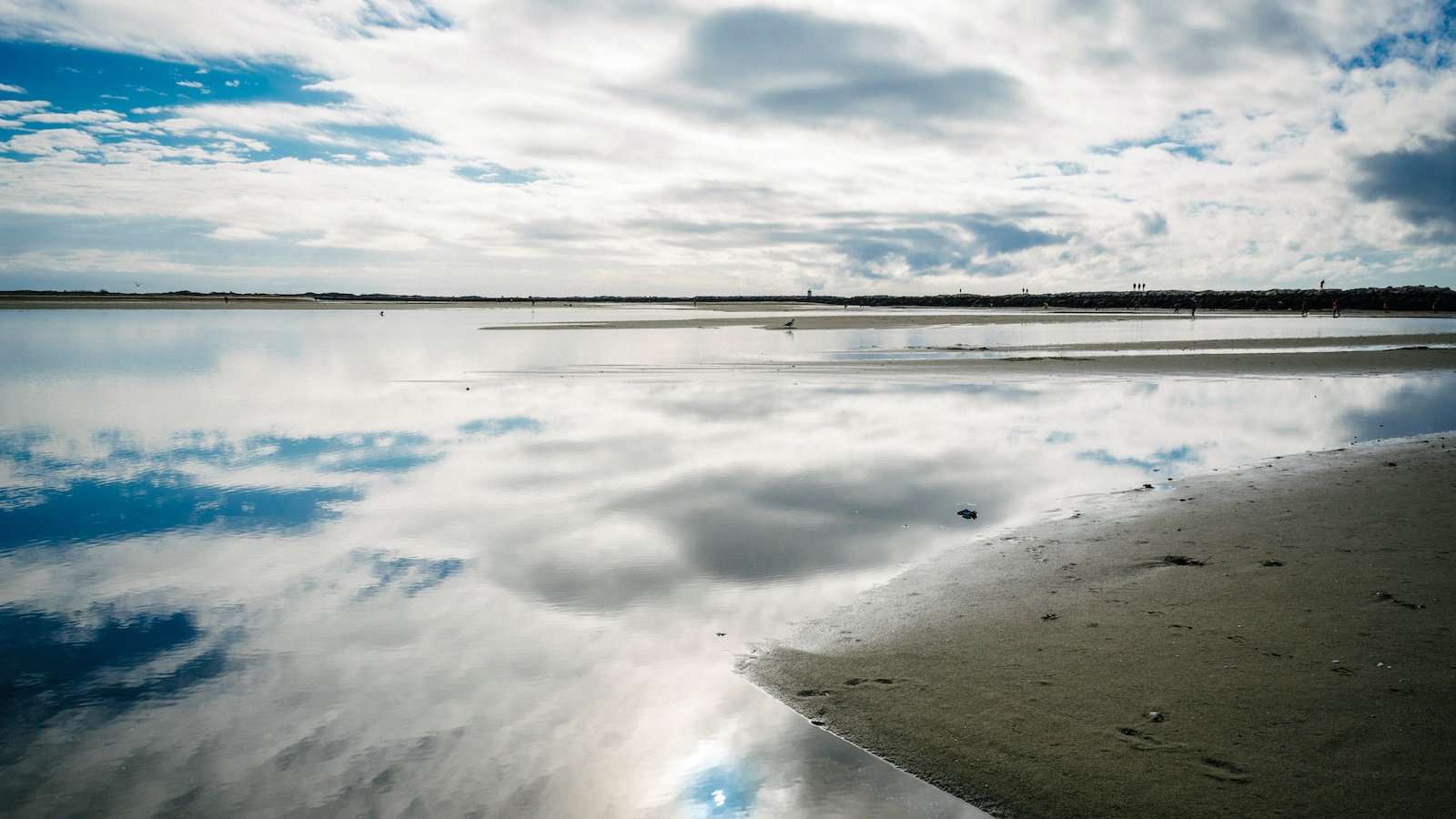 9. Texas
Nope, you didn't misread that title – big city life in Texas is astoundingly gay-friendly.
The toxic homophobia that the Deep South state is infamous for is mostly confined to the countryside towns – of which there are a LOT of… So ironically, Texas is a state that fits on both America's most dangerous states to be gay AND one of the safest places. Weird, right?
Austin has one of our favorite gay scenes in the USA. It takes the Texan mantra of making everything bigger, louder, and better… then makes it gay! There are lots of bars and clubs to hit up. Oilcan Harry's is typically one of the busiest spots, with drag shows and exotic dancers.
And Houston does NOT have a problem with the gays… with an equally thriving LGBTQ scene. Spread your wings and head to Eagle. Inside, you'll find handsome bartenders, strong-tasting drinks, and a downstairs Ŧetish store. Let's not also forget that Texas is home to quite a few awesome gay campgrounds!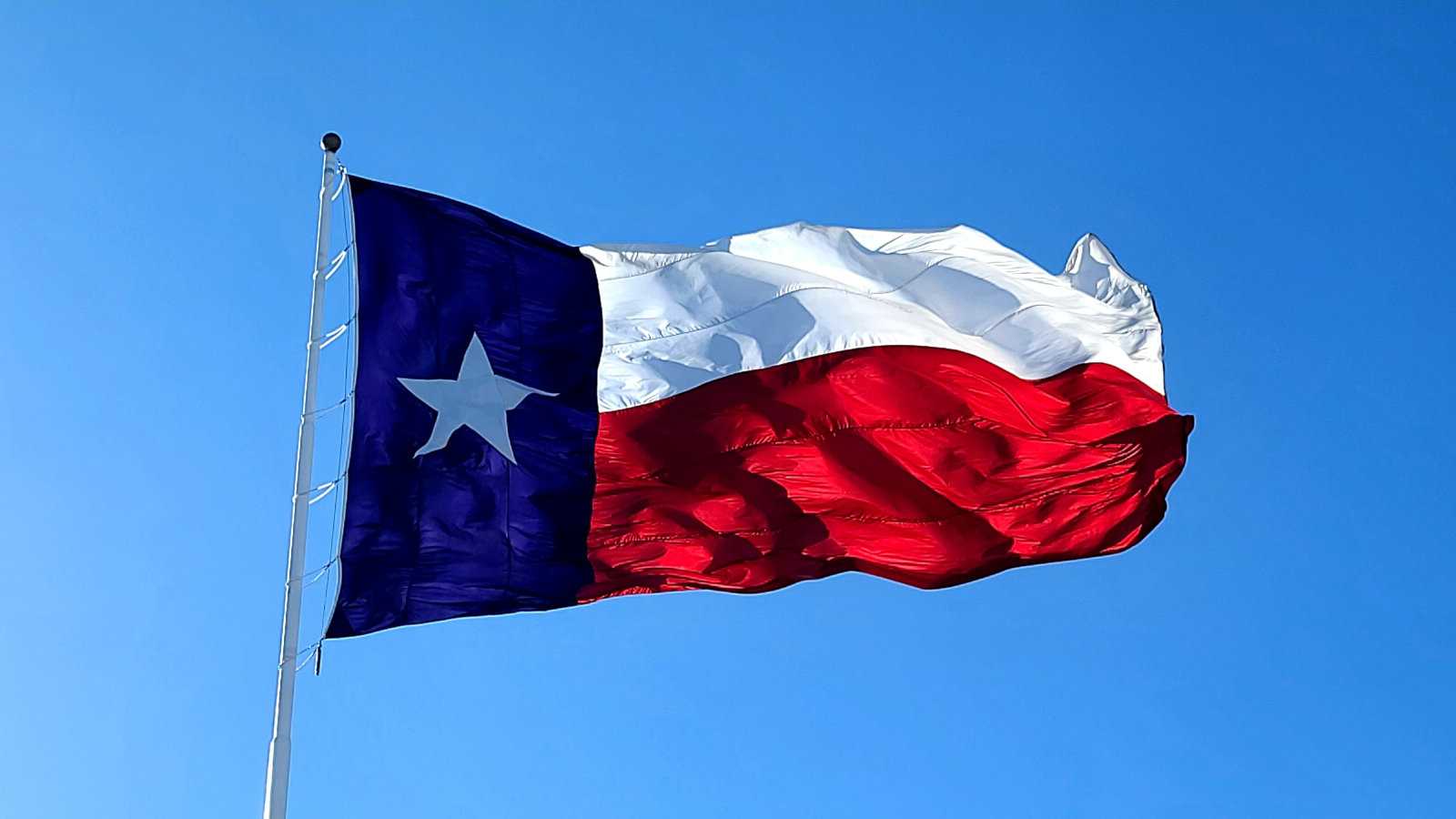 10. Florida
From Key West to Fort Lauderdale, Miami to Orlando, it's a wonder Florida isn't considered the gay capital of America. Oh, wait… the rest of the state is mostly red… hmph!
While each city has its own distinct feel, their individual gay scenes are every bit as fabulous and frivolous as you could want them to be.
In gloriously gay Key West, you have Duval Street, where you'll find a rainbow crosswalk to snap a pic of. Around the area, you have gay bars like Bobby's Monkey Bar, 801 Bourbon Bar, and Bourbon St. Pub.
And we've said many times that we consider Fort Lauderdale to be one of the gayest places ever. You can't have places like the all-male Grand Resort, the dragilicious club Georgie's Alibi, and the all-male sauna The Club without being as camp as a fruit basket. You'll also want to get the full lowdown on why we rate Fort Lauderdale as one of the gayest cities in the world!
Both Miami and Orlando also have massive gay scenes, with fab bars like Gaythering in Miami and Barcodes in Orlando. Check out our gay guide to Miami for more.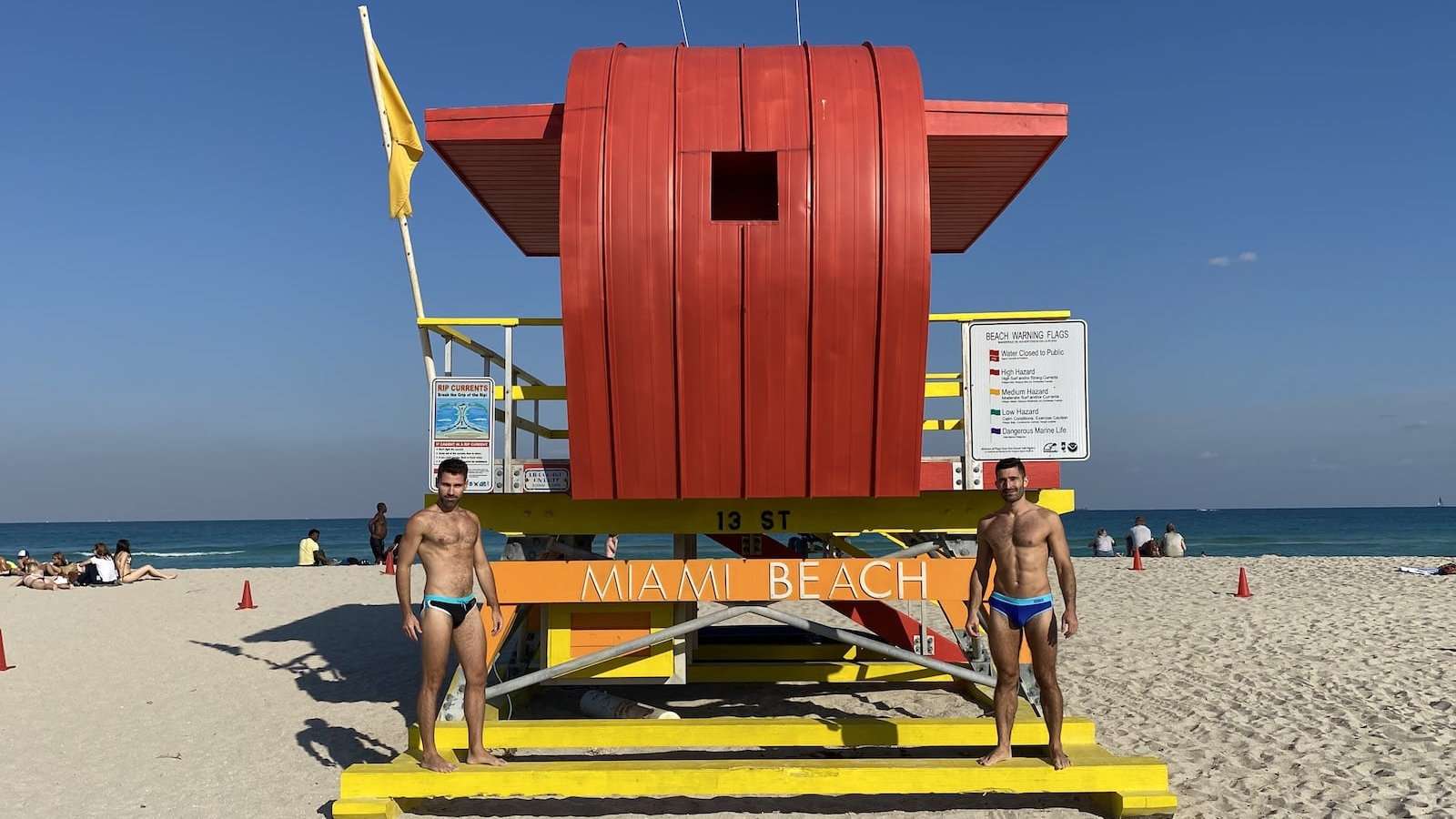 ---