Moi? A lover of gay camping? Whoever would have thought??
Yes, your favorite cocktail-drinking, king-sized bed sleeping, beach sunbathing, disco-dancing queen has a soft spot for gay camping…
Well, if we're being open and honest, I (Stefan) had never slept outdoors a day in my life until I met Seby, who spent his childhood summers doing so in the French countryside. And I had sworn to myself I never would. Except, nature-obsessed Scenic Seby had other ideas…
Admittedly, since we've been together, I have grown quite a fondness for it. Sure, it can be rough, dirty, and downright uncomfortable, but there's no better feeling than snoozing beneath the stars, enjoying a singsong around a campfire, or taking a stroll around the wilderness. Plus, it also means we get to live out our Brokeback Mountain fantasy (minus the tragic ending)!
We love a gay camping weekend. It's an opportunity to escape and connect with nature whilst at the same time making a whole heap of new squirrel friends.
Whilst some people may not be keen to go full throttle (and by that we mean, sleep outside in a tent), most campsites also offer cabins or bunkhouses for you to rest in. So, having said all that, here are 5 of the best gay campgrounds to check out across the USA in 2023.
Heads up: We just wanted to let you know that this post contains affiliate links. That means if you book something through one of those links, we'll get a small commission, at no extra cost to you. It helps us keep our blog going – so thank you in advance for your support! ♥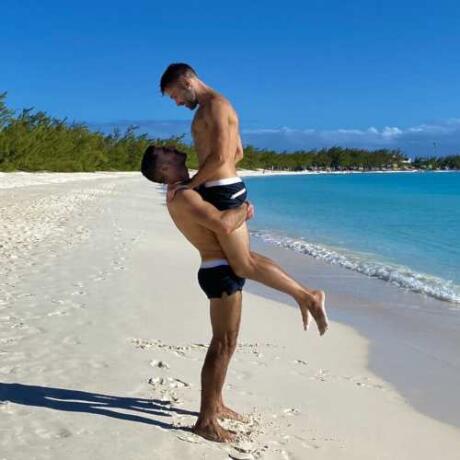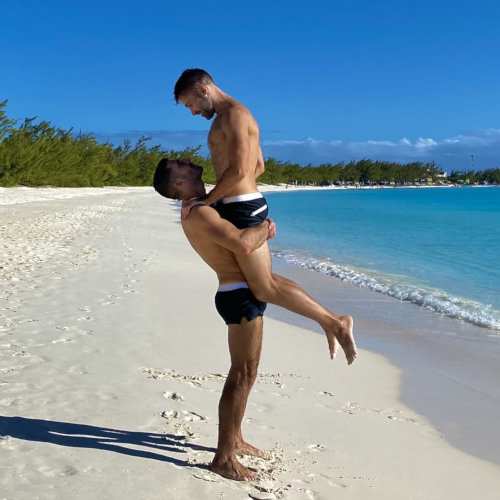 Have some gay fun in the sun
If you're looking to combine sand and sea with a little culture, join one of Out Adventures' sunny gay tours. We particularly love their Croatia: Gay Dalmatia Cruise itinerary, perfectly merging daily swim stops with tours of the country's famous medieval ports and towns. But other options include their big gay Colombian getaway, either of their Cuba tours, and of course their signature Thailand adventure.
01
Roseland Resort & Campground
Proctor, West Virginia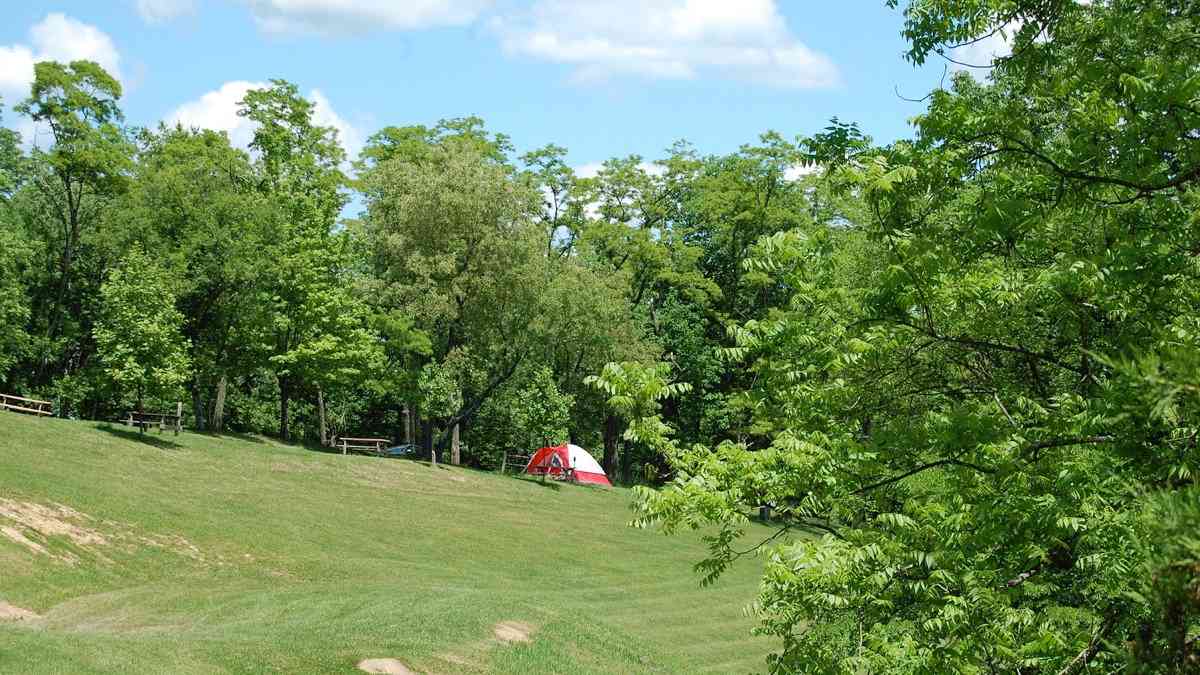 In a nutshell
---
22 acres of forested hills and meadows with hiking trails
Campsites, RV sites, rooms, and cabins are available
Heated swimming pool, hot tubs, steam room, and massage services
On-site restaurant and pizza shop
Roseland Resort & Campground couldn't be more off the beaten track if it tried. The winding hillside road that leads up to the gay camping site can be a tad scary, so we recommend looking up Google Maps and sticking to interstate highways as far as you can go.
However, once we arrived the effort to get here was TOTALLY worth it! We were blown away by the rugged mountain landscape that enveloped the 222 acres of this gay campsite. It contains a heated swimming pool, several hot tubs, and steam rooms for socializing.
By day, we explored the 11 miles of hiking trails that surround the site. By night, we either stuffed our faces in the pizzeria or enjoyed a boogie in the bar. They even had campfire get-togethers, where we showed off our (ahem!) vocals with an old-style sing-along with fellow guests.
The all-male, all-gay camping site is particularly popular with the bear community, which is more than appropriate considering West Virginia's state animal is a bear! The campsite holds an Annual Bear Fair, a fabulous celebration of all things big, gay, and hairy. Other fun yearly events include all-nude New Year's Eve parties. Now that's certainly one way to ring in the new year, eh?!
For accommodation, guests can opt to sleep beneath the stars on the tent sites dotted throughout the grounds or park their RV. If you'd rather have a bed, there are a range of cabin and room options for you to choose from inside converted farm buildings.
Prices at Roseland Resort & Campground start from $25 per night:
---
02
Sawmill Camping Resort
Dade City, Florida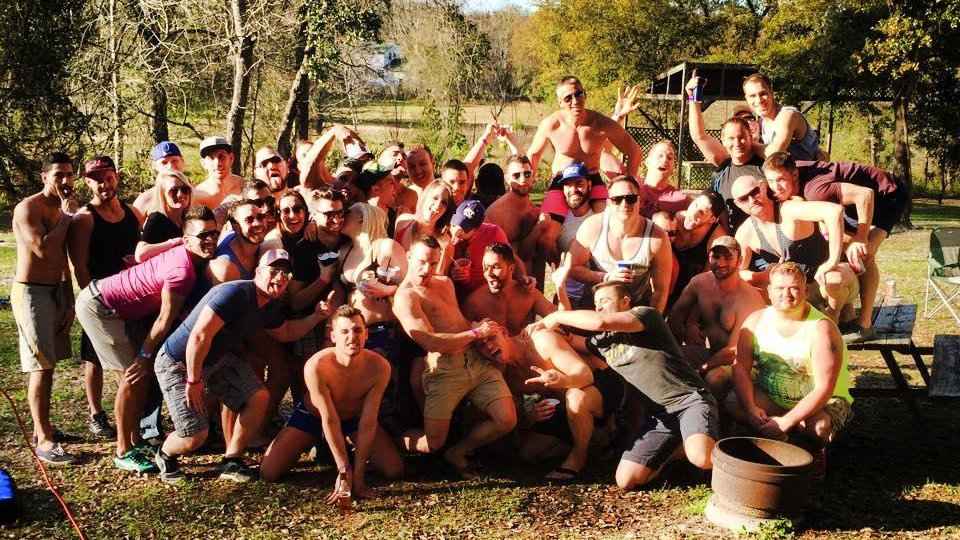 In a nutshell
---
120 acres with a poolside bar and a nightclub
Campsites, RV sites, and cabins are available
Clothing-optional heated pool
Close to major attractions like Disney World and Universal Studios + LOTS of events on-site!
Drive an hour outside of Orlando and you arrive at the Sawmill gay Camping Resort. It's a world away from Universal Studios and Disney, but a world certainly worth discovering!
Whether you're sleeping in the open air at the tent site, renting a cabin or RV, or only visiting for a few hours (via a day pass), this LGBTQ campground has everything you could ask for. From the clothing-optional pool to the acres of land to stroll around, you'll feel immersed in the spirit of natural living.
Country and disco fans face-off, with a choice between a fabulous nightclub (aptly named Woody's!) or a country-style hoedown in the courtyard. The gay campground regularly hosts events like drag queen bingo or karaoke nights, which leads to some rather amusing shenanigans… We've certainly embarrassed ourselves by cracking a go at the mic, but isn't that what it's all about?
In terms of accommodation, Sawmill has some pretty sweet cabins, albeit rustic. You can also decide to stay in an RV or on the tenting site, depending on how hardcore your penchant for gay camping really is.
Prices at Sawmill Camping Resort start from $10 per night:
---
03
Highlands Resort
Guerneville, California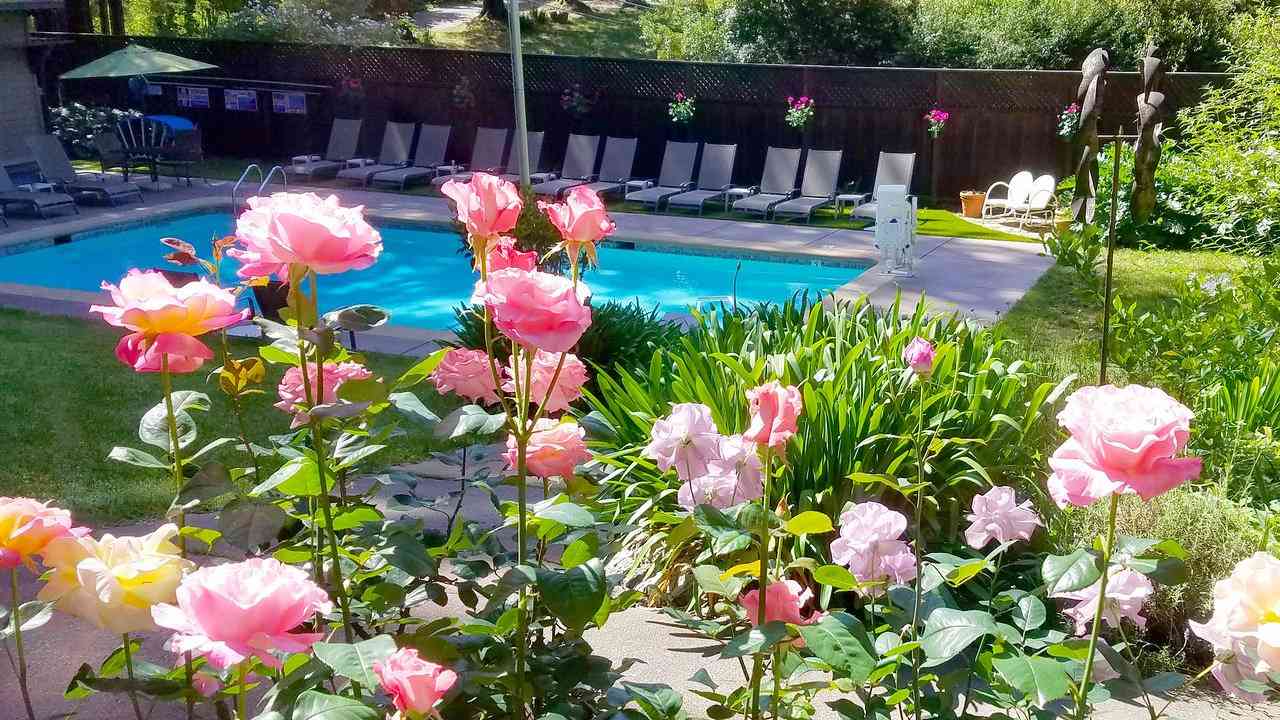 In a nutshell
---
3 acres of Redwood groves and beautiful gardens
Campsites, rooms, suites, and cabins available
Glorious swimming pool
Pet-friendly rooms also available (limited availability)
Highlands Resort calls themselves 'straight-friendly' – just like us! They are so gay that they even have their own coming-out story. Having been around since the 1930s, they welcomed guests for almost 50 years before declaring themselves as a gay campground in the 1980s.
Today, it's run by an awesome team who love nothing more than to have fun and spread love. This shines through the staff's wonderful upbeat attitude, who deal with everything with a smile.
They have a glorious swimming pool and breathtaking gardens to lose yourself in. They don't have much of a party atmosphere, so it's the perfect spot if you're looking for a quiet gay getaway.
The gay campsite itself is filled with quaint cabins, each boasting a gorgeous vintage design. From chrome and Formica tables to the linoleum floors. A step through your room's doorstep is like a step into a different era!
Instead of camping, you can go "glamping", though this is available during the summer months only. With this, you'll have access to the heated pool and enjoy a daily complimentary continental breakfast. The tent sites are spacious, each containing a table, umbrella, four chairs, and two loungers.
Prices at Highlands Resort start from $40 per night:
---
04
Campit Outdoor Resort
Fennville, Michigan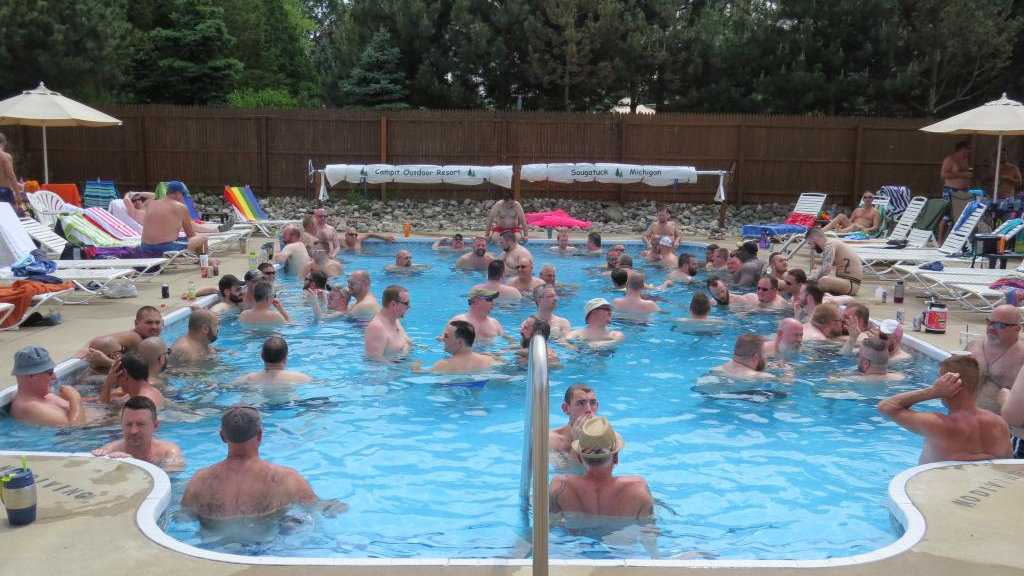 In a nutshell
---
33 acres filled with walking trails
Campsites, trailers, bunkhouses and cabins available
Heated outdoor swimming pool
On-site naughty "toy store"
If you can camp-it, you can love it!
Campit is all about welcoming everyone, regardless of orientation. Located 10-minutes away from the tourist hotspots of Saugatuck and Douglas, Campit offers a safe place to holiday for friends and allies of the LGBTQ community.
Across the 33-acre gay friendly property, you can expect to find a huge heated swimming pool, rec hall, game room, and miles of walking trails that immerse you within nature.
There is even a Campit's "Toy Store", though not the kind of toy store you'd expect. Here you can pick up an assortment of leather items, novelties, and other cheeky accessories you may have forgotten to pack at home…
There are several lodging choices – just in case you're a tad allergic to the outdoors. These include a 5-bedroom bunkhouse B&B, 22 log cabins, or one of the vintage trailers. There are also outdoor options, with several camping sites spread across the compound. We've heard the "New Horseshoe" is especially popular because it is the largest tenting area, offering a more private and rustic experience.
Most accommodation options are also pet-friendly, so you can bring your pooch or puss along with you!
Prices at Campit start from $10 per night:
---
05
Jones Pond Campground & RV Park
Angelica, New York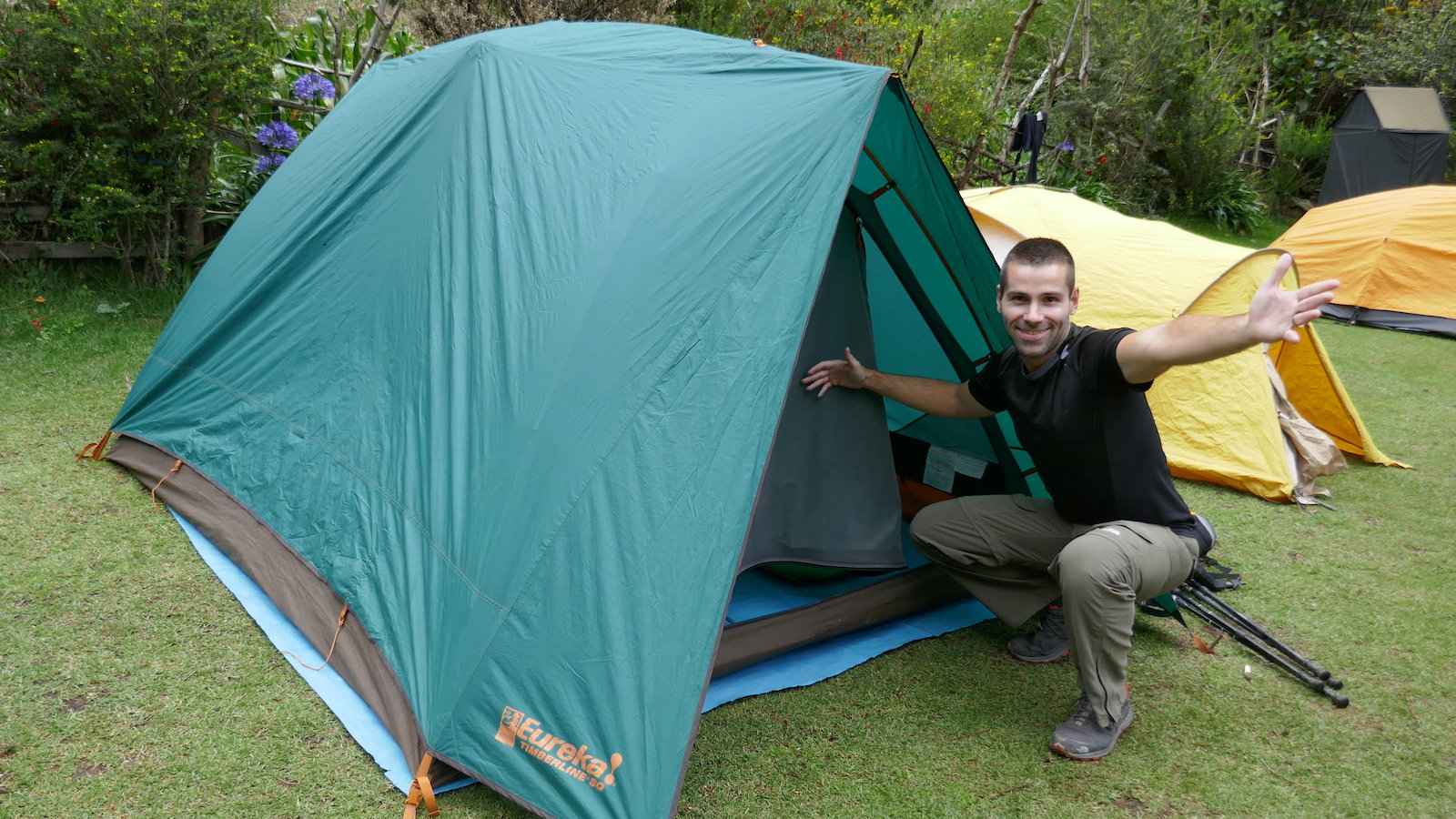 In a nutshell
---
100 acres with hiking trails
Campsites, RV sites, rooms in the guesthouse, bunkhouses, log cabins and pet-friendly cabins available
Clothing-optional swimming pool
On-site café/restaurant with yummy food
The name's Pond. Jones Pond!
Situated in New York state, it's not quite the glittering skyscrapers and dazzling Broadway shows NY is generally associated with. Far from it!
Jones Pond is an all-male gay campground for 21+, with a clothing-optional policy around the pool area. It has a very low-key and chilled vibe, favoring quiet and serenity over the party-fuelled chaos that you may find at other resorts.
There is a 2-night minimum stay here with most of the accommodation choices. You can choose between staying on a massive tent site, which has a capacity for up to 175 tents, in rooms within the guesthouse, bunkhouses, log cabins and pet-friendly cabins. There's also space for RVs or you can rent one if you don't have your own. Whatever you choose, you'll fit right into camp life in no time.
The culture around the grounds is relaxed and friendly. Staff are always on hand to help you with anything and are more than happy to join in on the conversation.
The campground's café is very popular, with locals and passing tourists alike dropping by to visit. It's a great place to start your day with a cheese omelette, French toast, or pancakes. Later in the day, the café serves up mouth-watering burgers and Philly cheese-steaks. A taste of the true gay American dream!
Prices at Jones Pond Campground start from $15 per night:
---
06
The Woods Campground
Lehighton, Pennsylvania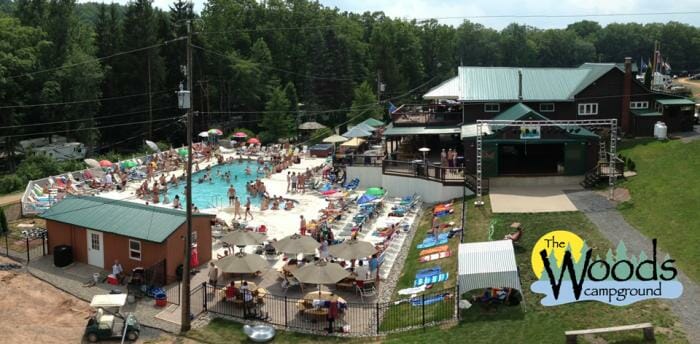 In a nutshell
---
161 private acres with streams and a lake
Campsites, RV sites, cabins and tiny houses available
Fully clothing optional + large outdoor pool
Raucous weekend themed parties
Into The Woods we go to live out our gay pubescent Bel Ami-inspired fantasies…
The Woods in Lehighton, Pennsylvania is, in fact, one of the most famous gay campgrounds in the USA. It's exclusively for members only, meaning you have to sign up beforehand in order to book your stay… so you KNOW it's going to be good!
They also have a strict over 18s policy and welcome an older crowd allowing for a welcome mix of everyone in our LGBTQ family.
Events are a big deal here. They have huge party-themed weekends: from "Bears At The Woods", and "Leather Weekend" to one entire weekend just for drag shows. All parties culminate around their large pool area – fully clothing-optional of course!
The idea behind The Woods Community came about because of the negative effect social media and gay dating apps were having on social queer establishments like bars/clubs – in that they have been declining in numbers! Here they encourage face to face interaction, away from Grindr and Instagram. This feeling of being part of a tight knit community is what makes The Woods stand out.
It's also absolutely massive! The Woods owns no fewer than 161 private acres with streams, a four-acre lake, and plenty of campsites – all of it set against the backdrop of the breathtaking Pocono Mountains. Space is your friend here…"Into The Woods" we happily go…
Prices at The Woods Campground start from $19 per night:
---
Happy travels are safe travels
We recommend you always take out reputable travel insurance before your next vacation. What happens if you suffer from illness, injury, theft, or a cancellation? Many gay travelers forget about it and regret it when something happens. Better to pay a small price and have peace of mind and not worry.
07
Copper Cactus Ranch Men's Retreat
Queen Valley, Arizona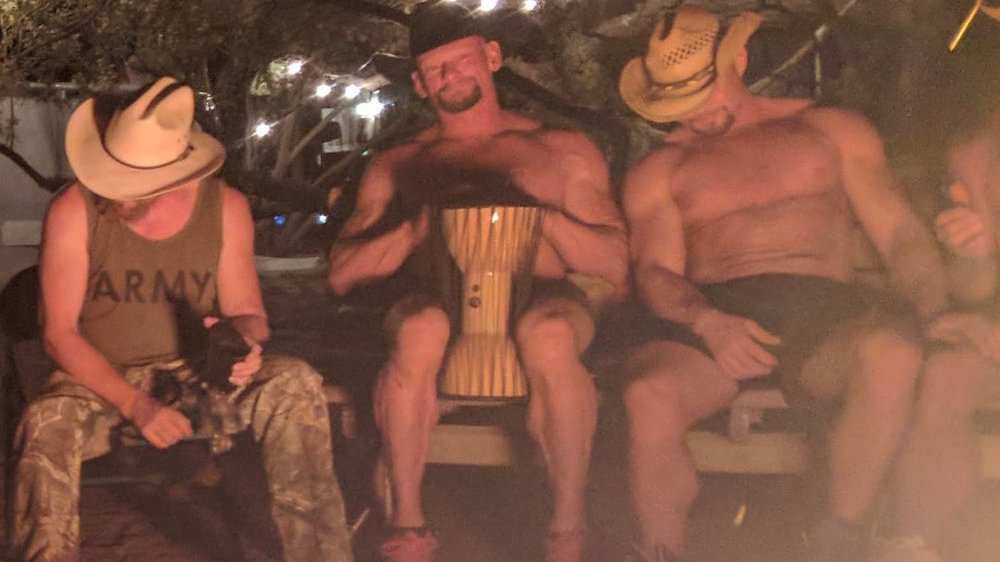 In a nutshell
---
40 acres of desert views and hiking trails
Campsites, RV sites, bunkrooms and private rooms
Swimming pool, hot tub and spa
Delicious home-cooked meals
You know a place is gonna be good when it's located in a place called Queen Valley! Copper Cactus Ranch is a male-only (above 21) campground that caters to all men – gay, bi, straight, and anything in between.
It's refreshing to see somewhere that aims to promote male bonding and camaraderie over anything else.
Along with the regular RV and tent campsites, there are gorgeous ranch house rooms available as well. Choices vary from either private rooms for a couple or bunkrooms with multiple queen beds which are perfect if you're traveling with a group of friends.
Everything is very private, so you're free to go au naturel everywhere – even hiking…we highly recommend trying out nude hiking if you haven't done so already! And with 40 acres of trails, the views over the desert are simply breathtaking. Guests who are camping also permitted to bring their dogs on site.
Copper Cactus has a swimming pool and giant hot tub, which becomes the center point for all evening socials. Look out for owners Rich and Bobby who talented musicians who often get all the guests involved to live out their Beyonce fantasy in an evening karaoke session. They also serve up delicious home-cooked meals and you might even get to learn how to make local dishes like tamales.
Prices at Copper Cactus Ranch start from $15 per night:
---
08
Hillside Campgrounds
New Milford, Pennsylvania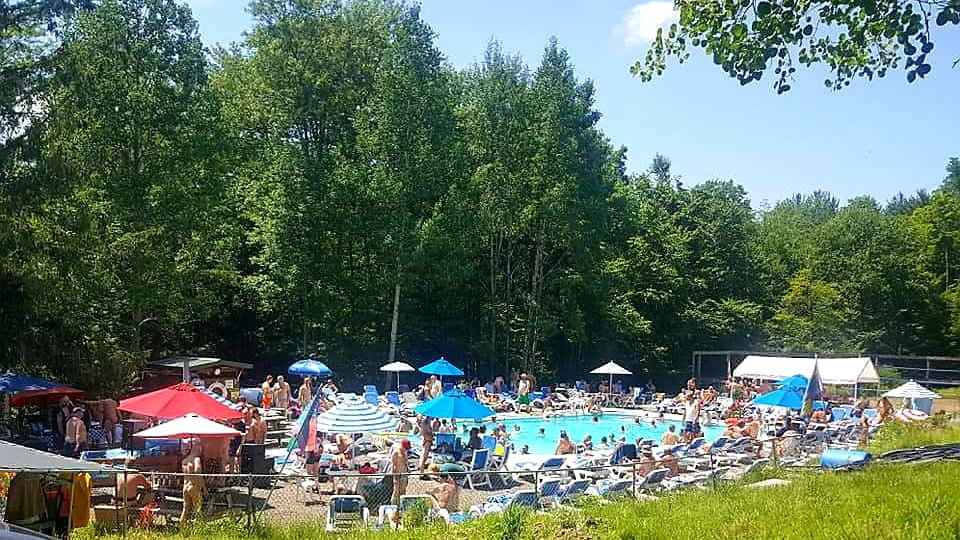 In a nutshell
---
More than 230 secluded acres in the Pennsylvania hills
Campsites, RV sites and cabins available
Clothing-optional space with a large swimming pool, plus onsite cafe and store
Lots of themed weekend parties throughout the season!
Hillside Campgrounds have been providing a fabulous and fun camping experience for the gay male community for more than 37 years – and with no signs of letting up!
Located in the Endless Mountain region of Northeastern Pennsylvania, this large and secluded campsite offers a relaxed clothing-optional place to get back to nature. One of their main mottoes is 'attitude free' and everybody here is definitely free to have fun without judgement, however they prefer.
This campsite is open between May and September every year, with a jam-packed calendar of themed events for those who like their camping to come with a big side of FUN! From Fall-themed Bears in Flannel to hot Latin Carnivale, there's an event for every kind of person, no matter their preferences. These events always feature good music, yummy food and excellent company, sometimes with fabulous costumes and performances as well.
A real highlight is definitely the poolside cocktail party, although any time you care to visit you can enjoy yourself beside or in the swimming pool. Of course, this is camping, so if you want to spend your time hiking the nature trails and hanging out by a bonfire at night, you do you!
You can choose to stay on a site for your own tent or RV, or book a rustic cabin either with or without a private bathroom. Any necessities can be stocked up on at the MaN Store within the grounds, plus there's Embers Cafe for your food and drink options if you don't want to sort that out yourself.
Prices at Hillside Campgrounds start from $25 per night:
---
09
River Ridge Campground
Mount Olivet, Kentucky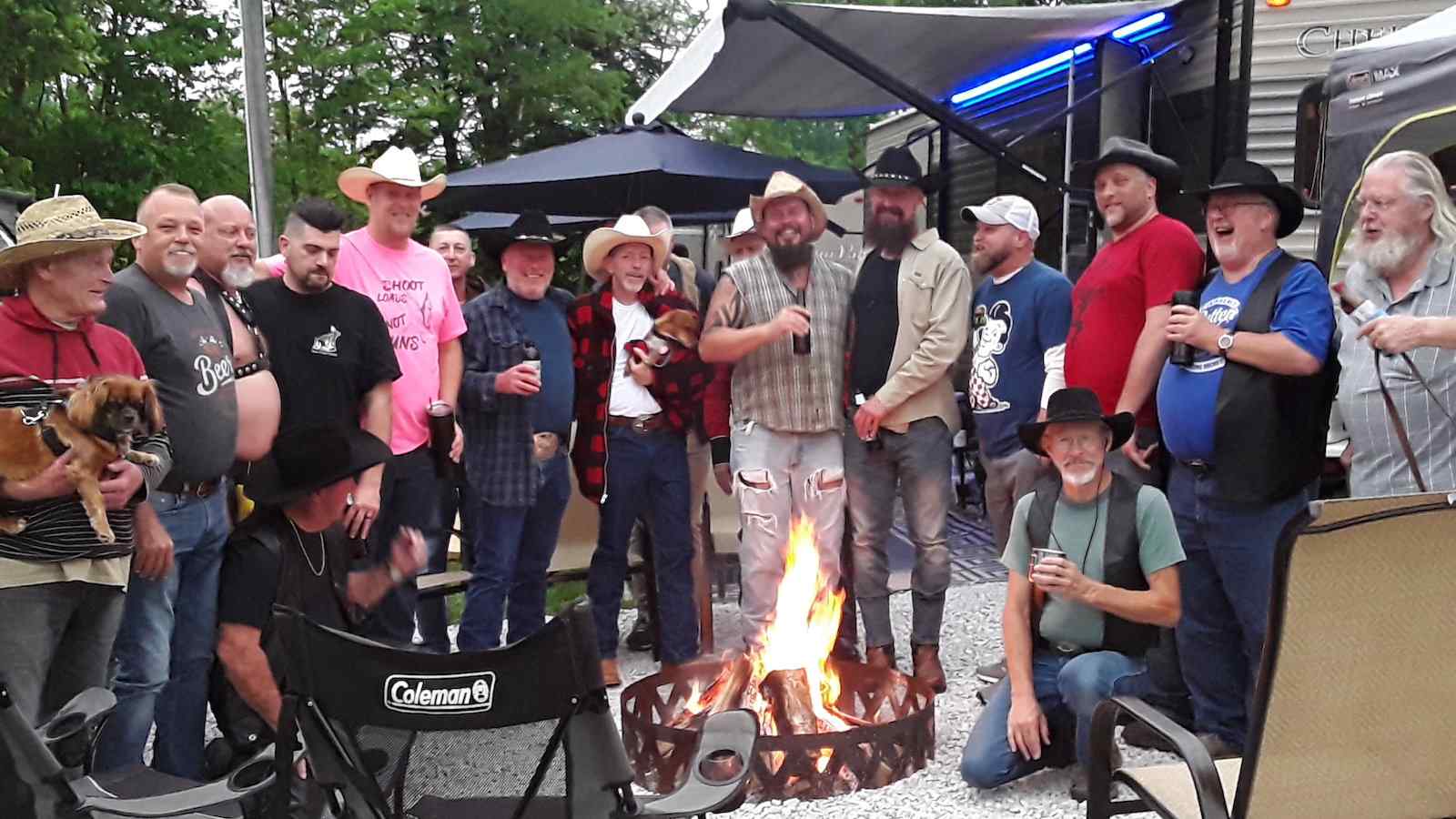 In a nutshell
---
350 ft frontage on the Licking River
Campsites, RV sites, bunkrooms, cabins, lodge suites and RV rental available
Swimming pool and 2 water 'pods' plus riverfront access
Fun events throughout the year and kayak/canoe rental available for enjoying on the river
Located in the beautiful rolling hills of Mount Olivet is River Ridge Campground. This is Kentucky's first and only all-male, private, membership-based, clothing-optional gay campsite.
All men over the age of 21 are welcome here once you've been accepted as a member! The best part is that the entire campsite is fully clothing-optional…cue those Adam & Steve pics for the 'Gram…
Swimmers listen up – there are two freshwater communal tubs along with a brand spanking new swimming pool, and, the Licking River. This is prime location for those of us who want to do a bit of kayaking, canoeing, or even tubing during camping. If you've got your own kayak/canoe, then definitely bring it with you, otherwise, you can hire them from the River Ridge boys.
The keyword here at River Ridge is 'rustic', although that doesn't mean you're going without any comfort. For those who don't want to stay in a tent or RV, there are private suites in the main lodge and small cabins, some of which sleep up to 4 guests. Pets are permitted for guests not staying in the main lodge building.
Social butterflies will love all the fun events here throughout the year, from big-screen movie nights to karaoke, dancing, contests, and drag queen bingo. Even if you're not staying on-site you can get day passes to attend the events and socialize. For those who just like to chill with a beer beside the campfire, you'll also find your tribe.
Prices at River Ridge Campground start from $15 per night:
---
10
Creek Ridge Campground
Stockbridge, Michigan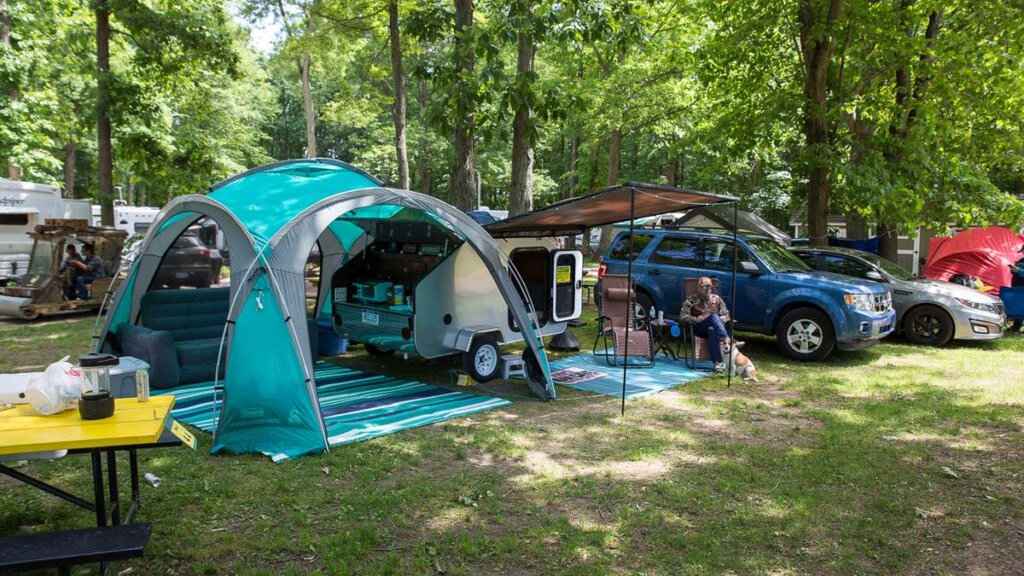 In a nutshell
---
60 acres of wooded land with hiking trails, ponds, and a creek
Campsites, RV sites, bunkhouse, and cabins available
Clothing-optional swimming pool
Club area and exciting events EVERY weekend!
About an hour and a half drive from Detroit is the ultimate 'get-back-to-nature' spot of Creek Ridge Campground. Situated amongst 60 acres of woods with pretty ponds and a charming creek, this is an excellent choice if you want to combine rustic nature with epic parties.
Seriously, the events at Creek Ridge are NEXT LEVEL, with epic themed parties happening every weekend during the camping season (April – October). We're talking "The Wizarding World of CRC" level events, with showings of Harry Potter, games of Quidditch, and most powerful wand competition – we'll leave that part to your imagination!!
Owners Ron and Mike strive to make Creek Ridge a place "where friends become family" as guests enjoy the simple things in life. There's space for camping or parking your RV, as well as small cabins for two or four people. During the day you can relax in the clothing-optional swimming pool, go hiking or fishing in the woods, or just relax by your fire pit.
Club Solitude is where much of the weekend event activities take place, and there aren't many campgrounds with an actual nightclub for you to live out your dancing queen fantasies! If you need somewhere to really unplug and forget about your worries, we reckon a weekend at Creek Ridge is just the ticket.
Prices at Creek Ridge Campground start from $15 per night:
---
11
Rainbow Ranch
Groesbeck, Texas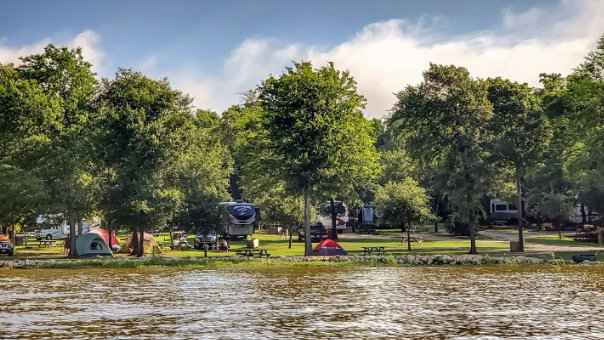 In a nutshell
---
Nearly 700 acres with hiking trails and a lake
Campsites, RV sites, cabins, an apartment and a house available to rent
Swimming pool and fire pit
Fabulous events every second weekend
They say everything is bigger in Texas…and we can confirm that rule extends to gay campgrounds.
The Rainbow Ranch is an all-gay campsite – stretching across 700 acres of ground. It's a tad bit secluded, with not a lot around apart from woodlands, but hey, what else do you expect when camping?
There were so many sleeping arrangements to choose from. I have a deathly fear of creepy crawlies (Seby makes fun of me for it, until I remind him of his rat-phobia!) so, we gravitate away from the more "primitive" tent sites. But hey, if that's your thing, then go for it. Otherwise, you can book yourself into a house, a cabin, or an RV.
For hanging out, you can't beat the Ranch's swimming pool. It looks out at the Lake Limestone and is a great spot for making friends. Music gets played around the pool to keep up the good spirits. And since the crowd is pretty much exclusively LGBTQ, you know the playlists are hopping with Britney, Gaga, and Ariana.
Events are held every other weekend, so if you are gasping for a quieter time, check out the weekends that don't have anything on. Otherwise, prepare for pool parties, drag bingo, cookouts, and Mardi Gras celebrations! The 4th of July and New Year's Eve are particularly busy times, both with an enormous party and fireworks display.
We came across a few choices for food in the surrounding area outside the grounds – we suggest visiting Los Pepes. It's a fabulous spot that serves up Mexican food. You'll need a car though – as while it's only a 15-minute drive, you'll be trekking for hours if you go on foot.
Prices at Rainbow Ranch start from $25 per night:
---
12
Camp Buckwood
Brown County, Indiana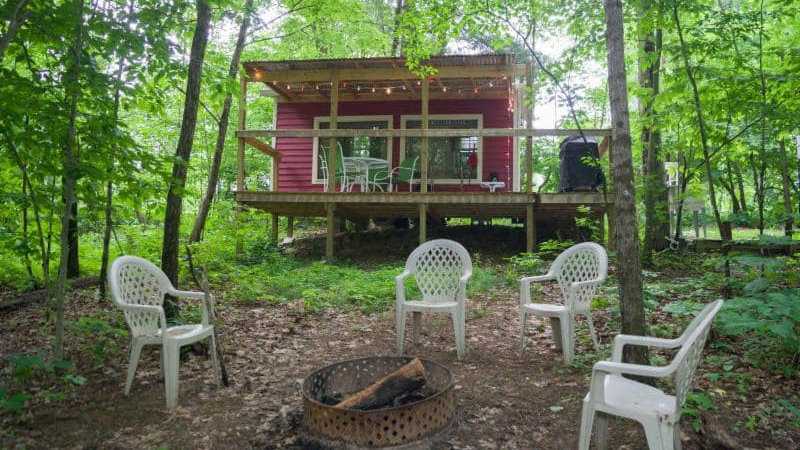 In a nutshell
---
48+ acres with a lake
Campsites, RV sites, cabins, and rooms in the 4 Seasons Lodge available
Heated swimming pool and huge hot tub
Grill restaurant and event space
The idea for Buckwood came from the owner fantasising about an all-gay, all-male camping site. A place where guys could unwind, hidden from the rest of the world, hang out with friends, and potentially find someone special.
They had an adorable tuck shop that sold everything you could need on a holiday – or in other words, anything that we forgot to pack!
For dining, we couldn't fault their grill van – with a menu full of burgers, chicken dishes, and veggies.
Guests hang out around the swimming pool and hot tub area, taking advantage of the clothing-optional policy. Their hot tub is one of the biggest we've ever seen – and we've seen a lot. There are lots of lounge chairs to lay back on and absorb the warm sunlight. And if it starts to rain, you can escape to The Pavilion house.
You can choose to sleep beneath the stars on a tent site or go for the RV/cabin option – all depending on your budget/dedication to the true camping experience. Standard cabins are fairly affordable during weekday nights and off-peak times.
We loved the night-time entertainment, with drag shows one night and a foam party the next. Most events take place in the shack Rusty's – could it have a more American sounding name?
And if you are really up for trying something new – you can try your luck at fishing. Lake Shasta doesn't require a license to fish in, and it's full of largemouth bass, catfishes, and bluegills. We came close to catching a giant catfish, but it sadly wasn't meant to be. Oh well, who wants to get catfished on a gay camping ground anyway?
Prices at Camp Buckwood start from $15 per night:
---
13
Grizzly Pines
Navasota, Texas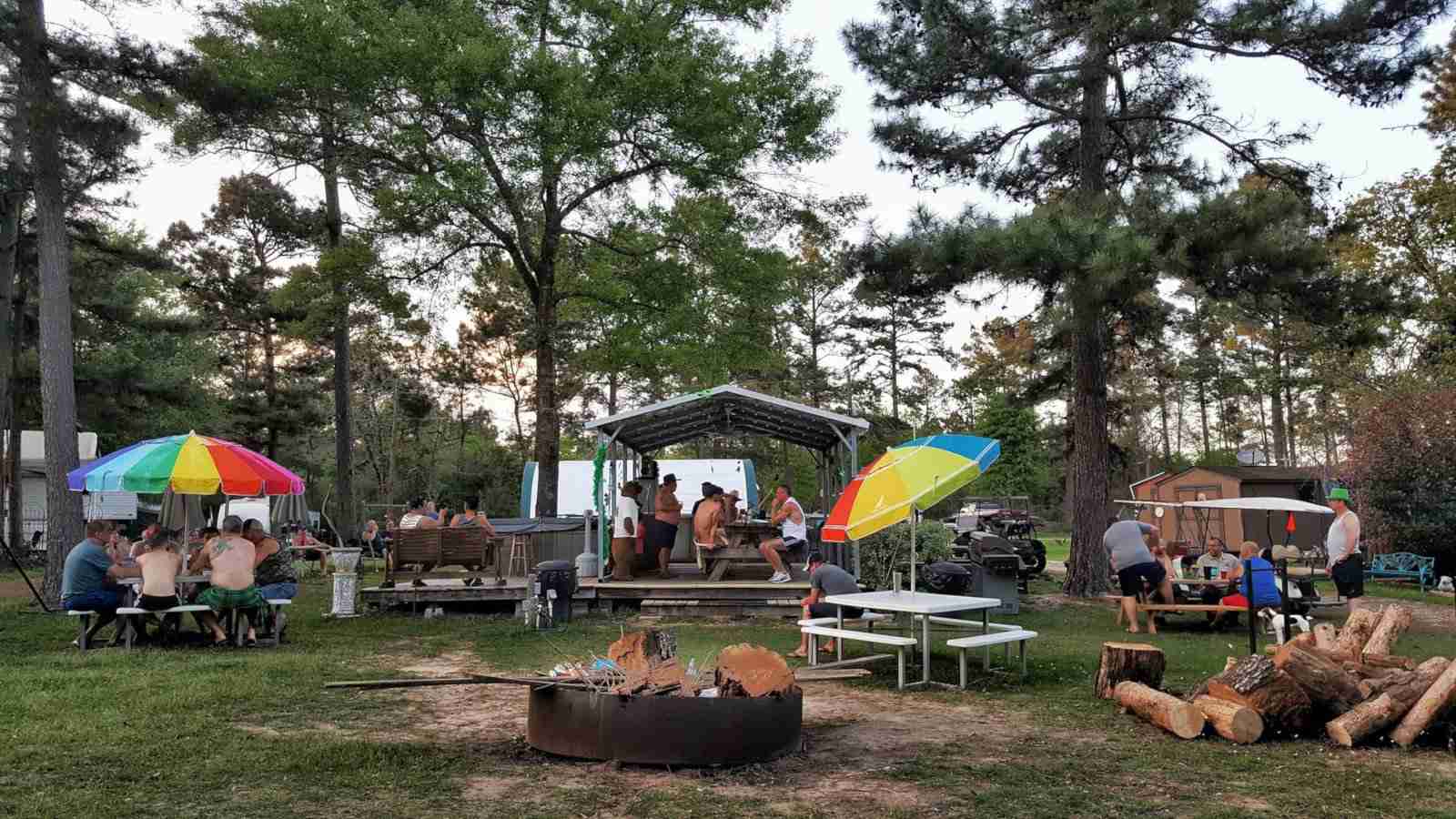 In a nutshell
---
Clothing-optional policy
Campsites, RV sites, cabins, and lodge rooms available
Swimming pool and hot tub
Great food at Randy's Big Gay Taco Shack!
When Seby went camping as a kid, his mother would always warn him to keep an eye out for bears… Luckily, she didn't mean these kinds of bears!
Grizzly Pines is a haven for the "large-and-in-charge, chunky-yet-funky", hairy men of the gay community. Of course, it isn't exclusive to bears – but most of their guests tend to be.
It's a clothing-optional resort, though from what we noticed, most people tend to keep their kit on, unless they're chilling by the pool or hot tub areas. Though keep in mind: you will need to have underwear on around food gatherings, for obvious reasons.
We ate on site every day at Randy's Big Gay Taco Shack, which whipped up giant portions and left us feeling super full.
Everyone we met there was very sociable, interested in our stories and travel experiences, and told us about their own crazy shenanigans. And the staff were just as lovely. They were attentive, provided quick service, and had such a laid-back vibe that they blended in with the guests.
For sleeping, you can rough it up Bear Grylls-style by sleeping in a tent (yes, another bear joke, we couldn't resist!). Or you can choose a more luxurious option and go with a cabin. Most choices are quite affordable – especially if you're visiting with a group, where we'd recommend The Solstice lodge. It fits four people and has lots of living space.
The owners love to hold events, having hosted pool parties, naked male bonding, and fetish weekends in the past. It certainly breaks the ice for first-timers unsure of how to fit in (i.e. us), but we made good friends in no time.
Prices at Grizzly Pines start from $20 per night:
---
14
The River's Edge
Dewy Rose, Georgia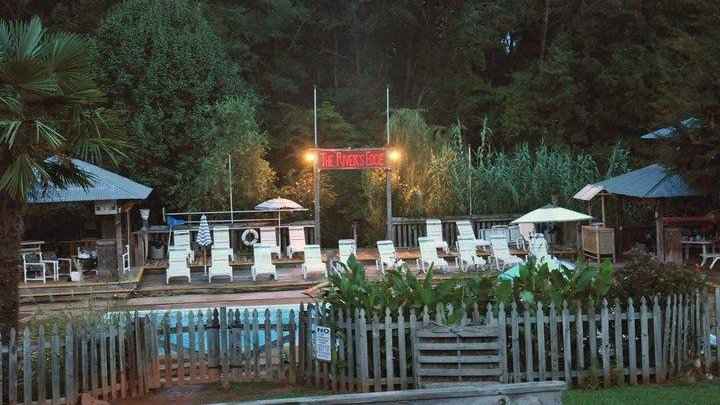 In a nutshell
---
109 campsites in the Georgian wilderness
Campsites, RV sites, and cabins available
Salt water swimming pool and hot tub
Games room, snack bar and store on-site
Deep within the Georgian state wilderness, is the fabulous The Rivers Edge. It's an all-gay camping grounds, owned by a gorgeous couple, who do their utmost best to make everyone feel welcome.
There are 109 campsites for those bold enough to brave the outdoors. In each one, you'll have a picnic table, fire pit, and hot shower facilities. Though if you are a bit allergic to the wilderness (a bit like me), there are options for staying in an RV or in a cosy cabin.
The grounds have so many spots for meeting and chatting with fellow guests. Our favourite spot was the games room – where we had snooker battles and board game face-offs with people.
The hot tub was the busiest spot. After all, who can resist a place where guys strip down to soak in some warm, foamy water? They also have a heated swimming pool that uses saltwater (the more environmentally friendly option). I may have swallowed a mouthful when jumping in and started violently gagging – Seby had to get me a juice to rinse it out. *facepalm*
The guests were a mix of young and old; twink and muscly; all getting along in perfect harmony. Who knew a bunch of catty gays could become so familial when you put them in the woods? Lots of the guys we chatted with had been there multiple times – always having a fabulous time and that the staff even remembered them by name. Now that's great service.
Prices at The River's Edge start from $9 per night:
---
15
Circle J Guest Ranch
Dallas, Texas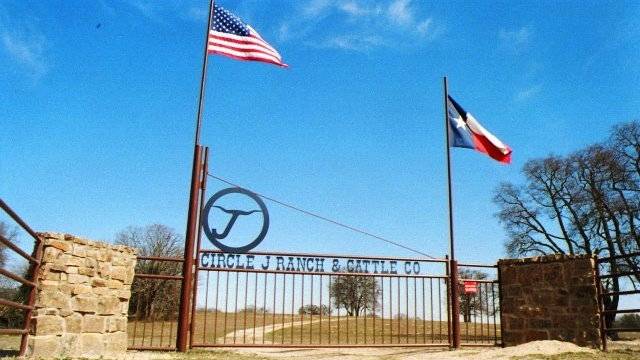 In a nutshell
---
100+ acres of wilderness with springs and a pond
Campsites, RV sites, and suites available
Swimming pool at main house
Community campfires, hiking, canoeing and horse-riding activities
The Circle J Guest Ranch is not an exclusively gay camping ground – but a place where all creative thinking, free-spirited, open-minded individuals can come and find themselves.
It's a place to get lost (figuratively speaking) along nature trails, absorbing the quiet wilderness of the East Texan woodlands.
Eat inside the Circle J café – where breakfast, lunch and dinner are freshly made each day. Evening meals were so cheap and left us feeling full and satisfied.
Most of the people on this site where the outdoorsy type and happy sleeping on the tenting grounds. However, if that's too much, you have options to rest in an RV or a luxury cabin/suite. This was where Seby tried his hardest to convince me to sleep outside.
"Come on, everyone else is doing it"
"If everyone else is doing it, then it means there's more room for me in the cabins!"
What can I say? He failed to convince me…
The pool is a tad bit smaller than in some of the other camping grounds on this list. Yet, it is every bit as cool, relaxing, and sociable. Guests often indulge in a game of volleyball – which ignited our competitive streak. Luckily, we were made to play on the same team, because if one of us had won over the other, it'd have caused problems for sure.
The community spirit extends into the night, with campfire singalongs and storytelling serving as a nice alternate to camping sites that are more party-focused.
We had our first experience horseback riding too – with basic lessons available. Trainers can help you regardless of your lack of experience or familiarity with horses. Just don't do it bareback!
Prices at Circle J Guest Ranch start from $25 per night:
---