Oh, America The Great! Larger than life. The land of dreams. Beloved for many reasons… Its towering skyscrapers. Its dazzling celebrities. Its incredibly good food…
But if there's one thing we feel the USA deserves special recognition for, it's the amazingly gay resorts!
Every time we stay in a gay resort in the USA, it's like getting to sample a tiny slice of pink Heaven. There's something about being tucked away within a resort or guesthouse with fellow gay people that just feels special. Whether or not it's all-male or clothing-optional, we always manage to have an exceptional time and always make a whole new bunch of friends.
Throughout our travels in the good 'ole US of A, we've had the opportunity to stay in some pretty stunning gay resorts, particularly in South Florida, which has some of the most famous ones. In this article, we've whipped up our list of the 12 absolute best gay resorts in the USA that we think you'd also love.
Heads up: We just wanted to let you know that this post contains affiliate links. That means if you book something through one of those links, we'll get a small commission, at no extra cost to you. It helps us keep our blog going – so thank you in advance for your support! ♥
What is a gay resort?
What is a gay resort you ask? A conservative's worst nightmare!!
In the literal sense, it's a complex where gay men go to relax, party, and enjoy a vacation. Often, you'll find they are filled with semi-nude (or fully, depending on which one you go to) men. Most of the time there is a swimming pool area, with further amenities like spa studios, hot tubs, steam rooms, and a bar.
They are often very sociable and integrated, with events and open spaces that encourage guests to get to know each other.
Usually found within the boundary lines of some fabulously gay American city, we've noticed more and more resorts sprouting up in more rural landscapes in recent years. So, whatever your vibe is, there is definitely an ideal option for you.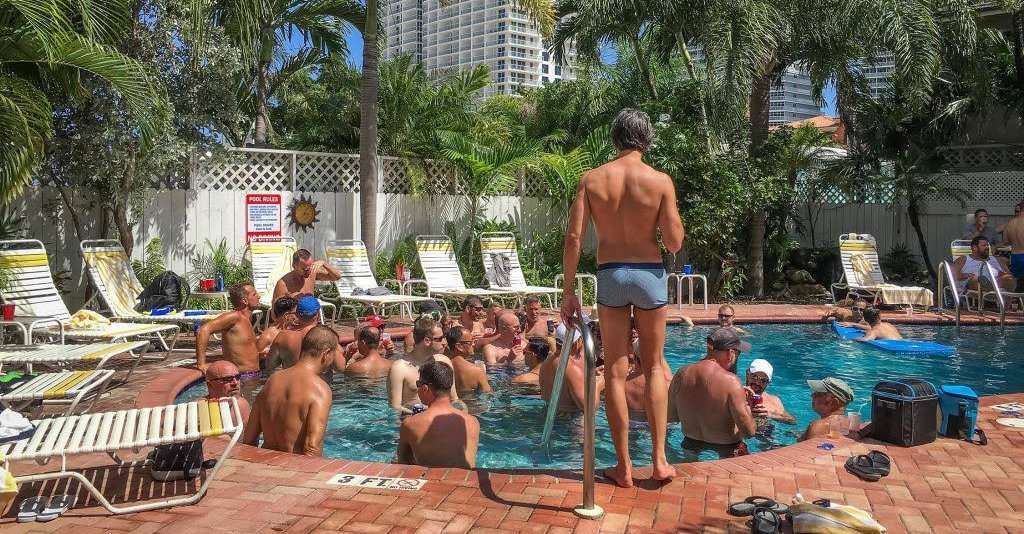 Are all gay resorts clothing-optional?
The short answer…no! But a fair number of them are.
It's all dependent on where you stay. Lots of gay resorts allow you to be in your birthday suit throughout the entire establishment. Some gay resorts have specific areas where you can disrobe. Others are swimsuit-optional only.
It is very easy to figure out whether a resort is or isn't. Most of the time, the website will have it splashed across its homepage – after all, it's a pretty sweet marketing ploy right? Or else, when you arrive, staff will tell you if it's allowed, and where you can/cannot go au naturel. Or failing all that, it will very quickly become abundantly clear when you walk through the front door and see some schlongs hanging around the area!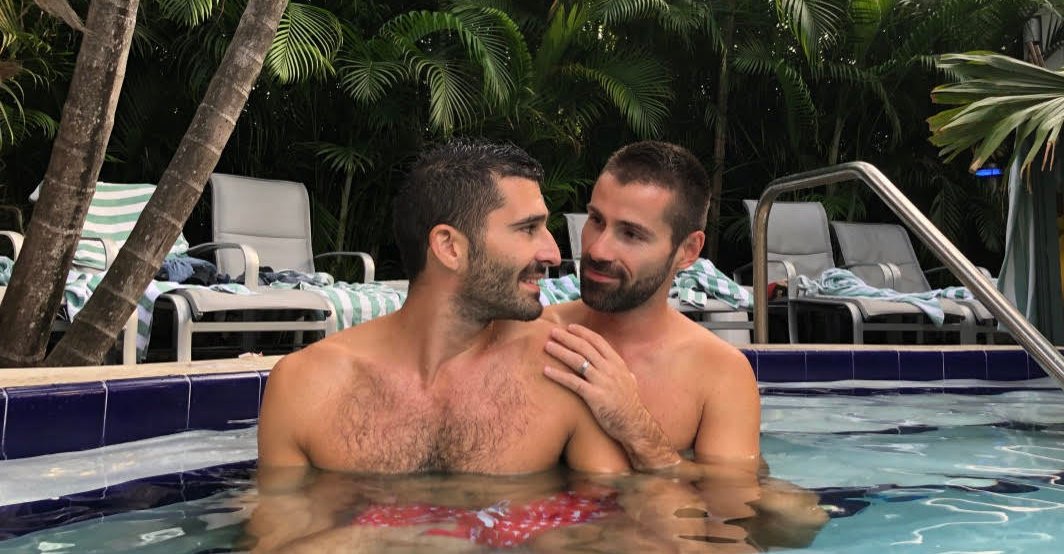 01
Pineapple Point Resort
Fort Lauderdale, Florida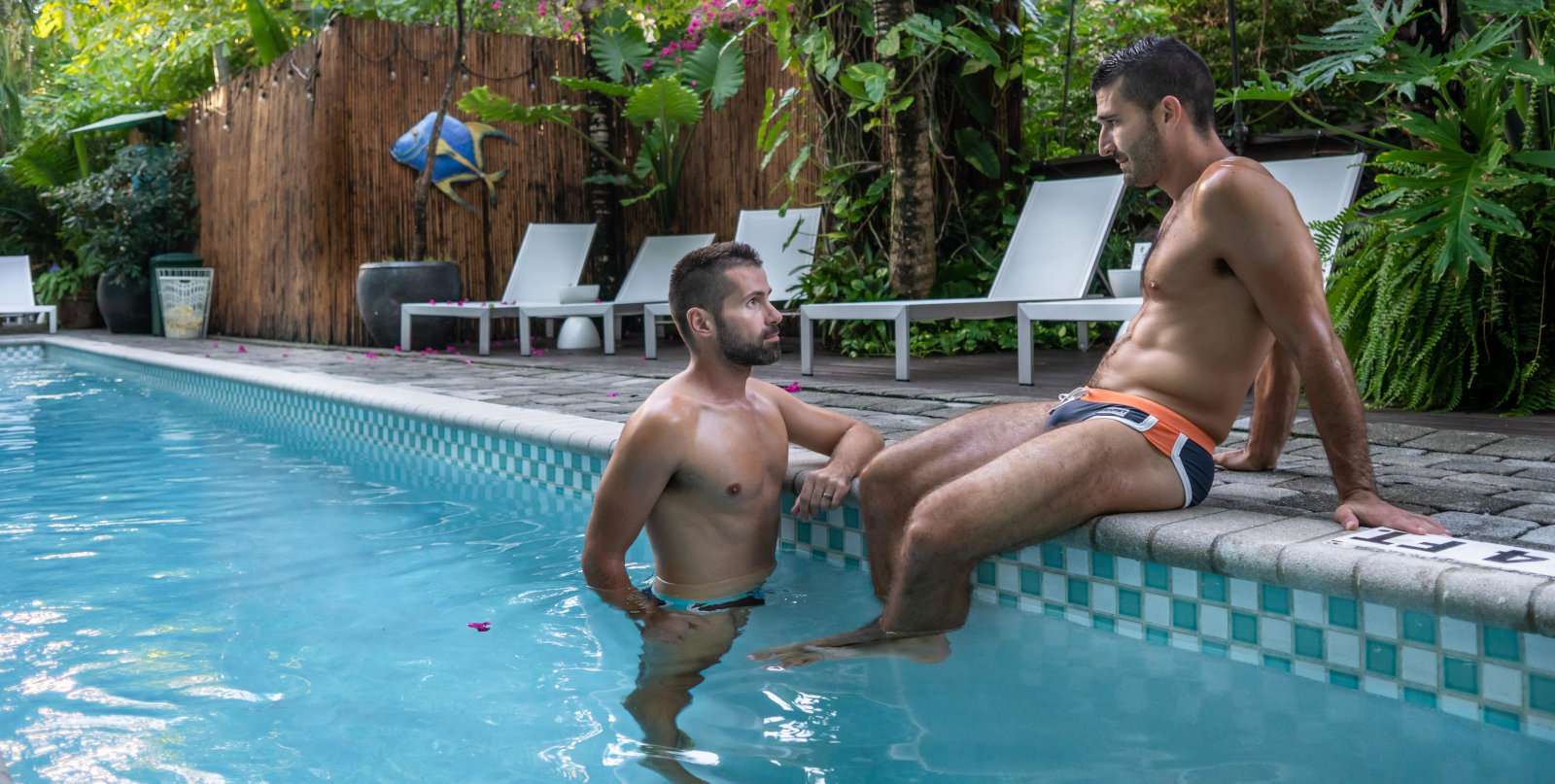 In a nutshell
---
Luxurious clothing-optional, male-only resort
Offers a day pass for non-guests for $25
Massage therapy studios
Drinks on the house during Happy Hour
You know what they say about pineapples… they are the ultimate libido lifer. And just like the fruit, a taste of this gorgeous gay resort is succulent, revitalizing, and will leave you feeling super titillated!
Pineapple Point is our favorite gay resort in the USA. As soon as we walked through the front entrance of Pineapple Point Resort, we were struck by the tropical influences. There was lush foliage, palmetto plants, hanging trees, swinging hammocks, sun decks, and pineapple décor aplenty.
The clothing-optional policy also helped create the illusion that we were all chilling deep in the wilderness, far away from straight civilization.
This especially rings true during the evening Happy Hour where beer and wine are on the house. Everyone comes together and just enjoys the gay fantasy life. This is why we also rate Pineapple Point as one of the best gay resorts in Fort Lauderdale.
Other ways to unwind include a visit to the massage therapy studios, where you can embrace the tranquil environment with its use of soft candlelight and soothing music. Pineapple Point is located in the downtown area of Fort Lauderdale. It's only a 10-minute drive to gay Wilton Manors, where all the main gay clubs and bars of Fort Lauderdale can be found.
Hosts Judd and Phil are super sweet and chatty. They treat their staff like family, which helps make the atmosphere around the resort feel even more warm and open. They also serve up a scrumptious continental breakfast each morning, which helped set us up for our days of, well, total relaxation!
Prices at Pineapple Point start from $199 per night:
---
STAY WITH A GAY LOCAL
Misterb&b is the Airbnb equivalent for the LGBTQ community. Unlike on Airbnb, you know your host is gay, voiding any nasty surprises when you check-in. It is also a great way to meet gay locals and discover the underground gay scene. Click below to get 10 € (or $10) off our first booking.
02
The Hacienda at Warm Sands
Palm Springs, California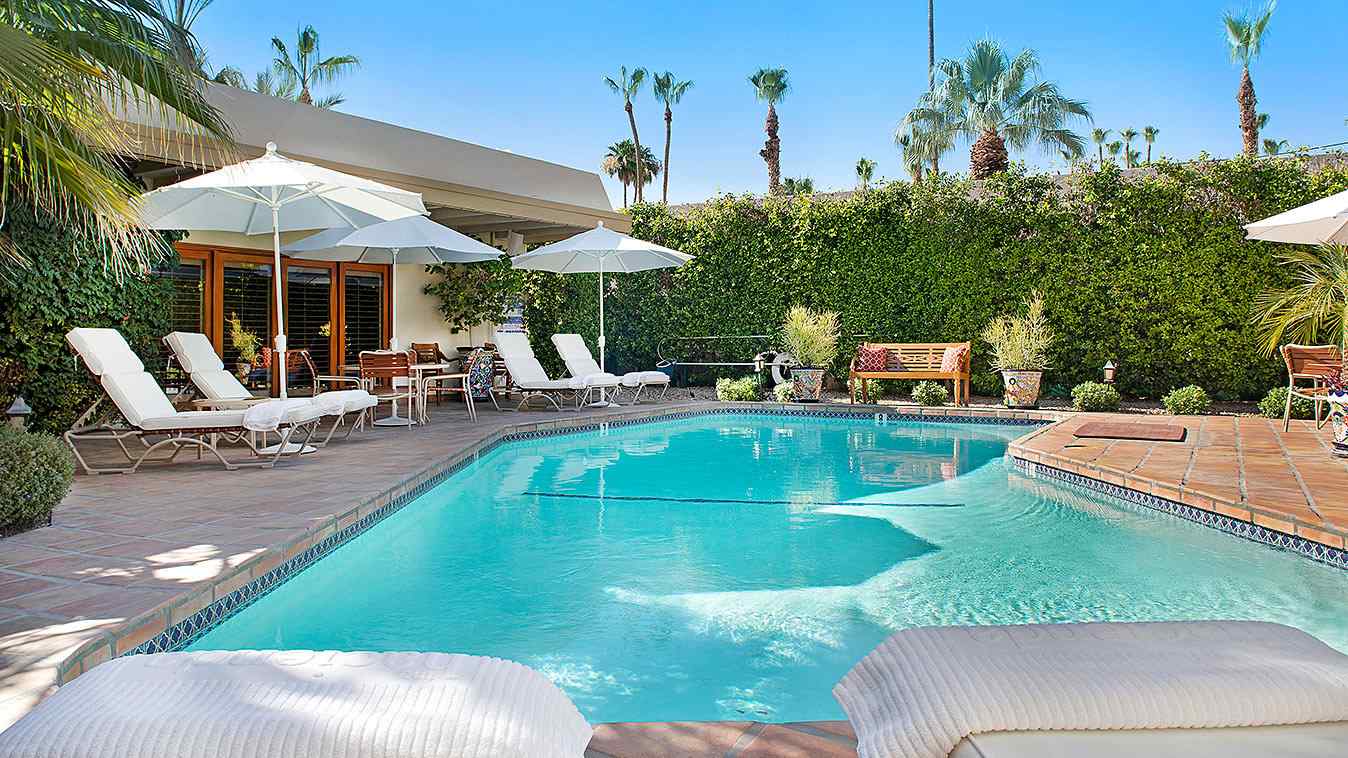 In a nutshell
---
Luxurious Clothing-optional gay resort
1:1 staff to guest ratio
Small number of guests for a quiet getaway
Incredible mountain scenery
The Hacienda is the perfect gay clothing optional resort for those in need of a quiet getaway in palm Springs.
A bit smaller than other gay resorts on this list, it is by no means one to overlook. They boast an incredible variety of fabulous amenities, plus a 1:1 staff to guest ratio, so every visitors' needs are met in quick succession.
There are two clothing-optional swimming pools and a hot tub for you to unwind in. The impressive San Jacinto Mountains that surround the resort, mixed with the use of heavy lush foliage décor, create the illusion that you are tucked away in a secret location.
Though for when you are up for a little action, you only need to take a 4-minute Uber drive to the bustling gay Warm Sands. There you will find loads of gay bars, clubs, and restaurants to enjoy.
There are only 9 suites available at any one time, so we recommend booking as far in advance as you can. For a honeymoon, we recommend splurging on the deluxe suite as it gives an incredible panoramic view of the mountains.
Prices at The Hacienda at Warm Sands start from $239 per night:
---
03
Island House
Key West, Florida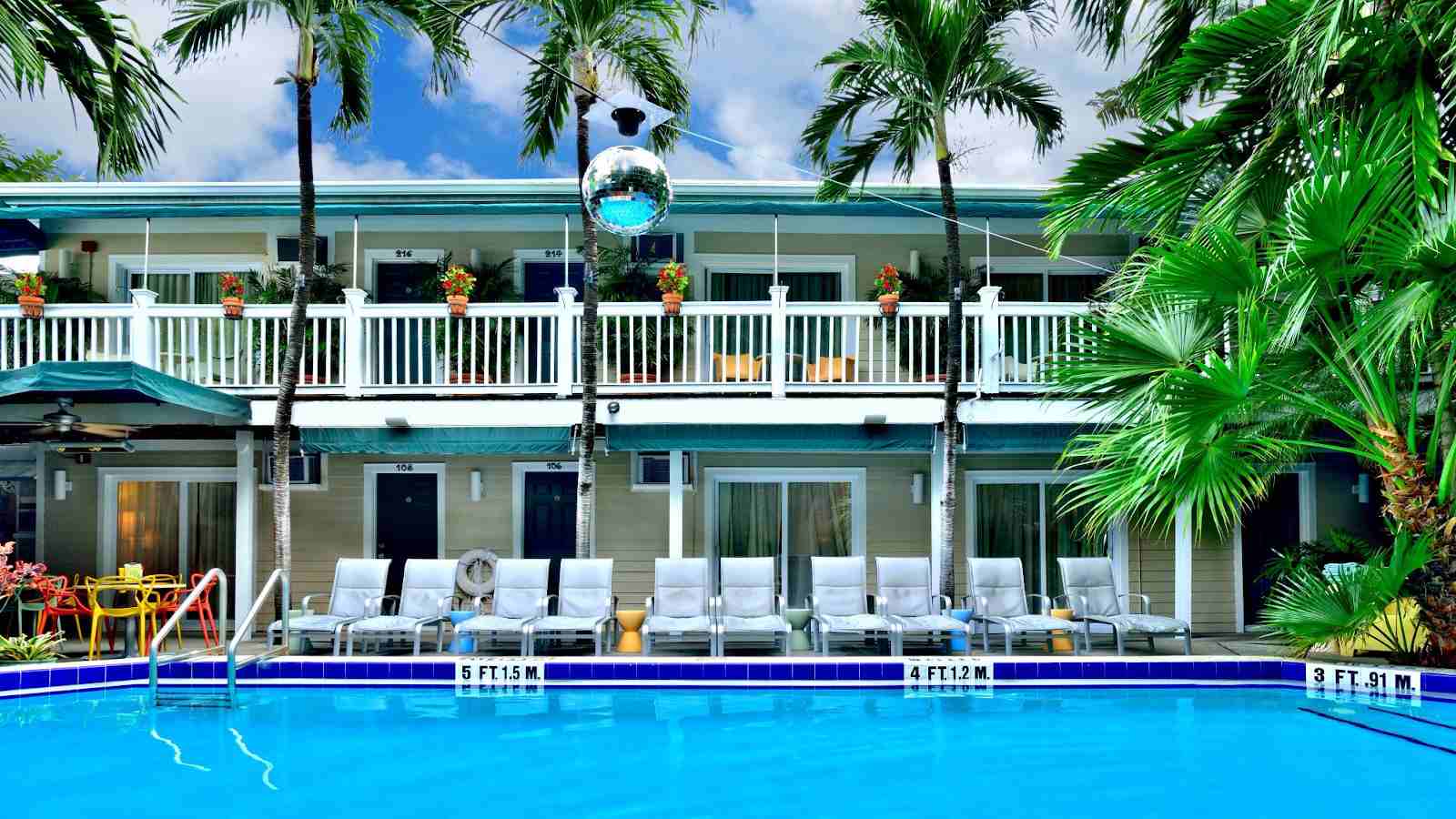 In a nutshell
---
Men-only clothing-optional resort
24-hour café
Incredible pool parties
Premium cocktails at Happy Hour
Island House knows a thing or two about infamy… after all, it's the most well-known gay resort in Key West, arguably in all of Florida too!
From the legendary gay pool parties (which are more like an epic sausage fest if you ask us!) to the popular Happy Hours, where even the most premium of cocktails are free, staying at Island House is an unforgettable experience.
The entire gay resort is fully clothing-optional (except for the gym), meaning you can basically disrobe once you walk in the front door. Though if you aren't up for doing so, it's totally cool. There is a wide mix of guests here, some go full schlongs out, some stick to a bathing suit, others stay fully clothed. It's up to you.
Most guests only go fully nude whilst hanging around the swimming pool or visiting the steam room/hot tub areas. You can also enjoy a wonderfully relaxing outdoor shower area. The 24-hour café is where you can take shelter from the sun and enjoy conversation with fellow guests.
In terms of accommodation, you can choose between a basic room with street views or a more lavish luxury superior suite, where you can enjoy space spread across two floors and a private porch. For the gay bars of Key West, Island House is just a 15-minute walk away.
Prices at Island House start from $135 per night:
---
04
The Grand Resort and Spa
Fort Lauderdale, Florida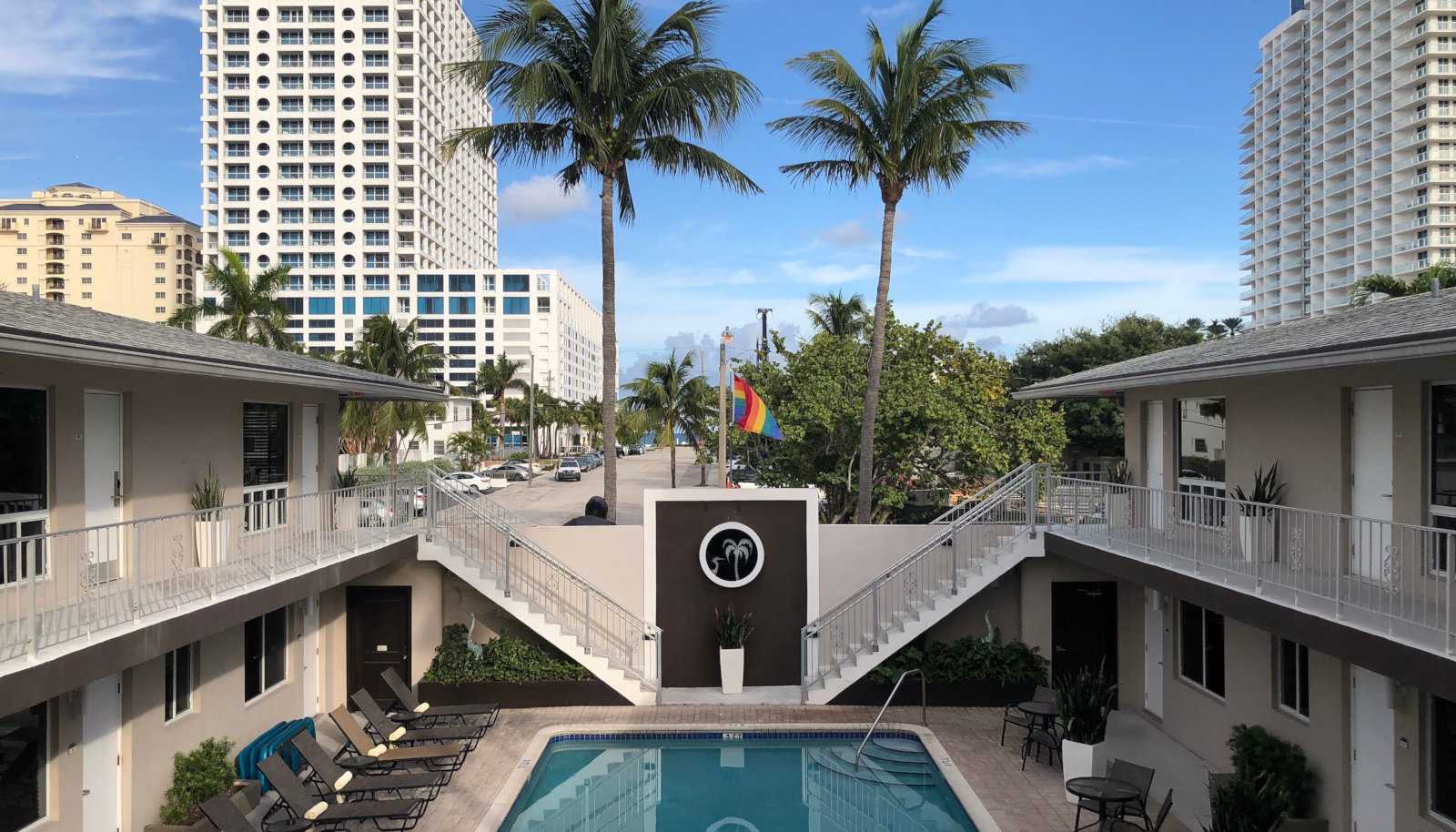 In a nutshell
---
Clothing-optional areas
Nude parties
Spa studio
Close proximity to beach
Grand by name, grand by nature!
This gay resort is one of the most popular and well-known in all of Fort Lauderdale. This is particularly due to its connection with RuPaul's Drag Race, serving as the show's sponsor in the early seasons… though it's not responsible for that season 1 filter, we promise!
We particularly love it for how diverse the guests are. Fellow patrons come in all shapes, ages, and sizes, so everyone feels welcome. Especially around the pool area where it feels like one big celebration of being quintessentially queer. There is a spa studio where you can enjoy a professional massage (pro tip: get the deep tissue, it's to die for).
It's around 10 minutes walk to the main beach area, perfect if you feel like sneaking away for a few hours during the day. Hop into a cab and you're in the heart of the gay scene of Fort Lauderdale in Wilton Manors in around 10-15 mins.
The gay resort holds events throughout the year, including a nude party. So, if you are planning a stay, be sure to check out their event page for what is coming up.
Prices at The Grand start from $188 per night:
---
05
Santiago Resort
Palm Springs, California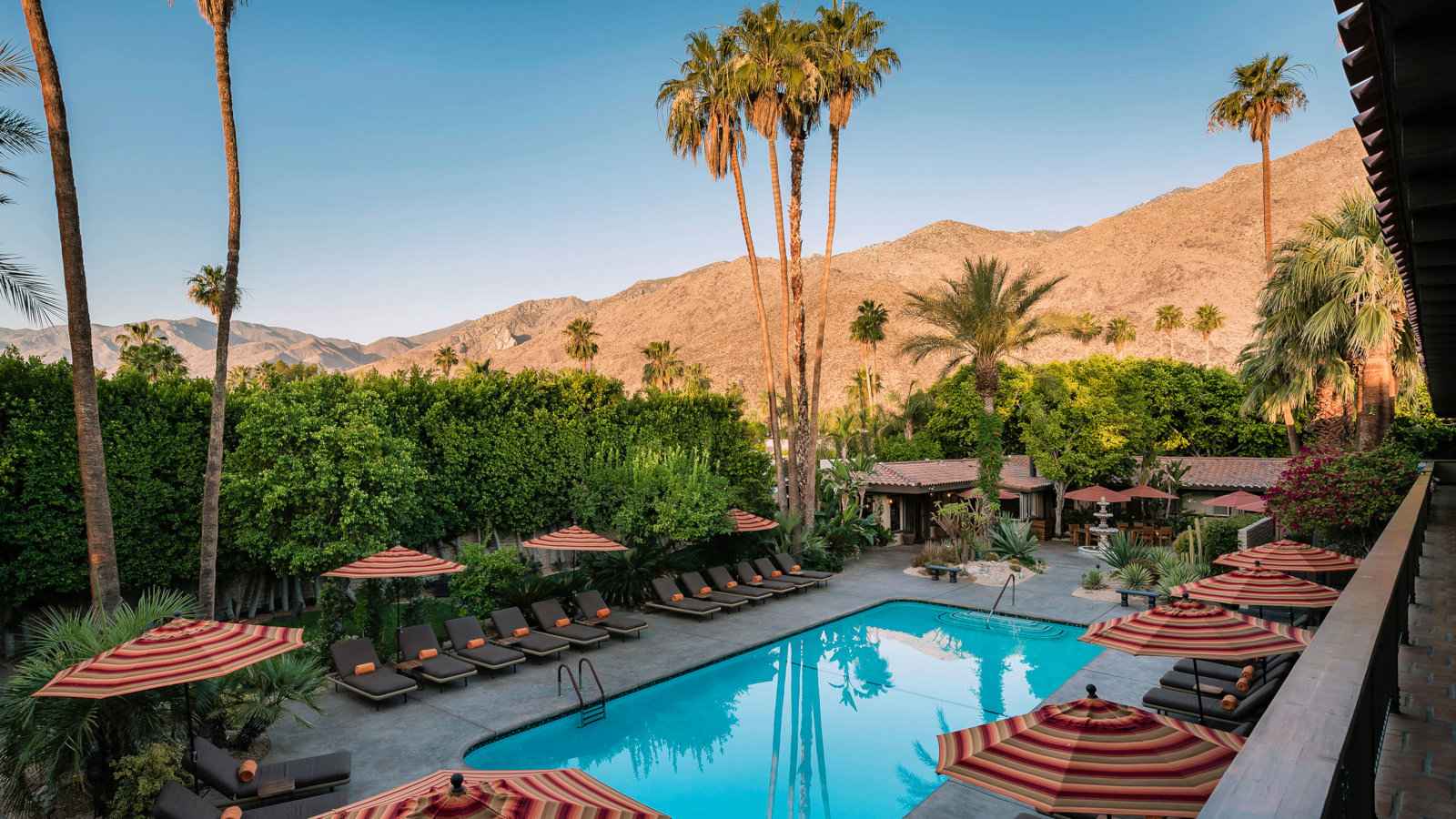 In a nutshell
---
Men-only and Clothing-optional
Outdoor showers, firepit and spa
Massive swimming pool
Luxurious rooms and suites
This gorgeous Palm Springs gay resort is all about the outdoors. From the outdoor spa and hot tub to the garden showers, this gay clothing optional gay resort is all about the experience of being au naturel in nature. We just love the added décor of tropical-inspired furniture and the use of arid colors throughout the resort adds to this wilderness fantasy.
The Santiago Resort contains a massive swimming pool, where all the guests tend to gather to chill. This is where you can unwind, make friends, and soak in some good ol' vitamin D! We always find it so much easier to make new friends in these areas. The lush scenery and frolicking around in the pool help break the ice, and it becomes easy to start a conversation with anyone.
There are four different room options to choose from, including an incredible suite that has a private patio. The more basic rooms are still very spacious, modern, and well-equipped for a short stay.
The hosts, Kent and Bill, are exceptional at what they do. They head up an amazing team who are super kind and chatty. Together, they all work super hard to ensure their guests are looked after to the fullest.
Prices at Santiago Resort start from $159 per night:
---
06
The Big Coconut Guesthouse
Wilton Manors, Florida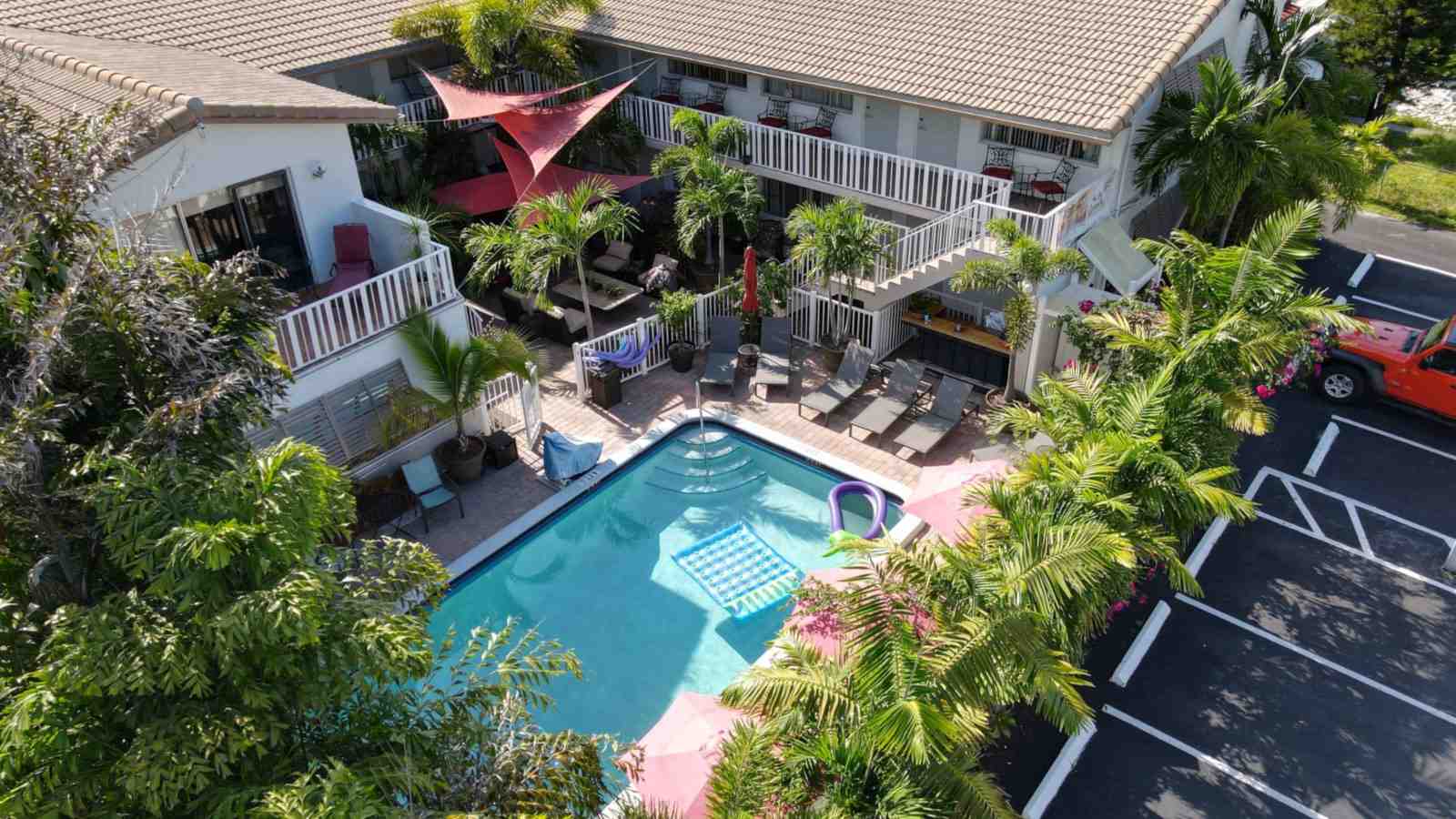 In a nutshell
---
Intimate Clothing-optional gay guesthouse
Fun daily Happy Hour
Centered in the heart of gay village
Spacious and cosy rooms
The Big Coconut Guesthouse is one of the friendliest places we've stayed in. It's one of the smaller gay guesthouses in Fort Lauderdale, but just as fabulous!
David and Marty are the super cute couple behind this guesthouse who do such a fantastic job of giving the place a strong homely feel.
It is located just down the street from the massive Holiday Park, where we loved going for our morning runs. The Wilton Manors gay scene is a short 10 minute Uber ride away, and the gay beach around 15 mins.
Particularly popular with the older gay population, The Big Coconut is by no means exclusive to any age group. All are welcome and made to feel just as special as anyone else.
The rooms are spacious yet cozy, with the upper-tier options containing full-sized kitchens and wet bars. You basically never have to leave the place!
There is an evening Happy Hour, which of course, guests take full advantage of. It's the time when we were able to meet our fellow patrons and bask in the sweet Floridian air while enjoying a cheeky cocktail or two.
Prices at The Big Coconut Guesthouse start from $149 per night:
---
07
Alexander's Guest House
Key West, Florida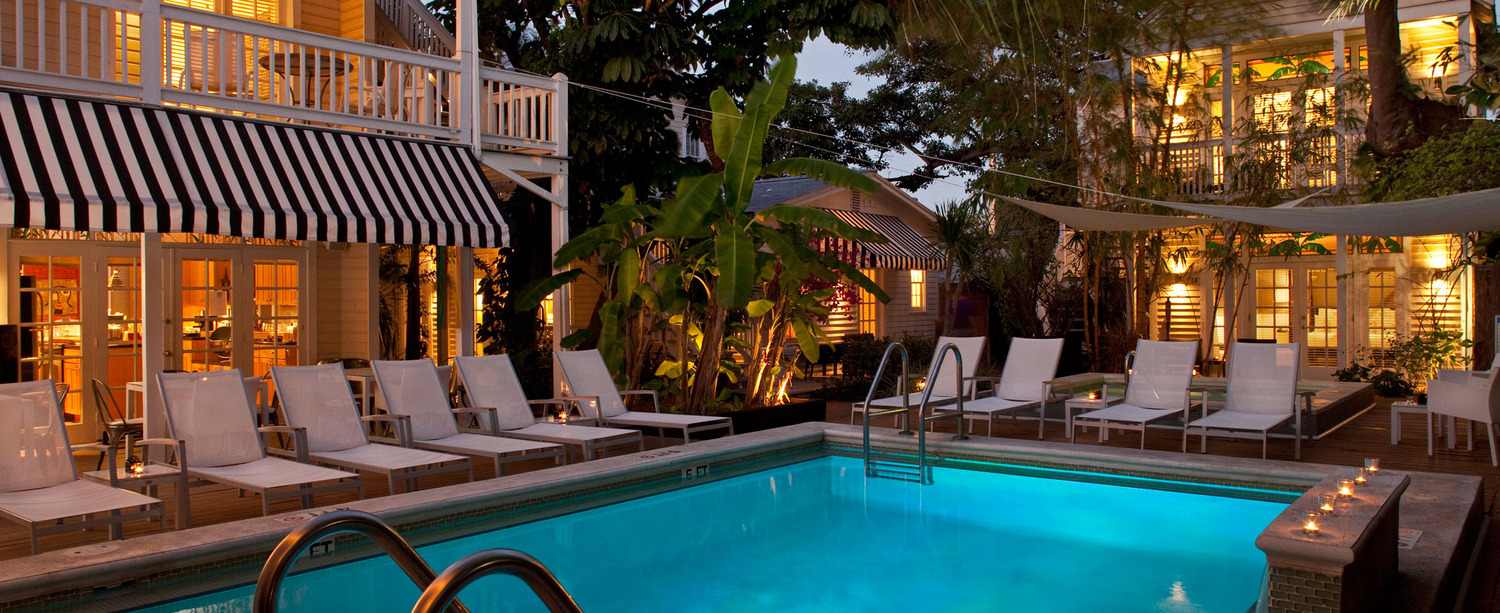 In a nutshell
---
Gorgeous gay guesthouse
Inclusive of all genders
Complimentary breakfast and evening cocktail
Gorgeous, Conch-style building
We don't like to pick favorites…. (whispering) but Alexander's Guest House is easily one of our favorite gay guesthouses in Key West.
Set in an exquisite 3-story building, which dates back to the 1800s, the hotel's gorgeous design reminded us of houses you'd see in old movies. The white shutters and patios echo the suburbia of yesteryear – and yet inside, it couldn't be slicker and more modern. With spacious rooms, high roofs, and plush furniture; it's ever so cozy. It also sits on a quiet street in Key West's Old Town, so it's a great option if you're looking for some peace and quiet.
We woke up to a beautiful tropical breakfast each morning, where we'd either be treated to an assortment of artisan bread, egg casserole, French toast, or quiche. They also served freshly brewed coffee and island-style iced tea throughout the day. There's even a daily cocktail happy hour in the aptly named Pink Monkey bar.
To hang out, there's a pool in the center of the property, along with a spa and Jacuzzi. There is also a designated clothing-optional section in the upper sun decks, optimal for privacy and sunbathing.
In terms of guests, it is open to both men and women, gay or straight. Yet it considers itself a gay guesthouse – in fact, we would consider it 'hetero-friendly' more than anything.
Prices at Alexander's Guest House start from $285 per night:
---
08
Frog Meadow Farm B&B
Newfane, Vermont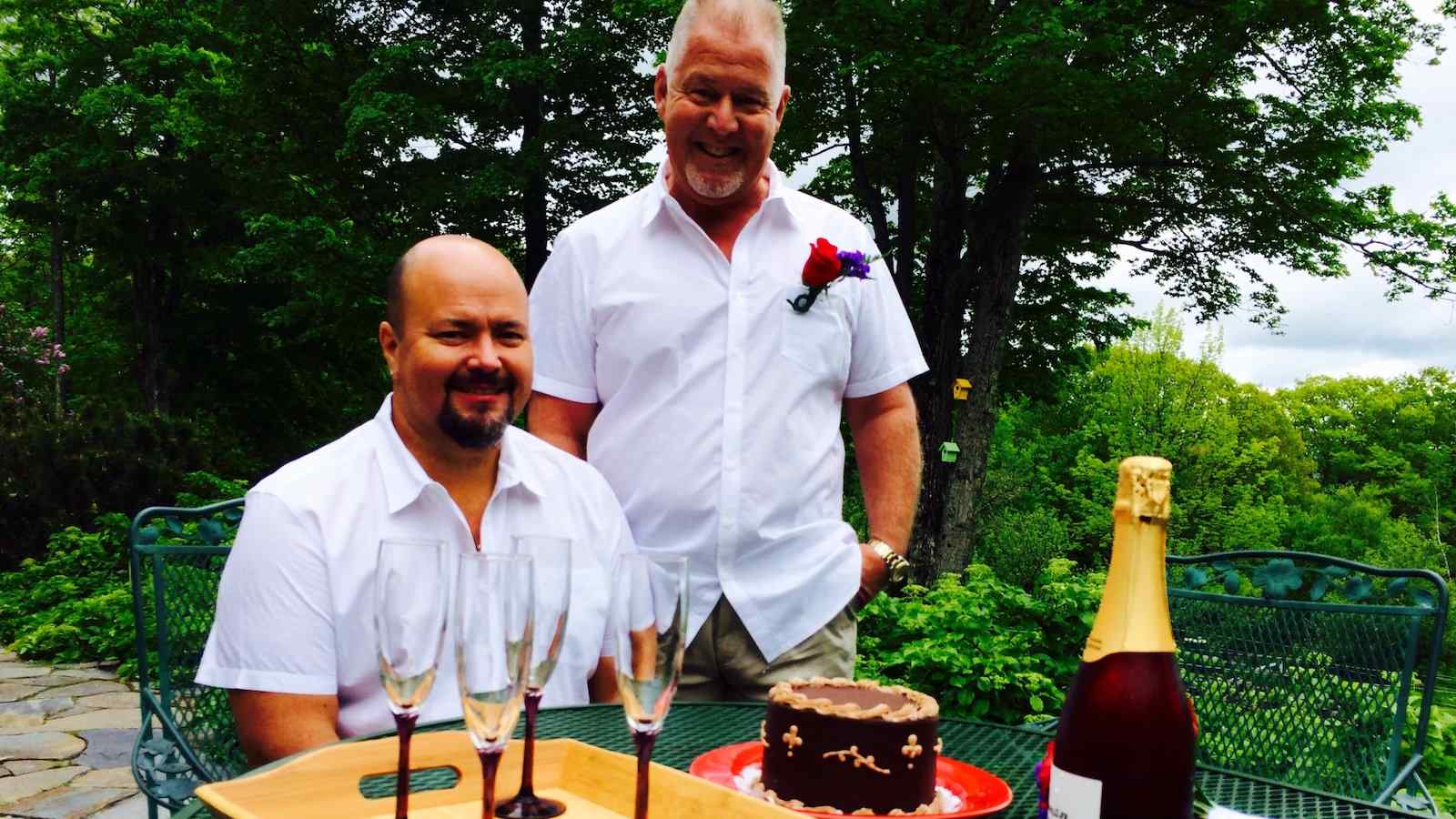 In a nutshell
---
Nude yoga classes and gay massage
Not clothing-optional beyond those specific activities
Country gardens, hiking trails, swimming pond and hot tub
Delicious and complimentary daily breakfast whipped up by Dave
Frog Meadow Farm is a quaint gay B&B retreat, based in the Vermont countryside town of Brattleboro. Voted #11 in Smithsonian Magazine's "20 Best Small Towns in America", Brattleboro is a town that is well known for its progressive values and LGBTQ acceptance.
The peaceful grounds of Frog Meadow Farm make you feel so safe and secluded, that it's just like being in a bubble. Whether you're enjoying some massage therapy or participating in a clothing optional yoga class, you'll feel soooo revitalized after a stay here! Across the grounds, you'll have access to a wood-fired hot tub, gym, swimming pond, and a 63-acre hiking trail.
Every morning, co-owner Dave prepares a complimentary full country breakfast for all the guests, perfectly setting them up for the day. He and his partner Scott are the faces of this gay resort and take the time to become personally acquainted with each of their patrons.
There are 6 types of rooms, with the Frog Meadow Suite serving as the most coveted spot. It includes its own private two-man Jacuzzi bath and is decorated with exquisite American country-style accent tiles. Another option is the adorable Brook cottage, situated outside of the main building, and is more on the magical, romantic side.
Prices at Frog Meadow Farm start from $195 per night:
---
09
INNdulge
Palm Springs, California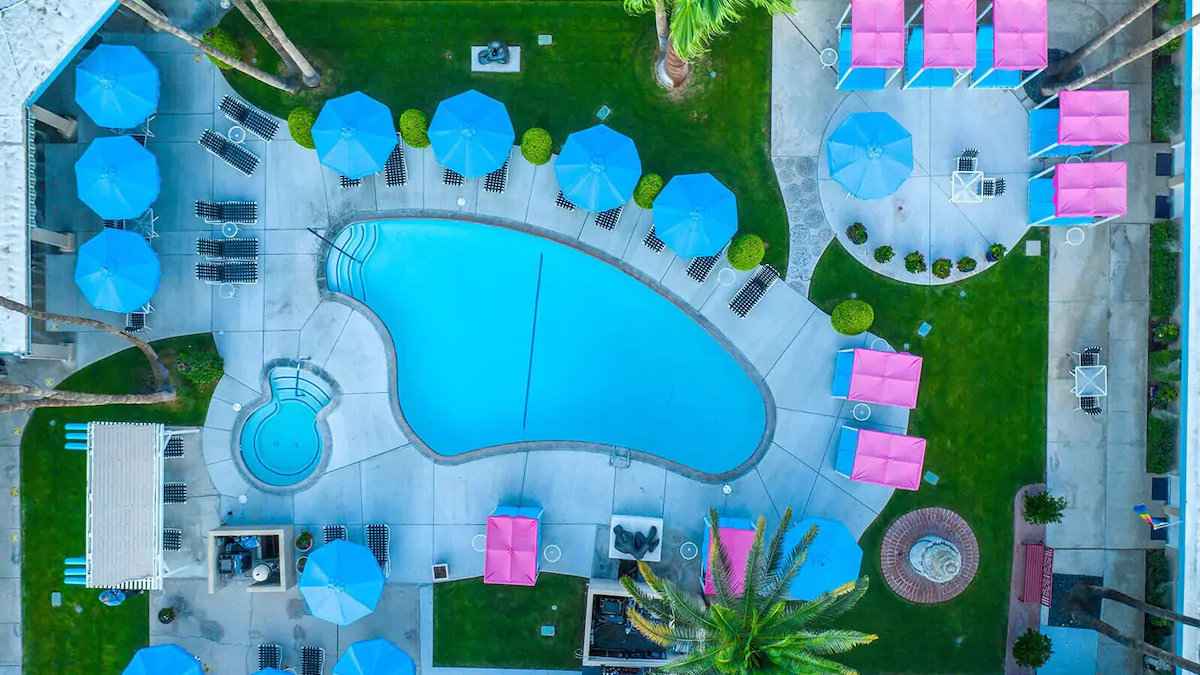 In a nutshell
---
Clothing-optional gay male resort
Sociable atmosphere with pizza nights
Swimming pool and 12-man hot jacuzzi
Close to many gay bars and clubs
Anything good is worth INN-dulging in, right?
In what is considered one of the best-rated gay resorts in all of California, let alone Palm Springs, INNdulge is a party-centric, all-clothing optional, all-male resort.
The hosts and staff are always around to attend to any request, helping to make the experience into something very special. Whether you're soaking up in the 12-man Jacuzzi or enjoying the Thursday pizza night, there is never a dull moment to be had!
The social hours are often the most enjoyable experience for guests as it breaks the ice between patrons, who otherwise may feel shy trying to interact.
INNdulge is just a short five-minute drive from the Greater Palm Springs area, which is a gay mecca with lots of bars and clubs to sink your teeth into.
The rooms here are spacious and comfortable. If it weren't for the erotic artwork on the walls, we'd say it was the kind of room your mum would approve of!
Prices at INNdulge start from $197 per night:
---
10
Vista Grande Resort
Palm Springs, California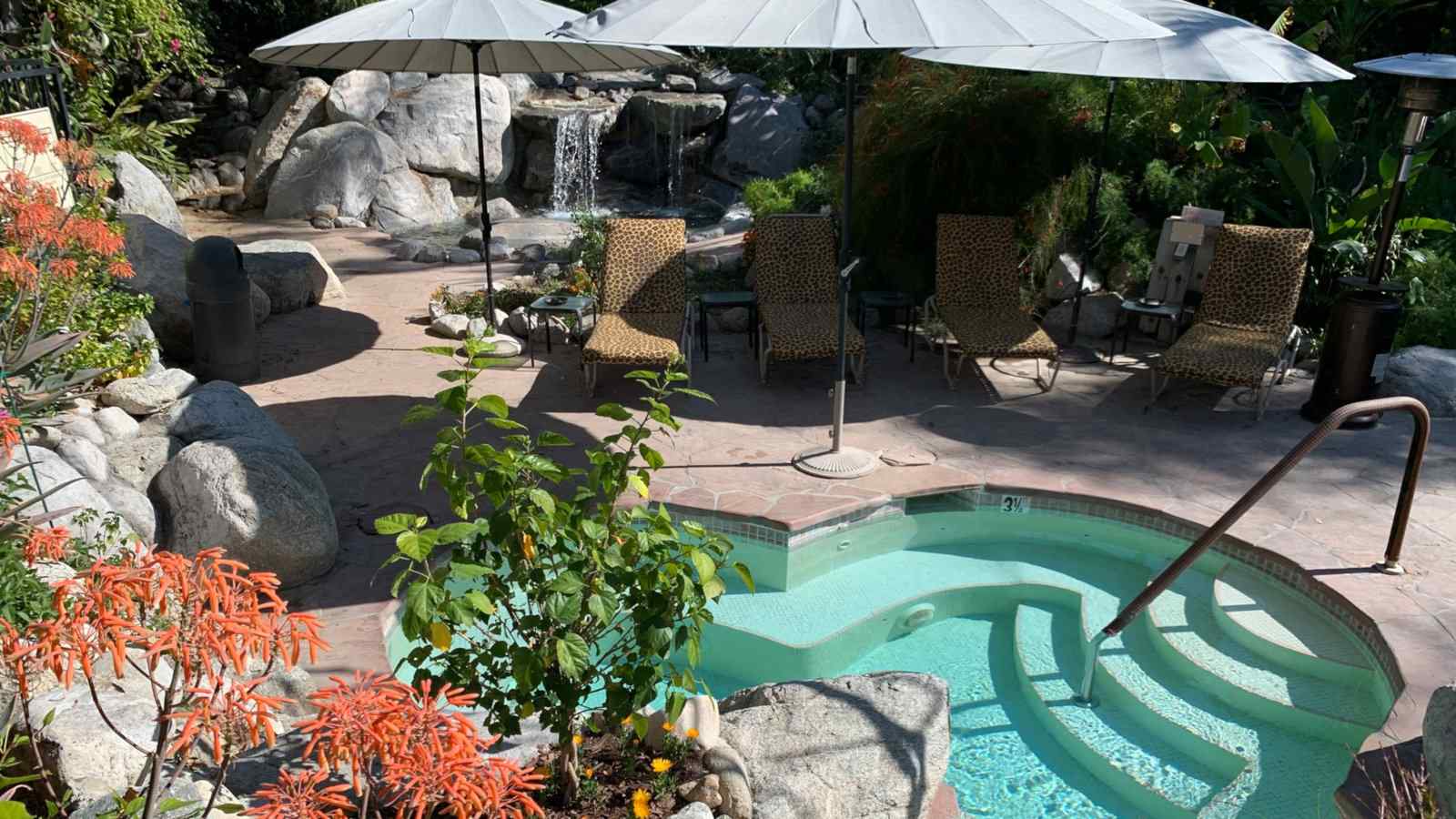 In a nutshell
---
Lavish Clothing-optional gay resort
Centered in the Warm Sands district
2 swimming pools and a 16-person spa
Lush and relaxing gardens
Vista Grande is a lavish gay resort, with cascading waterfalls, exquisite gardens, and an enchanting lagoon. The breathtaking San Jacinto mountains serve as an ever-present backdrop to the stunning scenery.
Standard rooms are modestly decorated, comfortably spacious, and affordable. If you opt for a suite, you'll enjoy artistic design, living room and kitchen area, with breakfast delivered to your door each morning.
Explore the fabulous spa area, steam room and hot tub. The gay owned property also contains two swimming pools, each heated to a lovely 90 degrees. For meals, there is a charming dining hall, where you can get a continental breakfast each morning. Clothing is optional throughout the resort, adding to the natural aesthetic.
It's based near the Warm Sands district, where a short cab ride will take you to lots of gay clubs, bars, shops, and restaurants. The staff are wonderful and attentive, with many guests opting to extend their stay due to the kind and caring nature of the team.
Prices at Vista Grande Resort start from $163 per night:
---
11
Hotel Gaythering
Miami, Florida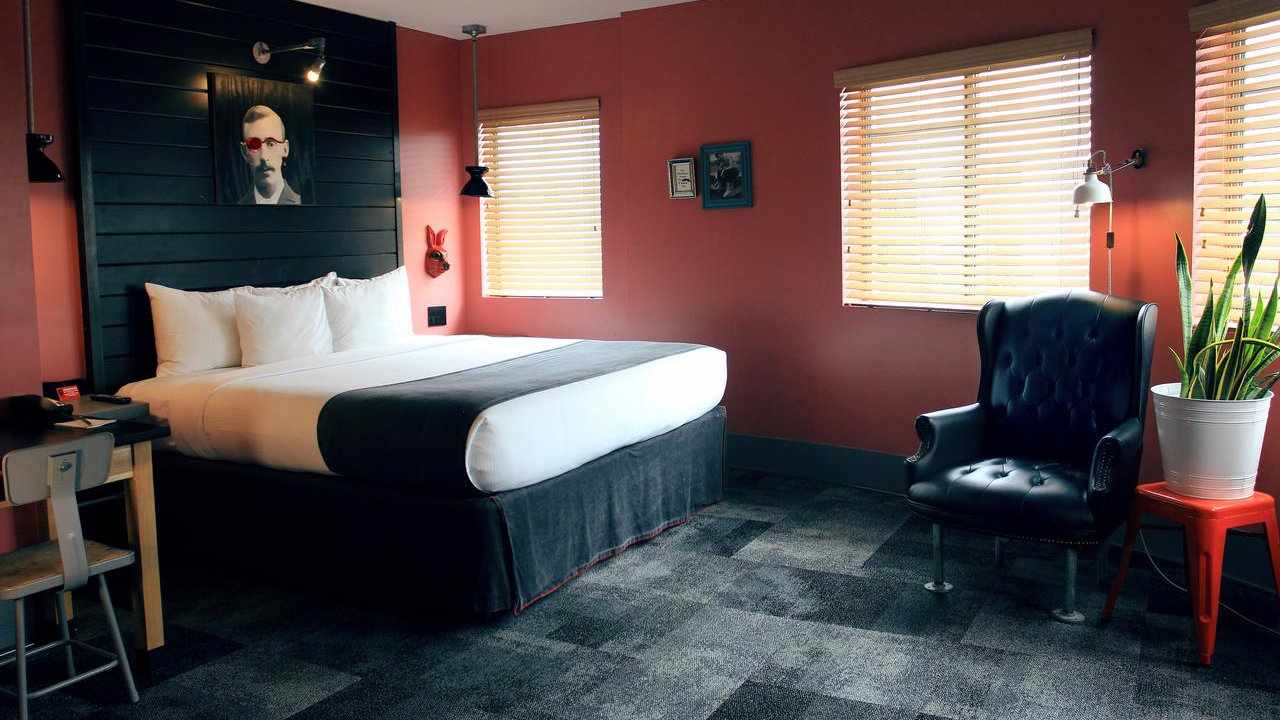 In a nutshell
---
Clothing-optional spa with steam room, sauna and hot tub
Karaoke, trivia games, and bingo night
Free shuttle bus trips to gay nude beach spots
Free bikes available too
With vintage-inspired décor, some pretty racy events, and party spirit, Hotel Gaythering is what you get if the contents within a gay man's head exploded onto a building. This is also our favorite gay hotel in Miami.
Hotel Gaythering is perfect for everyone, even LGBTQ travelers on a budget as they offer shared accommodation, complete with a 64 sq. ft private unit with partition walls. They describe this as the 'anti-hostel' option as it saves you money on where you sleep, whilst still allowing you access to all the amenities. Those who are happy to splurge a little can still enjoy being in the lap of luxury with the suite options, with super handsome king-sized beds and flat-screen TVs.
The sauna and steam room areas are where you can meet fellow guests, with most men taking full advantage of the clothing-optional policy! They also host regular karaoke and trivia game nights in the bar, often hosted by local drag queen legends. The Happy Hours take place from 5 pm each evening, with discounted drinks.
In terms of location, Hotel Gaythering is right in the heart of the gay scene of Miami and a good 20 minute walk to the main gay beach of Miami on 12th Street. The hotel also organizes free shuttle bus trips to Haulover Beach – one of Florida's most famous gay nudist beaches.
Prices at Hotel Gaythering start from $153 per night:
Happy travels are safe travels
We recommend you always take out reputable travel insurance before your next vacation. What happens if you suffer from illness, injury, theft, or a cancellation? Many gay travelers forget about it and regret it when something happens. Better to pay a small price and have peace of mind and not worry.
---
12
Boatslip Resort
Provincetown, Massachusetts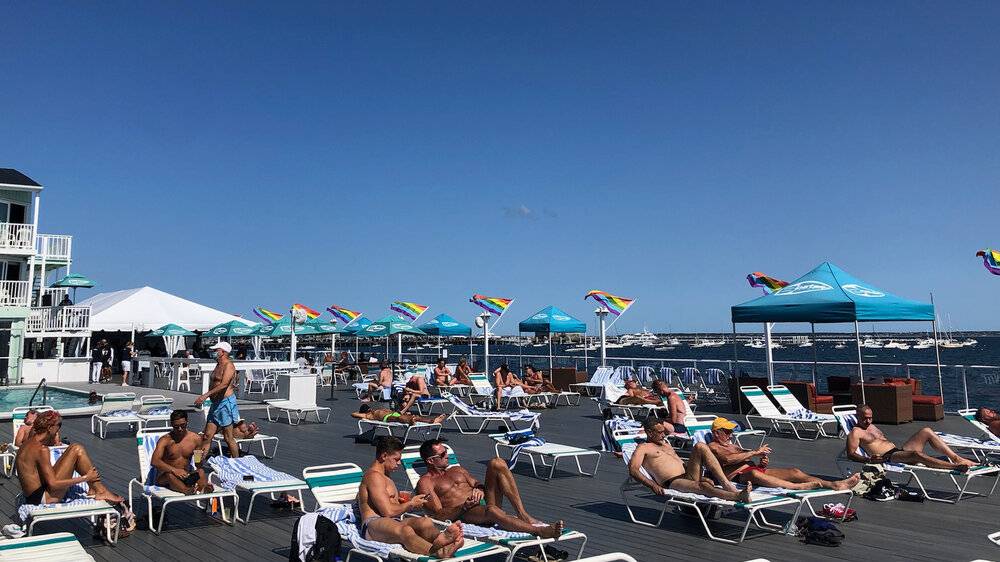 In a nutshell
---
Legendary gay resort on the beach in fabulous Provincetown
Tea Parties every day during the high season
Fabulous beachfront location with a deck and heated swimming pool
Beautiful rooms, most with private balconies
The Boatslip is a legendary gay resort in Provincetown, a place that's already famous for its fabulous beaches, artistic spirit, and its large LGBTQ community.
Located in the West End of Provincetown, the Boatslip is close to all the best shops, cafes and art galleries, as well as the historic Provincetown Harbor. But don't think you need to be out and about as this is also one of the best spots to relax or party without ever leaving the beachfront property!
The Boatslip is famous for its Tea Dances, which take place daily during the high season from 4pm until 7pm. There are usually fabulous themes for each party and the resort's gigantic deck (where the party takes place) is one of the best places to see the fireworks over the harbor on the Fourth of July.
Outside of party time, this deck is THE place to be at the Boatslip, with a heated swimming pool and loads of hotties working on their tan to make friends with. The beach is just steps away as well. Rooms are clean and cosy, while the staff are all ready to bend over backwards to ensure your stay is perfect.
Prices at the Boatslip start from $200 per night:
---