TERMS OF USE: There is a chance that some of the content on this page has changed since it was last updated. By reading this article, you consent to our Terms of Use and Disclaimer. Happy Travels!
DISCLOSURE: Some of our posts may contain affiliate links which we may receive a commission if you choose to book something through one of our links.
Our roundup of the top gay hotels in Miami including clothing optional resorts, luxury hotels, gay friendly boutique hotels, gay hostels, and more…
As top gay holiday destinations go, the Sunshine State of Florida is up there with the world's most welcoming, fun and fabulous locations to visit for the LGBTQ community. And while the likes of Fort Lauderdale and Key West are well-known gay go-to's, The Magic City of Miami is also as gay as the day is long and should not be overlooked when you're booking your next queer pilgrimage.
They don't call it the Sunshine State for nothing either! Florida is world-famous for its gorgeous weather all year round, and Miami is no exception. Miami's vibrant gay scene gravitates around its South Beach area, packed out with fantastic clubs, bars, incredible restaurants, gorgeous architecture, plenty of arts and culture. And of course, as the name may have given away – a stunning beach!
Best of all, there's no standing on ceremony here. Miami is wild, fun-loving and totally non-judgemental, so naughty boys and girls can really fill their boots. And whether you want rest and relaxation or drunken debauchery, Miami has something to offer everyone in our fabulous LGBTQ community.
🏳️‍🌈 OUR TOP GAY RESORT PICKS IN MIAMI 🏳️‍🌈
How to choose your clothing-optional gay resort in Miami
Don't say we don't know our audience – this is always the question on everyone's lips! Clothing-optional resorts are an area where other parts of Florida have Miami beat, but that's not to say you won't be able to let it all hang out on occasion. There are a few options on this list that include private sauna areas where you can wear your birthday suit– and knowing Miami, probably encouraged!
Unfortunately, that's about it for Miami right now. Fort Lauderdale, on the other hand, is home to more clothing-optional gay resorts than you can shake a pink parsnip at and the place to be if you prefer to eschew the social construct of clothing when you're on holiday. You devils!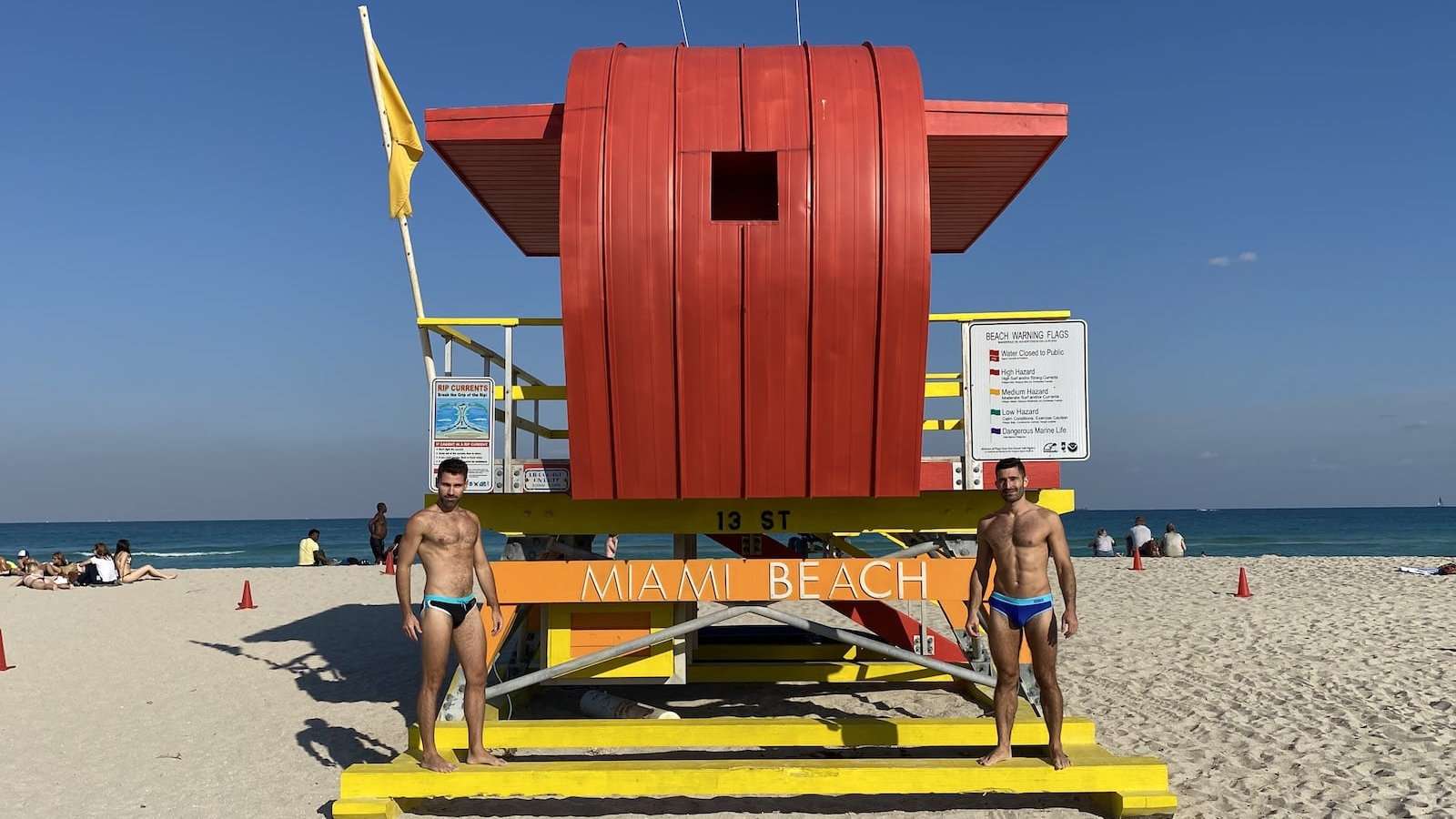 01
Hotel Gaythering
Miami Beach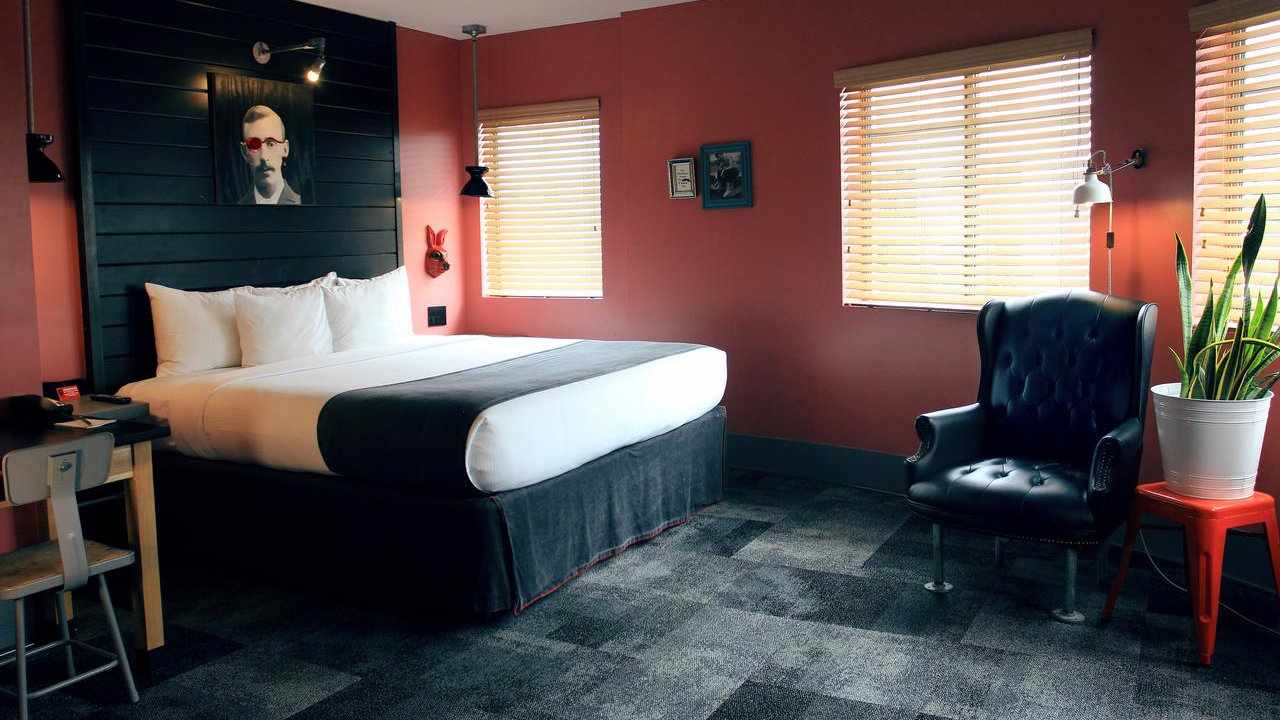 In a nutshell
---
Gay men only boutique hotel
Hot and steamy spa facilities
Super-convenient location
Friendly, welcoming and non-judgemental staff
Sure, the clue may be in the name, but the fact that this men-only boutique hotel's current photo campaign features some of the world's most prolific gay adult film stars could also be considered a giveaway that this is the place for gay guys to let their hair down – amongst other things!
The gay hotel also features a clothing-optional spa area with a steam room, sauna, and hot tub – oh if only those walls could talk!
First and foremost, Gaythering is a party hotel, buzzing with activity and positively dripping in sensual energy, from the décor to the clientele. It's a fabulous place to meet men of all shapes, sizes, and backgrounds for, let's just say, fun times. Even the styling of the rooms is spicy, with big beds and dim lighting making it look as though it's been plucked directly from an AO-rated movie set.
Located in the super-gay Miami Beach area, Gaythering is the first choice for many of those attending White Party Week, a fundraiser for HIV/AIDS charities that takes place in November and features some of the wildest gay parties we've ever seen.
It's also a few minutes' walk away from one of the biggest malls in the area and less than a 20-minute drive away from Miami International Airport. Cycling is a popular pastime in Miami Beach, with bike rentals everywhere, but Gaythering provides free bikes for its guests to use. Don't go tiring yourself out though – staying at this raunchy hotel, you'll need to keep your batteries fully charged!
Prices at Hotel Gaythering start from $115 per night:
---
02
AxelBeach Miami
Miami Beach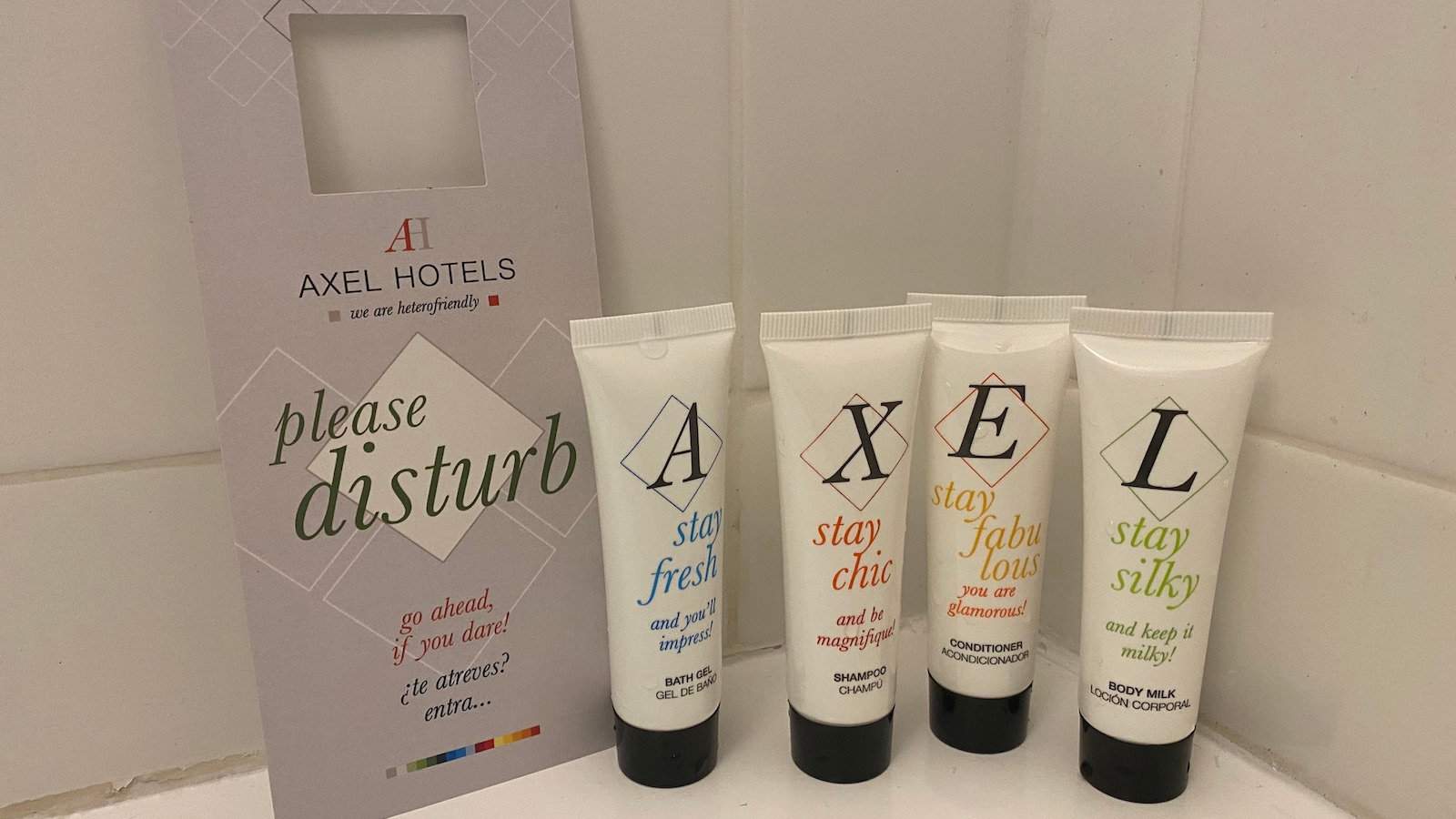 In a nutshell
---
It's an Axel – what else is there to say?
Fabulous pool, spa and gym
The private beach is awesome
Hot guys everywhere!
Axel is a name synonymous with gay travel and hugely popular with gay guys who want to sow their wild oats while they're on vacation. This adults-only, "hetero-friendly" hotel is in a fantastic location, just a two-minute walk from the beach, of which AxelBeach Miami has a private section. There's a delicious breakfast served every morning – trust me, if you're staying at the AxelBeach Miami, you're going to need your Weetabix!
The vibe of AxelBeach Miami is quite different from its counterparts in places like Gran Canaria or Berlin – it's a converted 1940s mansion, giving it a more bohemian feel. The bright, earthy décor is a stark contrast from Axel Berlin's opulent black and gold.
As with all Axel properties, AxelBeach Miami is all about fun in its most carnal form, as is made abundantly clear when you flip over your "Do Not Disturb" sign to see "Please Disturb" instead! Perfect for solo travellers or couples who like to indulge in a little extracurricular activity, AxelBeach is a great place to be if you want to get your rocks off morning, noon and night!
The big, communal pool area is fantastic for people-watching and meeting new friends. There's also a great spa area and gym for those who want to get hot and sweaty. The staff are friendly, helpful and handsome as all get-out, and they will do the most to make sure you enjoy your stay.
Prices at AxelBeach Miami start from $189 per night:
---
STAY WITH A GAY LOCAL
Misterb&b is the Airbnb equivalent for the LGBTQ community. Unlike on Airbnb, you know your host is gay, voiding any nasty surprises when you check-in. It is also a great way to meet gay locals and discover the underground gay scene. Click below to get 10 € (or $10) off our first booking.
03
The Anti-Hostel by Gaythering
Miami Beach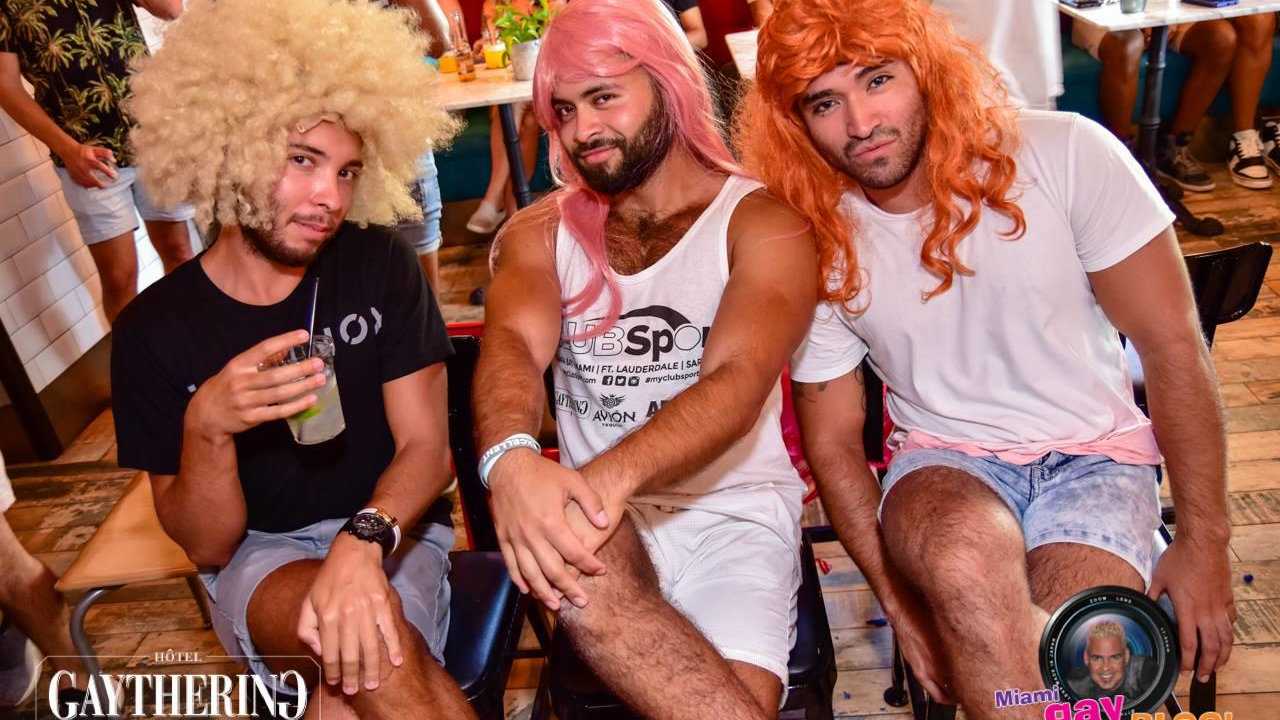 In a nutshell
---
Gay men only hostel
Rooms are cosy and comfortable
Available in standard and XL options
A great place to meet new friends
As Tyra Banks might say, "Gaythering, but make it budget."
The Anti-Hostel by Gaythering is the perfect solution for gay solo travellers who want a rip-roaring holiday in Miami Beach without the higher price tag associated with some of the other men-only hotels in the area. Instead of a normal hotel room you can choose from their special crates for a much lower price.
The Anti-Hostel provides basic but perfectly comfortable accommodation. Units are available in standard or "eggplant" XL sizes – they lock with a key card and include a full-size bed, TV and safe deposit box. Bathroom facilities are shared with other guests on-site. Those with standard rooms share a bathroom between five units. Meanwhile, the XL option's bathroom is shared between three units and includes a double shower – just begging for the best kind of trouble…!
While it may not be the quietest of places to stay, simply due to the nature of the building, Gaythering has done everything it can to provide guests with some peace and quiet when they need it. The TV can only be listened to on the headset provided, and rooms also come with earplugs and a sound machine to help drown out the residual noise from other units and communal areas.
Overall, the Anti-Hostel by Gaythering is a great way to take a big gay trip to Miami without breaking the bank. It's super-popular, so you can meet plenty of guys primed for saucy fun. And if the others don't want to hear you at it, that's what the earplugs are for, right? You do you!
Prices at The Anti-Hostel by Gaythering start from $79 per night for 2 people:
---
04
Blanc Kara Boutique Hotel
South Beach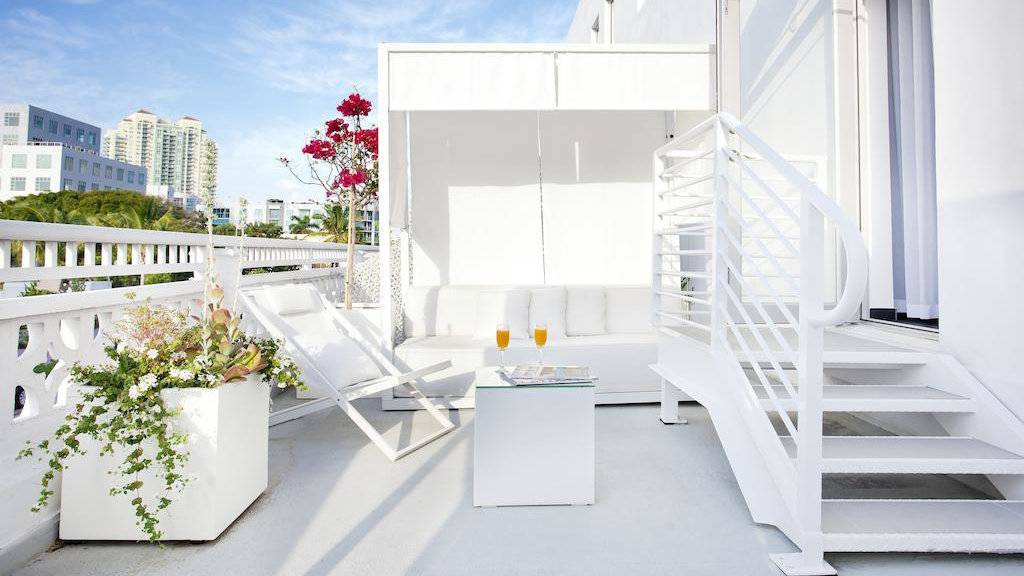 In a nutshell
---
Prime location for soaking up Gay Miami
Even the standard studios are fabulous
Kitchenette is perfect for self-catering gays
Delightful, attentive staff
This gorgeous little boutique hotel is also situated in Miami Beach, well technically in South Beach. It's not men-only, but kids are banned – hurrah! – and it is perfectly situated for fun and frolics on the local gay scene.
The Blanc Kara is a slice of pure, quintessential Miami in its styling, clean and modern with bright pops of colour to give it that summery feel, very in-keeping with the vibe of the city itself.
The studios are spacious and comfortable, and they include a well-equipped kitchenette, perfect for those who want to self-cater for part or all of their holiday. There's a cute little bodega just down the road and being able to sort your own grub is a great way to save some coin. Top-tier rooms come with a gorgeous little private terrace where you can soak up some sunshine in the daytime.
The Blanc Kara is a stunning hotel, so you won't have any qualms about bringing new friends back from a night out to… admire the lovely ceilings. The staff know it too and will keep you regularly stocked up with rubber jacks – thanks guys, so thoughtful!
Like many of the other hotels we've explored so far, one of the best things about the Blanc Kara is its location. You're right at the centre of all the gay goings-on of Miami Beach – and there are a lot of them! One of our favourite haunts in the area is Twist, a sprawling dance club with multiple floors, seven bars and very few shirts. Best of all, there's no cover charge.
Prices at Blanc Kara Boutique Hotel start from $179 per night:
---
05
The Standard Miami
Belle Isle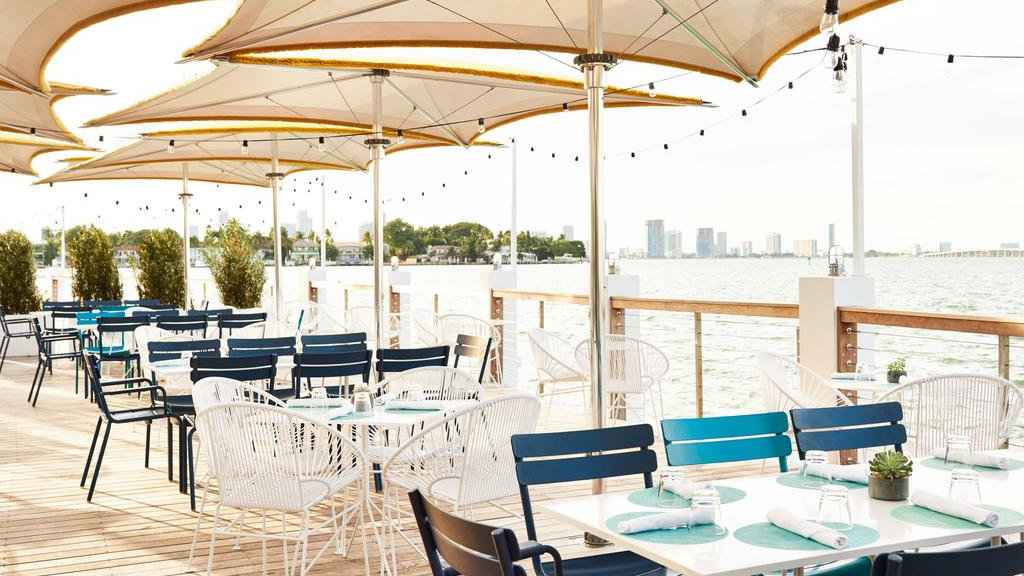 In a nutshell
---
Perfect location for painting the town pink
The ultimate in daytime relaxation
Range of spa treatments is incredible
Gay-friendly and adults-only
We're changing tack a little with the next entry on our list of the best gay hotels in Miami. Predominately, The Standard Miami is a super-chilled wellness retreat – that just happens to be slap bang in the middle of the vibrant, energetic and gay, gay, gay Miami Beach.
Every room type comes with a full-size double bed and a futon, so The Standard is also suitable for small groups.
The Standard is an idyllic little parallel universe at the epicentre of a whirlwind of gay energy and excitement. It's the antithesis to Miami Beach's non-stop party vibe, perfect for those who want some daytime R&R to help them make it through the morning after the night before. It isn't gay-only but it is adults-only and provides an extremely chilled, welcoming and, most importantly, LGBTQ-friendly atmosphere.
And for when you need to rest and recharge, The Standard has its very own on-site wellness centre that offers a fully featured gym area, plus a huge range of indulgent spa treatments including hydrotherapy, Turkish Hammam, milk baths and body scrubs. You can also enjoy a variety of treatments in the privacy of your room if you prefer.
Prices at The Standard Miami start from $269 per night:
---
06
W South Beach
Miami Beach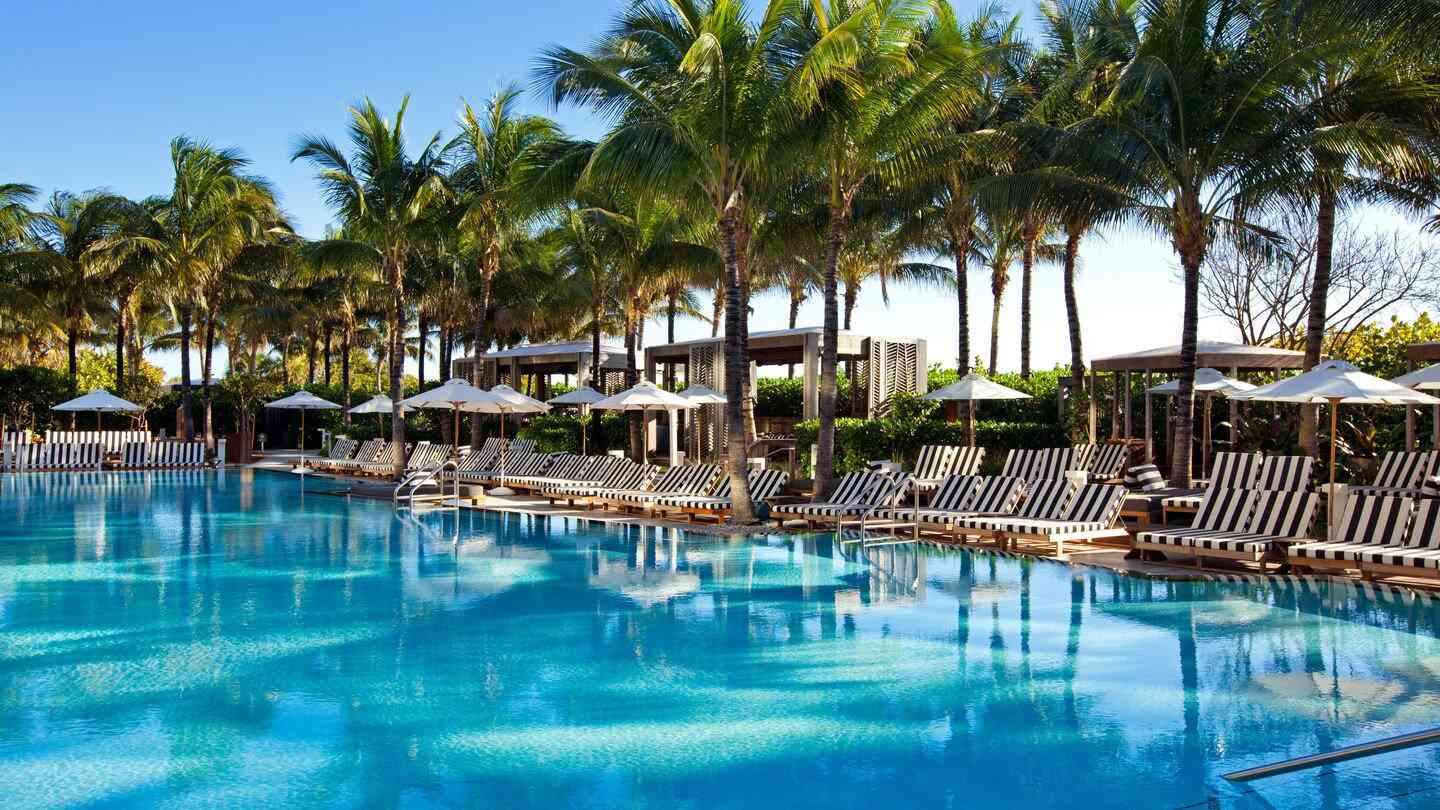 In a nutshell
---
Even the basic studios are beyond fabulous
So much to do under one roof
Uber-trendy location
Opulence – you own everything!
Today's letter is L, and the word is luxury, darling.
The grandeur of the W South Beach cannot be overstated – this place has absolutely everything you could ever want from a hotel, almost to the point where you could spend the whole of your vacation here and still have a blast.
But in a city as utterly spectacular as Miami, that would, of course, be a crime.
There are a variety of rooms available that range from stunning to so stunning that an appropriate adjective to describe them hasn't been invented yet. The W offers studios, suites, a poolside bungalow, an accessible option and even a couple of magnificent penthouses for those with money to burn. Whether you're travelling alone, as a couple or as a small group, the W offers a property to suit. Best of all, every room includes a private balcony with an incredible ocean view.
Everything about the W South Beach hotel feels decadent from floor to ceiling. There's a gym, a basketball court and a tennis court, as well as a spa offering a range of treatments like massage, facials and mani-pedis. Hell, go crazy and get 'em all – you deserve it!
The on-site restaurant extends the theme of unadulterated extravagance that epitomises the W. I mean, this place serves oysters – and we all know what oysters can do for you between the sheets, right? Whether he's Mr Right or Mr Right Now, he's going to be one lucky fella!
Prices at W South Beach start from $389 per night:
---
07
Posh Hostel South Beach
South Beach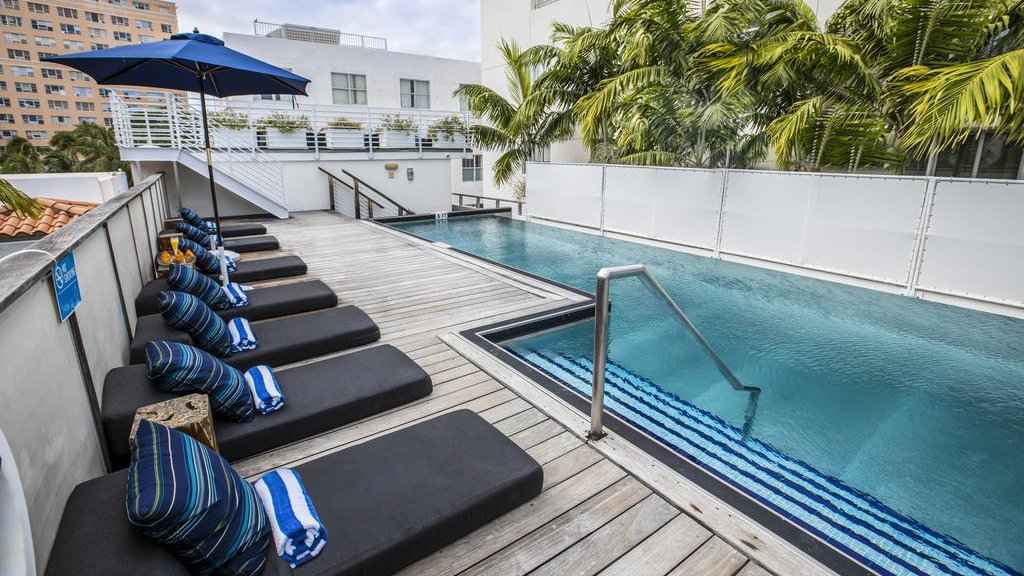 In a nutshell
---
Budget-friendly accommodation
Great for meeting other travellers
Pool area is a pleasantly surprising addition
Plenty of bathroom facilities available
This next entry does what it says on the tin – it's a hostel, but it's a posh one, and it's pretty great! South Beach is where it's at for gay travellers holidaying in Miami, and the Posh Hostel makes the prospect of visiting the city far more affordable for those working to a tighter budget. While it doesn't offer much of anything in the way of privacy, the Posh Hostel is perfect for gay travellers who love meeting new people and want to save some pennies for the clubs.
You'll be sleeping on a bunk bed in a mixed-gender dorm, so there's the potential to meet lots of cool fellow travellers and have an absolute blast with new friends but not much chance of any naughty business. Guests share bathroom facilities, but there's plenty of them, so when you want to freshen up first thing or before the next night out, you'll queue very rarely if ever.
The poshest part of the Posh Hostel is the pool area, which is an unexpected delight for such budget-friendly accommodation. There's also a big communal living space full of comfy soft furnishings with a TV, computer and kitchen area, perfect for socialising with other guests.
I've said it before, and I'm going to say it again – the best thing about this place is the location! The Posh Hostel is spitting distance from several fabulous tourist hotspots like Ocean Drive, the Versace Mansion, the Art Deco Historic District and not one, not two but three gorgeous beaches.
Prices at Posh Hostel South Beach start from $69 per night:
---
08
Dream South Beach
South Beach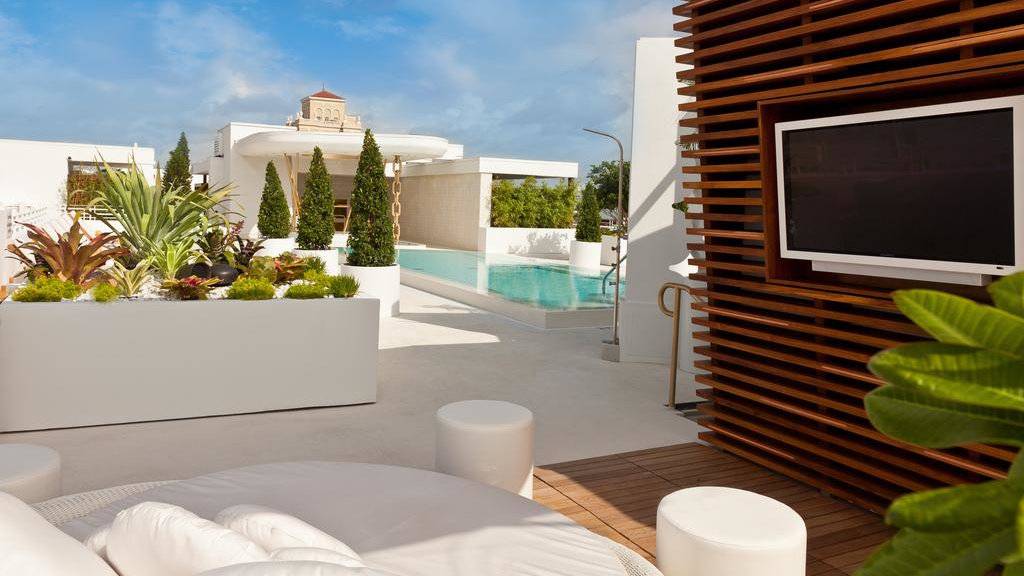 In a nutshell
---
Super-chic and fashionable
Incredible rooftop terrace and pool
The spa is wonderful
Gay Miami on your doorstep
Dream South Beach is just that – a dream! This funky art-deco boutique hotel is adults-only and gay-friendly, which is obvious from the get-go thanks to the fabulous décor. Dream South Beach is a masterclass in interior design, with gorgeous, monochromatic themed rooms in all the colours of the Pride flag. The plush furniture and meticulously selected decorations really make it pop – and that attention to detail does not go unnoticed in the gay world, no ma'am!
There is a range of different room options available including king rooms, suites, duplexes and deluxe double rooms with two full-size beds, great for small groups. And if you can't bear to be apart from your furry friends – the four-legged kind, that is – Dream South Beach is even pet-friendly!
The hotel has an on-site Mexican restaurant, bar and café, as well as a Studio 54-inspired lounge and a fantastic spa, but the piece de resistance of Dream South Beach is the beautiful rooftop terrace, complete with its own bar and a spectacular infinity-edge pool. Oh, and then there's the view. As our beloved Monique Heart once said, "Stunning!" Okay, she said it many, many times…
This hotel is so close to every great tourist attraction, shopping area, restaurant, club, bar and beach in the area that you can almost reach out and touch them all from the front door. Dream South Beach also offers a chargeable transfer service to a couple of cool out-of-town places like the Dolphin Mall in Sweetwater and the Sawgrass Mills Mall in Sunrise.
Prices at Dream South Beach start from $149 per night:
---
09
Wynwood Place
Wynwood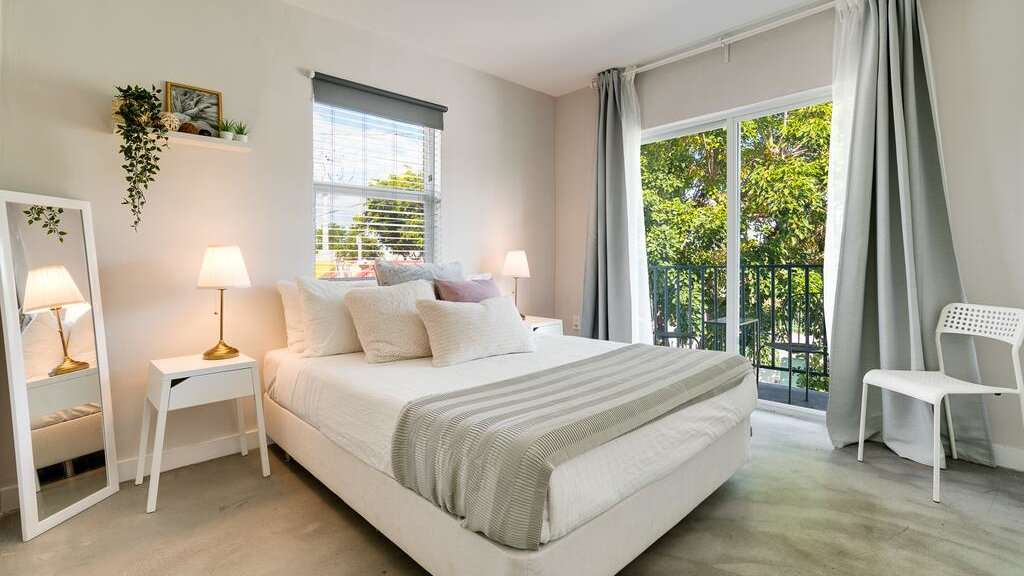 In a nutshell
---
Artsy area bursting with culture
Super-cool building and gorgeous rooms
Only a short drive from Miami Beach
The Unicorn Factory!
We're heading to another apartment complex next, this time in the uber-trendy Wynwood Art District, about 15 minutes outside Miami Beach. The rooms at Wynwood Place are bright, clean, modern, minimalist and trés chic – and best of all, they are fantastic value for money.
One of Wynwood Place's biggest selling points is the fact all guests are provided with free private parking – perfect if you're renting a car.
It's abundantly clear how much effort Paula, the owner, has put into ensuring her guests have a wonderful stay. The rooms are beautifully decorated and radiate that cool summer vibe – very Miami! Even the exterior of the building is stylish, emblazoned with bold, colourful murals and psychedelic graffiti artworks painted by renowned Miami-based artists. All rooms include a comfortable living area, a fully equipped kitchen and a private bathroom with complimentary toiletries
Staying in Wynwood, you will find yourself slap-bang in the cultural heart of Miami, surrounded by galleries, museums and no shortage of fabulous street art. Top attractions in the Wynwood area include the Walt Grace Vintage museum, where you can view and even purchase a selection of classic cars and guitars – because Lord knows, you can't have one without the other.
If this isn't sounding very gay so far, wait until we tell you about the Unicorn Factory – yeah, you heard me correctly. Priding itself on being one of the most "Instagrammable" places in Miami, this wall-to-wall extravaganza of glitter and rainbows was probably made for kids, but that doesn't stop the gays from going and getting their lives too!
Prices at Wynwood Place start from $189 per night:
---
10
EAST Miami
Downtown Miami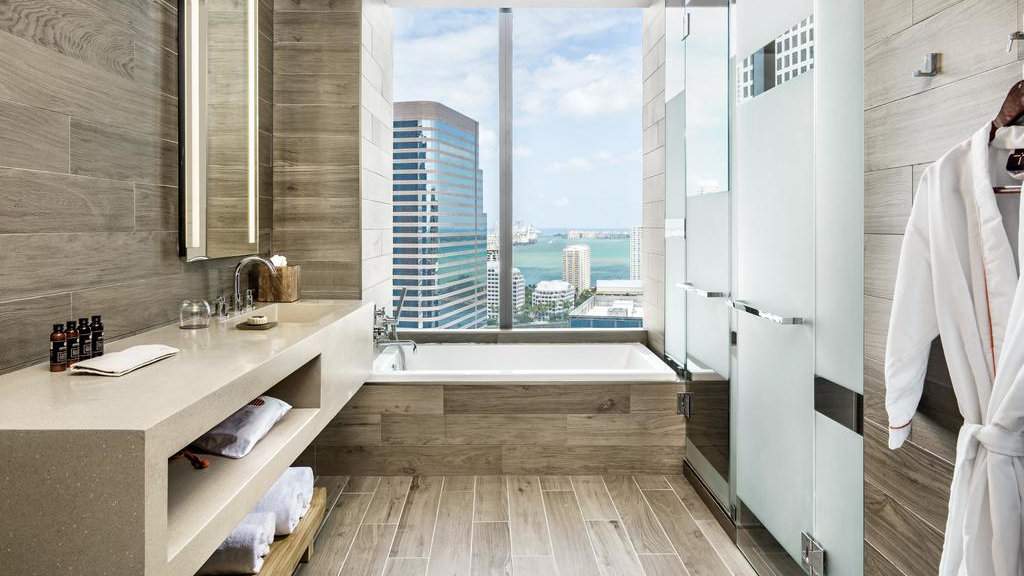 In a nutshell
---
Décor is pure eye candy
Spectacular views everywhere
Flawless customer service
South Beach is only an Uber away
Opulence, elegance, decadence, style, sophistication, all that good stuff – EAST Miami Hotel has it!
This magnificent hotel is located in the Brickell area, about a 15-minute drive from South Beach, so you won't be far from the glitter and fabulousness of Miami's action-packed gay scene. EAST Miami isn't just a hotel – it's a lifestyle experience of the highest order.
The décor plays with several different textures and colors, including polished marble, exposed brick, and laminated wood with burnt orange accents throughout the entire building. It's a super-trendy combination and a real feast for the eyes from the moment you arrive.
Rooms are bright, airy, and quintessentially Miami, with a private balcony and floor-to-ceiling plate-glass windows ensuring there are one of those marvelous Miami views everywhere you look. There's a gorgeous pool deck with four different pools and a lovely outdoor bar area on the 40th floor where you can sip a cocktail or two in the summer breeze.
The fantastic on-site restaurant serves delicious Uruguayan dishes. And if you want to work it off, EAST Miami's gym is pretty great too – decently sized with plenty of cardio and resistance training equipment to help you stick to your fitness regime during your stay.
Overall, a stay at the EEAST Miami Hotel is exactly what it professes to be, an experience, and that philosophy also shines through in the exceptional customer service. There's a reason why over 1,400 TripAdvisor customers rated it "Fabulous" – with a capital F, honey!
Prices at EAST Miami start from $209 per night:
11
Bresaro Suites at the Mantell Plaza
Miami Beach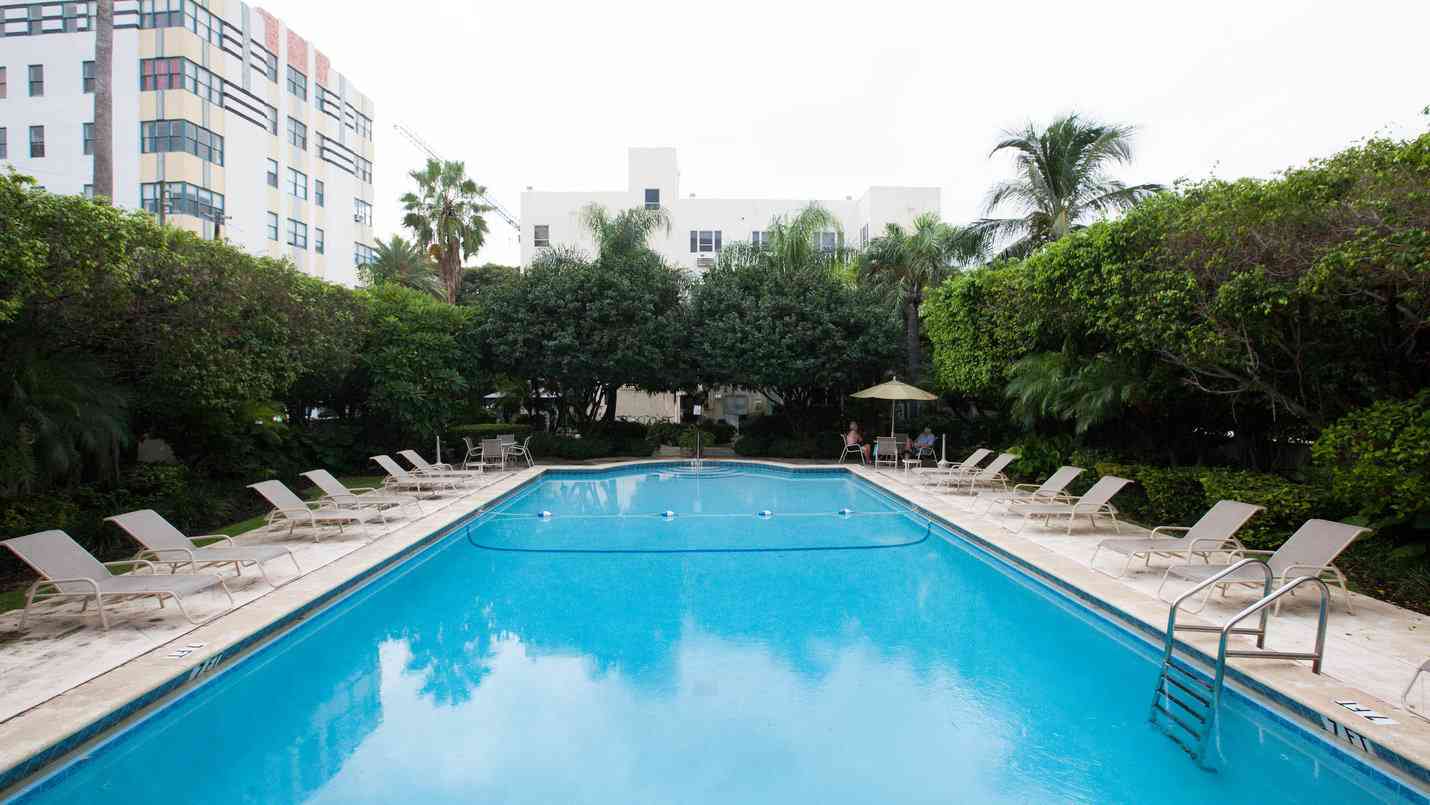 In a nutshell
---
Decent, affordable accommodation
Art-deco realness!
Lovely pool area in the back
Hosts are helpful and respectful
The last entry on our list of the best gay hotels in Miami is another more budget-friendly option for those who want to lighten the load in their pockets.
Bresaro Suites is a gay-owned apartment block, and travelers visiting the city can rent one of the rooms to stay in. Dating back to the early forties, the building itself is super-cute with a stylish art-deco feel.
The rooms are pretty basic, but the owners do everything they can to make sure guests have what they need including a decent-sized bed, futon, and fully stocked kitchenette. Each room has a cute little balcony – and as you may have gathered by now, there's no such thing as a bad view in Miami!
There's also a gorgeous pool area out the back with plenty of loungers where you can relax and meet the other guests staying in the building, plus a fitness center if you really want to work up a sweat. And of course, staying in Miami Beach, you won't have to go far to find somewhere great to eat, shop, party or soak up some rays.
The owners aren't intrusive in any way, but they're in the building quite often and, if not, they're always available by phone if you need any help during your stay. All in all, the Bresaro Suites are a great option for gay guys who want to visit Miami but don't want to set their wallets on fire doing it.
Prices at Bresaro Suites at the Mantell Plaza start from $159 per night:
Happy travels are safe travels
We recommend you always take out reputable travel insurance before your next vacation. What happens if you suffer from illness, injury, theft, or a cancellation? Many gay travelers forget about it and regret it when something happens. Better to pay a small price and have peace of mind and not worry.
---
---