TERMS OF USE: There is a chance that some of the content on this page has changed since it was last updated. By reading this article, you consent to our Terms of Use and Disclaimer. Happy Travels!
DISCLOSURE: Some of our posts may contain affiliate links which we may receive a commission if you choose to book something through one of our links.
In this gay travel guide to Lebanon, we give you the full lowdown of gay Lebanon, the gay scene, inspiration for things to do, and safety tips.
Exquisite food, impressive UNESCO sites, crazy nightlife, and some of the most handsome guys to walk this planet…on the face of it, Lebanon is a gay man's wet dream, right?
In some ways, it sure is! By Middle Eastern Arab standards, Lebanon is often regarded as a very liberal and progressive place. There's even a vibrant gay scene in Beirut. We certainly rate Lebanon as one of the most gay friendly countries in the Arab world.
BUT: this is by Middle Eastern standards!
The Middle East is one part of the world where being openly gay can get you into a great deal of trouble (Israel, a gay paradise, being the sole exception). For example, in say, Saudi Arabia, Egypt, or Iran it's a straight-up capital punishment. In places like Lebanon, Dubai, or Abu Dhabi, being gay is very much an arrestable offense that can get you a prison sentence, a fine, and deportation.
The purpose of this article is to describe our experience of traveling in Lebanon as a gay couple, present a balanced perspective and give advice for LGBTQ travelers who want to explore it. It is a stunning country, one that you won't regret visiting…but this is still very much an Arab country where being gay is against the law. You will need to go back into the closet, avoid all PDAs, set all your social media to private, and never post anything gay-related online before or during your trip.
In this article, we also give you the full lowdown of gay Lebanon, the gay scene, some inspiration for things to do, and most importantly, LGBTQ practical safety tips.
Don't forget…
Gay dating apps such as Grindr are blocked on mobile networks in Lebanon. Before heading off, make sure you get a VPN that will not only secure your internet connection wherever you are but also keep your online activities private and allow you to use gay dating apps anonymously.
Gay rights in Lebanon
Homosexuality is an arrestable offense in Lebanon. Whilst there is no specific anti-gay law, the religious judges have over the past century interpreted the law to make homosexuality a crime. Specifically, Article 534 of the 1943 Lebanese Penal Code outlaws all gay relations that "contradict the laws of nature", punishable by up to one year in prison. Since 1943, judges have interpreted Article 534 to apply to homosexuality.
On the positive side, more and more judges in Lebanon are arguing that Article 534 does not apply to homosexuals, which is slowly paving the way for decriminalization. The most recent ruling was from the Mount Lebanon Appeals Court in July 2018, which was also the highest court in Lebanon (to date) to advocate for decriminalization.
On a political level, Lebanese society is also slowly coming around to accepting homosexuality. Some politicians are now actively campaigning for equality and decriminalization. Another positive (albeit shocking that such a thing ever existed) is that in 2014, the "egg anal test" to determine if a man is gay, was finally banned! There are also many activists who are doing incredible things for the LGBTQ community of Lebanon, in particular Georges Azzi, who co-founded HELEM, and Hadi Damien, who organizes Beirut Pride.
But the good news does come with the sting of reality. Lebanon is still an Arabic country with powerful and influential religious sects that pressure the government to crack down on the LGBTQ community, as was evident from the suspension of Beirut Pride in 2018 and again in 2019. Post-Pandemic, there are hopes that Beirut Pride will once again rise from the ashes.
Make no mistake, being openly gay in Lebanon remains illegal and a massive taboo that can get you into a lot of trouble!
Is Lebanon safe for gay travelers?
Yes… BUT:
You must accept the fact that being openly gay here can get you arrested and you're happy to jump back into the closet.
You avoid all PDAs, even in the gay clubs: most have bouncers whose job it is to prevent LGBTQ couples from getting too close to prevent attracting negative attention from the police.
You avoid any form of LGBTQ activism.
You avoid posting any LGBTQ content online before or during your trip: set all your social media settings to "private" to be on the safe side and use a VPN as the internet is heavily monitored in Lebanon.
You have not visited Israel before: see more about this before, but in short, they won't let you in if you've got an Israeli stamp on your passport.
Avoid relying on a visa on arrival at Beirut airport: apply for your visa from your local Lebanese Embassy before you book your trip just in case your online LGBTQ presence has created a "blacklisting" against your name. This was the advice from the Lebanon Embassy in London which reminded us that homosexuality can be punishable with up to 1-year imprisonment in Lebanon.
For us, we left Lebanon with very mixed feelings. On the one hand, we absolutely loved the country, the people, and the food and were so impressed to discover a thriving LGBTQ community, as well as a handful of gay friendly hotels and gay hangouts. By comparison to other Arabic countries, Lebanon is more progressive and very liberal. It is a pink haven for LGBTQ citizens from places like Yemen, Kuwait, and Saudi Arabia, who come here to let their hair down and feel "free".
On the other hand, as a gay couple from Europe visiting a place where homosexuality is an arrestable offense, we couldn't help feeling a sense of unease, like we were being watched all the time. We were careful to avoid public displays of affection and always mindful about not acting "too gay" for fear of attracting negative attention.
What summed up Lebanon was our experience at the gay club POSH: it's a really fun night out, especially on Saturdays. It's amazing that something like this exists in an Arab country, to be honest! But, as we were dancing, we went to kiss each other (something we regard as a very normal thing we do in a gay club). As soon as we did this, the bouncers came rushing over to separate us, reminding us of the "no kissing" policy in place. This is of course reluctantly in place by the club owner to protect his license and we completely respect that. Nonetheless, the very fact that you're not allowed to kiss your own boyfriend in a gay club in Lebanon is a stark reminder that whilst it may seem free and open here, you still need to take extra care as an LGBTQ traveler.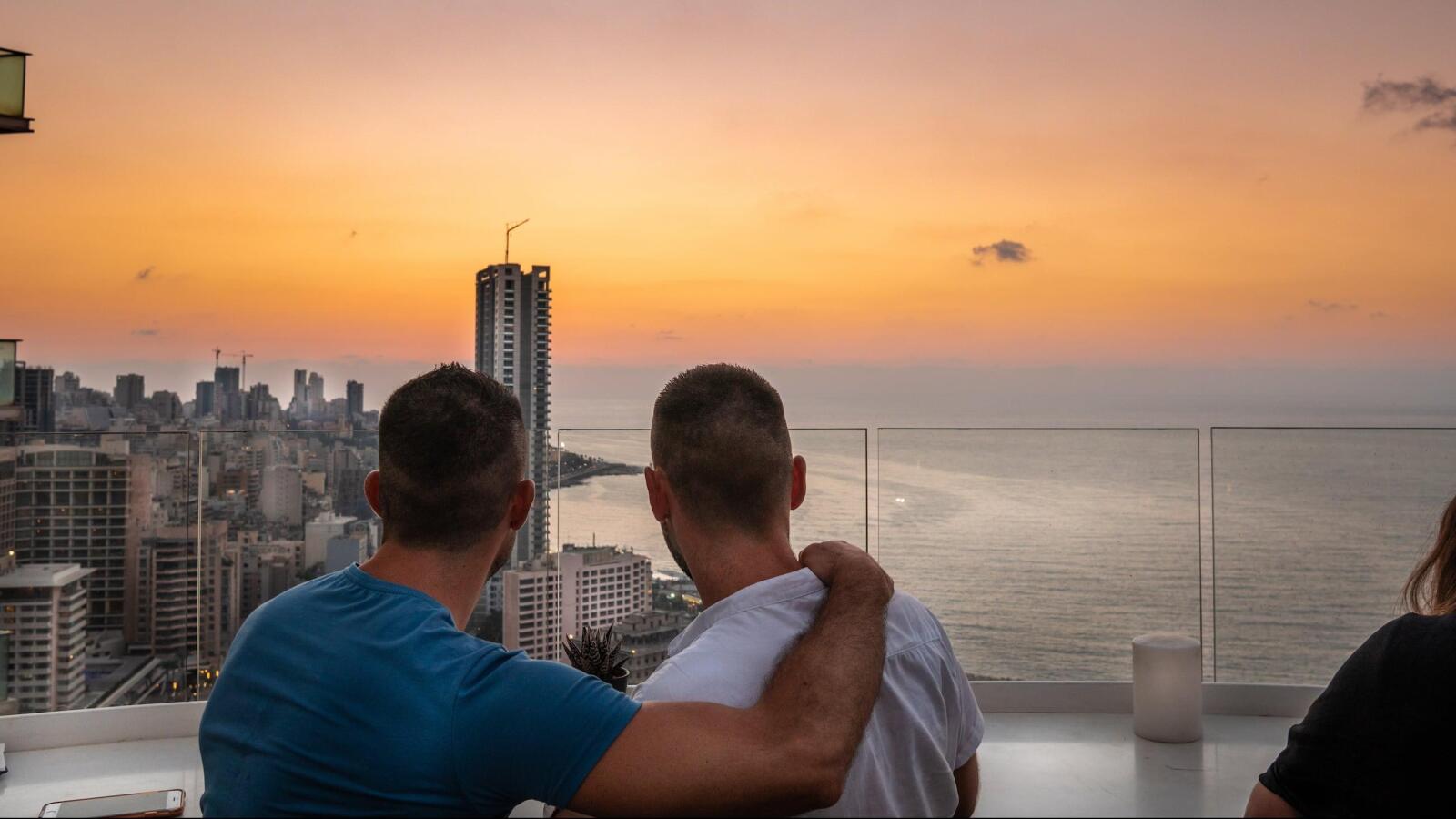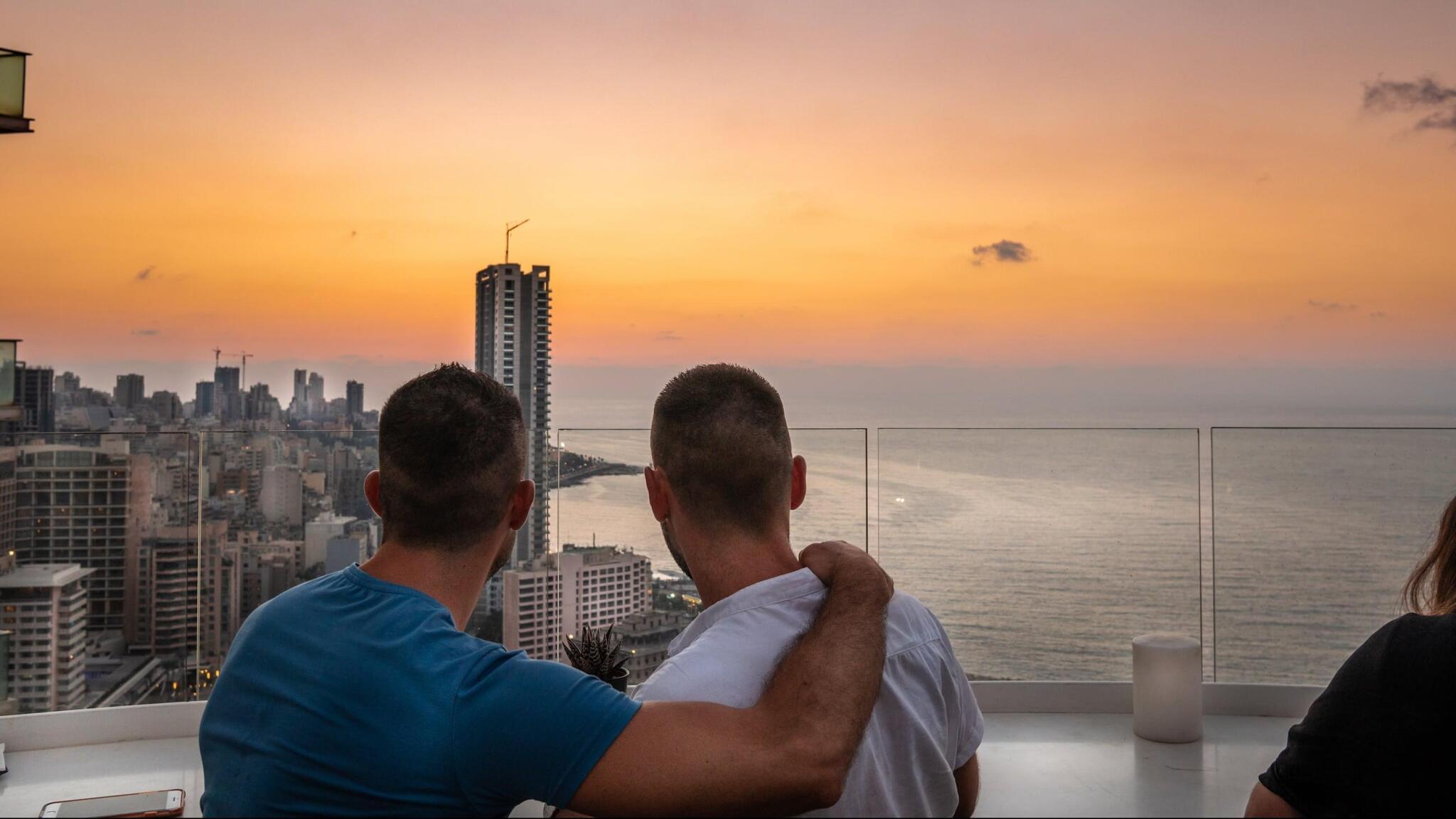 The gay scene in Lebanon
The gay scene of Lebanon has sadly taken a massive downturn over the past few years with iconic queer-friendly spaces like Bardo closing down in late 2021. Thankfully, there are a handful of gay friendly clubs. However, because homosexuality is still a criminal offense in Lebanon, they avoid marketing themselves as "gay" or even "gay friendly". Instead, they promote their parties via word of mouth to avoid police pressure and not compromise their license.
The best gay friendly space you'll find at the moment in Beirut is "POSH" club in the Bourj Hammoud neighborhood. Another queer-friendly gem to check out is a beach club called "Club 59", located around 1 hour south of Beirut. This is where the Beirut gay boys like to hang out on weekends.
Otherwise, look out for other ad hoc underground gay parties taking place in Beirut, which are only announced by word of mouth. We advise using the gay dating apps (safely via a VPN of course!) to connect with locals to tap into the local gay scene and find out what's happening.
In addition, be sure to check out our gay travel guide to Beirut setting out the best gay bars, clubs, events, hotels to stay and things to do.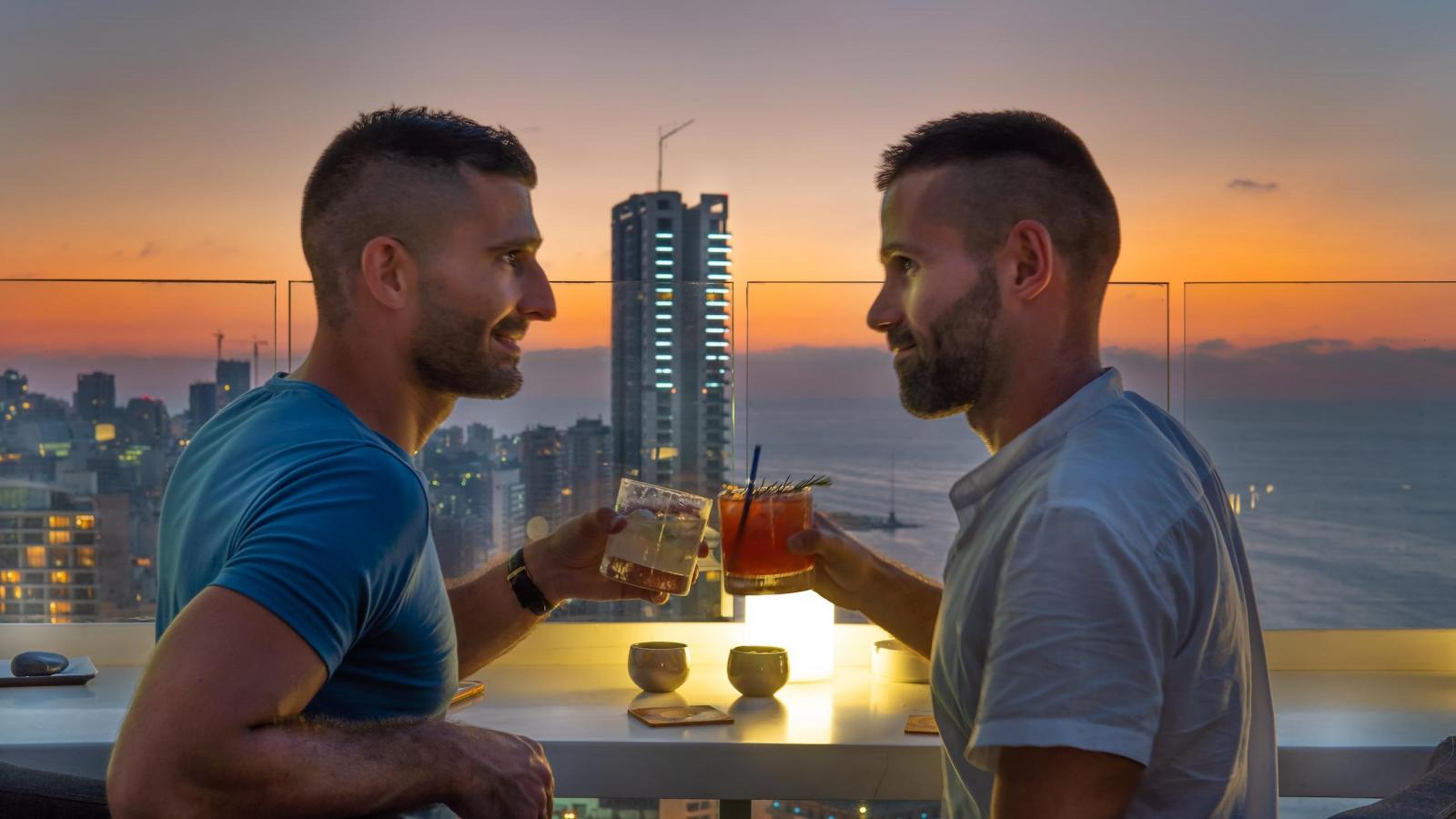 Can I use Grindr in Lebanon?
Grindr is blocked in Lebanon. Since 2019, the Lebanese government has been heavily cracking down on LGBTQ websites and apps. You can, however, still access it via a VPN, which allows you to connect to Grindr via a server located outside Lebanon. This means that it will be slower, but you'll still be able to access it.
We also strongly advise you to use a VPN when accessing any website or app in Lebanon because it will allow you to browse anonymously, thereby preventing your internet use from being monitored.
The final point about using any gay dating app in Lebanon is to be cautious of catfishing and fake accounts. Protect your identity, only disclosing personal information you're comfortable showing and above all else, always follow your gut reaction about who to meet. We recommend reading Ditch the Label handy advice about how to spot a catfish.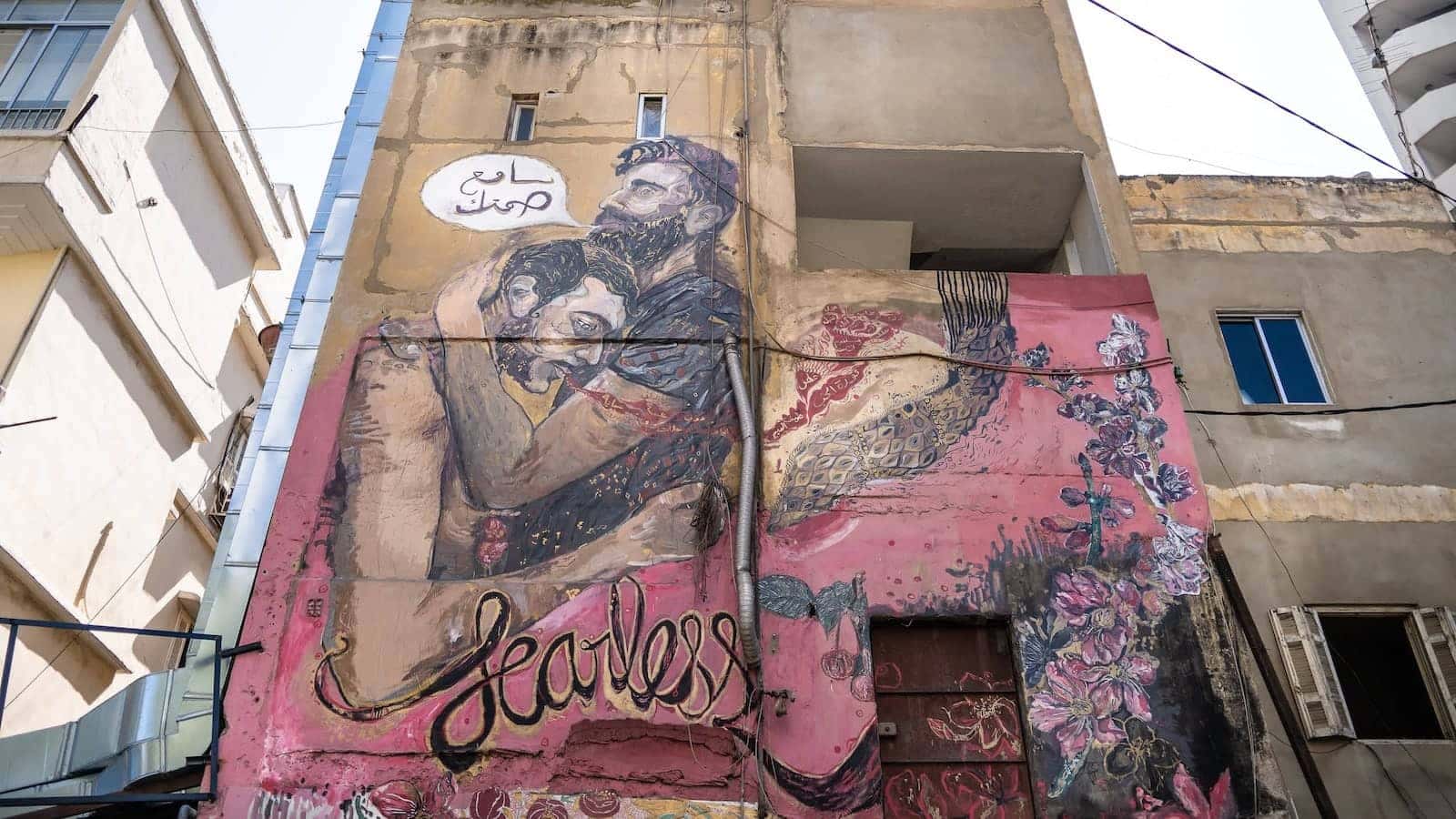 You still can post on Facebook, Instagram, Twitter, etc. But, remember that the government heavily monitors the internet in Lebanon. So if you do post anything avoid mentioning anything gay-related and avoid politics, particularly anything related to Israel. Set your social media settings to "private" during your trip and use a good VPN service so you can browse anonymously.
During our visit, we made the mistake of posting about the Beirut gay scene on our Instagram. As we were leaving, we were stopped by the General Security at Immigration and informed that our names had been "blacklisted". We were taken aside and interrogated for an hour. No reason was ever given. We were eventually released, being told we are banned from Lebanon, we should not have been allowed to enter, and would never be allowed to come back!
After investigating with the different Embassies (the British one for me, the French for Seby, and the Lebanese Embassy in London), we still have no official reason as to why both of our names were blacklisted. Neither of us had been to Israel before, and our names are completely unrelated – Stefan Arestis (UK passport) and Sebastien Chaneac (French passport). The only plausible explanation was that our online posts had been flagged and we have a very gay online presence!
We have since heard reports of other LGBTQ travelers experiencing the same problem with General Security at Beirut Airport. For this reason, we strongly advise you to take the safety precautions set out in this article!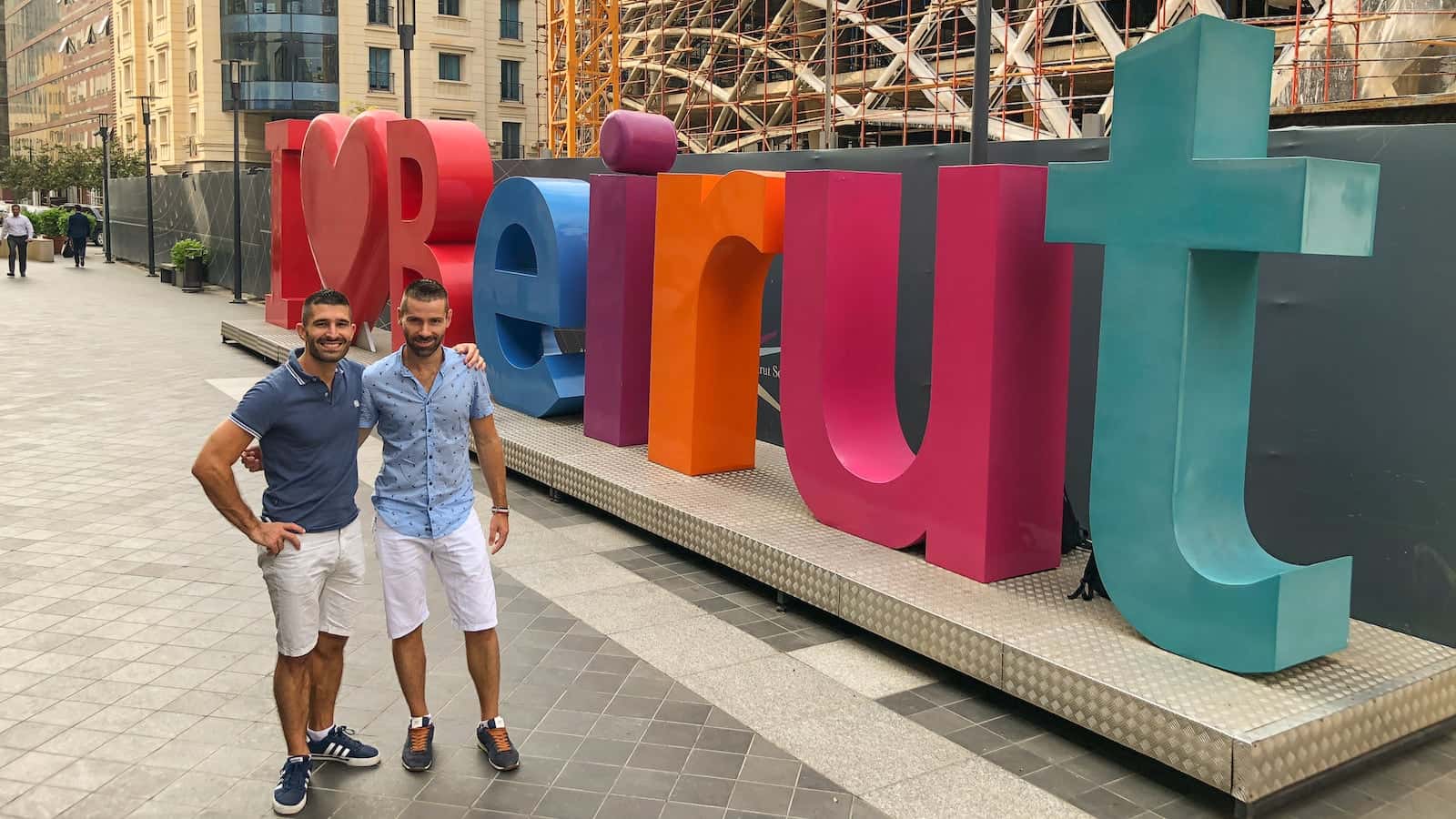 Top things to do in Lebanon
We found Lebanon to be one very fascinating country, with a rich history dating back several thousands of years. For example, the name itself "Lebanon" is the oldest name for a country, having remained unchanged for over 4,000 years! In addition, Byblos is considered one of the oldest continuously occupied cities in the world, dating back to 5,000BC. You get the idea – this is one place you won't get bored easily! To get you started, we've set out some of our favorite highlights of Lebanon to inspire your planning:
Discover Beirut, the Paris of the Middle East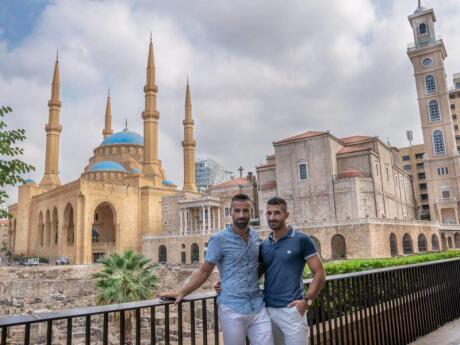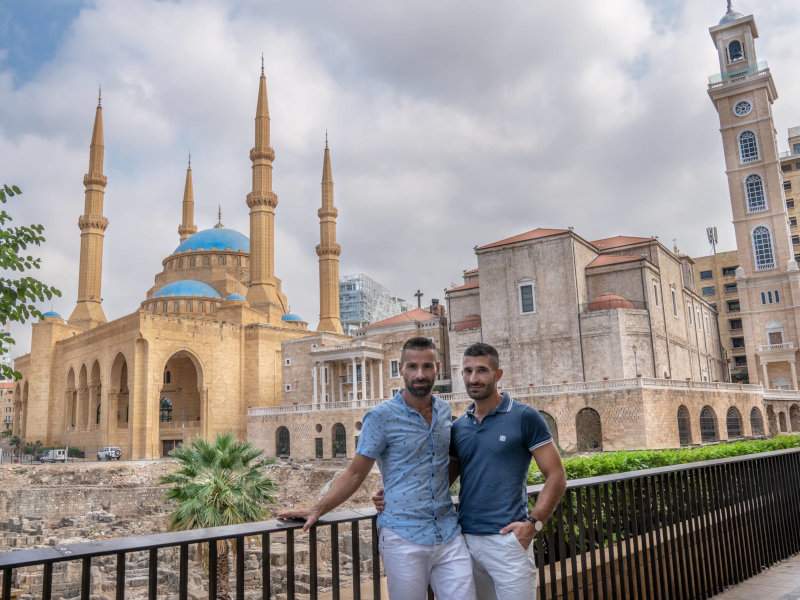 As one of the oldest cities in the world, you can bet Beirut is filled with a fascinating history. We also discovered an amazing foodie scene, plenty of interesting museums, and of course, the exciting nightlife – it's not called "the party capital of the Arab world" for nothing. With many French influences, it's also known as the "Paris of the Middle East" because it became a popular tourist destination after World War II. One of our favorite places in Beirut is the Hamra neighborhood, which is full of cute cafes, shops, and the best restaurants in the city. We also recommend spending time walking along the Corniche (a seaside promenade) and don't forget to take a photo of the iconic Rock of Raouché.
---
Visit the ancient city of Byblos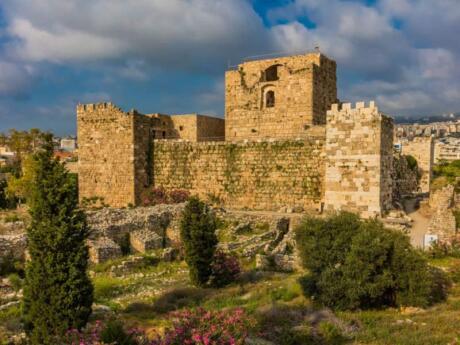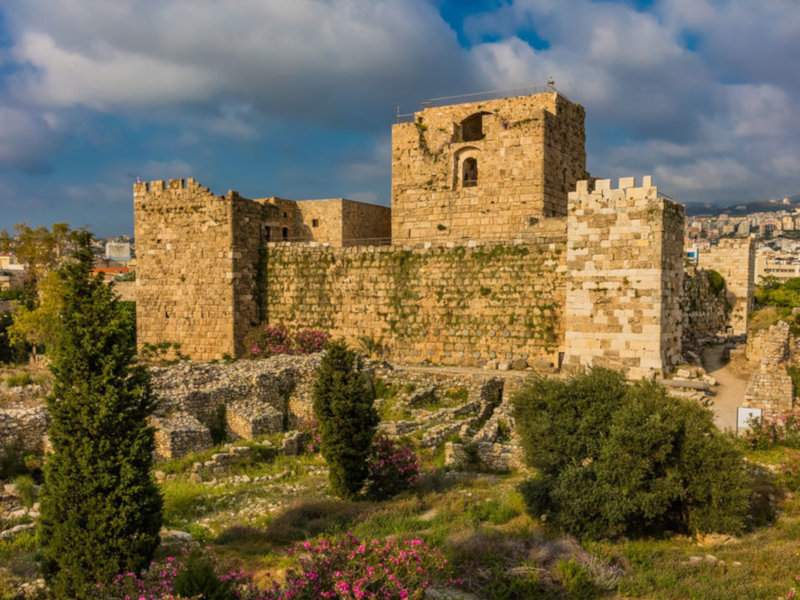 Byblos ("Jbail" in Arabic) is a famous city in Lebanon that's is not only one of the oldest in the world (dating back to around 8000 BC), it is also the oldest city to be continuously inhabited (people have been living here since 5,000 BC). The ruins at Byblos are UNESCO listed. They include a mix of Phoenician, Roman, and Crusader remains. The city itself is a thriving pretty fishing port with an ancient harbor, medieval town center, Crusader-era castle, and sandy beaches. It's been a huge touristic draw in Lebanon for decades – attracting the likes of Marlon Brando and Frank Sinatra back in the 60s who would visit on their yachts. It also has quite a lively party scene in the old souq.
---
Explore the Roman temples of Baalbek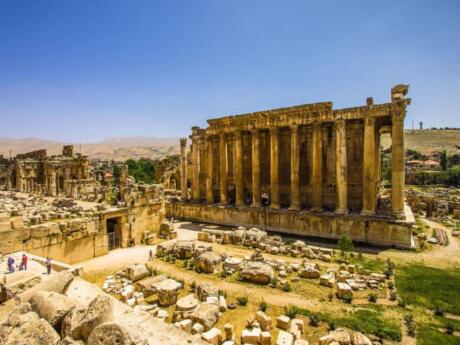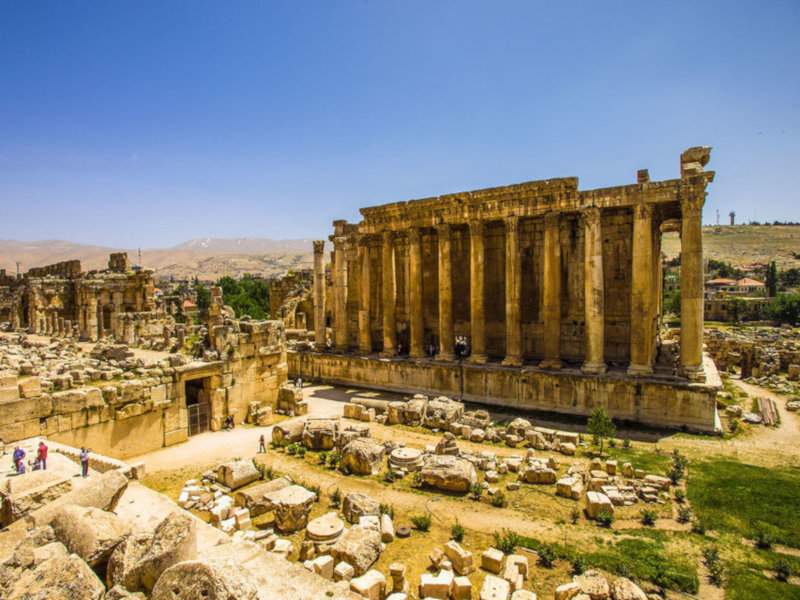 Baalbek is one of the most famous UNESCO-listed sites in Lebanon, located around 85km (53 miles) from Beirut. It is an ancient Phoenician city that also thrived during the Roman times when it was referred to as "Heliopolis" (meaning "sun city" in Greek). We recommend exploring Baalbek as a day trip from Beirut. The Baalbek Temple Complex includes two excellent museums to visit as well as two very well preserved large temple Roman ruins – the Temple of Bacchus and the Temple of Jupiter. To give you an idea of their size: the Temple of Jupiter sits atop three 1,000-ton stone blocks – the Stonehenge pillars weigh around 1/40th of that!
---
Marvel at Jeita Grotto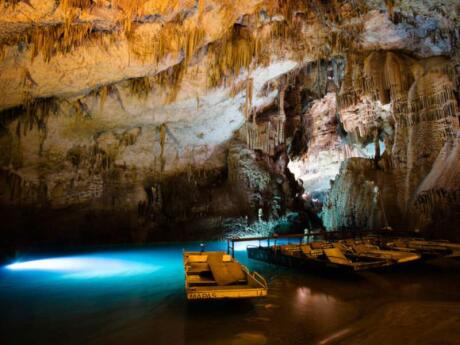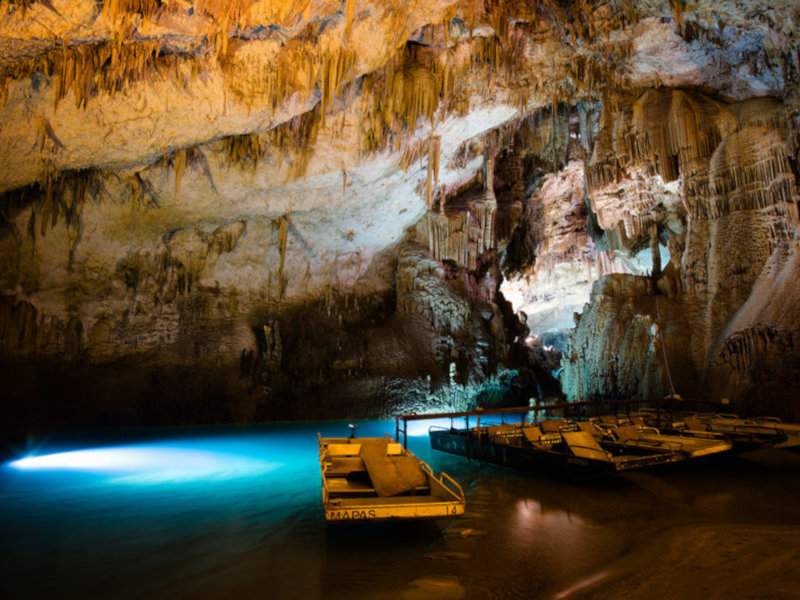 Another amazing place worth visiting in Lebanon is the stunning system of karstic limestone caves known as Jeita Grotto. There are two main caves intertwined with each other for a total length of 5.6 miles (9km), making it the longest cave system in the whole of the Middle East. You can visit the grotto as part of a day tour which also stops at Harissa and Byblos. The upper section is accessible via walkways and platforms but you will need to join a boat tour if you want to see the lower cave. NOTE: You can't visit the lower cave during winter as it's closed due to a high river swell from the subterranean river flowing through it.
---
The Shrine of Our Lady of Lebanon in Harissa
Harissa is a small elevated town, around 16 miles (27km) north of Beirut. It stands proud at 1,805ft (550m) above sea level. Standing even prouder here is the 15-ton bronze statue of the Virgin Mary, specifically called, "Our Lady of Lebanon". The statue itself is 28ft (8.5m) high and is one of the most important shrines in the world honoring the Virgin Mary. Her hands are stretched out, in the direction of Beirut. It reminded us a lot of the Cristo de Redentor statue in Rio. The views from up here are worth the journey alone, as well as the gondola lift (the "Téléphérique") from the city of Jounieh to Harissa. We recommend joining this tour which includes Harissa, Byblos, and Jeita Grotto all in one day.
---
Gay pride in Lebanon
HELEM has been organizing annual Pride Festivals and events since 2006 to coincide with the International Day Against Homophobia, Transphobia, and Biphobia on 17 May. These have largely gone ahead without too many problems, but often face the threat of police intervention and crackdown.
In terms of an official gay Pride, efforts have been made to have a Beirut Pride in 2017 and again in 2018. Sadly both were suspended due to the intervention of the influential religious sects. Check their Facebook page and Twitter for the latest news about the next Beirut Pride event.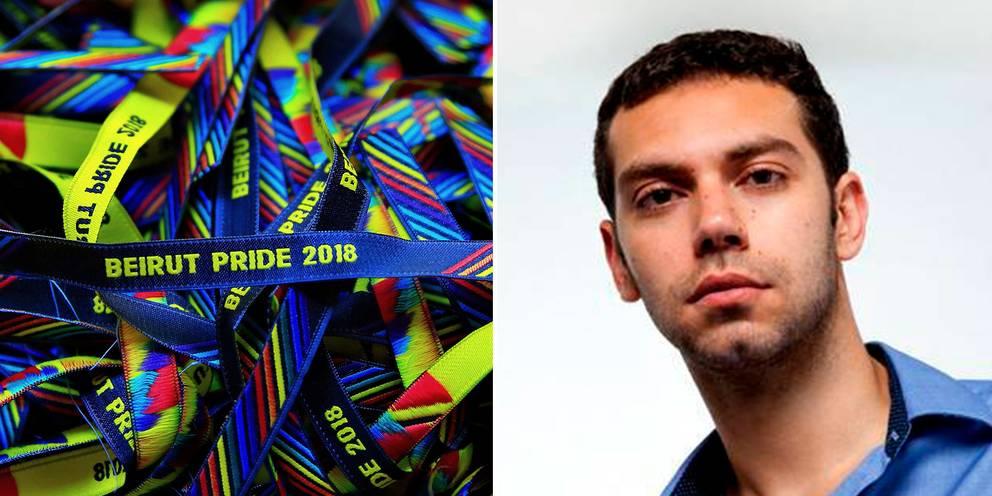 Are there any famous gay Lebanese celebrities?
One of the most famous gay celebrities of Lebanese origin is one of our favorite singers – Mika. He was born in Beirut then his family was forced to move to Paris and then London because of the Civil War.
Within Lebanon itself, the very handsome Hamed Sinno, the lead singer of the indie rock band "Mashrou' Leila" is openly gay. When his band performed at a concert in Egypt to 35,000 people in September 2017, some of their fans displayed rainbow flags. Sadly as a result of this, the oppressive Egyptian government of President Abdel Fattah el-Sisi arrested 65 people for "promoting deviancy" as part of his crackdown on homosexuality. Mashrou' Leila was subsequently banned from Egypt and homophobic rumors circled online that their concert had been a 35,000-person orgy! Mashrou' Leila was also banned twice from Jordan because the band's opinions and lyrics about LGBTQ people were "against the religion and norms of the country." On the plus side, Hamed Sinno has not been banned from Lebanon and continues to live there as an openly gay man.
Foods to try in Lebanon
Lebanese food is world-famous. It's as delicious as the men!
We'll be honest, it was one of the main reasons we wanted to visit. There are so many culinary prizes to discover here – foodies will be in paradise! These are some of our favorite foods to try in Lebanon to inspire and kick start your culinary journey:
Shawarma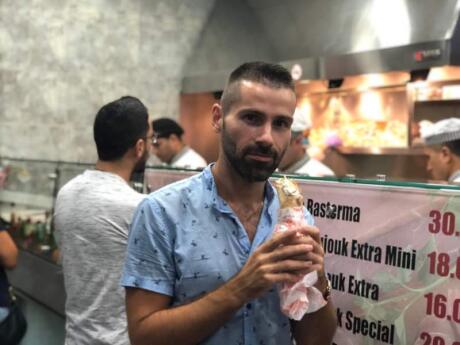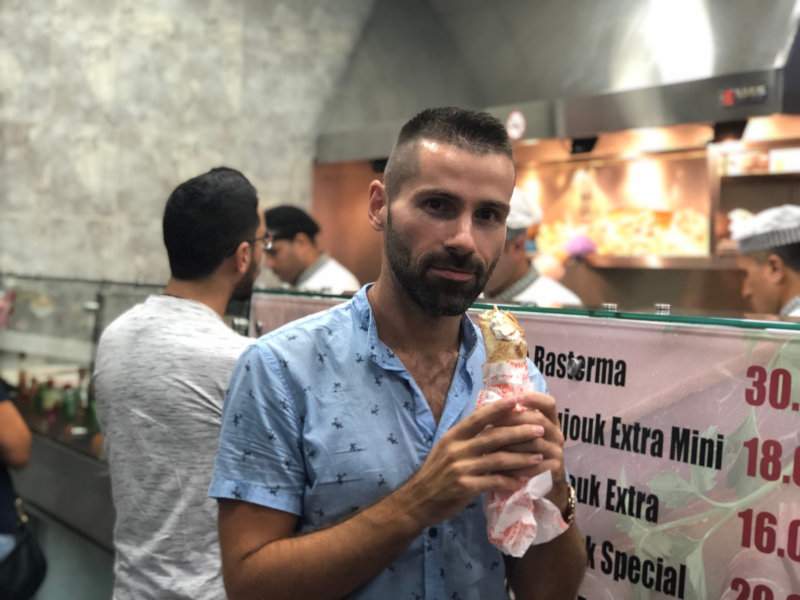 Shawarmas are probably the most famous dish you will associate with Lebanon. You'll often find food stands on city sidewalks in Lebanon selling it…you'll also often find us following them in the early hours getting our Shawarma fix… Shawarma is made by skewering marinated meat (usually chicken or lamb) on big rods and cooking it slowly before shaving slices off to make the shawarma. The tasty meat is put inside a pita roll and then served with more yummy things like tomatoes, cucumber, pickles, onions, and sauces, and often garlic sauce. Handy tip: ask for it without onions and garlic sauce – in case you get lucky later in the evening!
---
Kanafeh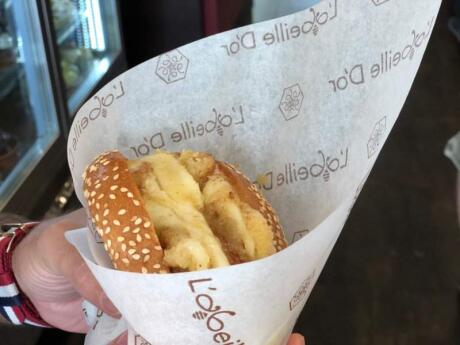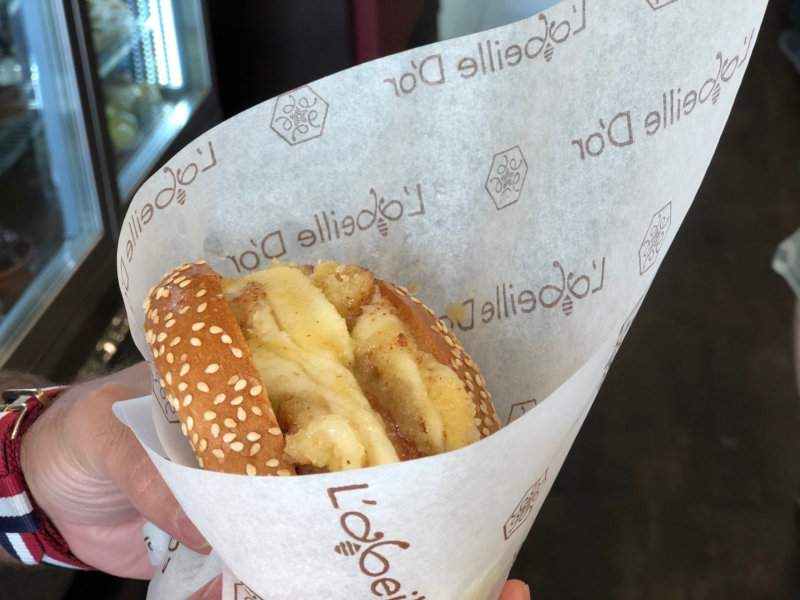 Kanafeh is a delicious treat you need to try in Lebanon! It is a type of cheese pastry that's been soaked in syrup. Honestly, it's divine! It can be made using different types of pastry or dough as well as different cheeses, depending on the region. Sometimes it might be served with cream and/or nuts. It's usually eaten at breakfast, which therefore gives the body enough time to process all those calories…! The best kanafeh that we tried in Lebanon was at L'abeille D'or. It is a famous bakery chain throughout the country who are renowned for its tasty baked prizes.
---
Tabbouleh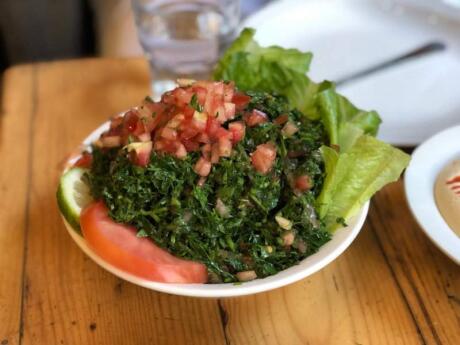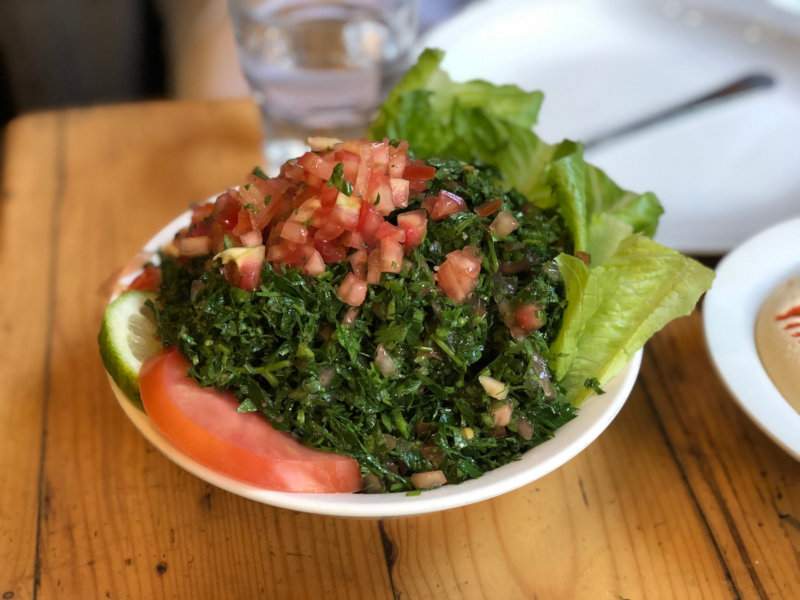 Vegetarians listen up! Tabbouleh is another iconic dish from Lebanon. It is a type of salad made from soaked bulgur, parsley, tomatoes, chopped mint, and diced onion. It is seasoned with olive oil and lots of lemon juice. We love it because it's a very refreshing dish that can be eaten either as a salad on its own or as part of a mezze (a way of eating with lots of different small plates of food). Interesting fact: the Lebanese introduced tabbouleh to my ancestors in Cyprus where it subsequently became known as "tambouli".
---
Hummus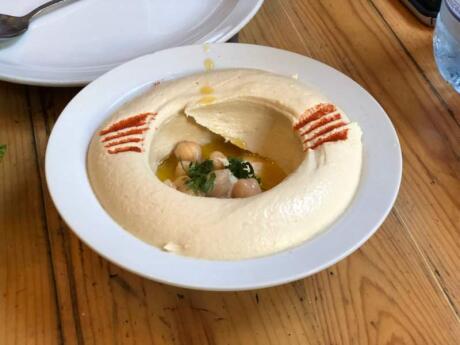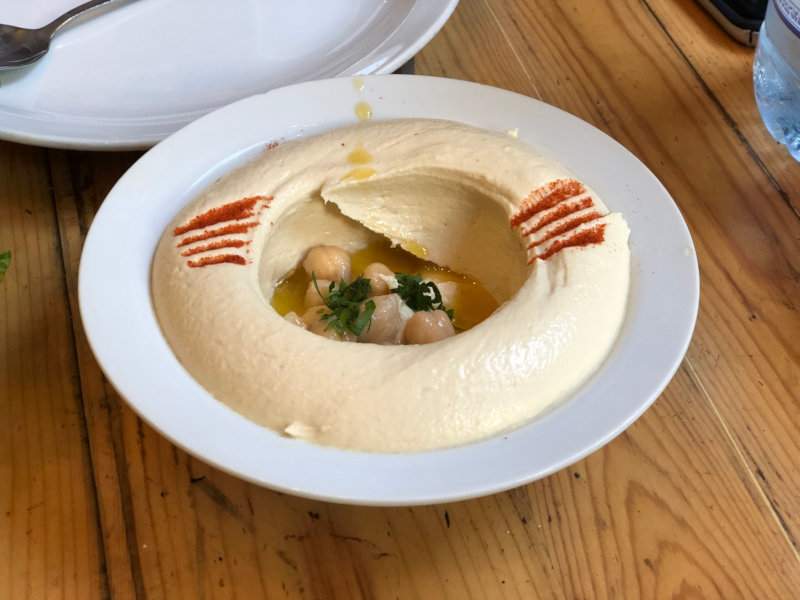 Hummus is a popular Middle Eastern dish that the Lebanese will argue the loudest that they invented it… Whether true or not, we had one of the best hummus in Beirut. Hummus is made from cooked, mashed chickpeas blended with tahini (a ground sesame paste), lemon juice, and garlic. It's super healthy (low in saturated fat, high in fiber and protein), vegan-friendly, and absolutely delicious! We recommend the restaurant t-marbouta in Beirut for an authentic maze, which will include lots of traditional dishes like hummus and tabbouleh.
---
Kibbeh
Kibbeh is Lebanon's national dish so you'll be able to find these delicious little balls almost everywhere you go. They are like a dumpling, made with bulgur (cracked wheat), ground meat (usually beef, lamb, goat, or sometimes even camel meat!), minced onions, and Middle Eastern spices like cinnamon, nutmeg, clove, or allspice. First, the ingredients are used to make a dough, then filled with more of the same ingredients, which are then all fried in oil. You end up with a delicious little treat – crisp on the outside, soft on the inside, which pairs well with some yogurt or sour cream.
---
Plan your trip to Lebanon
These are some of our firsthand tips from our trip to Lebanon, which we hope will help you plan a fun and safe holiday:
Travel insurance: We strongly advise you get travel insurance before heading out to Lebanon. If your flight is canceled, luggage is stolen or if you need to go to a hospital, you'll be completely covered. We recommend Heymondo Travel Insurance because they provide affordable, comprehensive cover wherever you are.
---
---
Visa requirements: Whilst most nationalities can get a visa on arrival, we STRONGLY advise you to apply to your local Lebanese Embassy for a visa before booking your trip. There is a high chance your name is "blacklisted" if you have a visible online presence or if you've been to Israel before. Click here to check your personal visa requirements.
---
Getting around: Public transport is limited in Lebanon. There are public buses, which are inexpensive but slow and unreliable. Most tourists get around by taxi, on a tour or hire a private driver.
---
Power Plugs: Due to the French influence, Lebanon uses the two rounded plugs used throughout mainland Europe. We recommend investing in this universal power adaptor.
---
Vaccinations: All travelers to Lebanon should be up to date with routine vaccinations for measles, mumps, rubella, chickenpox, etc. It's also recommended that you get vaccinated for Hepatitis A and Typhoid. Depending on where you will be/what you will be doing, you may also need vaccinations for Hepatitis B and rabies. Cases of MERS (Middle East Respiratory Syndrome) have also been seen in Lebanon, so make sure you wash your hands thoroughly after any contact with animals and avoid sick animals. Keep up to date with vaccination requirements for Lebanon on the CDC website.
---
Currency: The currency used in Lebanon is the Lebanese Pound, which is officially abbreviated to LBP but more often written as LL. $1 (US) converts to around LL1,513, €1 to about LL1,653, and £1 is worth about LL1,860. When written in Arabic (perhaps on a menu), the Lebanese pound symbol looks a bit like this: ل.ل.
---
Tipping culture: Tipping culture is quite normal throughout Lebanon, so you should always tip around 10% of your bill (or 15% for really excellent service) at restaurants, cafes, and bars or even for a taxi driver. Many workers in Lebanon are earning below minimum wage, so they rely on tips to survive.
---
Internet access: The internet is famously slow in Lebanon, but you should still be able to do things like email and even stream Netflix. Nearly all cafes in Beirut offer free, decent WiFi so you can get some work done. If you think you'll be needing a lot of bandwidth or (like me!) can't live without Instagram, then we advise getting a portable WiFi device for your trip.
---
Online privacy: Gay dating apps such as Grindr and Scruff are blocked in Lebanon. We recommend a good and reliable VPN connection to get around this. Using a VPN also hides your location making it harder to track your online activity – remember the internet is heavily regulated in Lebanon by the government!
---
Accommodation: For more accommodation options throughout Lebanon, make sure you check out Booking.com, our favorite site to find places to stay. They have many excellent choices, often with free cancellation included. Their 24/7 online customer service is also always available to help you out if needed.
---
Sightseeing and adventure: When looking for fun activities and tours to do in Lebanon, we always head to GetYourGuide. They provide an extensive selection with an easy-to-use booking system.
---
When to visit: Lebanon has four distinct seasons, much like the rest of Europe and North America. July and August are the peak summer months, but this is when the country is super crowded, hot, and very humid. We recommend visiting just outside these months – in May/June and September/October when it's still warm but not too humid and not too crowded.
---
Safety precautions for gay travelers to Lebanon
This is our full summary of our safety tips for LGBTQ travelers going to Lebanon based on our firsthand experience, embellished with the latest news, which we constantly monitor to keep this as up-to-date as possible:
Avoid all public displays of affection: this also applies to "gay friendly" spaces, most of which will have security staff monitoring this to prevent two men from kissing. We suggest limiting all PDAs to behind closed doors in your hotel.
Do not post anything gay-related online before or during your trip: the internet in Lebanon is heavily monitored by the government, so anything "negative" will be picked up and will cause you problems at the airport's General Security when leaving.
Set your social media channels to private: we strongly advise erring on the side of caution by setting all your social media channels to "private" or even temporarily disabling them before and during your trip.
Invest in a good VPN: more and more gay apps and websites are being banned as the government continues to crack down on the LGBTQ community of Lebanon. This includes Grindr. If you want full internet access, you'll only be able to do so with a VPN.
Avoid any acts of LGBTQ activism: do not come here waving rainbow flags and preaching about LGBTQ rights publicly, it is likely to attract negative attention, or worse, get you arrested!
Consider not booking a double bed: unless you're certain the hotel you're staying at welcomes gay travelers, we suggest booking a room with 2 single beds just to be on the safe side.
Apply for your visa before you book your trip: if for whatever reason your name is "blacklisted" in the Lebanese security system, it's better to know this before you spend any money on your trip! Do NOT rely on getting your visa on arrival – this is a gamble! Examples of why your name could be blacklisted: connections to the LGBTQ community and/or any links to Israel.
Bring a copy of your birth certificate which shows your mother's maiden name: if you rely on "visa on arrival" and your name is flagged as being "blacklisted" you may be able to get away with it by showing your Birth Certificate showing your mother's maiden name.
Do not mention anything about Israel before and during your trip: the internet in Lebanon is heavily monitored and any connection to Israel will get your name "blacklisted".
Be careful who you meet on Grindr: always ask for photos first and meet first in a common area. Ask for their social media details to verify that they're real or request a quick video call. Ultimately, always follow your gut reaction! Please read Grindr's safety tips as well as Men's Health Grindr hookup safety tips.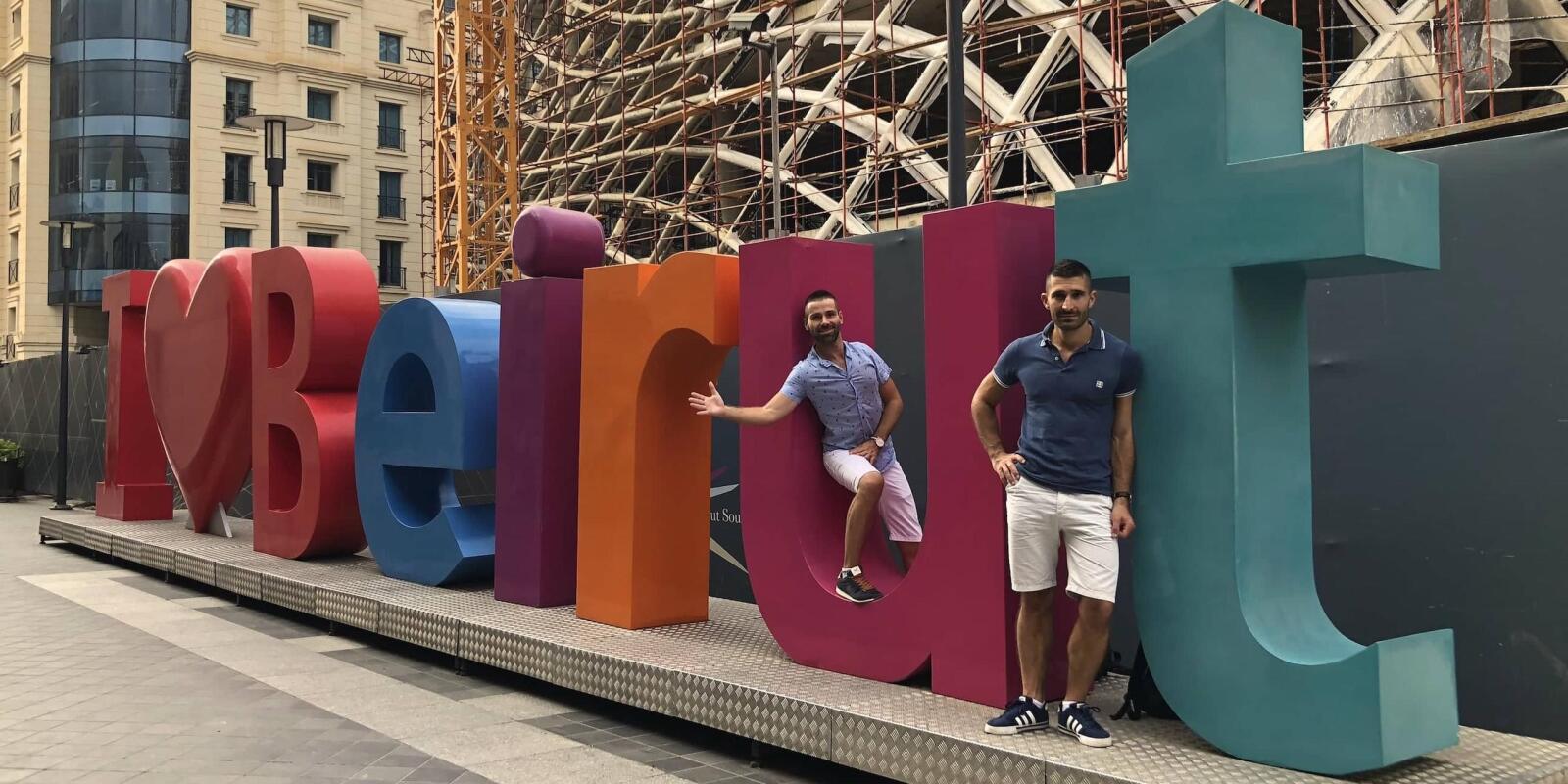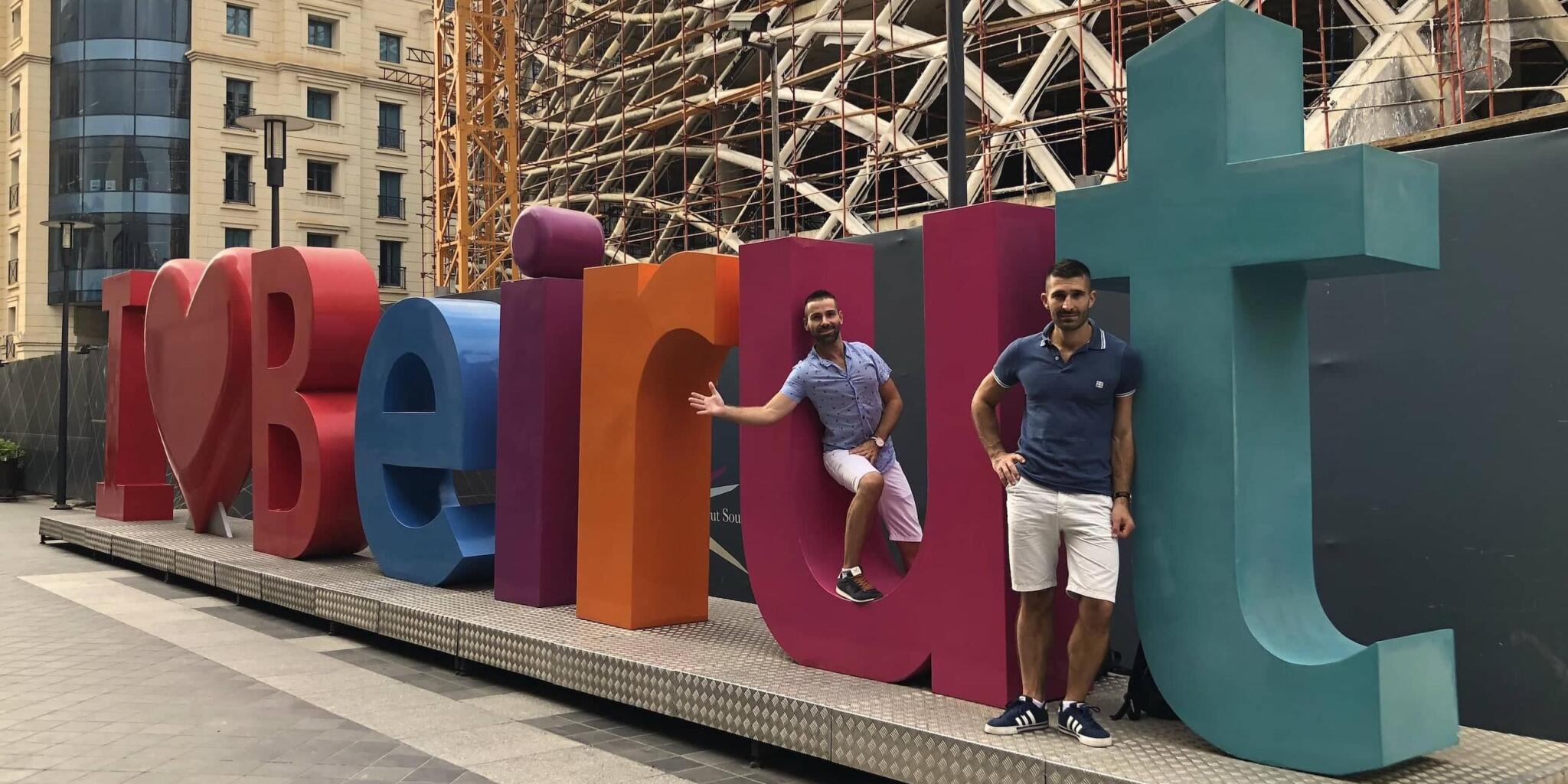 IMPORTANT: Israel and Lebanon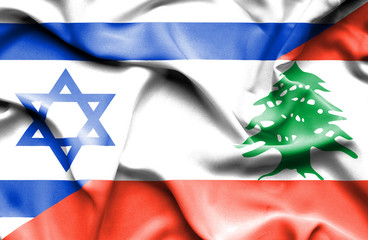 Lebanon and Israel are officially at war with each other. For Lebanon, this means that anything relating to Israel is a big no-no.
If you are Israeli, you are banned from ever entering Lebanon under their constitution! If you are linked to Israel in any way you are also likely to be banned from entering Lebanon.
If you have an Israeli stamp on your passport, you risk being refused entry to Lebanon by Immigration at the airport. If you have an Israeli-sounding name or a name they think sounds Israeli, you are again likely to encounter problems at Immigration.
In addition, the Lebanese Immigration Authorities check all visitors' names on arrival and exit against a database of those convicted or who are wanted for offenses in Lebanon. If your name matches against an entry on this database you will be refused entry unless you can prove that the person in their database is not you. The official way recommended by the British Government to get around these "stop matches" is to have a copy of your birth certificate that clearly states your mother's maiden name. Simply put, apply for your tourist visa from your local Lebanese Embassy before booking your holiday instead of getting it on arrival.
Finally, as mentioned above, be careful of what you post online before and during your trip. The best thing is to set your social media settings to "private" for your Lebanon trip and avoid posting anything relating to Israel until after you've left.
---
Like this post? Pin it