TERMS OF USE: There is a chance that some of the content on this page has changed since it was last updated. By reading this article, you consent to our Terms of Use and Disclaimer. Happy Travels!
DISCLOSURE: Some of our posts may contain affiliate links which we may receive a commission if you choose to book something through one of our links.
There are no outright gay resorts or gay hotels in Dubai but there are a handful of gay friendly hotels where LGBTQ travelers will feel welcomed.
In 1991, there was just one sole lonely skyscraper in Dubai: the Dubai World Trade Centre. Fast forward 3 decades, the city has mushroomed with over 400, including the tallest building in the world – the Burj Khalifa (830m / 2,723ft). Dubai's growth over the past 30 years has accelerated its reputation from a desert city to one of the the most exciting and modern places in the world, earning it the nickname: the Las Vegas of the Middle East.
Dubai is also a major transport hub, making it a useful stopover to break up a long flight. Whether you're visiting on a holiday or a layover, it's always a fun place to come for beach time, shopping and some fascinating culture.
Gay travellers should be mindful that homosexuality is illegal in Dubai, so take care to avoid all public displays of affection. Despite this, a large underground LGBTQ scene does exist, particularly among the large cabin crew staff who live here.
In terms of gay, male-only hotels or gay resorts, there are none!
Your friend in destinations like these are the large international brands, which are accustomed to LGBTQ travellers and will always welcome us.
Don't forget…
Gay dating apps such as Grindr or Scruff are illegal and blocked in Dubai. The best way to get around this (but still illegal), is to use a VPN which will give you full access to the dating apps and will allow you to surf the Net anonymously.
Gay travel to Dubai
It goes without saying that LGBTQ travellers need to exercise caution in Dubai. It is one of the seven "Emirates" of the United Arab Emirates, a country with extremely severe laws against homosexuality, punishable by death. Each Emirate within the UAE has its own legal system running alongside the UAE's and Dubai's punishes homosexuality with with imprisonment and/or a fine.
The reality for gay travellers to Dubai is that you will be fine as long as you avoid public displays of affection and appreciate that you need to go back in the closet! If you're caught with your trousers down with another man in public, the likely outcome is an arrest, temporary imprisonment and deportation. The most extreme case we came across was a Lebanese / Bulgarian lesbian couple who were arrested in 2008 for kissing on a public beach.
Find out more about gay travel to Dubai, in our comprehensive gay Dubai guide, but the main point to make is that if you do decide to visit a country like Dubai, you must be extremely cautious at all times!
Can I sleep in a double bed with my partner?
Due to the very harsh anti-gay laws, most guesthouses and small hotels in Dubai will require two men to sleep in two separate beds. Large international hotel brands like the ones we've set out in this article, will allow you to book a double bed with no problems. They are accustomed to dealing with LGBTQ travellers and will have trained their staff accordingly.
One thing we would advise if you're concerned about booking a double bed is to email or call the hotel before to confirm they're ok to host gay travellers/gay couples.
From our experience travelling to Dubai as a gay couple, we never encountered a problem sleeping in a double bed, particularly in the hotels we recommend in this article; in other words, no sharia police came knocking at our door here!
01
Sofitel Dubai Palm Resort and Spa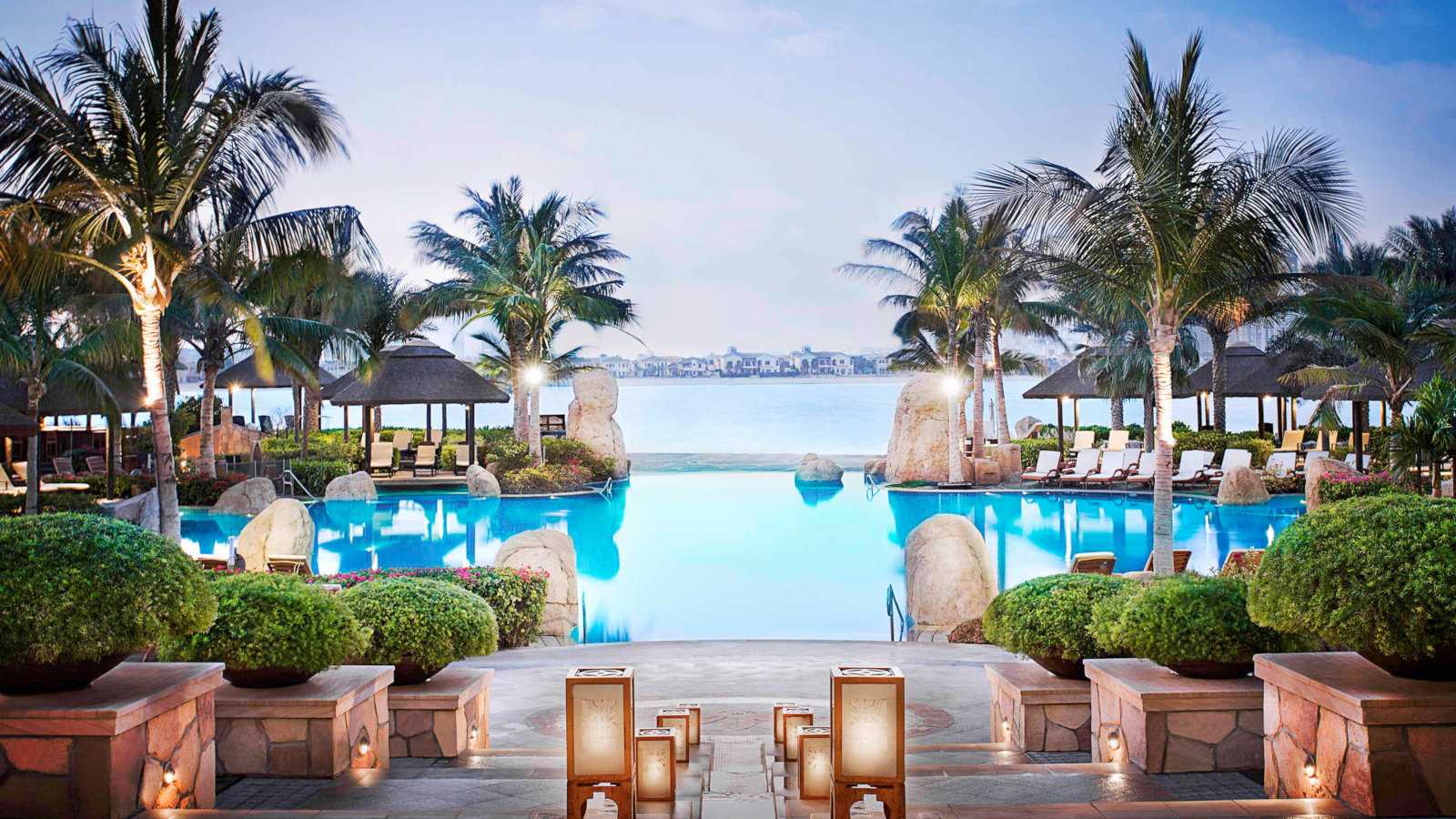 Why we love it
---
Romantic and luxurious
Incredible views over the sea
Your own private beach
Lush tropical gardens
The Sofitel Palm Resort and Spa is our favourite gay friendly hotel in Dubai. This beautiful 5-star resort is perfect if you're looking for a romantic and luxurious place to stay.
The hotel is built in a Polynesian style featuring stunning suites, villas and rooms overlooking the beach, and surrounded by lush tropical gardens.
The Sofitel Palm Resort and Spa has no less 6 restaurants, 4 bars/lounges, a luxury spa, fitness centre, 6 swimming pools and a private beach where you can relax in your own Tiki cabana. It is located on the East Crescent of Palm Jumeirah, which is the largest man-made island in the world. It's also close to the Aquaventure Waterpark and provides guests with free shuttle buses to some of the attractions located further away.
STAY WITH A GAY LOCAL
Misterb&b is the Airbnb equivalent for the LGBTQ community. Unlike on Airbnb, you know your host is gay, voiding any nasty surprises when you check-in. It is also a great way to meet gay locals and discover the underground gay scene. Click below to get 10 € (or $10) off our first booking.
02
The Hilton Jumeirah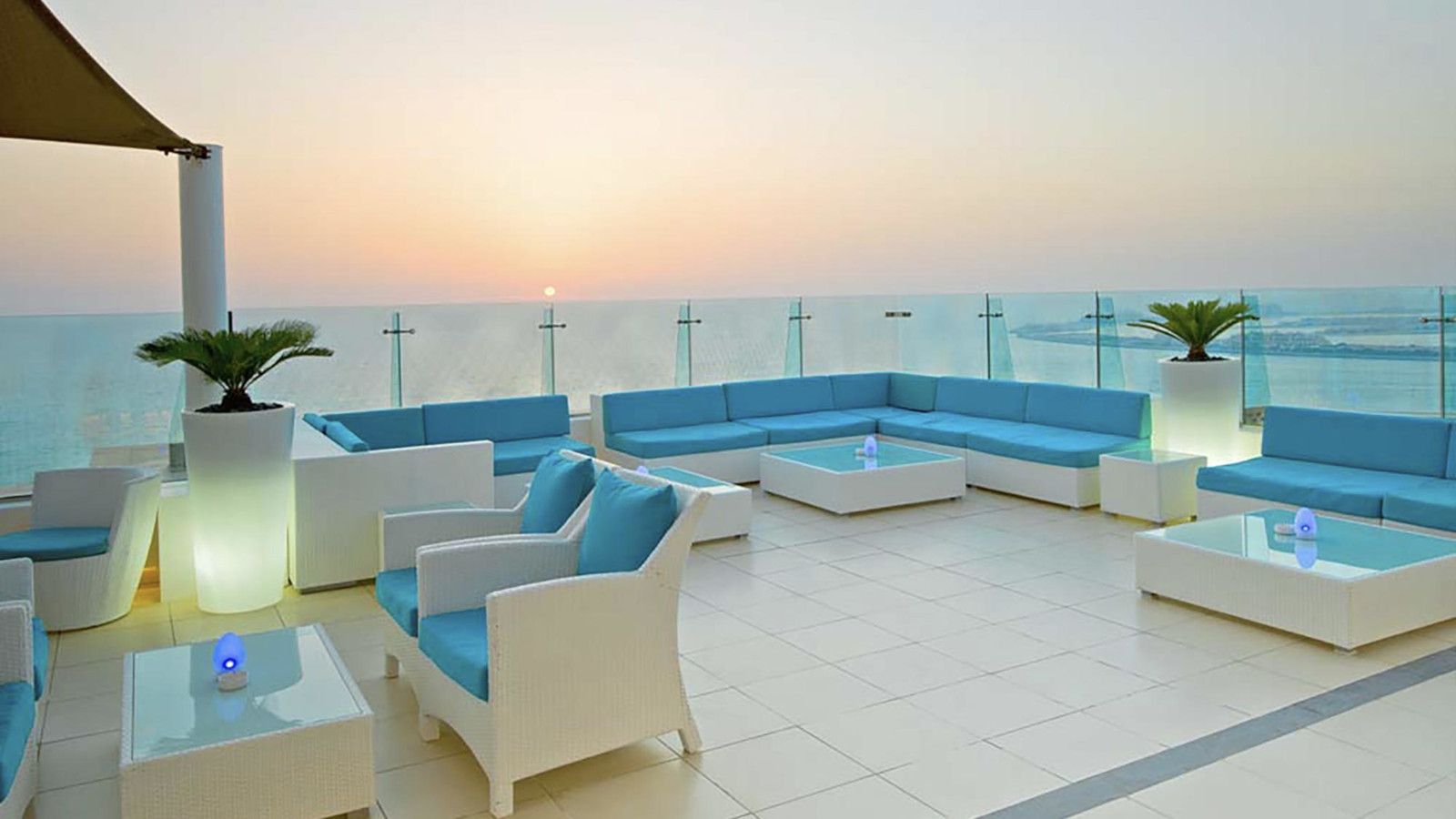 Why we love it
---
Sky Lounge bar with stunning views
Direct access to "The Walk"
12 on-site restaurants and bars
Affordable luxury
The Hilton is a well known international American chain so you shouldn't have any issues staying here as a gay traveller. This is the hotel of choice for many of our gay friends who visit Dubai for a weekend shopping spree.
The Sky Lounge is one of the best rooftop bars we've been in Dubai. We love coming here for a romantic sunset cocktail or Sunday brunch.
The Hilton Dubai Jumeirah is a 5-star resort, located in the heart of Dubai's shopping street called "The Walk" and close to the Wild Wadi Waterpark. It has its own spa, health club, private beach and no fewer than 12 restaurants!
03
Aloft Me'aisam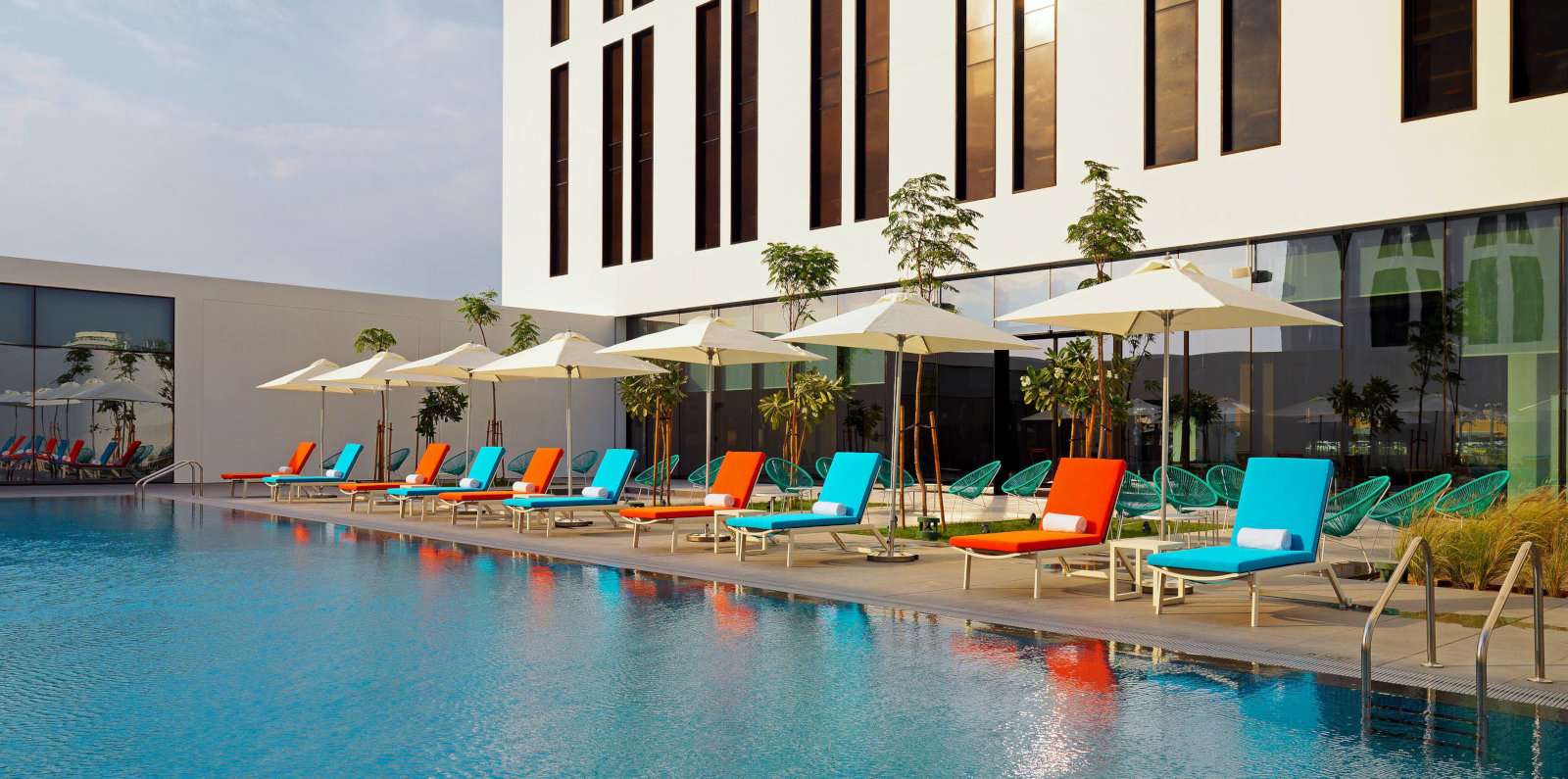 Why we love it
---
Affordable and trendy
Airport shuttle service
Close to Dubai Miracle Garden
Aloft is a trendy international brand, well known for their gay friendly reputation.
We've stayed in several Aloft hotels during our travels, particularly in Tampa, Florida. We're fond of the young, hip and chic feel of Aloft hotels, which is targeted towards Millennials.
The Aloft Me'aisam in Dubai is an excellent choice for gay travellers looking for a stylish but more affordable gay friendly hotel than the 5-star resorts. It has a spa, international restaurant and cool W XYZ Bar, which often has live music, DJ and Happy Hours.
04
Le Royal Meridien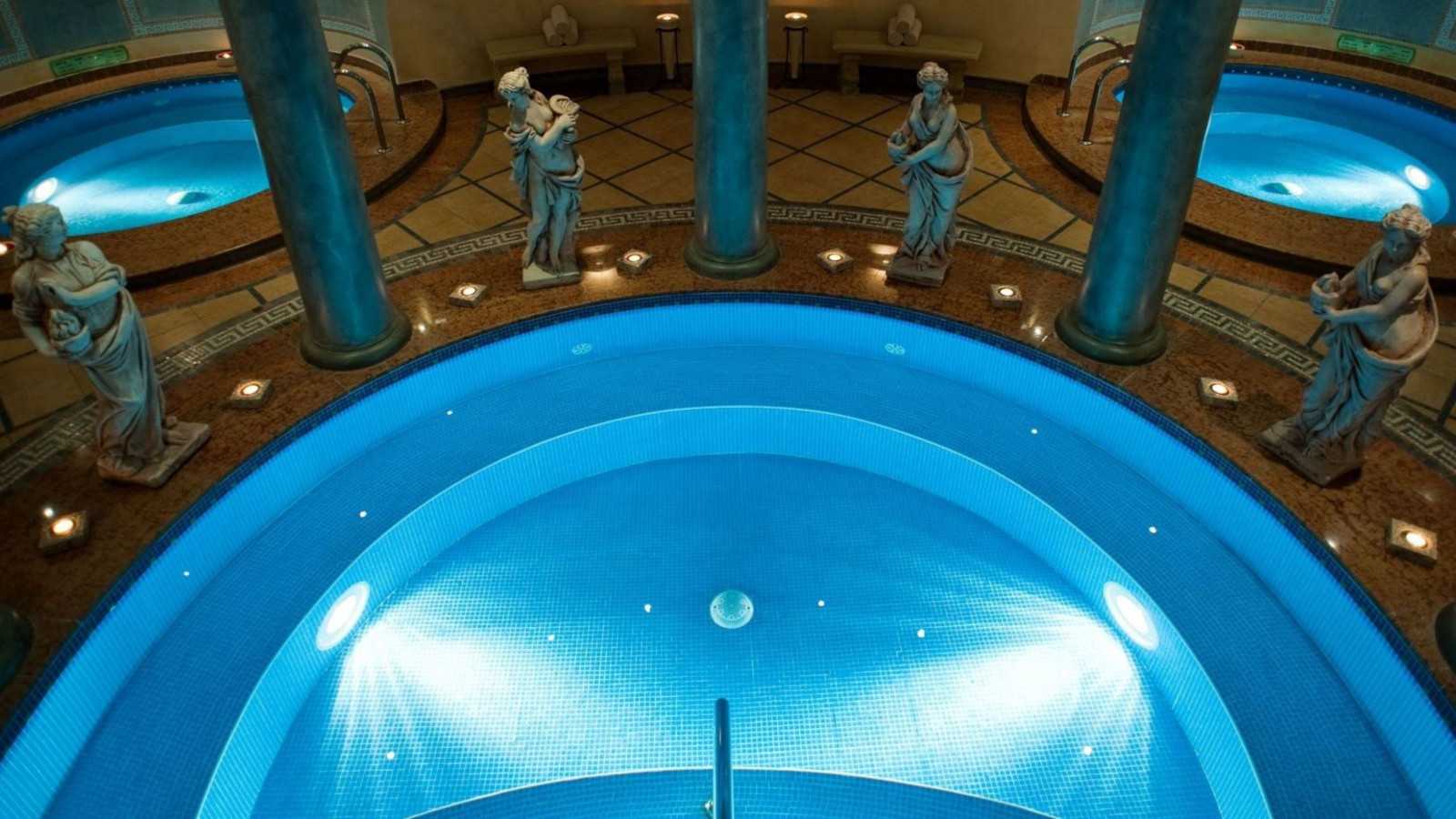 Why we love it
---
Decadent spa
Private butler service
14 on-site international restaurants
Infinity pool
Le Royal Meridien is the place to come to be pampered and feel like a goddess… It is, after all, one of the most luxurious hotels in Dubai.
Their decadent spa is what makes Le Royal Meridien unique. Decorated in a Roman-style architecture, it offers a choice of 5 Hammam pools with many different treatments including reflexology, facials and aromatherapy.
Surrounded by landscaped gardens overlooking the Arabian Gulf, Le Meridien offers a private beach and three different pools. The rooms, suites and apartments are massive and tastefully decorated. They include an evening turn-down service and even your own private butler. Le Royal Meridien has no fewer than 14 international restaurants and bars including the award winning "Maya" Mexican restaurant.
05
Hyatt Regency Dubai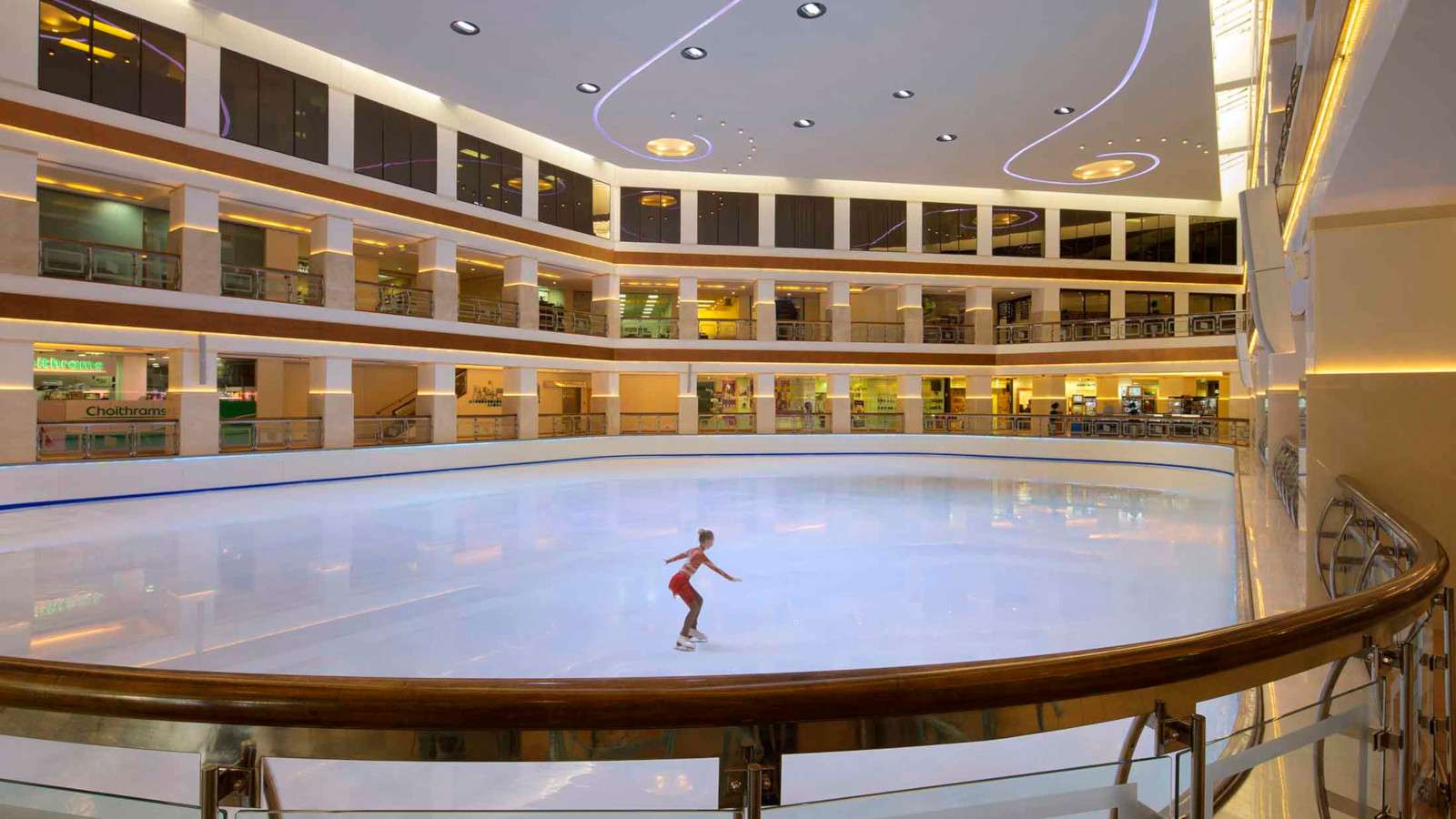 Why we love it
---
Revolving rooftop restaurant
Has an indoor ice-rink
Close to the Gold Souk
The Hyatt is world famous for being gay friendly. It has its own initiative called "HyPride" and is recognised as one of the best places to work for LGBTQ equality.
The Hyatt Regency is located in Deira, the heritage heart of Dubai. It's also walking distance to the Gold Souk, one of the best traditional markets of Dubai.
The Hyatt Regency Dubai has a large pool, spa, fitness club and an indoor ice-skating rink! It also has the only revolving rooftop bar of Dubai called "Al Dawaar" along with 3 restaurants, a pool bar and the Premiere Nightclub.
---
Like this post? Pin it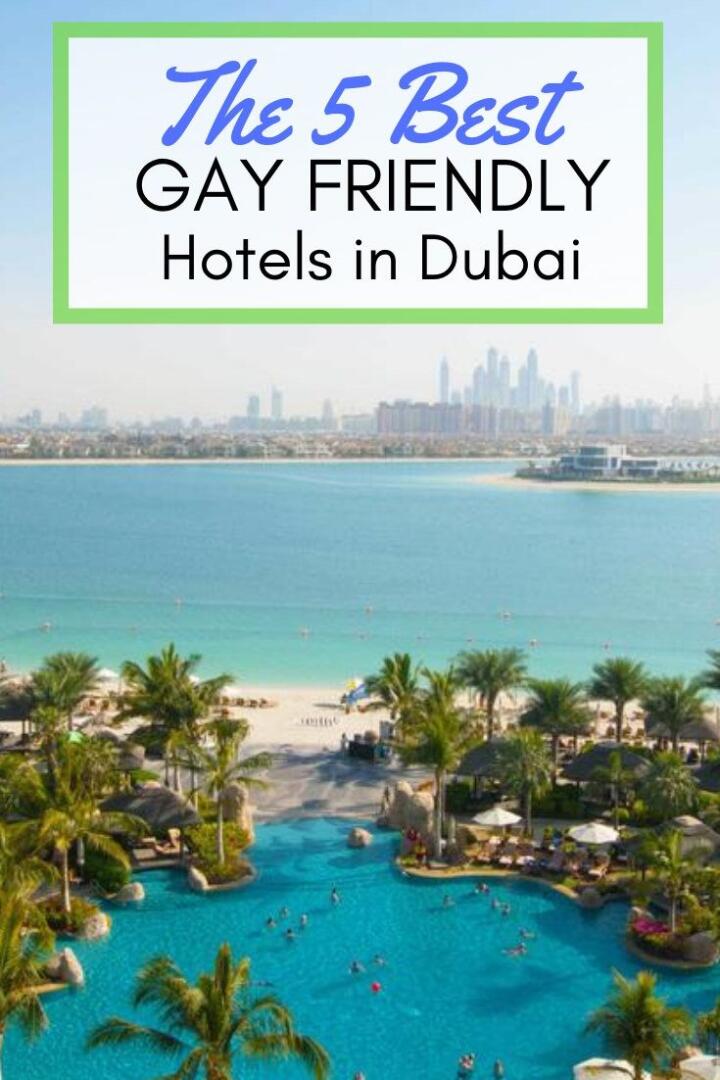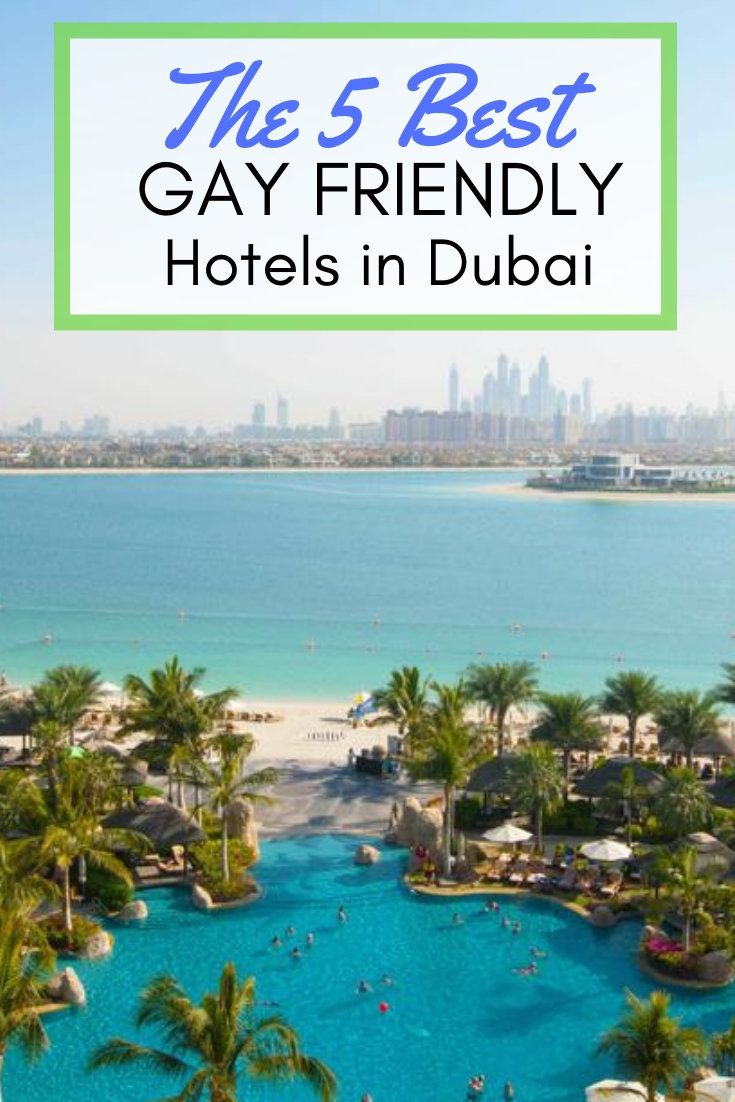 ---
Happy travels are safe travels
We recommend you always take out reputable travel insurance before your next vacation. What happens if you suffer from illness, injury, theft, or a cancellation? Many gay travelers forget about it and regret it when something happens. Better to pay a small price and have peace of mind and not worry.