During our visit to Boracay, we were invited to stay at the charming and elegant Villa Caemilla.
This boutique hotel is located on the beautiful powdery White Beach of Boracay, far away from the crowds of Station 2, but still close enough to the action. It even has its own private beach front.
It was stunning!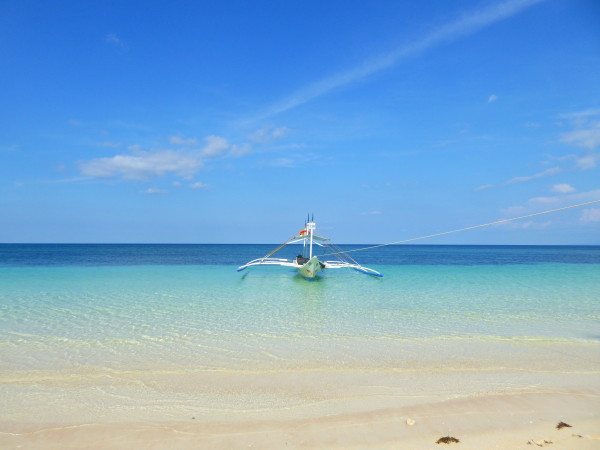 PRIVATE BEACH FRONT YOU SAID?
The beach front at Villa Caemilla is for the private use of its guests. The area contains sun loungers with umbrellas, where you can order food and luscious cocktails from the home restaurant whilst roasting in the sun.
Waking up and going straight into the sea for a dip, then drying off in the morning sun before breakfast was our favourite memory of our stay here.
The water is clean and perfect for swimming. The beach area is peaceful, surrounded by palm trees and a great place to relax. You just can't beat it!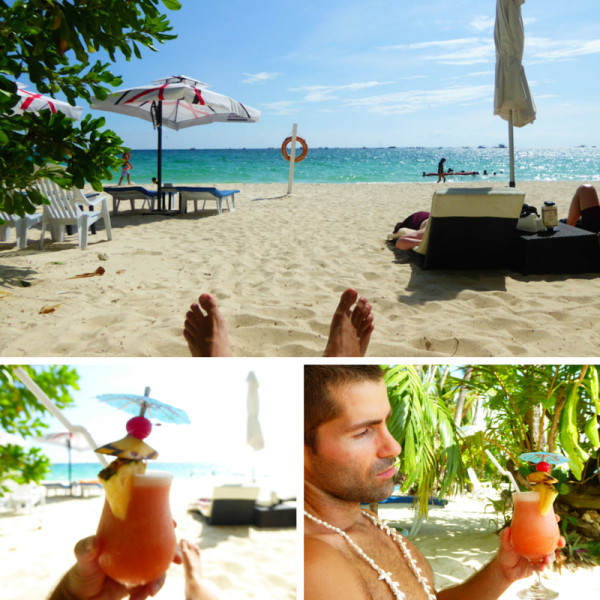 THE ROOMS
The rooms at Villa Caemilla are spacious, elegant and tastefully decorated. They have sleek, sliding doors used to separate the bathroom and bedroom.
Rooms include a fridge, flat screen TV, luxurious bathroom and extremely comfortable king sized bed.
They also have some of the fastest WIFI on the island available to guests in both the lobby area and in each room.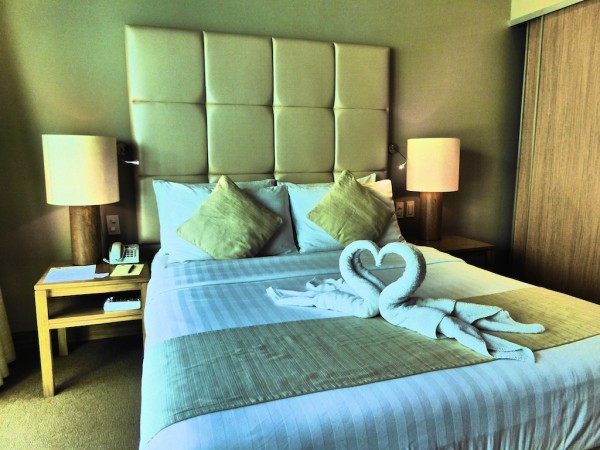 THE STAFF
Probably the highlight of our stay!
As soon as we arrived, we were warmly welcomed by the staff with beautiful shell necklaces and cool refreshing towels. What else can you ask for?
Throughout our stay, the staff were very helpful, knowledgeable about the area and always made us feel special.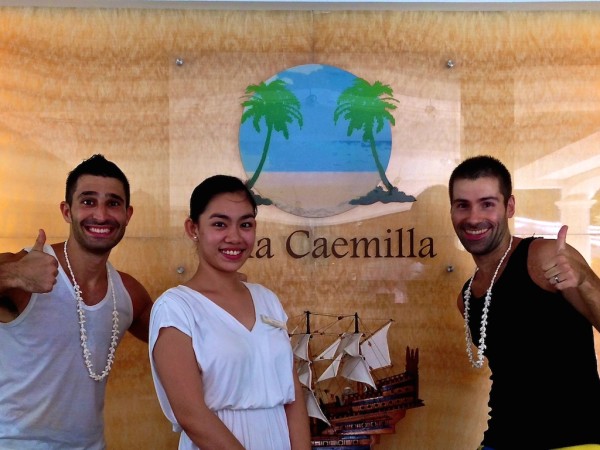 GAY FRIENDLY? YES!
We asked for a double bed and we got a double bed 🙂
We found the staff at Villa Caemilla to be very friendly, open minded and welcomed us as a gay couple.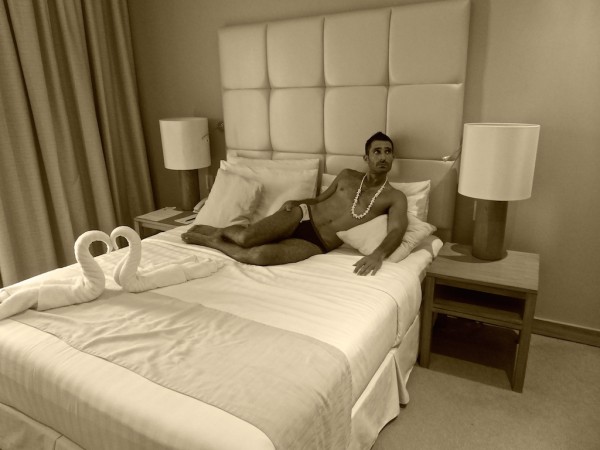 To all our gay friends around the world, If you're looking for a gay friendly place to stay literally on the beach in Boracay, Villa Caemilla is the right place for you.
To find out more about Villa Caemilla, check prices and availability, check their listing on Booking.com.
OUR FAVOURITE TRAVEL TIPS
⭐️ TRAVEL INSURANCE — We recommend you always take out travel insurance before your next vacation. What happens if you suffer from illness, injury, theft or a cancellation? With travel insurance, you can have peace of mind and not worry. We love World Nomads travel insurance and have been using it for years. Their comprehensive coverage is second to none and their online claims process is very user friendly.
⭐️ SAFETY & SECURITY — All travelers can sometimes encounter danger when traveling. CloseCircle is your "virtual body guard" mobile app which provides security alerts and support wherever you are in the world. They have a 24/7 emergency response team monitoring their users who will contact you immediately if the SOS swipe button is activated. Support can include anything from practical advice, to free evacuation from areas with extreme weather or security risks. You can read more about CloseCircle in our article about how to stay safe whilst traveling.
⭐️ ONLINE ANONYMITY — A VPN (Virtual Private Network) is a must in many countries: it allows you to surf anonymously and maintain your privacy whilst traveling. You'll particularly need it in countries where dating apps are blocked by the government. We recommend ExpressVPN, a reliable and cost effective service which we used and loved during our travels.
⭐️ HOTELS or APARTMENTS — When we plan a trip, we always look for the best hotel deals. We love Booking.com because not only do they have a comprehensive listing of accommodation options, they also offer the best prices. Added bonus: they provide 24/7 support and free cancellation for most listings.
⭐️ SIGHTSEEING and ADVENTURES — When we travel somewhere, we like to seek out the best experiences, whether it is cooking with locals in Bangkok, hiking on a glacier in Patagonia, or going on a wildlife safari in Sri Lanka. Our favorite place to look is GetYourGuide because they have over 30,000 highly rated activities, a user-friendly booking process with free cancellation and a 24 hour customer support.
This article contains affiliate links. If you click on them, we may receive compensation which keeps our website alive and helps us bring you to more destinations.