Kota Kinabalu is an exciting city to stay in during your travels in the Sabah region of Malaysia on Borneo island, with plenty to do and lots to experience.
We stayed at the Hyatt Regency Kinabalu, an excellent gay friendly hotel, which has recently been refurbished to a high standard, exuding an aura of elegance and relaxation in a contemporary yet classic decor.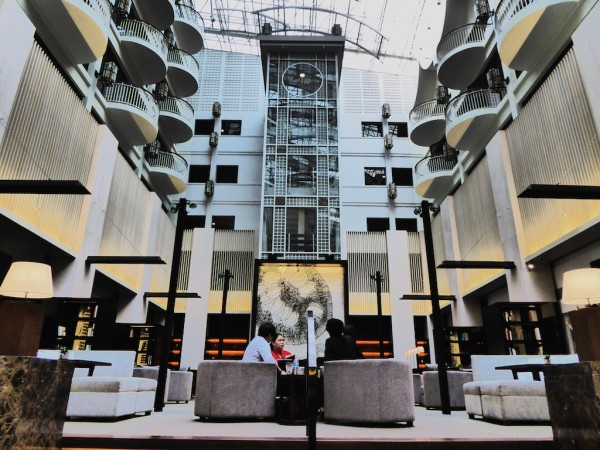 LOCATION: IN THE HEART OF IT ALL
The Hyatt Regency Kinabalu is located in the heart of the city, in the business district and only 15 minutes drive from the airport.
It is close to a variety of eateries, banks, shopping centres and beautiful islands. The Sabah Tourism Board is also nearby and on hand to provide you with information.
A BRAND WITH A LGBT FOCUS
Whilst we appreciate Malaysia does not have the best LGBT record, the Hyatt brand is a pink beacon of hope and we were particularly attracted by its Hypride initiative in support of the LGBT community.
The Hyatt was honoured for the 11th consecutive year as one of the few "Best Places to Work for LGBT Equality".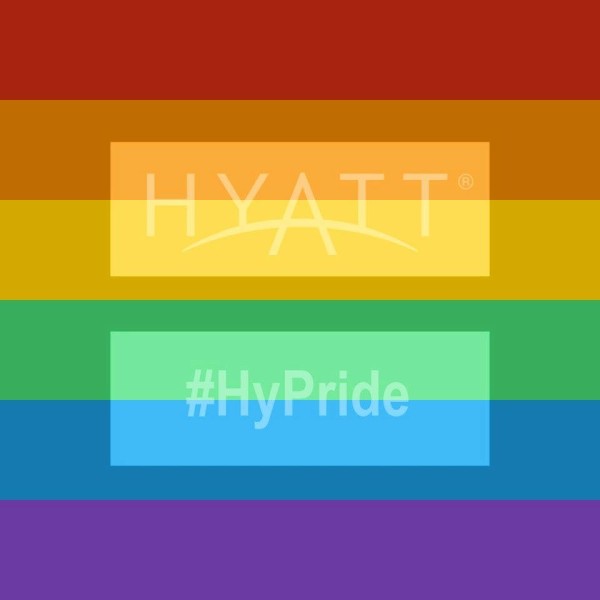 Therefore, by booking our stay at the Hyatt, we were confident we would be staying in a hotel with a strong LGBT awareness. Rest assured, booking a double bed was not an issue and all the staff were extremely friendly and welcoming to us as a gay couple.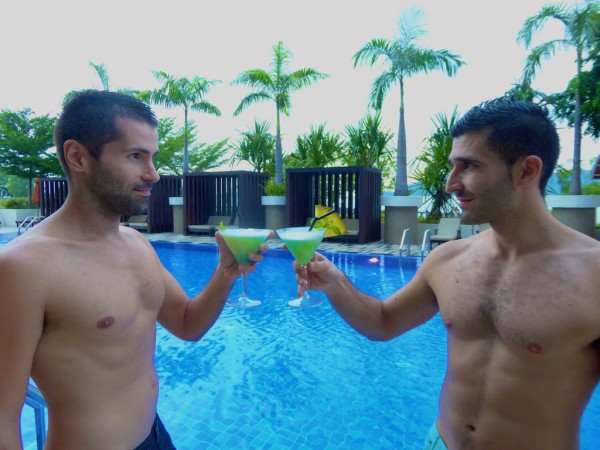 A ROOM WITH A STUNNING VIEW OF THE SOUTH CHINA SEA
If you stay at the Hyatt, you must book a West facing room facing the sea, because this will be one of the highlights of your stay. It's like looking at a picture frame each time you open the curtains!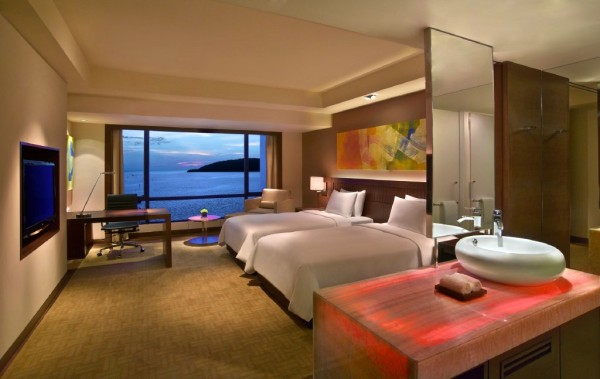 The incredible view over the South China Sea from our large bay window was the reason we chose the Hyatt.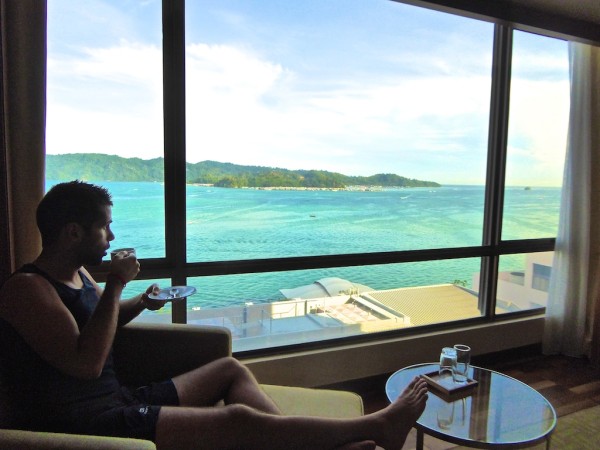 We stayed in the King Sea View room, which features a king-sized bed, plenty of space, a desk and a coffee area. It's also carefully decorated each day with an excellent eye for detail.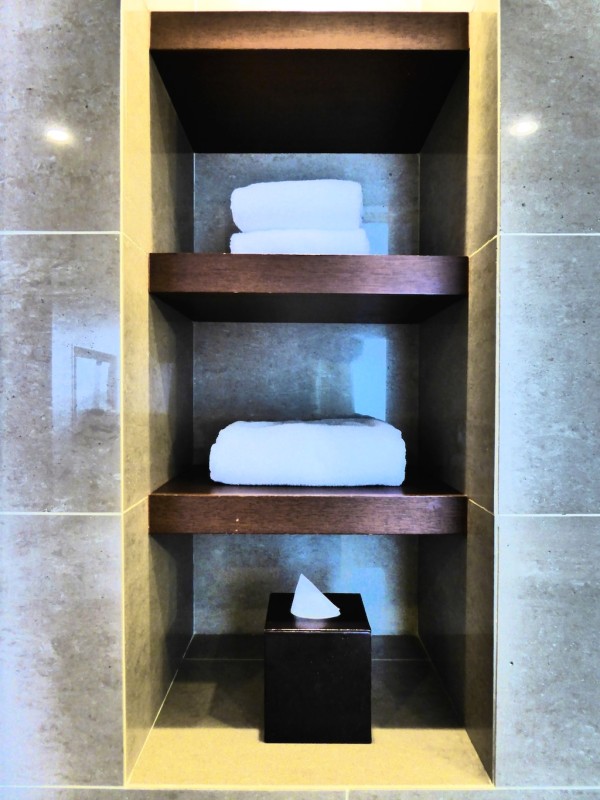 The bed is extremely comfortable, perfect for a good night's sleep, especially after a long tiring day exploring the nearby islands.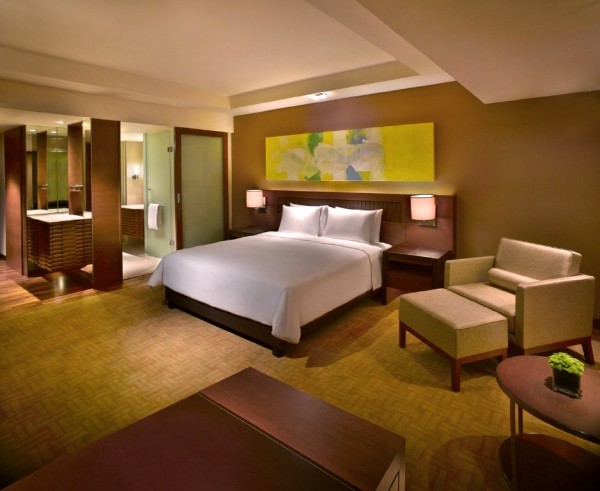 AN EVENING COCKTAIL BY THE POOL
The pool area is a great place to relax and enjoy a good cocktail. We never say no to a good cocktail to get the evening started!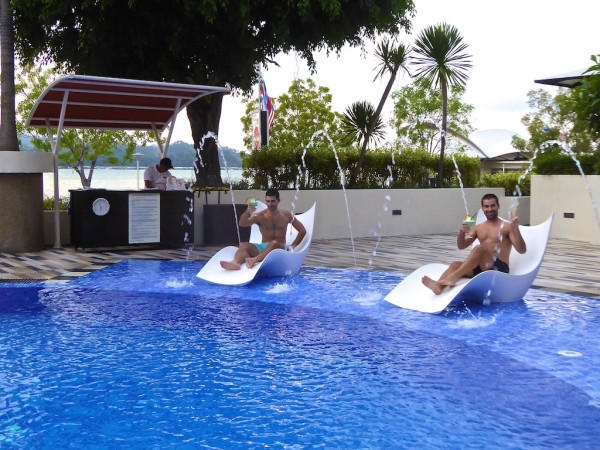 The Hyatt is very imaginative with its selection and each month The Poolside Bar comes up with a special concoction. We were fortunate to sample their very tasty Frozen Pineappleritas.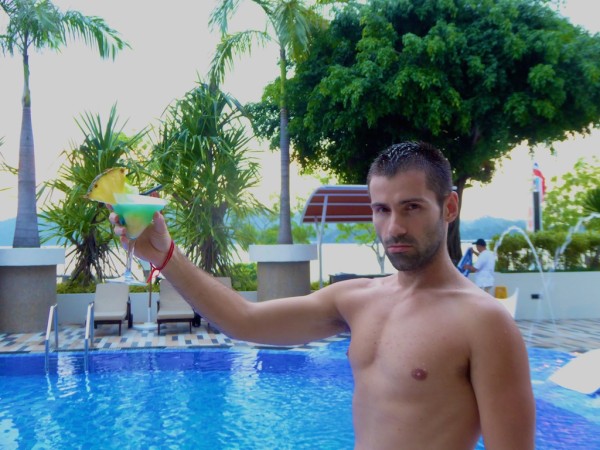 A FOODIE PARADISE
The Hyatt is a great place for foodies looking for a gourmet experience, with two excellent restaurants to choose from.
#1

The Tanjung Ria Kitchen

The Tanjung Ria Kitchen provides the ultimate dining experience. We had our buffet breakfast here, which has a variety of western, Chinese, Malay and Indian options.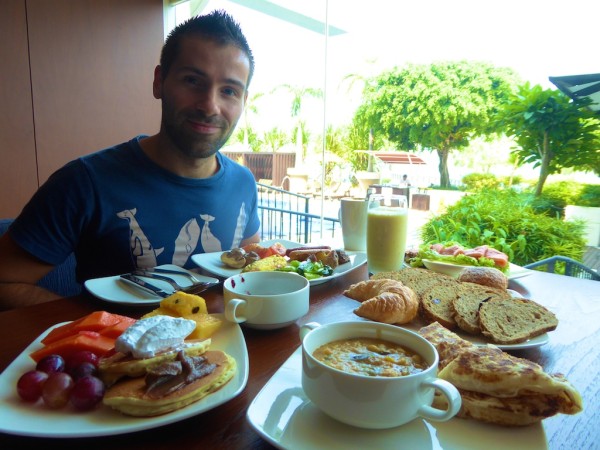 At the Tanjung Ria, the kitchens take centre stage and you can watch as the friendly chefs prepare your meals right in front of you.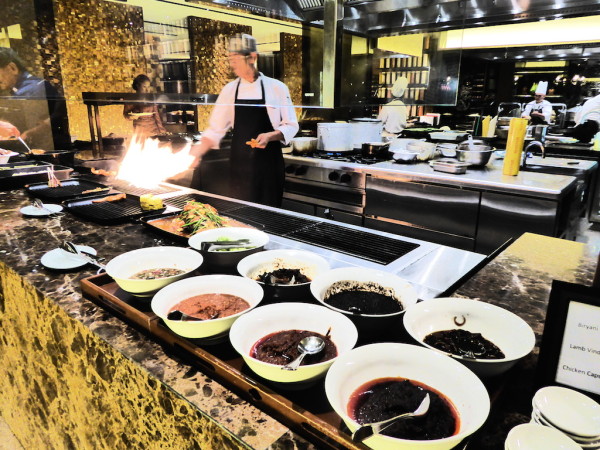 The Tanjung Ria also offers buffets for lunch (90 Ringgits / £14/$21 pp) and dinner (130 Ringgits / £20/$30). Everything we tried was cooked to perfection. You must try their signature dish, the Oxtail Assam Pedas, which has been a proud family recipe for decades.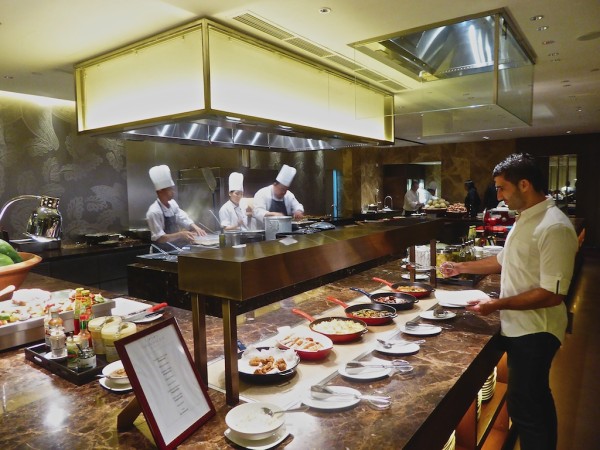 Oh and did we mention the desserts? With so many to choose from, we dare you to give Durian Cheesecake a try!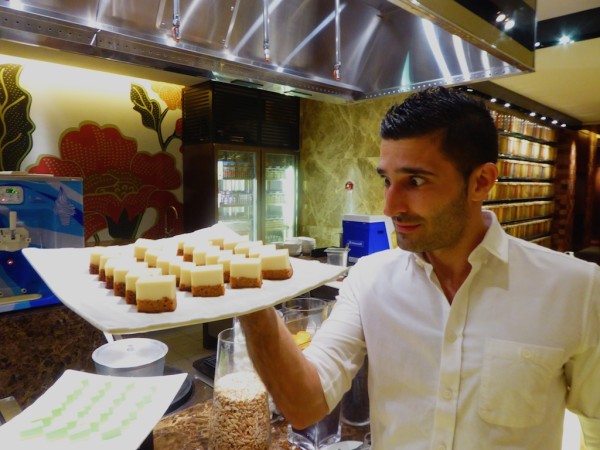 #2

The Nagisa Japanese Restaurant

The Nagisa Japanese Restaurant was voted by Malaysian Tatler as one of the best in the whole of Malaysia.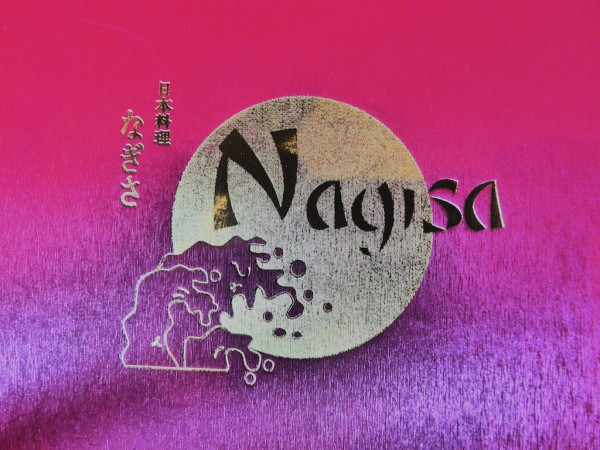 The Nagisa serves some of the best sashimi we've had for a long time, rivalling the sushi we tried in Tokyo. Unfortunately this led to one of many food fights: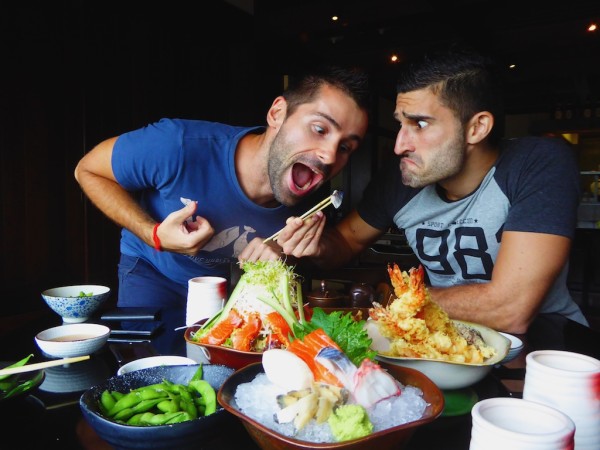 We also tried the Nagisa Maki, delicious green tea ice cream and lots of tempura.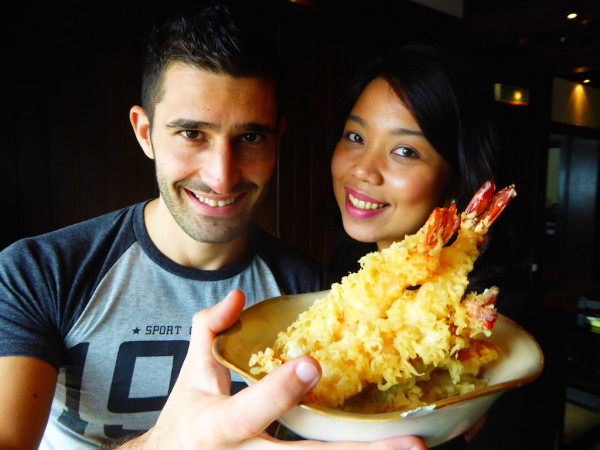 THINGS TO DO DURING YOUR STAY AT THE HYATT
#1

Island tours

The Hyatt is well located near the pier for tours to the neighbouring islands of Gaya, Sapi, Manukan, Mamutik and Sulug. The helpful tour desk of the Hyatt can arrange a day trip to the islands, including all food and transportation.

The most popular islands to visit are Gaya and Sapi, which are linked by a fun zip line ride. Sapi island is also great for snorkelling and has a beautiful beach: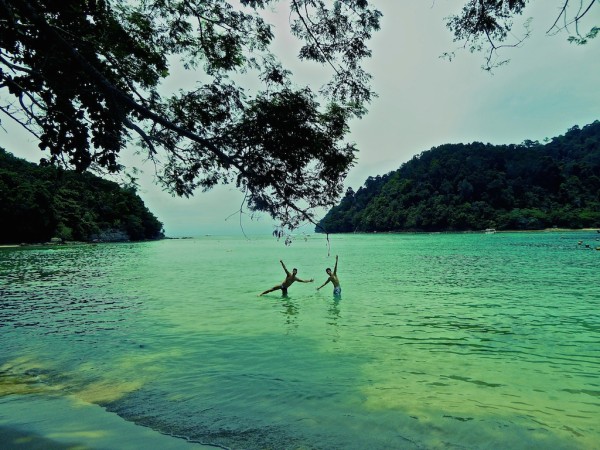 #2

Handicraft and local markets

There are a few markets nearby to stock up on some handicrafts and artisan souvenirs like the nearby Gaya Street Fair market on Sundays.

The Filipino market is another good option, only 10 minutes walk from the Hyatt and open every day of the week. It has a fascinating wet market, where you can enjoy barbecued fish and try some exotic fruits.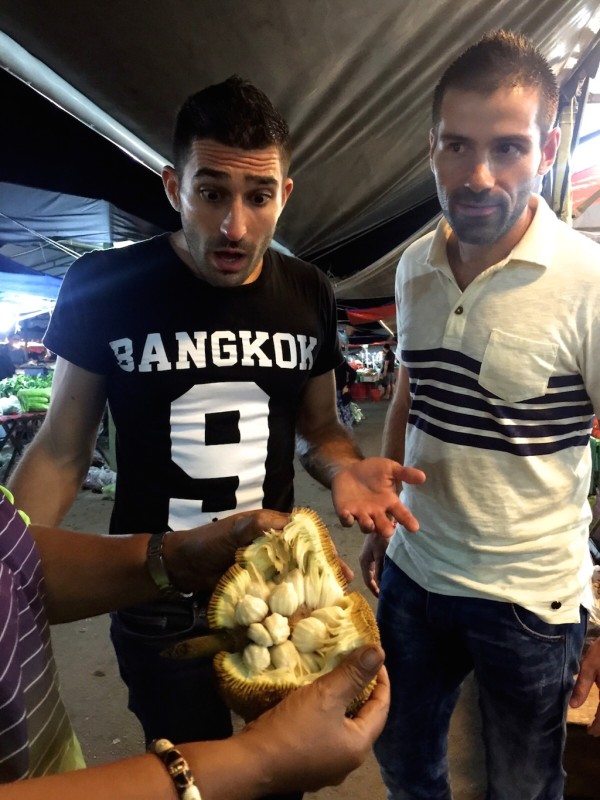 #3

Great bars

The Hyatt is walking distance to the buzzy atmosphere around the waterfront area where there are many good bars to enjoy a drink.

The Hyatt has its own pub in the basement called Shenanigans which has live bands every evening except Sundays. Shenanigans has an outdoor terrace where you can enjoy the sunset.

#4

The Mari-Mari Cultural Village

The Mari-Mari Cultural Village is located outside of Kota Kinabalu and is an excellent way to learn about the culture and lifestyle of the indigenous communities. You can also try bamboo cooking, rice-wine making (and drinking!), fire starting, tattooing, blowpipe shooting and much more over a 3 hours show tour.

The Cultural Village is located around 30 minutes drive from the centre of Kota Kinabalu but the Hyatt can of course arrange this for you.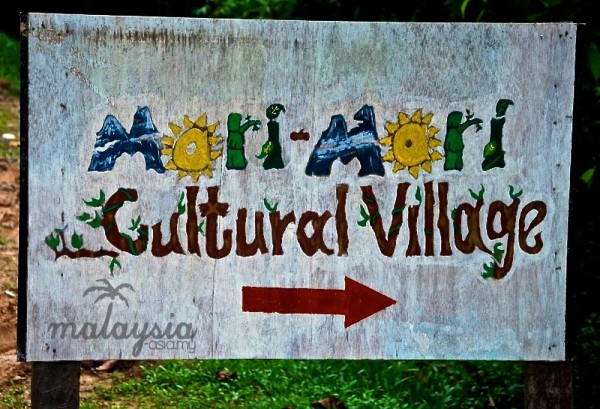 #5

Trekking to Mount Kinabalu

Mount Kinabalu is one of the main draws of the Sabah region of Malaysia. It is a World Heritage listed site and at 4,096m / 13,438 ft high, the highest mountain in the country.

The Hyatt has a tour desk who can organise treks to nearby Mount Kinabalu. When we visited in September 2015, the trails still hadn't fully reopened but is expected to by November 2015.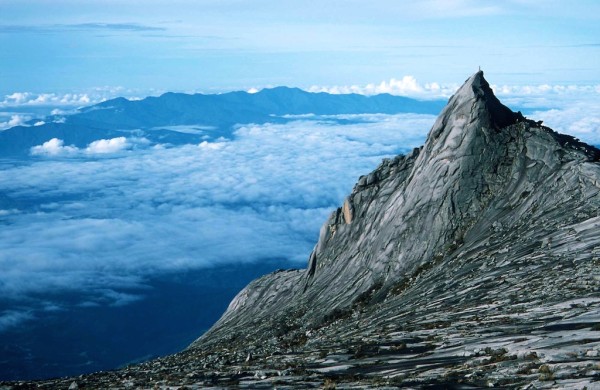 #6

Exercise for fitness enthusiasts

Finally, after taking in all those awesome Malaysian calories, you may be interested in burning off a few. As well as the swimming pool, the Hyatt has an excellent gym with a variety of weights machines, cardiovascular equipment and even pink kettle bells!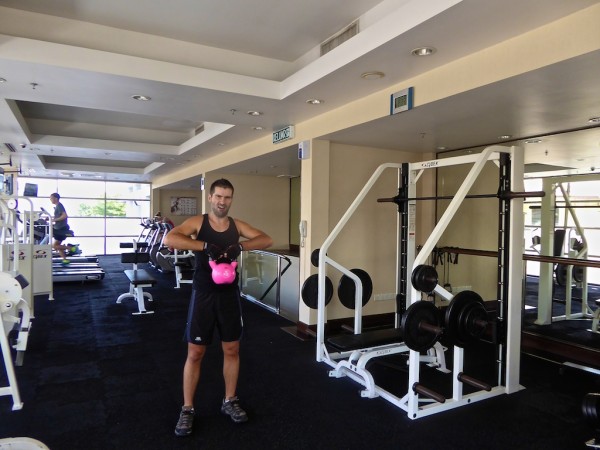 To book your stay at the Hyatt Regency Kinabalu check their listing on Booking.com.
For more about our adventures through Malaysia, please check out our Malaysia travel video:
OUR FAVOURITE TRAVEL TIPS
⭐️ TRAVEL INSURANCE — We recommend you always take out travel insurance before your next vacation. What happens if you suffer from illness, injury, theft or a cancellation? With travel insurance, you can have peace of mind and not worry. We love World Nomads travel insurance and have been using it for years. Their comprehensive coverage is second to none and their online claims process is very user friendly.
⭐️ SAFETY & SECURITY — All travelers (gay or not) can sometimes encounter danger when traveling. CloseCircle is your "virtual body guard" mobile app which provides security alerts and support wherever you are in the world. They have a 24/7 emergency response team monitoring their users who will contact you immediately if the SOS swipe button is activated. Support can include anything from practical advice, to free evacuation from areas with extreme weather or security risks. You can read more about CloseCircle in our article about how to stay safe whilst traveling.
⭐️ ONLINE ANONYMITY — A VPN (Virtual Private Network) is a must in many countries: it allows you to surf anonymously and maintain your privacy whilst traveling. You'll particularly need it in countries where gay dating apps are blocked by the government. We recommend ExpressVPN, a reliable and cost effective service which we used and loved during our travels.
⭐️ HOTELS or APARTMENTS — When we plan a trip, we always look for the best hotel deals. We love Booking.com because not only do they have a comprehensive listing of accommodation options, they also offer the best prices. Added bonus: they provide 24/7 support and free cancellation for most listings.
⭐️ SIGHTSEEING and ADVENTURES — When we travel somewhere, we like to seek out the best experiences, whether it is cooking with locals in Bangkok, hiking on a glacier in Patagonia, or going on a wildlife safari in Sri Lanka. Our favorite place to look is GetYourGuide because they have over 30,000 highly rated activities, a user-friendly booking process with free cancellation and a 24 hour customer support.
This article contains affiliate links. If you click on them, we may receive compensation which keeps our website alive and helps us bring you to more destinations.