The Maldives is a stunning country, which we've always dreamed of visiting. Oh those gorgeous idyllic tropical islands with their white sandy beaches… Few places on our planet rival the natural beauty of the Maldives.
We spent 2 weeks holidaying in the Maldives, which included plenty of beach fun, enjoying the beautiful crystal clear water, snorkelling and scuba diving. However before visiting, we were concerned about our safety, as this is a Muslim country with Sharia Law.
Although the situation for LGBTQ locals is not great, fortunately for gay tourists, the economy of the Maldives relies so heavily on tourism. As such pink dollars are very welcome, especially at the large privately resort islands.
Whilst many gay tourists argue that boycotting such countries is more ethical, we strongly believe that going over there and being a visible symbol of the LGBTQ community is going to have far more positive consequences than boycotting. This has been our stance throughout our travels in Asia, which done in a safe, respectful and careful manner can have many productive changes. We explore this in more detail in our article about what it's like for gay couples travelling in Asia and why we think this is very important.
In this article we explore whether it is safe for gay travellers to visit the Maldives and also set out our safety tips and best places to stay in this truly beautiful country.
What we cover in this guide
Gay rights in the Maldives
On the face of it, homosexuality is illegal in the Maldives. The Penal Code works with the Islamic Sharia Law to punish any acts relating to homosexuality through prison sentences, fines, and even lashings.
In practice, homosexuality is very rarely prosecuted, but it goes without saying that this is not the sort of place you're going to come waving rainbow flags and express your love with your partner publicly.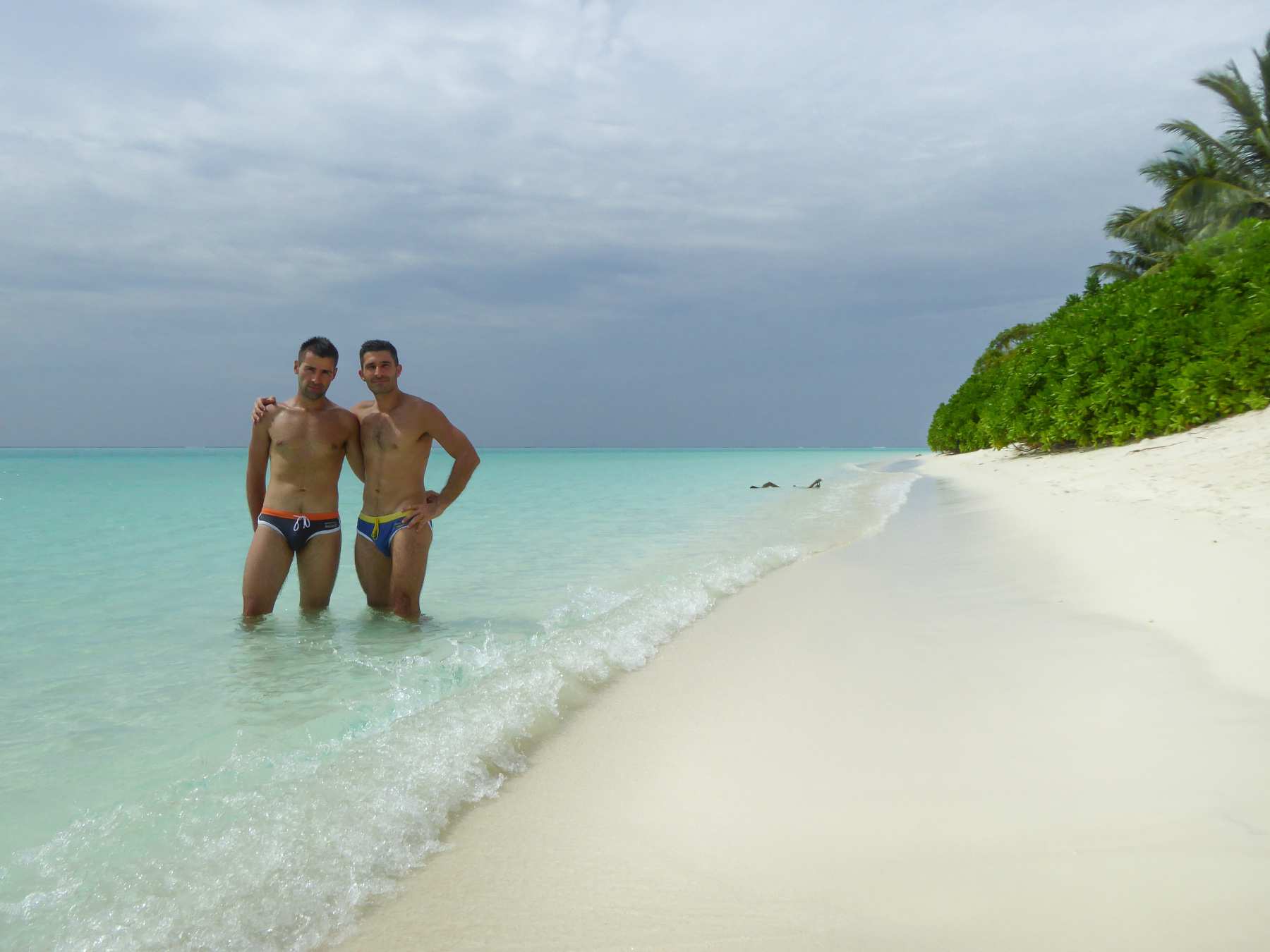 Is Maldives safe for gay travellers?
Whilst very harsh anti-gay laws exist in the Maldives, gay travellers will largely be absolutely fine and have a fantastic beach holiday. From our perspective travelling in the Maldives as a gay couple, at no stage did we ever experience any problems. We do of course respect local customs and avoid public displays of affection, as we did travelling in Russia, Dubai and Abu Dhabi.
In practice we found the Maldives to be very safe as long as you're discreet and avoid public displays of affection. This is just a natural custom expected in local society – straight local couples aren't affectionate with one another in public either.
With regards to booking a double bed in a hotel, it is worth emailing or calling ahead in advance before booking to ensure they are ok to welcome gay travellers. Most are likely to reply quite promptly confirming they have no problem with this. For gay couples, the most negative attention you're likely to encounter is being confused for brothers…we got that a lot!
For gay travellers who prefer not to stay in a large resort, you can also stay at a guesthouse in the local islands, like Thoddoo. However, in doing so, you need to exercise caution about being overly gay in public and consider booking two single beds if you're a same sex couple.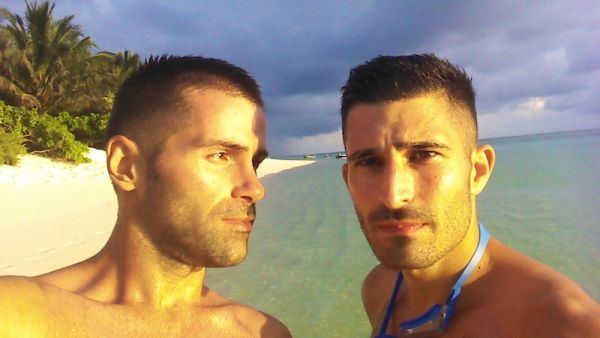 Gay honeymoon in the Maldives?
Despite the harsh anti gay laws, the Maldives is a popular destination for gay honeymoons. Most of the tourism industry of the Maldives is dominated by large private resorts owned by international brands, who each have their own island. These are for the most part expensive, but as a result function as a mini private bubble with its own set of rules. For example, despite being a Muslim country, you can purchase alcohol in these resorts and women don't need to cover up at the beach. It is very unlikely you will encounter any type of homophobia if you spend your gay honeymoon in a private resort
The staff in these resorts will usually be from all over the world, open minded and will have undergone thorough training expected from large brands, which includes welcoming same sex couples. It is in these private resorts where gay travellers will feel most welcome in the Maldives. So much so that gay honeymoons in the Maldives are becoming increasingly popular.
Gay Resorts in The Maldives
Generally speaking, well known private resorts are welcoming towards all LGBTQ couples. In the Maldives, these resort will have their own private island, where they will allow alcohol to be purchased. They will also have plenty of "bikini" tourist beaches and overall be well catered towards the demands of the tourism industry. You can be sure gay travellers are welcome in these resort, though they're not cheap!
These are some of the most gay friendly resorts in the Maldives where you don't have to worry about sleeping in the same bed with your other half:
01
W Retreat and Spa Maldives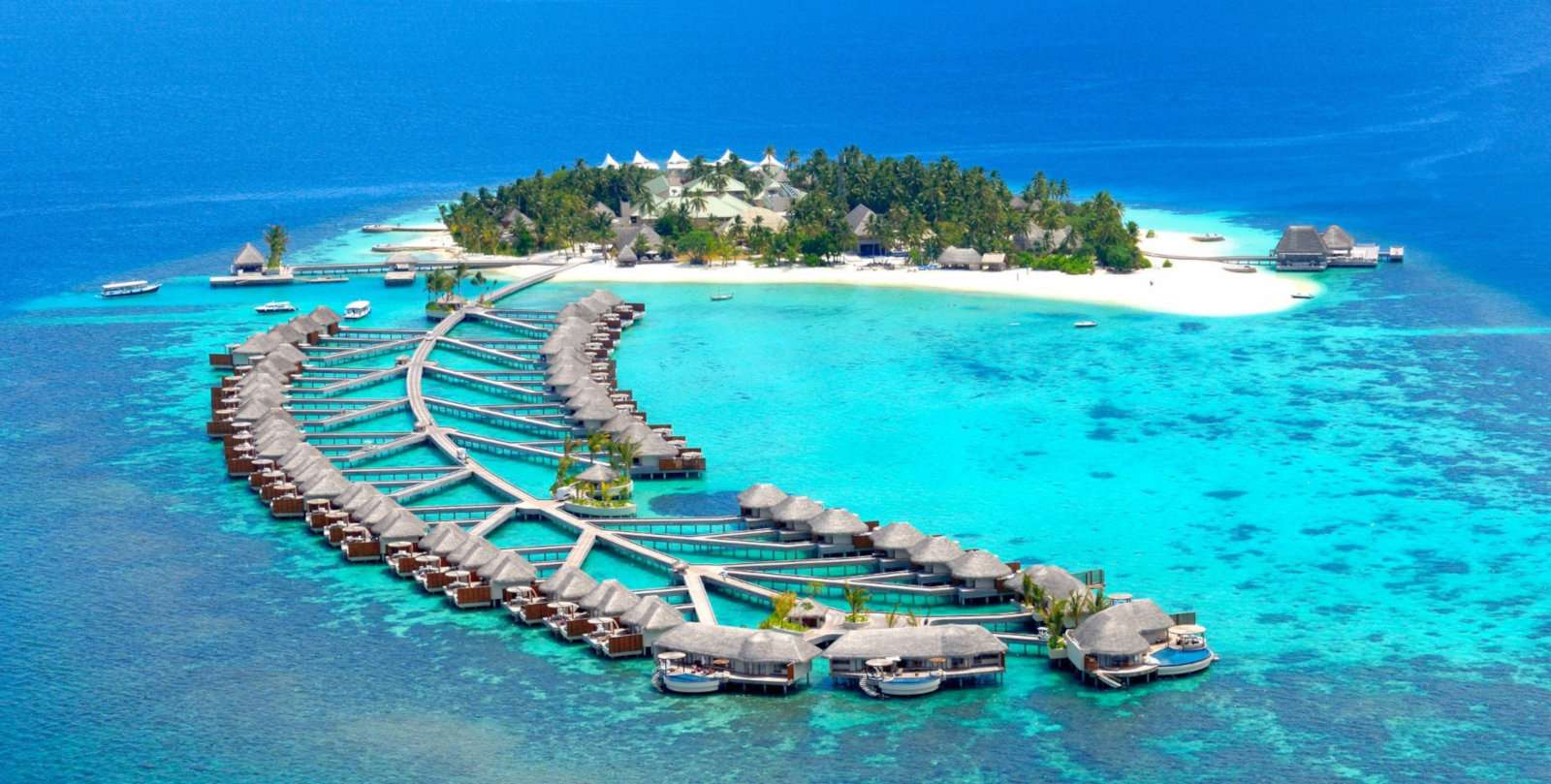 Why we love it
---
Perfect for snorkelling
Romantic and gay friendly
Great restaurants
Luxurious spa
We love the W brand. It's well known for being very gay friendly. It's also super trendy with its own nightclub.
Lodgings are set in "house reefs" each with their own private plunge pool and sundeck. The villas offer direct access to either the reef, beach or ocean so you'll be in paradise no matter which one you stay in!
The restaurants on the island are really cool with the names FISH (seafood, of course), KITCHEN (international cuisine) and FIRE (barbecue) while the bar is called SIP. The AWAY spa has many relaxing treatments to enjoy and you can even take yoga or aquaerobics classes. There's also a library and games room, although you'll probably never want to leave your romantic villa…
02
Conrad Maldives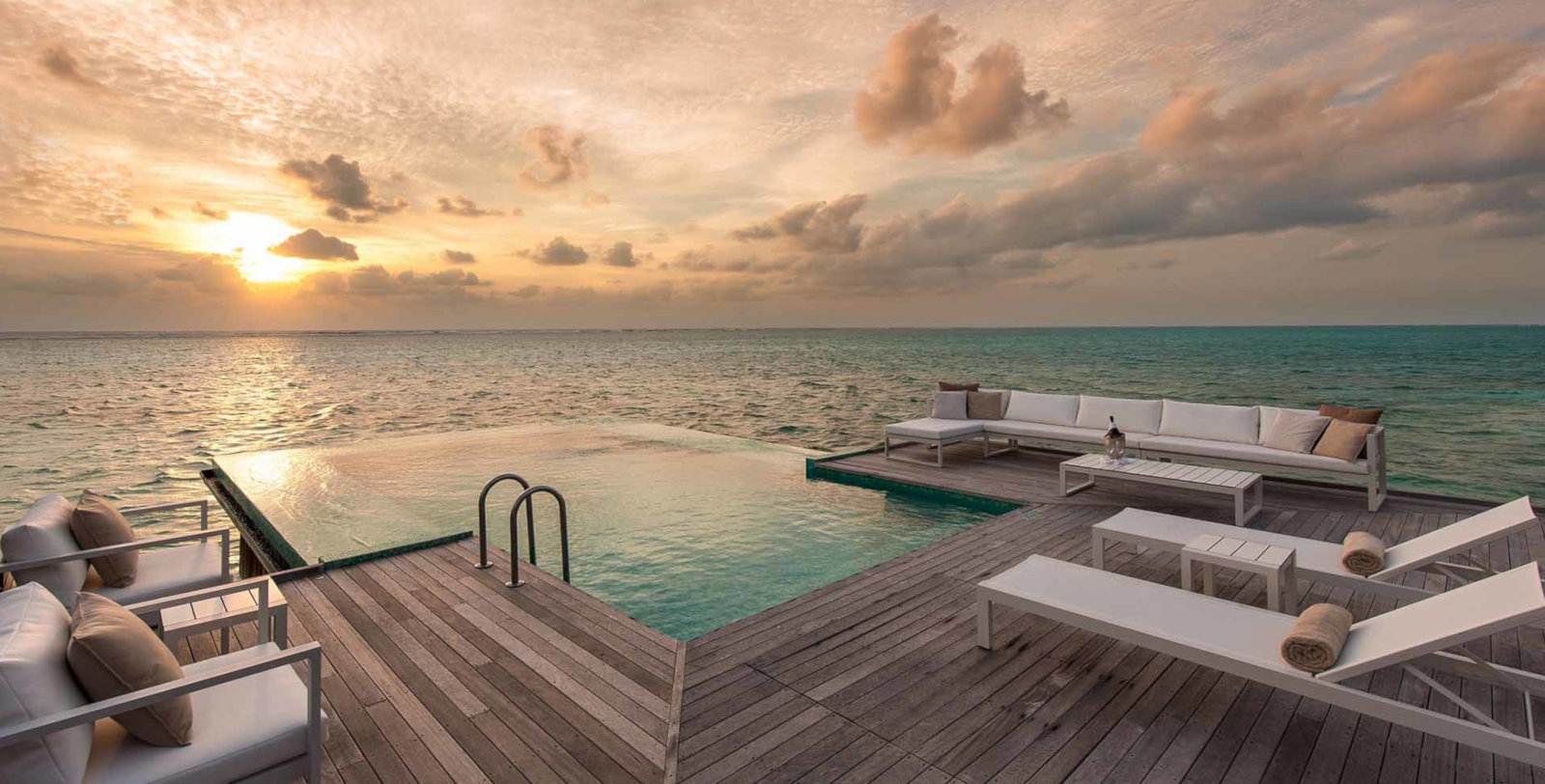 Why we love it
---
Luxurious and gay friendly
Stunning sunset spots
Home to underwater Ithaa Restaurant
Lagoon Spa Retreat and an Over-Water Spa
The Conrad is a gay friendly hotel located on Rangali Island. It's like being in an oasis paradise, with villas overlooking the reefs – you can literally just jump straight into the water from your private villa!
Set over two islands connected by a bridge the Conrad is ultra-luxurious; the villas stretch up to 500 metres into the Indian Ocean. It's also home to the amazing all-glass underwater Ithaa Restaurant and the Muraka villa with underwater bedroom.
For the ultimate in luxurious relaxation you can choose to have spa treatments in either the Lagoon Spa Retreat or the glass-floored Over-Water Spa. There's also yoga classes and infinity pools, including the adults-only Quiet Zone Pool which features an open-air bar. As well as the underwater restaurant, there are 11 others to choose from, including options for dining on lobster and champagne on the beach.
03
Shangri La Villingili Resort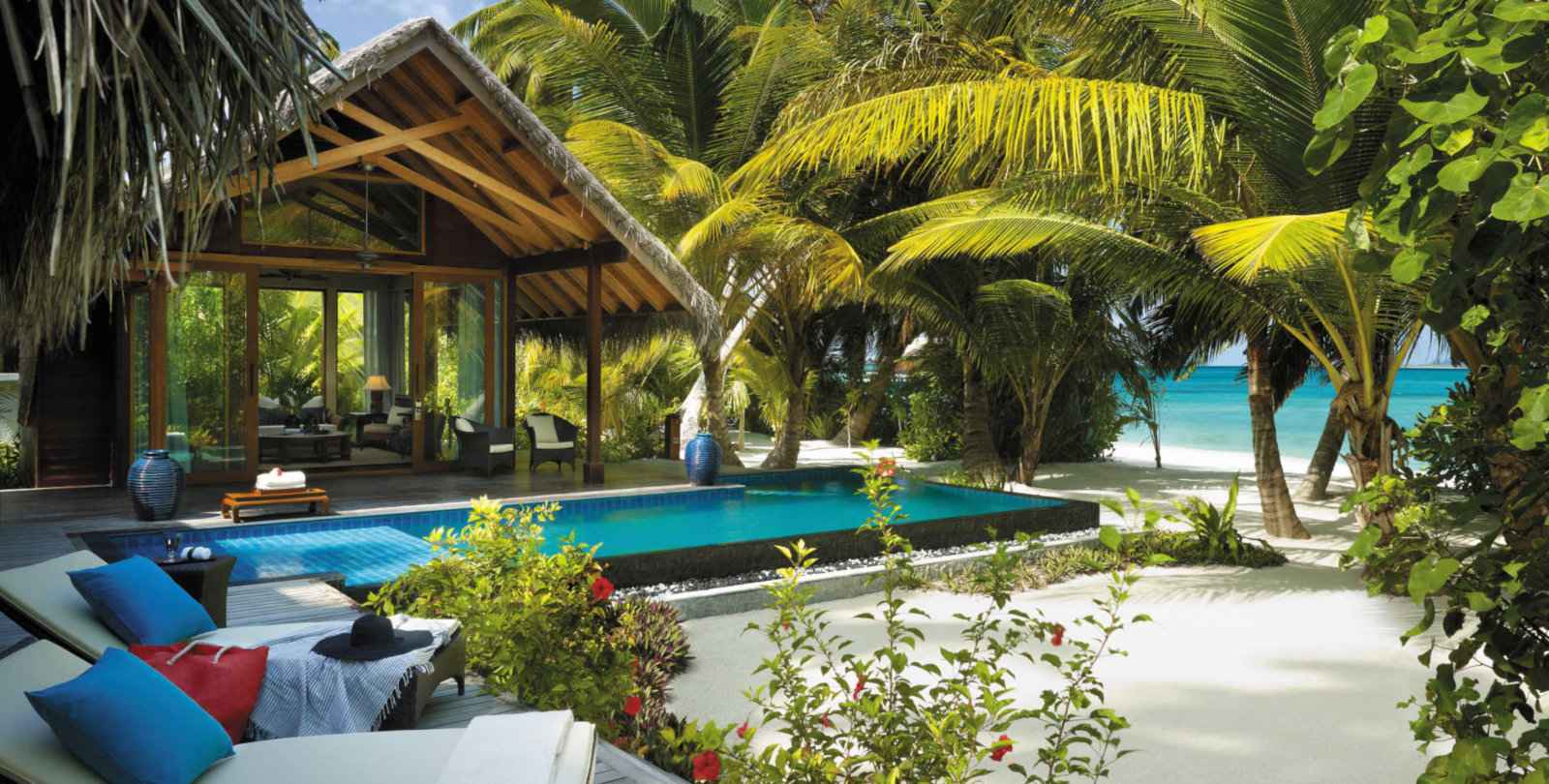 Why we love it
---
Gay friendly romantic haven
Delicious fresh seafood
Choice of ocean or pool/jungle villas
Lots of energetic activities for the daredevils!
The Shangri La's Villingili is a luxurious and romantic gay friendly resort in the Maldives located on Maradhoofeydhoo island.
The house reef is pristine with lots of turtles, tropical fish and even sharks to spot. You can choose from over-the-ocean villas or pool villas which are surrounded by leafy forest and feels like you're in a luxury tree-house!
If you're into golf, the Shangri La boasts the only 9-hole golf course in the Maldives, but there are also many other energetic activities to choose from like surfing, night fishing, wakeboarding, windsurfing or even SCUBA diving courses. When you're exhausted from all of that, you can enjoy a soothing treatment at Chi – The Spa and dine in one of the four delectable restaurants. There's also the option for dining in one of the resort's secret locations such as under torches in the jungle.
Gay friendly guesthouse
The Maldivian government recently allowed businesses to establish guesthouses on the local islands. We stayed at Serene Sky Guesthouse on Thoddoo island. This is a more affordable way to visit the Maldives, without having to spend thousands of dollars a night.
However, this is a more local experience, so alcohol is not available and public displays of affection should be avoided. In addition, as we were not sure about the locals' reaction to hosting a gay couple, we booked two twin beds (and just pushed them together) to avoid any problems.
Overall, we absolutely loved our experience on Thoddoo island. There was plenty of snorkelling and scuba diving opportunities in the reef surrounding the island. Our hotel staff were super friendly, offering snorkelling rentals and also took us out on various water sports for free as part of our hotel stay. This also included one fishing trip which led to a tasty BBQ tuna lunch. Thoddoo island also has a "bikini" beach just for tourists.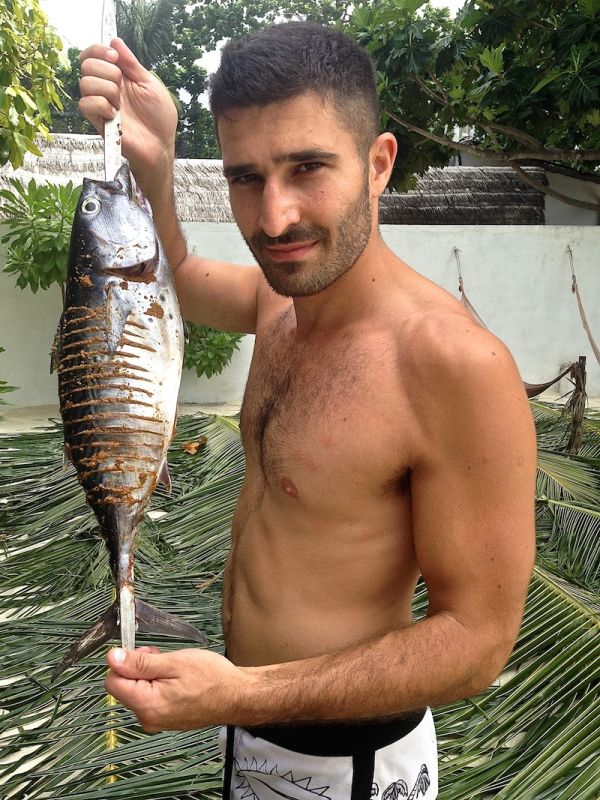 Travel video to the Maldives
Check out our Maldives travel video right here: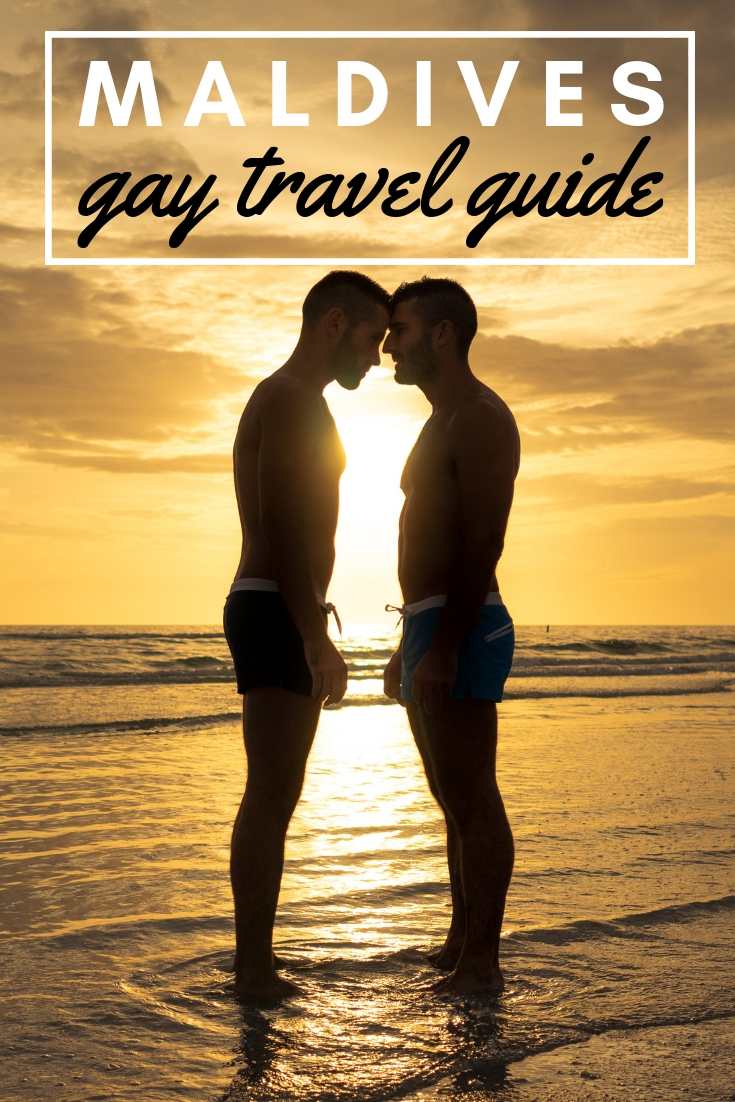 Happy travels are safe travels
We recommend you always take out travel insurance before your next vacation. What happens if you suffer from illness, injury, theft or a cancellation? With travel insurance, you can have peace of mind and not worry. We love World Nomads travel insurance and have been using it for years. Their comprehensive coverage is second to none and their online claims process is very user friendly.
Some of the links in this post are affiliate links. This means that if you book your accommodation, an activity or your insurance, we'll earn a small commission. There is never an extra cost to you for using these links and it helps us keep the site going.