TERMS OF USE: There is a chance that some of the content on this page has changed since it was last updated. By reading this article, you consent to our Terms of Use and Disclaimer. Happy Travels!
DISCLOSURE: Some of our posts may contain affiliate links which we may receive a commission if you choose to book something through one of our links.
Is the Maldives safe for LGBTQ travelers? Find out in our gay travel guide including practical safety tips, gay friendly hotels, top things to do, and more.
The Maldives is a stunning country, which we've always dreamed of visiting. Oh, those gorgeous idyllic tropical islands with their white sandy beaches… Few places on our planet rival the natural beauty of the Maldives!
We spent 2 weeks holidaying in the Maldives, which included plenty of beach fun, enjoying the beautiful crystal clear water, snorkelling and scuba diving. However, before visiting, we were concerned about our safety, as this is a Muslim country with severe Sharia Law in place, complete with very nasty anti-gay laws!
Although the situation for LGBTQ locals is not great, fortunately for gay tourists, the economy of the Maldives relies so heavily on tourism that as a gay tourist, they won't dare touch you, particularly when staying at the large privately owned resort islands. So much so that gay honeymoons in the Maldives are becoming increasingly popular. Which then naturally begs the question we always get asked and criticised for:
"But Nomadic Boys…how dare you encourage us to spend our Pink Dollars in a country that wants to get rid of us?"
At the end of the day, whether you choose to visit is a personal decision. We're not here to show that the Maldives is in any way a pink haven LGBTQ destination we should flock to! Clearly it is not! We are simply stating what our firsthand experience was travelling in the Maldives as a gay couple.
Above all else, we think that going there and supporting gay friendly / gay-owned businesses will be far more productive to effect positive change than just boycotting the country altogether! We explore this argument in more detail in this article, which we also hope provides you with inspiration to visit this unique Asian country, as well as equipping you with the full advice you need to have a safe and trouble-free trip!
Keep your online activities private in the Maldives…
Whilst gay dating apps are not completely blocked in the Maldives, the government does monitor online use. For this reason, we recommend using a reliable VPN connection to get online, which hides your location, thereby allowing you to keep your online activities private!
Gay rights in the Maldives
A quick glance on Wikipedia's breakdown of LGBTQ rights in the Maldives and it's enough to put you off visiting for a lifetime! The law is quite clear – being gay in the Maldives risks you getting:
"up to 8 years imprisonment with the possibility of whippings, house arrest, fines, or deportation"
When it comes to other LGBTQ rights, such as recognising gay couples, anti-discrimination laws, the right to change legal gender, the right to serve openly in the military etc, we'll be quite clear, there are none!
Yet, despite the lack of any progressive LGBTQ laws in the Maldives, LGBTQ tourists flock here in their numbers every year, particularly honeymooners. We put this down to the fact that whilst the country has such a horrific LGBTQ reputation, in reality, these nasty laws are rarely enforced, particularly against foreigners.
We haven't heard of any foreigner or tourist that has ever been persecuted for being gay in the Maldives. However, it goes without saying that this is not the sort of place you're going to come waving rainbow flags or expressing your love with your partner publicly like you would in Madrid, Fort Lauderdale or Barcelona!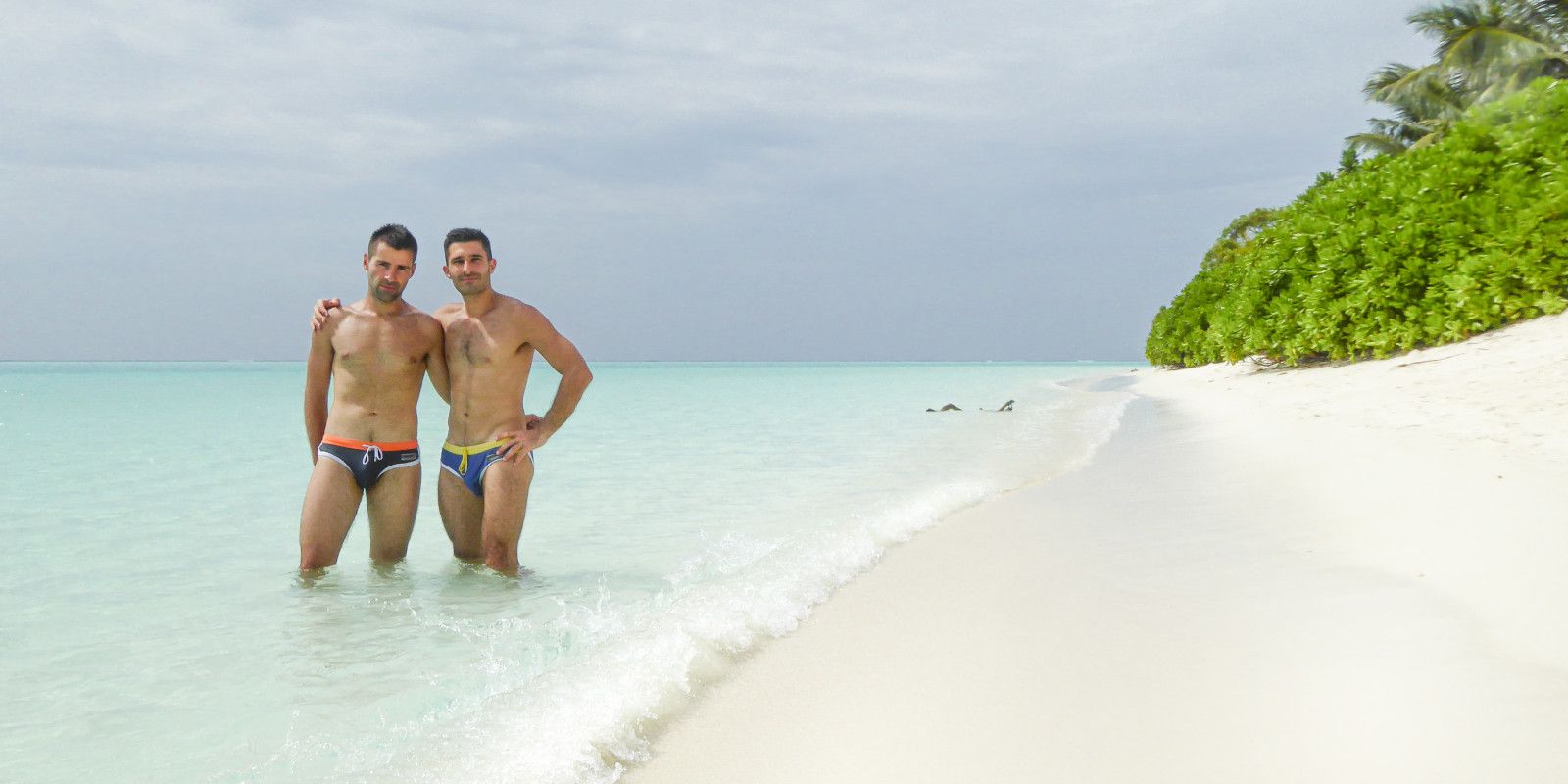 Is the Maldives safe for gay travellers?
Despite the very draconian anti-gay laws of the Maldives, we think LGBTQ travellers will be absolutely fine based on our experience travelling there as a gay couple.
The reality we encountered was that despite the absurd, nasty and ridiculous anti-gay laws in place in the Maldives, the locals couldn't give two hoots about us. We were able to get a double bed in a local guesthouse and no one cared. We were seen more as foreigners they want to impress rather than a gay couple that needs to be put in jail or more! Obviously personal safety, common sense and discretion is paramount. For example, we always took care to be discreet by avoiding all public displays of affection just as we did when we travelled to places like Russia, Dubai and Abu Dhabi. The most negative attention we got as a gay couple is that very often, people would think we were brothers…we got that a lot!
The reason we're so confident that LGBTQ travellers will be safe in the Maldives?
As cynical as this may sound, as a foreigner, you're treated and seen differently by locals. No one will want any Embassy issues and the Maldives relies so much on tourism dollars to prop up the economy that we get a sort of pass because of this. Obviously, don't go walking around waving rainbow flags and kissing in public – any form of activism is going to attract negative attention, and even straight local couples aren't affectionate with one another in public either.
With regards to booking a double bed in a hotel, if you're staying in a private island owned by one of the hotels we list below, you'll be just fine! Almost all the staff here are international and open-minded, adhering to the same international standards on diversity and discrimination that they would apply whether they're in the Maldives, Miami or Kuala Lumpur.
For gay travellers who prefer not to stay in a large resort, you can also stay at a guesthouse in one of the local islands, like Thoddoo. However, in doing so, you need to exercise caution about being overly gay in public, and if you're particularly worried, consider booking two single beds.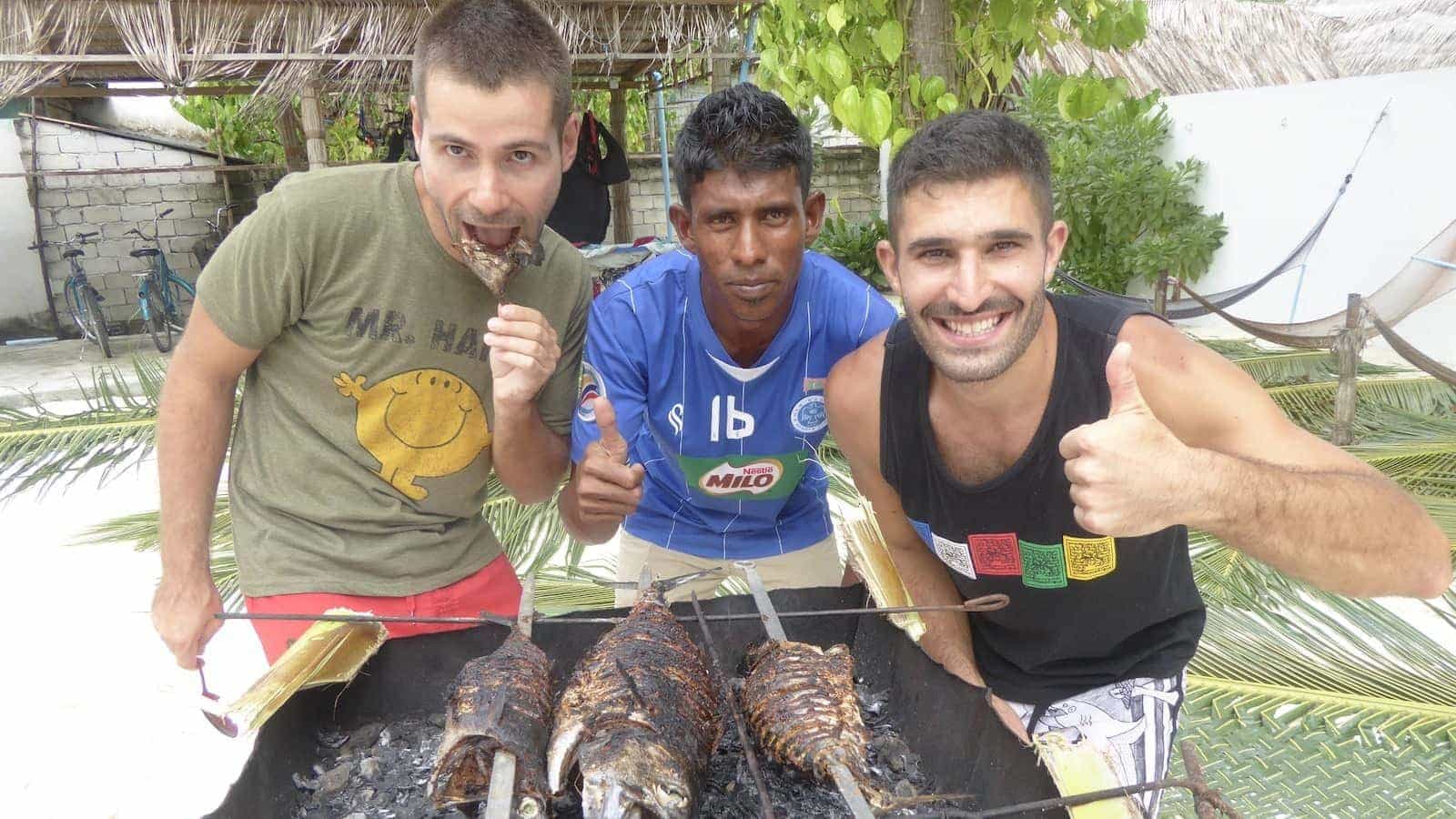 Should you gay honeymoon in the Maldives?
Despite the harsh anti-gay laws, the Maldives remains a popular destination for gay honeymoons. Most of the tourism industry of the Maldives is dominated by large private resorts owned by international brands, who each have their own island. These are for the most part expensive, but as a result, function as a mini private bubble with its own set of rules. For example, despite being a Muslim country, you can purchase alcohol in these resorts, and women don't need to cover up at the beach. It is very unlikely you will encounter any type of homophobia if you spend your gay honeymoon in a private resort.
The staff in these resorts will usually be from all over the world, open-minded and will have undergone thorough training expected from large brands, which includes welcoming LGBTQ couples. It is in these private resorts where gay travellers will feel most welcome in the Maldives.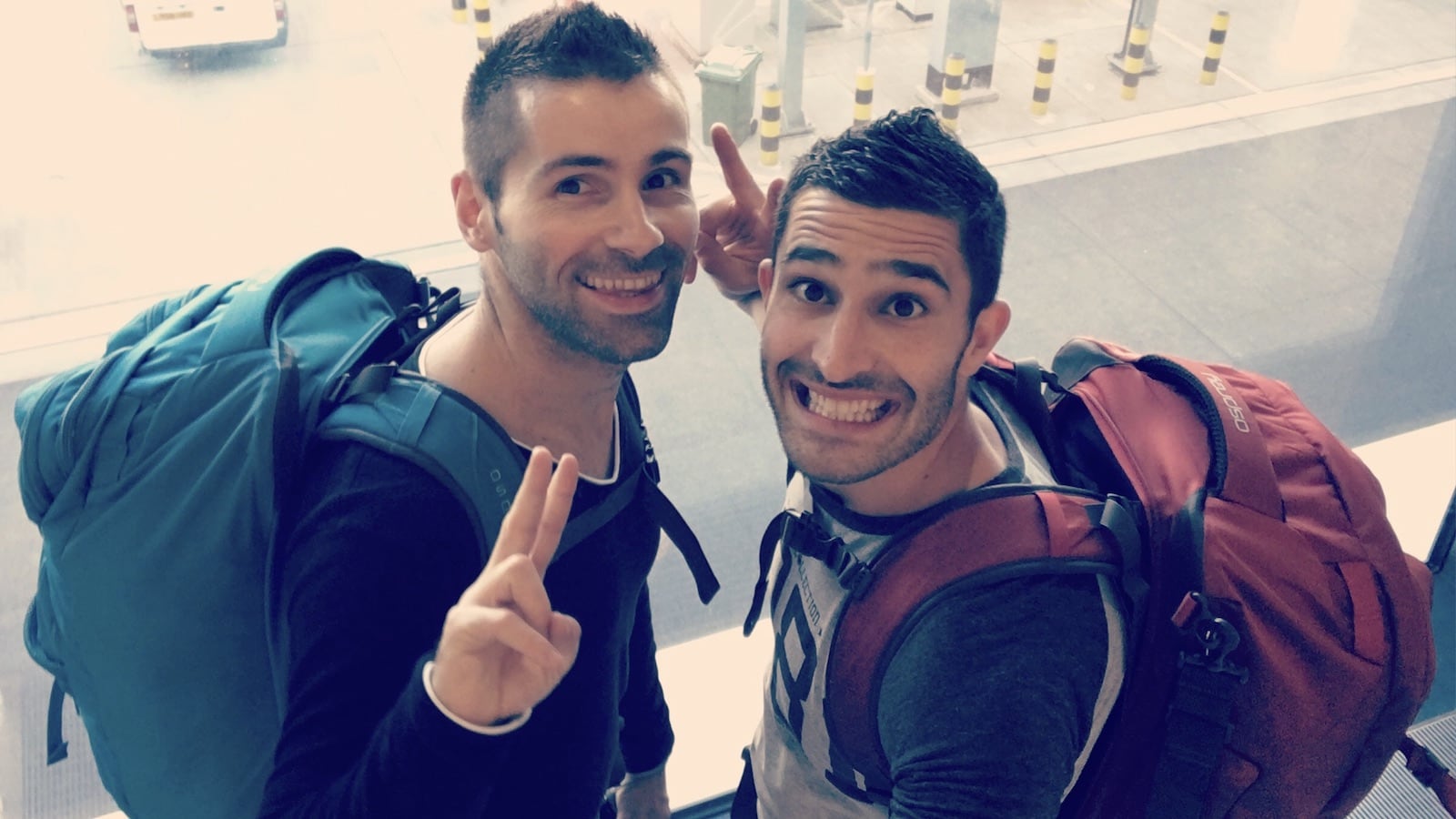 Gay resorts in the Maldives
Generally speaking, well known private resorts in the Maldives are welcoming towards all LGBTQ couples. They have their own private island, where they will allow alcohol to be purchased. They will also have plenty of "bikini" tourist beaches and overall be well catered towards the demands of the tourism industry. You can be sure gay travellers are welcome in these resorts, though they're not cheap!
These are some of the most gay friendly resorts in the Maldives where you don't have to worry about sleeping in the same bed with your other half:
01
W Retreat and Spa Maldives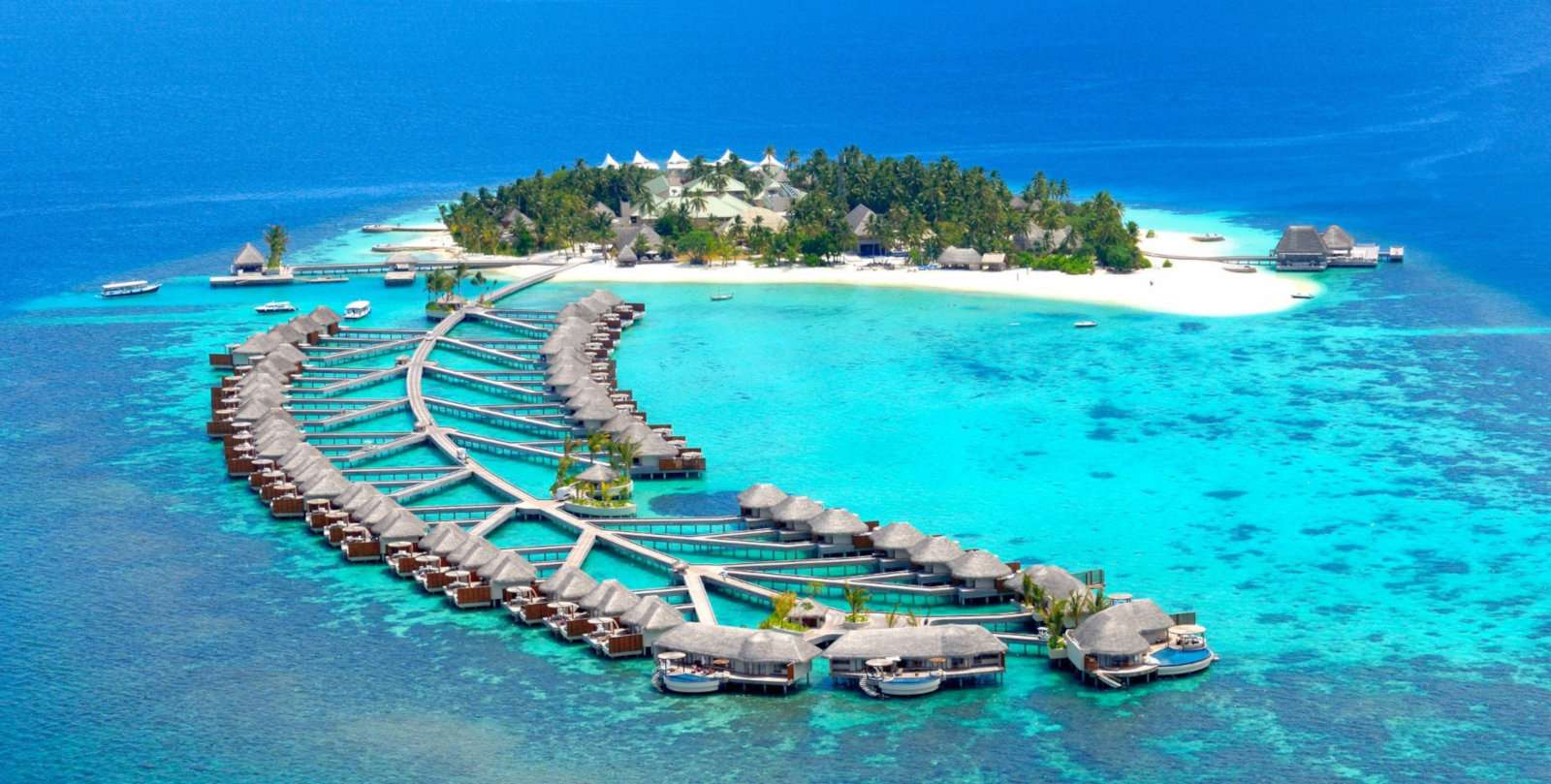 Why we love it
---
Luxury 5-star private island resort
Best choice for honeymoons: located on your own private island
Stay in a luxurious "house reef" water bungalow with direct sea access
The most romantic holiday ever!
The W Maldives Resort (owned by the Marriott) is the #1 choice for gay honeymoon couples in the Maldives and OMG we're not surprised!
Not only is the W a world-famous gay friendly brand, but this impressive resort is set on its own private island where you stay in your own luxurious and spacious water bungalow called "house reefs".
Each iconic house reef is set in the water, so you literally roll out of bed and dive straight into the Indian Ocean. Simply incredible!
The rooms are in line with the hip and edgy branding we've become so used to seeing at the W. They have a modern rustic design yet all the luxurious modern comforts including a Nexpresso machine caffeine lover Stefan in true paradise here! Add to that the fact that each house reef has its own private Jacuzzi plunge pool and sundeck, you've got your recipe for the most romantic holiday ever! The other thing we loved about the room is the bathtub. It's set right next to a large window overlooking the sea: we had a few nights of stormy weather during our stay and there's nothing more romantic than watching the thunderstorm pass from our cosy bathtub!
Location wise, the W Maldives Resort is set on its own private heart-shaped island (yes you read right!) called Fesdu in the North Ari Atoll. It is around 25-45 minutes seaplane flight from Male's airport or a 2-hour boat trip. Whilst it may seem quite cut off here from city life (which to be honest, is part of the charm of staying here!), the W has no fewer than 4 restaurants and 6 snack stations. It also has its own spa, fitness centre (with sunset yoga classes), a diving school and a sophisticated nightclub called 15Below! The club is the only underground nightclub in the Maldives and to be honest, the only one we've ever been to in our travels! It's located 15 feet below the sand (hence the name), like entering a completely different world as you descend from beach level!
As we said, this is one of the most unique and amazing hotels we've ever stayed at. The ultimate private tropical island fairytale that we would gladly return to in a heartbeat!
02
Conrad Maldives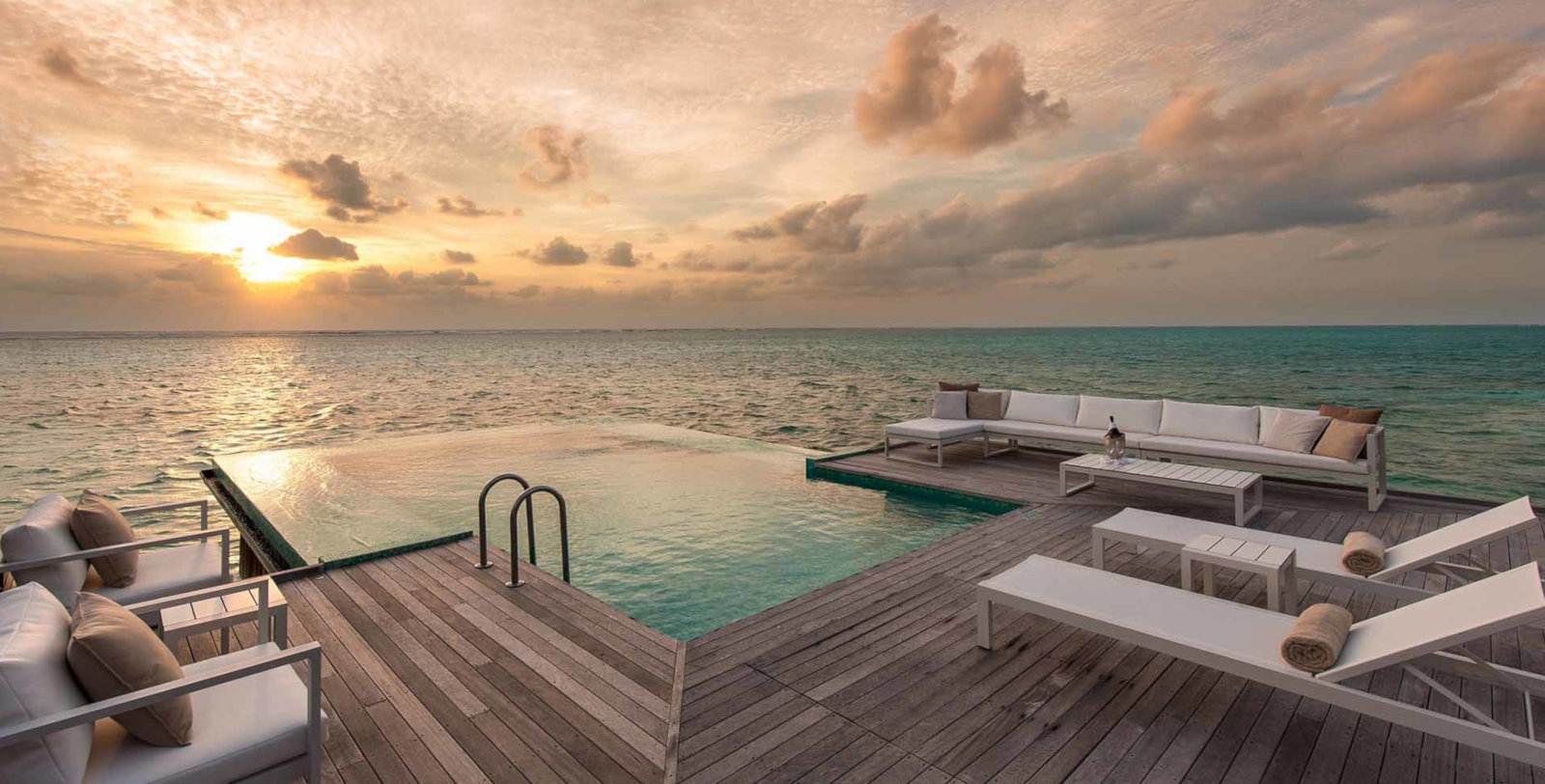 Why we love it
---
Ultra-luxurious and gay friendly
Oasis paradise spread across two private islands
Dine at the unique all-glass underwater restaurant: Ithaa Undersea
Stay in a plush private beach villa with direct sea access
The Conrad Maldives is a luxurious tropical beach paradise that has twice been voted as the best hotel in the world. It is part of the Hilton Hotel group, famous for being gay friendly, which is why it is a popular choice for gay honeymooning couples.
Here you stay in a gorgeous light-flooded 3,000 square foot (279 sq metres) villa overlooking the reefs where you can literally just jump straight into the water from your private terrace!
The Conrad is also famous for the unique all-glass underwater Ithaa Restaurant – an experience in itself.
The Conrad is located on Rangali Island, which is split into two, connected by a long footbridge bridge, which is quite pretty to cross. The island is cut off from everything so you're reliant on the hotel's (stunning!) facilities for food and activity – ie there's no local restaurant or 7-11 you can pop to. To reach Rangali island, you need to take a 30-minute seaplane flight which they arrange for you. The only downside is if your international flight arrives after the seaplane has left, then you're forced to spend a night in Male, cutting a day off your trip, so check this with the hotel before booking.
For the ultimate in luxurious relaxation, you can choose to have spa treatments in either the Lagoon Spa Retreat or the glass-floored Over-Water Spa. Fitness-wise, they have a modern and well equipped 24-hour gym. In terms of classes, you can sign up for one of their daily boot camp, circuit or yoga classes. Oh and don't forget the massive tennis court! Divers will be in paradise here. The hotel has its own diving school where you can book fun dives and even certification courses. Other activities include paddle-boarding, wake-boarding, jet-skiing, water-skiing, wind-surfing and even X-Jetpacking.
In terms of dining options, the Conrad has no fewer than 12 restaurants, the most famous being the underwater Ithaa. This has got to be the most remarkable dining experience ever! You walk down a staircase, through a hallway and suddenly you're underwater with just glass panels separating you from the sea world. It's like you're dining in a giant aquarium!
03
Kuredu Island Resort & Spa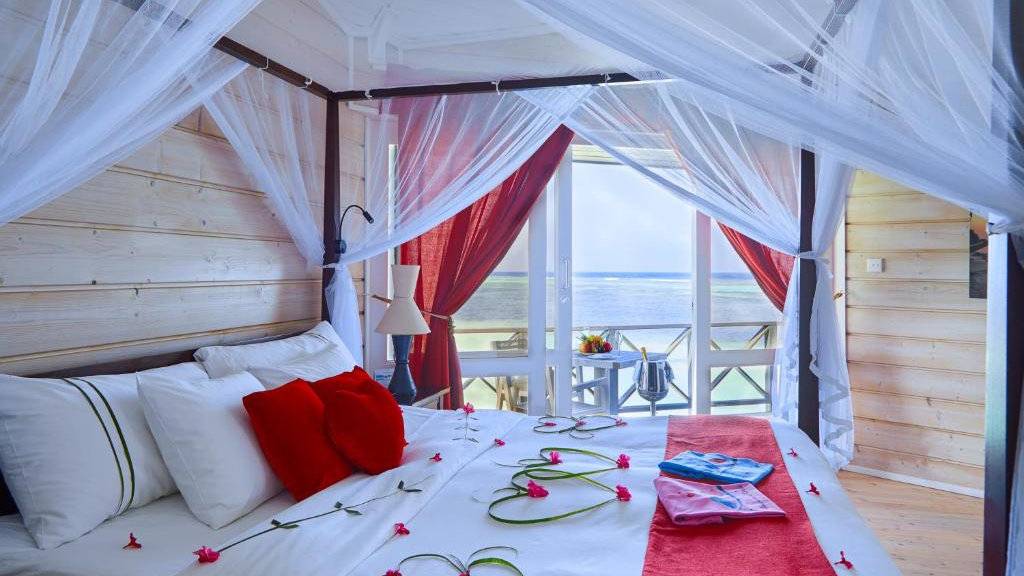 Why we love it
---
Gay-friendly and luxurious resort
Outdoor pool, fitness center and spa, as well as the epic beach
Choice of pool, water or beach villas, some with Jacuzzis
Multiple excellent restaurants and bars
The Kuredu Island Resort & Spa is a luxurious and romantic gay friendly holiday in the Maldives we loved. Located right on the beach you can choose from a number of different villas, bungalows and suites – some situated over the crystal clear waters, right on the pristine beach or with a private plunge pool surrounded by lush gardens.
Whichever choice of accommodation you go for you'll be able to enjoy all the spectacular amenities, there's an outdoor pool for all guests and the beachfront offers plenty of opportunities for snorkelling, fishing or even playing a round of golf!
For adventurous travelers, there are lessons or excursions for activities such as wind-surfing, kiteboarding, water-skiing and wakeboarding or you can just relax on a private catamaran cruise to see dolphins and turtles. We were also happy to enjoy our daily workouts in a gym with an epic ocean view and then partake in a pampering couples massage at the luxurious Duniye Spa.
Of course, Kuredu Island Resort is super romantic, with many options for couples to connect with intimate dinners on the beach or an indulgent Jacuzzi experience with sparkling wine and tropical fruit. Adding to the feeling that you are completely alone on a deserted island is the fact that you can only reach the resort via seaplane from Malé.
All of the staff at Kuredu Island Resort & Spa are lovely and completely gay friendly as well. We weren't the only same-sex couple staying here and everyone was treated with the exact same level of impeccable service so that we felt completely at ease.
Gay friendly guesthouse in the Maldives
Since 2009, the Maldivian government has allowed businesses to establish guesthouses on the local islands. We stayed at Serene Sky Guesthouse on Thoddoo island. This is a more affordable way to visit the Maldives, without having to spend thousands of dollars a night.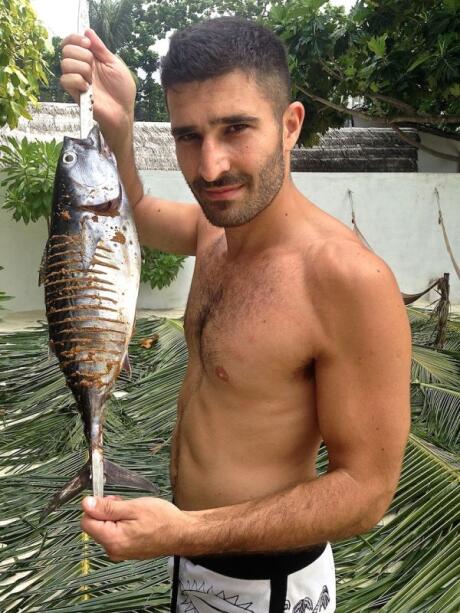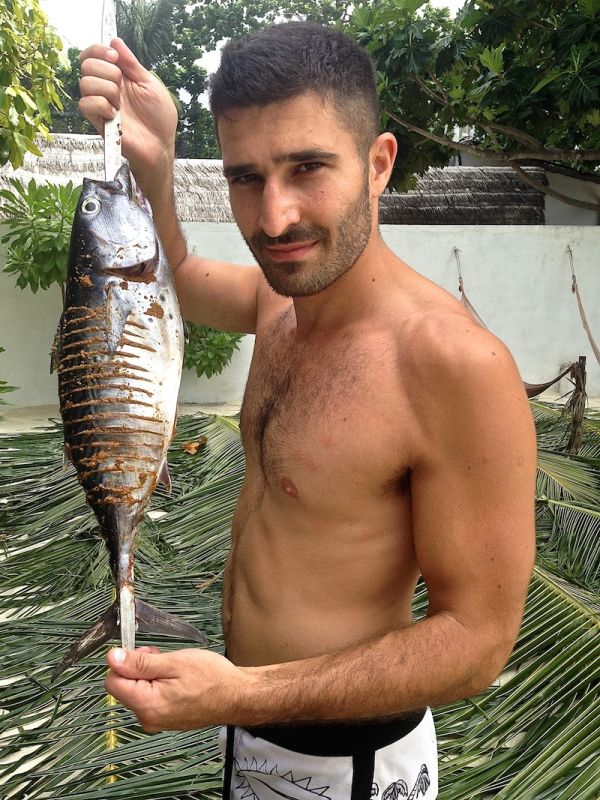 However, this is a more local experience, so alcohol is not available and public displays of affection should be avoided. In addition, as we were not sure about the locals' reaction to hosting a gay couple, we booked two twin beds (and just pushed them together) to avoid any problems.
Overall, we absolutely loved our experience on Thoddoo island. There was plenty of snorkelling and scuba diving opportunities in the reef surrounding the island. Our hotel staff were super friendly, offering snorkelling rentals and also took us out on various water sports for free as part of our hotel stay. This also included one fishing trip which led to a tasty BBQ tuna lunch. Thoddoo island also has a "bikini" beach just for tourists.
If you have any doubts, we advise emailing or calling ahead in advance before booking to ensure they are ok about welcoming gay travellers. Most are likely to reply quite promptly confirming they have no problem with this.
Top experiences in the Maldives for gay travellers
When we visited the Maldives, we were excited to dive into the Indian Ocean. We heard so many incredible stories from fellow divers about scuba diving and snorkelling in the Maldives. It did not disappoint! Remember, this is a unique country, comprised of 1,192 islands right in the middle of the Indian Ocean, straddling the equator line. And with all those islands, it has tons of gorgeous beaches to discover. This is our summary of our favourite things to do in the Maldives:
Vitamin Sea: pure beach relaxation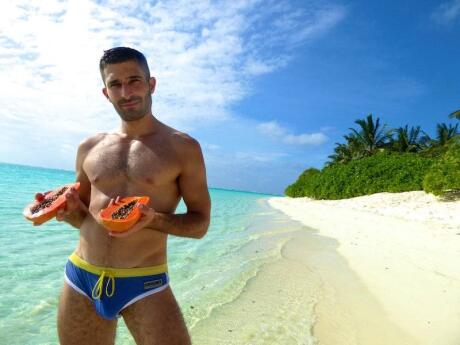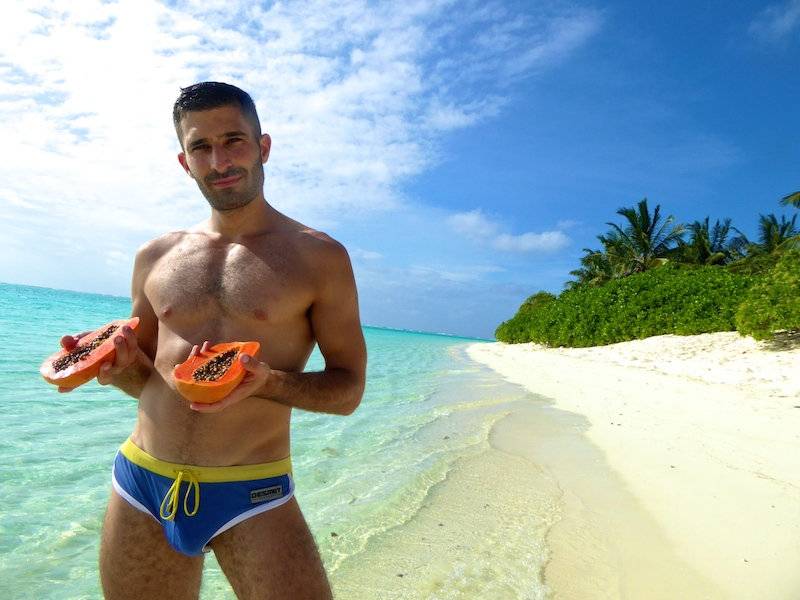 In the Maldives, it is hot and tropical all year round, with daily temperatures rarely falling below 25 degrees Celsius (77 Fahrenheit). However, make sure you time your trip to avoid the monsoon. There are 2 monsoons: the first in the southwest "atolls" (a group of islands) between May and October, the second in the northeast atolls from November to April. In terms of beaches, if you're staying on a private island, they will have their own secluded beach where you can do whatever you want. If however, you're staying on a local island, make sure it has a "bikini" or "tourist" beach. These are more private beaches where women are allowed to bathe in their swimming costumes. WTF you say? Well, remember this is an Islamic country whereby women are expected to be fully covered up at all times whether they're out jogging, lying in the sun or entering the water!
---
Scuba diving in the Maldives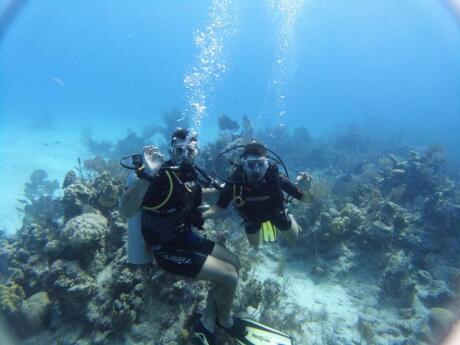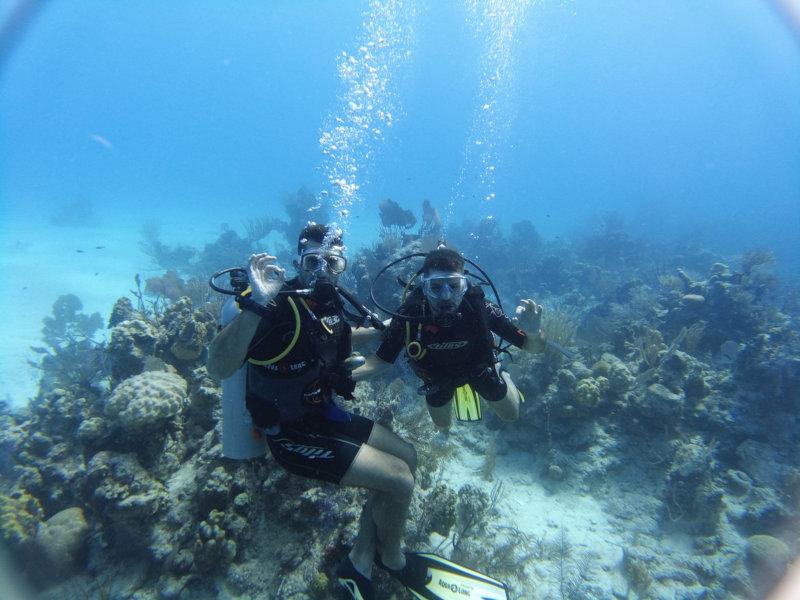 The Maldives is a paradise for all scuba divers, whether beginnings or advanced. This is, after all, a country that consists entirely of coral reefs. The underwater world is rich, thriving – a tropical paradise that we highly recommend you discover! We went scuba diving during our stay on Thoddoo island, exploring dive sites around Rasdhoo and Ukulhas. We saw so many different tropical fish, manta rays, turtles and even a few white/grey tip sharks. If you want to spot whale sharks, our divemaster recommended diving out at the Ari atoll in the north and the Gaafu / Thaa atolls in the south. Most hotels in the Maldives, whether private or local, will offer scuba diving or will have contacts to a good diving school.
---
Snorkelling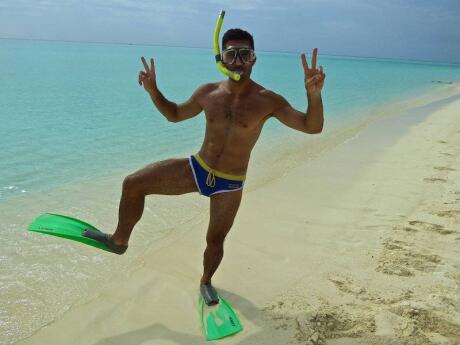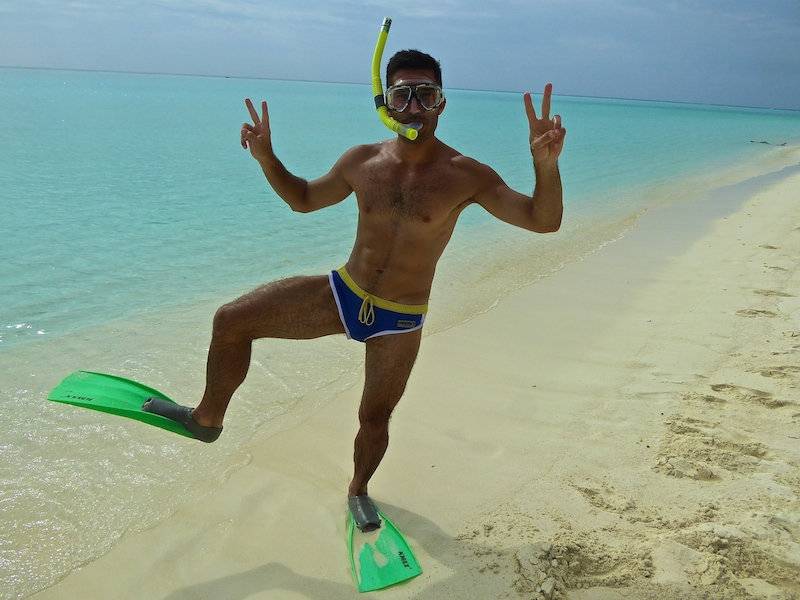 We love snorkelling in the Maldives. You can literally wake up, grab your mask/fins and pop your head in the water and encounter a whole different world. The great thing about snorkelling is that you don't need to go too deep at all – particularly handy if you're not into scuba diving. Most of the islands will be surrounded by lots of healthy coral to explore. Our guesthouse on Thoddoo island had a detailed plan marked out for snorkelers to follow. Our advice, remember to pack your underwater camera and put lots of sunblock on your back and legs! Another tip is to consider joining a snorkelling tour led by a knowledgable local guide who will show you the best places to dip your head in the water.
---
Water sports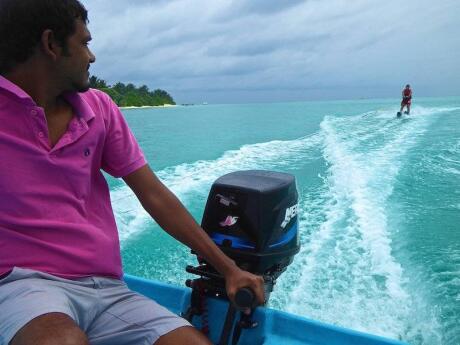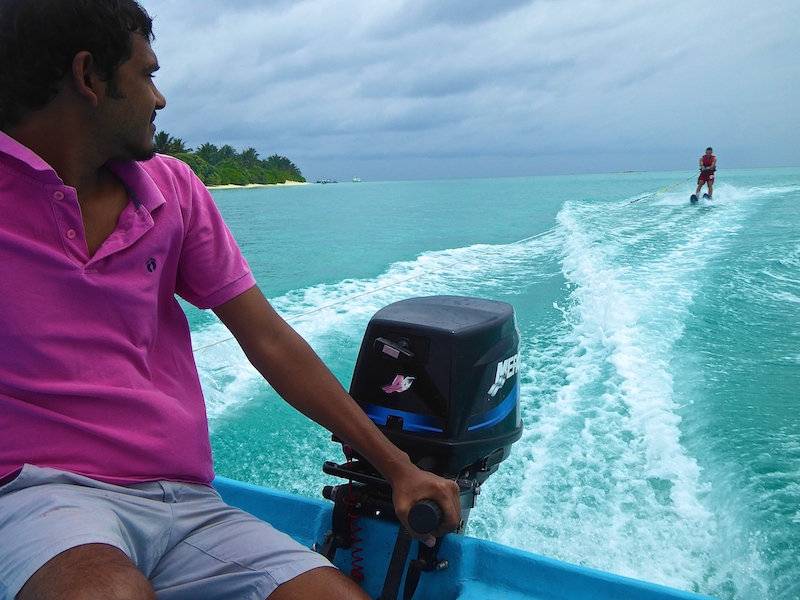 Get your mind out the gutter…we were referring to jet ski, parasailing, windsurfing etc! As we said, this country is a water baby's paradise – those crystal clear blue waters are divine! There are many ways to enjoy them whether by speedboat or if you're super adventurous like Seby, we advise trying out jet skis, paddleboarding or canoeing. Most hotels will be able to offer this locally for you, but there are also many online companies you can book depending on where you will be based in the Maldives. You could even plan a whole trip based around water sports in the Maldives!
---
Exploring local island life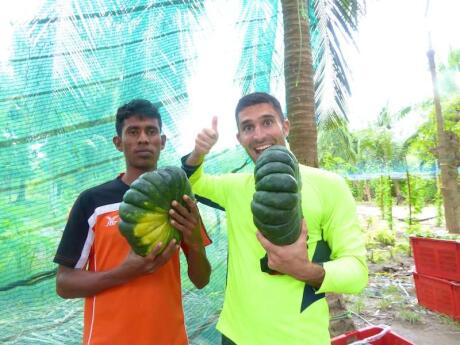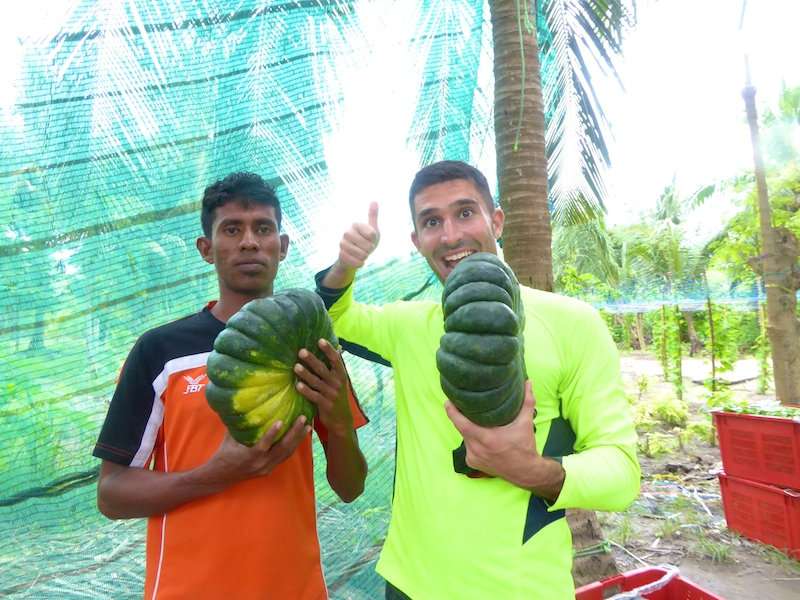 We stayed on Thoddoo island, which is a local inhabited island, famous for its papayas and other fruit production. Our hotel included a tour with a local around the island to show us the local life. If you have this option, we highly advise it. The Maldives can feel like a tropical paradise cut off from reality, so you quickly forget that everyday island life does actually exist here. We recommend doing a sightseeing tour around the islands to learn more about the local Maldivian culture, meet the people who live here and find out what makes each island unique.
---
Foods to try in the Maldives
Maldivian food…never heard of it before right? Neither had we! And it's good…think fresh fish, delicious coconut based dishes and loads of fresh produce. This is just a flavour of some culinary prizes you can expect to discover in the Maldives:
Mashuni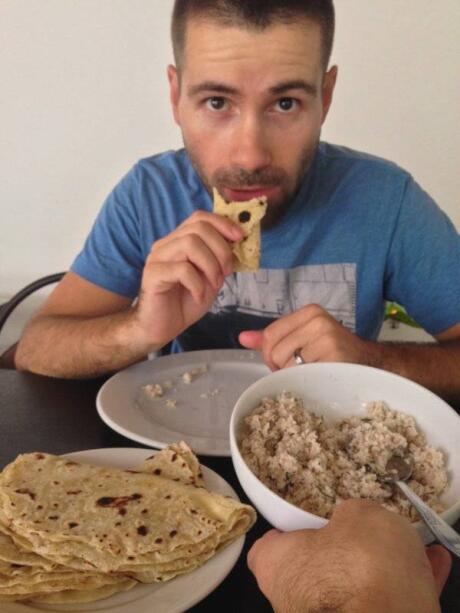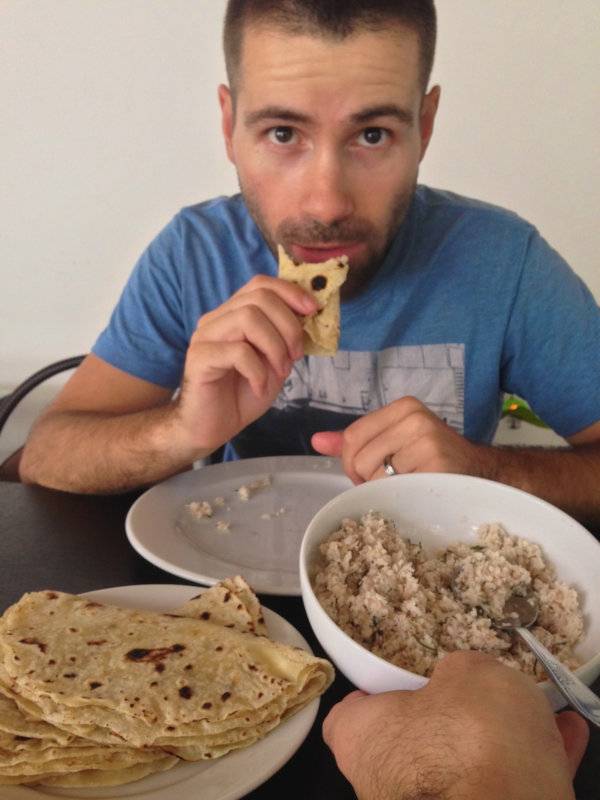 Maldivian cuisine is based around three things: coconut, fish and starches such as rice or sweet potato. Mashuni is the name of the typical breakfast in the Maldives, which uses two of the main three ingredients: finely chopped tuna, onion and chilli, which is then mixed with grated coconut. Traditionally Maldivians use "Maldive Fish" (a type of cured tuna), but nowadays canned tuna is often used instead. Mashuni is usually served with freshly baked roshi (a type of flatbread – see below) for breakfast, along with plenty of sweetened hot tea. Fun fact: mas means fish and huni means coconut in Dhivehi (the official language of the Maldives), so this literally translates to "fish coconut". You can learn how to make it with our mashuni recipe.
---
Roshi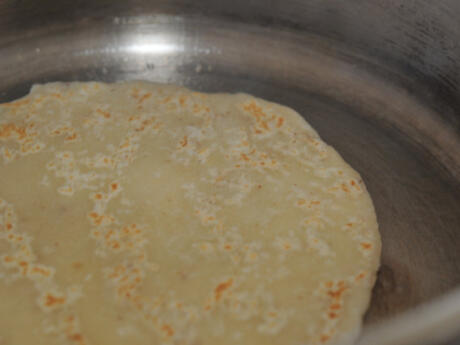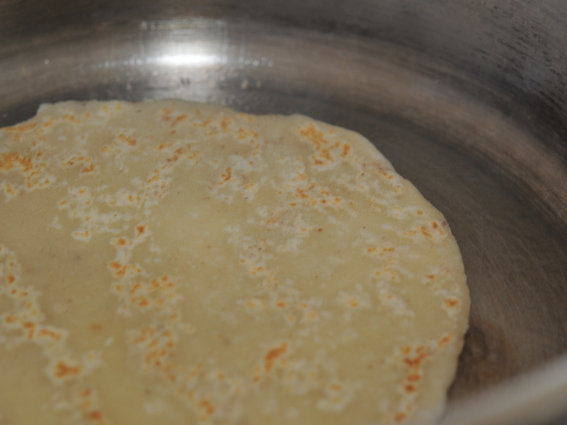 Roshi is the name of the flatbread common in the Maldives, which is usually served with mashuni for breakfast. Roshis are similar to Indian rotis but made with all-purpose flour instead of wholewheat flour. Since the recipe also calls for coconut, they are sometimes referred to as huni roshi, which means 'coconut bread'. Roshis are also a side dish to most meals in the Maldives. For more, check out our own recipe for Maldivian roshi.
---
Tropical Fruit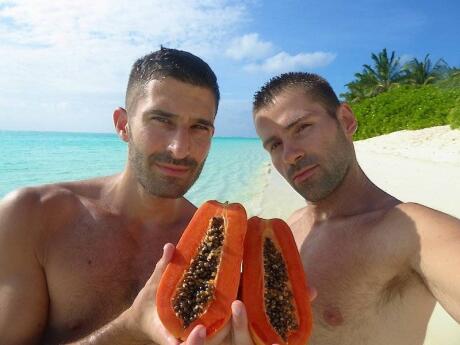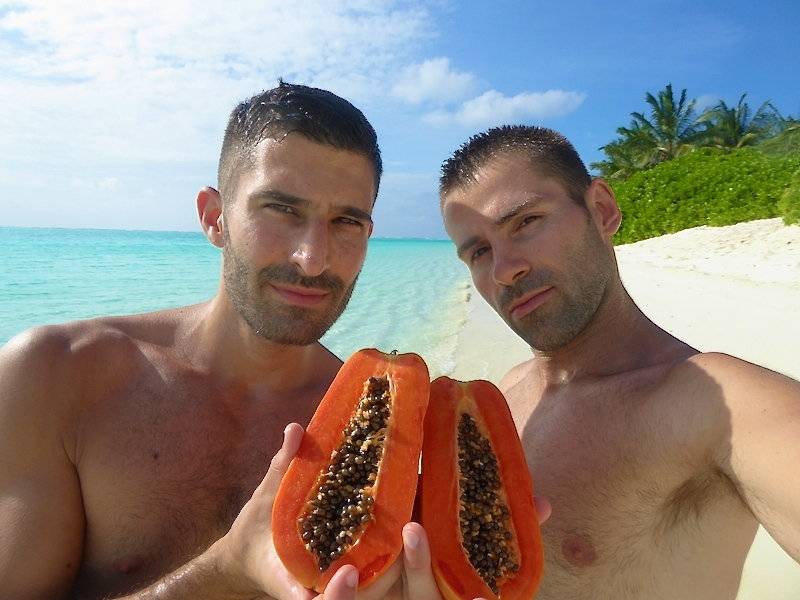 As a tropical island destination, the Maldives is home to lots of mouthwatering fruits like papayas, bananas, coconuts, pineapples, limes, watermelons and more. Many were brought in from other countries and thrived in the tropical climate while others are native to the country – like the coconut! Since coconut palms grow on every island, and coconuts are used so extensively in Maldivian cuisine, the coconut palm was declared the country's national tree. We visited Thoddoo Island during papaya season. It was amazing – every other street was lined with trees that were literally "flowering" with massive papaya fruits waiting for us to pick a few to take down to the beach with us!
---
Fresh Fish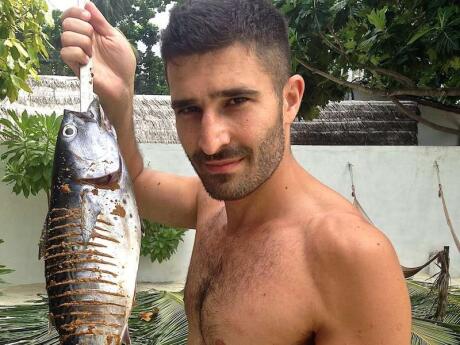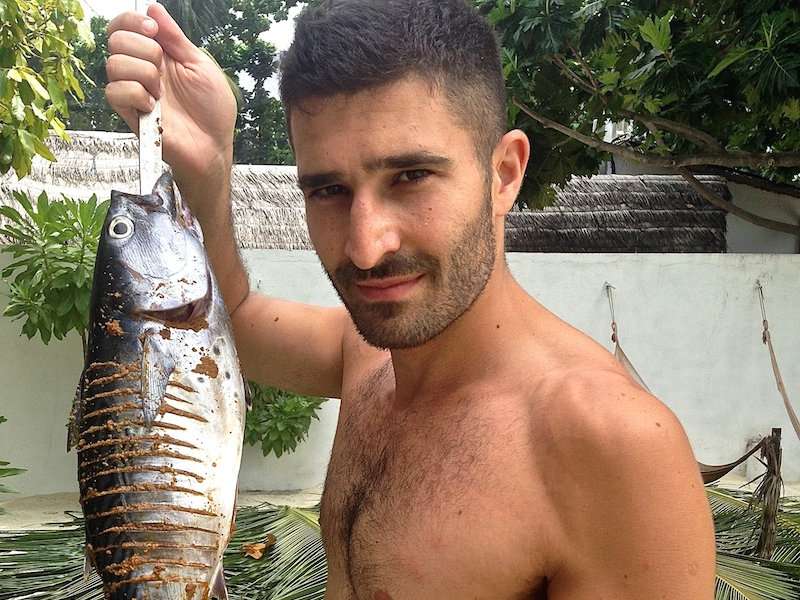 We've already mentioned it in passing but the fish you can eat in the Maldives definitely deserves a separate entry. Since the country is made up of 26 different atolls in the Indian Ocean, you know seafood is going to feature heavily on any menu. And boy were we spoiled for choice when it came to fresh fish and other delicacies! Tuna is King here, with a variety of different tuna species swimming in the waters, along with mahi-mahi, mackerel and wahoo. You'll get to try many fish-based dishes like curries, fish soups and cured fish dishes, although we personally loved getting to eat freshly caught fish straight off the grill!
---
Plan your trip to the Maldives
We've put together some handy hints and tips to help you plan your own trip to the Maldives. Read on to find out everything the gay traveller should know before they go.
Travel insurance: Sometimes when you're travelling things just go wrong. From missed flights to lost luggage, accident or illness, we recommend all travellers to the Maldives make sure they organise travel insurance to protect them in case of unforeseen events. We've been using Heymondo Travel Insurance for years and absolutely love them for their affordable, comprehensive cover. It's also easy to make a claim online if you need to.
---
How to get there: The Maldives is very remote, so the only way to get there is by flying. Most visitors will arrive at the Male International Airport. From Male, you will then need to take another domestic flight to reach your hotel. Some islands can be reached by the public ferry. Otherwise, you can arrange your own private speedboat or seaplane, but this is more expensive.
---
Visa requirements: All nationalities can visit the Maldives and receive a free 30-day visa on arrival. You must have a passport valid for at least 6 months, have a ticket to show you will be leaving the Maldives and enough money for the duration of your stay or a confirmation of reservation at a resort or hotel. You can always check here for more Maldives visa information.
---
Getting around: Since the Maldives is made up of many small islands so the only public transportation available is the (inexpensive) ferry system. Otherwise, you'll need to arrange a domestic flight, speedboat or seaplane to travel between islands. Another way to get around is by organising an online tour which will include transportation from your hotel.
---
Power Plugs: The Maldives uses power plug and sockets type D (which is common in India, Sri Lanka, Nepal, and some African countries) as well as type G (which is also used in England). Neither of these types is compatible with other types, so we recommend bringing a universal travel adaptor with you so that you will be able to charge your devices no matter which kind of socket you come across.
---
Vaccinations: The CDC recommends that all travellers to the Maldives be up to date with routine vaccinations, like chickenpox, measles and mumps. Most travellers should also be vaccinated against hepatitis A and typhoid. Depending on where you will be going and what you will be doing you may also need to be vaccinated against hepatitis B or yellow fever. Make sure you check the most recent advice and speak to your doctor before planning your trip to the Maldives.
---
Currency: The currency used in the Maldives is the Maldivian rufiyaa which uses the currency code MVR. Common symbols for the rufiyaa are MRF, Rf and ރ. Currently $1 US converts to about Rf 15.50, €1 is worth around Rf 16.72 and £1 is about Rf 19.18.
---
Tipping culture: Tipping is generally not expected in the Maldives and a 10% service charge is usually added to all bills anyway. If you do want to tip it will probably be very appreciated by locals, but not tipping will not earn you any snide remarks or lesser quality of service. Here is some more information on tipping in the Maldives.
---
Internet access: WiFi is available in nearly all the hotels and resorts in the Maldives, although some may only have it accessible in the lobby, bars or restaurants. If you will want reliable internet access we recommend bringing a portable WiFi device with you or pre-ordering a local Sim card online.
---
Online privacy: While gay dating apps aren't blocked in the Maldives, this is a country where being gay is illegal, so we suggest keeping your online activities private by investing in a virtual private network during your trip. We always use Express VPN when we're travelling as they provide an affordable and reliable way to access the internet securely.
---
Accommodation: When looking for accommodation in the Maldives we definitely recommend using Booking.com. They have many excellent options to choose from, including lots of places with free cancellation if needed. Their online customer service is available 24/7, plus it's super easy to book online.
---
Sightseeing and adventure: Viator is another great place to find all the most exciting activities and tours to do in the Maldives. It's very easy to book online and they have excellent customer support available 24/7.
---
When to visit: The Maldives is warm and sunny all year long, but has two distinct seasons of wet and dry. The best time to visit is during the dry season between November and April, although this is also the busiest, most expensive time to visit as well. You may find better prices (although probably not by much as the Maldives is quite a pricey destination) during the rainy, windy season between May and October. Surfers also tend to like the wet season as the swell provides bigger waves!
---
Is it ethical for gay travellers to visit the Maldives?
Whilst many gay tourists argue that we should instead be boycotting countries like the Maldives that have such brutal anti-gay laws in place, we strongly believe that going over there and being a visible symbol of the LGBTQ community is going to have far more positive consequences than boycotting.
This has been our stance throughout our travels in Asia. We always strive to seek out and support gay owned and gay friendly businesses. In addition, our visibility to locals as a healthy and happy gay couple does more for promoting LGBTQ rights than if we had simply boycotted the country. We explore this in more detail in our article about what it's like for gay couples travelling in Asia in which we argue this is very important to achieve positive change for our LGBTQ community.
Safety tips for gay travellers
Is the Maldives safe for gay travellers? The short answer is YES, especially if you are a tourist and if you take some precautions when travelling. Make sure you follow these safety tips and you are unlikely to encounter any problems while travelling in the Maldives.
Check official government advice before you go. Definitely do this before you travel anywhere, in case there's something happening in the country you weren't already aware of. We also recommend registering your travel plans to the Maldives with your local travel authority, so you can receive any important updates on situations that may occur during your trip.
Avoid public display of affection outside of the big international resorts. In the resorts you shouldn't have any problems being 'out', but if you do explore the local parts of the islands it's best to be discrete about you being gay. It's unlikely that a tourist would be penalised for homosexuality, but best not to risk it.
Avoid excess alcohol and the use of stupefiants. If you're outside of a resort, you won't be able to buy alcohol anyway, so don't take it with you as it's not allowed. Within the resorts, you can relax and have some cocktails but you probably don't want to get too messy in such fancy locations anyway!
Don't wear valuables in public. The crime rate in the Maldives is relatively low, but it's always best when travelling not to carry around too much in the way of cash or cards in case of pickpockets. If you're staying at a resort store your valuables in the room's safe and only take what you will need for the day if you are exploring other parts of the island.
Invest in a good money belt. Using a money belt that goes underneath your clothes is also a good way to ensure it's much more difficult for anyone to steal whatever cash or cards you do have with you.
---
Like this post? Pin it