TERMS OF USE: There is a chance that some of the content on this page has changed since it was last updated. By reading this article, you consent to our Terms of Use and Disclaimer. Happy Travels!
DISCLOSURE: Some of our posts may contain affiliate links which we may receive a commission if you choose to book something through one of our links.
These are the best gay scuba diving trips and liveaboards for you to experience around the world.
Why do we love scuba diving so much? Well, as Sebastian in The Little Mermaid sang "down where it's wetter, that's where it's better" and he was right!
Is there anything else that lets us live out our seaman fantasy and explore a different world to our own? All the while living it up beneath the warm sun where we can absorb some good 'ole Vitamin D?
Ever since we got certified on our first trip as a young gay couple traveling in Thailand, we've looked for any excuse to do as much diving as we could. And if it means getting to hang out with a bunch of fabulous gay guys, then even better!
We've been on some pretty incredible diving adventures around the world, including a liveaboard in the Komodo National Park and other diving trips in exotic places like the Caribbean, the Maldives, and the Yaeyama Islands in Japan. We've loved every single minute of it and just want more! We're always on the lookout for the next best scuba adventure…and if you're reading this, we know you are too. So, in this article, we've bundled together the 8 best gay scuba diving and liveaboard trips happening this year and in 2022 to inspire your next big scubadventure.
Top tip: make sure to note if an experience requires you to be certified, have prior diving experience, or is BYOG (bring your own gear), before booking!
Let's dive right in!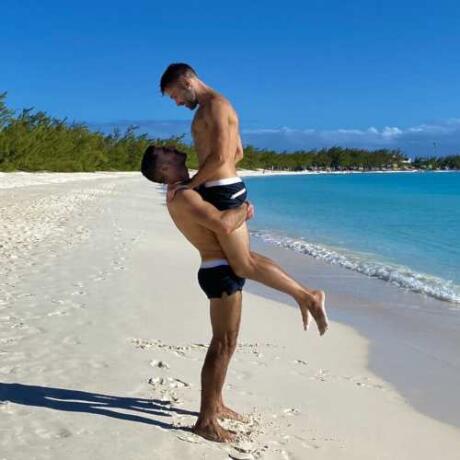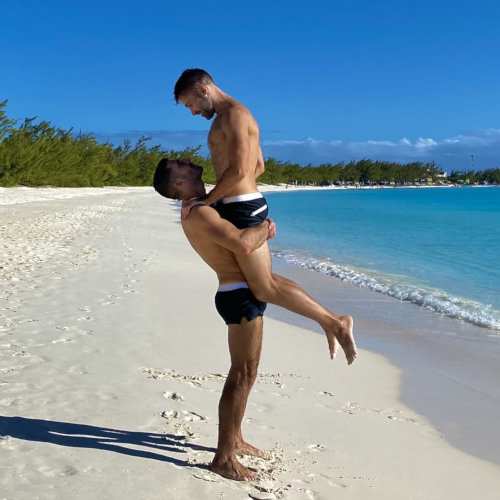 Have some gay fun in the sun
If you're looking to combine sand and sea with a little culture, join one of Out Adventures' sunny gay tours. We particularly love their Croatia: Gay Dalmatia Cruise itinerary, perfectly merging daily swim stops with tours of the country's famous medieval ports and towns. But other options include their big gay Colombian getaway, either of their Cuba tours, and of course their signature Thailand adventure.
01
Cinco De Mayo Gay Scuba Vacation
Cozumel, Mexico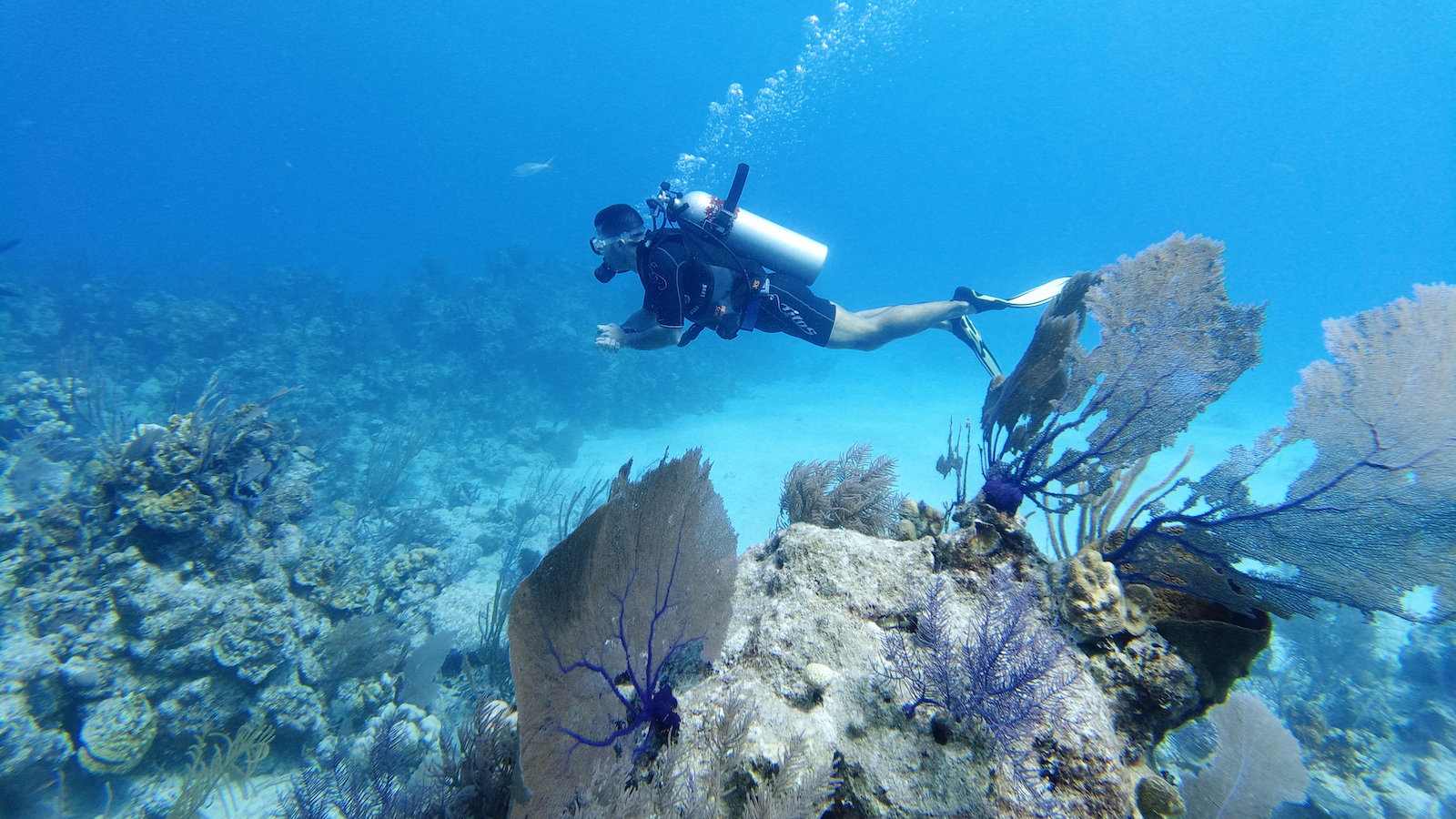 In a nutshell
---
Time of year: May
Accommodation: Staying at the five-star Fiesta Americana Cozumel
Diving: 5 days of morning drift dives
Note: You can become PADI certified on this trip!
Crystal blue waters? Check! Luxurious accommodation? Check Check!! Fun-filled days spent diving and discovering undersea wildlife like turtles, nurse sharks, and thousands of fish with a bunch of gay guys? Check, check, check!!!
Pack up your belongings and jet off to the Mexican island of Cozumel for some drift diving with the gay Undersea Expeditions team. This is one of our favorite kinds of diving. It's where you let yourself be carried around by the ocean tide. It feels like the waters are choosing your adventure for you – and you never know what you might come across.
The gay scuba diving vacation is limited to 24 divers, so trips out to the diving sites never feel too overcrowded. It also means you can focus the time spent out on the boat getting to know people and making friends.
For accommodation, you'll enjoy a 7-night stay at the Fiesta Americana Cozumel resort, where you'll be guaranteed an ocean view room. The hotel itself is ultra-glam, surrounded by a lush rainforest, as well as access to a private beach. The package includes breakfast, lunch, and dinner, as well as complimentary beverages.
The experience takes place in May, which is one of the best times of the year due to the warm waters and calm seas in the region.
Prices start from $1,495 per person:
---
02
Caribbean Explorer Gay Scuba Liveaboard
St. Maarten, Saba, and St. Kitts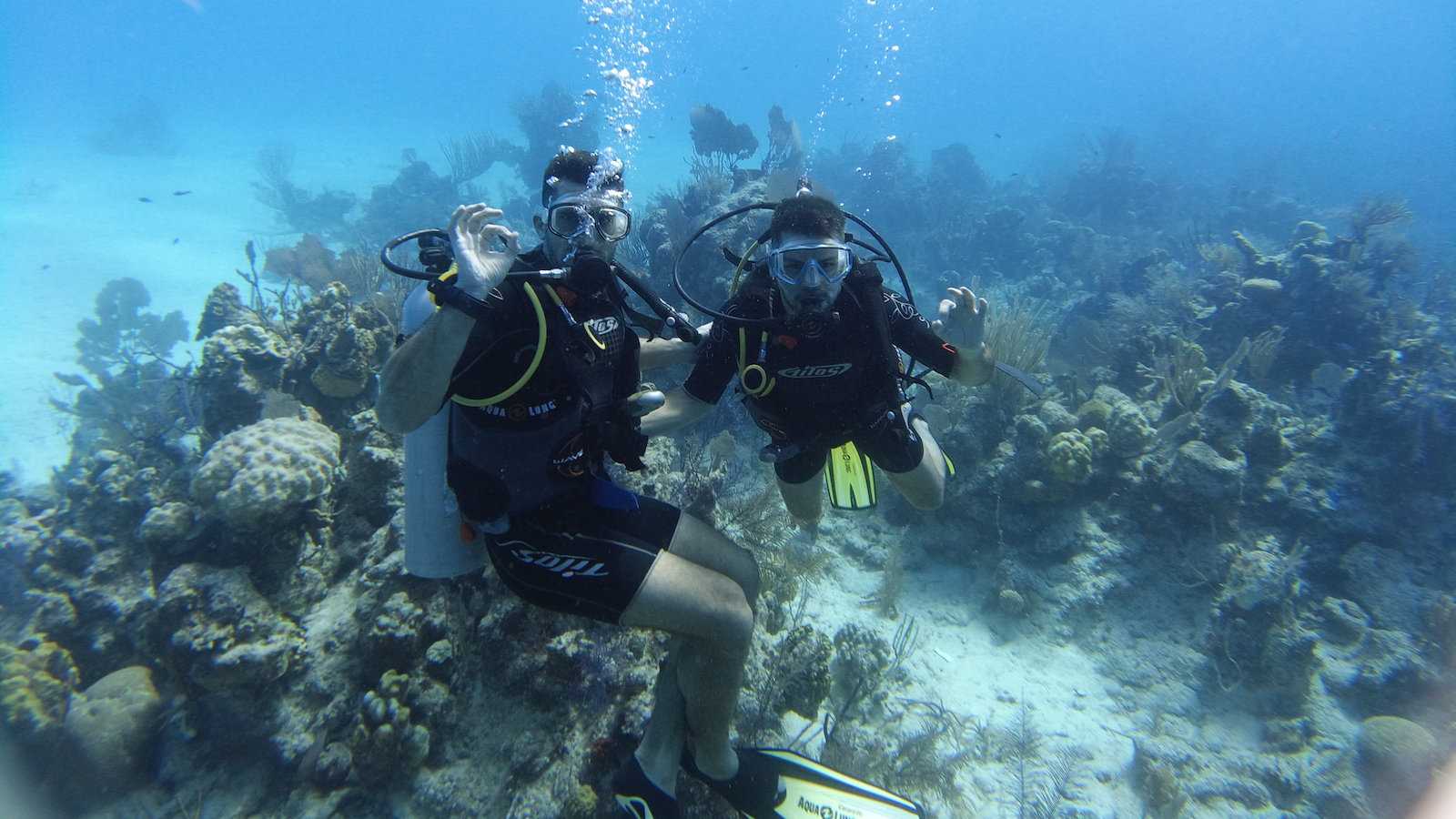 In a nutshell
---
Time of year: June
Gay Liveaboard onboard the Caribbean Explorer II with 18 guests max.
Diving: Multiple sites from the ship's stern
Note: You need to arrive in St. Maarten and leave from St. Kitts
Want to celebrate the 4th of July in style? How does diving into the cool Caribbean waters off the coast of St. Kitts and Nevis sound? It definitely tops getting drunk in your hometown bar. Not only will you be basking in the summer sun, but you'll be accompanied by a bunch of gay men. Talk about a party! Although this isn't as party-centric as one of the big gay cruises happening, it's a whole lot of fun!
UnderseaX's 7-night gay scuba diving trip is sure to be an unforgettable experience. Hopping aboard the ship in St. Maarten, you'll discover the incredible diving sites of Saba, as well as around St. Kitts and Nevis Islands.
The area is known for its mountainous landscapes, lush rainforests, and the green vervet monkey. Yet the underwater sites are just as fascinating. Shipwrecks, tropical fish, giant coral reefs, you name it. There is a whole new world to fall in love with.
The boat you'll be calling home throughout your trip is the Caribbean Explorer II, and while it may be a little on the small side, it means that you'll get to visit the more remote islands. All the meals are included in the package, except for the last evening. That's when you'll venture out for dinner in a restaurant in St. Kitts of your choosing.
Prices start from $1,595 per person:
---
03
Red Sea Gay Scuba Diving
Egypt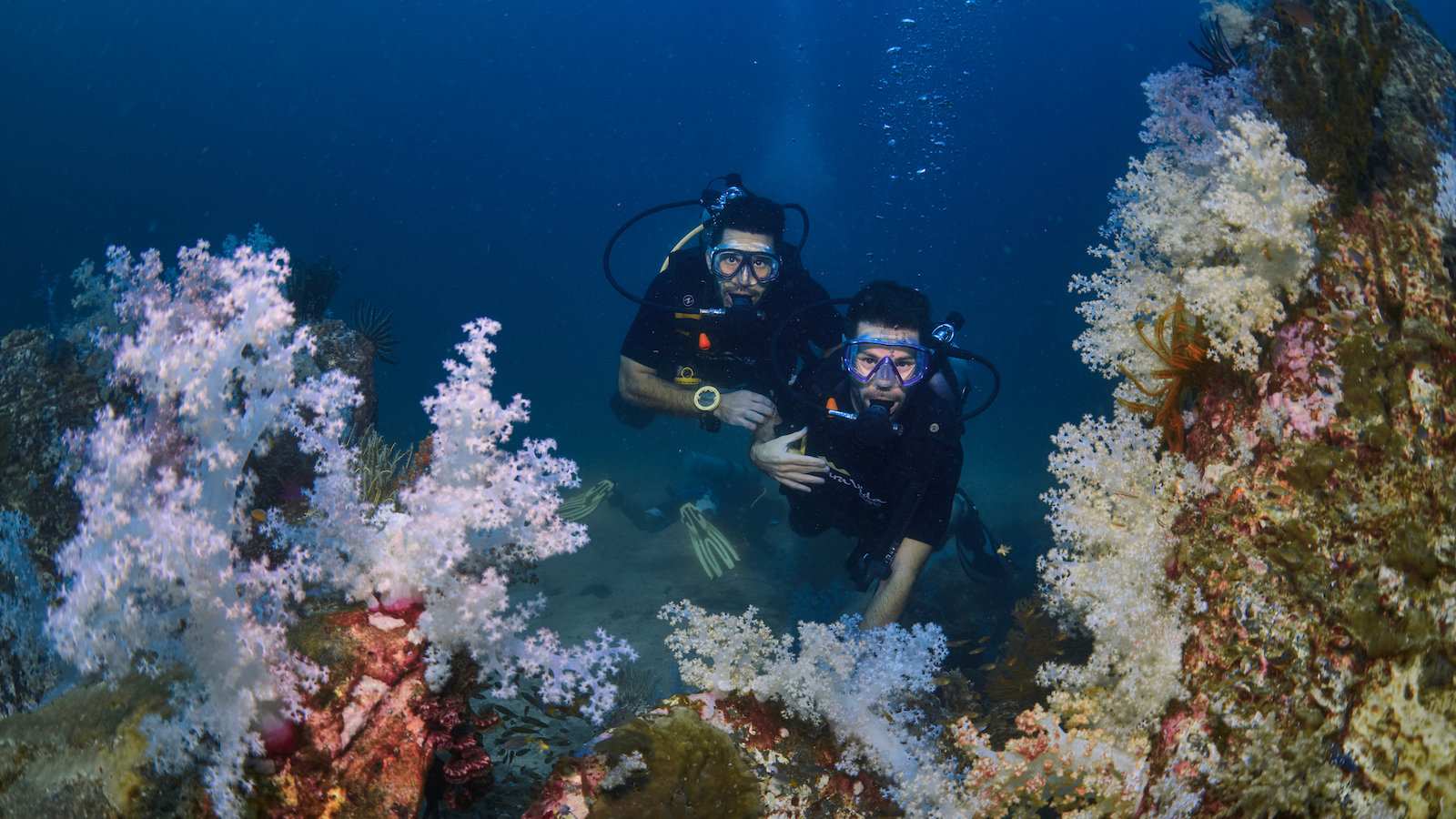 In a nutshell
---
Time of year: September
Gay Liveaboard onboard the MV Asmaa with 20 guests max.
Diving: Wall and reef-diving
Note: All cabins are twin, no double beds
This Egypt gay diving trip calls itself "Simply the Best", and if that isn't an incentive enough to hop aboard, we don't know what is! Who wouldn't want to stay somewhere with the same name as a Tina Turner bop?
You'll be diving within the Red Sea's Marine Park Islands National Park, where you'll enjoy wall diving along the corals and terrain that surrounds The Brother Islands. The "brothers" are the pinnacles of two underwater mountains, and from above, they may seem barren or uninviting. And yet from below? There is a whole universe begging to be found. Spot the likes of tuna, hammerhead, and white tip sharks, as well as the infamous grey reef shark.
Meanwhile, over at the Daedalus Reef, you'll find large coral formations, with spectacular deep underwater walls. There is also a tiny standalone island in the middle of it that hosts an almost 200-year-old lighthouse.
The gay liveaboard can host up to 20 people across 10 cabins. There is a large diving deck as well as an indoor lounge, an outdoor lounge, and a sun deck. Not only are these areas great for hanging around on and making friends with fellow gay divers, but they also always offer a fabulous sight to behold.
Prices start from $1,609 per person:
---
04
Sea of Cortez Gay Scuba Liveaboard
Mexico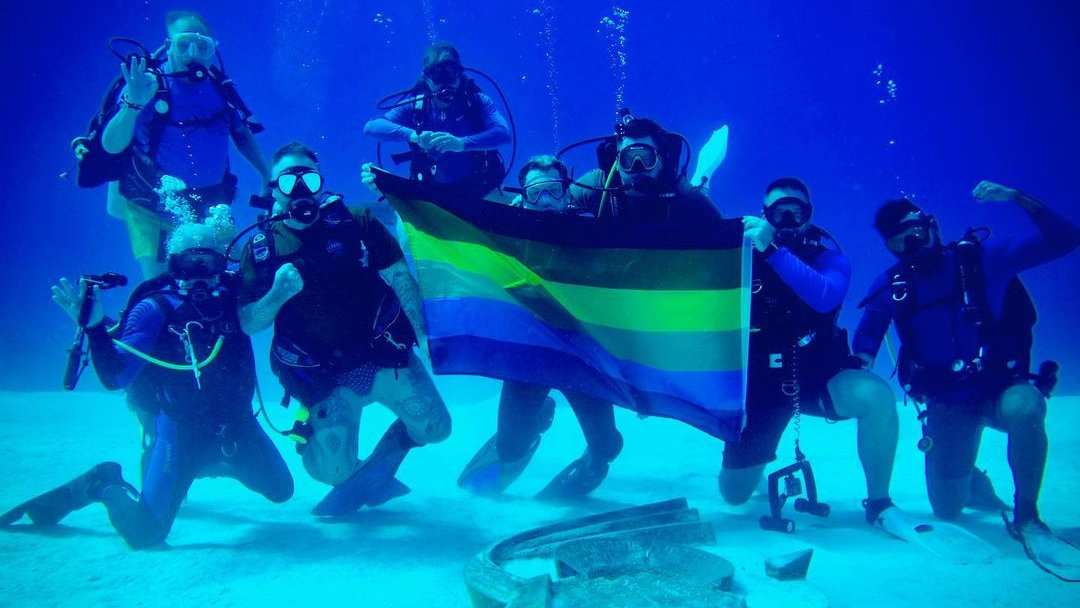 In a nutshell
---
Time of year: September
Gay Liveaboard on the Nautilus Gallant Lady with 12 guests max.
Diving: Coral reef and off-shore diving
Note: Monthly payment plans available!
Hop onto the Nautilus Gallant Lady gay liveaboard and discover the southern Sea of Cortez. Also known as the Gulf of California, off the Mexican coast, Cortez is famous for its rocky reefs, picturesque beaches, and brilliantly blue waters.
This UnderseaX experience is a very intimate gay adventure from start to finish, with the fun beginning just moments from the trip's commencement. The first dive is with sea lions and, trust us, it only gets better from there!
Over 7 days, you'll visit the likes of Los Frailes, an incredible beach, to Cabo Pulmo, a UNESCO World Heritage site. Famous diving sites like El Bajo will allow you to see hammerhead sharks and bull sharks, as well as flourishing coral reefs.
The boat itself is a 116-foot yacht that fits up to 12 divers across 6 large suites. It features a main lounge and dining room area for you to hang out in with fellow travelers between dives. There is also a sky lounge that offers panoramic views of the vibrant surroundings, plus a sun deck for you to top up on your golden tan.
Be aware that some dive sites in the Sea of Cortez can be challenging due to currents and blue water ascents. We recommend this trip for more experienced divers.
Prices start from $2,995 per person:
---
05
Diving for Life International Gay & Lesbian SCUBA Jamboree
Fiji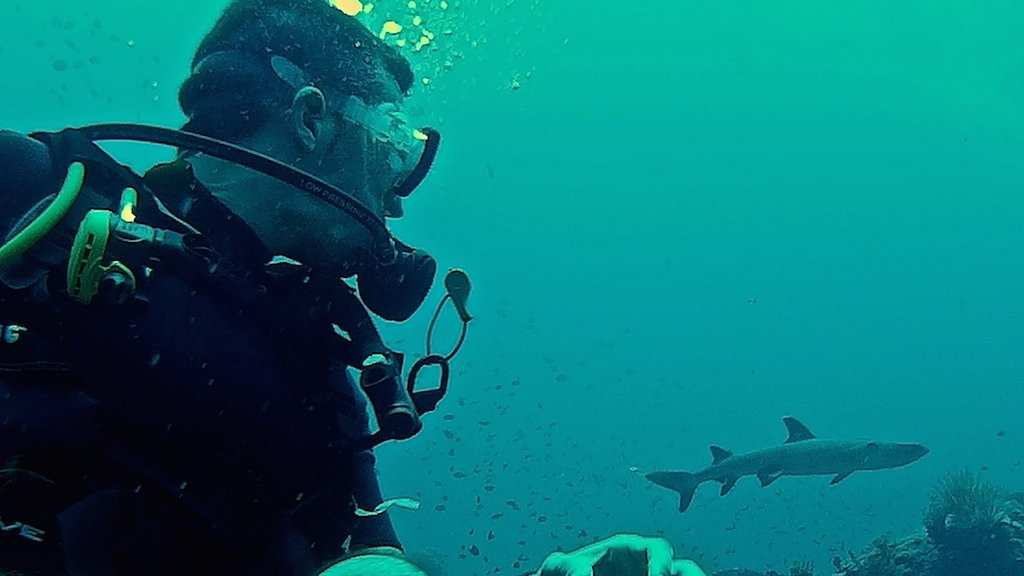 In a nutshell
---
Time of year: October
Accommodation: Staying at the four-star Pearl Resort
Diving: Beqa Lagoon – The World's #1 Shark Dive
Note: Proceeds go to charitable organizations for people living with AIDS and other LGBTQ+ health concerns
Everyone has a daredevil streak in them, and this gay scuba vacation will get it out of you. Coined 'The World's #1 Shark Dive', you'll come close to up to 8 kinds of shark species. It might sound scary, but if you've ever been on the receiving end of a sharp-tongued, tipsy drag queen doing stand-up, then this shark dive will be a walk in the park.
This year marks the 29th Annual Diving for Life International Gay & Lesbian SCUBA Jamboree. What began as a simple fundraiser for those living with HIV/AIDs back in 1992, they continue to raise millions each year for the fight against the disease.
During yout gay vacation, you'll be staying at the Pearl Resort on the Pacific Harbour, which borders the Beqa Lagoon, aka The Mecca of the Pacific Ocean. The Diving for Life group will have an entire building for themselves to not only stay in but dine and party in. You can choose between an ocean view room or a tropical garden view room, both of which are fabulous.
Whilst diving, it isn't just the sharks that you'll be wanting to see. Within the Lagoon, you'll find shipwrecks, and reefs, as well as colourful corals.
Prices start from $2,100 per person:
---
06
Micronesia Gay Diving Trip
Federated States of Micronesia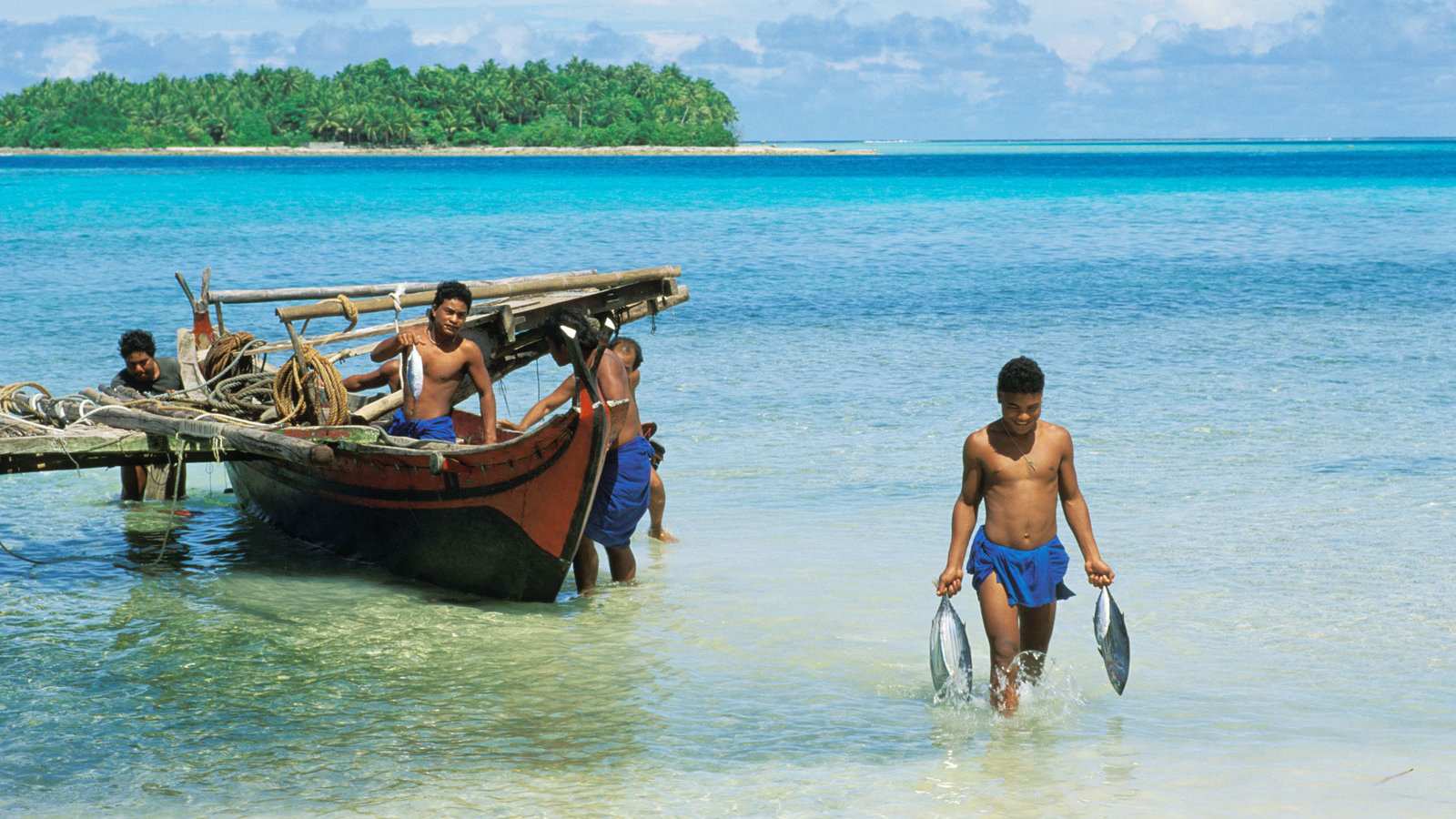 In a nutshell
---
Time of year: December
Accommodation: Staying at the four-star Manta Ray Bay Resort
Diving: Boat dives including a mandarinfish dive and diving with manta rays
Note: Pairs perfectly with the Palau trip (next entry in this post)
Yap, yap, yap, an island so fabulous, you'll never stop yapping about it.
Located in the Pacific Island, Yap is an island in the Federated States of Micronesia. During this gay scuba diving trip, you'll discover the flourishing coral reefs and manta rays that surround the island, as well as immersing yourself in the Micronesian culture. Locals still dress in traditional clothing and giant discs known as stone money can be found dotted along the footpaths between villages.
The UnderseaX gay expedition will see you visiting breathtaking diving sites around the region, where you'll even enjoy a day diving with mandarinfish and have opportunities to dive with manta rays. Other days will see you heading to various other diving sites, so it always feels like you're finding new things to discover.
You'll stay for 7 nights in the Manta Ray Bay Dive Resort, with a guaranteed ocean view room. A family-run business, this resort marries together luxury and simplicity. You'll have access to crowd-free diving sites, plus a spa and restaurant bar.
To ring in the Christmas season, there will be a festive themed party as well – so make sure to bring something red/green or a Santa hat!
Prices start from $2,495 per person:
---
07
Palau Gay Scuba Expedition
Palau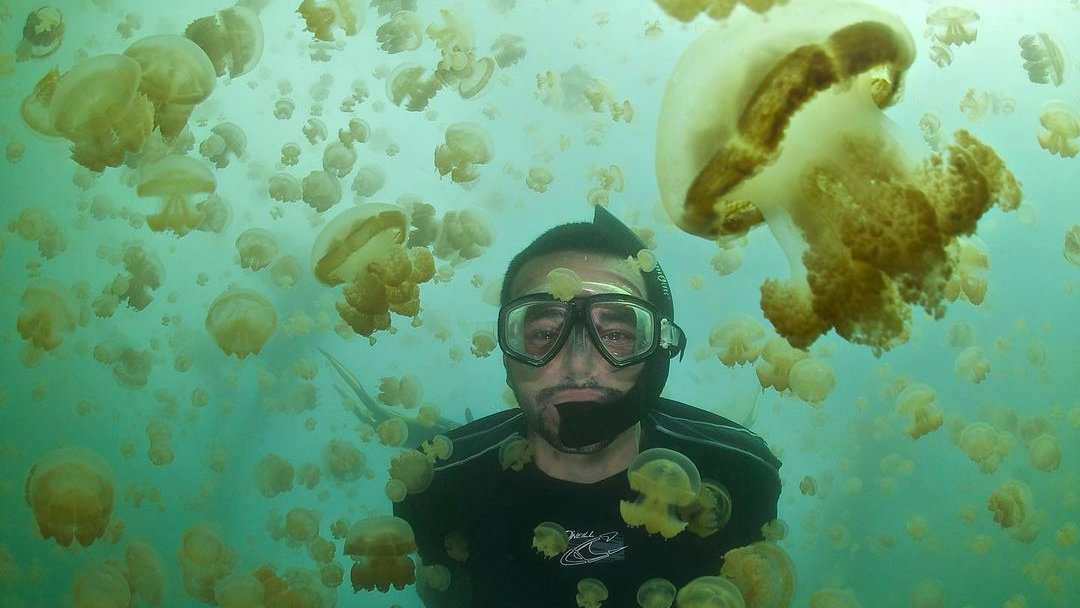 In a nutshell
---
Time of year: January
Gay Liveaboard onboard the Rock Islands Aggressor with 18 guests max.
Diving: Day and night drift dives from a tender
Note: Includes an excursion to the famous "Jellyfish Lake"
Christmas doesn't need to be made up of dark nights and cold weather. Imagine spending the holiday season drifting through coral reefs or getting acquainted with some fishy friends.
Palau is a tiny island in the Pacific Ocean that is home to just 18,000 people. Though it may be small, it isn't exempt from astonishing natural scenery and optimal diving opportunities.
This will be UnderseaX's 12th gay scuba diving expedition to Palau and they're pulling out all the stops to make sure this trip is one to remember. Returning to popular sites from previous trips like Blue Corner, Ulong Channel, and Big Dropoff, they'll also be adding a few new locations to the mix, as well as the opportunity to swim with harmless jellyfish at the famous "Jellyfish Lake"!
There will also be an on-land tour around Peleliu, the battle place between the US and Japanese troops during WW2. Today, you can see the military remains in the island's rocky caves and forests, plus underwater shipwrecks.
You'll be staying onboard the Rock Islands Aggressor, a small but gorgeous and intimate liveaboard. We always think, "the tinier the boat, the more enjoyable the shenanigans"! You get to know your fellow travelers just that much better. All rooms are double occupancy, so it's best suited to gay couples or friends. And if you are going solo, be prepared to share…
Be aware that beginner divers will find strong currents, drift diving, and blue-water safety stops overly challenging. We recommend this trip for more experienced divers.
Prices start from $1,595 per person:
---
08
Visayas Gay Dive Safari
Philippines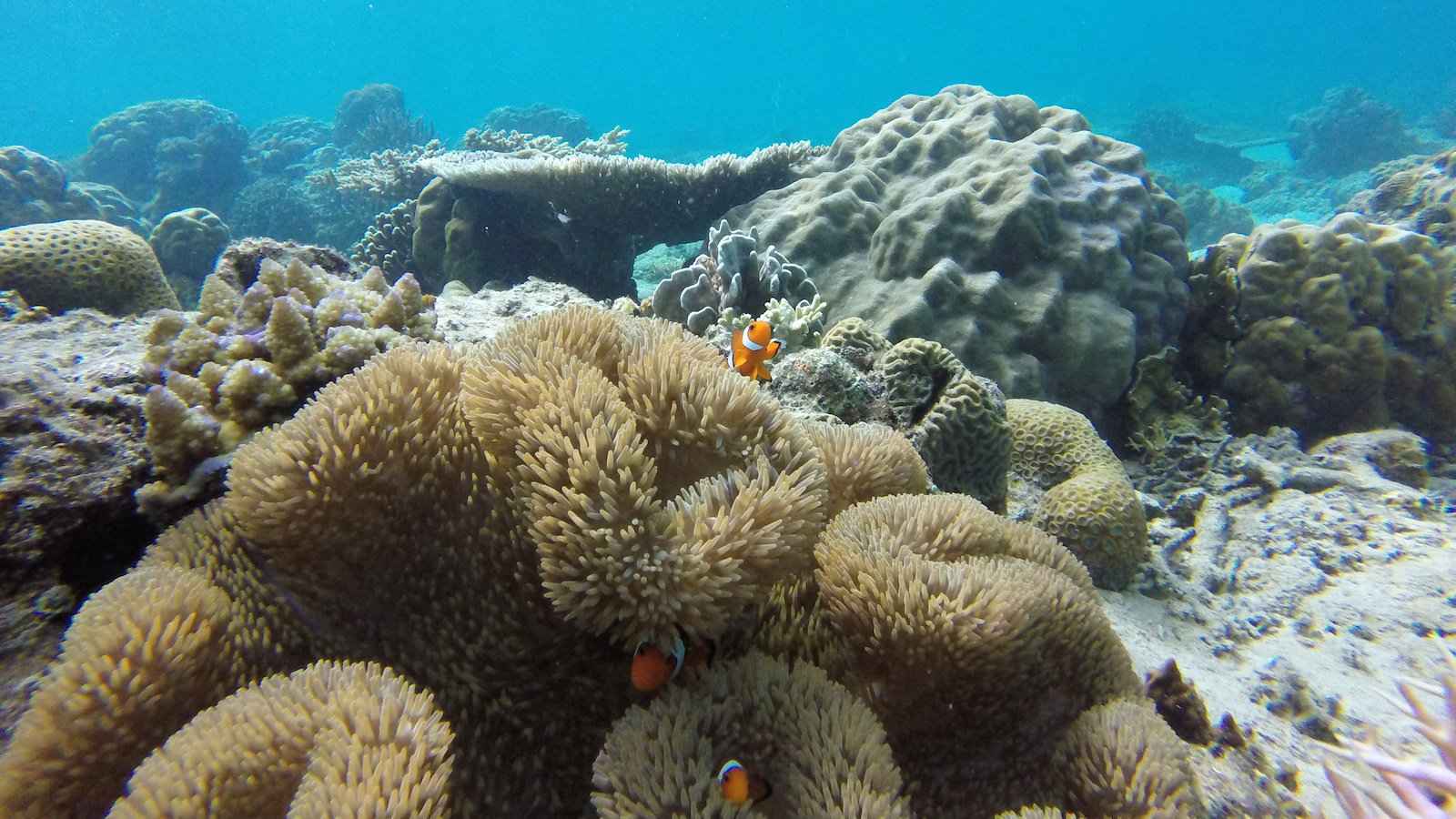 In a nutshell
---
Time of year: May
Accommodation: Staying at comfortable beachfront resorts on 3 different islands
Diving: Muck, wall, wreck and reef-diving plus possible night-dives
Note: You can extend your experience with a trip to Malapascua Island
Every gay diving enthusiast dreams of exploring the Visayas. Make May the time where you make those dreams come true on this gay "dive safari" by Rainbow Scuba.
For those who may not know, the Visayas are a group of islands in the central area of the Philippines. Travelers come here to see rocky formations, cavernous caves, iconic beaches, and of course, the incredible diving sites. Beneath the surface, you can expect to see the likes of magnificent reefs, friendly sea turtles, and tons of other maritime creatures.
The gay scuba diving safari will see you take day trips out to diving areas, whilst fixing you up in luxurious resorts by night. You'll have access to spa treatments and fun restaurant bars, as well as fabulous beaches that you can chill out on after a long day of diving.
Speaking of which, you'll get to try out the ever-so-popular muck diving. This is what they call diving sites where you go on the prowl for weird-looking critters on the seabed. From underwater plateaus, wreck dives, vibrantly colourful coral reefs and an assortment of maritime creatures, there is much to be discovered.
For those who like things a bit *ahem* bigger, there's also the chance of seeing spectacular whale sharks, the largest fish in the sea, which can reach up to 18 meters long!
Prices start from $824 per person:
Happy travels are safe travels
We recommend you always take out reputable travel insurance before your next vacation. What happens if you suffer from illness, injury, theft, or a cancellation? Many gay travelers forget about it and regret it when something happens. Better to pay a small price and have peace of mind and not worry.
---