Delhi was our first stop in India, where we met up with our friend Andrew, visiting us from London and we just HAD to check out a Bollywood class as part of our trip here.
Happy travels are safe travels
We recommend you always take out travel insurance before your next vacation. What happens if you suffer from illness, injury, theft or a cancellation? With travel insurance, you can have peace of mind and not worry. We love World Nomads travel insurance and have been using it for years. Their comprehensive coverage is second to none and their online claims process is very user friendly.
Some of the links in this post are affiliate links. This means that if you book your accommodation, an activity or your insurance, we'll earn a small commission. There is never an extra cost to you for using these links and it helps us keep the site going.
Bollywood is part of the large Indian film industry – a mix of Mumbai's former name of Bombay, and Hollywood. The industry dates back to 1913 when the first silent Bollywood film (Raja Harishchandra) was released.
Bollywood films are great fun. They are extremely camp and melodramatic with a simple storyline to appeal to all. They also involve a lot of singing and dancing so that you really don't need to understand Hindi to appreciate what's going on.
We watched the latest hit, "Bang Bang", which inspired us to take this a step further…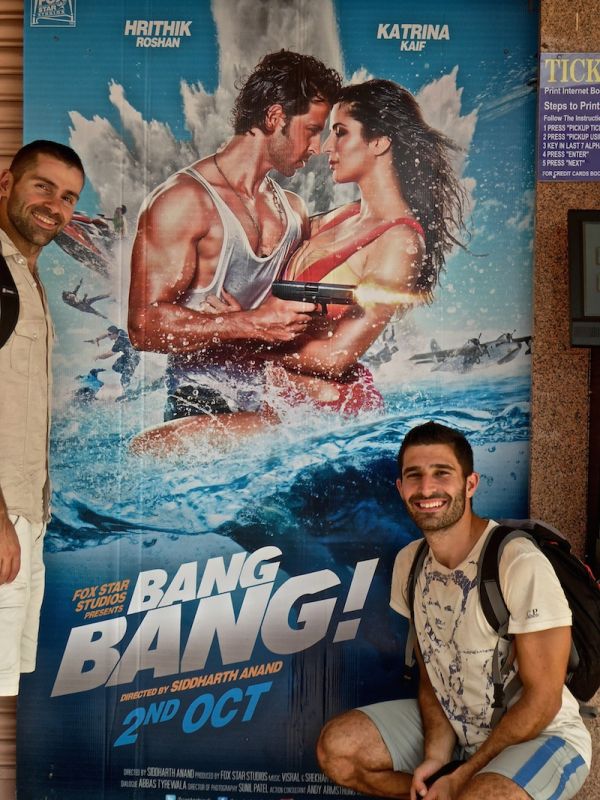 Dancing in Delhi
We took a dance class with the brilliant Delhi Dance Academy, set up by handsome brothers, Arjun and Anant Sandhu: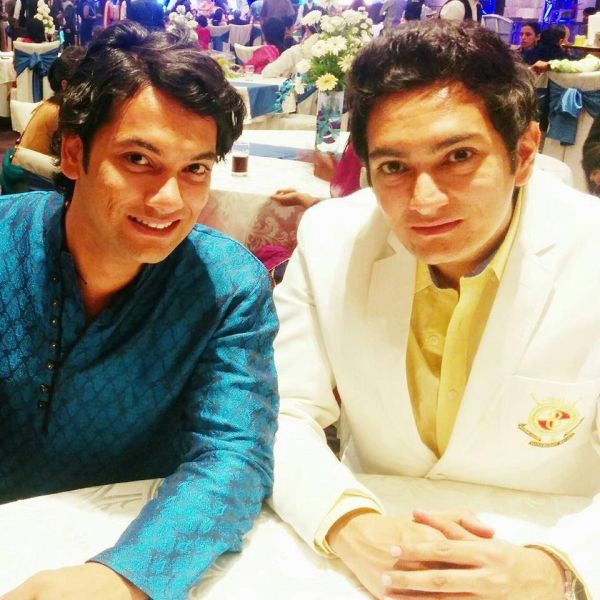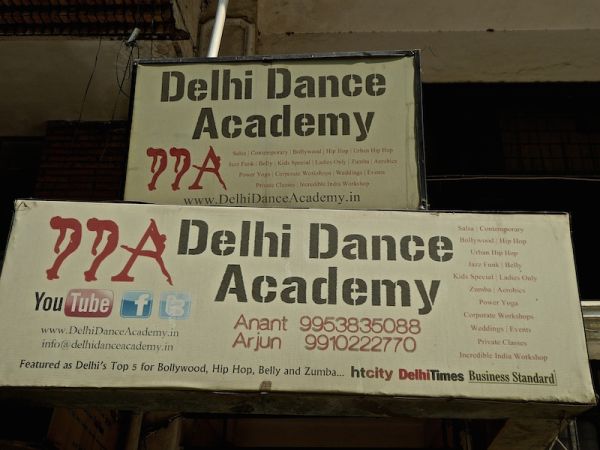 We were welcomed with a marigold flower necklace ("mala"), a red dot tikka painted on our foreheads and given snacks for the day.
Our class involved learning four different Indian dance routines:
1. Bollywood
First up was Bollywood, the one we were looking forward to the most. Traditionally dancing in Bollywood films started with the introduction of sound to the cinema and was mainly classical Indian dance styles. But over the years, the influence from MTV and Hollywood creeped in.
Now it's all about cheesy dance routines with lots of attitude, hips gyrating and posh spice style pointing: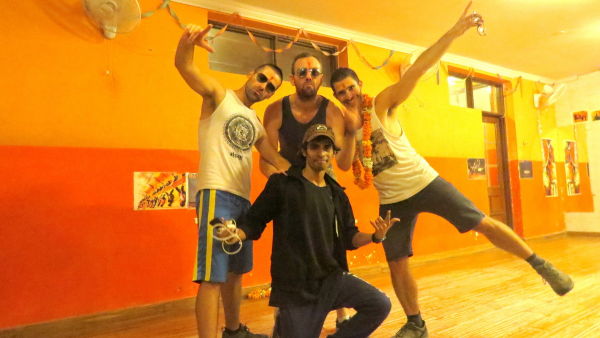 2. Dandiya
Dandiya is a more traditional dance from the Gujurat region of India and popular in Western India.
It involves dancing in a circle with each person holding a stick (the 'dandiyas') in each hand.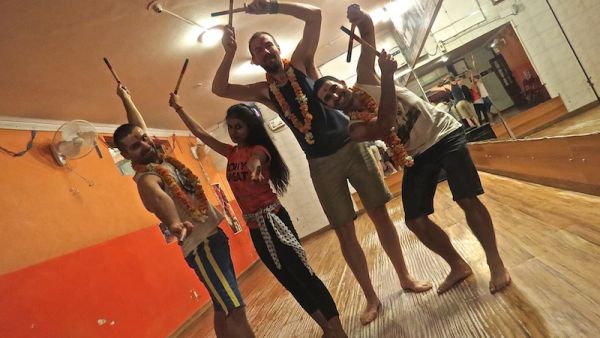 Dandiya is usually popular during the Indian 9 day festival called Navratri. Navratri is a Hindu 9 day long affair in late September/early October celebrating Goddess Durga and the victory of good over evil.
The Dandiya dance is the staging of the victory of Goddess Durga over the buffalo headed evil demon-king, Mahishasura. It's nicknamed 'The Sword Dance' because the dandiya sticks represent the swords of Durga.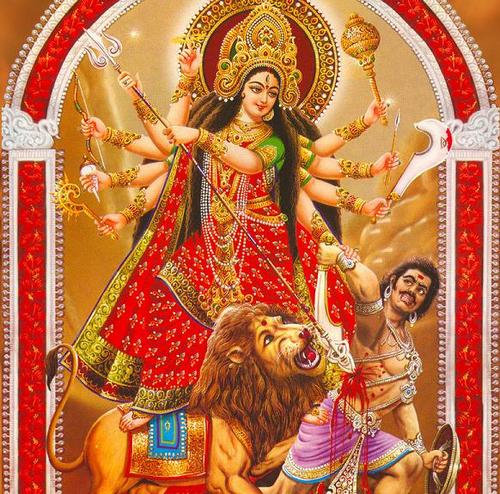 3. Bhangra
Bhangra is a high energy Punjabi (an area of North India) dance, traditionally used to celebrate 'Vaisakhi' (Sikh festival celebrating a good harvest season).
Bhangra is popular at Sikh weddings, parties, family celebrations and of course in Bollywood films.
It's often danced in circles, uses a lot of arm and shoulder movement, and of course, lots of attitude: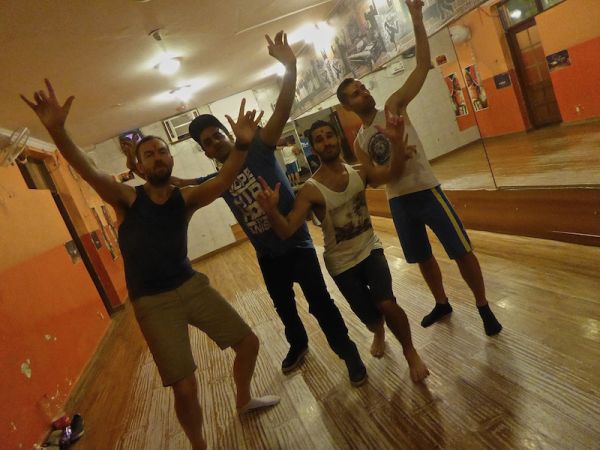 4. Belly dancing
Belly dancing is an Arabic dance not as popular in India because it is considered too risqué for such a conservative country.
Its actual origins are varied. Some claim it's originally a religious ancient Greek dance during fertility to help prepare girls for labour and was part of the delivery ritual. Others trace it further back to a form of Egyptian social dance, which spread throughout the Middle East with the migration of the gypsies. The gypsies eventually reached Europe and Flamenco developed.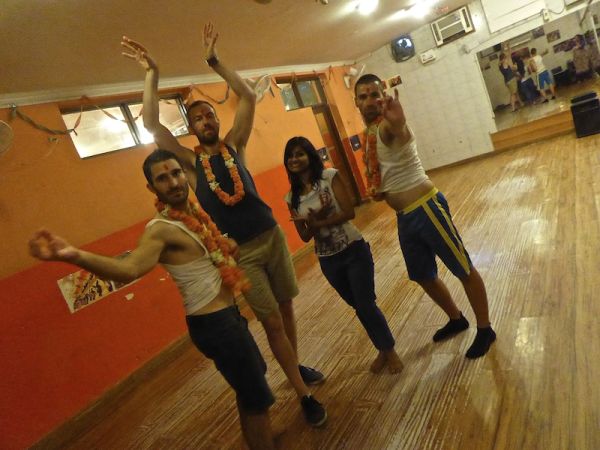 For more tips check out some of the best hotels in Delhi and watch our video mashup of our 4 Bollywood classes at the Delhi Dance Academy:
FOR MORE FROM OUR TRAVELS IN INDIA, CHECK OUT OUR VIDEO: