Nothing says 'I love you' quite like the Taj Mahal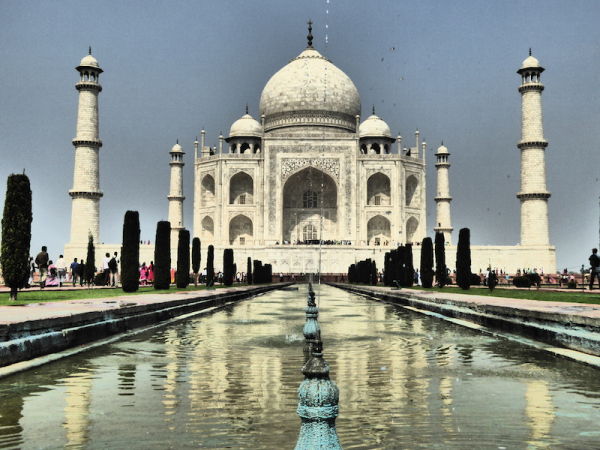 A guy built this entire beautiful marble mausoleum in memory of his late wife.
This caused us a BIG problem: World War III almost broke out between these two greedy boys as Stefan demanded the same from Sebastien…
Ok we're joking.  Stefan is not that much of a diva (except when he starts breaking plates because Sebastien burnt the dinner again)…
…but the history behind this building is what makes it so romantic and even more wonderful.
Inspiration for the Taj Mahal
The Taj Mahal was built by India's Mughal emperor Shah Jahan (between 1632-1653), along with over 22,000 people and 1,000 elephants of course.
It was built in memory of Shah Jahan's 3rd wife, Mumtaz Mahal after she died in 1631 in child birth (giving birth to their 14th child).
Mumtaz must have been one helluva lady!
Apparently the colours of the Taj Mahal change depending on what time of the day it is and whether there's moonlight at night.  Some people believe this signifies the different moods of a woman, in particularly Mumtaz's moods…!
Getting to Agra
We visited the Taj Mahal as part of our "Golden Triangle" (Delhi-Agra-Jaipur) tour through North India.
Like most people, we took the early morning train to Agra.  This was our first stop in our month travels through India and a real eye opener.
This train takes you through Delhi's suburbia slums and you see what the train lines are really used for – one massive outdoor toilet: we'd never before in our lives seen so many squatting bums in one snapshot moment!
Agra was unfortunately also just one big toilet for us: a big irony as one of the world's most beautiful buildings (the Taj Mahal!) is here.
One of the Seven Wonders of the World
Our friend Andrew visited us from London for 2 weeks as we toured through North India together.
Andrew is very very tall (195m / 6ft 5 inches) and in a country where the average height of men is around 165 cm (5ft 5 inches), he was literally like one of the 7 wonders of the world to all the Indians at the Taj Mahal…!
Everyone wanted their photo taken with him:
We loved the Taj Mahal building a lot and spent a long time there admiring its beauty:
And finally, our Nomadic Boys video with the Taj Mahal:
FOR MORE FROM OUR TRAVELS IN INDIA, CHECK OUT OUR VIDEO: