Fresh off the plane, our Porteño friends Pablo and Gustavo welcomed us, and took us straight to the Pepo Pepona gay restaurant in Palermo so we could have our first taster of the famous Argentinian steak.
Just as we were tucking into our bife de chorizo, the restaurant's entertainment started: a handsome (extremely well endowed!) Argentinian lad came gyrating from table to table, quickly losing all his clothes…
At that moment we knew we were going to enjoy this city a lot!
Buenos Aires is one of the most visited cities in South America, rich with history, culture (tango shows anyone?) lots of delicious food (this is steak country remember) and of course lots of sexy boys – like the Pepo Pepino stripper boys who welcomed us on our first visit…!
We've been to BA several times during our big trip across Latin America, using it as a base. This allowed us to really explore the best of the gay scene and make lots of local friends along the way. We've taken all this info and bundled it up to create this bumper gay guide to the Buenos Aires gay scene including best hotels to stay, gay hangouts, events, things to do and more.
One thing we can confidently say, whoever you are, whatever you're into, you're definitely in for a treat in BA.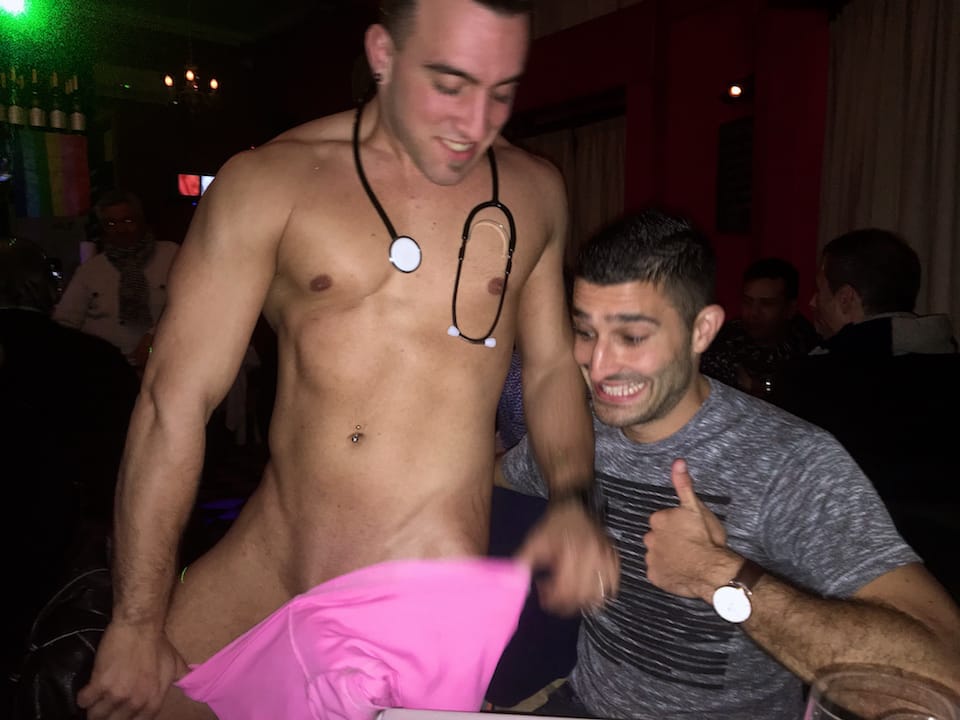 Gay travel in Buenos Aires
Buenos Aires is overall a gay friendly city to visit. It has a large gay scene, one of the best gay Prides in Latin America and Argentina ranks as one of the most gay friendly countries in our humble opinion with very progressive LGBTQ laws. For example, homosexuality has ben legal here since 1853, loooong before the UK (in 1967) and the USA (in 2003). It was also the first country in Latin America to legalise gay marriage in July 2010, which included full adoption rights.
When we arrived at our hotel in San Telmo, the reception staff and a few other locals told us that the city is extremely dangerous for first timers and we should take care, avoiding going out alone after 6pm. With hindsight, this was a total over reaction by them. It's no different here than New York, London, Paris or Barcelona. It goes without saying that you should keep your wits about you and avoid dodgy neighbourhoods like Boca at night. If anything, we found it to be one of the safest cities in South America.
All the hotels we stayed at in Buenos Aires welcomed us as a gay couple. But we always email in advance informing them we are a gay couple and asking if they're ok to host us; none of the hotels we contacted responded negatively to this question.
STAY WITH A GAY LOCAL
Misterb&b is the Airbnb equivalent for the LGBTQ community. Unlike on Airbnb, you know your host is gay, avoiding any nasty surprises when you check in. It is also a great way to meet gay locals and discover the underground gay scene. Click below to get 10 € (or $10) off your first booking.
Buenos Aires gay neighbourhood
Unlike the gay scene of Montreal, there is no exact gay village in Buenos Aires, but Palermo is definitely the main gay area of Buenos Aires. The majority of the main gay bars and clubs can be found here, with pockets of fabulousness spread further afield in the Villa Crespo, Retiro, Recoleta and San Telmo neighbourhoods. Palermo is also very residential, which makes it the ideal base.
The majority of the main tourist sites are spread across Recoleta, Retiro and San Telmo, which are all very easily accessible from Palermo via the city's metro system or taxi. We relied on Uber in Buenos Aires, but be warned that official it is "illegal", so your driver will ask one to sit in the front so it doesn't look like a taxi service.
Gay hotels in Buenos Aires
Whilst the majority of the best gay nightlife of Buenos Aires is in Palermo, we think some of the best gay/gay friendly hotels can be found further afield, particularly in San Telmo, Puerto Madero and Recoleta. We've included a few options in Palermo we tried out for those who do want to be based here. We also recommend checking out Airbnb or Misterbnb for apartments to stay in Palermo if you prefer your own place. For a more detailed insight, check out our guide to the best gay hotels of Buenos Aires.
Faena Hotel: the ultimate luxurious place to stay in BA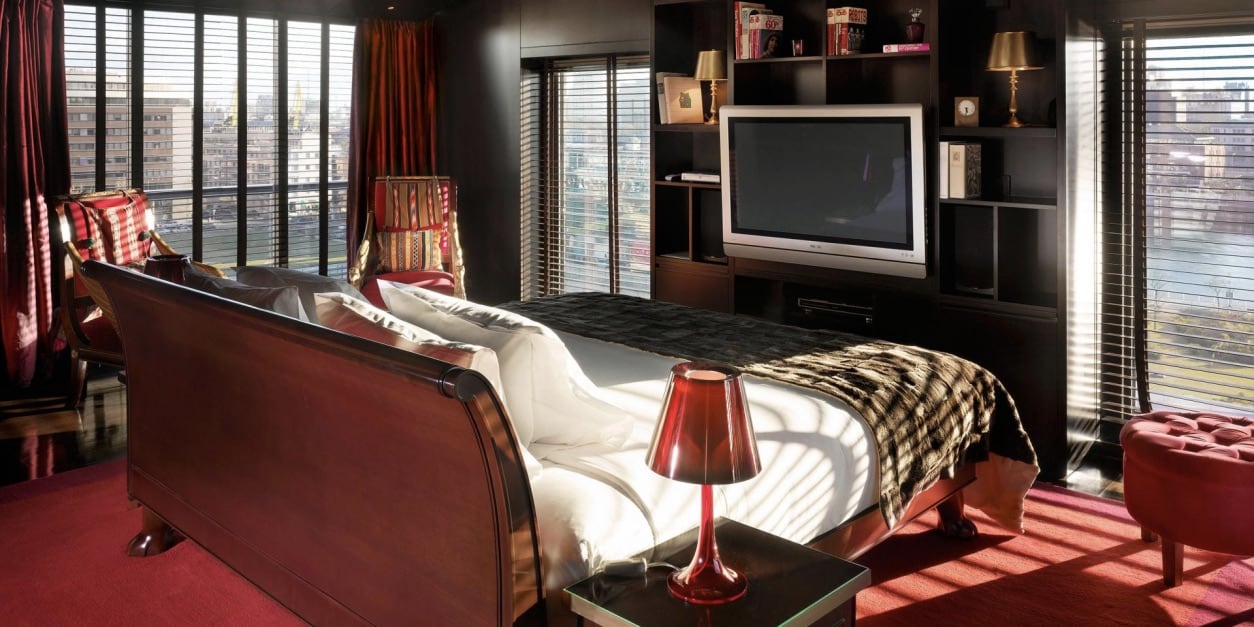 Faena is one of the most luxurious gay friendly hotels to stay in Buenos Aires, located in the "Puerto Madero" neighbourhood, which overlooks the Rio de la Plata. It's massive, decorated in classic European design with a modern twist. If you're not staying here, then you'll want to at least come check it out or even go to one of their Madero Tango dinner shows; it's touristic but one of those things you can't not do when in BA.
The rooms at Faena are large and lush – the epitome of decadence. The best rooms are the ones overlooking the river and the iconic "El Puente de La Mujer" bridge.
Puerto Madero has a lot of green space, which is ideal for hiking and biking. The area around Faena Hotel, particularly along the river bank is perfect for morning jogs. We made a point of doing this every morning as it's a great way to explore the neighbourhood, whilst burning off those dulce de leche calories…!
Rooms at the Faena Hotel start from $340.
Mio Hotel: classy gay friendly hotel in Recoleta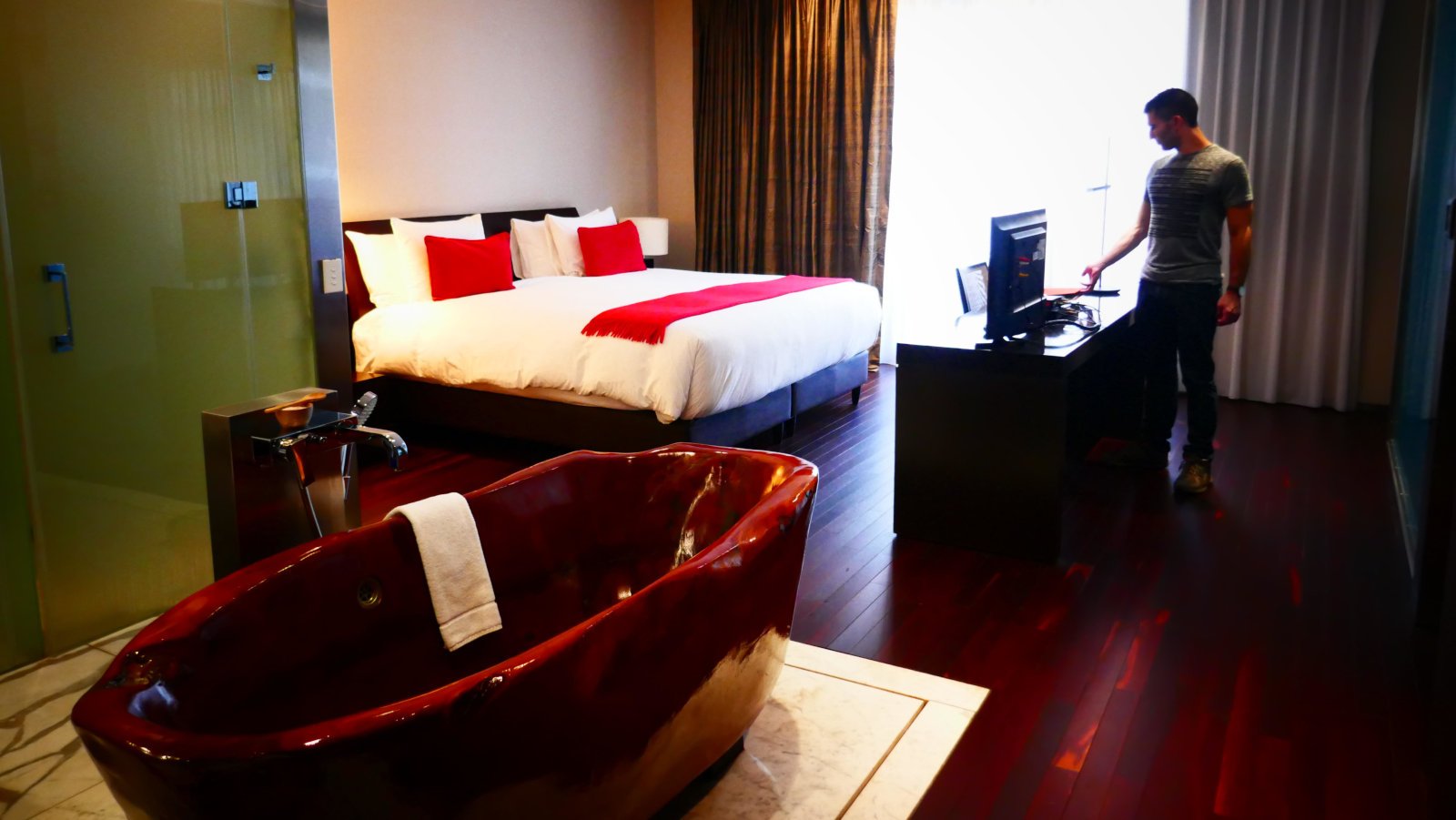 Mio Hotel is one hell of a sexy hotel. You will swoon from the moment you enter – it just oozes class from every crevice. Even the cute hotel staff will charm the pants of you.
The rooms are elegantly designed to offer intimacy and luxury. The carved wooden bath tub is the crowning glory centre piece where Sebastien spent many hours deliberating over life's most existential issues.
Mio is located in well-to-do Recoleta, close to the famous Evita cemetery and the large metallic Floralis flower. There are many excellent restaurants nearby such as the highly rated Fervor, the more local Rodi Bar and the very plush Italian La Pecora Nera.
Rooms at Mio start from $240 a night.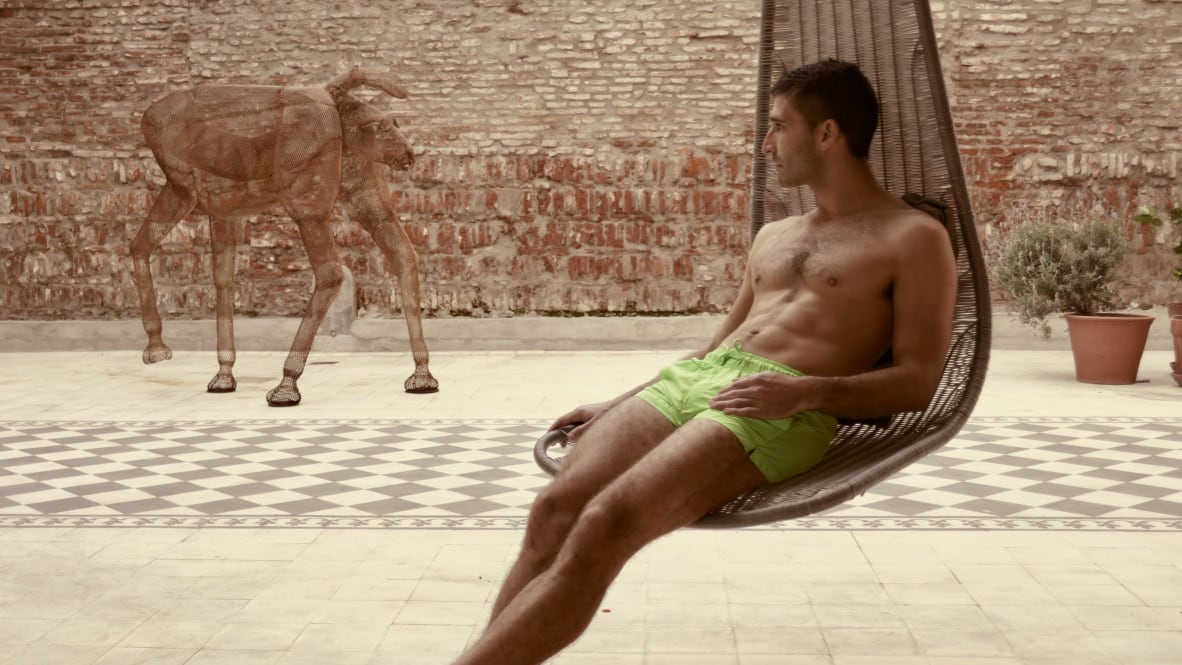 Patios de San Telmo is a stylish and chic boutique hotel, which was originally used as a family home in the 1860s, but subsequently abandoned due to the Yellow Fever epidemic. It has since been restored to its former glory and converted into a hotel with the original features still in place. We love the high doors and ceilings as well as the really quirky art exhibitions on display…look out for the, er, horse installation with its head coming out of its butt!
The Patios de San Telmo is located right in the heart of San Telmo, which is our favourite neighbourhood of Buenos Aires. You're minutes walking distance to the vibrant Sunday market as well as the Pride Cafe and the Tuesday queer tango classes of Maldita Milonga.
Rooms at Patios De San Telmo start from $100 a night.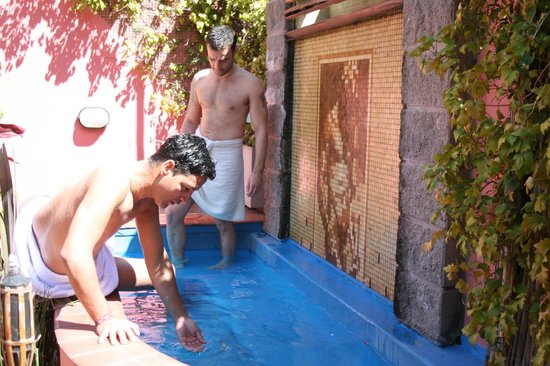 This is one of our favourite exclusively gay hostels in Buenos Aires. As a bonus, it's in our favourite neighbourhood – San Telmo. Just be warned, this isn't particularly luxurious: the rooms are basic and you'll have to carry your suitcases up lots of staircases to reach it. But if you want a decent gay budget place to stay, then this is it!
The staff are terrific and really make you feel welcome. Solo gay travellers will particularly love Lugar Gay because it's so easy to make friends here. Check out their rooftop terrace, complete with hot tub!
Bunk beds at Lugar Gay start from around $30 and private rooms from $55.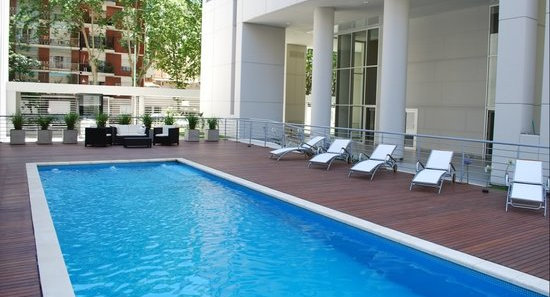 If you're looking for a gay guesthouse to stay in the heart of Palermo, check out this aptly named gem. Roy is the gay local who rents out his guest room, located in a large condo.
Roy is personable and takes good care of his guests, including providing a bountiful breakfast to giving all recommendations you'd possibly need from gay scene to best places to eat nearby. As a bonus, you have access to the condo's 31st floor gym and 65ft (20m) swimming pool. Prices are reasonable starting from $75 in low season, however availability may be quite tricky as it's just one room available, and Roy requires a 4 night minimum stay.
Gay bars of Buenos Aires
There's a handful of gay bars spread out throughout Buenos Aires, but you'll find the majority in Palermo. Just remember that Argentinians start the night very late, so most places don't get busy until after 11pm.
These are a few of our favourites, but be sure to check out our detailed guide to the best gay bars of Buenos Aires for a more comprehensive list.
Sitges: one of the oldest gay bars in the city and the best place to come for drag shows. The drag queens are absolutely hilarious although we probably understood around 10% of what they said; although we speak Spanish, their Porteño slang is something else! Their most popular place-to-be-seen evening is their Julepe party on Saturdays, which includes sexy GoGo dancers. Sitges is open every Wednesday from 8pm to 3am and Thursday to Sunday from midnight to around 6am. It is located at Avenida Cordoba 4119 in Palermo.
Peuteo: small "hetero-friendly" unassuming video bar. It's super cosy and friendly, but drinks here are quite expensive compared to the other bars. Best time to visit is on weekends. The name "Peuteo" is a play on the naughty Spanish slang word of puto. We'll leave it to you to discover what that means…! Peuteo is open Wednesday to Sunday from 9pm to around 5am and is located at Gurruchaga 1867 in Palermo.
KM Zero: one of the only gay bars of Buenos Aires that is open every day of the week, although it's busiest at weekends. KM Zero is a basement bar featuring a range of drag shows and quirky acts like strippers dressed as aliens. It's open daily from midnight until 7am and is located at Avenida Santa Fe 2516 in Recoleta.
Flux: another bar open daily. Flux is a small retro basement bar in the touristic heart of Buenos Aires in Retiro. As it's one of the few gay bars of Buenos Aires open earlier, it makes it the perfect spot to start the night with a few cocktails. They encourage this with their daily Happy Hour deals. Flux is open daily from around 8pm until 2am (3am on weekends) and is located at Marcelo T de Alvear 980 in Retiro.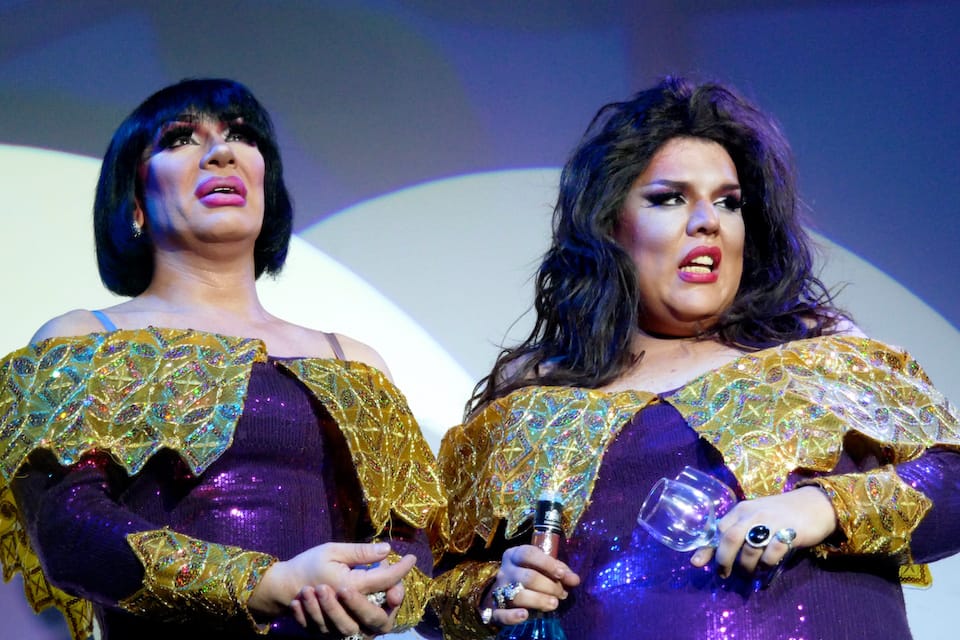 Gay clubs of Buenos Aires
As we said earlier, Argentinians do things veeery late, just like in Spain. Dinner is from 9pm onwards, going out for drinks doesn't happen till after 11pm, so for clubs, you don't want to be thinking of heading there until at least 1am, otherwise you'll be waiting by yourself for quite a while! As a result, the gay nightlife of Buenos Aires goes on until the early hours of the next morning. However, we do strongly advise having a few hours siesta if you're planning to go our partying in Buenos Aires. We certainly did and felt better for it!
These are a handful of our favourite gay clubs in Buenos Aires:
Glam: definitely the best gay night out in the city in our humble opinion. It has the perfect mix of a sexy cool crowd who are mainly in their 20s and 30s. It's large, spread over 2 rooms, one for electronic music, the other for latino pop. They also feature live shows with GoGo dancers throughout the night. Glam is open every Thursday to Monday evening (closed Tues/Weds) from midnight till 6:30am and is located at Cabrera 3046 in Recoleta.
Contramano: is the most popular bear club in Buenos Aires. It's only open on weekends, but nights out here are always a laugh with a really friendly crowd. Unlike Glam, the people at Contramano are generally a lot older, mainly in their 30s/40s+. For us the highlight is the music. We pop kids at heart and they're always on point here with the best Latino pop hits that every good gay boy wants to hear! Entry includes a free drink: the popular one that all the cool kids here drink is called "Speed" – it's Argentinian red bull with vodka. Contramano is open on Friday-Sunday only, from midnight till 6am, and is located at Rodriguez Peña 1082 in Recoleta.
Amerika Disco: the largest gay club in Buenos Aires, and after Theatron in Bogota, one of the largest in South America. This place is massive, with 3 floors and 3 separate dance areas attracting around 2,000 every weekend. The crowd is generally quite mixed; expect to see lots of sexy Porteños here! They have a famous bear night every other Saturday evening. Amerika is only open on Friday to Sunday from midnight until around 7am and is located at Gascon 1040 in the Almagro neighbourhood.
Fiesta Puerca / Fiesta Plop: popular twink parties every weekend at Teatro Vorterixm. They have live DJs, GoGo dancer shows and a mix of pop hits and Latin music like cumbia (similar to salsa). Fiesta Plop takes place on Friday evenings and Fiesta Puerca is on Saturdays. Teatro Vorterixm is located where Federico Lacroze and Alvarez Thomas streets meet in Palermo.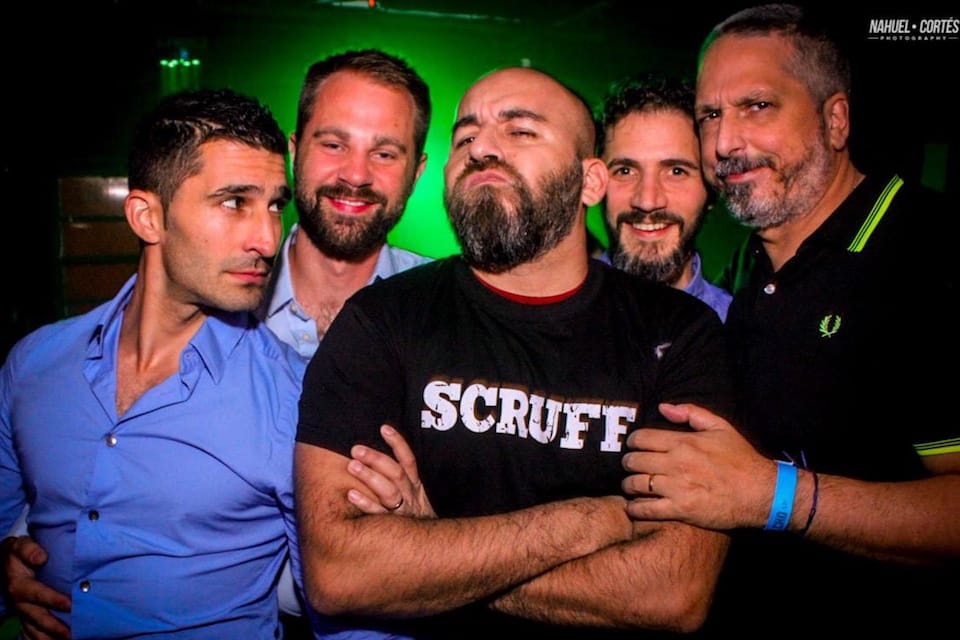 Gay cafes in Buenos Aires
The main gay cafe of Buenos Aires is Pride in San Telmo – one of our favourite gay hangouts in what we think is the most exciting area of BA.
Pride Café: one of the most famous gay hangouts of Buenos Aires and one we love coming to, especially on Sundays after shopping at the famous San Telmo market. Tip from us: their dulce de leche brownie is DIVINE! Pride is located at Balcarce 869 in San Telmo and is open daily until 8pm.
Gout Cafe: another "hetero-friendly" cafe of Buenos Aires. Not as famous as Pride, but more notorious for its gluten-free menu (and delicious coffee). Gout is located at Montevideo 1480 in Recoleta and is open daily from morning to 8pm.
El Patio de la Casona: is a tiny hidden cafe tucked away in a courtyard in San Telmo. We stumbled on it during the Sunday market when we were looking for a space to chill out from the crowds and noticed the rainbow flag flying outside. It's not as popular or well known as Pride, but still worth a visit, if anything for the super Instagrammable courtyard surrounding it. El Patio is located at Defense 1179 Local 9 in San Telmo.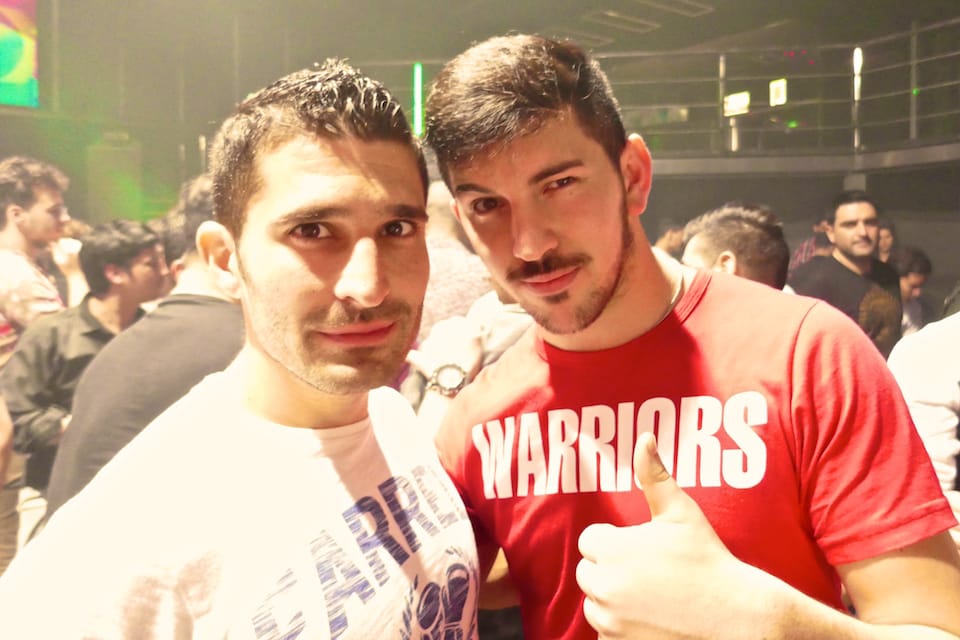 Gay milongas for tango
What's the first thing you think about when you come to Buenos Aires other than Madonna's Evita? Tango!
At its inception in the 1880s, tango was originally danced between 2 men in the back alleys of Buenos Aires. This is because there was a shortage of women at the time amongst the immigrant population. So the only way for men to get with a woman was either via prostitution or to impress her with some sultry dance moves. Therefore, the men practised with each other.
Sadly, since the late 1800s, same sex tango dancing got lost in Buenos Aires… until 2002, when queer tango milongas (tango clubs) set up, offering classes for the LGBT community. The 2 best and most popular ones are:
Tango Queer: queer tango class happens every Tuesday evening from 8:30pm followed by freestyle dancing and a live show. It takes place at the Maldita Milonga, located at Perú 571 in San Telmo.
La Marshall: has a queer tango class every Wednesday evening from 8:30pm, with freestyle dancing happening late into the night. La Marshall is located at Yatay 961 in Villa Crespo.
Gay friendly restaurants in Buenos Aires
These are some of the best gay restaurants in Buenos Aires, including gay owned and gay friendly/mixed: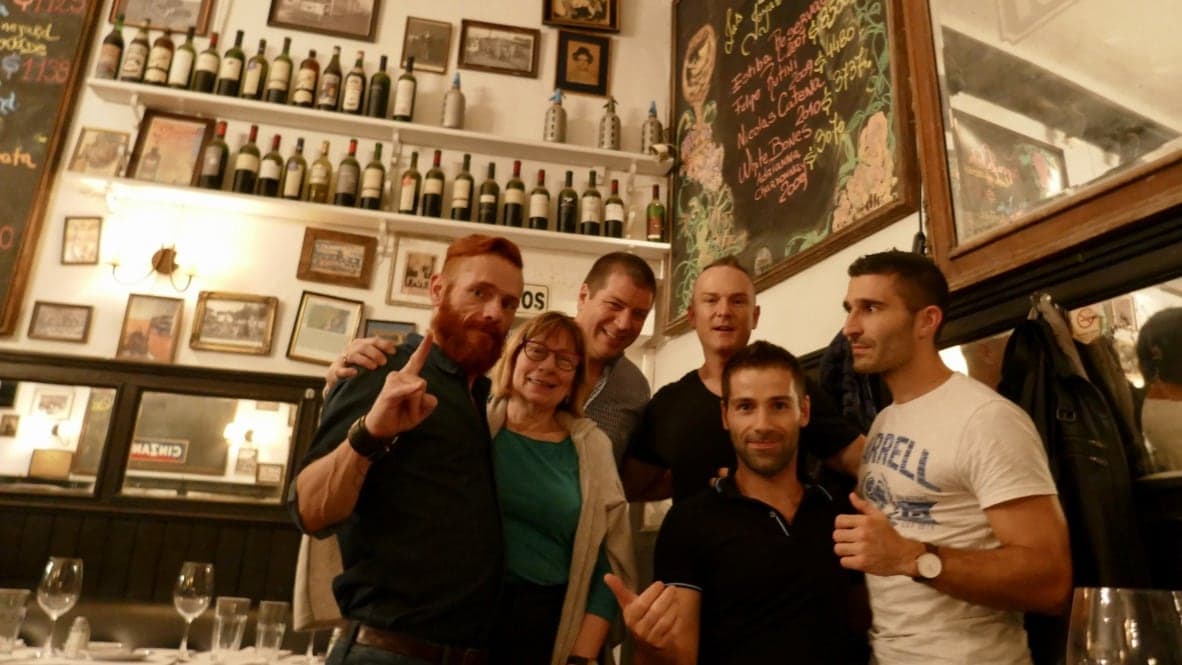 Gay events in Buenos Aires
As well as having one of the best gay prides in Latin America, Buenos Aires has a few other gay events worth checking out, all of which take place in November:
Asterisco Film Festival: the city's LGBTIQ film festival takes place in early November. It showcases the best movies about sexual diversity and unites both filmmakers and activists.
Gay Pride: the annual Marcha del Orgullo is one of the largest gay pride events in South America, attracting around 200,000 people. It takes place in the first week of November in the Plaza de Mayo and is the city's largest street party.
Queer Tango Festival: every November, this 5 day festival takes place, which has grown to become one of the city's most unique and important dance events. It includes performances, lessons and numerous workshops hosted by several milongas.
Gay saunas in Buenos Aires
These are the main gay saunas in Buenos Aires. Markus is more a day spa you go for massages and treatments. The rest are more sex orientated bath houses:
Markus for Men: is a male-only day spa offering massages and a very cool Jacuzzi to relax in. It's not a sex sauna – simply a spa for men, both gay and straight. It does of course help that the masseurs are incredibly attractive young men who are ever so talented with their hands. Definitely worth checking out when trying to tackle the jet lag.
Madison Men's Club: small but one of the most popular gay saunas in Buenos Aires, located between Palermo and Recoleta at Medrano 1047. Madison is open daily from 1pm to 11pm, and until 5am on Saturdays.
Homo Sapiens Spa: popular gay bath house of Buenos Aires near the Amérika gay club in the Almagro neighbourhood on Gascón 956. It is open daily from midday to midnight.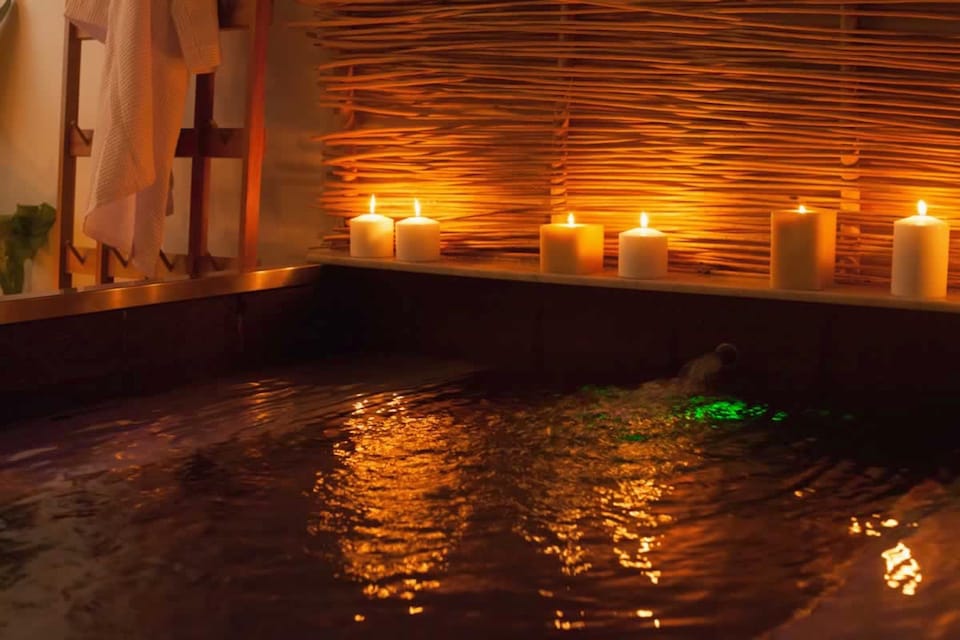 Gay cruising in Buenos Aires
There are several gay cruising areas in Buenos Aires, which we set out below. As always with cruising, make sure you only carry the bare minimum and leave all valuables at your hotel.
Bosques de Palermo: this is the main urban park of Palermo, along the path near the railway tracks. Cruising happens when it gets dark and later into the night. Also check out "Plaza Ecuador", which is behind the horse-racing track and goes all the way to Avenida Figueroa Alcorta.
Public toilets: there are many across the city where cruising commonly happens. The most popular/busy ones include the small toilet in the Retiro metro, the Hoyts Cinema toilet and the Coto Supermercado toilet across the road.
Top things to do in Buenos Aires
Whilst Buenos Aires is guaranteed to fulfil all steak, Evita and tango cravings you will no doubt have before touching down, we've set out a comprehensive list to include the obvious and not-so-obvious sites, experiences and highlights you should check out:
Feria de San Telmo: we love San Telmo. It's our favourite neighbourhood, always bursting with character, full of history, street art and has this terrific not-to-miss Sunday market. The cobblestone streets of the neighbourhood are lined with antique and souvenir sellers. Buskers and tango dancers perform on almost every other street corner, adding to the intensely colourful atmosphere. This is a definite must see in the city. We completely fell in love with it and are certain you will too.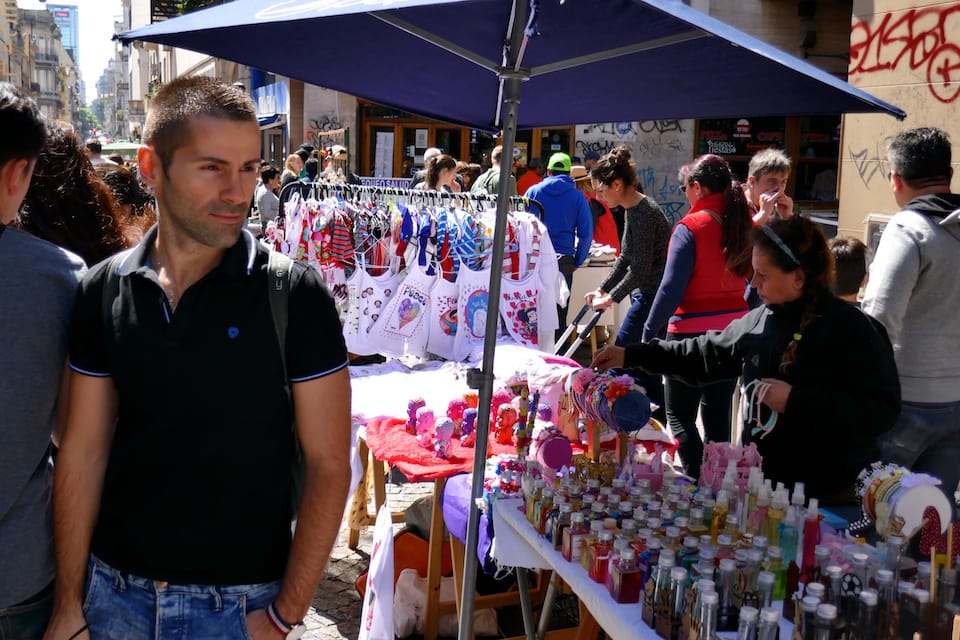 Casa Rosada: the pink parliament where Evita Madonna famously sang THAT famous anthem!
Recoleta Cemetery: where Evita's grave can be found along with many other incredibly dramatic and extravagant ones.
Floralis Génerica: the iconic metallic flower of the city located in the Plaza de las Naciones Unidas in Recoleta. It is designed to open its petals in the morning and close up in the evening.
Boca neighbourhood: check out the cute colourful streets of Caminito as well as Bonbonera stadium. If you're a football fan you'll want to attend a Boca Juniors v River Plate match for the electric atmosphere!
Puerto Madero: the old port of Buenos Aires recently revamped into a very cool neighbourhood with lots of bars and restaurants. An evening walk here when it's lit up is quite simply, magical, especially the view of the iconic Puente de la Mujeres bridge.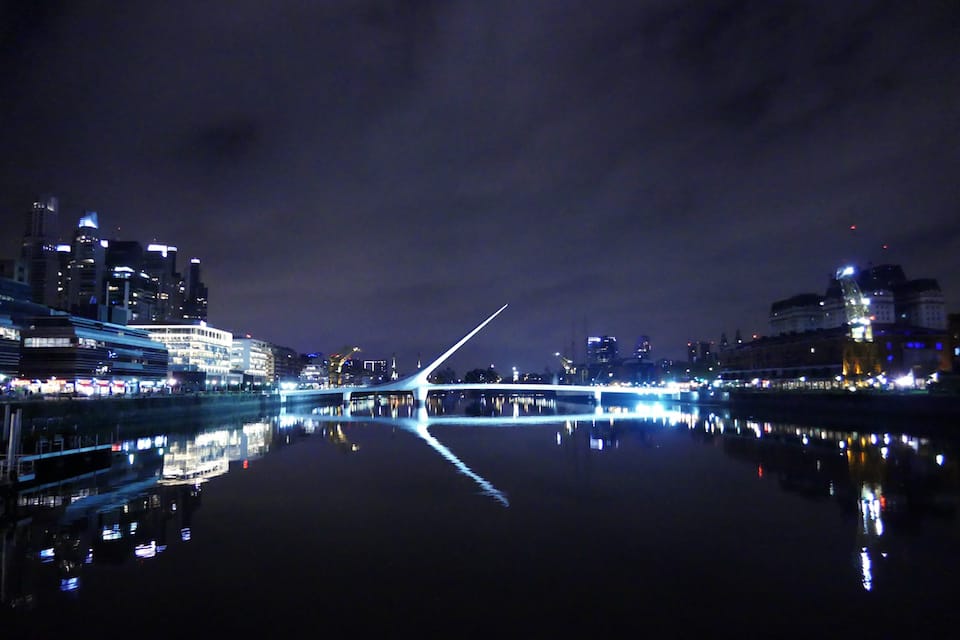 Parilla foodie tour: the best way to enjoy a steak in Buenos Aires is at a parilla (pronounced parisha with the local accent). These are the city's famous steakhouses. The parilla itself is the name of the large iron grill in which the meat is barbecued.
For first timers, a parilla tour offers a good introduction to the famous steak and other culinary gems like choripáns (Argentinian hot dogs) and empanadas. We had an amazing experience with Parilla Tour Buenos Aires who took us around the best parillas in Palermo and taught us a great deal about Argentinian culture.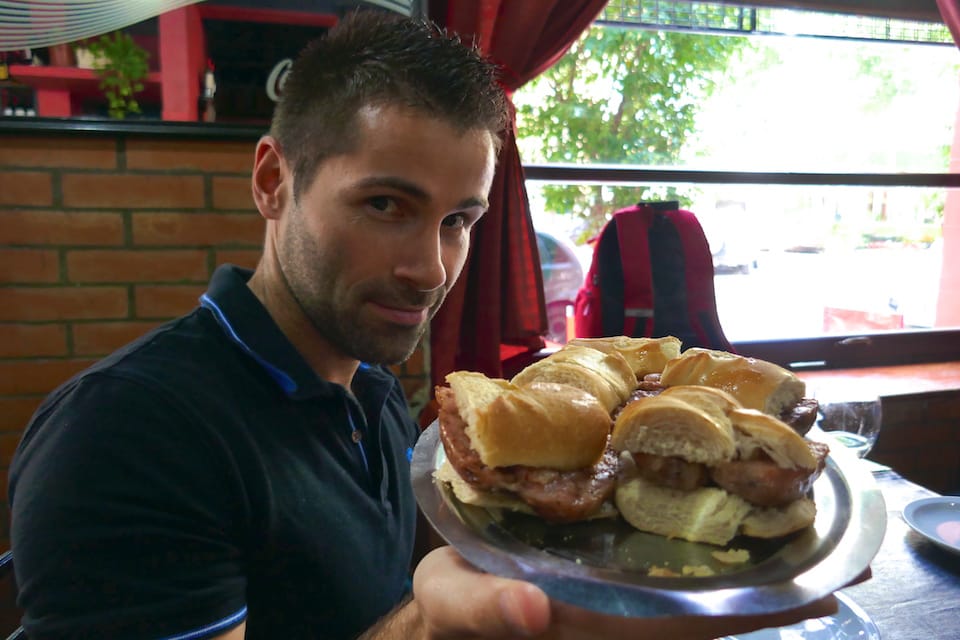 Watch a tango show: a candlelit dinner while watching a tango show is one of the best memories we have of Buenos Aires. There are many places tango shows with dinner but our favourite is Madero Tango. The food is a delicious mix of Argentinian classics and the show is based on a story of the evolution of tango with some of the sexiest and impressive dancers you've ever seen. The location is at the bottom end of the Puerto Madero neighbourhood, so you get some pretty stunning night views across the river when it's all lit up. Also at the end of the show, the performers offer a dance class as part of the experience so you can learn the basic moves to show off back home.
The Premium tickets are the most exclusive, costing $200 (£164) per person, which are for the best, front row seats in the theatre, private dining and a more involved, intimate experience. Alternative ticket prices are offered depending on how far back you choose to sit.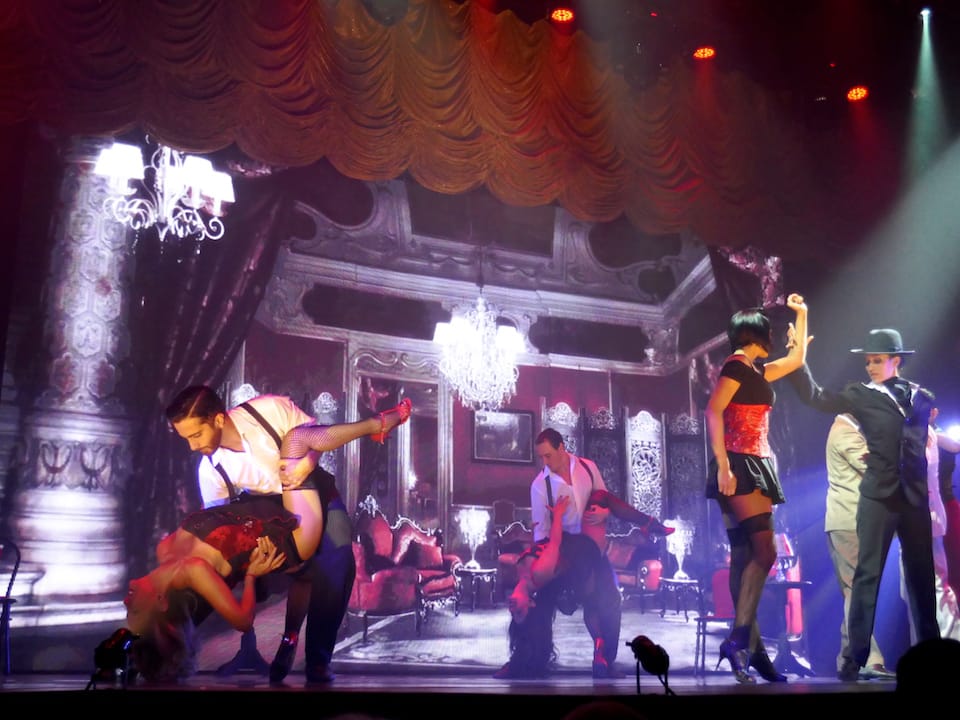 Cooking class: the Argentine experience is the ultimate cooking class in the city! We came here with a group of friends and had an amazing evening. We had an empanada contest (sadly we didn't win) and learnt how to prepare the perfect mate (popular bitter tea drunk everywhere in Argentina).
But the highlight for the greedy Frenchman was when the ubiquitous dulce de leche (caramelised condensed milk) made its appearance and he learnt to put together alfajor de maicena cookies:
Learn to play Polo at a traditional estancia: we had a fun day out in the countryside town of Capilla del Señor as part of the Argentina Polo Day. The experience is set in a traditional estancia (cattle ranch) where we got a flavour of the gaucho culture, enjoyed a Sunday asado and of course, played lots of polo. Polo is like hockey, except on a horse and quite difficult because you have to really reach down from your horse with your stick to hit the ball.
After winning the polo match, we shared a bountiful asado (Argentinian barbecue party) with the players, washed down with Malbec and lots of polo banter.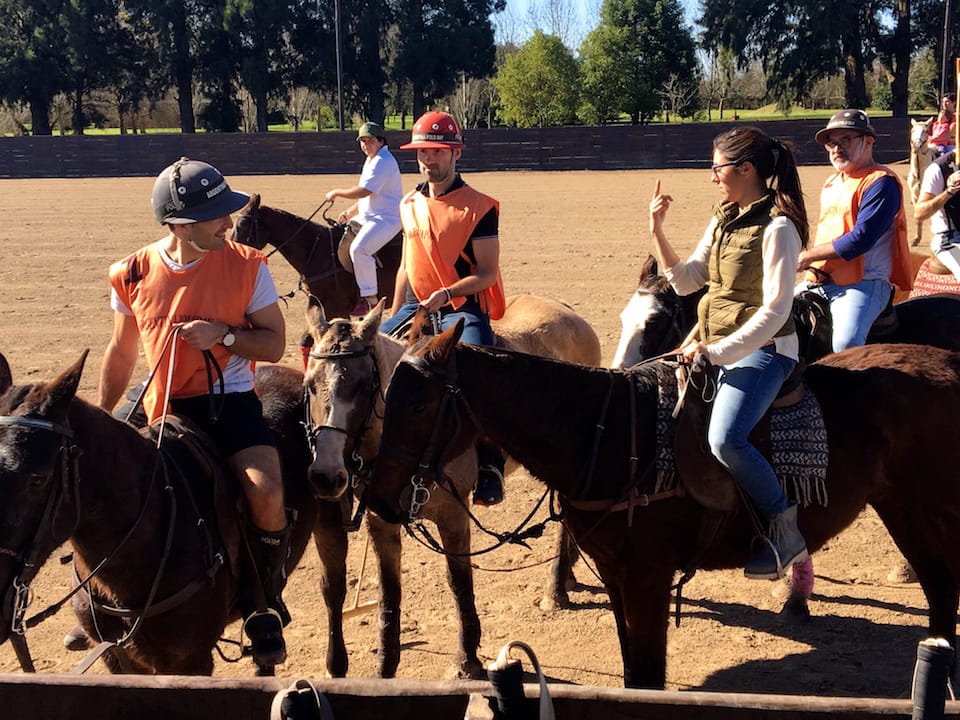 For more inspiration, be sure to check out our article about the most romantic things to do in Buenos Aires.
Gay map of Buenos Aires
The gay scene of Buenos Aires is quite spread out, but the focal point is predominantly in the large residential Palermo neighbourhood with a few places in super cool San Telmo and in well-to-do Recoleta.
Here's our own gay map we created of the places we visited during our 2 months stay in the city:
OUR FAVOURITE TRAVEL TIPS
⭐️ TRAVEL INSURANCE — We recommend you always take out travel insurance before your next vacation. What happens if you suffer from illness, injury, theft or a cancellation? With travel insurance, you can have peace of mind and not worry. We love World Nomads travel insurance and have been using it for years. Their comprehensive coverage is second to none and their online claims process is very user friendly.
⭐️ SAFETY & SECURITY — All travelers (gay or not) can sometimes encounter danger when traveling. CloseCircle is your "virtual body guard" mobile app which provides security alerts and support wherever you are in the world. They have a 24/7 emergency response team monitoring their users who will contact you immediately if the SOS swipe button is activated. Support can include anything from practical advice, to free evacuation from areas with extreme weather or security risks. You can read more about CloseCircle in our article about how to stay safe whilst traveling.
⭐️ ONLINE ANONYMITY — A VPN (Virtual Private Network) is a must in many countries: it allows you to surf anonymously and maintain your privacy whilst traveling. You'll particularly need it in countries where gay dating apps are blocked by the government. We recommend ExpressVPN, a reliable and cost effective service which we used and loved during our travels.
⭐️ HOTELS or APARTMENTS — When we plan a trip, we always look for the best hotel deals. We love Booking.com because not only do they have a comprehensive listing of accommodation options, they also offer the best prices. Added bonus: they provide 24/7 support and free cancellation for most listings.
⭐️ SIGHTSEEING and ADVENTURES — When we travel somewhere, we like to seek out the best experiences, whether it is cooking with locals in Bangkok, hiking on a glacier in Patagonia, or going on a wildlife safari in Sri Lanka. Our favorite place to look is GetYourGuide because they have over 30,000 highly rated activities, a user-friendly booking process with free cancellation and a 24 hour customer support.
This article contains affiliate links. If you click on them, we may receive compensation which keeps our website alive and helps us bring you to more destinations.
For more inspiration:
Pin to read later