Villa Awang Awang is a beautiful retreat located in the heart of the Balinese countryside, near Ubud.
The name Awang Awang means floating in the space between heaven and earth which aptly describes our experience here: villas perched dramatically on the edge of a deep ravine with breath-taking views of the sacred Petanu River and a lush tropical surrounding jungle.
This is the perfect place to experience the true Balinese culture and natural beauty of the Island of the Gods.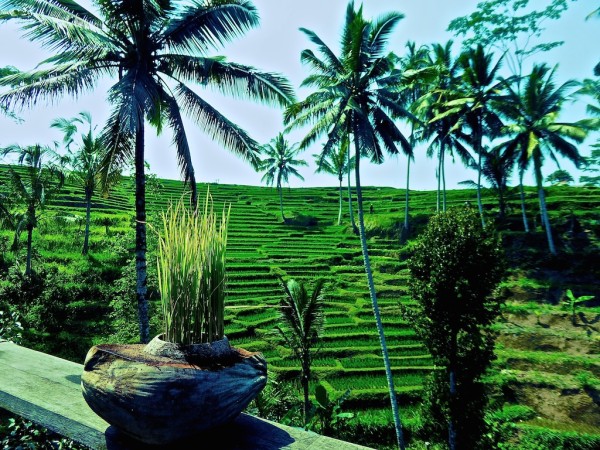 WHERE IS VILLA AWANG AWANG?
Awang Awang is located in the tiny village of Melayang, just 10 minutes away from central Ubud.
This makes it ideal because you are close enough to Ubud to be near the major sights, shops, bars and restaurants, but away from all the noise and traffic making it an ideal base for a romantic getaway.
OUR VILLA AT AWANG AWANG
The villas at Awang Awang were designed by Balinese architect, Ida Bagus Wiadnyana and completed in 2005.
They were built using local materials such as hand-carved stone and hand-made terracotta floor tiles made from clay.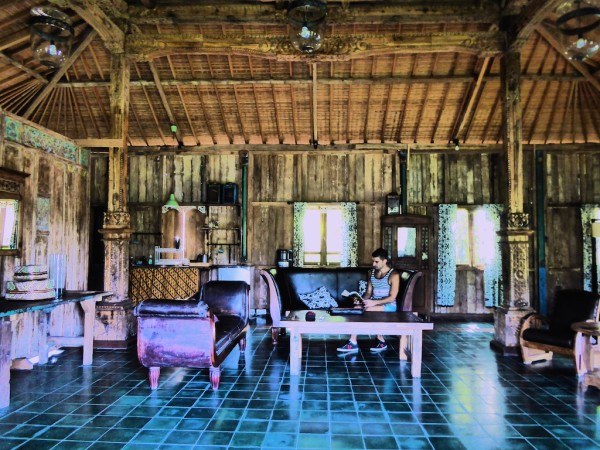 We stayed in Villa Melah, an antique house made of teak wood. The main living area has a large wooden four poster bed with mosquito nets and beautiful carvings. Attached to it is a semi-outdoor bathroom with a copper basin and a brass rain shower.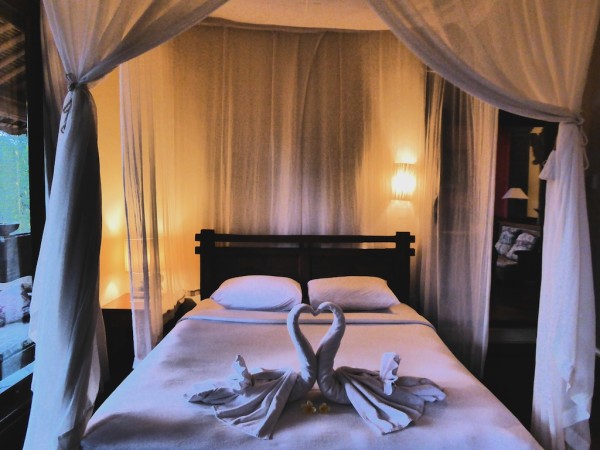 AN INCREDIBLE INFINITY POOL
Our Awang Awang villa featured a beautiful veranda overlooking the jungle and a luxurious infinity pool.
This was the highlight for us! We spent hours just basking in the sun in our pool and taking in all the jungle scenery and wildlife around us. You can (and will!) spend hours here enjoying the peace and serenity of the Balinese countryside.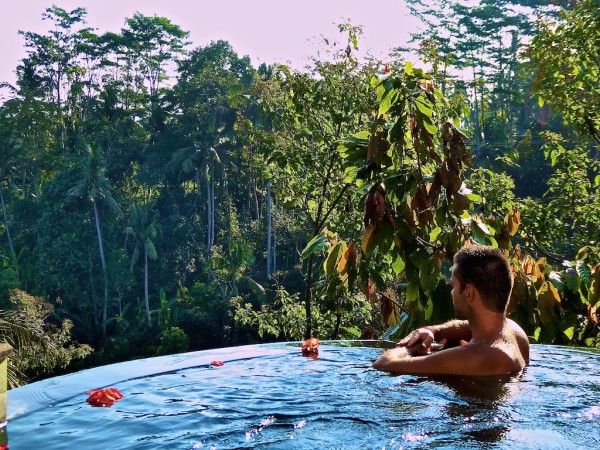 AN ECO FRIENDLY VILLA
Villa Awang Awang prides itself on being eco friendly: they recycle their waste water for the garden, use hydro energy from the nearby river, give food waste to the animals in the village and use no air con.
Rest assured, there is plenty of ventilation that you just don't need any air con anyway.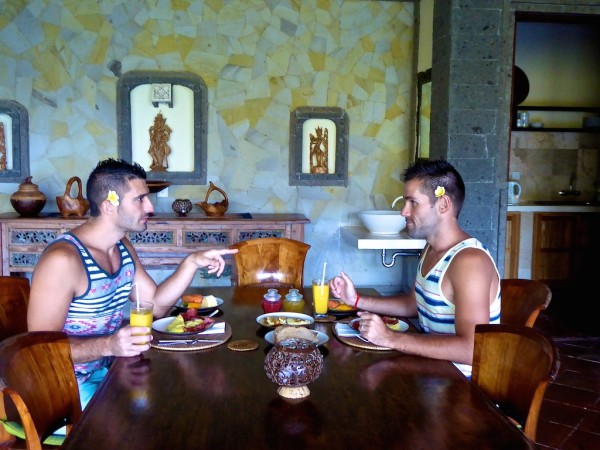 WHAT TO DO NEAR AWANG AWANG
Ubud town is a 10 minutes drive away and Awang Awang offers a shuttle service there and back for its guests.
#1

Culture Culture and Dance!

Ubud is well known as a centre for traditional crafts and dance. Balinese dance is in fact one of the most popular attractions. We first experienced it at the Rainforest World Music Festival in Kuching earlier this year where the Balinese Kobagi Kecak band performed their monkey chant trance ritual.

The Kecak monkey chant is unique because the dancers use their own body as percussion along with pieces of bamboo as stamping tubes. You can watch a live Kecak fire and trance show in Ubud, which the staff at Awang Awang can arrange for you.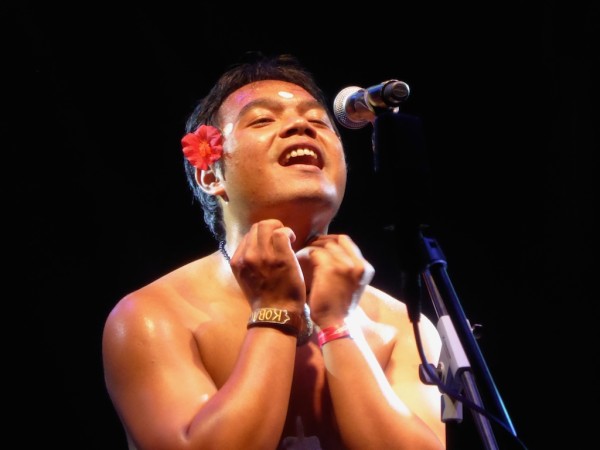 #2

Shopping, spas and restaurants

There are plenty of boutique shops in town as well as excellent restaurants and spas like the newly opened raw vegan Fresh restaurant of Taksu Spa.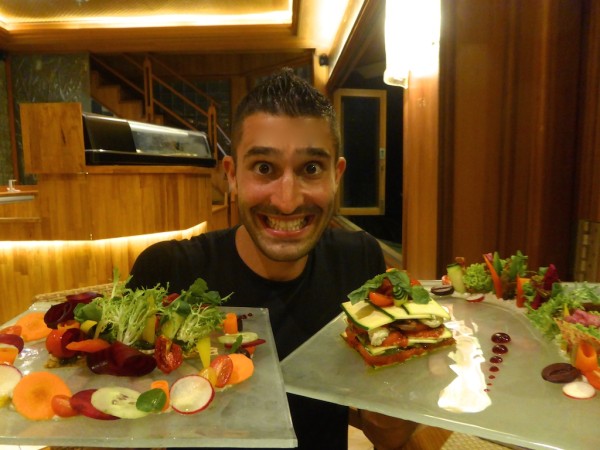 #3

Outdoor activities

There are some exciting outdoor adventures near Villa Awang Awang, which are ideal for immersing yourself in the countryside and paddy fields scenery of Ubud.

We did a quad and tubing day tour with Bali Quad Discovery Tours, who we highly recommend.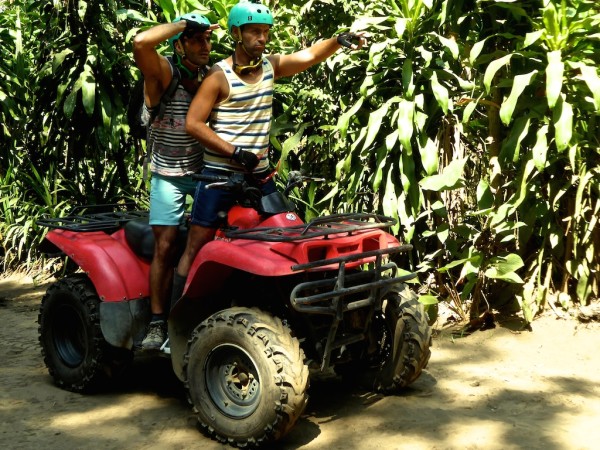 #4

Cooking classes

Ubud is the place in Bali for foodies to do excellent cooking classes.

We spent the day with Be Bali Day learning to cook classic Indonesian specialties like satay stuffed in lemongrass sticks, pisang goreng (fried banana snacks) and perkedel jagung (sweetcorn fritters).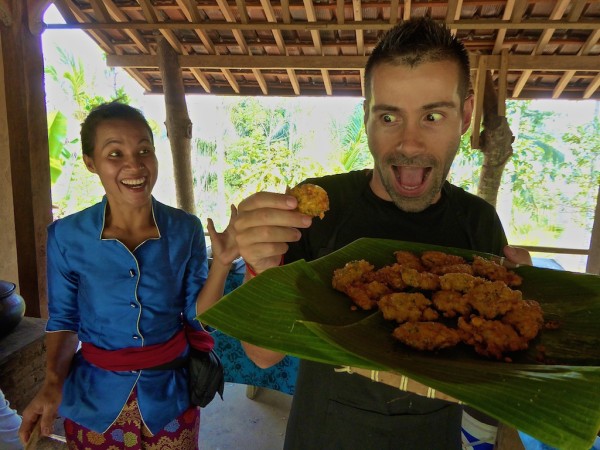 GAY FRIENDLY STAFF
The staff at Villa Awang Awang made our stay very special. Nothing was too much trouble for them and they welcomed as a gay couple.
They were genuine, happy to help and eager to show us the Balinese culture.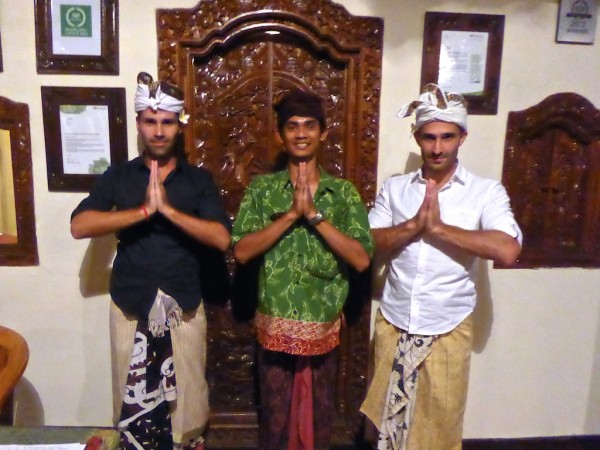 On one evening, they took us to a ceremony taking place at the local temple in Melayang village.
They dressed us up in the traditional Balinese male sarong with udeng headband and together we visited the local temple to watch and take part in the Hindu ceremony taking place.
This experience was one of the most memorable and unique encounters in our travels in Bali: we were the only foreigners there, but they embraced us like we were family.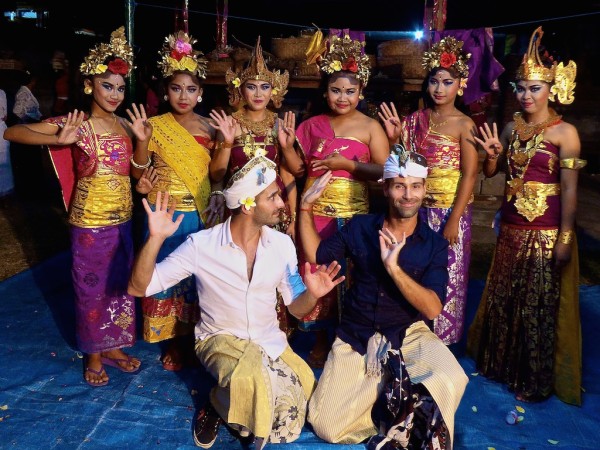 To book your stay at Villa Awang Awang, check their website to contact them and make your reservation. Prices start from 3,000,000 rupiah (£145 / $220) a night.
Happy travels are safe travels
We recommend you always take out travel insurance before your next vacation. What happens if you suffer from illness, injury, theft or a cancellation? With travel insurance, you can have peace of mind and not worry. We love World Nomads travel insurance and have been using it for years. Their comprehensive coverage is second to none and their online claims process is very user friendly.
Some of the links in this post are affiliate links. This means that if you book your accommodation, an activity or your insurance, we'll earn a small commission. There is never an extra cost to you for using these links and it helps us keep the site going.