Shangri-La: a sad story but one with hope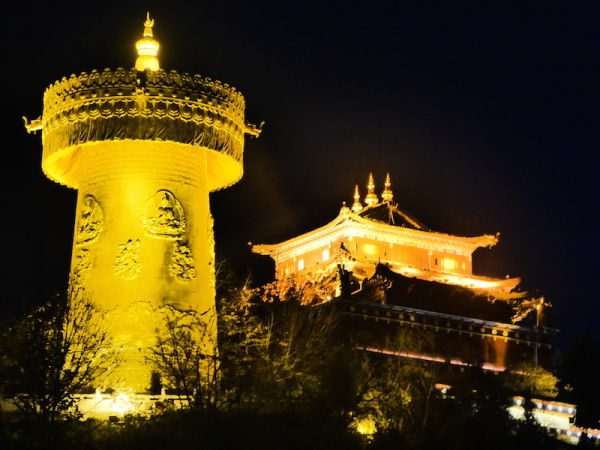 Our final stop in China was at the Tibetan town of Shangri-La or otherwise more commonly known by its Tibetan name of "Zhongdian".
Shangri-La is located some 3,200 metres above ground in China's Yunnan Province.  It was renamed Shangri La in 2001 (from "Zhongdian") in 2001 to attract tourists
Shangri-La almost destroyed by serious fire
Shangri-La used to be a popular destination for tourists because of its Tibetan style old town.
But on 11 January 2014, a serious fire destroyed around 70% of the old town, caused by a lady who went to sleep forgetting to switch off a fire stove.  We guess this could have easily have happened to Sebastien after a few post dinner tequila sunrises.
The result was a huge fire which swept through the old town very quickly because most of the houses were made of wood.
Shangri-La's old town today
Shangrai-La's old town today is unfortunately mainly a large building site as locals try to rebuild the roads and buildings destroyed by the fire:
There is however a small amount of the old town still in place which makes a visit there worthwhile such as the Zhuangjing Tong Prayer wheel and the large Guishan Temple, both towering over the Shangri-La skyline:
The Shangri-La Zhuangjing Tong Prayer Wheel
The Zhuangjing Tong is the world"s largest prayer wheel standing at 21 metres high:
The Zhuangjing Tong Prayer wheel needs needs at least 6 people to fully turn it and locals and tourists commonly gather to do just that:
The Guishan Temple
The Guishan Temple is the other large monument standing over the Shangri-La skyline offering a ray of hope in the aftermath of the fire.  We caught this photo of the temple with a rainbow over it – cheesy but we liked it as it showed the temple as a sort of beacon of hope Shangri-La:
At the Guishan Temple, locals print and hang up their prayers on different coloured paper making it very colourful:
We were particularly touched by the attitude of locals in Shangri-La.  They have persevered to rebuild their town and maintained a positive demeanour:
The locals in Shangri-La also touched us in the way they maintain their traditions despite this tragedy, in particular, daily public dancing!
At around 7pm each day, the locals gather at the old town's main square and dance together for several hours.  It is quite moving to see this and one of our highlights in China.
We joined in with the dancing and loved it.  Dancing randomly with strangers is incredibly uplifting and really raises your spirits especially if you're in a grumpy mood or feeling stressed:
For more, watch our China travel video as we ate our way from Beijing in the North all the way to the south via Pingyao, Xi'An, Shanghai, Yangshuo through to Shangri-La: