Fresh out of Santiago's International Airport, excited to practise our Spanish which we'd spent months perfecting, only to encounter…Chilean Spanish…
As our sweet smiley taxi pickup driver tried to welcome us in Spanish we both looked at each other wondering if we'd arrived at the right place…What was this strange language?!
Ok, I'm exaggerating a bit, but Chilean Spanish is the hardest Spanish dialect to pick up. Even native Spanish speakers have trouble understanding Chileans. For example, they cut off the end of every other word, connect words together so you don't know when one word starts/finishes, and they speak at such a rapid pace… Then there are the Chilean slang words thrown in to confuse you even more, especially "weón" – randomly placed in every other sentence! It's actually quite a beautiful sing-songy dialect to listen to.
Santiago is certainly the perfect base to get your head around this quirky dialect. The gay scene here is massive, particularly in the Bellavista neighbourhood – probably the largest in all of South America outside of Sao Paolo. The city is also home to an exciting wine culture with world-class wineries to visit, lots of impressive city street art to awe at, tons of outdoor adventures like paragliding to try out, and natural hot springs to relax in – remember the city has the Andes mountains right on its doorstep.
And then there are the boys! Smokin' Hot gorgeous Latino looking Chilean studs everywhere you look…
Trust us when we say you WILL have a fantastic time in Santiago!
And we've got you covered right here with our detailed gay guide to Chile's capital city. We've put together all our practical tips from our firsthand experience travelling in Santiago as a gay couple, including the latest info on the best gay hotels, bars, clubs, parties and events, which we always keep updated thanks to the help of our local gay friends in Santiago.
Is Santiago safe for gay travelers?
Absolutely – the capital of Chile is super gay!
There are very few places in the world that rival just how diverse the gay scene of Santiago is, with so many bars, clubs, and parties happening almost every day. We felt extremely safe here as a gay couple and often saw other LGBTQ couples walking the streets of Bellavista holding hands.
When it comes to LGBTQ rights, Chile has historically lagged behind its more liberal neighbors (like Argentina and Colombia), but in 2022, Chile passed its gay marriage law and an array of other progressive laws making it one of the most gay friendly countries in the world. In short, you'll have a very gay ole' time in Santiago!
Finally, and as we advise for any country you visit: if you're heading to more rural areas of Chile, we advise caution with PDA as pockets of homophobia do still exist in some of the small towns/villages. For more, we advise reading our interview with Ivan from Santiago about what gay life is like in Chile from a local's perspective.
Santiago gay area
Bellavista is the main gay area of Santiago, where the majority of the city's gay bars, clubs, and hotels can be found. Bellavista is located just northeast of the main Plaza de Armas between the Mapocho River and San Cristóbal Hill. The closest metro is Baquedano. Bombero Nuñez is the main gay street of the Bellavista neighborhood, which we always use as the reference point – our own little Pink Epicentre!
Bellavista is also Santiago's Bohemian neighborhood, full of some really impressive street art, hip restaurants, and art galleries. Formerly the city's 'red-light district' area, Bellavista quickly transformed into the hip neighborhood that historically attracted intellectuals and artists including the most famous of all, Nobel Peace Prize-winning poet/politician legend – Pablo Neruda. His house in Bellavista, La Chascona, is now a popular museum you can visit.
Quite simply, this is where we recommend you base yourself in Santiago. It's by far our favorite part of the city – buzzing, charming, and full of character!
Gay hotels in Santiago
Santiago doesn't have any outright male-only gay hotels as you'd find in Berlin or Fort Lauderdale. However, there are heaps of excellent gay friendly options.
We never had any problems booking a double bed at any of the places we stayed in Santiago, particularly the ones in and around Bellavista. As we said above, we recommend basing yourself in Bellavista so that you're close to the best gay nightlife of the city as well as being quite centrally located in a trendy hipster part of town.
We set out below the best gay friendly hotels we tried in Santiago for all budgets, which we recommend for fellow LGBTQ travelers:
Best gay parties in Santiago
Santiago has many many excellent gay bars and clubs which we set out below, however, what we loved most about the gay scene here was the number of weekly parties happening. Every week a handful of gay events take place at different venues, which we recommend checking out. We summarise the main ones here:
Gay bars in Santiago
Bombero Nuñez is the main gay street in the Bellavista neighbourhood where the bulk of the gay bars of Santiago can be found. And there sure are heaps of them! It was quite daunting at first to navigate, which is why we did a gay night tour of Santiago with a local to help us navigate this labyrinth of Chilean fabulousness. Highly recommend, especially if you're a solo LGBTQ traveller who quickly wants to make new friends.
Another point to note about the gay scene of Santiago is that Mondays is a total write off – almost all bars are shut. In addition, the gay bars of Santiago don't get busy until after 10pm. For this reason, we've also included a few gay restobars in this section where you can head to earlier than 10pm for drinks.
Gay clubs in Santiago
There are many gay clubs in Santiago. Just like the gay scene of Buenos Aires, Bogota and Montevideo, you'd be wise to factor in a dolly nap as these places don't get busy until well after 1am! As with the bars, Santiago has many clubs to check out. We recommend doing a Santiago gay night tour whereby a local will take you to the best drag shows and parties happening on that particular night.
These are some of the best gay clubs in Santiago that we loved and recommend you check out. Note that the best/busiest nights out happen on Fridays/Saturdays, so it maybe worth coinciding your Santiago trip to fall on a weekend rather than on a weekday:
Gay saunas in Santiago
If you want that little extra dab of Latino culture, you're in luck! There are quite a number of gay saunas in Santiago. These are the most popular to check out:
A bit dated but it's where all the hot guys go, mainly guys in their 20s and 30s. They have special offers for under 25s and students. It's open Monday to Thursday from 10 am to 9 pm, then from 1 pm on Friday open all the way until Sunday evening. It is located at Bellavista 282, just around the corner from Sarita Colonia and a few blocks from Parque Forestal.
Turkish bath Chacabuco 33
One of the best gay saunas for older men and bears. It is open every day from 1-9 pm and is located outside of Bellavista at Chacabuno, 33 in Barrio Yungay. It's also just a few blocks away from Blondie Club should you want to head here first before partying.
Il Palatino is also located outside of Bellavisa over in Barrio Brasil at Maturana 96. As such it's more of a local crowd compared to the others, attracting guys of all ages. They always have promotions, which they announce on the Il Palatino Facebook page, so definitely keep an eye on that before going. Il Palatino is open daily from 2-11pm.
Oasis Spa is just outside Bellavista in the Lastarria area, popular with guys in their 40s and older. Oasis also has a strong bear following due to the ad hoc bear parties it hosts. On weekends it's open late so commonly attracts the after-party boys. Check their website for more details. Oasis is located at Ricardo Matte Pérez 0216 and is open daily from 3-10pm. On weekends it's open until 7am.
Gay Pride in Santiago
Santiago has quite a handful of gay events happening throughout the year. We've highlighted some of the best ones to look out for, which we think LGBTQ travelers will love. This includes two Pride parades – one in June, the other in the sunnier month of November. Alongside each of these is a large international gay film festival. Remember that the movie industry is big business in Chile – a country that won the first Oscar in Latin America (for Bear Story in 2016).
Also note: all these events are organized by the excellent Movilh. We've referenced their relevant social media/weblink:
The Marcha del Orgullo is Chile's gay Pride event that takes place simultaneously in Santiago, Concepción and Valparaiso. It started in Santiago in 1999 as a small protest movement with a few hundred people attending and has now grown into one of the largest Pride events in South America attracting over 100,000 people. It usually takes place on the last Saturday of June. For the latest info, check out the Movilh Facebook page.
LGBT+ Film Festival in June
This is the first of 2 gay film festivals that take place every year in Santiago. This one is called Amor Festival Internacional De Cine LGBT+. We love this one because they aim to contribute to the normalization and acceptance of the queer community through film – something that is so important for us! The Festival includes a jury panel and an award-type ceremony at the end. Find out more on the Fest Home website.
The Festival de Cine LGBTI en Chile takes place alongside the summer Pride event in October and November. As with the June festival, this event includes a jury and awards-style ceremony, this time focusing on two categories – Short Films and Feature Films.
Open Mind Fest in November
Every November the Movilh group organizes another Santiago Parade through the city, which culminates into an amazing electronic street party called Open Mind Fest in Plaza Italia. This has grown massively to become one of the best concerts in the city – definitely, one to look out for if you love your electro beats. For the latest info, check out the Events section of Movilh's Facebook page.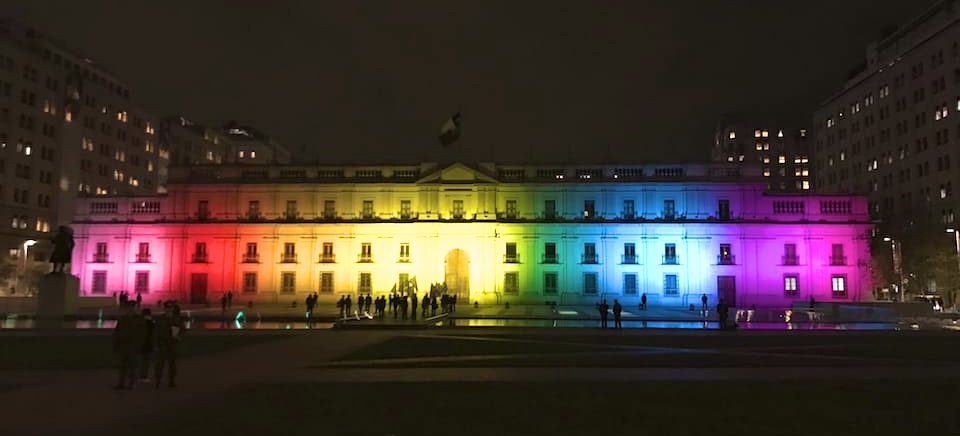 Gay travel agent in Santiago
Pride Tours Chile is a brilliant company set up by gay locals who are passionate about their country and want to show it off to LGBTQ travellers. We love them. We love what they do and also think it's really important that we all support local gay businesses like this in our travels.
We did a cycling tour in Santiago with Pride Tours, as well as a wine tour visiting some of the best bodegas outside the city. We also discovered the gay scene of Santiago with the Pride Tours boys and had a fantastic time. The Pride Tours team also organise tours further afield, from San Pedro Atacama in the north to Torres del Paine in the south. They can craft up an itinerary for you based on what you want to see and do in Chile. We cannot recommend them enough!
Pride Tours Chile is offering our readers an exclusive 5% discount off all their tours!
Gay restaurants in Santiago
There are many highly rated restaurants in Santiago to check out. The best part is that some of the best ones (like Sarita Colonia) are fabulous and based smack bang in the heart of the gay scene of Bellavista! These are a snippet of some of our favourites restaurants in Santiago to tick off a few items from your Chilean culinary Bucket List:
Things to do in Santiago
If you like wine, especially Chilean Cabernet Sauvignon, then Santiago is the perfect base to visit some of the many bodegas around the city as well as the nearby cultural gem and gay friendly Valparaiso. The street art of Bellavista was also a top highlight of the city for us as well as the Costanera Tower, the Funicular and La Chascona. Here is a summary of each one:
Plan your trip to Santiago
Gay map of Santiago
Here's a gay map of Santiago which includes all the gay bars, clubs, hotels and sightseeing highlights we've mentioned in this post. Use it to plan your own amazing gay trip to Santiago!