Chile is well known as being one of the most economically developed countries in Latin America, but its society is still very conservative.
However, the capital city has a huge gay scene, mainly around the Bellavista neighbourhood, with many gay bars, clubs and parties happening almost every day of the week.
After spending several months in Santiago and using it as a home base, it became one of our favourite places in South America. From our experience in Chile's big capital city, we've put together this gay guide to Santiago, featuring our favourite gay bars, clubs, hotels and things to do in the city.
TIP FOR GAY TRAVELLERS: If you're looking for a good gay tour company, check out Pride Tours Chile who we tried and loved. They're offering our readers an exclusive 5% discount off all their tours if you quote "NOMADIC5" when booking!
What we cover in this guide
Gay hotels to stay in Santiago
On the whole you shouldn't have a problem finding a gay friendly hotel in Santiago. Although Chile is a very conservative Catholic country, the capital is very progressive. Nonetheless, it's always worth calling or emailing in advance to check. These are the hotels we tried and felt completely welcome as a gay couple.
The Aubrey is a super sexy gay owned boutique hotel in Santiago, located in Bellavista, next to Pablo Neruda's house La Chascona. It is walking distance to the gay bars of Santiago and to some of the best restaurants in the city.
From the outside, this looks almost like a fairytale palace. Inside, it has been stylishly decorated, with many of the original features still in place. It's very exclusive with only 15 rooms available, so definitely book in advance.
The Aubrey has an outdoor heated pool, complimentary Afternoon Tea for guests, sun terrace and sexy Piano Lounge bar where they make delicious Pisco Sour cocktails.
Rooms at The Aubrey start from $216/£167.
Luciano K is a classy gay friendly boutique hotel located in the bohemian Lastarria neighbourhood in central Santiago. Lastarria is a more residential neighbourhood than Bellavista and 10-15 minutes walking distance to the gay bars.
We absolutely loved hanging out at Luciano K's rooftop bar. It's got great views of the city and is also a popular hangout with gay locals who come here for a few cocktails before heading out in Bellavista.
Rooms at Luciano K Hotel start from $130/£100 / night.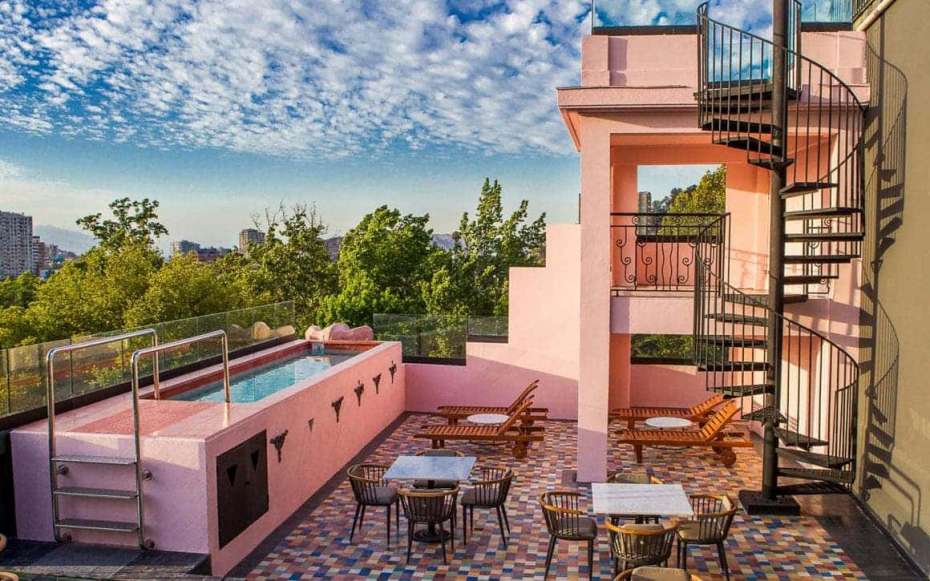 STAY WITH A GAY LOCAL
Misterb&b is the Airbnb equivalent for the LGBTQ community. Unlike on Airbnb, you know your host is gay, avoiding any nasty surprises when you check in. It is also a great way to meet gay locals and discover the underground gay scene. Click below to get 10 € (or $10) off your first booking.
Gay bars in Santiago
Bombero Nuñez is the street in the Bellavista neighbourhood where you'll find the majority of the gay bars and clubs of Santiago. Although most gay bars don't get busy until after 10/11pm, there are a few gay restobars you can visit if you want to go somewhere beforehand.
Station Bar: Station restobar is one of the largest gay hangouts in Santiago, which gets busy after 6pm. We love coming here for early evening cocktails. Due to the licensing laws, you're required to order food with your drinks, so it maybe worth having your dinner here as well. Station is open everyday except Sundays and is located at Antonia Lopez de Bello 064 in Bella Vista.
Bar 105: popular gay bar in Santiago and despite being quite small, always attracts a large crowd. For us Bar 105 was our favourite gay bar to warm up the evening with a few pisco sours before heading out to the nearby clubs. Bar 105 is open from Thursday to Sunday from 10pm till late and is located at Bombero Nuñez 105.
Burdel: this place gets busy because of its 2 for 1 drinks promotions and occasional drag shows. Burdel is open from Monday to Saturday from 10pm till late and is located at Ernesto pinto Lagarrigue 282.
Farinelli: Farinelli has the best drag shows in town in a table/seat style environment. Even if your Spanish is limited, you'll find it highly amusing. Farinelli is open from Tuesday to Sunday and gets busy from around 11pm. It is located at Bombero Nuñez #68.
Dionisio: one of the oldest venues in Santiago owned by the same team behind Farinelli. It has a really friendly atmosphere and definitely worth a visit. Dionisio is open from Tuesday to Sunday and gets busy from around 11pm. It is located at Bombero Nuez 111.
Gay clubs in Santiago
There are many gay clubs in Santiago. Just like the gay scene of Buenos Aires, Lima and Montevideo, you'd be wise to factor in a dolly nap as these places don't get busy until well after midnight.
Barcelona at Bunker: on Saturday nights, Bunker hosts Barcelona, one of our favourite gay parties in Santiago. It always attracts a large crowd and is a guaranteed fun night out. Bunker is located at

Bombero Nuez 159 and the cover fee includes a drink.
Toby at Femme: Femme is another club venue in Santiago which hosts a gay party on Saturdays called Toby. It wasn't as good as Barcelona when we went, but popularity varies each week. Femme is located at Bombero Nuñez 169 and the cover charge also includes a drink.
Il Divino: one of the largest gay clubs in Santiago and also in Latin America. It can host up to 3,000 people. Il Divino is open Friday and Saturday evenings and is located around 20-30 minutes taxi ride from central Santiago, on Route 60, Kilometro 16 exit Espacio Broadway, in the Pudahuel area.
Club Soda: a smaller club in Bellavista but just as fun. It has a live DJ, who blasts out reggaeton and classic Latino pop tunes. If you follow them on Instagram, there are instructions on how to get onto their guest list. Club Soda is open from Wednesday to Saturday evenings from midnight till late and is located at Antonia Lopez de Bello, 125.
Illuminati: considered one of the cooler gay clubs in Santiago by locals and a trendy alternative to Bunker. Illuminati is open from Wednesday to Saturday evenings from 11:30pm-4am and is located at Antonia Lopez de Bello, 131 in Bella Vista.
Fausto Discotheque: one of the oldest gay clubs in Santiago, going strong since 1979 and the place most of the famous Chilean drag queens started their careers. They're open Wednesday to Saturday evenings and is located at

Avenida Santa María #0832 in the

Providencia neighbourhood.
Limon: popular gay club in Santiago for twinks, their fans and lovers of reggaeton. Our friends told us that Monday nights are the best because that's when all the hairdressers hang out here! Limon is open every day from midnight and is located at Dardignac 142.
Blondie: a gay friendly club attracting a very mixed LGBTQ crowd of all ages. It's a very relaxed atmosphere, with a more gothic, alternative style of music. Blondie is open Thursday to Saturday from 11:30pm-4am and is located at Avenida Libertador Bernardo O'Higgins 2879.
Gay restaurants in Santiago
Santiago has a few cool gay restaurants in the Bellavista area worth checking out:
Sarita Colonia: famous quirky gay owned restaurant and one of Santiago's most famous and highly rated. The theme is Peruvian transvestite(!) and has a mix of eclectic art, fabulous sculptures and a cool rooftop bar. We recommend calling in advance to make a reservation as it gets fully booked quickly. Sarita Colonia is located on Loreto 40 and open everyday except Sundays.
El Toro: another popular gay restaurant located opposite Sarita Colonia. It's more rustic but has decent food and outdoor seating. It's a fun alternative to Sarita Colonia if you didn't manage to secure a reservation! El Toro is located on Loreto 33 and is also open everyday except Sundays.
Things to do in Santiago
Santiago is an excellent base to discover the famous Chilean wine by visiting some of the many bodegas around the city, as well nearby cultural gem, Valparaiso. There's also a few other not-to-miss activities to do in the city itself.
Street art in Bellavista: whether you do this yourself or with a tour company, you have to devote a few hours to filling your Instagram gallery with the bright and colourful street art in the Bellavista neighbourhood.
La Chascona: this was Pablo Neruda's house in Bellavista, now a museum offering a fascinating insight into his extraordinary life. Neruda was a famous Chilean politician and Nobel prize winning poet, with very extravagant, quirky tastes. He had many houses across Chile including La Chascona.
Ride the funicular: the funicular entrance is located near La Chascona and we definitely recommend it on a sunny day. It's a fun way to see the city and the valley beyond.
Costanera Tower: this is the largest tower in South America, which you can climb to get some pretty sweet vistas over the city. This Mordor-like building rises to 300m/980ft, making it the tallest building in Latin America.
Mercado Central: Chile's seafood is famous. With nearly 3,000 miles of coastline, this is not surprising. The Central Market in Chile is the place to come at lunchtime to try delicious fresh fish in one of the many small restaurants.
Wine tours: there are many famous bodegas around Santiago, which you can visit privately or with a tour. We recommend Pride Tours Chile, a LGBT company who arrange excellent wine tours to the bodegas.
Pride Tours Chile also offers a variety of other tour packages to help you get the most out of your stay in Santiago, from bike tours, to guiding you around the gay scene in Bellavista. They are also offering our readers an exclusive 5% discount off all their tours if you quote "NOMADIC5" when booking.
To read more about the gay scene of Santiago, check out our interview with Ivan about what it's like growing up gay in Chile.
Happy travels are safe travels
We recommend you always take out travel insurance before your next vacation. What happens if you suffer from illness, injury, theft or a cancellation? With travel insurance, you can have peace of mind and not worry. We love World Nomads travel insurance and have been using it for years. Their comprehensive coverage is second to none and their online claims process is very user friendly.
Some of the links in this post are affiliate links. This means that if you book your accommodation, an activity or your insurance, we'll earn a small commission. There is never an extra cost to you for using these links and it helps us keep the site going.
If you like me, Pin me for later!