Here are the best gay hotels in Chile, from San Pedro de Atacama to Torres del Paine and everywhere in between.
You might look at Chile and think that she's just a skinny little thing with no flair or flavor, but trust me, as soon as you get to know her, Chile brings alllllll of that juice!
I mean, as a quick example, let's look at Santiago. As the capital of Chile, you would probably expect the people there to reflect traits or values similar to those of their government – stable and reliable, yes, but also a little too willing to keep LGBTQ+ rights on the conservative side. However, when you set foot in the city, that could not be farther from the truth! Santiago is actually home to a massive gay scene, especially in their Bellavista neighborhood. And even outside of the capital, the party keeps hopping with captivating street art, breathtaking scenery, and dear lord help me, the boys. I don't know what they do to those Chilean men to keep them looking so fresh and so fine, but please, never stop doing it!
When Seb and I first began planning our fabulous gaycation to Chile, we were overwhelmed with options. What do we do? What cities should we visit? Where do we stay? Because, truthfully, we wanted to go everywhere and fully experience Chile for the cultural marvel that it is. I think that's why we finally decided to see everything and take a long trek down the entire country. We participated in so many amazing adventures and, more importantly, stayed in some of the most interesting and luxurious places. If you're like us and have a hard time deciding where to go when you're packing up for a long holiday, look no further than this guide. Right here, we're going to lay out our top 5 favorite hotels in all of Chile:
Heads up: We just wanted to let you know that this post contains affiliate links. That means if you book something through one of those links, we'll get a small commission, at no extra cost to you. It helps us keep our blog going – so thank you in advance for your support! ♥
01
Alto Atacama
San Pedro de Atacama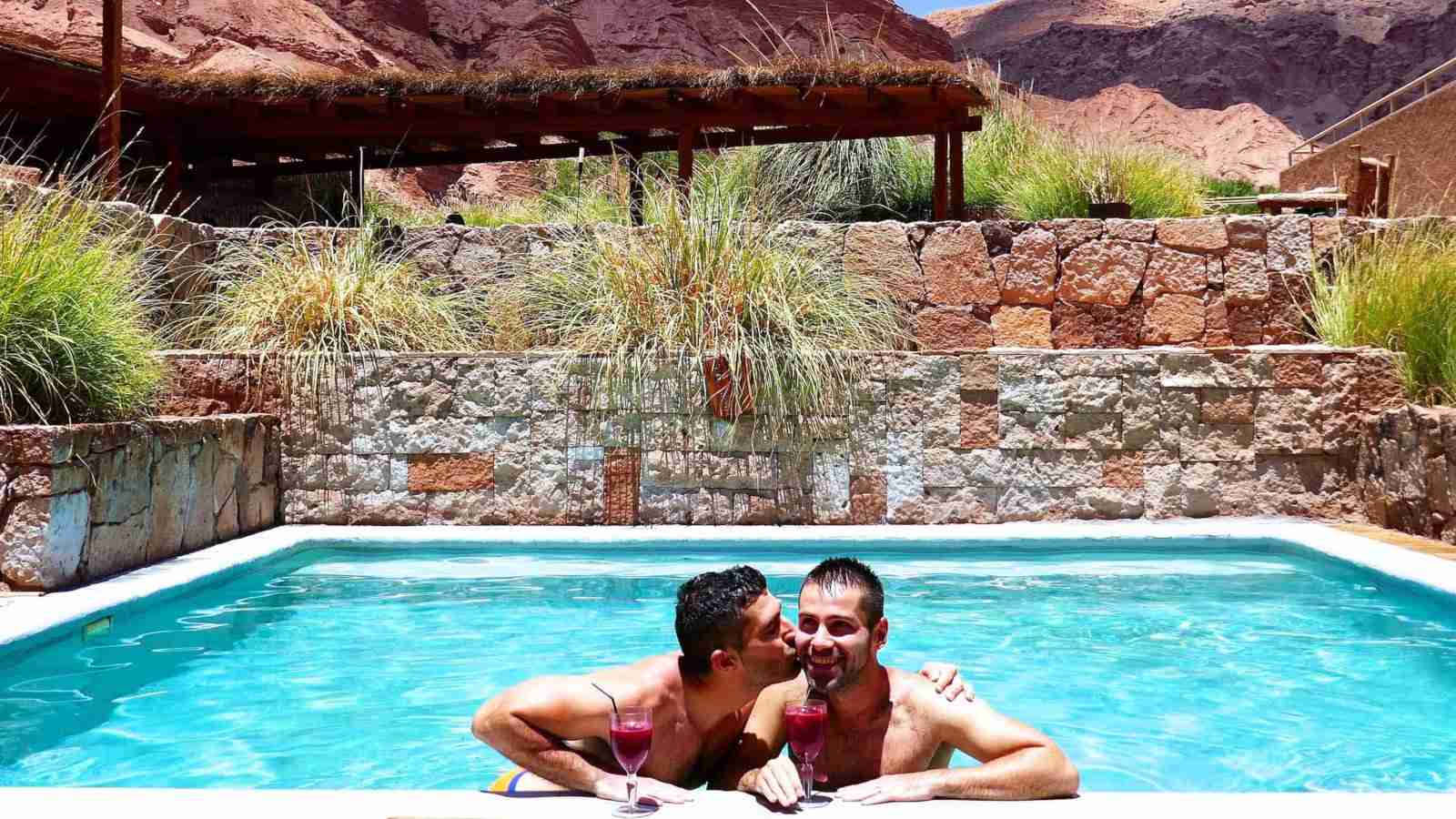 Why we love it
---
There is no shortage of exciting activities here!
Amazing restaurant with fresh, cultural cuisine
Six relaxing plunge pools on the grounds
All rooms have a private terrace
Is there anything more romantic than enjoying the heat of a pool on a warm summer night, glass of wine in hand, your lover holding you close as you both gaze up at a clear sky full of stars? If any of what I've just described appeals to you in the slightest, then I beg you to stay at Alto Atacama.
Aside from being one of the best places on Earth to see the stars, Alto Atacama delivers a one of a kind encounter with Atacamien culture.
Surrounding a llama corral and corn vegetable garden, you easily get the sense that Alto Atacama is deeply connected to their location. Venture into their restaurant and that feeling only multiplies. With only fresh, organic products and, of course, possibly the best Chilean Cabernet Sauvignon served with every meal, Sebastien and I felt completely immersed in the story of the land. Our two favorite dishes were the ostrich carpaccio with raspberries and the beef filet over mashed socaire lima beans. I swear, I teared up the first time their food touched my tongue. It was incredibly challenging to order something new every night when my first order was that good.
But none of this actually goes to show the gorgeous landscape itself. Alto Atacama is located in the Catarpe Valley of the Salt Mountain Range, and it is completely surrounded by nature. The excursions provided by the hotel were probably the biggest highlight of my entire Chilean adventure. With groups of no more than 8 people and guides who all spoke excellent English, I always felt welcome and safe no matter where our journeys took us. By the way, the absolute best landscape to explore has got to be the Capur Salt Flats. The entire hike is about 2 hours each way, but it is more than worth it to see those vast volcanoes and stunning salt lakes up close.
With over 42 rooms, each offering unique views of the otherworldly nature that encompasses the hotel, there is no possible way to go wrong when staying at Alto Atacama. Next chance I get to visit Chile, I can guarantee I will be stopping there with my walking shoes laced up and ready to go.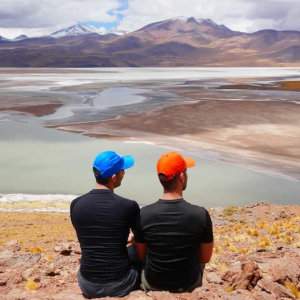 Get your personalised gay friendly itinerary to Chile
We've teamed up with the excellent gay travel company Pride Tours Chile to offer our readers an exclusive 5% discount off the total cost of any trip you book with them. They specialise in crafting tailored trips and itineraries for LGBTQ travellers to Chile.
02
Luciano K
Santiago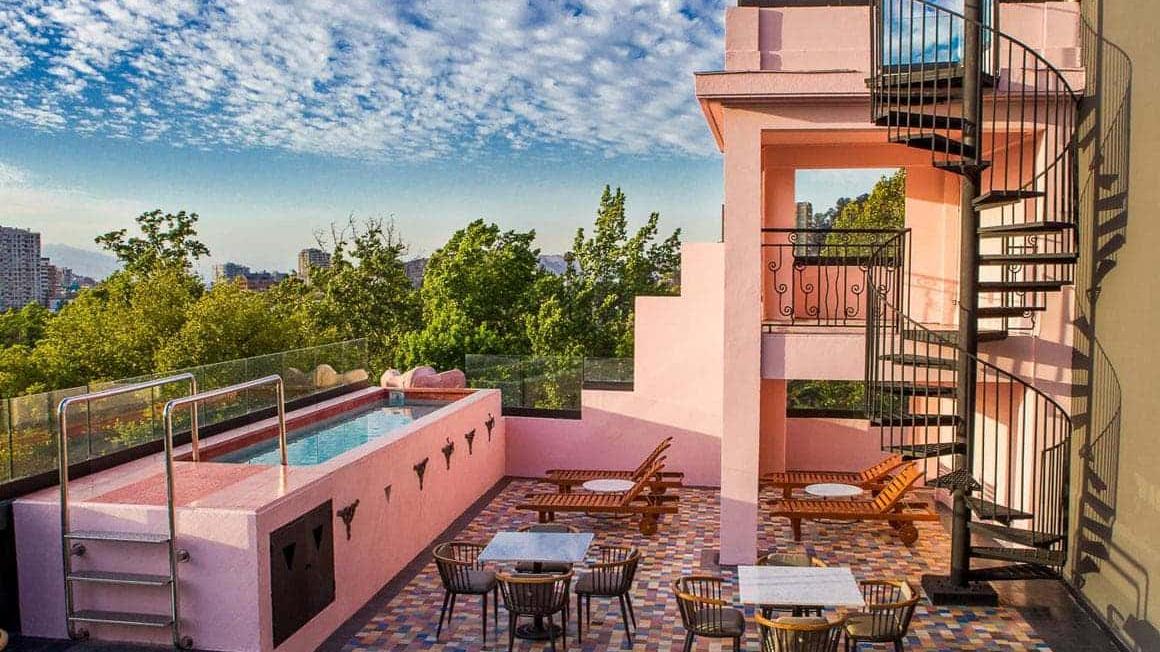 Why we love it
---
Super cool rooftop bar, popular with gay locals
Wrought iron elevator: the first in all of Chile
Triple glazed windows in the bedrooms
Walking distance to the gay scene of Bellavista
When I think of love at first sight, my mind goes straight to the Luciano K. Sorry, Seby. But before you begin pitying him too much, you need to know that he agrees with me!
This hotel is a cultural gem, expertly polished and situated in an unparalleled location. If you're searching for comfort, security and the chance to thoroughly explore a fabulous portion of Santiago, we highly recommend the Luciano K.
Upon walking into their lobby, already buzzing with excitement about our visit, we both experienced that same overwhelming sense of awe and admiration at the grand architectural spectacle before us. The hotel is named after Chilean architect Luciano Kulczewski, who built the hotel back in the 1920s. The immense amount of inspiration he drew from the Art Deco movement is seen in every common space. From the wrought-iron elevator situated as the centerpiece of the lobby to the geometric patterns laced throughout their in-house restaurant, this hotel is an absolute dream for anyone who adores Art Deco design.
Even their rooftop bar sings to the praises of the iconic style, decked out with vibrant colors and original tiling. However, in my opinion, even if you don't go completely googoo when you see Art Deco decor, you will still love everything about their bar. The bar, known as Terraza K, offers my favorite rooftop view in all of Santiago. The Luciano K is set in the wondrous bohemian neighborhood of Lastarria, and it is surrounded by some of the best attractions in Chile. Parque Forestal is situated directly across the street, and a 10 minutes walk from the hotel can get you to the Bellas Artes Museum, the Central Market, the Municipal Theatre, the Moneda Palace and so much more. But from that rooftop bar, you feel as though you're soaking up the vibe of the entire city, all while enjoying delicious cocktails and tapas in a relaxing plunge pool.
STAY WITH A GAY LOCAL
Misterb&b is the Airbnb equivalent for the LGBTQ community. Unlike on Airbnb, you know your host is gay, voiding any nasty surprises when you check-in. It is also a great way to meet gay locals and discover the underground gay scene. Click below to get 10 € (or $10) off our first booking.
What to do in Chile?
As such a long country, there are numerous different landscapes to explore in Chile. From the southern tip as the perfect jump-off point to visit Antarctica, to the peaks of the Andes Mountains, there is plenty to keep you busy in Chile!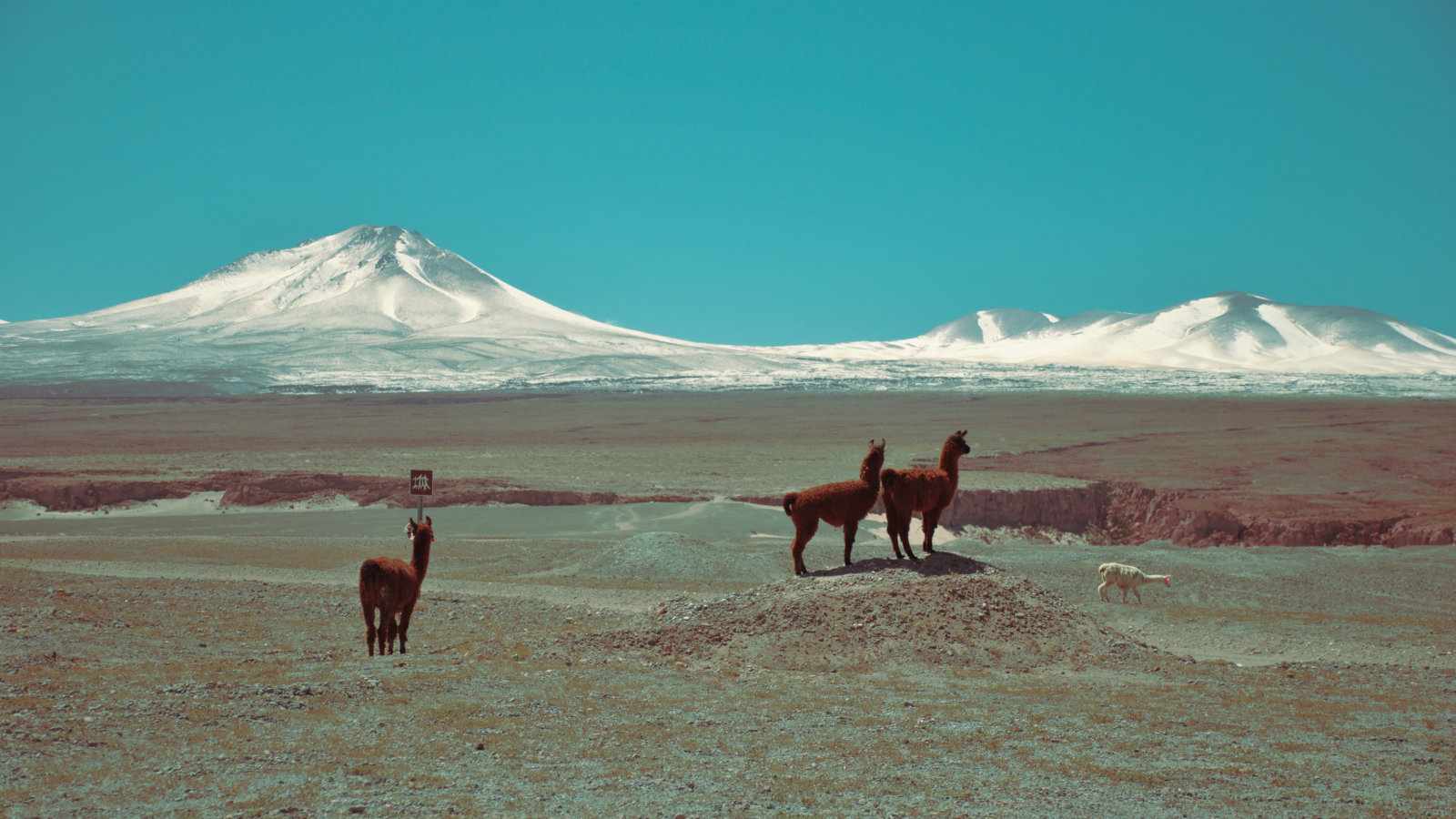 03
The Aubrey
Santiago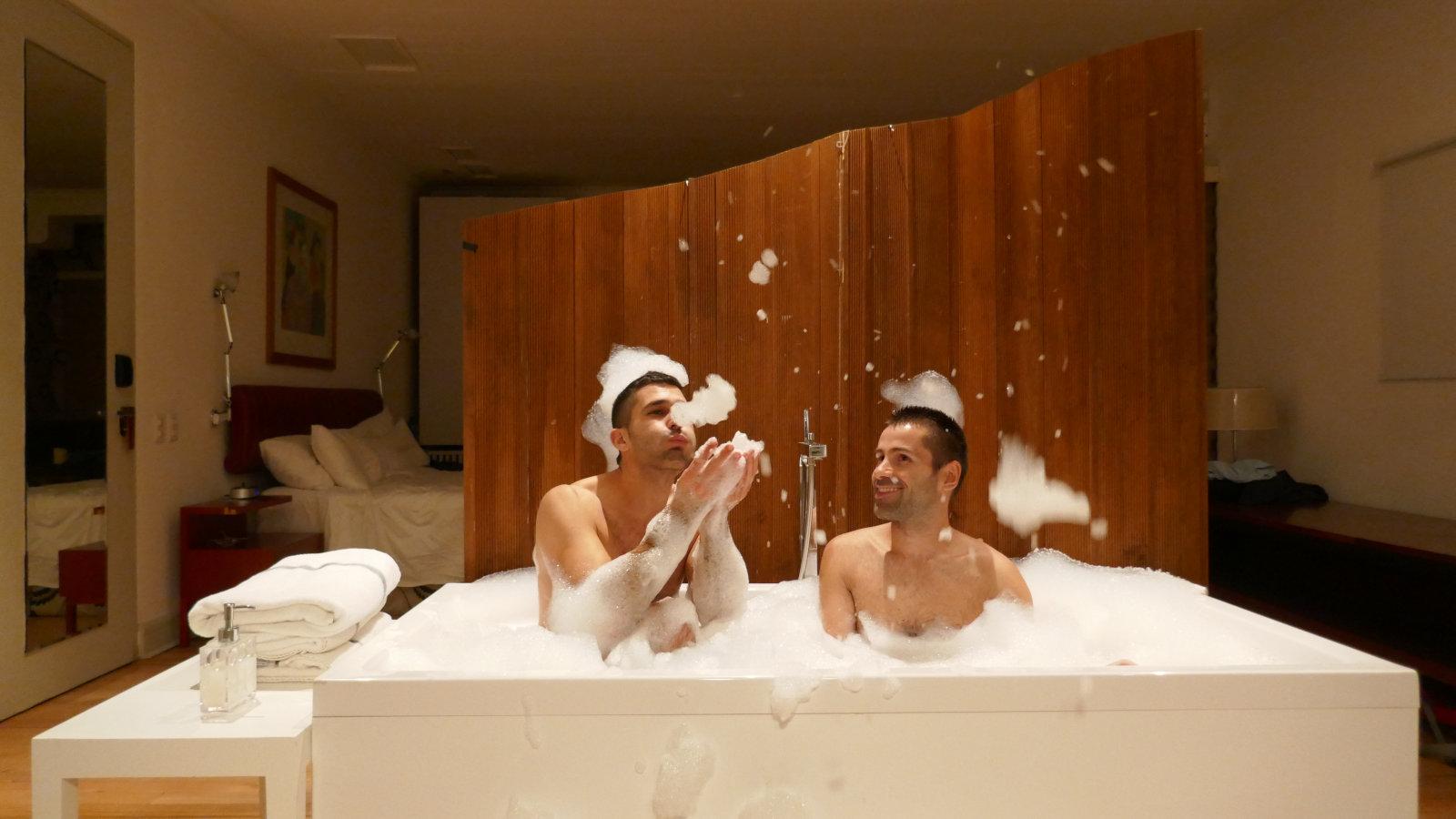 Why we love it
---
Swoon-worthy furnishings and decor
Multi-award-winning hotel
Heated pool surrounded by Greek-style pillars
Gay owned and close to gay scene of Santiago
Pack up your finest gowns and double-check those glass slippers my fellow queens! The Aubrey is here to serve you Disney fantasy realness, unlike any hotel you've ever seen.
Ooh, look at me, I'm already rhyming! That's how you know the magic of this place is real, when even this old Queen starts spouting poetry like I'm a bearded hipster at a poetry slam contest spouting sonnets…
This boutique hotel once functioned as a fine mansion for a wealthy family back in 1927, but by 2010, a gay couple had swooped in and transformed the building into the glamorous oasis we know and love today. And with the balanced blend of styles, you can easily tell that a gay man covered both the renovation and decoration of The Aubrey. They decided to preserve the home's original dark wood staircase, exposed beams, and parquet floors, but then they threw in their own twist of chesterfield sofas, wingback chairs and bright rugs to breathe some new life into the place. It is simply divine!
Even their 15 bedrooms reflect the intricate thought processes that went into reconstructing this magnificent palace. Each room feels more like a miniature museum with its own unique furnishings and personalized character. Our room, for instance, sported Tom Dixon lamps, Santiago Valdes leather chairs, and mosaic-tiled walls. It matched our personalities and our needs to a tee!
Fancy decor aside, the best part of our stay was definitely the massive bathtub in our room. Since The Aubrey is located just spitting distance to the gay bars and clubs of Bellavista, there weren't many nights where we stayed inside to relax by ourselves. We couldn't pass up that prime location, you know? However, there were a couple of evenings when we decided to take a break and unwind together. The tub was the perfect spot to enjoy some quality alone time together.
Overall, The Aubrey will feel juuuuuust right for any princess needing a luxurious spot to rest her head for a couple of days.
04
Verso Hotel
Valparaiso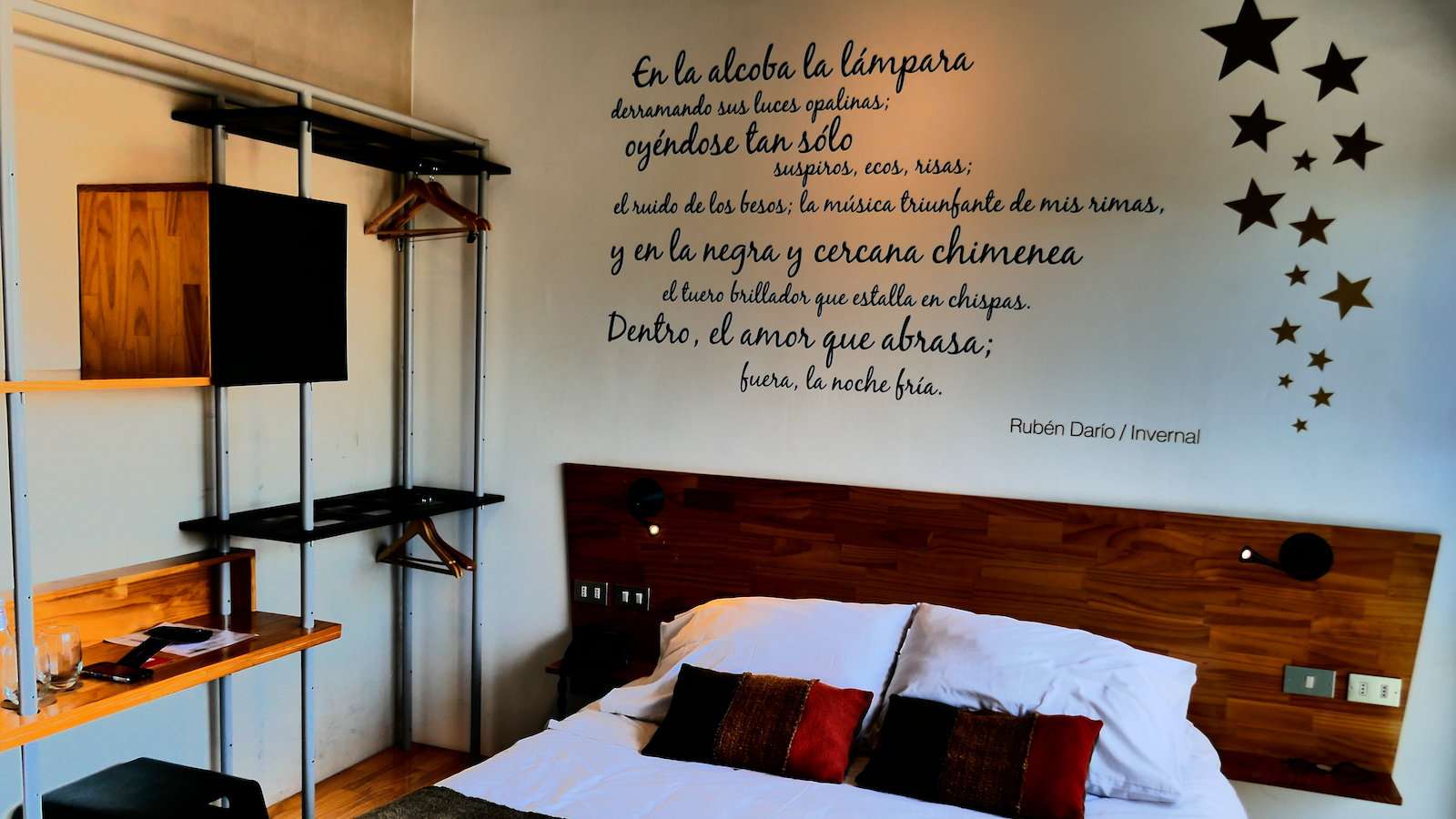 Why we love it
---
Cultural bliss close to Pablo Nerudo's house
Rooms highlight Latin American authors
Staff are extremely gay friendly and welcoming
Two rooftop hot tubs available for reservations
People often call Valparaiso the cultural capital of Chile due to its long-lasting, historical ties to art, literature, and poetry. The Verso Hotel completely embraces that expressive essence of the city and showcases fine art at every possible opportunity.
Judging by appearances alone, it is easy to see how deeply entrenched the Verso has become in their local art.
Poetry flows through the whole building, down to its very core. I mean, there's definitely something poetic about offsetting strong, durable materials like concrete and metal with soft, delicate lyrics strewn across the walls, right? Or am I reading too deep into this? I wasn't a literature major, okay? Sheesh…
Regardless, the bedrooms at the Verso Hotel are outstanding. Not only are the furnishings completely modern, clean and comfortable, but each room is actually dedicated to a specific Latin American writer. Our room, for example, thrust Nicaraguan poet Ruben Dario into the spotlight. Waking up, reading his powerful words and then enjoying a fresh cup of coffee as I stared out across the dazzling Chilean coast was…indescribable! Hey, like I said, I wasn't a literature major…
Though, speaking on the views, the Pacific Ocean seen from the Verso Hotel is simply gorgeous. Despite consisting of only two floors, their rooftop bar and restaurant offers an incredible 360-degree view across the entire city. It's absolutely stunning and especially nice to absorb while sipping on a scrumptious Pisco Sour in one of their hot tubs. Also, by the way, if you're ever feeling a little selfish, you can make reservations to have the tub all to yourself. Probably a little naughty to hoard such a delectable treat, but hey, it's your vacation. Live it up, however you please!
If you forgot your books while packing, don't worry for a second because the lobby has plenty of options available to lend you throughout your stay. So be prepared to relax and snuggle up with some of your favorite novels and poetry books as you indulge in this artistic retreat! Oh and while you're here, be sure to check out our detailed gay guide to Valparaiso.
05
Chile Patagonia Camp
Torres del Paine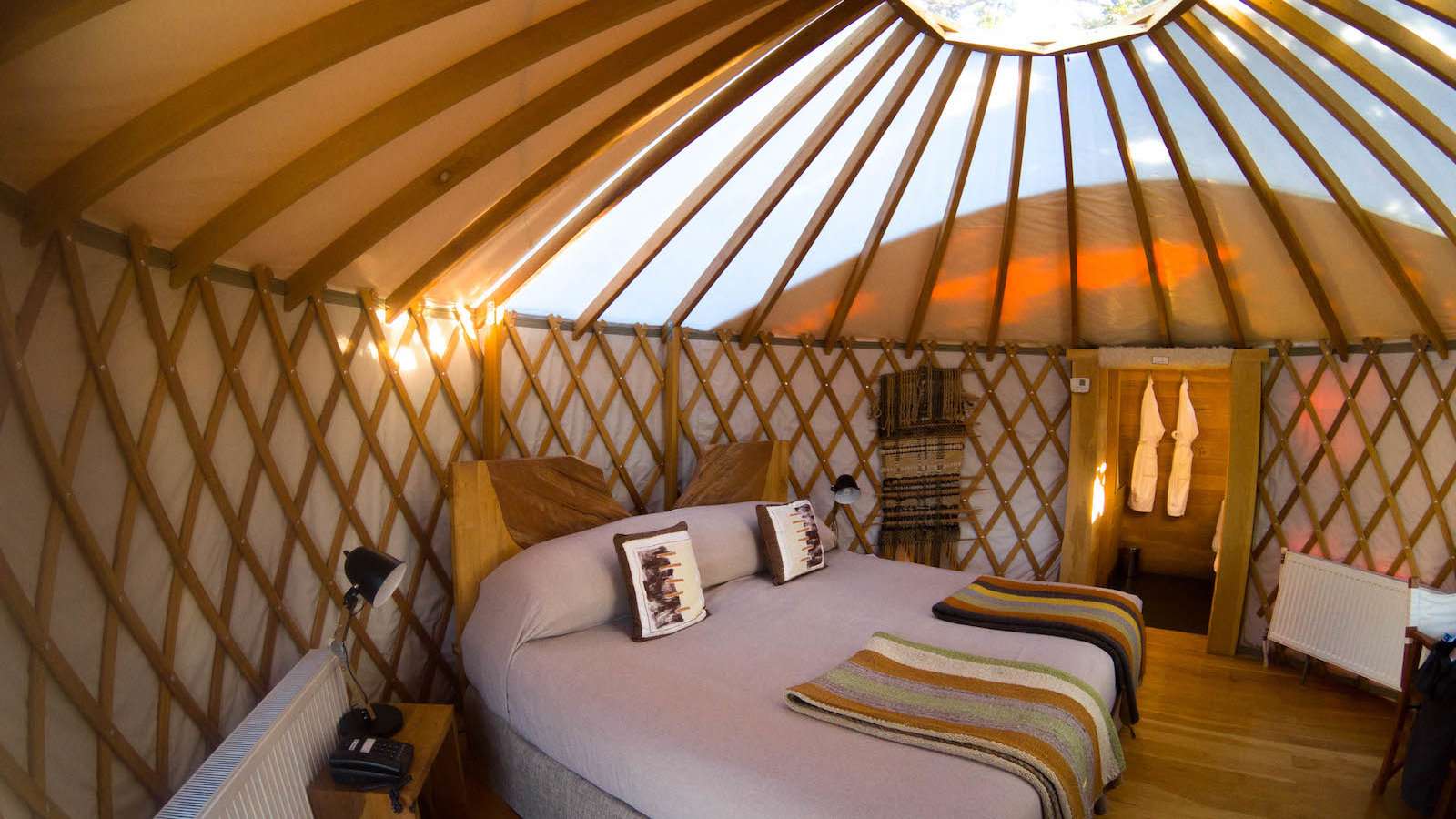 Why we love it
---
Stay in a super comfy luxurious yurt
Endless options for adventures
Warm and inviting in-house restaurant
Connect with other guests in the lounge
If you're anything like me, you probably hold onto an extensive, never-ending bucket list. You're always searching for ways to cross things off and longing for new things to add. Ring any bells? Okay, well, be sure to prepare a new spot on your list for trekking in Torres del Paine because it is a once in a lifetime, must stop location – and one of our highlights from South America. You'll also want to make sure you're staying at the exceptional Chile Patagonia Camp while there.
Only open from mid-September to mid-May, this exclusive hotspot is nothing like any of the other hotels listed here. In fact, it's hard to even call the Chile Patagonia Camp a hotel at all. Since Torres del Paine is commonplace for hiking, people tend to just pitch a tent whenever they feel like making a rest stop on their journey. But the Chile Patagonia Camp understood that the rough and tumble tent life was not made for everyone and decided to set up a community of yurts. Now, if you don't know what yurts are, be prepared to learn about your new favorite thing! Yurts are, to put it simply, fancy tents. On a more detailed level, they are an environmentally sustainable means of being exposed to nature while maintaining basic comforts such as having a king-size bed, private restroom and central heating. Pretty sweet, right?
So, let's get into the actual attractions now, shall we? Chile Patagonia Camp extends to all of their guests daily guided tours of the surrounding national park, which includes highlights from the W Circuit. The trip out to the iconic Paine Towers was probably our favorite. Despite the entire trek taking a whopping 8 hours total, nothing beats quiet time spent in nature. Plus, having a romantic little lunch with Seby while admiring the reflections of the towers in the glacier lake is an outstanding memory that I will certainly be holding onto for the rest of my life.
Even if you spend the majority of your time at the camp, there are spectacular sights galore! From your yurts, you can spot Lake Toro and Cuernos del Paine. From the large windows of their in-house restaurant, you can overlook Macizo de Paine. The options are endless with the Chile Patagonia Camp. It may sound like a cop-out, but you really have to see it all for yourself to fully comprehend its greatness!
---
Like this post? Pin it