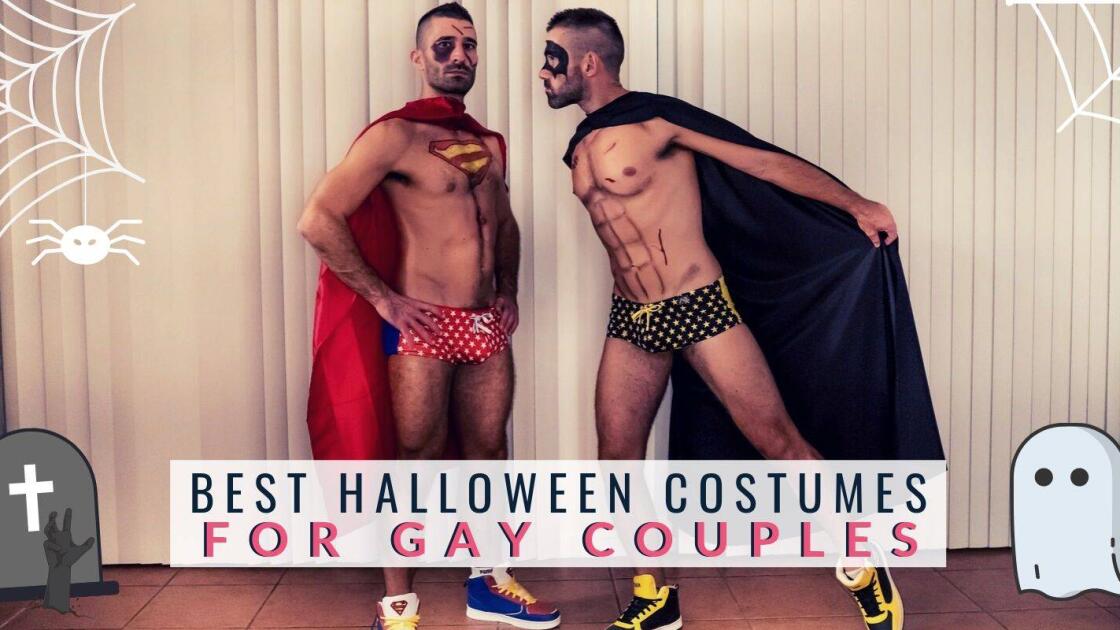 Here are the best gay Halloween costumes for couples who want to coordinate while looking spooky and sexy.
We love Halloween. It's not only the best excuse to go absolutely crazy with dressing up, makeup body paint, hot pants, and all sorts of fabulous outfits…but we get to do that together!
There are many terrific gay Halloween outfits to try out, but what about for couples? The options become more limited when you want to match, but there's still a handsome choice of things you can choose from, whether superhero inspired (Batman/Robin), computer game related (Mario/Luigi) or just good old fashioned drag!
Over the past few decades of our relationship, we've shared a fair number of Halloweens together! So we've pulled together some of our favorite gay couple Halloween costumes that we've tried and loved, which we hope will inspire your outfit choice for the big party happening on the next All Hallows' Eve.
1. The Mario Bros – Mario and Luigi
Gaming geeks, time to live out your computer game fantasy in real life…
One of the best ones that we love and always see at every gay Halloween party without fail is the Mario Bros. This is the perfect gay Halloween costume for gay couples who (ahem!) look alike and also want an excuse to grow a moustache, and show off a bit of leg too!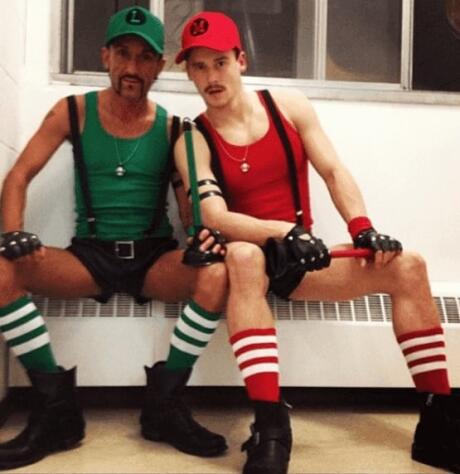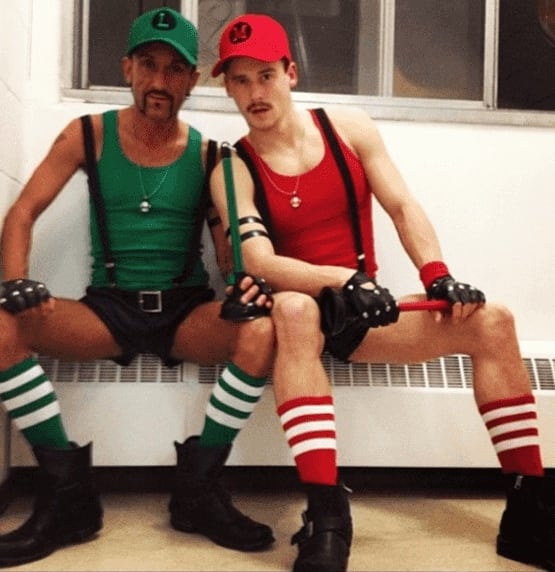 2. Cheeky angel and horny devil
There's nothing hotter than a twink couple dressed up in contrasting devil/angel outfits right?!
This is a fantastic gay couple Halloween costume idea because it allows one of you to act the part of the cheeky angel, whilst the other plays at being the horny devil. From here on in, the possibilities for your Insta Stories are endless! One of the best angel/devil gay Halloween couples outfits we loved is by the dashing Vlogger couple, Trent and Luke: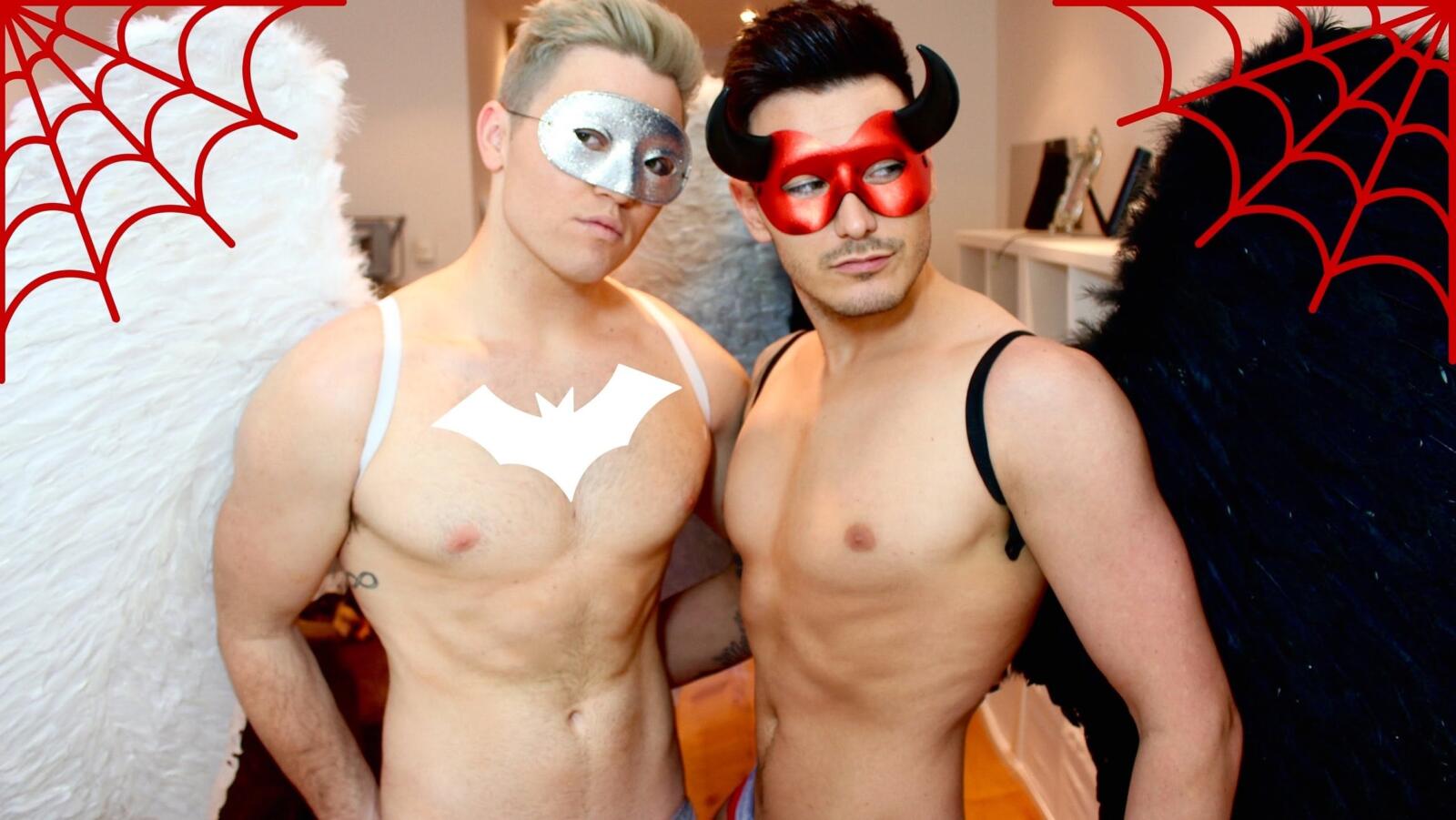 3. Frankenstein and his sexy monster
We've all heard of Mary Shelley's famous gothic story about Dr. Victor Frankenstein who creates his own monster…some argue this was Dr. Frank's way of expressing his latent homosexuality…
Don't you know the story? The gay version at least – Dr Frankenstein created a very sexy monster, fell in love with him, and took him to the Halloween ball!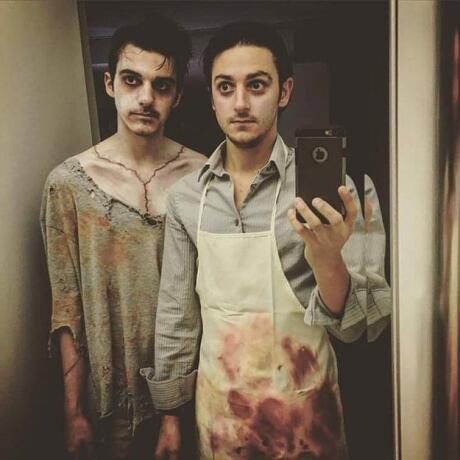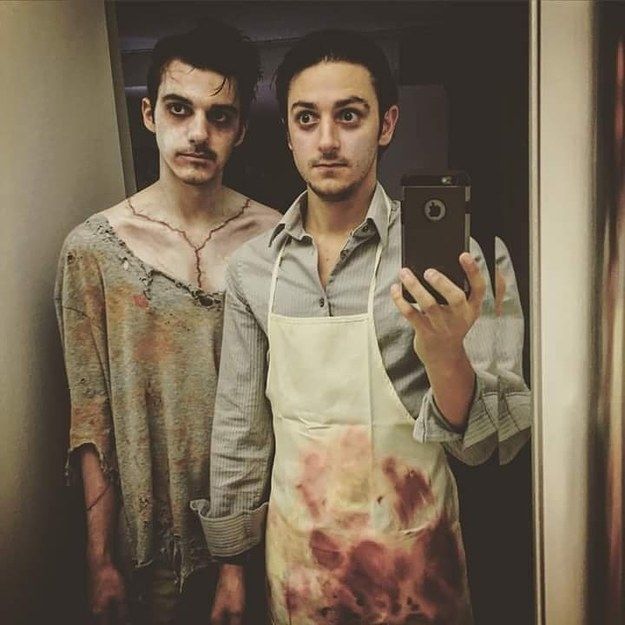 4. Skeleton couples in suits
You know that hot skeleton couple who live down the street in your friendly neighbourhood? They throw an amazing dinner party and always show up on form at every Halloween party without fail!
On a serious note, this is one pretty cute/creepy outfit that any gay couple can replicate for Halloween, touched up with some face paint for dramatic effect.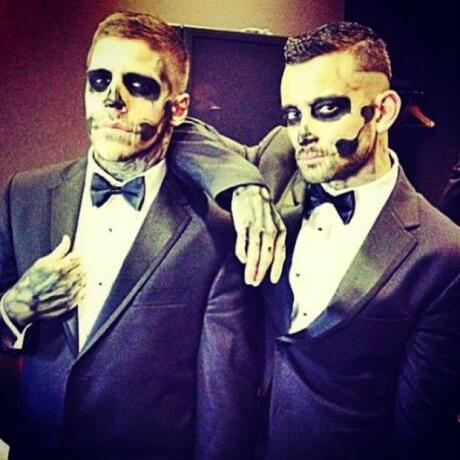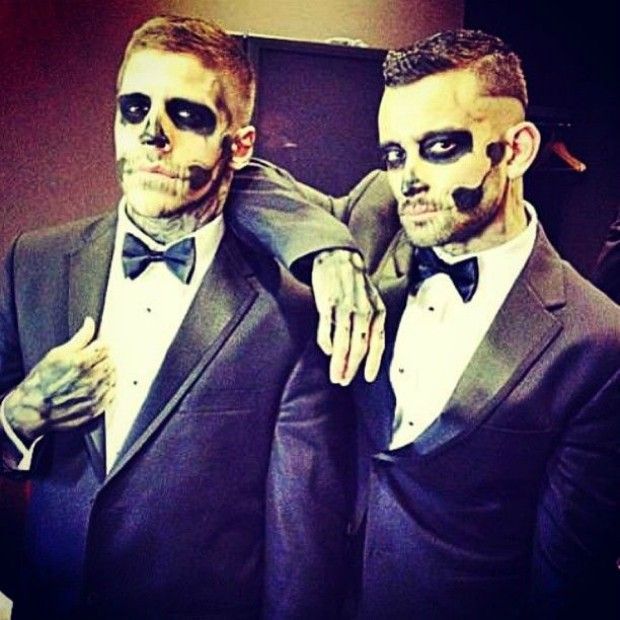 5. Superhero fantasy – Batman, Robin, Superman
Comic book fans will love this one!
Dressing up as superheroes is always guaranteed to be one of the most popular gay costumes for Halloween. You can go as full-on with this as you want by buying the whole outfit, complete with a mask and cape.
Or, you can simply wear the cape, with matching tight pants or even speedos, then fill in the rest with body paint like we tried for our Halloween at the Wicked Manors festival in good old gay Fort Lauderdale: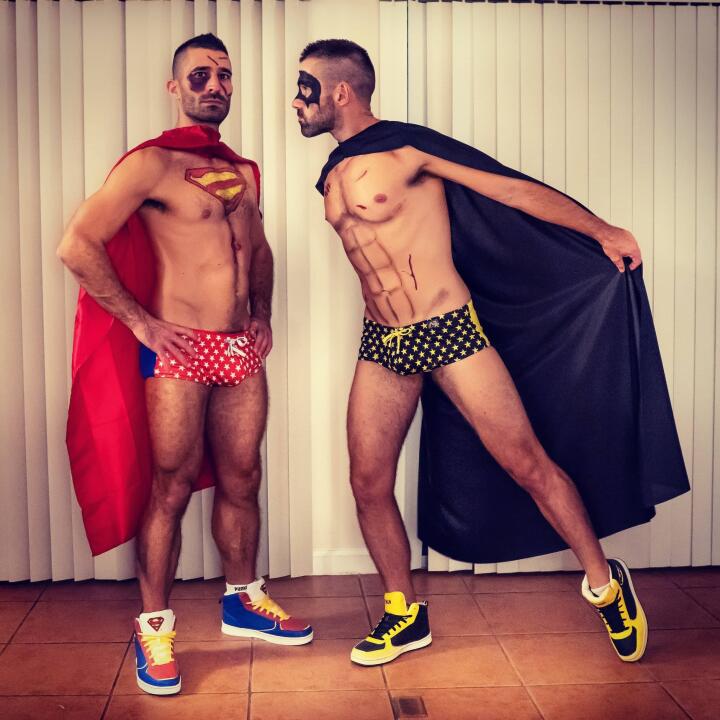 6. Zoolander: Hansel and Derek
This is a fun gay couple Halloween costume to try out, inspired by the Zoolander movie.
Get those "Blue Steel" lips ready for a night of some serious pouting. This works beautifully for gay couples where one is blonde and the other dark-haired. Or, just get a blonde wig for the Hansel impersonator.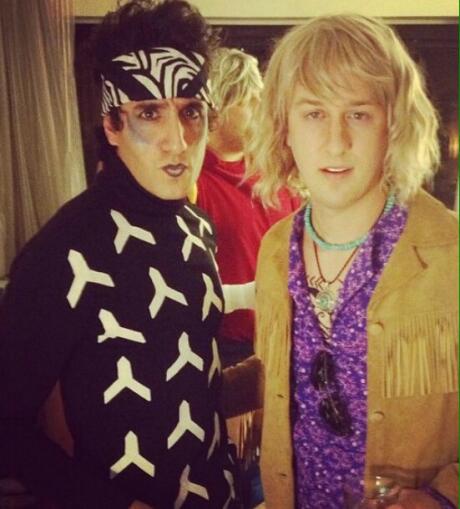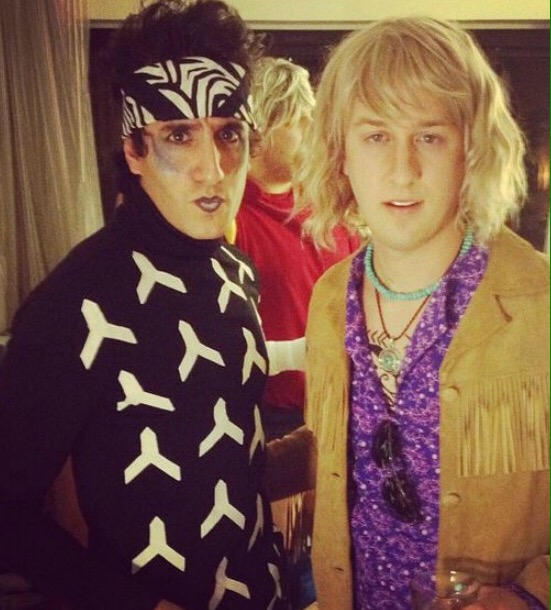 7. Adam and Steve
All those cute straight couples dressing up as Adam and Eve? Well time for our own version!
Meet the super cute Adam and Steve…also the chance to wear as little as you dare! This gay Halloween costume idea involves leaves covering the Crown Jewels, and, of course, a big fat juicy ripe red apple!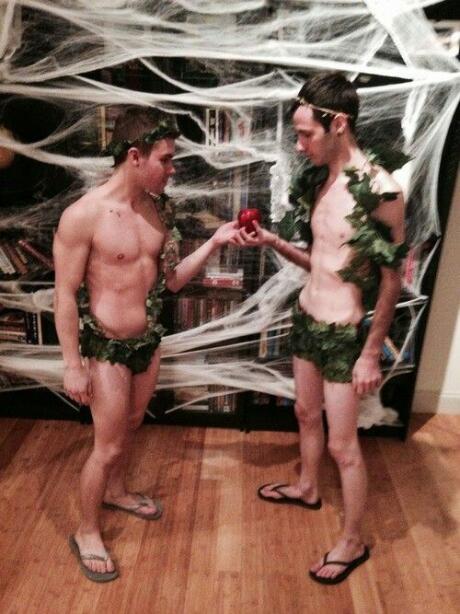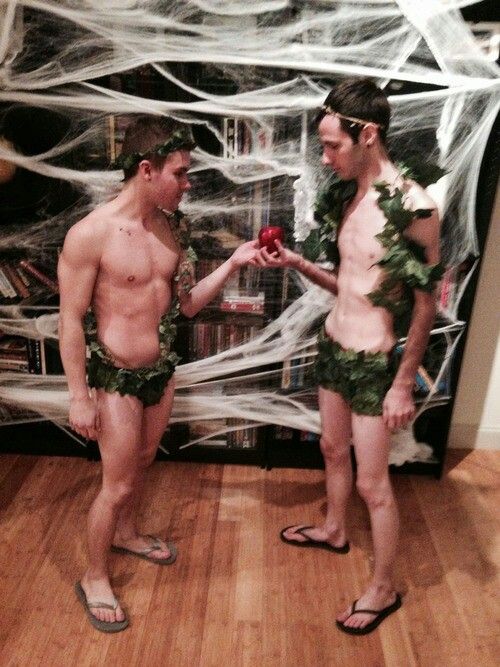 8. Pokemon: Pikachu and Ash
Pokemon fans will want to consider dressing up as Ash and Pikachu as their gay couple Halloween costume.
What you need for Ash are a hat, blue vest, and green finger-less gloves. For Pikachu, yellow clothing, cute ears, and face paint. We loved the way cute vlogger Andrew Keenan-Bolger modeled this look with his boyfriend: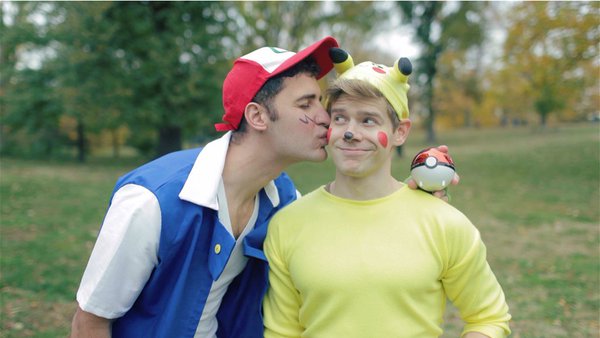 9. Sexy Spartan gladiator and his hot lover
For gays who spend their waking hour pumping weights at the gym, this is one you'll want to try out with your beau.
Simply don a cape, and then decorate your body with as much (or as little) gladiator accessories you can find – bracelets, shoulder pads, armor…it's simple and super sexy!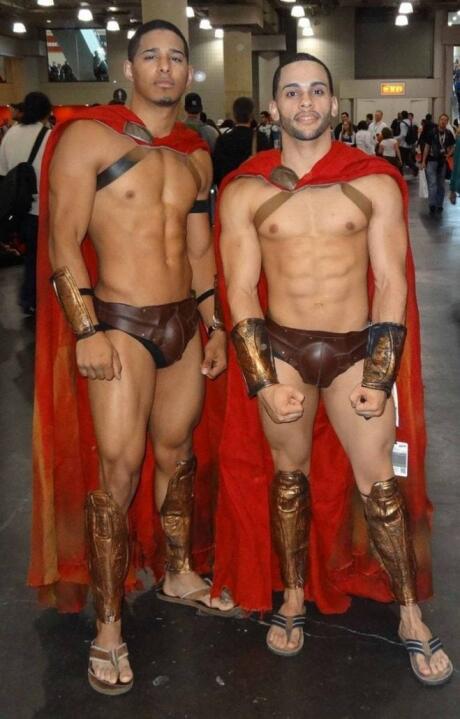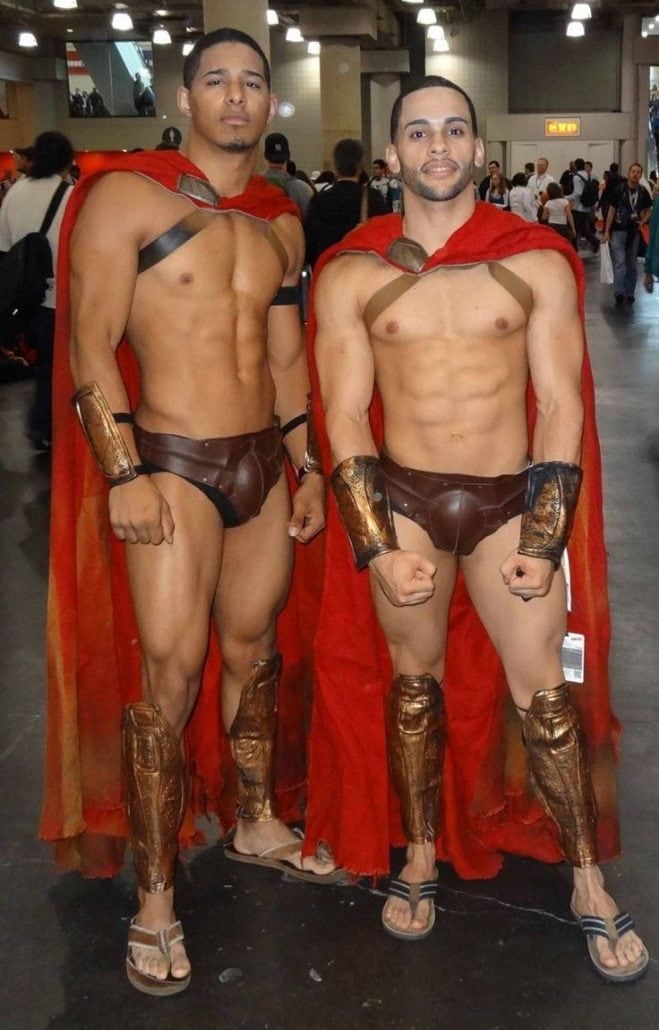 10. Gay couple in harness
It wouldn't be a gay Halloween party without a few couples in harnesses in sight right?
This sexy fetish item has become a staple at every gay event we've been to, whether it's Pride, Circuit, NYE, and of course, Halloween! Grab a pair online and rock them with pride together.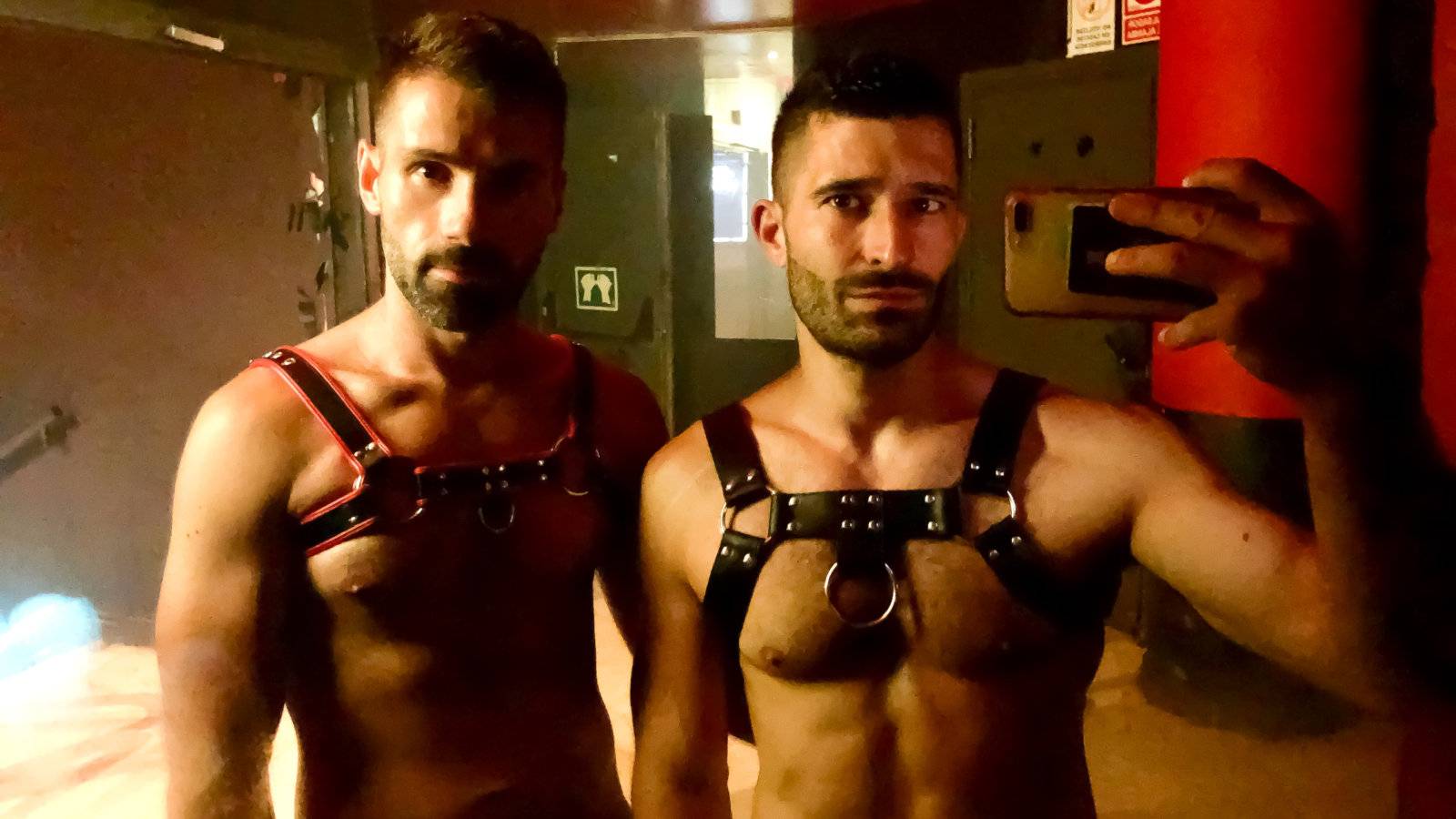 11. The Hairy Sisters: full matching drag
Have you met The Hairy Sisters? They're kinda feisty, but always up for a good time…
With a bit of makeup, dresses, and the right wigs, you can create your own take of scary matching Halloween sisters. In our case, the gorgeous dolled-up Hairy Sisters took the streets of London by surprise on one very special Halloween!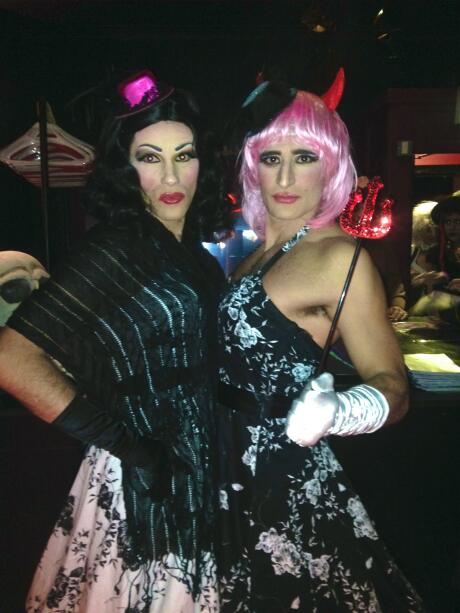 …or, just mix and match to contrast!
We end with one of our favorites gay couple outfits, courtesy of the very sexy Zakar Twins.
If, by now, you're not inspired with a costume idea, then just create your own contrasting idea with whatever you have to hand, just like Zach and Michael did: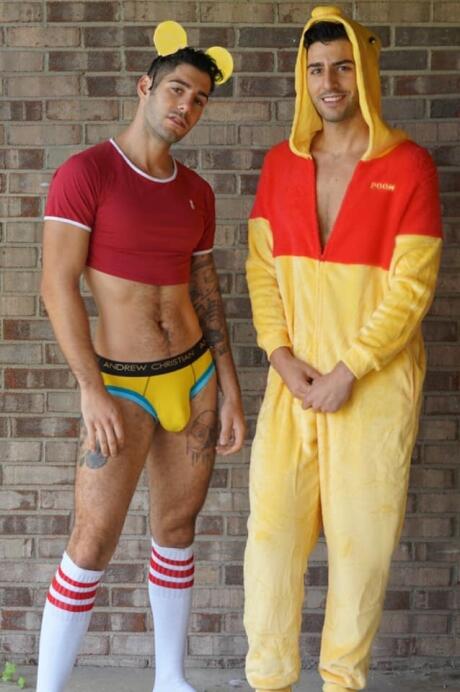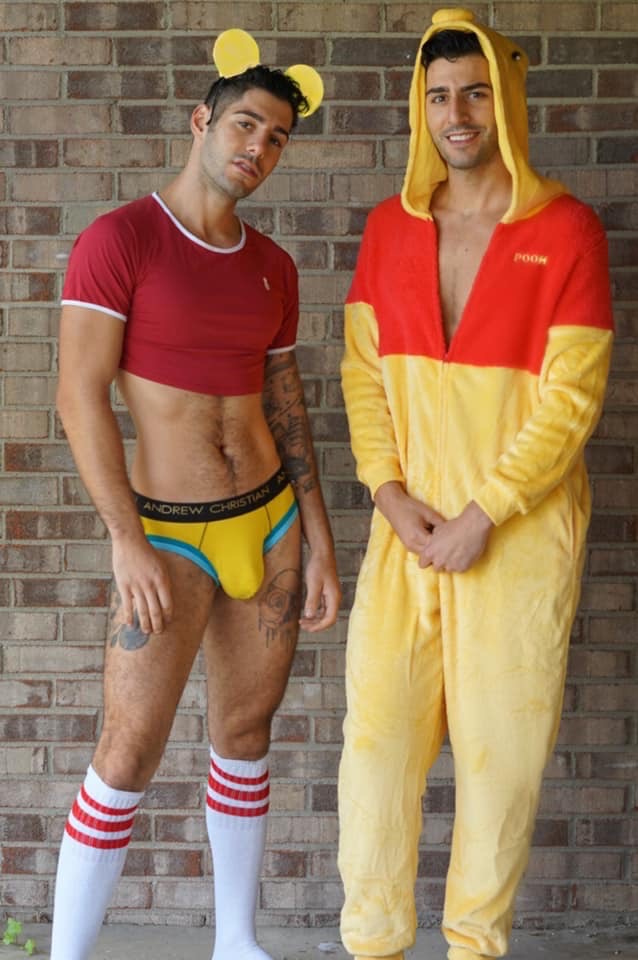 ---
Like this post? Pin it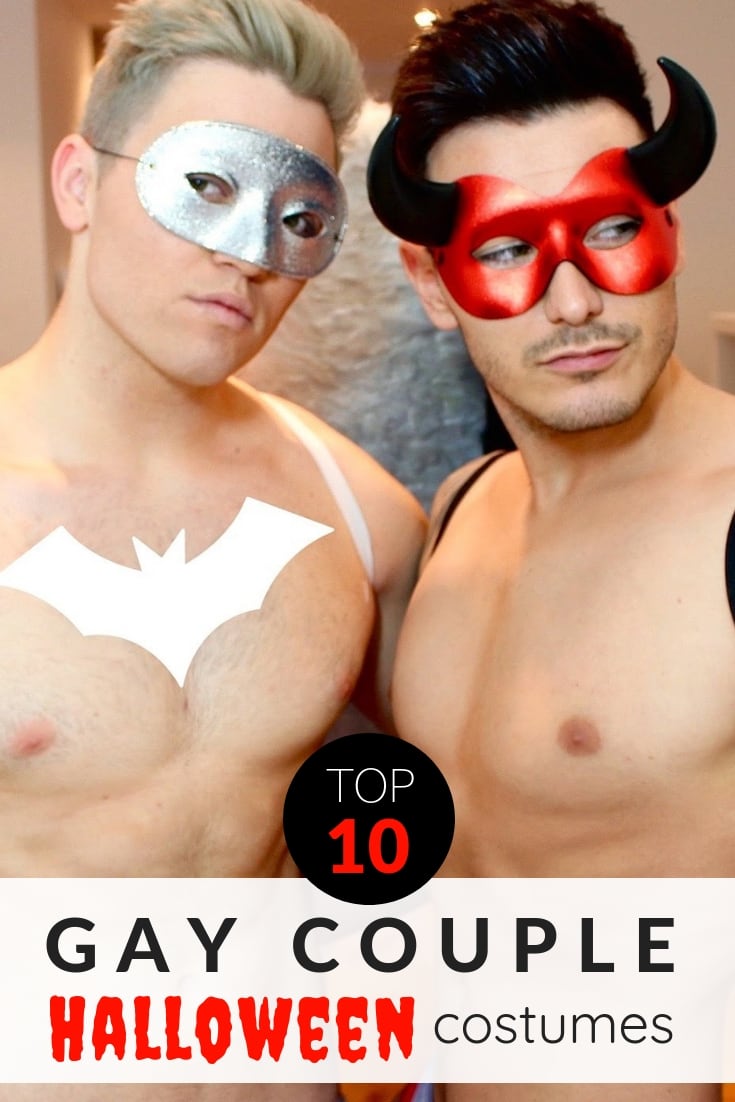 Happy travels are safe travels
We recommend you always take out reputable travel insurance before your next vacation. What happens if you suffer from illness, injury, theft, or a cancellation? Many gay travelers forget about it and regret it when something happens. Better to pay a small price and have peace of mind and not worry.