Get inspired with these gay Halloween costume ideas including adorable gay couple outfits.
Witch, please!
We all know Halloween is the gayest holiday of the year, especially after 2 years of Covid lockdowns…
Just think about it. Dressing up in extravagant costumes, complete with makeup and accessories, before heading out for parties that are bound to last until the sun rises the next morning… You can't tell me that you don't see it. I mean, take a quick look at all the LGBTQ Halloween parties that happen just across North America. California is especially renowned for its massive celebrations like Halloween in the Castro and Halloweenie in LA. Plus, there are Wicked Manors in gay Fort Lauderdale in Florida, Gay Halloween on Church in Toronto, Spooky Bear in Provincetown… I promise I could go on and on about these high-spirited events. Seriously, sometimes it feels like Halloween was created with us Hallow-queens specifically in mind!
So, when you're ready to grab your closest ghoul friends for an exciting night of dancing and boos, you've got to make sure you have the most sensational ensemble. This is exactly why we're here to help. Picking out clothes can be hard enough on a regular day, but on Halloween, the pressure is tenfold.
Lucky for you, we've assembled a diverse, inspiring collection of outfits to help you keep the crowds under your spell. Trick or treat yo'self to these options, and remember to have a safe and spooky Halloween!
Batman characters
Batman and Robin? Harley Quinn and Poison Ivy?
The possibilities are endless when it comes to this iconic DC franchise. Still, one thing's for certain: whether riding solo or venturing out as a group, someone's dark knight will definitely be rising after spotting all that tight leather and spandex.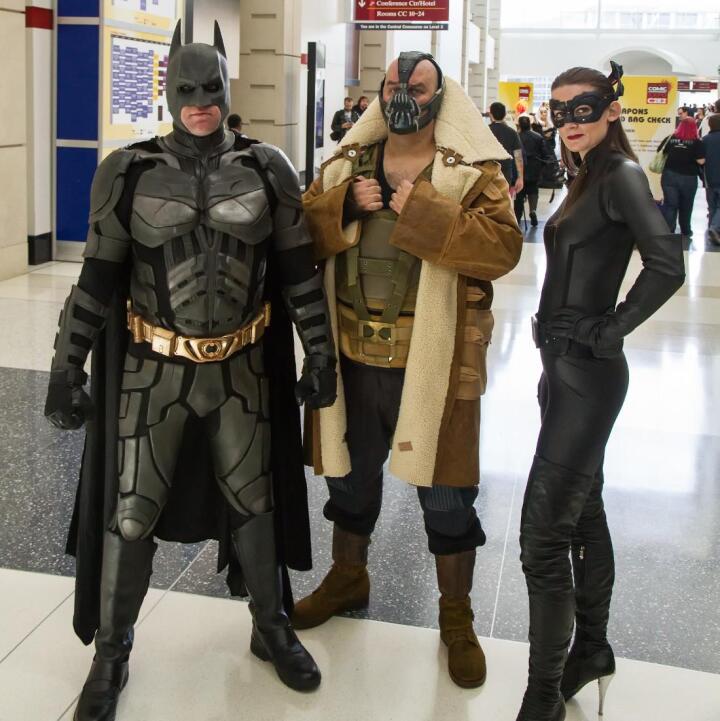 Superwoman, Superman…or a mix of both!
They say that the "S" on Superman's chest is a symbol of hope, but tonight, it just stands for Sassy.
And if you're tired of seeing the same old Superman costumes every year, shake it up with some inspiration from Superwoman. Come on, everyone looks cute in a mini skirt!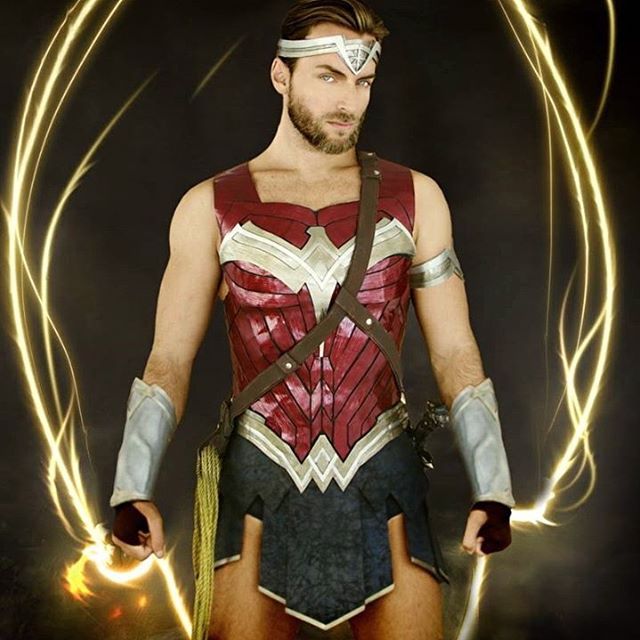 Drag devils
Satan is always looking to hire new assistants, so doll yourself up for the night and play the role of a sensationally horrific little devil. We'll even give you extra points if you spring for an over-the-top drag look to complete the performance.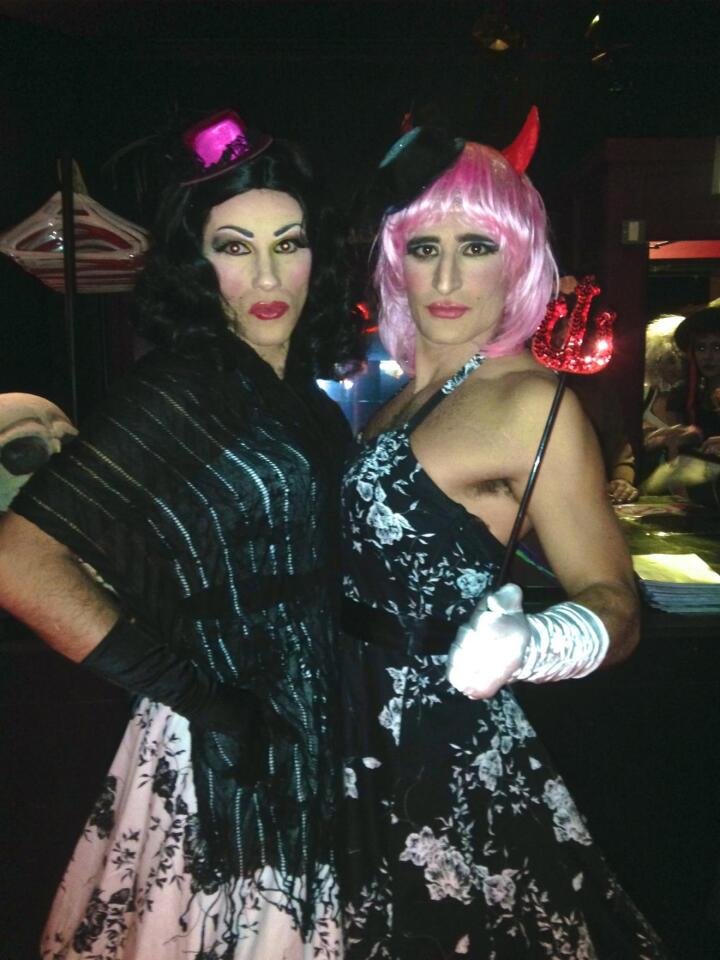 Cheeky angels
Who said angels couldn't be a little naughty sometimes? Everyone deserves a break, and Halloween is the perfect night to cut loose and bask in your own sins. So, pour on that glitter, fix your wings just right, and make sure you keep that halo standing tall.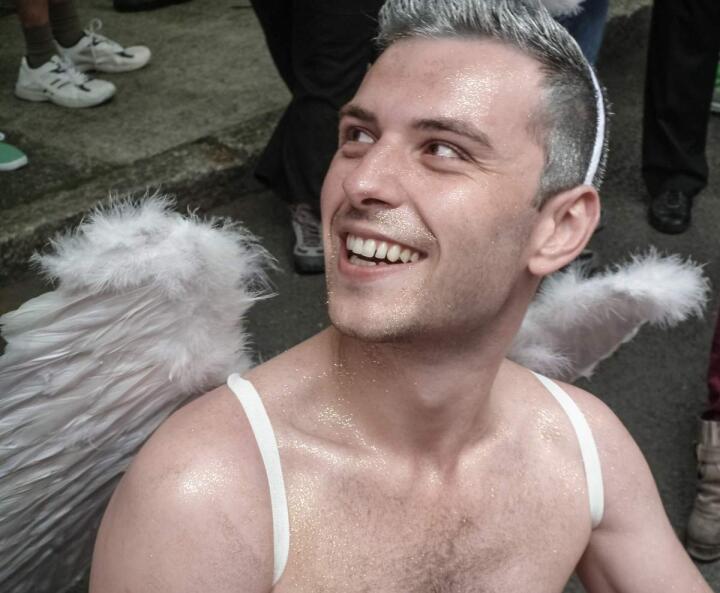 Catwoman
Look, we understand that we've already covered Batman characters in general, but we'd be lying if we said this queen didn't deserve a spot all to herself. I mean, the leather? The whip? The claws? What more could a person want from a costume? Me-ow!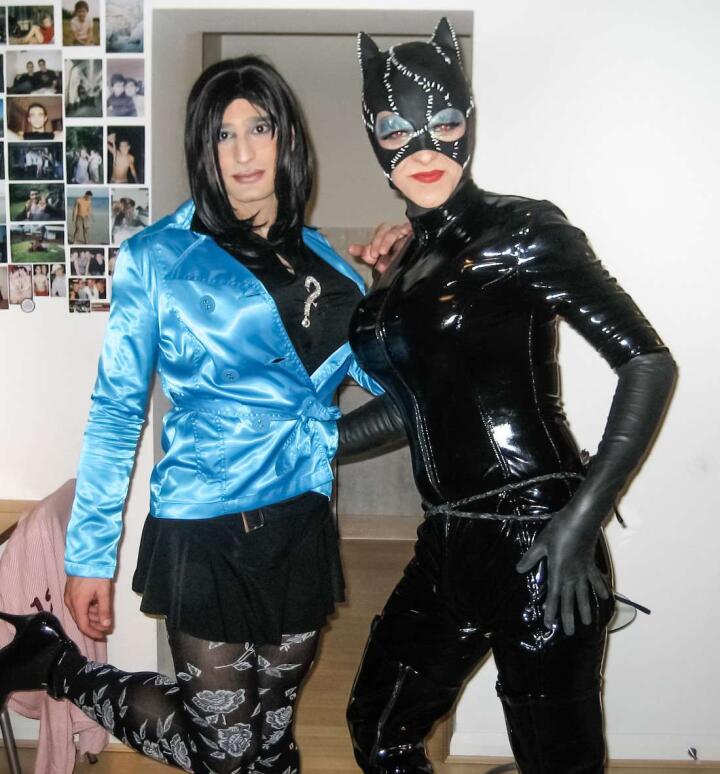 Jon Snow (Game of Thrones)
Suppose you're hoping to make a bold entrance to your late-night soiree. Why not dress in your finest furs and armor in order to replicate the honorable (and scrumptious piece of eye candy), Jon Snow? Basically, winter won't be the only thing coming when you wear this costume.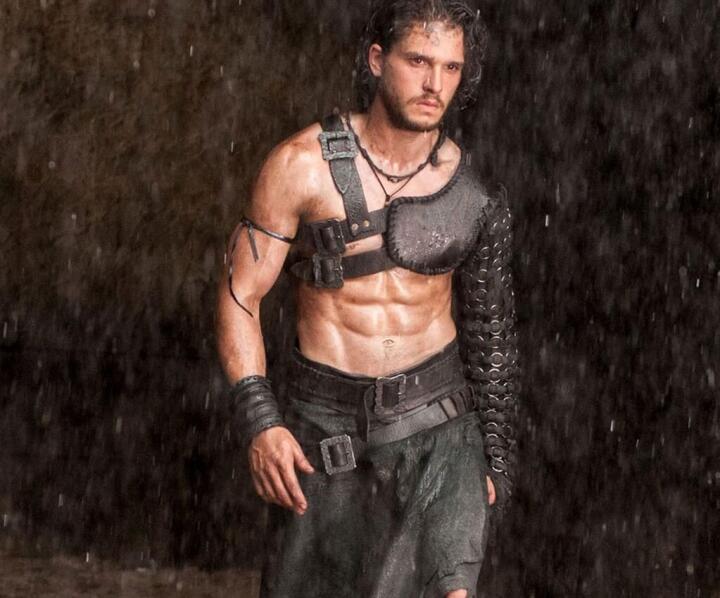 Frankenstein
We love a man who has a couple of gnarly scars and a tragic backstory. Just watch out when you wear this costume out on the town. You'll be looking so fine, there will surely be a mob coming after you by the end of the night.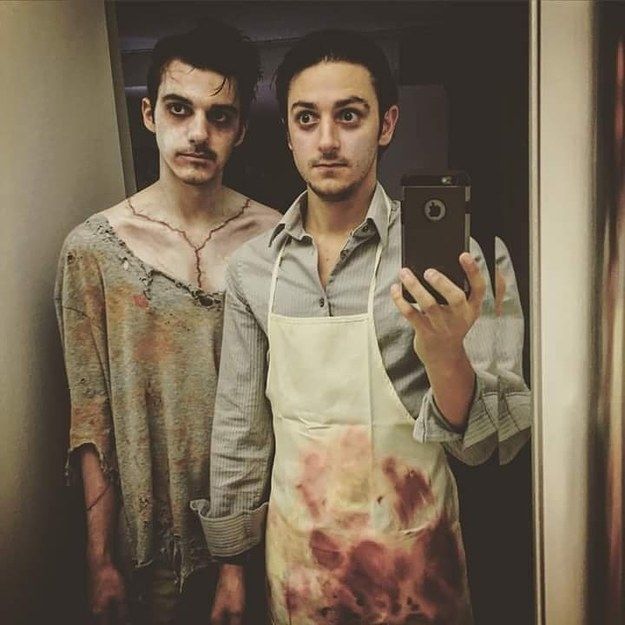 Mario and Luigi
We've all had fantasies about men in uniform, but how could we possibly forget about those hunky plumbers? That's where Mario and Luigi come into play. Level up your costume by exchanging those clunky overalls for some sweet tights, and you'll have yourself a winning game.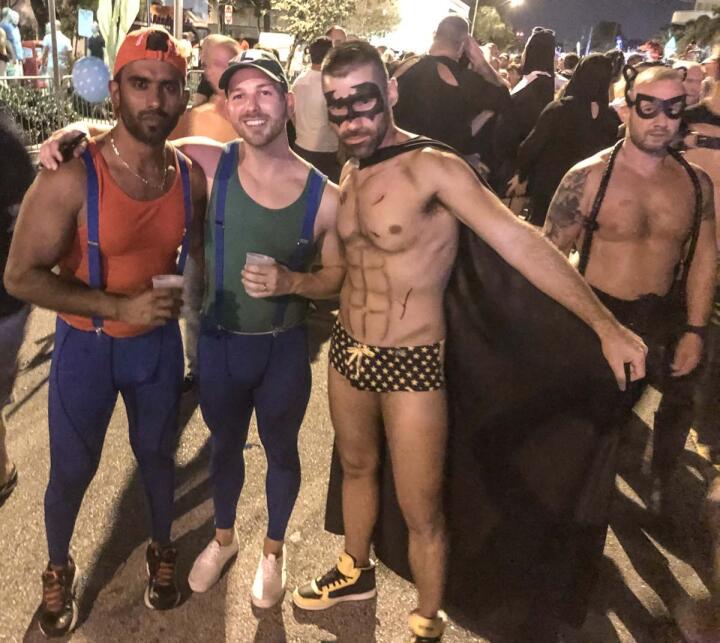 Sinful zombies
Being a zombie comes with the unbridled desire for flesh, which… Is pretty relatable if we do say so ourselves. And while you probably associate zombies with rotting corpses, don't be afraid to venture outside of the box and try for a fresh, suave take this year.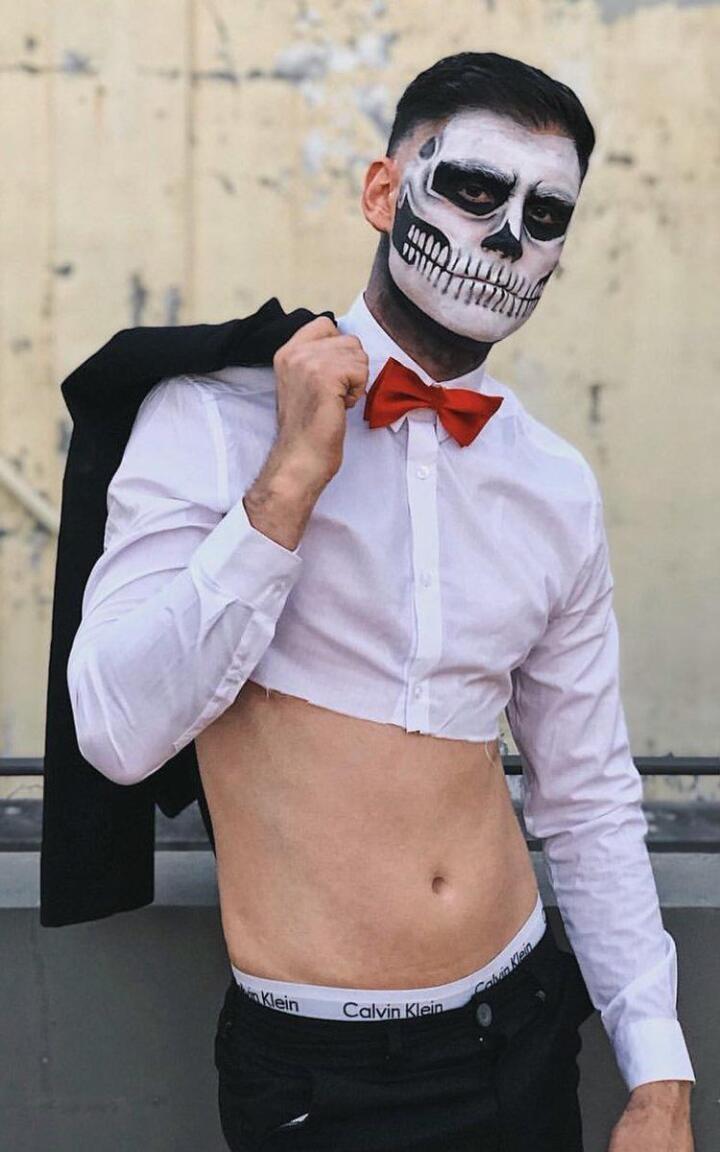 Pokemon characters
Gotta catch 'em all! And by that, we're obviously referring to the hearts of the gorgeous men parading about the streets on All Hallows' Eve. What better way to capture their attention than by putting on handy dandy Pokemon gear? Just make sure you've got your Squirtle handy.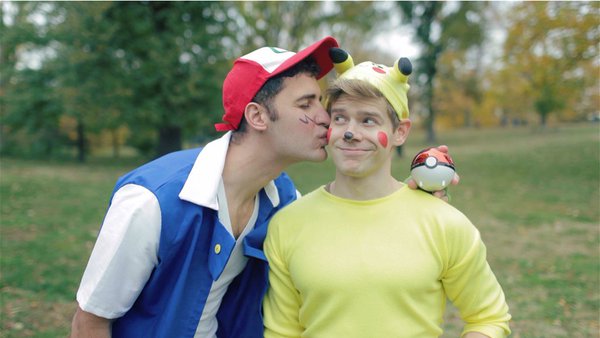 Gorgeous Ghostbusters ladies
What can I say aside from the fact that busting makes me feel good? But for real, whether you go for the authentic or the modern Ghostbusters look, somebody will definitely leave the party knowing who they're gonna call when they're looking for some assistance.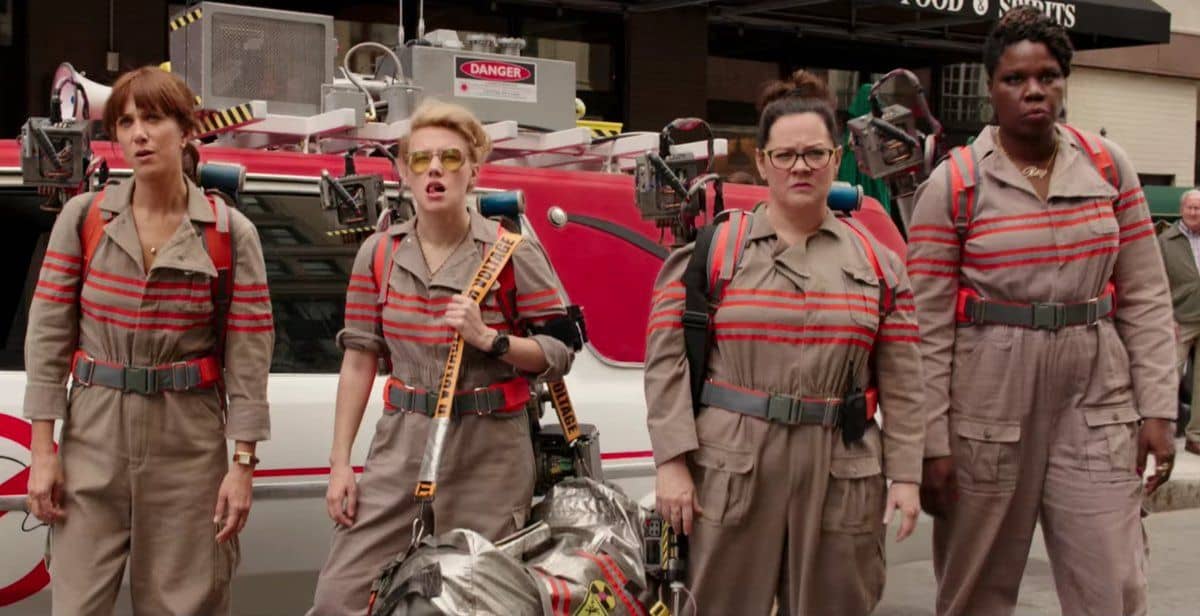 Gay Dracula
I vant to suck your… Well, we'll let you take it from there. Nothing says Halloween more than a classic monster character. Thankfully, good old Drac certainly stands the test of time as a gay favorite. Plus, since he has no set look, you'll be free to accessorize however you please. Bring out the sequins! One of our favorite Draculas to get inspiration from is Romania's entry in the Eurovision Songcontest in 2013…check out Cezar in the video that follows:
Tantalizing Tarzan
If you're feeling particularly primal this Halloween, why not embrace that urge and dress up as the original jungle himbo? Whether you choose to sport the iconic tangled locks or adopt a more clean-cut approach, this costume will surely earn you a feral night to remember.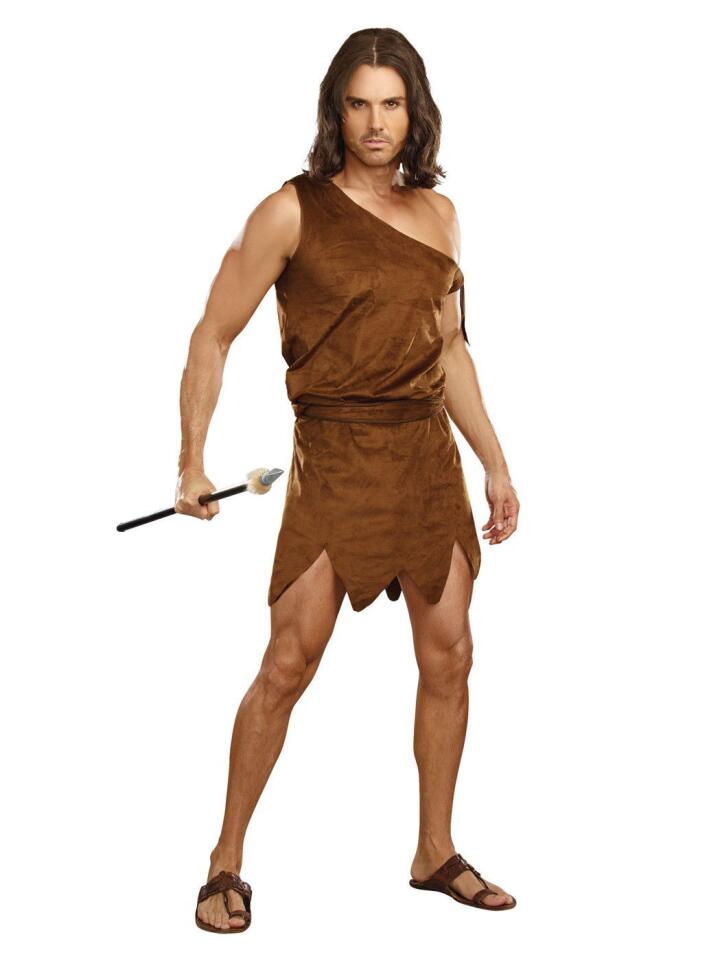 Sexy Spartan warriors
When Halloween comes around, and you've yet to pick out a costume, try not to panic. By far, the most effortless solution will be to strap yourself into your favorite gear and call yourself a spartan. Nothing screams handsome like a formidable warrior with sculpted muscles. Just imagine the movie 300 and go for it!
Political characters
After a stressful year… Or in some cases, a couple of years… A great way to destress and wind down is to simply poke fun at those in power. While this type of costume won't necessarily be fashionable, it will make a strong statement and initiate conversations.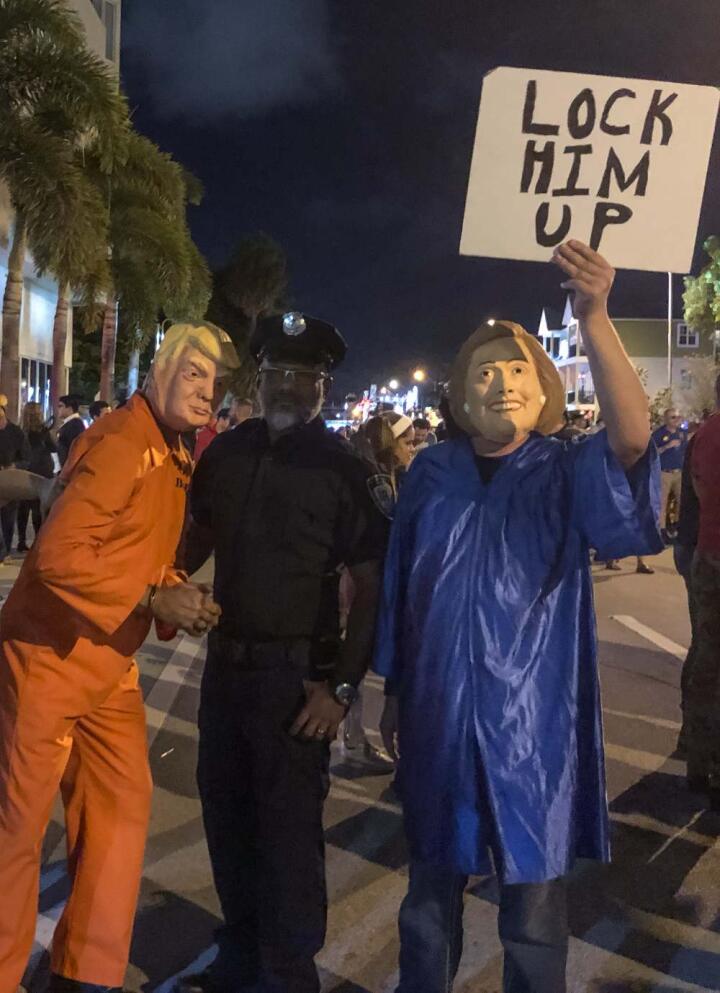 Vicious Vikings
Now, this one is clearly perfect for all you bears out there. Seriously, can you think of anything bigger, stronger, or hairier than a passionate Viking man? It's time to dust off your helmets, embrace your inner Thor, and set sail into the creepiest night of the year.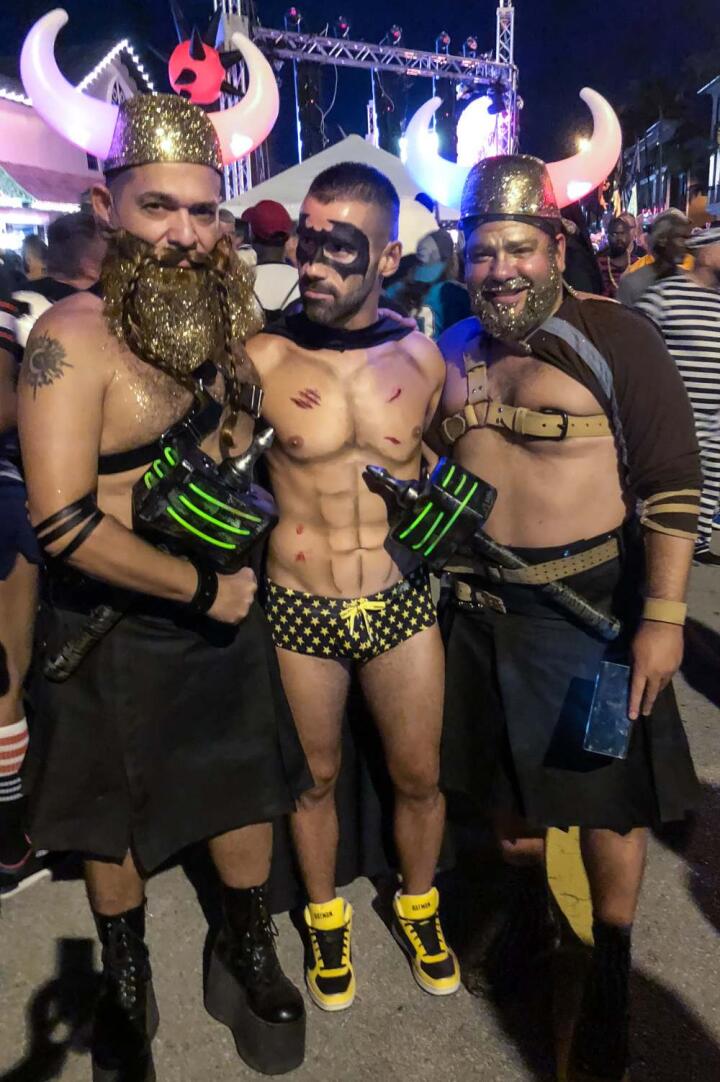 Board game characters
We adore a homemade costume almost as much as we enjoy playing games… Why not combine the two? Twister is a wonderful option thanks to the inherent tension, but you can honestly go any direction. Just don't be afraid if you get into a little bit of Trouble throughout the night.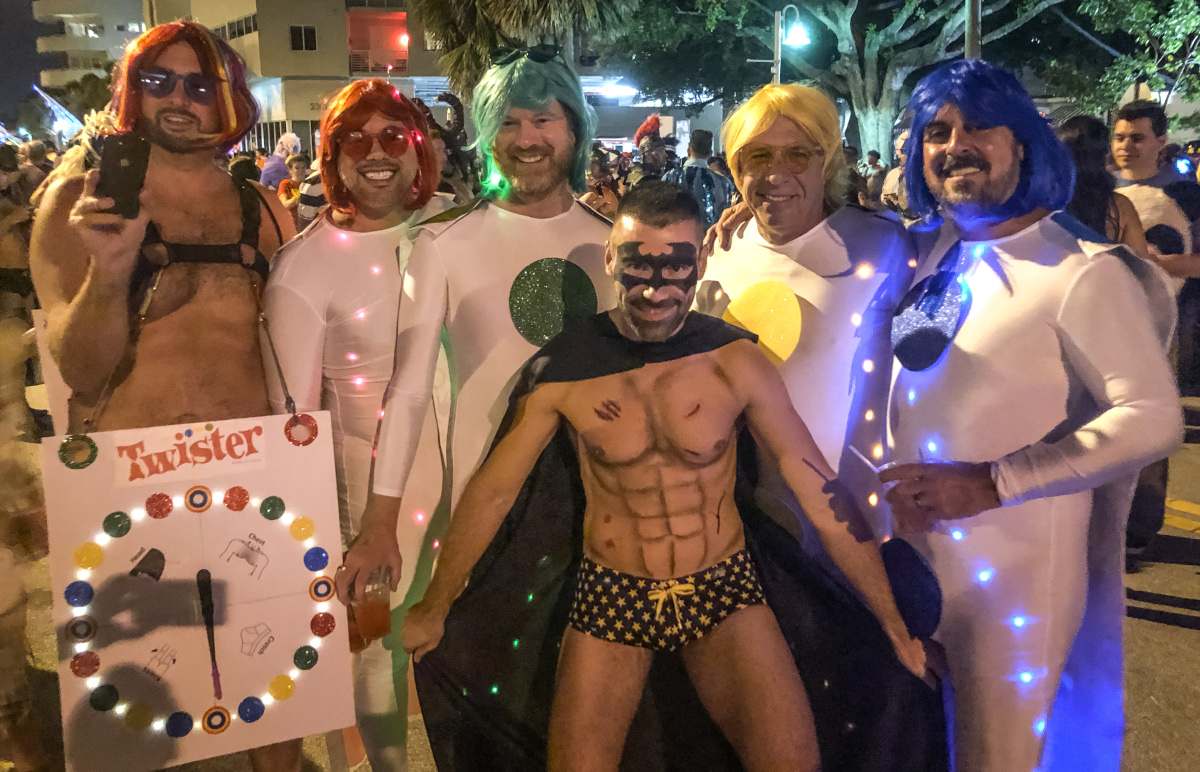 Naughty Santa
It looks like Christmas is coming early this year. Don yourself in your gayest Santa apparel, then prepare to be unwrapped like a perfect gift by the end of the night. And, of course, don't be afraid to bring out your inner Ho-Ho-Ho in the process.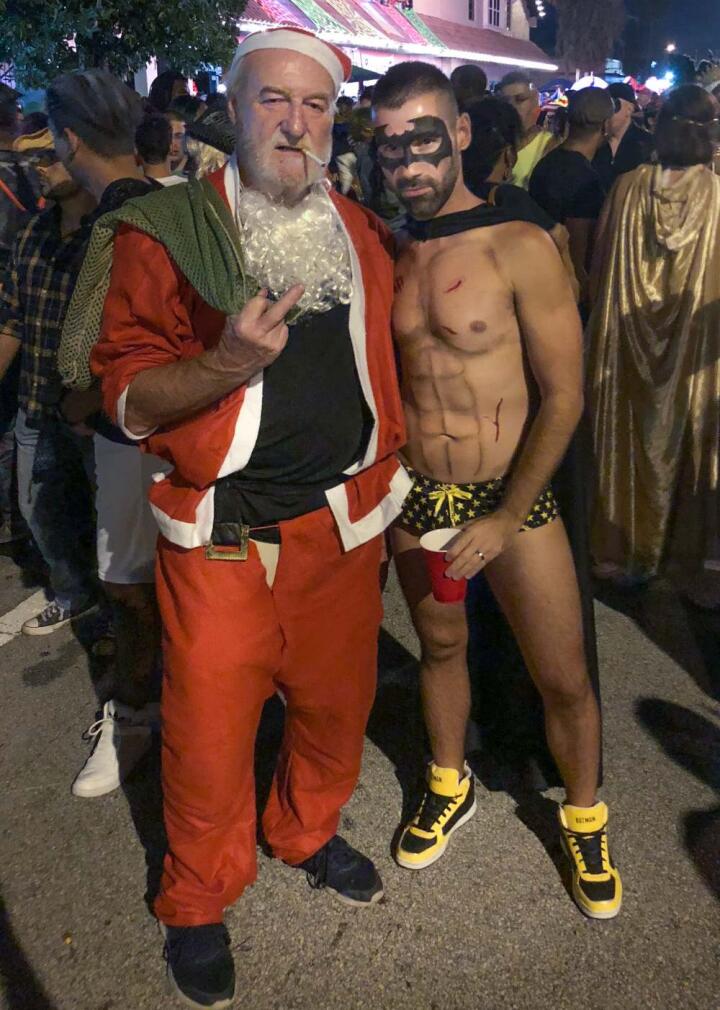 Scary ghouls
I know we've mostly embraced a combination of sultry, cutesy, and nerdy looks throughout this list, but let's not forget what Halloween is all about: the scares! Feel free to go wild with blood, gore, special effects makeup, and props to complete your spooky ensemble.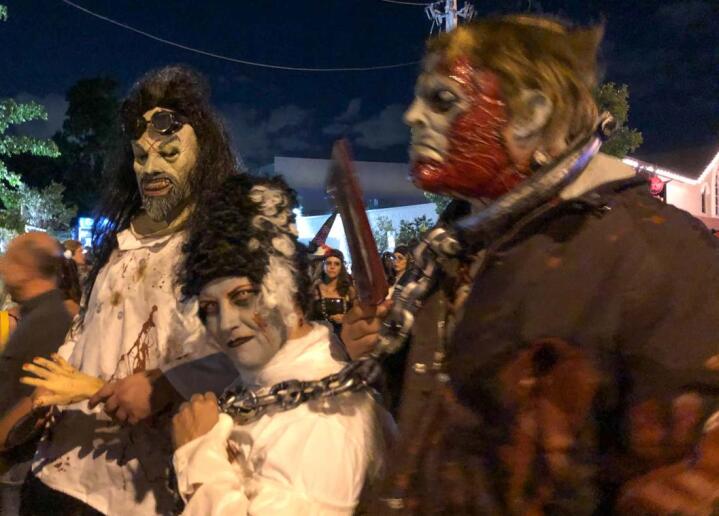 Bert and Ernie
The first gay icons. What better way to pay homage to our childhood heroes than to replicate them during this fabulous night of mischief and wonder? Plus, considering their basic apparel, putting these costumes together will be a cinch when working on a deadline.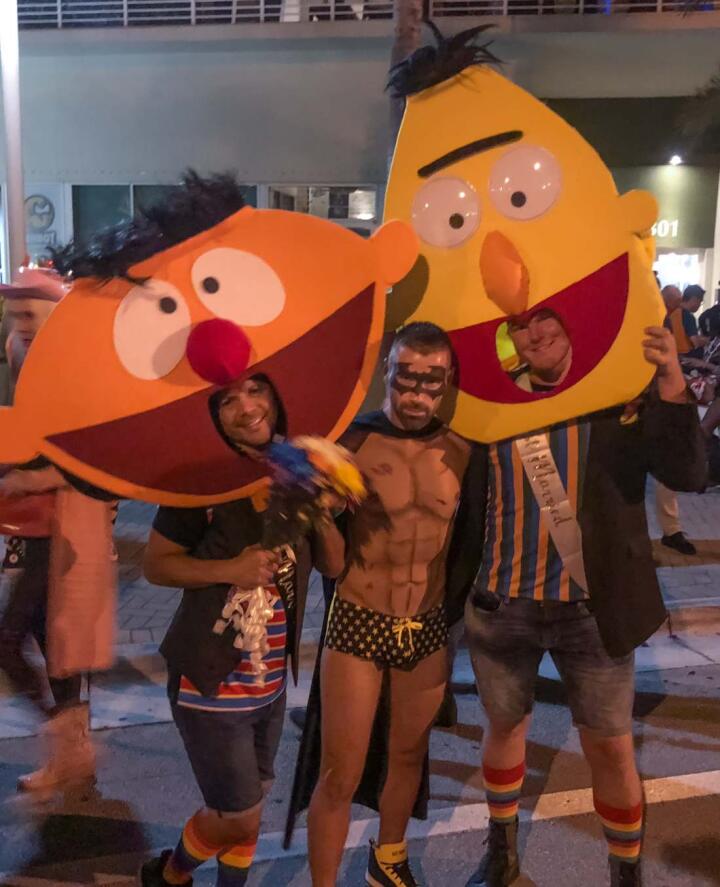 Fabulous ghosts
Whoever said that all ghosts have to look horrifying clearly has not paid much attention to modern media. I mean, did you guys even see Patrick Swayze in Ghost? If you're going to be afraid of anything this Halloween, don't let it be someone else's judgment. Get your glam on, ghouls!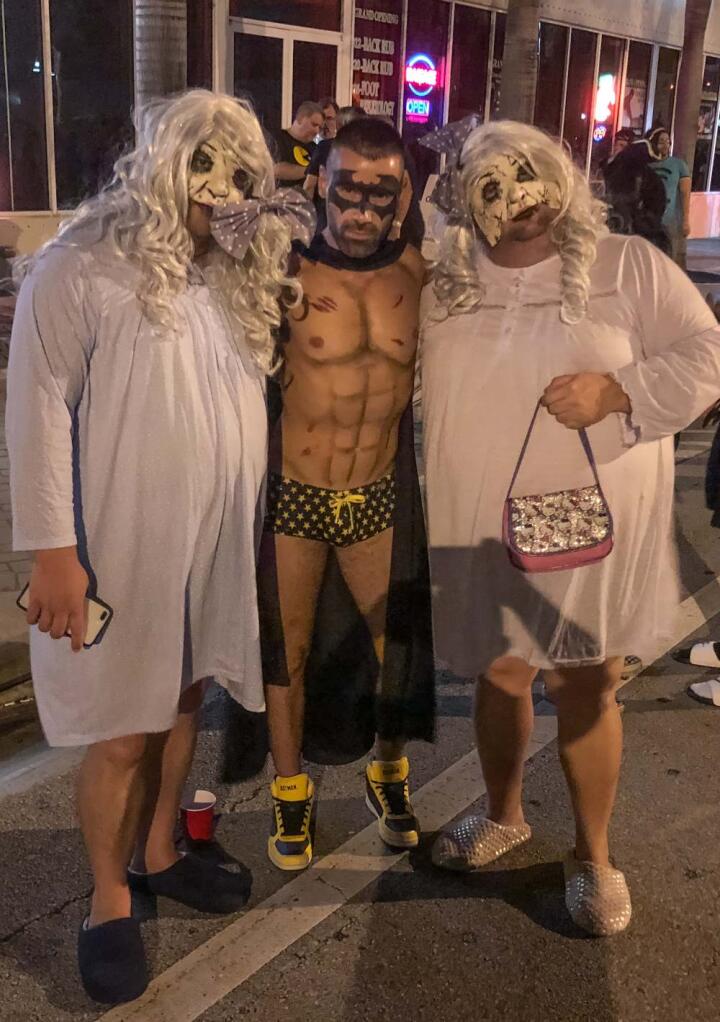 Baseball team
If you're planning a group outing, why not coordinate costumes as well? Any sports team would do the trick, but there's something about baseball pants that bring out a man's finest assets if you catch my drift. And who knows, maybe you'll score a home run by the end of the night?