Discover Phnom Penh gay scene with local boy Aaron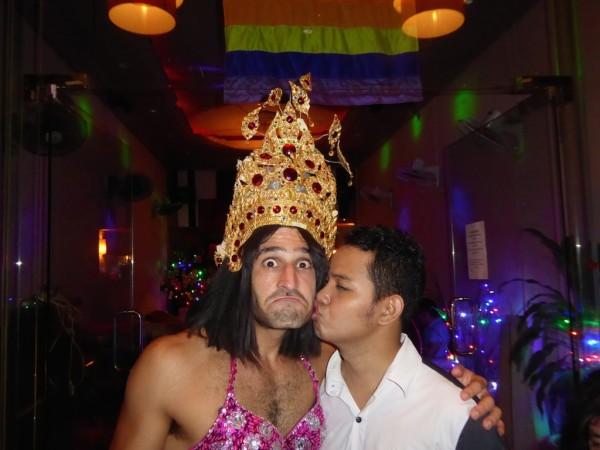 In Phnom Penh we met local gay boy, Aaron.
Aaron spent his childhood living on the streets of Phnom Penh for 8 years until he managed to develop a better life for himself and his family.
As well as learning about the gay scene of Phnom Penh with him, we were also really touched and humbled by his story.
#01

Soustei Aaron, where are you from and what do you do?

Hi boys. My name is Darun Un, nickname, Aaron. I'm 27 years old, originally from Sihanoukville city.

I am a drag show performer and manage the shows at the 2 Colours gay bar in Phnom Penh.
#02

Does your family know you're gay?

Yes all my friends and family know I'm gay.

At first my mother didn't accept it and refused to speak to me for 2 years, but now she's ok with it and on one occasion she helped me prepare my wig, clothes and makeup for one of the shows.
#03

What was it like growing up as a gay boy in Cambodia?

I didn't accept I was gay until I was 20 years old. I never faced any problems from anyone, but I was never outwardly flamboyant or feminine acting in public.
#04

You told us you spent most of your childhood living on the streets – how did you go from being a street kid to owning your own gay bar in Phnom Penh?

When I was 12 years old, our house in Sihanoukville was completely destroyed by a fire and we lost everything. My parents got divorced and my mother and siblings moved to Phnom Penh. My father did not earn enough money to support us so as we had nothing and had to live on the streets of Phnom Penh.

When I was 13 years old, I met the guys from the NGO charity called the Tree Alliance for street kids to give them an education and basic skills to build a life and career for themselves. They have a really good restaurant called Friends where the children work and make excellent food (Nomadic Boys: we second this!)

Through the schooling offered at the Tree Alliance NGO, I was able to learn to read, write and obtain the basic skills to get a job and earn money to support my family.

After 8 years living on the streets, I had saved up enough to rent a modest flat in the suburbs of Phnom Penh. Eventually, my brother and I saved enough money to buy and open a gay bar.

If the Tree Alliance and Friends NGO didn't exist, I would not have anything. I wouldn't know where my life would have ended up.
#05

How easy was it to set up a gay bar in Phnom Penh? Did you encounter any discrimination from the government authorities or the police?

It was absolutely fine. We never faced any homophobia. We only faced the day to day practical problems all bars face such as complaints from the neighbours about the noise.
#06

Which gay bars in Phnom Penh do you recommend for gay travellers?

We have a growing and busy gay scene here in Phnom Penh. We have 3 popular bars, which are central and within walking distance of each other:
1. The 2 Colours bar
The 2 Colours bar is where I perform in and manage the drag shows. It is at #225 on Street 13.
2. Rainbow Bar
The Rainbow bar is owned by the very friendly Doug from Canada. They also have drag show nights and great cocktails.
Rainbow bar is at #134 on Street 136.
3. Space Hair Salon and Bar 
The Space Hair Salon and Bar is a popular place with very cute puppies and staff. It is at #66 on Street 136.
#07

Which are your favourite clubs for a gay night out in Phnom Penh?

The two famous clubs are Blue Chilli (#36 on Street 178) and Heart of Darkness (#38 on Street 51).

There is also Pontoon club (on Street 108 near the corner with Preah Sisowath Quay road), which has a popular gay night on Thursdays.

For more information about the gay scene in Phnom Penh and Cambodia, check out the excellent GayNewsCambodia.
#08

Are there any gay friendly hotels in Phnom Penh you recommend for gay travellers?

There are two famous gay hotels I know of in Phnom Penh:
Popular gay resort with a nice swimming pool and spa.
Very private in a quiet street, located a 5 minutes ride away from most attractions.
Prices start from $76 / £50 for a double bed.
ARTHUR AND PAUL HOTEL

  Book online
Men only hotel, it has a sauna, a steam room and a spa pool.
Prices start from $105 / £70 a night.
For more centrally located accomodation (ie walkign distance from most sites), check out:
THE ARTIST GUESTHOUSE
Book online
Well located near the Royal Palace, the national museum and the riverside.
Walking distance to the gay bars and clubs like 2 Colours.
Prices start from $35 / £23 a standard double room, with breakfast included.
WHITE MANSION BOUTIQUE HOTEL
Book online
A romantic oasis in Phnom Penh, with very large room and a great swimming pool
Close to all attractions and the best restaurants in town
Prices start from $149 / £100 for a double room with breakfast included

#09

Finally, we would like to star in one of the popular drag shows, any suggestions for our outfits?

Well for Stefan, he can be the innocent and virginal Cambodian Princess:

And for Sebastien, he can channel Idina Menzel and perform "Let It Go" as Elsa from Frozen:

You can read more about the gay bars of Siem Reap and watch our Cambodia travel video.