We love our train adventures with the Trans Siberian railway and those journeys through the clouds in Sri Lanka ranking as some of our favourites in our travels.
How to top this? How about travelling on the world's highest railway?
In Tibet you can ride on the Qinghai-Tibet Railway, which goes from the Northern edge of the Tibetan Plateau (Xining) to Lhasa, reaching a peak of 5,072 metres (16,640ft) at the Tanggula Pass. Don't worry, train passengers are given oxygen supplies to help combat any altitude sickness.
Since its opening in 2006, the train travel has exploded, becoming one of the most popular ways for travel in Tibet. So much so that the number of tourists arriving in Tibet by train today equals the number arriving by plane. This is our guide as to why train travel to Tibet beats flying.
Stunning scenery
The main reason to take Tibet train is to marvel at the surreal alpine scenery. The Xining to Lhasa section crossing the central Tibet Plateau is the main highlight, offering alpine sceneries full of snow caped mountains, lakes, vast plateau plains littered with nomads, yaks, Tibetan antelope and lots of wildlife.
Other highlights along this segment of the train includes:
Qarhan Salt Lake: one of the must-not-miss highlights. For 20miles (32km) you see an endless path of whiteness with grotesquely-shaped salt flowers.
Yuzhu Peak: look out for the view of the summit of Yuzhu Peak at the nearby train station. The station itself is located at 4,160m (13,648ft) and Yuzhu Peak reaches 6,178m (20,269ft).
Kekexili nature reserve: this is the least populated area with fantastic scenery and plenty of wildlife. Look out for herds of Tibetan antelopes, wild yaks and wild Tibetan donkeys.
Tanggula Station: famous for being the highest point a train goes: 5,072 metres (16,640ft). The views are exceptional and sure to blow your mind.
Tsonag Lake: many of the lakes in Tibet are sacred, believed to be the dwelling places for protective deities. Tsonag Lake is one of the most famous of the holy lakes and it can be observed on the right hand side as the train passes along the Tsonag Lake Railway Station towards Lhasa. Tsonag Lake covers an area over 248m (400km) and is located at 4,594m (15,072ft) above sea level, making it one of the world's highest freshwater lakes.
Qiangtang prairie: this area of grassland is one of the most picturesque spots in north Tibet where you can see Tibetan nomads going about their daily life. You can also spot wild animals like wild yaks, bharals, Tibetan wild donkeys and white-lipped deers.
Namtso Lake: another famous lake in Tibet which you can view along this unique train adventure. In the Tibetan language, Namtso Lake means Heavenly Lake. The scenery around it will quickly tell you how it got its name.
Cost effective way to travel in Tibet
One of the reasons people prefer travelling by train in Tibet is because tickets are much cheaper than plane tickets. Hard sleeper class train tickets can cost up to one third the price of a flight to Tibet.
There are several types of classes for train tickets you can purchase:
Seater section: if you're on a tight budget you should consider seater class. They are extremely cheap, but you have a seat instead of a bed and it is almost always overcrowded and noisy.
Hard sleeper: includes a bed but despite the name the bed is soft! It has 6 beds in each section with no door separation so feels more like sleeping in a hostel dorm.
Soft sleeper: this is 4 beds in a cabin, offering more privacy but is 35% more expensive than hard sleeper seats. These get booked out very quickly.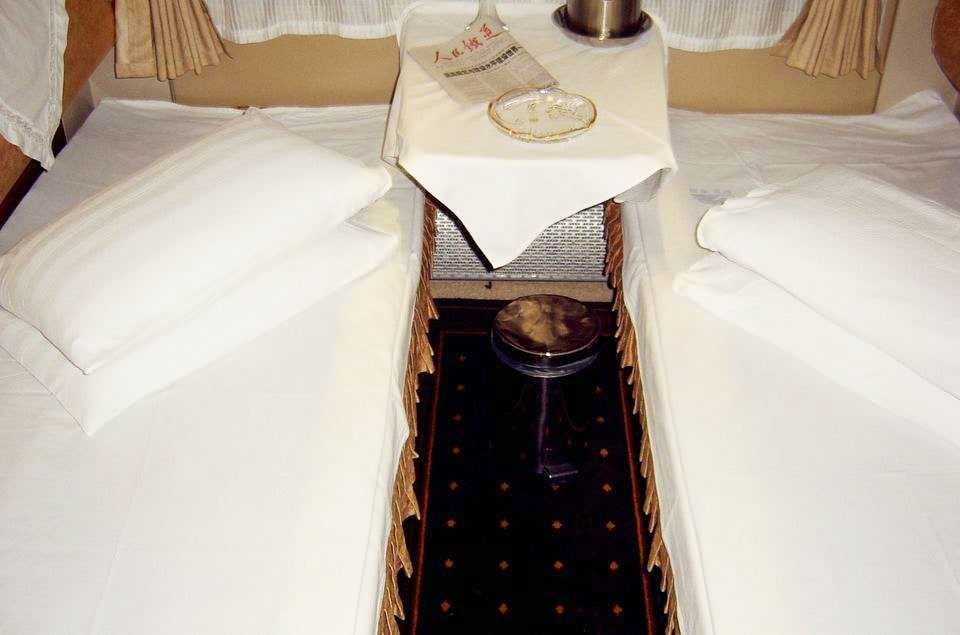 Minimising altitude sickness
Another important reason to travel by train in Tibet is to minimise the effects of altitude sickness, which is a common problem in Tibet. Altitude sickness is completely random and can hit anybody regardless of fitness level and age. It occurs when you cannot get enough oxygen from the air and feels like a bad hangover. It becomes an issue at high altitudes over 2,500m (8,202ft), especially when you don't acclimatise properly, allowing your body time to adapt.
Symptoms usually include feeling weak, tired, dizzy, possible sleeping difficulties, a throbbing headache, loss of appetite and a nausea, which can cause vomiting. Sometimes the symptoms maybe more severe, requiring medical help.
Getting a train to Tibet will lower the minimise the risks of altitude sickness by allow your body time to acclimatise to the high altitudes. Most travellers will start their train journey from Shanghai or Beijing and gradually climb all the way to Lhasa over a 36-52 hours journey.
Another alternative is to fly to Xining in the Qinghai province of central China, which is 2,275m (7,464ft) high and stay for a few days to acclimatise. Then you can take the Tibet train from Xining, which gradually rises over the 24 hours journey to Lhasa, which is 3,656m (11,995ft). It's also worth pointing out there is always a doctor on board the Tibet trains just in case!
The experience and savings offered by travelling by train in Tibet definitely beats taking a flight to Lhasa. Besides this, it is also the best way to get used to the high altitude of Tibet and minimise altitude sickness.
OUR FAVOURITE TRAVEL TIPS
⭐️ TRAVEL INSURANCE — We recommend you always take out travel insurance before your next vacation. What happens if you suffer from illness, injury, theft or a cancellation? With travel insurance, you can have peace of mind and not worry. We love World Nomads travel insurance and have been using it for years. Their comprehensive coverage is second to none and their online claims process is very user friendly.
⭐️ SAFETY & SECURITY — All travelers can sometimes encounter danger when traveling. CloseCircle is your "virtual body guard" mobile app which provides security alerts and support wherever you are in the world. They have a 24/7 emergency response team monitoring their users who will contact you immediately if the SOS swipe button is activated. Support can include anything from practical advice, to free evacuation from areas with extreme weather or security risks. You can read more about CloseCircle in our article about how to stay safe whilst traveling.
⭐️ ONLINE ANONYMITY — A VPN (Virtual Private Network) is a must in many countries: it allows you to surf anonymously and maintain your privacy whilst traveling. You'll particularly need it in countries where dating apps are blocked by the government. We recommend ExpressVPN, a reliable and cost effective service which we used and loved during our travels.
⭐️ HOTELS or APARTMENTS — When we plan a trip, we always look for the best hotel deals. We love Booking.com because not only do they have a comprehensive listing of accommodation options, they also offer the best prices. Added bonus: they provide 24/7 support and free cancellation for most listings.
⭐️ SIGHTSEEING and ADVENTURES — When we travel somewhere, we like to seek out the best experiences, whether it is cooking with locals in Bangkok, hiking on a glacier in Patagonia, or going on a wildlife safari in Sri Lanka. Our favorite place to look is GetYourGuide because they have over 30,000 highly rated activities, a user-friendly booking process with free cancellation and a 24 hour customer support.
This article contains affiliate links. If you click on them, we may receive compensation which keeps our website alive and helps us bring you to more destinations.
For more inspiration…