Time Capsule Hotel in Penang – Blog Review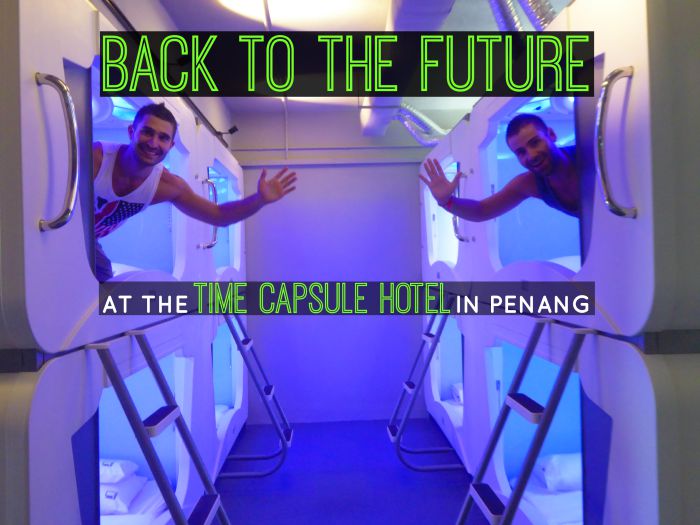 The Time Capsule Hotel is an excellent budget option, located in the heart of the Georgetown in Penang. You get your own comfortable bed in a private space at a minimum price.
We loved it so much, we wanted to share our experience with you. Follow us as we guide you through the purple lights of this futuristic gay friendly hotel.
1

Check-in process

The check in process is made very simple…

…get your card from reception, which will activate your pod and lockers, put your shoes in the shoe locker, take the lift, put your bag in the luggage locker, sleep in your capsule, and get out!

You are given a Time Capsule bag of goodies, which includes your headphone set, card to activate the pod, towel and toiletries.
2

 What do the pods look like?

Pods are split into rows of 2, 4 or 8, depending on length of stay: the longer you stay, the smaller your pod area. Most guests usually stay for 1-2 nights.

Each pod is equipped with a TV, mirror, beautiful backlight, Air Con, safe, coat hanger, electricity supply, USB port, a bottle of water, comfortable mattress, pillows and a closing door, which locks from the inside.

The futuristic purple light was our favourite feature.
3

Facilities of the Time Capsule Hotel

The Time Capsule Hotel has all the basic facilities you'd expect from a hotel. The bathroom is clean and decorated in a minimalist style.

There is free Wi-Fi throughout the hotel and on each floor there are large poofs where you can hang out.

There is also a restaurant downstairs called Little Nap, which serves nice expressos and food throughout the day.
4

 Price of the Time capsule hotel in Penang

Prices vary depending on the season. You can check the latest prices here.

For more about our adventures through Malaysia, please check out our Malaysia travel video: