The Tiger Leaping Gorge ("Hutiao Xia" in Chinese) is a popular trek in the southern Yunnan Chinese province on the Jinsha River.
The Gorge itself is a scenic canyon and one of the deepest and most spectacular river canyons in the world: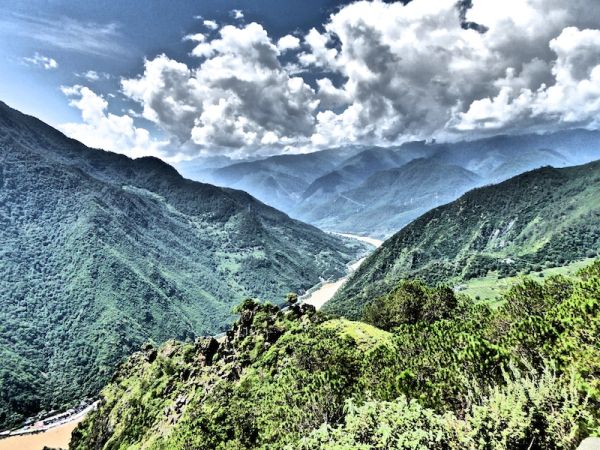 The trek itself is very popular and has two routes. The first is by car from the starting point in Qiaotou to the end point where you see the climax of the gorge. This one is popular with tourist package tours, gets very crowdy and is therefore to be avoided!
The second is the actual trek through the mountains, which we preferred, and noted this was more popular with non-Chinese tourists for some reason.
For both, there is an entrance "preservation fee" of 65 yuan (around £6:50).
The Tiger Leaping Gorge trek – day 1
The TLG trek is normally done over two days. On day 1, most people normally trek for around 5 hours, stopping at a 'Half Way' point and staying the night at the "Halfway Guesthouse".
Doing this route then requires you to complete the trek the following morning (2 hours) to "Tina's Guesthouse), from there you trek a further 1.5 hours and back to see the mighty gorge.
Or, you can choose to continue the further 2 hours to "Tina's Guesthouse" on day 1, which is what we chose to do.
The starting point for our trek was at Qiaotou. The trail itself is reasonably well maintained with arrows (and friendly locals) pointing the right way. But, we would advise against attempting the trek during wet weather (usually in August) as the path gets very slippery and dangerous.
We noticed several comical signs along the way about preventing forest fires, which were lost in translation: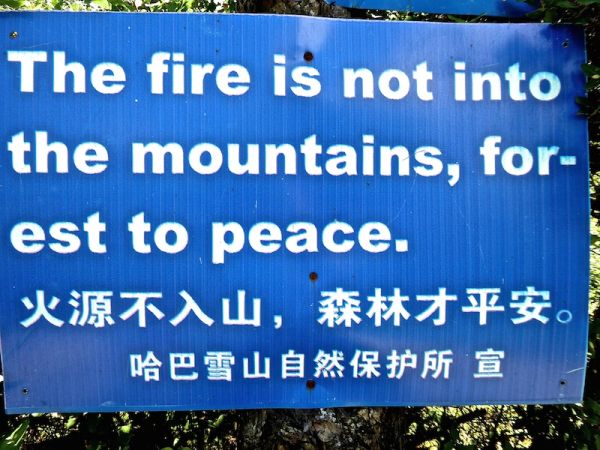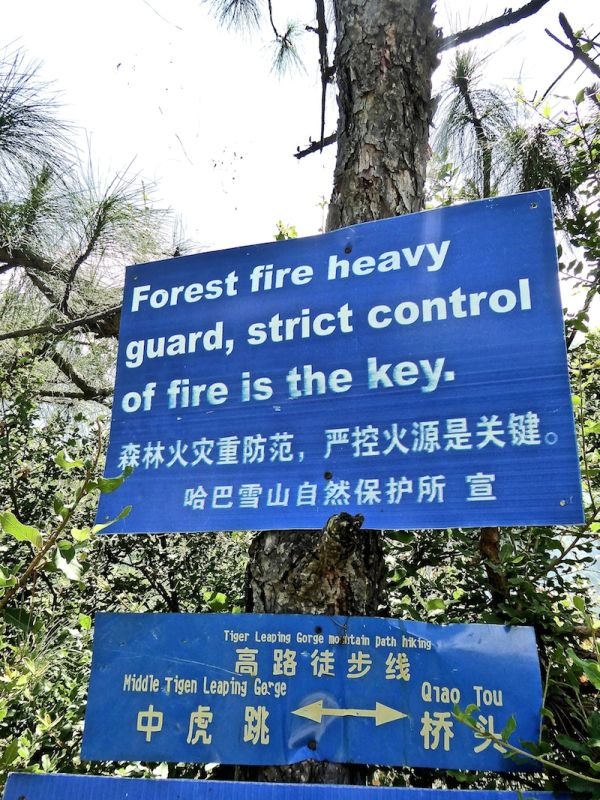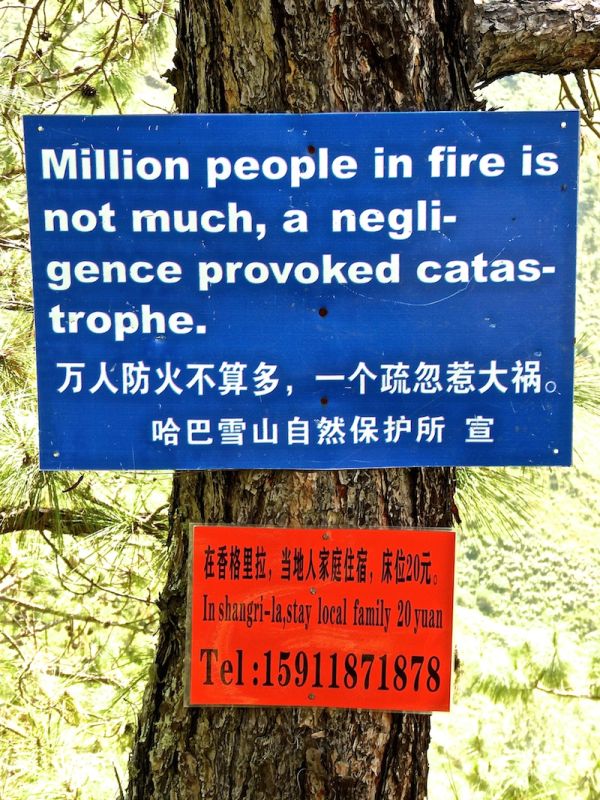 If you're a walking stomach on legs like us, then after an hour into the trek (and before reaching the hardest part called, "28 bends"), you will find plenty of stops along the way for delicious (and inexpensive) food.
We stopped at the Naxi Family Guesthouse for a late breakfast. The Naxi are one of the ethnic minorities in the area and they make a delicious omelette, which is more like a pizza due to the dough base: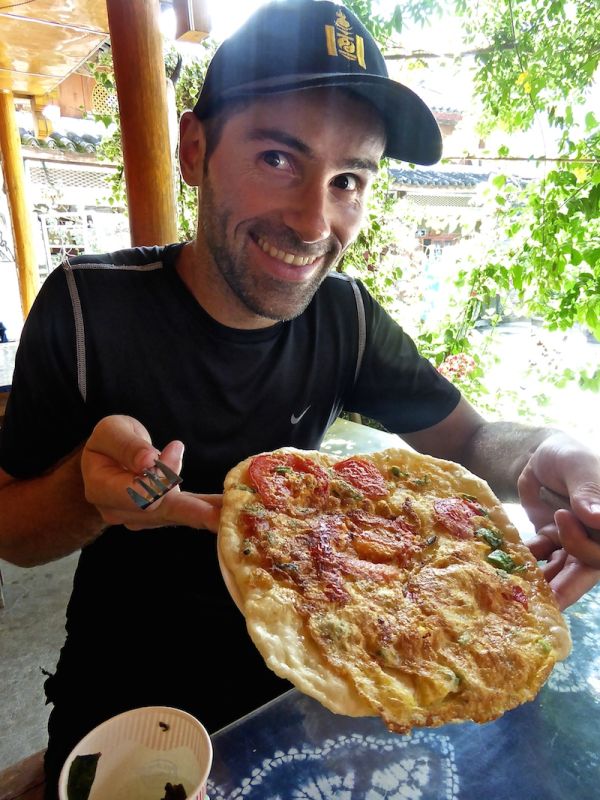 Along the way, there were many small stalls set up by locals from nearby villages selling bottles of water, thirst quenching vegetables like cucumbers, pickled pears and also marijuana (!)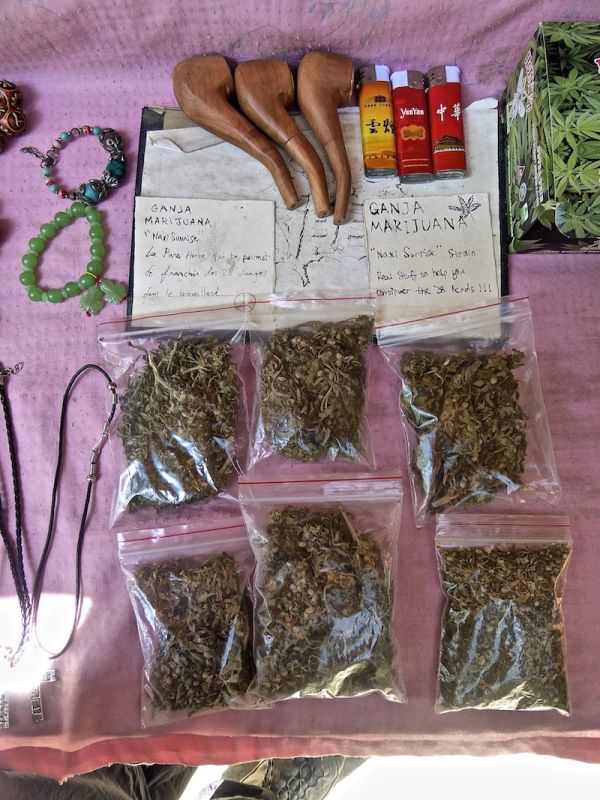 The area begins at 1,900 metres altitude at Qiaotou, then at its highest point rises to 2,650 metres.
The views of the mountains during the trek are spectacular: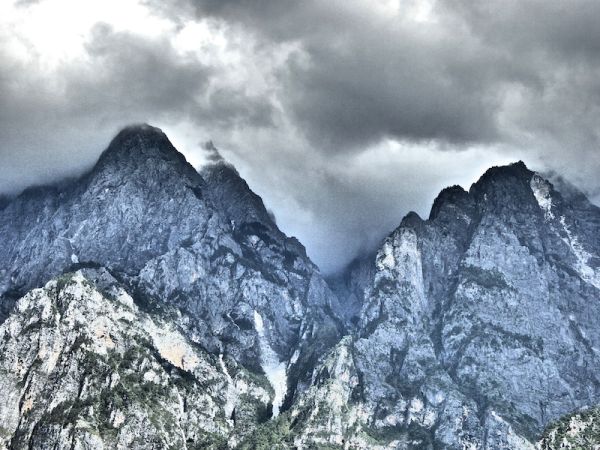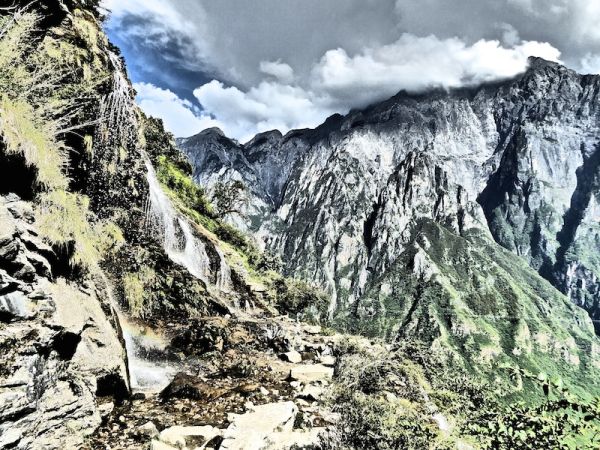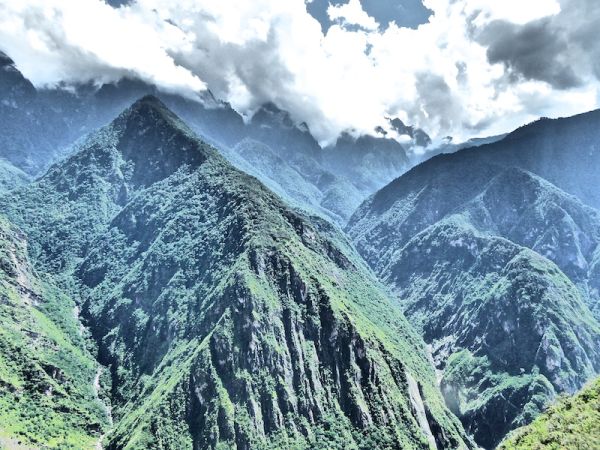 Along the way we passed the scenic waterfalls towards the end we couldn't resist a refreshing dip:
We also found many prickly pears along the way which made a very tasty and thirst quenching snack: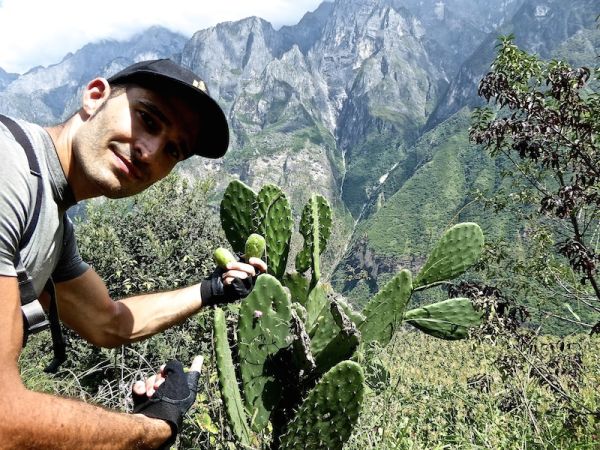 Sebastien however found a more innovative way to air himself (accidentally tearing his trouser leg during the trek!):
The Tibet Guesthouse
At the end of our trek we reached Tina's Guesthouse. "Tina's" has become a popular landmark for the area and she has built a mini empire in the area. The buses to Shangri-La and from to/from Lijiang all start/terminate at Tina's and belong to Tina's.
However, we chose to stay at the excellent Tibet Guesthouse because of the excellent Tripadvisor reviews and were not disappointed. Although it's an additional 20 minutes walk down the road from Tina's, it's worth it.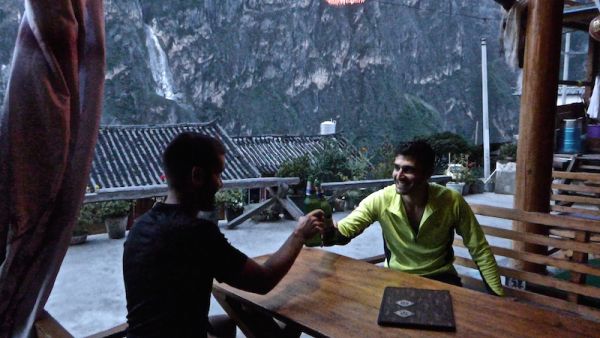 The rooms are cheaper, the family running it are really friendly but you get a spectacular view from your window: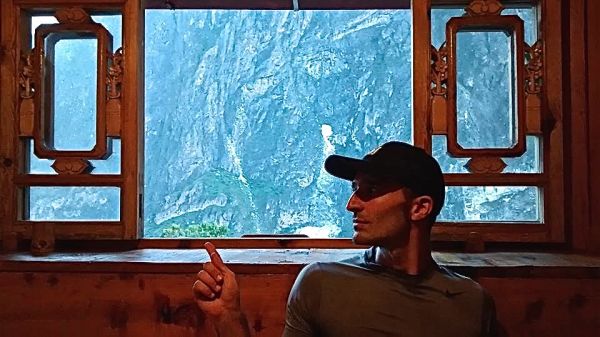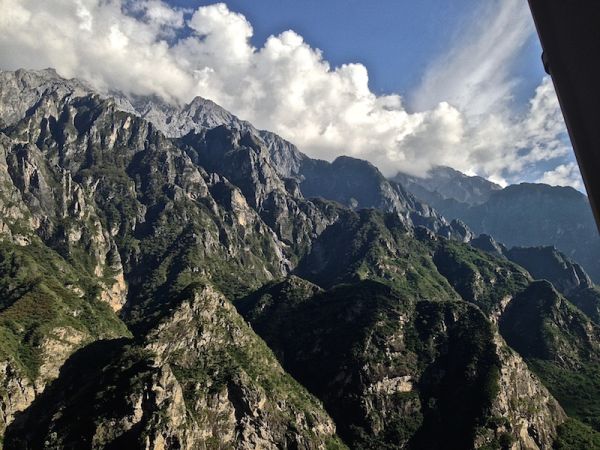 The Tiger Leaping Gorge trek – day 2
Our day began with a delicious Tibetan breakfast at our guesthouse with delights such baba (a pancake fried flat bread), filled and dripping with honey: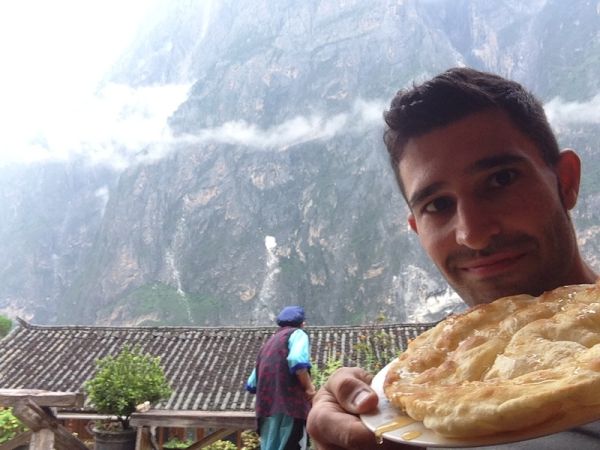 On the second day of this trek, most people venture down to the narrowest point of the gorge (roughly a 1 hours trek down and back up from Tina's). Locals stop you at certain points to charge you a nominal sum to pass arguing that it is a maintenance fee for the path as the government has not (yet) taken interest to maintain it.
We paid 10 yuan (around £1) each to go down, and 10 yuan to return. Locals charge you 15 yuan (around £1.50) for the return part if you choose to climb the ladder (see below).
The trek on day 2 is another round of spectacular scenery: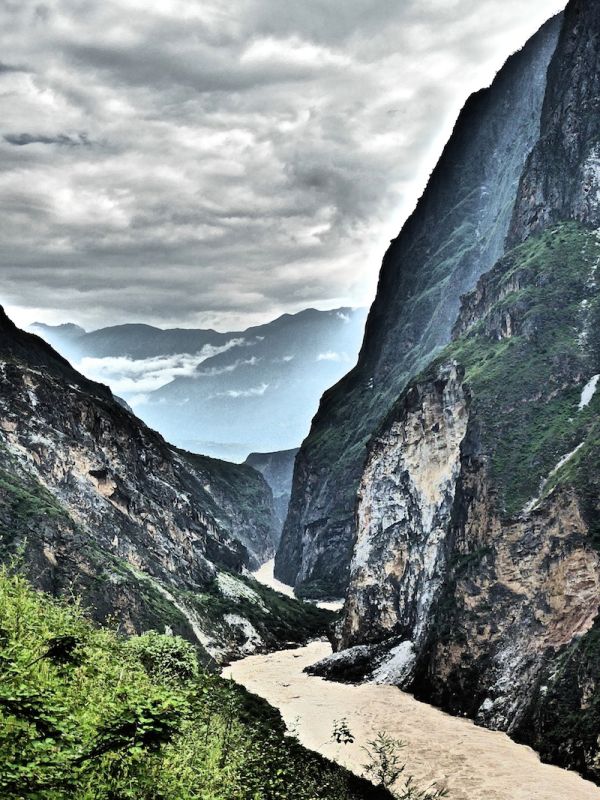 The gorge itself is the narrowest point of the Jinsha River (25 metres wide) where the rapids are very powerful and obviously very dangerous if someone was to fall in!
According to legend, a tiger jumped across this point to escape a hunter. Hence the name of the area – Tiger Leaping Gorge.
It is in any case magnificent to watch: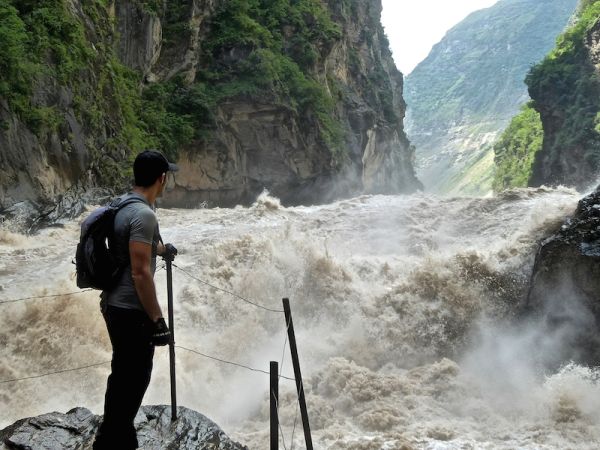 Sebastien thought this would be a good spot to attempt an alternative to the ice bucket challenge, but didn't have the balls to actually take the plunge into the gorge:
The return back up to Tina's can be done either with a 1 hour trek back, or the more daring 5 minutes climb up a 90 degrees ladder with no ropes/reigns supporting you. We chose to trek it – the scenery is stunning, but we found the ladder option just too dangerous!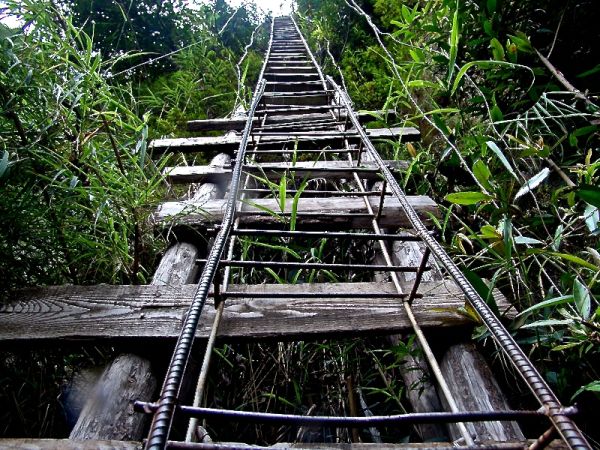 For more, watch our China travel video as we ate our way from Beijing in the North all the way to the south via Pingyao, Xi'An, Shanghai, Yangshuo through to Shangri-La:
OUR FAVOURITE TRAVEL TIPS
⭐️ TRAVEL INSURANCE — We recommend you always take out travel insurance before your next vacation. What happens if you suffer from illness, injury, theft or a cancellation? With travel insurance, you can have peace of mind and not worry. We love World Nomads travel insurance and have been using it for years. Their comprehensive coverage is second to none and their online claims process is very user friendly.
⭐️ SAFETY & SECURITY — All travelers can sometimes encounter danger when traveling. CloseCircle is your "virtual body guard" mobile app which provides security alerts and support wherever you are in the world. They have a 24/7 emergency response team monitoring their users who will contact you immediately if the SOS swipe button is activated. Support can include anything from practical advice, to free evacuation from areas with extreme weather or security risks. You can read more about CloseCircle in our article about how to stay safe whilst traveling.
⭐️ ONLINE ANONYMITY — A VPN (Virtual Private Network) is a must in many countries: it allows you to surf anonymously and maintain your privacy whilst traveling. You'll particularly need it in countries where dating apps are blocked by the government. We recommend ExpressVPN, a reliable and cost effective service which we used and loved during our travels.
⭐️ HOTELS or APARTMENTS — When we plan a trip, we always look for the best hotel deals. We love Booking.com because not only do they have a comprehensive listing of accommodation options, they also offer the best prices. Added bonus: they provide 24/7 support and free cancellation for most listings.
⭐️ SIGHTSEEING and ADVENTURES — When we travel somewhere, we like to seek out the best experiences, whether it is cooking with locals in Bangkok, hiking on a glacier in Patagonia, or going on a wildlife safari in Sri Lanka. Our favorite place to look is GetYourGuide because they have over 30,000 highly rated activities, a user-friendly booking process with free cancellation and a 24 hour customer support.
This article contains affiliate links. If you click on them, we may receive compensation which keeps our website alive and helps us bring you to more destinations.