Ngari is the westernmost part of Tibet. It is best known for the sacred Mountain Kailash, Lake Manasarovar and the ruins from the ancient kingdom of Guge, which are must-see tourist attraction for any Tibet tour.
Ngari is known as the horizon of the sky for Tibetans. For this reason, the area is also referred to as the roof of the world. It reaches around 4,500m/14,763ft altitude and is so sparsely populated that it is famous for being one of the most least accessible areas of the world with very little infrastructure. Despite its remote location, the holy sites attract thousands of visitors each year.
Ngari is mystical, majestic and has some incredible scenery. Here's our top 4 favourite things to do in Ngari to really get the most our of your holiday here.
Mountain Kailash
Mount Kailash is one of the most beautiful mountains on the planet. It is also the main reason why most people make the long journey out to this remote part of Tibet. The name Kailash derives from the word in Sanskrit, which means crystal. Tibetans also call it"Gangs Rin-po-che, which means precious jewels of snow and in ancient times, they believed it was at the centre of the world.
It is considered sacred and holy for Tibetans, Buddhists, Hindus and Jainism and most visit it as part of a pilgrimage called a kora. Pilgrims believe that circumambulating Mount Kailash brings good fortune. The Outer Pilgrimage Circuit (Chikhor) is 32 miles (52 km) and whilst pilgrims may take 1-2 days to complete it, we recommend doing it over 3-4 days.
Another interesting fact about the Kailash mountain is that it is the source of some of the most important rivers in Asia: Indus, Sutlej, Brahmaputra and largest tributary to the Ganges, the Karnali.
There are monasteries surrounding Mount Kailash, which can provide basic accommodation to pilgrims and trekkers. The main ones to note are: Nyari Monastery, Drirapuk Monastery, Songchu Monastery, Gyangzha Monastery and Thailong Monastery.
Lake Manasrovar
Like mountains, lakes are considered sacred and very holy by Tibetans. Among all of the lakes in Tibet, Lake Manasrovar is considered the most holy. It is located at the southern foot of Mount Kailash and it is called the Mother of The Holy Lakes. For Buddhists it is considered as the lake which is located at the centre of the world and for Hindus it is believed to be created by Brahma over 1500 years ago.
Lake Manasrovar is therefore another important pilgrimage for both Buddhists and Hindus. Most come here to complete a Pilgrimage Circuit called Lake Manasarovar Kora, which is a little over 62 miles (100km), taking 4-5 days to complete.
Lake Manasrovar is a very beautiful lake with crystal blue waters mirroring the holy Mount Kailash in the background. Although it gets very cold here at night, camping along the lake is certainly one unique way to enjoy the atmosphere here.
You can also visit Buddhist monasteries along the lake. The most famous is the Chiu Gompa monastery, which was built on a steep hill and looks like it was carved out from the rock.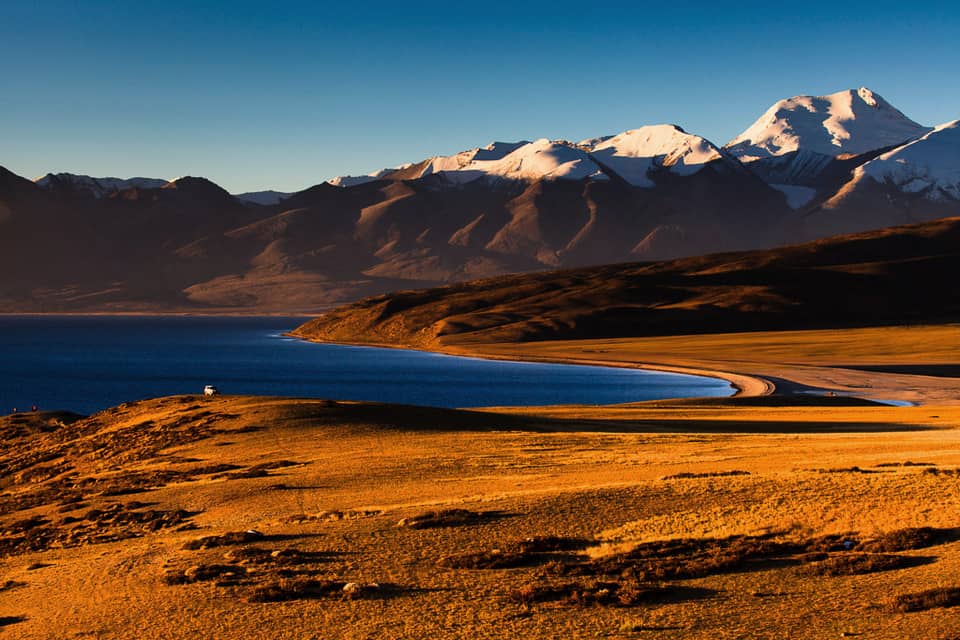 The ancient Guge Kingdom
This ancient kingdom was founded in the 10th century by Nyi ma mgon, the great-grandson of Langdarma, the last monarch of the Tibetan Empire. Its capitals were located at Tholing and Tsaparang and at its peak, it ruled lands all the way to Kashmir in Pakistan and Ladakh in India. The Guge kingdom until it was conquered in 1679–80 by the Lhasa based Central Tibetan government under the leadership of the 5th Dalai Lama.
Today, the ruins of the ancient capital of Guge at Tsaparang are one of the most important attractions to visit in Ngari. They are spread over 720,000 square metres. The climax is the grand palace, set majestically at the top of a hill. Other ruins to look out for include the city walls outside the palace, Mandala Hall, Gongkang, the Scripture Hall, the Red Monastery, White Monastery, Samsara Monastery, Zhoimalhakang and the Mani Stone Carving Wall.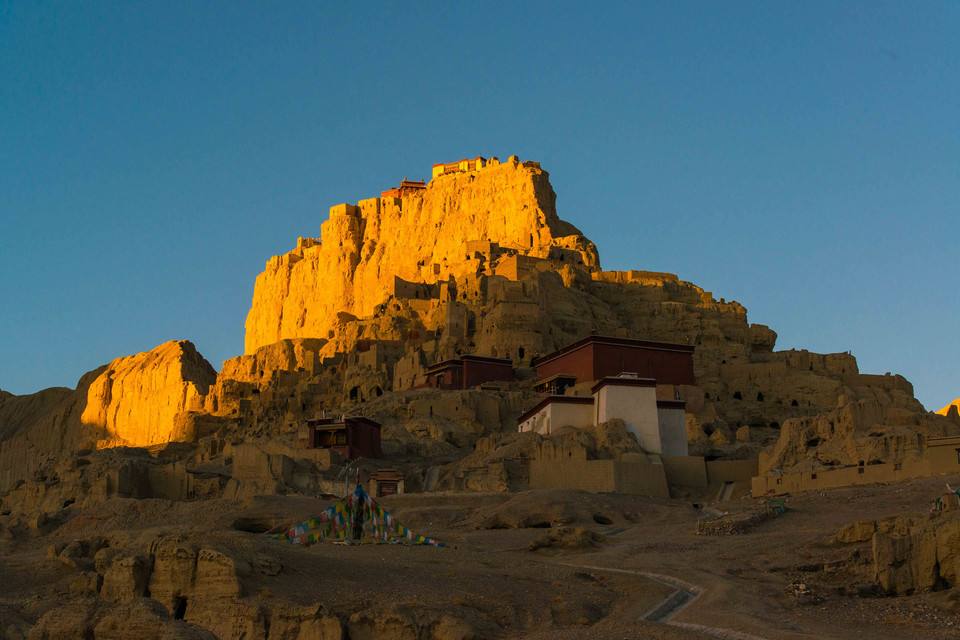 The Zanda Clayforest
The Zanda Clayforest is in the Zanda County of the Ngari Prefecture near the Xiangquan River. It is formed by a process called the Level Terrane Physiognomy, which is a combination of movement of the Himalayas and erosion caused by the Xiangquan River. There are many different formations, some look like castles, watchtowers, pagodas and other like giant warriors and horses.
It is best visited during sunrise and sunset when the entire clayforest turns a golden colour. Spring and autumn are the best seasons. It is best avoided during August when it gets very crowded and also very rainy.
Although Ngari is very remote, it is worth visiting for its unique scenery and ancient history. The area around Mount Kailash is one of the holiest and most scenic places on the planet. The ruins of the ancient Guge kingdom along with the alien-like rock formations of the Zanda Clayforest are guaranteed to be some of the most memorable highlights of your tour in Tibet.
For more inspiration…
OUR FAVOURITE TRAVEL TIPS
⭐️ TRAVEL INSURANCE — We recommend you always take out travel insurance before your next vacation. What happens if you suffer from illness, injury, theft or a cancellation? With travel insurance, you can have peace of mind and not worry. We love World Nomads travel insurance and have been using it for years. Their comprehensive coverage is second to none and their online claims process is very user friendly.
⭐️ SAFETY & SECURITY — All travelers can sometimes encounter danger when traveling. CloseCircle is your "virtual body guard" mobile app which provides security alerts and support wherever you are in the world. They have a 24/7 emergency response team monitoring their users who will contact you immediately if the SOS swipe button is activated. Support can include anything from practical advice, to free evacuation from areas with extreme weather or security risks. You can read more about CloseCircle in our article about how to stay safe whilst traveling.
⭐️ ONLINE ANONYMITY — A VPN (Virtual Private Network) is a must in many countries: it allows you to surf anonymously and maintain your privacy whilst traveling. You'll particularly need it in countries where dating apps are blocked by the government. We recommend ExpressVPN, a reliable and cost effective service which we used and loved during our travels.
⭐️ HOTELS or APARTMENTS — When we plan a trip, we always look for the best hotel deals. We love Booking.com because not only do they have a comprehensive listing of accommodation options, they also offer the best prices. Added bonus: they provide 24/7 support and free cancellation for most listings.
⭐️ SIGHTSEEING and ADVENTURES — When we travel somewhere, we like to seek out the best experiences, whether it is cooking with locals in Bangkok, hiking on a glacier in Patagonia, or going on a wildlife safari in Sri Lanka. Our favorite place to look is GetYourGuide because they have over 30,000 highly rated activities, a user-friendly booking process with free cancellation and a 24 hour customer support.
This article contains affiliate links. If you click on them, we may receive compensation which keeps our website alive and helps us bring you to more destinations.