9 interesting facts about Mongolia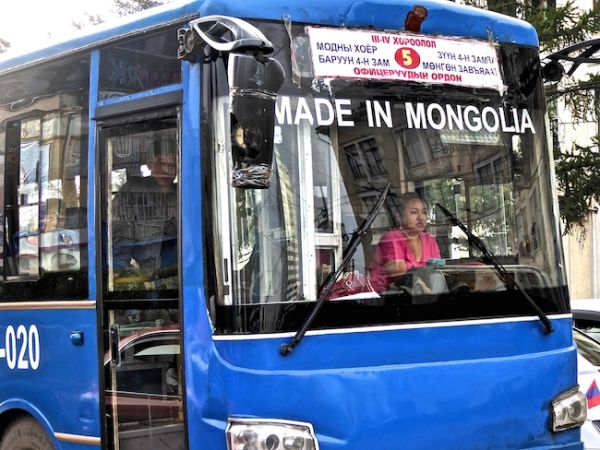 After a month of eating lots of mutton, drinking salted milk tea and trying to find the ultimate hat, we came up with our top 9 observations about Mongolia:
#1

Mongolians love their hats
The nomadic Mongolians, hats and are very important, a sign of good luck and they are very proud of them.
They are so proud of their hats that Lonely Planet advises never to touch a Mongolian's hat when in a ger, or ever!  It is considered very disrespectful.  Mongolians have traditions that forbids placing their hat on the ground, throwing the hat away or exchanging hats with another person.
This was quite hard for us because some of the hats we saw were particularly dramatic and we wanted to try them on:
But luckily we managed to try out some of these hats at Ulan Bator's black market, "Naran Tuul":
#2

Gers always face South

A handy tip if ever you are lost and disorientated in Mongolia is look at which direction the gers are facing.

Gers are built to traditionally face South to shield the nomadic families from the cold Northerly winds.
#3

Weigh yourself – an innovative way to make money on the streets

In Ulan Bator we saw a lot of old men on the street with their weighing scales in front of them offering you the chance to weigh yourself for 100 tugric (around 3p):
#4

Mongolian yodelling

Bayartsengel is a Mongolian pop yodelling artist who topped the Mongolian pop charts recently with his hit, "Holly Dolly" with some Mongolian rap also thrown in.

We loved dancing to this in the van during our tour of the Gobi desert:
#5

Mongolian currency: just notes and no coins

Mongolia is the first country we have visited which does not have coins.  All the currency here are notes.  At the time of writing, £1 was around 3,132 tugric.  The highest note is a 20,000 note (worth around £6) and they work downwards from there.

Genghis Khan appears on the higher value notes (20,000, 10,000, 5,000, 1,000 and 500).  General Sukhbaatar (who declared Mongolia an independent county in 1921 from the Chinese) appears on the lower denominations.

As a result you end up with a large bundle of notes making you feel very rich:

Stefan a keen currency collector and made it his mission to get the very rare 1 tugrik note (worth around 0.00032).  

After a lot of searching he finally managed to get hold of one:
#6

Mongolian men like to roll their tops up

We noticed many Mongolian men walking around with their tops rolled up to their chest exposing their bellies.  We assume this is to air their bellies, but couldn't help be amused by this, especially as this was done by Mongolian men of all shapes and sizes:

This guy in Central Mongolia is obviously not eating enough mutton fat:
#7

 Pretty 3D graffiti on the pavements of Ulan Bator

In Ulan Bator, we noticed a variety of very beautiful graffiti on the pavements.  You have to stand at a particular point a few steps back to see the entire 3D picture:

Can you spot the cigarette stub in this one?
#8

Buy and make your own ger

At Ulan Bator's famous Black Market, "Naran Tuul", there is an area dedicated to materials you can buy to build your own ger:

Ulan Bator has seen a huge influx of nomadic families moving to the capital city.  As a result this has caused a shantytown of gers to develop around Ulan Bator's suburbs, much like Rio's favellas or the shantytowns in New Delhi.

The ger districts in Ulan Bator's suburbs are unfortunately very poor, have no running water, no central heating, sporadic rubbish collection and no sewage system.
#9

Monitoring the smog in Ulan Bator:

As a result of the increase of ger districts around Ulan Bator, pollution and smog levels in the capital have greatly increased.

This is mainly caused by the coal-powered stoves used by the ger communities to seek heat during the harsh cold Mongolian winters, producing a thick smog.

As a result, since October 2012, the government implemented a new law requiring each car not to drive into the city centre for one weekday each week.  The weekday depends on the last number the car licence plate ends with.

So, cars ending with the following numbers are not allowed to enter the city centre of Ulan Bator as follows:
Mondays: cars ending with 1 and 6 are not allowed to enter the city centre
Tuesdays: cars ending with 2 and 7 are not allowed to enter the city centre
Wednesdays: cars ending with 3 and 8 are not allowed to enter the city centre
Thursdays: cars ending with 4 and 9 are not allowed to enter the city centre
Fridays: cars ending with 5 and 0 are not allowed to enter the city centre
If caught entering when you shouldn't, the fine imposed is 80,000 tugriks (around £26).  Although this doesn't seem much, this is a hefty fine in a city where the average net monthly salary is less then £250.
We encountered this problem on our return to the city from one of our tours: it was Tuesday and our van ended with the number, 2.  So, we had to stop at our guide's brother's house outside the city centre to swap cars before driving into the capital.
For more from our travels in Mongolia, check out our travel video: