Lou Queernaval in Nice, discover France's first gay carnival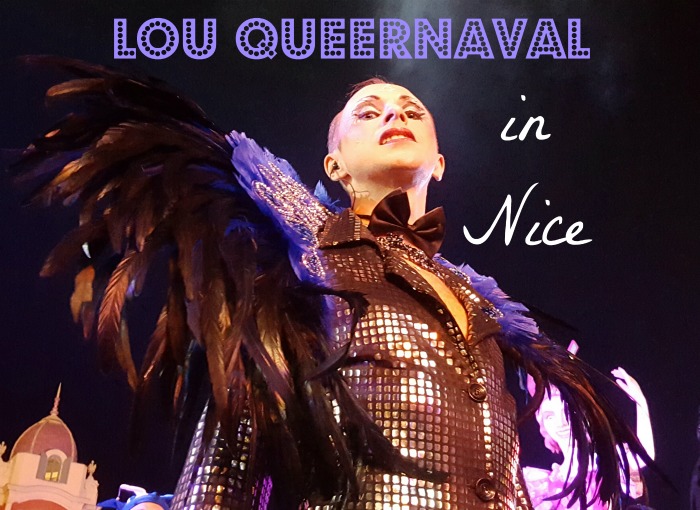 Feather boas…glitter…cray cray make up…sexy topless men…
This is Lou Queernaval, France's first gay carnival and part of the famous Nice Carnival.
We spent 3 days dancing and partying through the streets of the city celebrating Lou Queernaval clad in our medieval outfits.
#1

A BIT OF HISTORY

The carnival originated in the Middle Ages as a festival authorised by the church, allowing anyone wearing a mask to safely ridicule those in power.

Anyone without a mask got flogged with stockings filled with flour.

This is the time of year when Christians go crazy with overindulgence, eat loads of meat, fatty foods and party like mad before the 40 days of fasting for Lent begins.

Nice's carnival is one of the most popular in the world, attracting millions to this side of the French Riviera to enjoy 2 weeks of parties, parades, incredible outfits, lively fun atmosphere and loads of fun.

In 2015, Lou Queernaval, started as one of the events during the Nice Carnival, making it the first and only carnival in France and one of the fewest in the world.

Lou translates to the in the local Niçois dialect.
#2

WHO CAN JOIN LOU QUEERNAVAL?

Anyone!

Absolutely everyone is welcome at Lou Queernaval.

Families also join in the fun.

Many locals come out to celebrate and enjoy this unique cultural experience with their children dressed up.
#3

HOW MUCH DOES IT COST

Most of the events during the Nice Carnival are paid and ticketed. However, Lou Queernaval is completely free, open to all and waiting for you, yes YOU, to grab your outfit and join in the fun!
#4

WHERE TO STAY FOR LOU QUEERNAVAL

We stayed at the jazzy Ellington Hotel, ideally located near the main shopping roads and walking distance to the beach, gay bars and the quaint Old Town of the city.

It's also conveniently located close to Place Massena where all the Lou Queernaval action happens, so you can pop back to change out of your outfit after the carnival before hitting the after parties in Nice's gay bars.

To find out more, check out our guide to the gay friendly hotels of Nice.
#5

 GAY BARS AND CLUBS OF NICE

As well as Lou Queernaval, Nice has a thriving gay scene. There are plenty of bars and clubs to keep the gay boys happy here. 

And did we mention those very pretty Niçois boys waiting to welcome and party with you?
Gay bars of Nice
There are a handful of popular hangouts throughout the city to suit all tastes and even sexual preferences. We love to go to gay bars to socialise, meet friends, get giddy with cocktails and laugh along with the drag queens. Here's a few of our favourites:
Le Bar Bitch and it's sister bar Le Bar Butch opposite: really fun hangouts to get the evening cocktails started. They usually feature a few hilarious drag shows (in both English and French). After it shuts at midnight, most head over to Le Glam or Le Six.
Red Kafe: good to hangout during the day and usually have a happy hour everyday from 6-9pm. On weekends they have drag stars like Miss Koka making an entrance.
Les Garçon: this is a restaurant not a bar, but worth mentioning because it's at the heart of the gay scene and is gay owned so attracts a largely LGBT crowd. It's the perfect place for dinner before painting the Old Town pink.
Gay clubs in Nice
Le Glam: a very popular gay club where most people will end up. It has themed nights, drag shows and cabarets. This year it was the venue for the Lou Queernaval after party.
Rainbow Power at the High Club: High Club is a large mixed club on the Promenade des Anglais but becomes very gay when it hosts the Rainbow Power.
Le Six: set in a slightly smaller venue and has popular nights from Tuesday to Saturday running through the night and sometimes featuring famous DJs. When we were there, the model/DJ Manuel Blanche was in charge of the decks.
#6

OTHER EVENTS DURING THE NICE CARNIVAL

Lou Queernaval is one of many party parades during Nice Carnival.

The Parade of Lights are famous ticketed evening events at Place Massena, repeated several times during the fortnight, where the King and Queen figurines of the Carnival lead a procession of vibrant floats.

Another Nice Carnival must see gem are the colourful Flower Parades, which take place during the daytime at the Promenade des Anglais.

The floats go around with costumed models throwing around 100,000 flowers to an enthusiastic crowd. But some of those outfits, absolutely stunning!

You really can't help being awed by some of the outfits during the Flower Parades.

Especially the more tighter fitting ones…
#7

CHECK OUT OUR VIDEO

We came to Nice, dressed up and partied hard with thousands of other revellers during this very pink Queer festivity.

Watch our video and re-live our Lou Queernaval memories right here and also read why we think France ranks as one of the most gay friendly countries in the world. Also see more from our travels in France with our Lyon gay guide.
PLEASE PIN ME: