TERMS OF USE: There is a chance that some of the content on this page has changed since it was last updated. By reading this article, you consent to our Terms of Use and Disclaimer. Happy Travels!
DISCLOSURE: Some of our posts may contain affiliate links which we may receive a commission if you choose to book something through one of our links.
How many of these interesting facts about Gran Canaria do you know and which didn't you know about?
Gran Canaria certainly has long been a hugely popular destination for us European gay boys.
And for good reason: Maspaloma Pride is one of Europe's best Pride events and certainly one of our favourite gay Pride events in Spain. The beach near the sand dunes of Playa del Ingles is THE place to hang out during the day, then it's on to the infamous Yumbo Centre in the evening – a shopping mall gay playground filled with bars, clubs and Clone Zone type shops.
However, there is a completely different side of the island, begging to be discovered. Most will base themselves in Playa del Ingles and not make it past Yumbo or the sand dunes. So here are our 5 things gay travellers may not have known about Gran Canaria to inspire you to venture out beyond the pink Playa Del Ingles bubble.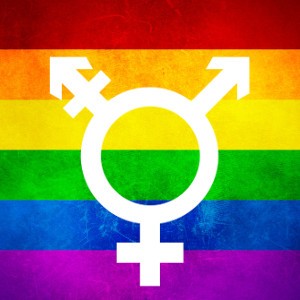 Advice for LGBTQ travellers to Gran Canaria
The Yumbo Centre in Playa del Ingles is the heart of the LGBTQ community of Gran Canaria. Most will want to be based around here when visiting Gran Canaria. This is a whole mall with loads of gay bars, gay clubs, restaurants, cafes, shops and more! It's a gay man's paradise here.
Read more about the gay scene in the Yumbo Centre in our gay guide to Gran Canaria and our article about the best gay hotels in Gran Canaria.
1. Roque Nublo: a fabulous phallic shaped rock
…it used to be a holy monument, the place to make sacrifices to the sun god.
Now Roque Nublo (or Cloud Rock) is the iconic site of the island. It stands proud to an impressive 1,813m (5,948 ft) above sea level, making it one of the largest free-standing rocks in the world.
There's in fact a whole dramatic mountain range here that needs to fill up your Instagram gallery. Gran Canaria is an island formed from volcanic eruptions over millions of years, leaving behind eroded layers of this rugged, spectacular scenery.
Roque Nublo is the most frequented, not only for trekking size queens but as the 2nd highest point on the island, this is where you'll get your money shots.
So pack your trekking boots or some good sturdy shoes (next to all that lube and condoms) and get this bad boy into your Instagram feed.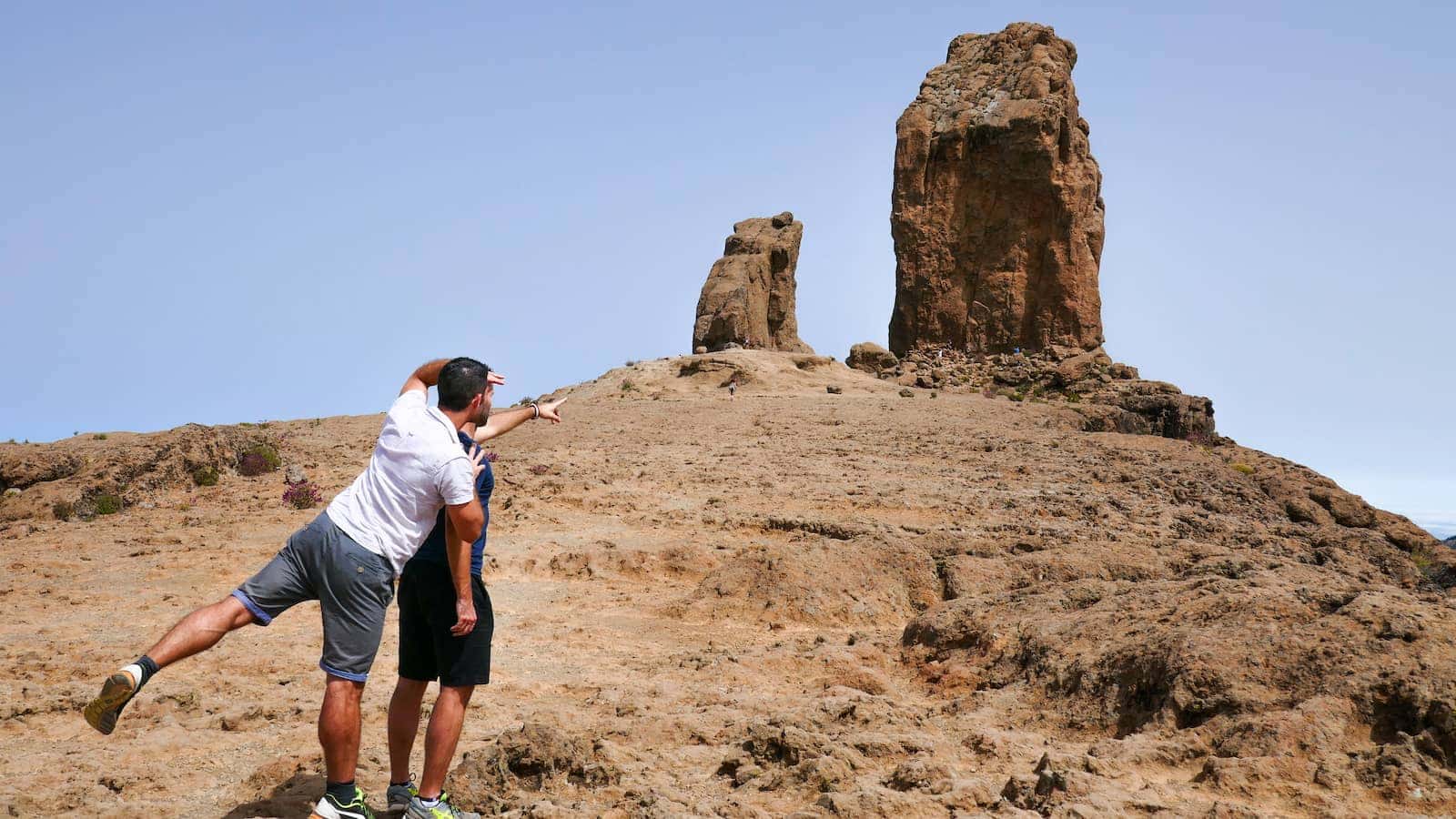 2. Lots of bananas produced here
"Try a Canarian banana" our cheeky Canarian friend Daniel told us. We explained we're good, shy, retiring gentlemen and not into any of this sex tourism lark. Daniel blushed and explained that bananas are in fact popular and found everywhere in Gran Canaria. They used to be the biggest export here in the late 1800s and early 1900s until strong competition developed from Latin America.
The Canarians are so talented with their bananas, they've produced a sweet liquor from it. If like Stefan you've got a sweet tooth, you will love the Canarian banana liquor.
One of the best banana plantations to visit on the island is Bodegas Los Berrazales near the capital city Las Palmas in the North. This Bodega is so versatile it also produces its own coffee beans and wine to the delight of our Frenchman.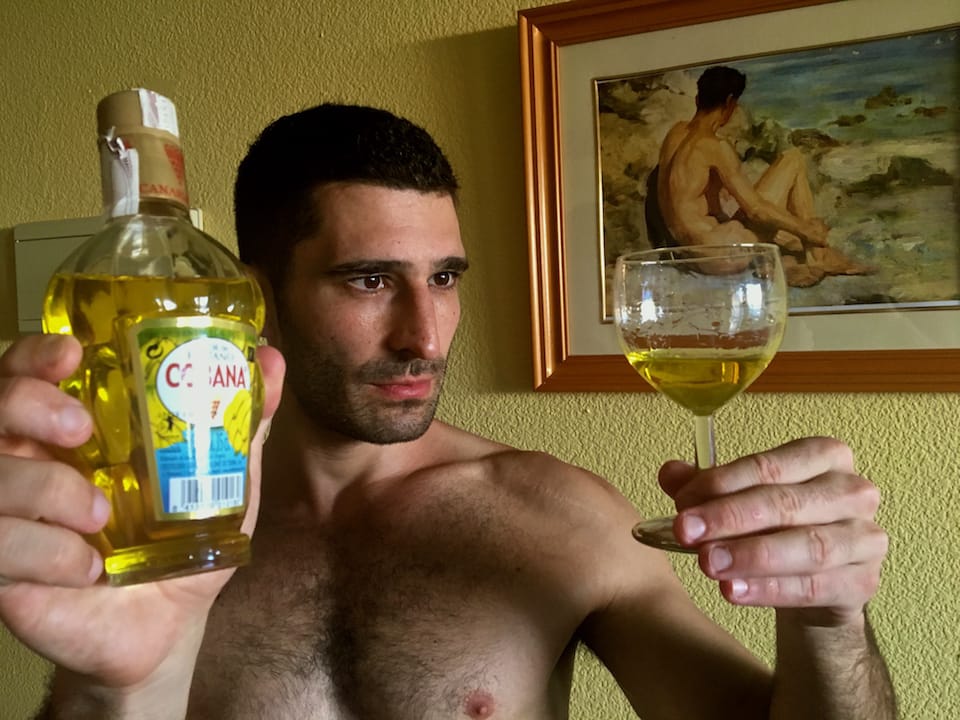 3. The delicious Canarian rum
Sugar cane was big business here and the Canarians were producing rum long before anyone else. Much like the banana industry, Gran Canaria's sugar plantation exports took a nose dive after Colombus introduced it to the new world and the focus shifted to the Caribbean and Brazil.
Mojito lovers need not despair, Gran Canaria still produces plenty of it. The Arehucas rum factory is the oldest rum distillery in Europe, which you can visit as part of a day trip to the charming town of Arucas in the North of the island.
Arehucas blanco (white) or Arehucas oro (gold) rum are the ones to look out for, as well as the sweeter variant, ron miel (honey rum). The prevalence of rum means that those mojito portions in Yumbo are guaranteed to be extra strong 🙂
4. Canarian food: mojo, wrinkly potatoes and old clothes…
The famous mojo of Gran Canaria is what gives it its legendary sexual prowess and the source of its potency…
…even Austin Powers wouldn't be able to withstand the strong, spicy garlicky flavour of this sauce (pronounced "moho"). It's sure to make all your hair stand on end.
Mojo is spread over wrinkled jacket potatoes to produce a plate of papas arrugadas con mojo. The name relates to the fact that the potatoes are baked in their skins until they shrivel up and become wrinkly (arrugada).
What better way to complement your wrinkled mojo? With some old clothes of course!
Ropa vieja is a chickpea, potato and meat based stew (usually chicken or beef). Although ropa vieja means old clothes, it has a rich flavour and is considered comfort food by locals. It was so popular, it spread to Latin America, particularly in Venezuela where it became the national dish.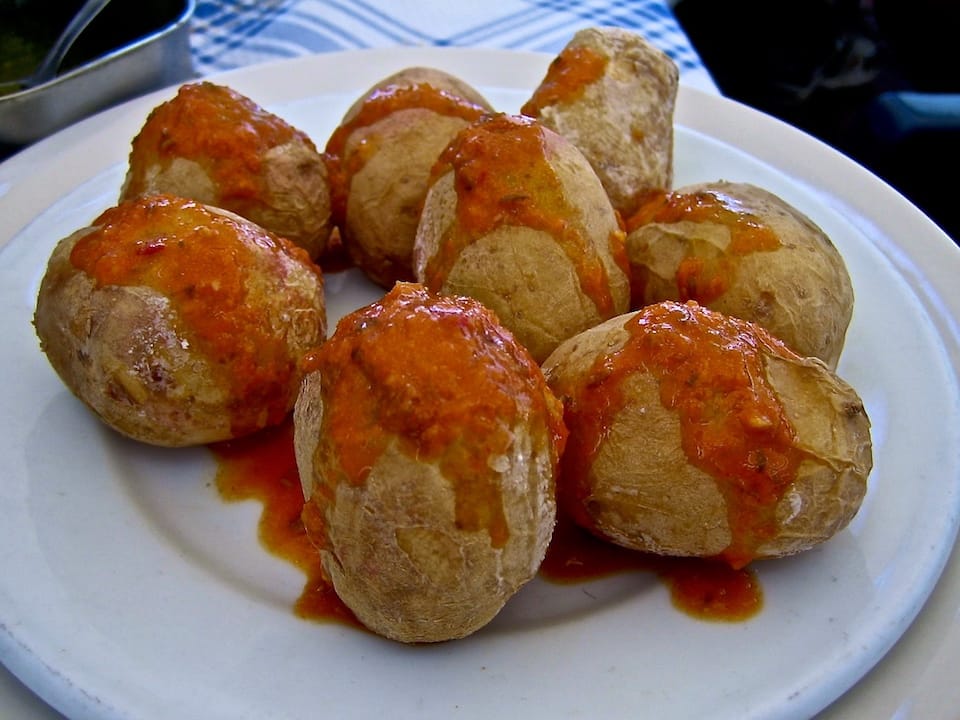 5. Beautiful, remote, and secluded beaches
Gran Canaria is one of the ultimate beach and Vitamin Sea destinations for Europeans. When it's grey and raining in London in February, this is the place to come. When it's grey and raining in London in July, this is also the place to come.
Most of the gay boys congregate at the Kiosk #5 beach, the official gay beach of Gran Canaria, which you reach by getting lost in the sand dunes from outside the Riu Hotel in Playa del Ingles.
But there is a more unique and memorable way to get your Vitamin Sea fix, away from the crowds.
Gui Gui is a clothing-optional secluded beach on the Western coast of the island, hidden away at the bottom of a Grande ravine. To reach it you need to drive for 2 hours, then trek for around 2/3 hours over the rocks in the burning heat.
When you're feeling too fabulous to bother with all that, you can instead grab your mates, a few bottles of Ron Miel, and have one big speedo gay boy party on a boat to Gui Gui followed by a freshly made plate of paella on the sea shore.
It's the perfect day trip and a more relaxing way to see a different side to this remarkable island.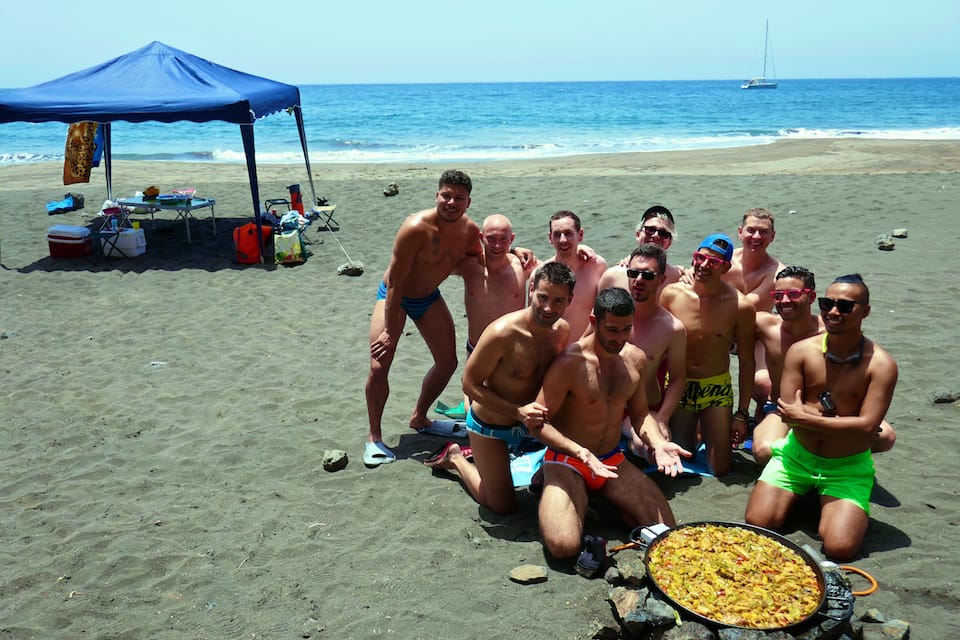 6. The island is named after dogs
While you might think the Canary Islands are named for canaries, the name Gran Canaria is probably derived from the Latin name Canariae Insulae meaning "Canine Islands". The birds are named canaries after the islands since they originated there as well as the Azores and Madeira.
There are a number of theories as to why the island was named after dogs, including that it contained lots of large dogs, or that the original inhabitants worshipped dogs and also that Romans named them after the seals they saw there – aka "sea dogs".
While we might not know for sure why they went with the dog thing, they definitely ran with it, as one of the natural symbols of the island is the Perro de Presa Canario, a.k.a. the Canary Mastiff.
There are also eight statues of dogs in the Plaza de Santa Ana facing the cathedral in Las Palmas, although there's also a bit of a mystery surrounding why they were placed there, or even by who…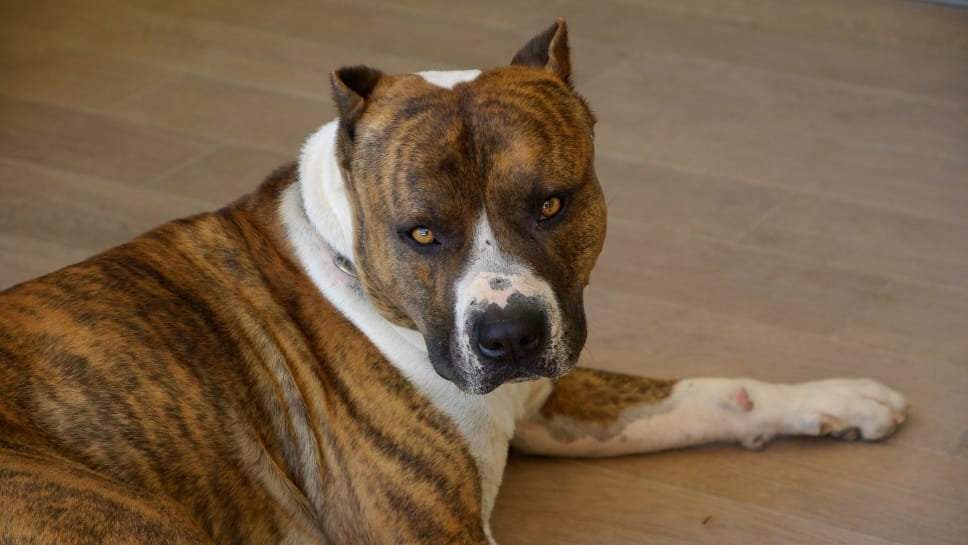 7. Tex Mex cuisine originated here (sort of)
While 'Tex-Mex' cuisine is a fusion of Mexican and American dishes primarily deriving from the creations of the Tejano people living in Texas, it might surprise you to know that Tex Mex has imported flavours from other spicy cuisines, such as those from the Canary Islands.
It shouldn't be that surprising really since Spain did rule the area of Texas for hundreds of years. When the Spanish colonizers came to America in the 16th century they brought a lot of their own cooking, while the Berbers from the Canary Islands brought cilantro, cumin and chile peppers with them.
The ingredients that the Berbers brought combined with local ones like beef, onions, pecans and pinto beans are what became today's Tex Mex. Mojo sauce from the Canary Islands was also the basis for many of the main salsas and sauces used in Tex Mex cooking.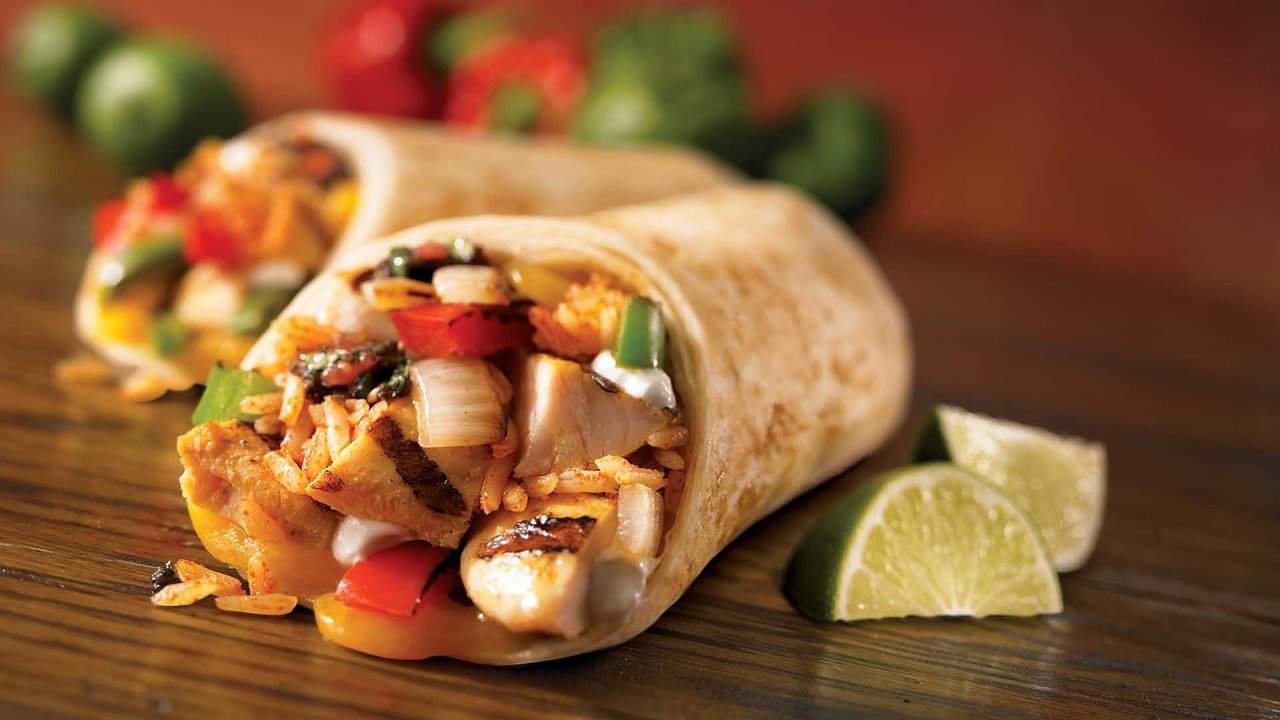 8. Dolphin and whale watching
The warm waters surrounding the Canary Islands attract lots of different marine wildlife, including many whales and dolphins that live there permanently, so you're pretty much guaranteed to spot some!
If you join a whale/dolphin watching tour, you'll probably get to see humpback whales, pilot whales, bottlenose dolphins, Risso's dolphins, turtles, sperm whales and even blue whales.
One of the great things about the Canary Islands is that all whale-watching boats follow strict laws to ensure the safety and wellbeing of the wild animals. You won't be able to feed or swim with them, but at least you know you can observe these beautiful wild creatures in their natural habitat without disturbing them.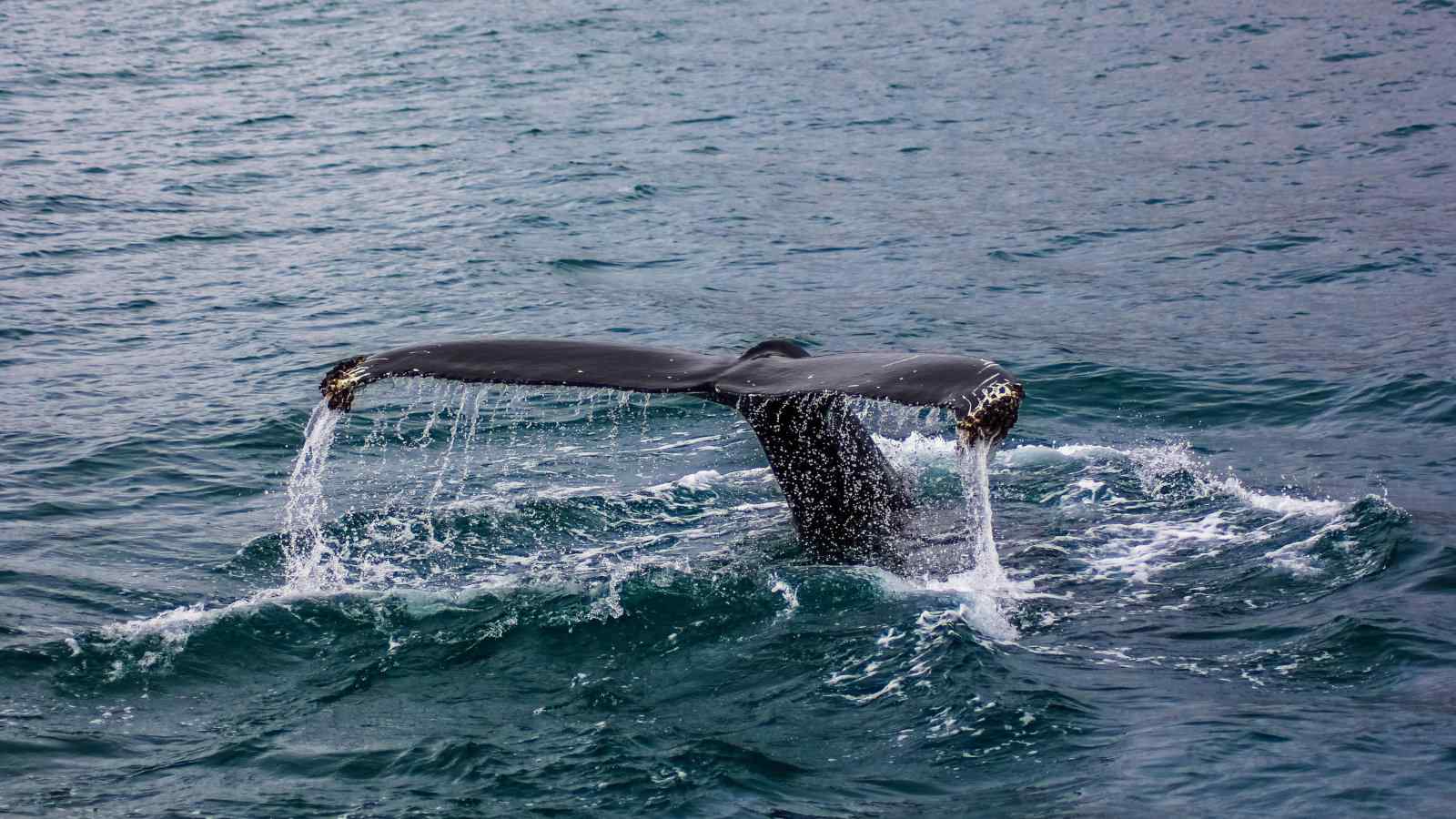 9. Canarian Wrestling
Did you know that the Canary Islands have their own traditional form of wrestling? Lucha Canaria comes from the Guanches, the earliest known natives of the Canary Islands.
Canarian wrestling is kind of like a cross between sumo wrestling and Greco-Roman wrestling, where two opponents use techniques called mañas to throw their opponent off balance. Teams take turns to wrestle inside a sand circle called a terrero, and a match ends when all members of a team have been defeated.
After the Spanish Conquest, "Lucha Canaria" became part of the islands' folklore, so you can often watch matches during local celebrations and festivals. If you're interested in seeing it for yourself, keep an eye on the Canary Wrestling Federation's Facebook page where they advertise upcoming matches.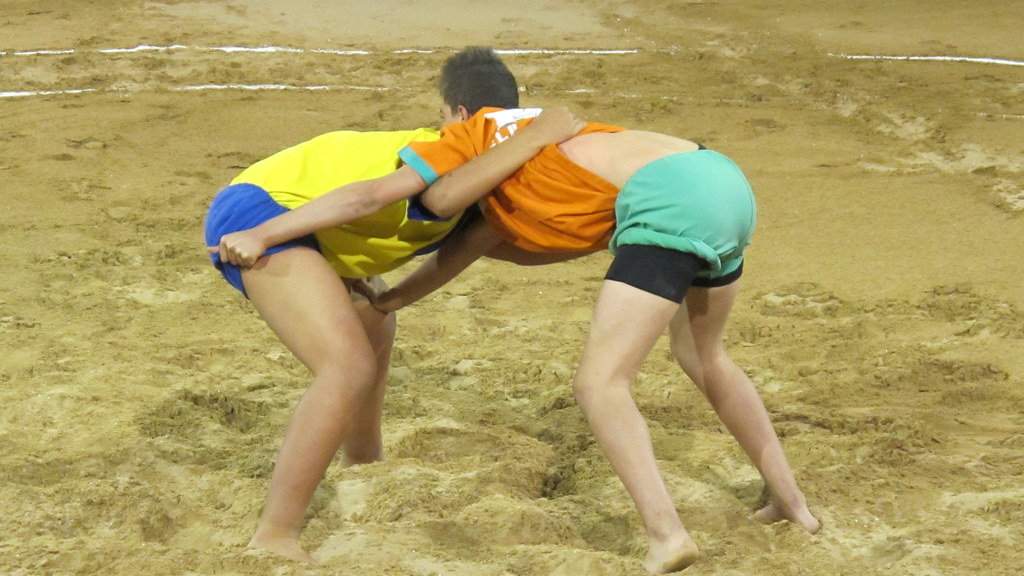 10. During Carnival, there's a dog costume carnival!
We really weren't kidding about Gran Canarians being into their dogs! During the yearly Carnival celebrations in Las Palma (which is also definitely worth experiencing), there's also a very quirky Canine Carnival Contest!
During the Carnaval Canino de Las Palmas de Gran Canaria, both the canines and their owners wear matching flamboyant costumes. The event also includes a parade, which attracts over 4,000 people to the stage in Parque Santa Catalina. The winners get 30 kilos of dog food.
Make sure you check out their Facebook page to see some pictures of the amazing costumes, like Daenerys Targaryen with three tiny dog-dragons, pirates, dragons, or Persephone and Cerberos, complete with two extra stuffed heads!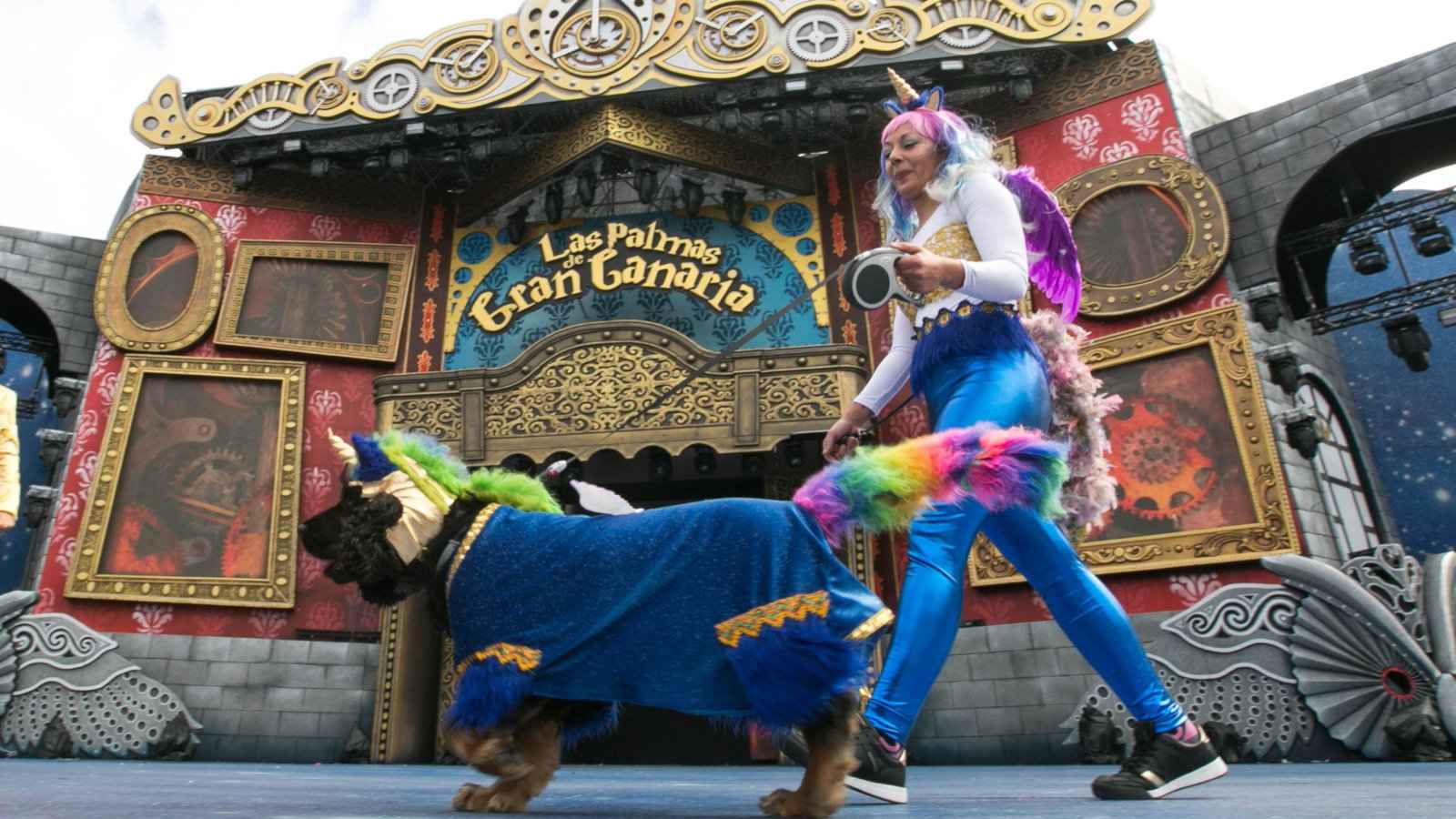 ---
Like this post? Pin it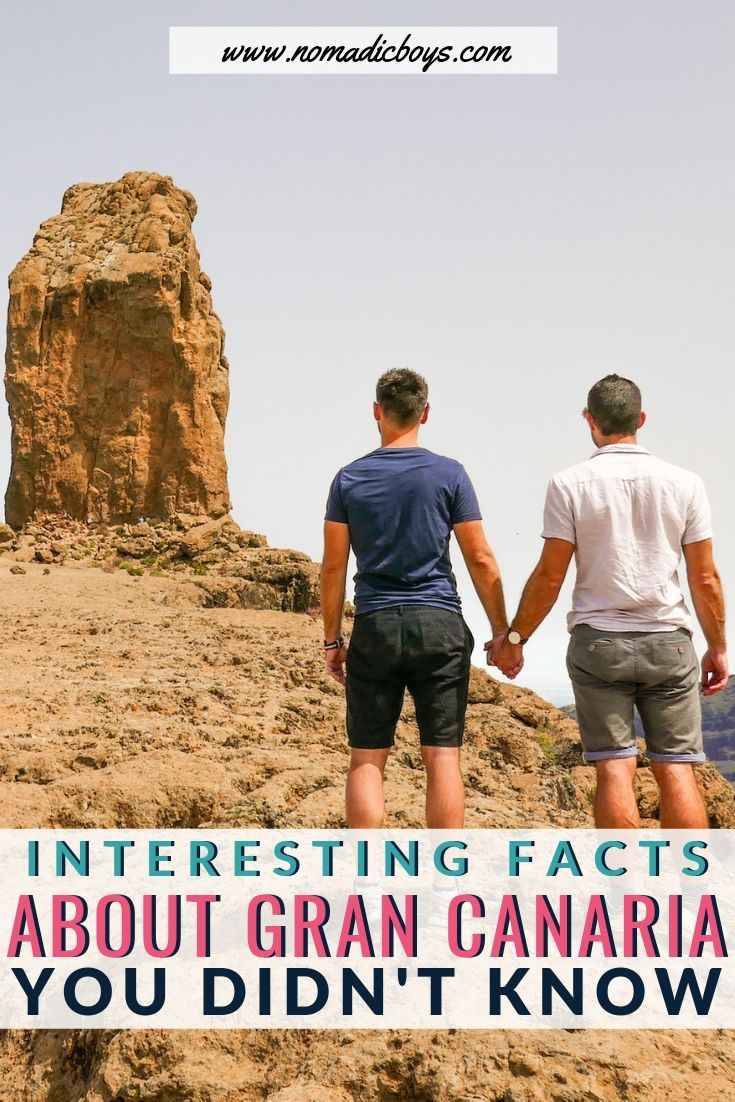 Happy travels are safe travels
We recommend you always take out reputable travel insurance before your next vacation. What happens if you suffer from illness, injury, theft, or a cancellation? Many gay travelers forget about it and regret it when something happens. Better to pay a small price and have peace of mind and not worry.