The Longji Rice Terraces are situated in China's southern Guangxi province in the Longsheng County.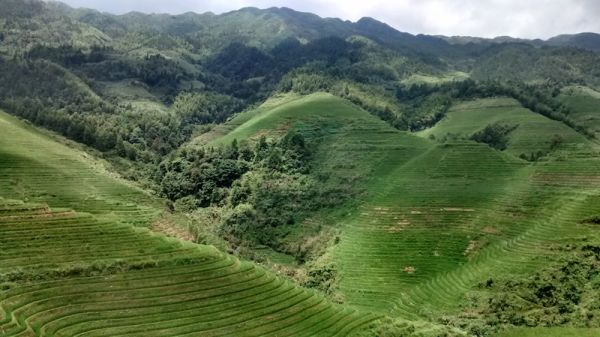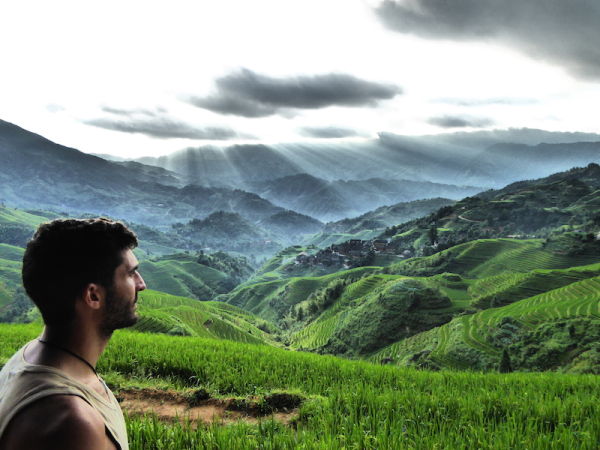 Spot the Dragon
Longji means "Dragon's Backbone" and is named as such because the rice terraces look like the scales on the back of a dragon when the paddy fields are full of water in the spring.
We were there in late August time when the terraces were a lush green: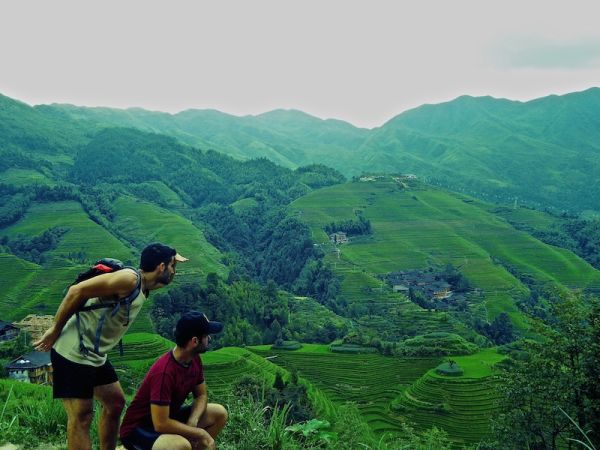 Random fact we learnt – the word "paddy" (ie the rice paddy fields) is derived from the Malay word, "padi", meaning rice plant and has nothing to do with the Irish as we initially thought.
An agricultural man made wonder
The Longji rice terraces rise up to just over 1,100 metres into the clouds.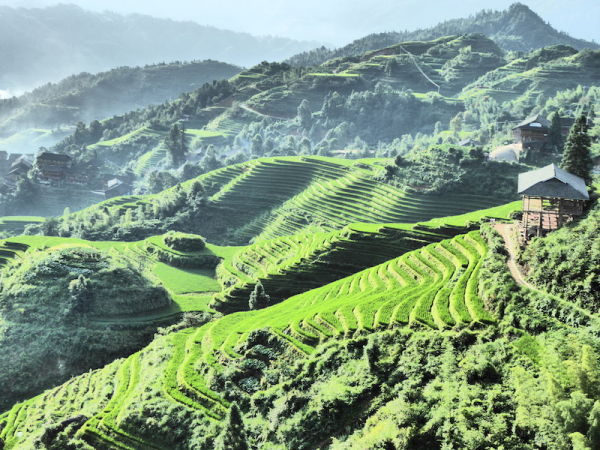 The rice terraces of Longji are impressive and considered an agricultural wonder in China because they are entirely man made and built over 650 years ago. Their structure has been maintained this way since.
Each terrace was carved out and maintained to this day by local farmers using basic digging tools.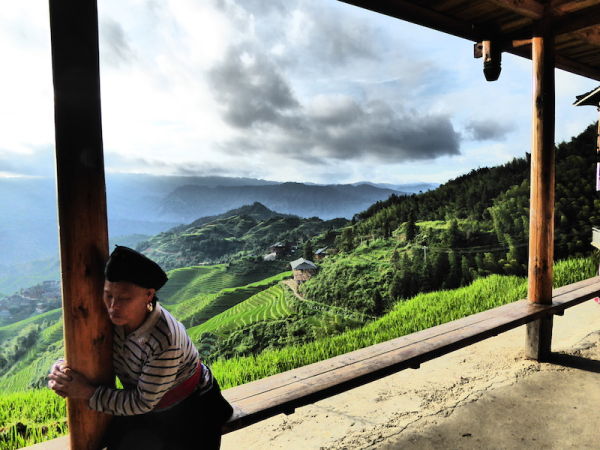 Naturally, the Longji rice terraces made a beautiful backdrop for our "office":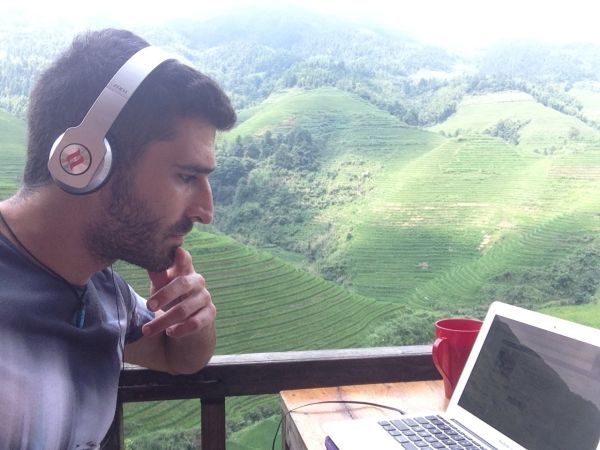 Sunrise over the Longji rice terraces
One of the highlights whilst staying at the mountain villages of the Longji rice terraces is watching the sunrise at the aptly named, "Music from Paradise" spot near the top of the mountains.
Although a 4:30am early rise, it was totally worth it. The views of the sun rays over the terraces at first light were stunning: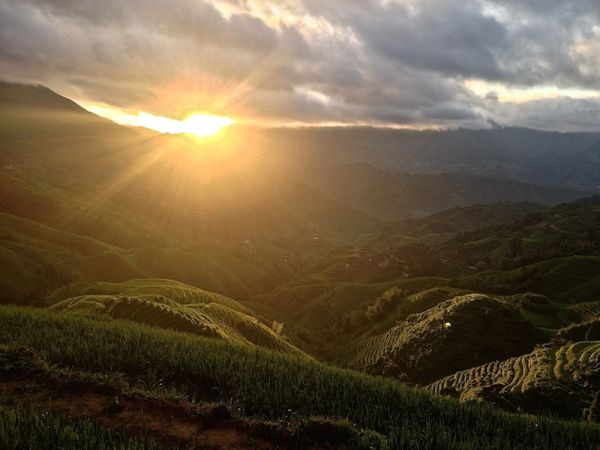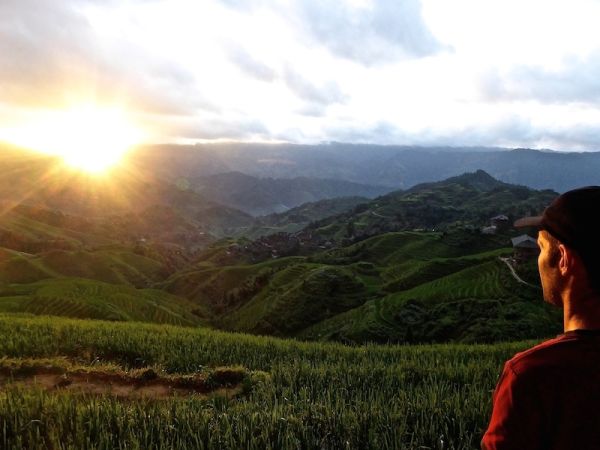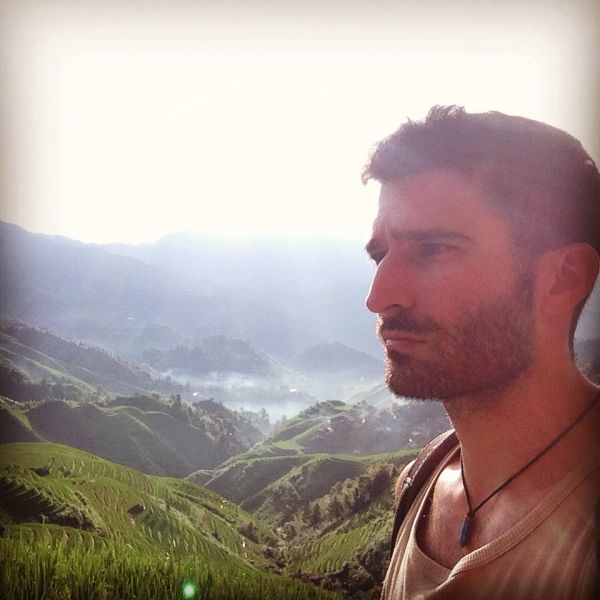 Local villages
There are numerous villages situated around the Longji rice terraces, which are home to the Zhuang and Yao ethnic minorities.
Most of the houses there are built in their unique wooden Zhuang or Yao style from bamboo: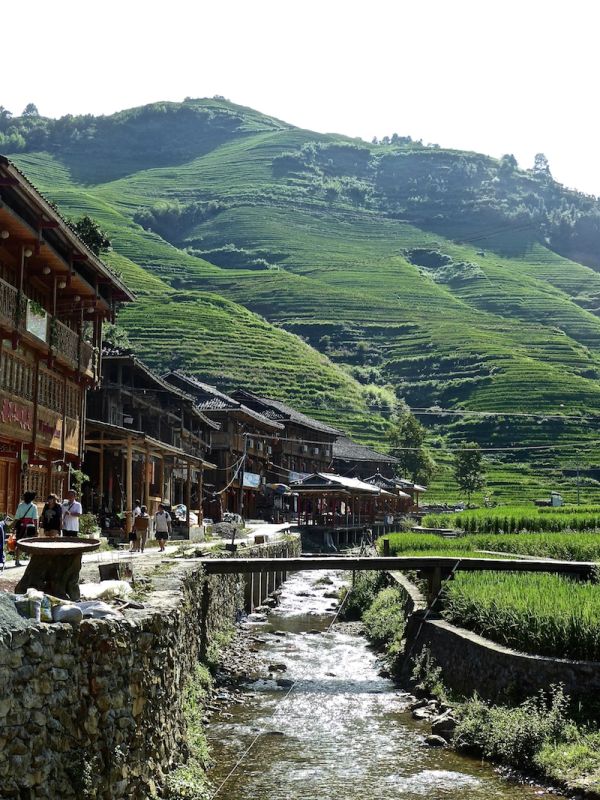 The old ladies of the local villages:
The old ladies of the nearby Zhuang and Yao villages, were always out in their numbers attending to the large tourist trade visiting the Longji rice terraces. They would frequently be dressed in their ethnic outfits: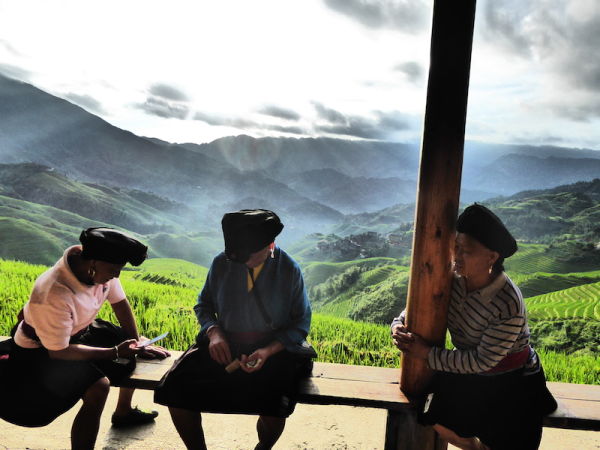 The most memorable feature for us of the local old ladies was the large drooping holes on their ears for their earrings: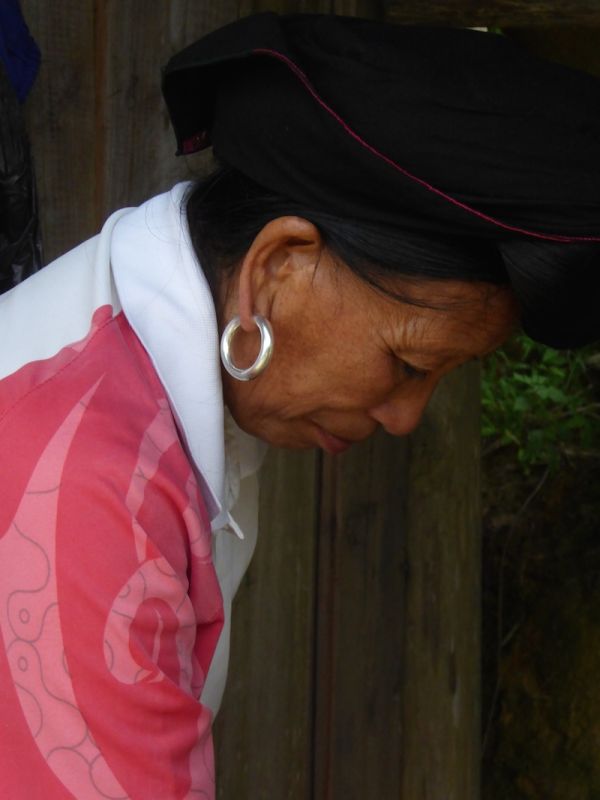 Carrying bags for tourists
It is common for the old women of the local villages in the rice terraces to gather at the bottom of the mountain, to await the coach load of tourists and offer to carry their bags up for a nominal fee: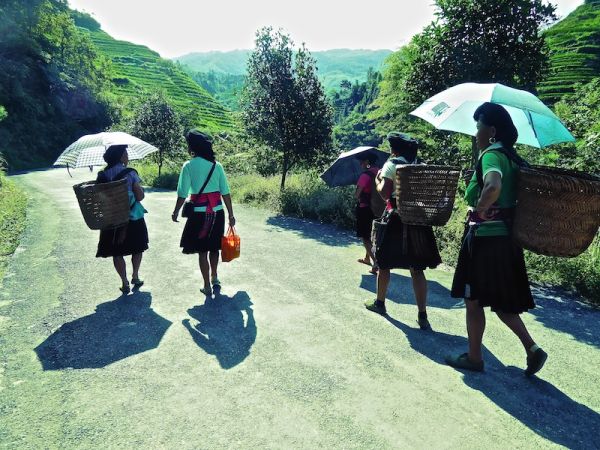 Some of these old ladies were in their 60s and maybe even 70s, yet they make a livelihood from carrying tourists' bags up the mountains for them: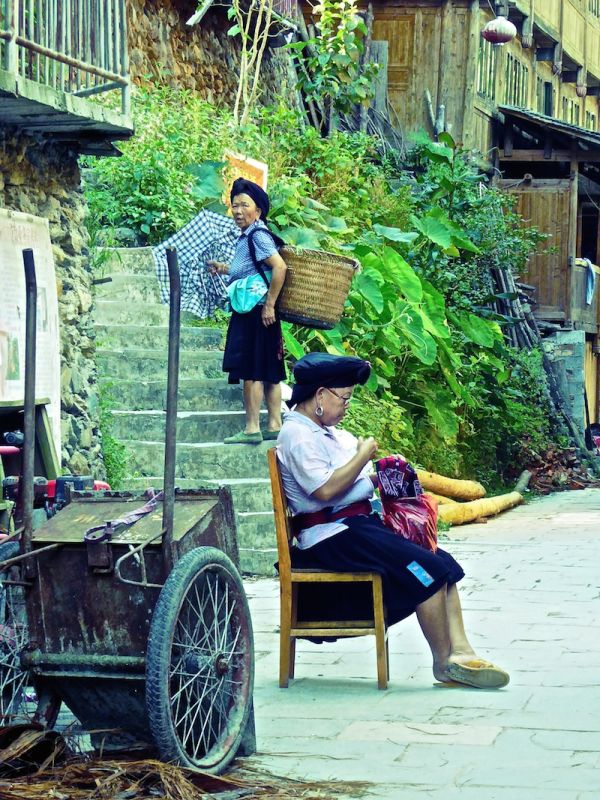 We personally felt a bit ashamed to ask a 60/70 years old lady to carry our massive 10kg (Stefan) / 15kg (Sebastien!) backpacks up the rice terrace mountains. So we insisted on carrying our bags ourselves (note however, this trade is encouraged because this is how these old ladies make their livelihood).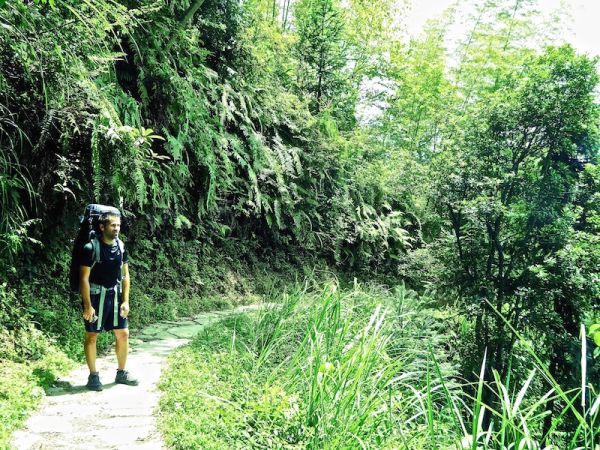 To be honest, the old ladies didn't all rush at once to offer to carry our backpacks, which would have been unlikely to fit in the small baskets used by them!
Food in the Longji Rice Terraces
And finally, no entry in this blog would be complete without a word about the food!
In the rice terraces, bamboo is plentiful.
As well as using it to build their homes, locals use bamboo as a cooking technique. One particularly memorable meal was barbecued bamboo style chicken with and rice, served in the bamboo it was cooked in: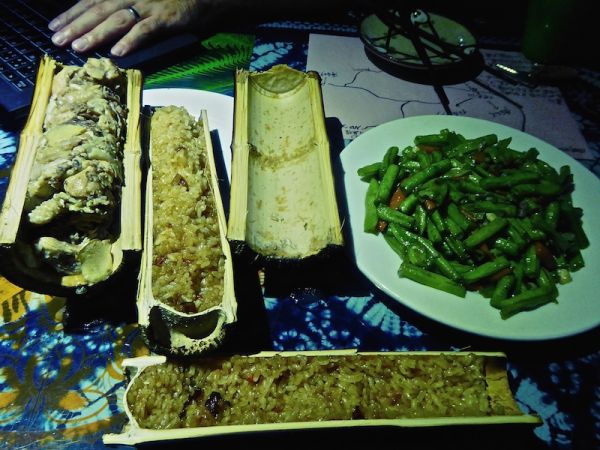 For more, watch our China travel video as we ate our way from Beijing in the North all the way to the south via Pingyao, Xi'An, Shanghai, Yangshuo through to Shangri-La:
OUR FAVOURITE TRAVEL TIPS
⭐️ TRAVEL INSURANCE — We recommend you always take out travel insurance before your next vacation. What happens if you suffer from illness, injury, theft or a cancellation? With travel insurance, you can have peace of mind and not worry. We love World Nomads travel insurance and have been using it for years. Their comprehensive coverage is second to none and their online claims process is very user friendly.
⭐️ SAFETY & SECURITY — All travelers can sometimes encounter danger when traveling. CloseCircle is your "virtual body guard" mobile app which provides security alerts and support wherever you are in the world. They have a 24/7 emergency response team monitoring their users who will contact you immediately if the SOS swipe button is activated. Support can include anything from practical advice, to free evacuation from areas with extreme weather or security risks. You can read more about CloseCircle in our article about how to stay safe whilst traveling.
⭐️ ONLINE ANONYMITY — A VPN (Virtual Private Network) is a must in many countries: it allows you to surf anonymously and maintain your privacy whilst traveling. You'll particularly need it in countries where dating apps are blocked by the government. We recommend ExpressVPN, a reliable and cost effective service which we used and loved during our travels.
⭐️ HOTELS or APARTMENTS — When we plan a trip, we always look for the best hotel deals. We love Booking.com because not only do they have a comprehensive listing of accommodation options, they also offer the best prices. Added bonus: they provide 24/7 support and free cancellation for most listings.
⭐️ SIGHTSEEING and ADVENTURES — When we travel somewhere, we like to seek out the best experiences, whether it is cooking with locals in Bangkok, hiking on a glacier in Patagonia, or going on a wildlife safari in Sri Lanka. Our favorite place to look is GetYourGuide because they have over 30,000 highly rated activities, a user-friendly booking process with free cancellation and a 24 hour customer support.
This article contains affiliate links. If you click on them, we may receive compensation which keeps our website alive and helps us bring you to more destinations.