How to get from Lyon airport to the city centre
Over the past decade, Lyon has become more accessible thanks to the increase in budget airlines flying to Lyon airport, and more recently, the Eurostar from London direct to Lyon Part-Dieu. We usually travel from London to Lyon either by Eurostar, or fly with either EasyJet or British Airways, depending on the best prices we can find.
The official name for Lyon's airport is "Lyon Saint-Exupéry" (LYS) and is located around 20 miles (32km) southeast from Lyon city centre. The only official way to get from Lyon airport to the city centre by public transport is with the Rhonexpress tram, otherwise it's by private transfer. We set out the various options below in detail. Most will take the Rhonexpress, but big tip from us – make sure to buy your Lyon City Card before you arrive to save money on your transportation costs during your trip. (Our pleasure!):
Lyon transport city card
On our recent trip to Lyon, we discovered the Lyon City card, which we totally rave about. We paid just €42 ($50) for it, which not only included our Rhonexpress return tickets, but also unlimited travel on all Lyon public transport (metro, tramway, buses), as well as free entry to 23 museums and discounts for tours, opera and theatre. If you think about it, the Rhonexpress journey between the airport to Lyon city centre costs €16.10 ($19), or €27.80 ($33) for a return ticket. With the Lyon transport city card, you definitely get value for money.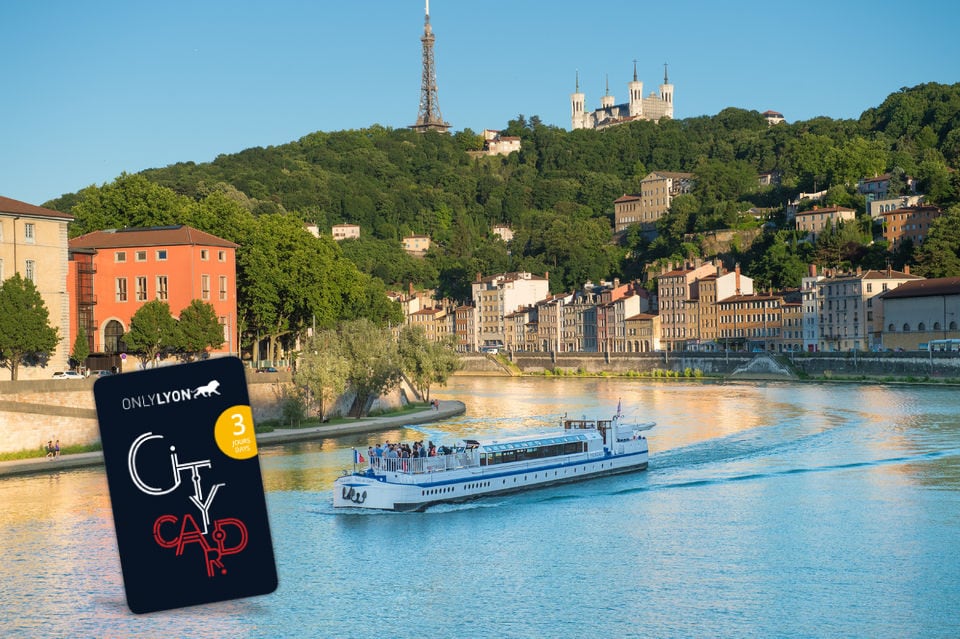 One of the things we've found tedious in Lyon is how long the queues for metro tickets can get during rush hour, so you end up waiting for ages. With the Lyon City Card, you save time by avoiding queues at the Rhonexpress ticket machines, as well as at the Lyon metro stations.
And for those who don't speak much French, the Lyon city card will save you a lot of time and effort with things like asking the nice ticket man something like "please can I buy a metro ticket to the Basilique Notre-Dame de Fourvière".
(In case you're wondering, it's: "je voudrais un ticket de metro pour aller voir la Basilique Notre-Dame de Fourvières s'il vous plait").
The Rhonexpress
The Rhonexpress is the main way to get from Lyon airport to the city centre (and vice versa). It's a tram shuttle service that goes between Lyon–Saint-Exupéry Airport and Lyon's main train station called Part-Dieu. The express train runs every 15 minutes and the journey takes precisely 29 minutes each way.
1. Rhonexpress operating hours
The Rhonexpress operating hours are between 4:25am and midnight every day. We strongly advise checking the news or the Rhonexpress website beforehand because strikes are a common occurrence in France and can severely disrupt your journey.
The first Rhonexpress departing from Lyon-Saint-Exupéry Airport to the city centre leaves at 5am. In the opposite direction, the first Rhonexpress from Lyon Part-Dieu to the airport starts at 4:25am. The last train is at midnight in both directions.
Here are the links for the full timetables.
2. Rhonexpress ticket prices
Single journey: €16.10. Or if you buy it online it costs: €14.90. For those aged 12-25, a single journey costs €13.40.
Return ticket: €27.80. Or if you buy it online it costs: €26.20. For those aged 12-25, a return ticket costs €23.50.
Free travel: for children aged 11 or under.
As we highlighted above, the Lyon city card includes the return journey from the airport on the Rhonexpress as well as unlimited travel in Lyon's public transport, museum entries and discounts on tours. However, if you wish to buy your Rhonexpress tickets separately, you can do so here.
TIP: try to get your ticket before you board, either at the machines or online. If you wait till you board the Rhonexpress and buy it onboard, they will charge you an additional €4 for each transaction.
3. Journey map of the Rhonexpress
There are two stops between Lyon airport and the city centre (and vice versa): "Vaulx-en-Velin La Soie" and "Meyzieu". But you shouldn't worry: your stop is the last stop. So no stress, set your alarm for 29 minutes, shut your eyes and treat yourself to a well deserved rest.
If at any point, you're unsure of where you are, don't worry, everything on the Rhonexpress is displayed in English and the train managers speak English. So you shouldn't have any problems finding your way.
Public Taxi
A taxi or private transfer is ideal if you are travelling with a lot of luggage, or if you land outside the hours of operation of the Rhonexpress. It's also a useful alternative in the event of any strike action taking place that may affect the service of the Rhonexpress.
A taxi from Lyon airport to the city centre (and vice versa) can cost anything between €50-100 ($60-120). You can find licensed taxi drivers at the airport, but the queues for them can be quite long during rush hour, or if there is a strike affecting the service on the Rhonexpress.
Private transfer or Uber
Booking a private transfer is not the cheapest way to reach Lyon from the airport but certainly a convenient one. If you have very little time on your hands but still want to discover the city, we recommend booking a private transfer combining a short tour of the city:
A popular alternative is to use Uber to get to Lyon city centre. We love using Uber during our travels because you avoid getting ripped off by disingenuous taxi drivers. In addition, payments and directions are all managed within the app, making it a worry-free experience.
You can download the Uber app here, and don't forget to use our invitation code to get a free ride: sebastienc221ue.
Car rental at Lyon airport
If you're planning to travel in the region and the rest of France, then it's probably best to arrange a car rental at Lyon airport. Make sure you research and compare prices for car rentals before you decide to rent it.
Obviously if you're planning on just staying in Lyon, then we don't advise hiring a car because the public transport system in Lyon is extensive, and the city is a nightmare to navigate by car. On top of this, parking fees can be quite pricey.
Arriving late at night at Lyon airport
If your flight arrives late, after midnight (which is a common occurrence with the last EasyJet flights of the day), then you will have missed the last Rhonexpress, which departs at 00:00. In this case, you can either book a private transfer, or get one of the public taxis. Just keep in mind that public taxis are less frequent at night and you might wait a bit before finding one.
OUR FAVORITE TRAVEL RECOMMENDATIONS
⭐️ TRAVEL INSURANCE — We recommend you always take out travel insurance before your next vacation. What happens if you suffer from illness, injury, theft or a cancellation? With travel insurance, you can have peace of mind and not worry. We love World Nomads travel insurance and have been using it for years. Their comprehensive coverage is second to none and their online claims process is very user friendly.
⭐️ SAFETY & SECURITY — All travelers can sometimes encounter danger when traveling. CloseCircle is your "virtual body guard" mobile app which provides security alerts and support wherever you are in the world. They have a 24/7 emergency response team monitoring their users who will contact you immediately if the SOS swipe button is activated. Support can include anything from practical advice, to free evacuation from areas with extreme weather or security risks. You can read more about CloseCircle in our article about how to stay safe whilst traveling.
⭐️ ONLINE ANONYMITY — A VPN (Virtual Private Network) is a must in many countries: it allows you to surf anonymously and maintain your privacy whilst traveling. You'll particularly need it in countries where dating apps are blocked by the government. We recommend ExpressVPN, a reliable and cost effective service which we used and loved during our travels.
⭐️ HOTELS or APARTMENTS — When we plan a trip, we always look for the best hotel deals. We love Booking.com because not only do they have a comprehensive listing of accommodation options, they also offer the best prices. Added bonus: they provide 24/7 support and free cancellation for most listings.
⭐️ SIGHTSEEING and ADVENTURES — When we travel somewhere, we like to seek out the best experiences, whether it is cooking with locals in Bangkok, hiking on a glacier in Patagonia, or going on a wildlife safari in Sri Lanka. Our favorite place to look is GetYourGuide because they have over 30,000 highly rated activities, a user-friendly booking process with free cancellation and a 24 hour customer support.
This article contains affiliate links. If you click on them, we may receive compensation which keeps our website alive and helps us bring you to more destinations.
IF YOU ENJOYED READING PLEASE PIN ME: