TERMS OF USE: There is a chance that some of the content on this page has changed since it was last updated. By reading this article, you consent to our Terms of Use and Disclaimer. Happy Travels!
DISCLOSURE: Some of our posts may contain affiliate links which we may receive a commission if you choose to book something through one of our links.
Here's our gay travel guide to Riga full of practical tips, including the best things to do, places to sleep, eat, drink, party, and more.
Throughout our travels in the Baltics, we were told by locals in Tallinn, Estonia that Latvian guys have six toes and horse heads!
---
"How on Earth can we debunk that myth for our readers, Seby?"
"I guess we're going to have to buckle down and head off to the local gay sauna… in the spirit of research!"
"Yes, research. Of course. Purely for research…"
---
Well, said trip to the sauna deflated this stereotype… but let's just say… something else about Riga men was very *ahem* horse-like!
Riga itself is a medieval fantasy land, with delightful cobblestoned streets, Gothic buildings, and old-fashioned charm. There is no other place that can make you feel as if you were dropped into the middle of a fairy-tale book. Who of the two of us would be Prince Charming do you reckon?
Before jetting off to the Latvian capital, we were expecting the weather to be cold and dreary. We imagined the people would be withdrawn and unfriendly. And as for navigating our way around the streets? We assumed it would be confusing and frustrating. Well, we couldn't have been more wrong (except for the navigation part, we totally got lost a bunch of times).
The city in the summer is warm and inviting… while the people couldn't have been more welcoming. We easily made friends at every place we went, and gay locals were more than happy to point us in the direction if we took a wrong turn. Without further ado, here is our gay guide to Riga:
Arriving in Riga soon?
Pre-book a private transfer to get you from the airport to your accommodation without any stress. Unfortunately, taxi scams are common at Riga airport, and the only other way to get to the city is via the slow public bus. With a private transfer, you'll have an English-speaking driver waiting for you at the Arrivals Hall.
Is Riga safe for gay travelers?
Short answer? Yes. But this is mostly due to the polite and non-confrontational nature of Riga locals. Latvians are friendly and humble by nature. They love welcoming foreigners to their city. Nine times out of ten, they'll be kind to anyone who shows appreciation for Riga.
That being said, anti-gay sentiments are rife. It is still an ultra-conservative nation, with far-right preachers, a strong Christian faith, and a morality-based education curriculum that preaches straight relationships as the only acceptable lifestyle.
LGBTQ activity is legal in Latvia, with the age of consent set at 16 for straight and gay couples. But gay marriage is outlawed, having been enshrined into their constitution in 2006. Attitudes are very much improving though. When their Foreign Minister, Edgars Rinkevics came out as gay in 2014, people were relatively supportive. And Baltic Pride is welcomed each time Riga hosts it. There are also lobbying groups vying for some form of legal recognition of LGBTQ couples.
If you ask us, Riga is steadily heading towards becoming a much more open and liberated city. All in all, don't be afraid to be open about your who you are. But when wandering around in the evening time, best keep the PDA to a minimum, especially if you spot a group of rowdy looking drunk (straight) guys.
The gay area of Riga
Hmmmm, we hate to say it, but there isn't really a specific gay area of Riga. Sure, there is the Top Club and a couple of gay saunas all based around Alfreda Kalnina. There are also a few gay-friendly bars dotted throughout the city. But outside of that, anyone looking for a "gay old time" will be left feeling rather blueballed.
Instead, LGBTQ visitors can check out the plethora of art galleries, museums, and markets, whilst soaking up the fairy-tale-like atmosphere. They may not be exclusively gay spaces, but hey, what LGBTQ person doesn't love an afternoon of wandering around an art gallery?
Let's face it. You weren't heading to Riga expecting the same vibrancy of New York, London, or Gay Berlin in the first place. Latvia is a much more understated city. And nightlife in general there is very quiet and small. Naturally the gay scene wouldn't be as big as their other European counterparts.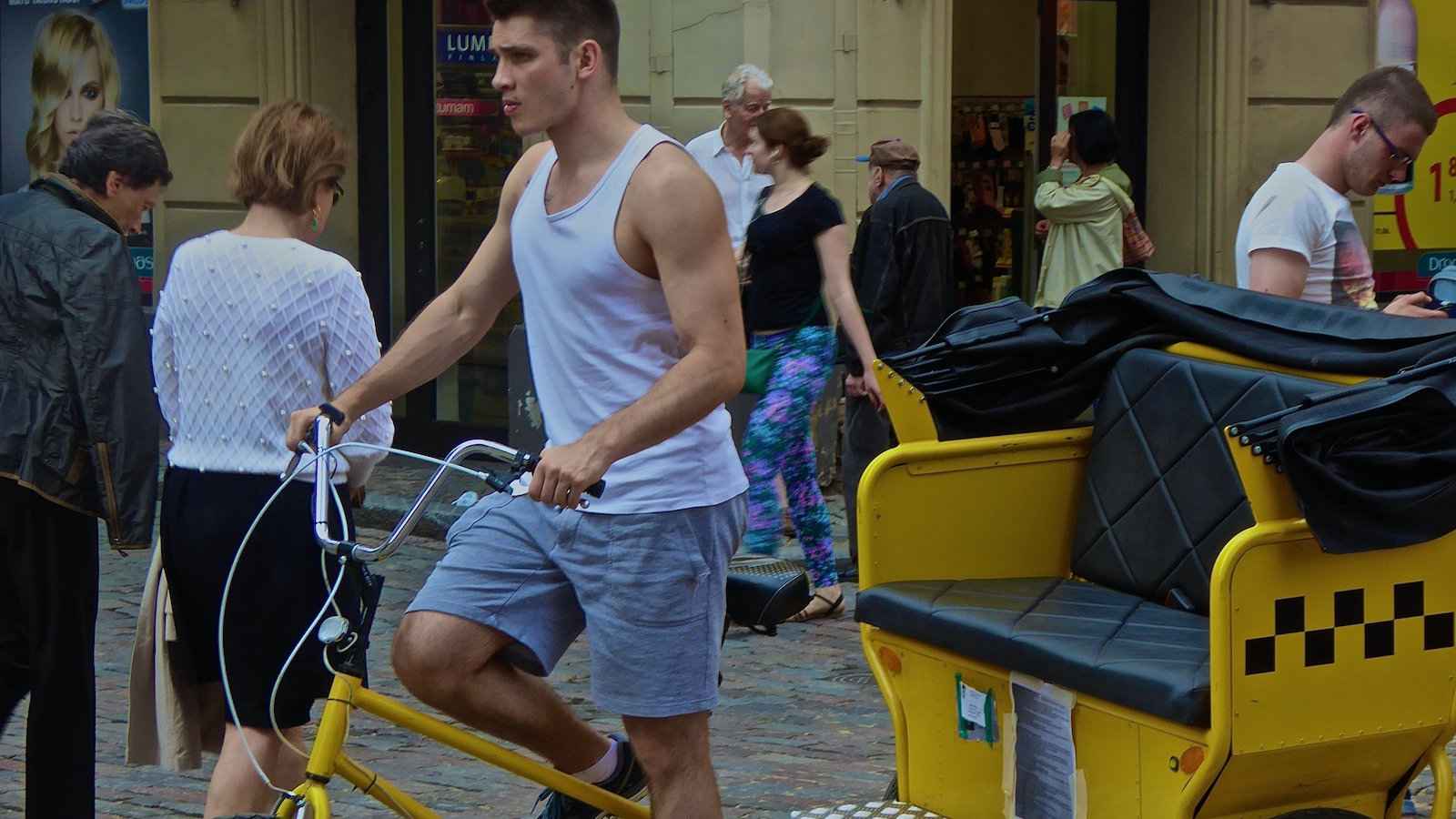 Gay hotels in Riga
Whilst there are no exclusively gay hotels in Riga there are many excellent gay-friendly ones to check out. There are options for every kind of traveler, whether you're looking to break the bank or keep to a tight budget. Here are some of the best gay hotels in Riga:
01
Grand Hotel Kempinski Riga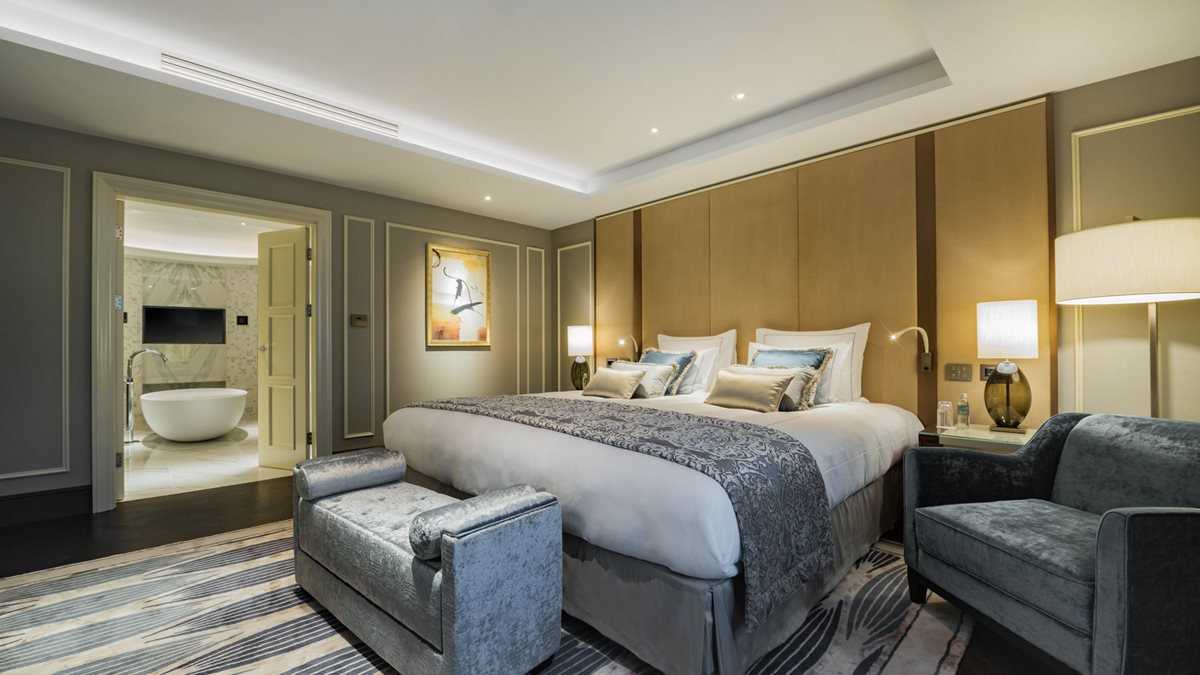 In a nutshell
---
Stunning 5 star hotel
Luxury spa and fitness center
Rooftop bar and restaurant
Unbeatable location
If we could describe the Grand Hotel Kempinski Riga in one word, it would be: Dramatic!
Just by walking around the corner, you're instantly bowled over by the grandness of the building.
The rooftop restaurant should be on the top of your list for dining experiences. We visited during the early summer months when it wasn't too busy, soaked up the cool breeze, and gorged on scrumptious Latvian cuisine. They also have a cigar lounge and bar for the evening time – a cute spot to hang out in before heading out.
Rooms are lush and totally worth every penny! There are 3 types: Deluxe, Superior, and Opera Deluxe. The Deluxe is the most affordable but if you want to feel like a Goddess, you know you need to book an Opera Deluxe – we especially recommend it for gay couples.
If you're visiting Riga as part of a city break, you'll probably be craving plenty of self-care. Well, honey, you found just the right spot. The gorgeously gay Grand Hotel Kempinski has a spa, where you can be treated across six treatment rooms. We indulged in a couples massage whilst recovering from the night-out before. The hotel also has a swimming pool and a pretty impressive fitness center.
Prices at the Grand Hotel Kempinski start from $250 per night:
---
STAY WITH A GAY LOCAL
Misterb&b is the Airbnb equivalent for the LGBTQ community. Unlike on Airbnb, you know your host is gay, voiding any nasty surprises when you check-in. It is also a great way to meet gay locals and discover the underground gay scene. Click below to get 10 € (or $10) off our first booking.
02
Grand Poet Hotel by Semarah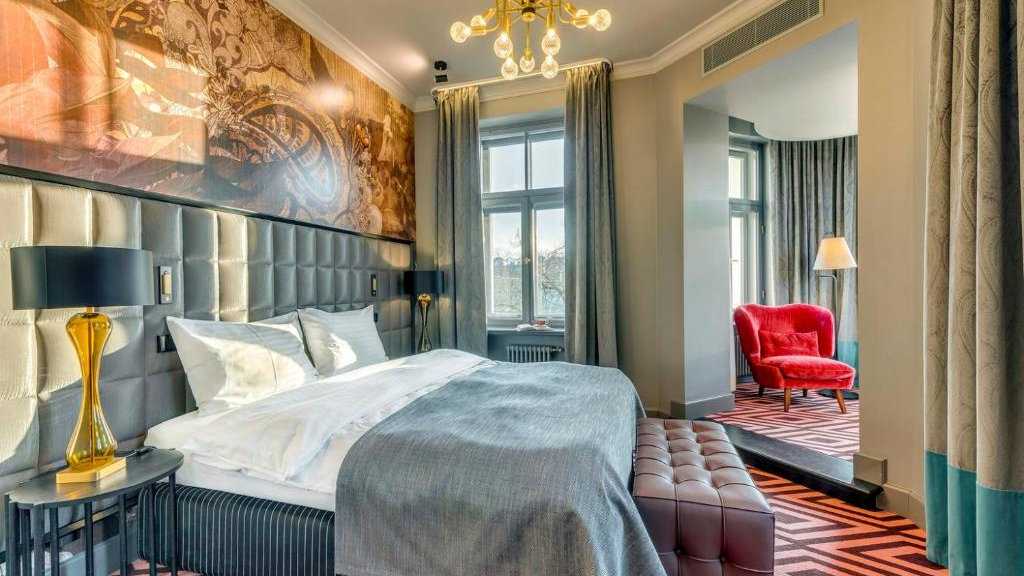 In a nutshell
---
Gorgeous colorful gay friendly hotel
Fabulous spa, pool and gym
Free breakfast and close to lots of restaurants
Onsite restaurant and bar called SNOB!
Looking for a spot to write your magnum opus? What better place than somewhere called the Grand Poet Hotel?!
And who wouldn't be inspired in a place like this? Rooms are the dictionary definition of opulence. The Double Standard room features a queen-sized bedroom, plush furniture, high ceilings, and ultra-modern design. Views from the windows are magical – you just can't help but feel like a princess in a high castle!
Each morning, you'll be treated to free breakfast in the hotel restaurant, called SNOB. For dinner, there is a bountiful selection of places nearby to choose from – Gastro Pub Riga Duvel's, 3 Pavaru Restorans, and Casa Nostra to name a few. You definitely need to eat at SNOB at least once though, as it's as beautiful as you might imagine with a name like that!
The hotel's pool is a fabulous place to unwind and chatter with fellow guests. It's a very gay-friendly spot – we had no issues disclosing our relationship to staff/fellow travelers. The Hedonic Spa includes a sauna, hot tub, aroma room, and a hammam, along with plenty of pampering treatments.
Prices at the Grand Poet Hotel start from $149 per night:
---
03
Hilton Garden Inn Riga Old Town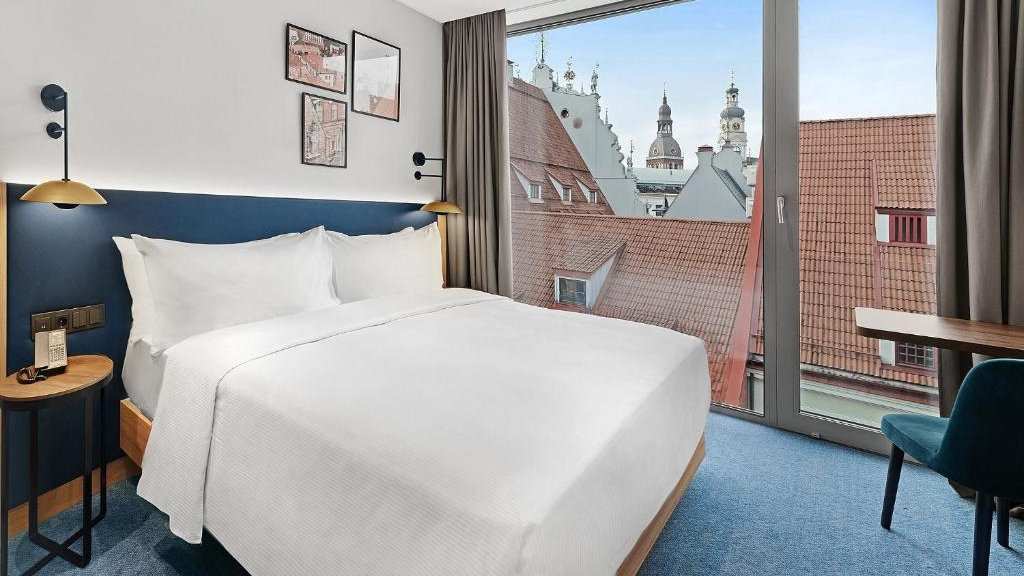 In a nutshell
---
Ideal central location
Fairytale views!
Steakhouse restaurant on site
Gym that the gay boys will love
Surrounded by Riga's fantastical Old Town sits the Hilton Garden Inn. The hotel's geometric, funky exterior clashes with the medieval-style backdrop, but in the best possible way. Kind of like us when you think about it – two glitzy, glamourous gay guys dropped in the middle of an old-world setting.
Within walking distance are famous sights, like the House of Blackheads, the residence of the Latvian President, St Peters Church, and the Daugava River.
The Hilton Garden Inn has a steakhouse restaurant – because, why not? It's very convenient (and yummy!) for when you first arrive and want to grab a bite before collapsing into bed. Otherwise, there are plenty of nearby restaurants, bars, and cafes close by to try out an authentic Latvian meal. Plus, their state-of-the-art gym comes in real handy if you're treating yourself tons and want to keep trim.
Rooms come in an array of sizes and functionalities. On the lower end of the price scale are the simple Twin Rooms. Those wanting to splurge a little more can get the King Room – they're super spacious, with amazing views and a massive bathtub to snap away those gay Insta thirst traps…!
Prices at the Hilton Garden Inn start from $93 per night:
---
04
Johnson's House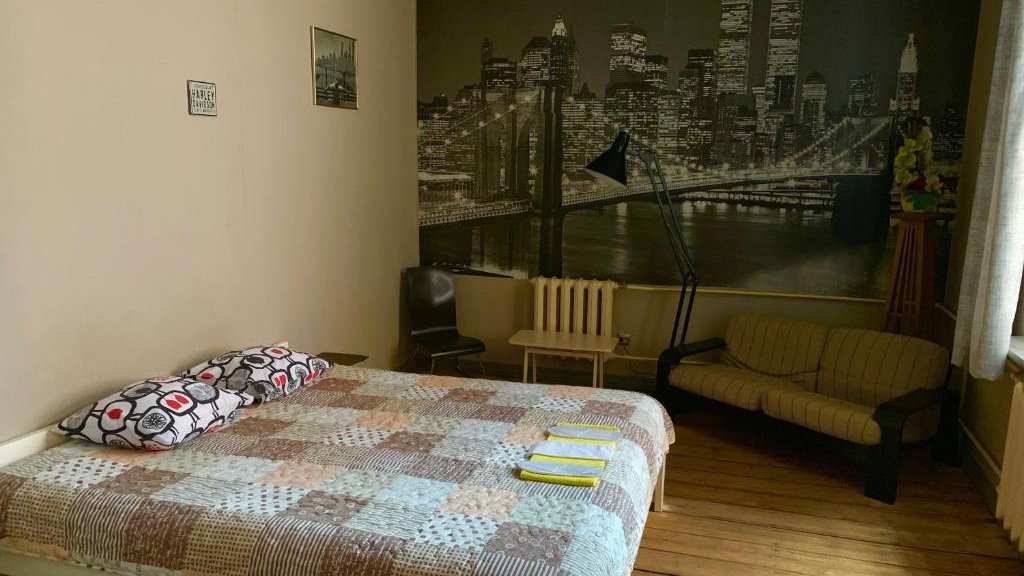 In a nutshell
---
Affordable accommodation
Central location
Online check-in/out
Free hot drinks
Johnson's House is a backpacker's dream. It's affordable. It's central. It's gay friendly. And it's super chill. It's situated in an old-timey building, constructed in 1898, giving it a Victorian vintage vibe.
Guests can check-in and out online as there isn't a reception desk. It saves plenty of time for when you're in a rush, but if you do need face-to-face assistance, there are always friendly staff floating around to help.
Rooms are available for up to 4 people in dorms, perfect for solo gay travelers or if you're traveling in a group. And if you want some (*ahem*) alone time at night, you can book a private single or spacious double room. Everything you need, at a fraction of the price at more expensive places.
The best part about Johnson's House is how close to everything it is. Riga Skyline is an 8-minute walk away as is the Olimpia Shopping center. You won't be starved for bars or restaurants either, as there is an abundance of eateries/hangout spots around the area.
Prices at Johnson's House start from $27 per night:
---
Gay bars in Riga
The gay nightlife in Riga is quite small but that doesn't mean it's non-existent. If you look hard enough you can find all sorts of gay friendly clubs and bars that go on until the wee hours of the morning. There aren't any gay bars in Riga but there are a handful of gay-friendly mixed ones where the queer community head to start the night, which we summarise here: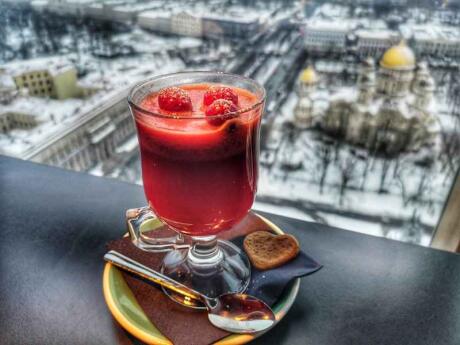 If there was ever a place that made us feel like the queens we are, this is it! Their service is impeccable. From the host offering to take our coats at the door, to holding out our chairs as we sat down to their prompt service – Seby was convinced they'd mistaken us for a celebrity couple… While it may not be an exclusively gay bar, the Skyline Bar is certainly gay-friendly. It also has unbeatable views of the city skyline, perfect for a romantic date night. The cocktails were delicious. We each got a drink called Nutcracker – and it's as dirty as you'd expect! They also serve food, it's famous for its range of seafood options – we recommend the tiger shrimp.
Open: Skyline Bar is open Wednesday and Thursday from 6pm until midnight, on Friday from 6pm until 2am and on Saturday from 3pm until 2am
Location: You can find it at Elizabetes iela 55
---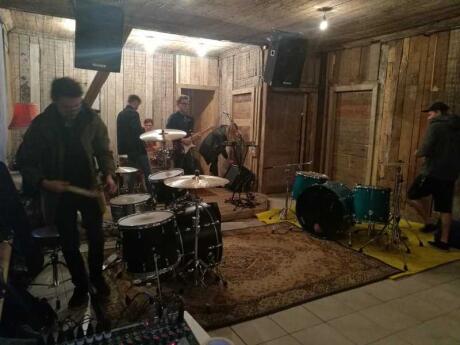 You might confuse this place with an abandoned warehouse, but trust us, that's the vibe they were going for. Exposed brick wall, scattered furniture, dim lighting, and a rough-around-the-edges design are what makes Aleponija authentically hipster. They even have a super cute friendly resident cat called Bruto. Drinks are reasonably priced and very tasty, with tons of choices. If you're a lightweight, you might want to fill up before you go as they make these drinks strong! Trust us – we thought we'd be fine… cut to us shaking our derrieres on the dancefloor a few hours later… It's a tricky enough bar to find, with the entrance on the side of the building. Best whip out Google Maps when tracking it down.
Open: Aleponija is open daily from 5pm, closing at 1am Sunday – Thursday, and at 5am Friday and Saturday
Location: You can find it at Ernesta Birznieka-Upīša iela 22
---
Gay clubs in Riga
As we said, there is very little for the LGBTQ community of Riga when it comes to nightlife. Though they do have one club! And that's what counts in our eyes! It's usually the main spot where gay people finish their night off, and for very good reason…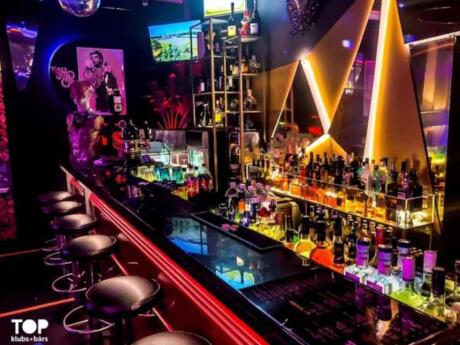 Don't let the name fool you! Bottoms are just as welcome… We're used to gay clubs making their presence feel known. Which is why it was a bit confusing to have to ring a doorbell and wait a few moments before being let in. But considering how small the gay scene in Riga is, we can't blame them for being overly cautious. There is also an €8 entry fee, which we felt was a bit steep, considering it is the only gay club in the city. Once inside, the party is every bit as campy and delicious as those in London or Berlin though. The music is a loud mix of pop and electronic, the drinks are fruity and inexpensive, while the crowds are their unabashedly gay selves.
Open: Top Club is open daily until 2am
Location: You can find it at Alfreda Kalnina iela 4
---
Gay saunas in Riga
In the era of Grindr and Scruff, the golden age of gay cruising is long gone. Don't get us wrong, we're glad the days of gay men having to pick up guys in a park are over. But meeting people on a dating app is not half as exciting as locking eyes with some cute guy in a sauna and letting your hormones take over. Here are the main gay saunas in Riga to hit up if you're also more nostalgic:
It may be teeny, but it packs a large punch on the gay scene of Riga. In fact, we rather like how small and intimate Gay Sauna is. It's also very laidback. The main complex only fits 12 people, with a Jacuzzi that welcomes only 5 guys and an infrared sauna that is only big enough for 2. If you fancy a date night with a loved one (or even some random dude you meet whilst cruising), the movie room has some *ahem* stimulating films on display… And when we say stimulating, we ain't talking about the intellectual kind…

Gay Sauna can be found at 8 Alfrēda Kalniņa Street. It is open daily until midnight.
Those at Bunker Cruising Bar aren't afraid to get a little uninhibited. So, if you show up with a free spirit and an open mind, you'll fit right in. They regularly throw underwear parties, gay cruising parties, and leather nights. And the wildest things you can imagine can go down there… Inside, there are dark rooms, a bar, a video room, and tons of cruising space. Younger guys (aged 18-21) get in free, otherwise, it's a small fee of €5. You'll get given free rubbers and lub as you head in.

You can find Bunker Cruising Bar at Alfreda Kalnina 4 (close to the TOP Club). It is open daily until 2am.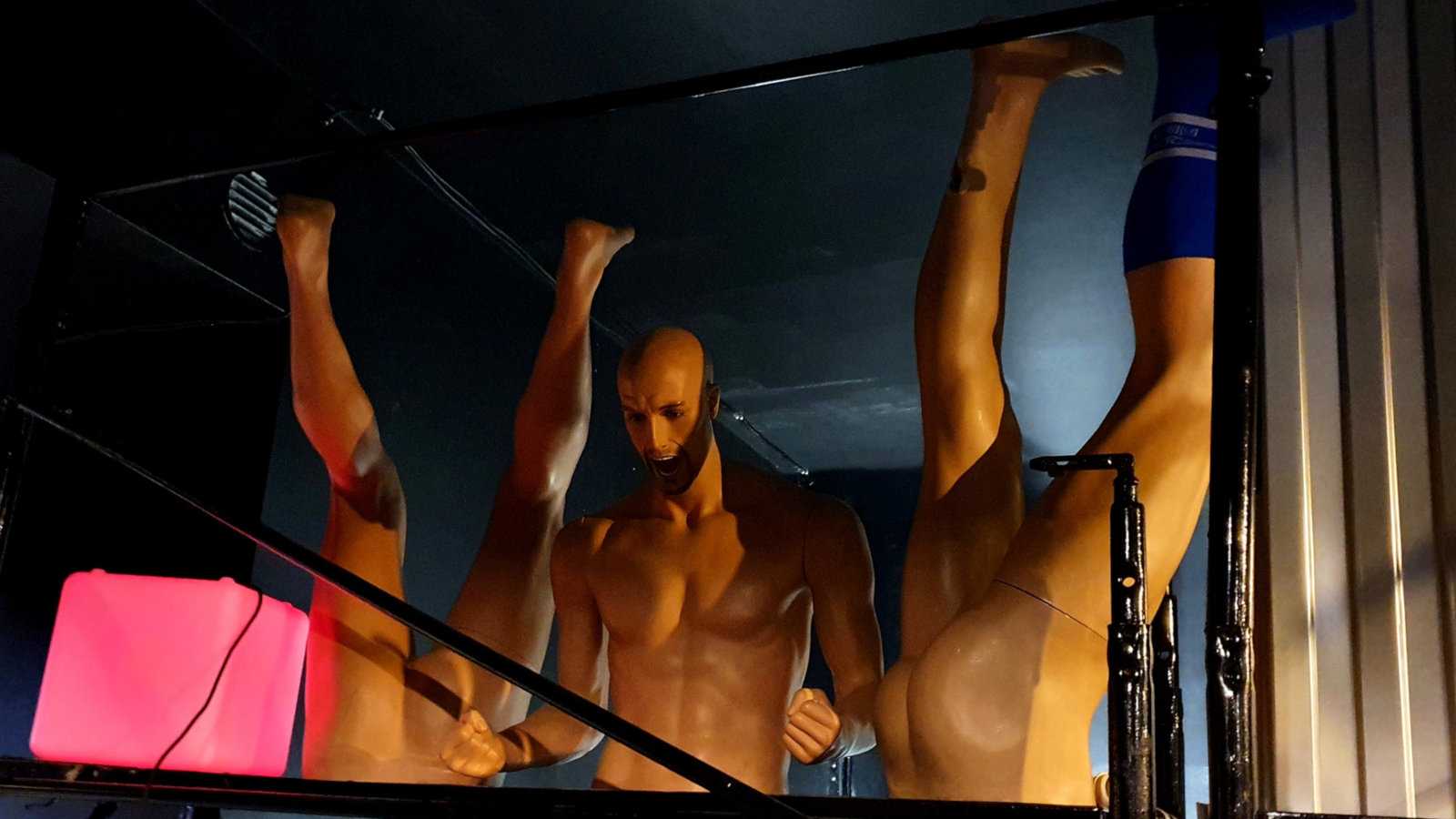 Gay events in Riga
More than any other Pride parade we've participated in, Baltic Pride felt the most like activism. Sadly, the Eastern bloc is lagging behind the rest of Europe on LGBTQ rights. So, events like Pride are desperately needed to provide visibility for the queer community. In the past, the event has faced pushback from the government and protest groups, but it is slowly becoming more welcomed in the city.
Baltic Pride (August)
It's like "pass the parcel" for Pride events as Estonia, Lithuania and Latvia take turns each year to host Baltic Pride. It usually takes place in August, with Riga taking the reins in 2021. Be sure to check their Facebook page to see when Riga is hosting it again.

Minority groups come together for a parade through the city, waving their rainbow banners and flags, making their presence known. The week is usually filled with all sorts of activity, with meet-up groups, club nights, and performances from LGBTQ international artists.
Where to eat in Riga
It goes without saying that we are total foodies and geek out over finding new dishes that we have never tried before. Riga was the perfect spot for us as it opened up a whole new palate of Eastern European cuisine that we never knew about. We know gay travelers (like us) can get a bit picky with their choices sometimes but please promise us you will try something different from one of our three favourite restaurants in Riga: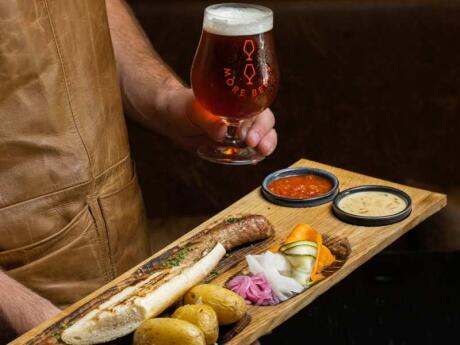 What? Just because our Instagram feed is mostly us clinking glasses of wine and cocktails doesn't mean we don't crave a beer once in a while. And oh boy do Two More Beers come prepared. Their motto is "The truths of life are hidden at the bottom of beer glasses. Maybe not. But we should always, always check" and we couldn't agree more. Oh, and before you ask, yes, they do serve food too! Their array of burgers, fries, and wings are utterly delicious, which is what makes Two More Beers one of the most highly rated restaurants in Riga!
---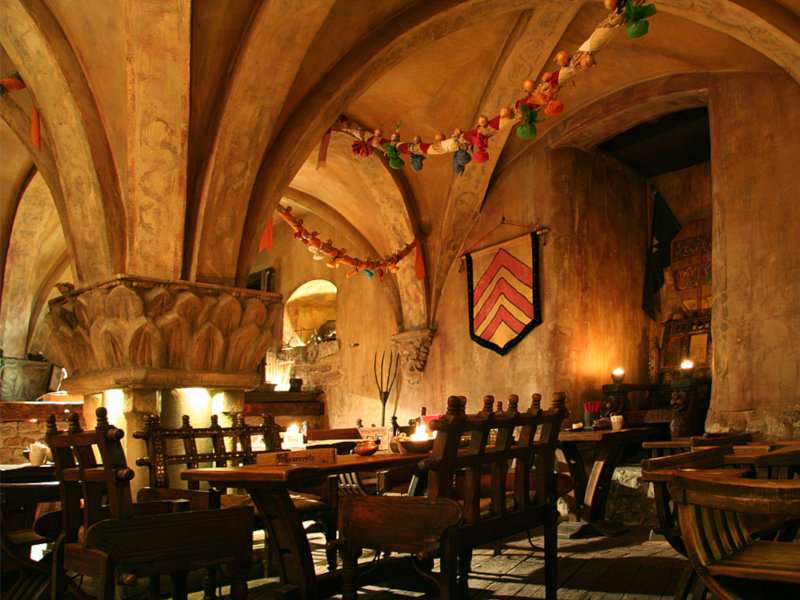 Rozengrals is a very unique and fun spot for dinner in Riga – it's a medieval-themed eatery with rustic menu items from as far back as the 15th century, plus the staff are dressed up as knights! This restaurant is located inside a fragment of the medieval city wall, built in 1201 and it really feels like you've stepped back in time when you arrive. While many of the dishes are also old, they're still delicious, whether you want to dine on rabbit stew, a spit-fired piglet or traditional apple strudel, you will leave feeling satisfied and entertained!
---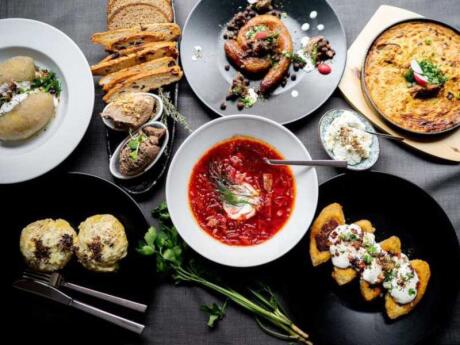 Milda brings together the best dishes from across the Baltic region. Dishes like homemade sausage, trout fillet, and filet mignon are popular items on the menu. We personally loved the duck breast with broccoli puree (served with buckwheat popcorn!). Though it's most famous for its wide range of potato dishes – a staple food in Latvia. The Milda interior is bright and airy, with opulent gold and black design. It's a neat spot to swing by between sightseeing as service was very quick and staff are thoroughly delightful.
---
What to do in Riga
Time to plan out that itinerary. Now that we've gushed about how cosy the hotels are, how fun the bars and clubs are, plus how tasty the food is, we want to go over how to pad out your time in Riga. It's an eccentric and antiquated city, where you can't help but feel as if you've crossed into a different era with each turn of a street corner. Here are the best things to do for gay travelers in Riga:
Explore the Old Town (Vecriga)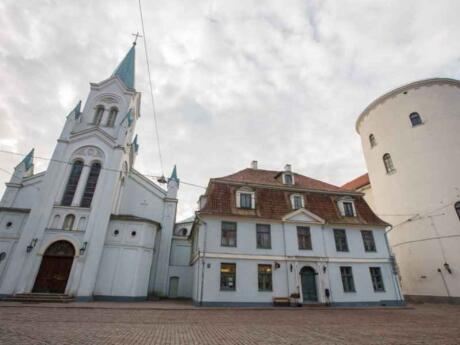 A hodgepodge of Gothic, Romanticism, Baroque, and Modernism, the Old Town is an architectural dream. We could have spent a whole day just gawking at how stunning the buildings and streets were. The beautiful art nouveau architecture is best explored on a walking tour, which also guarantees you'll find cute corners and alleyways you might have missed. There is a heap of stuff to check out though, especially in terms of cafes, restaurants, and bars. It's essentially the central hub of Riga, where there is always a hive of activity going on.
---
Grab a bite at the Central Market (Centraltirgus)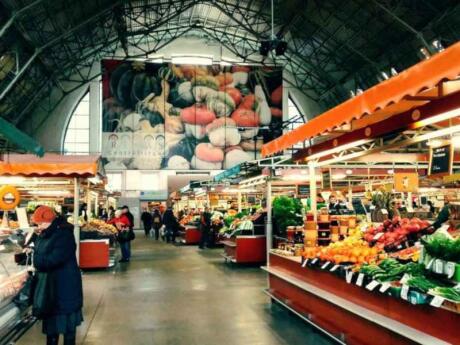 It's the largest market and bazaar in Europe – and it wouldn't be a trip to Riga without stopping by. Anything can be bought here. Locals use it to buy their bread and milk while tourists use it to buy their souvenirs and gifts. There are lots of cafes and eateries in it too, so you can make a whole afternoon out of looking at the various stalls before grabbing a bite to eat. Join an interesting and delicious tour if you want to combine food with learning more about the history of this market located in old zeppelin hangars.
---
See the former KGB Building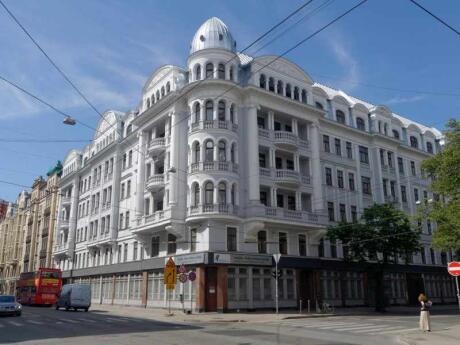 Also referred to as Corner House, the KGB building was the headquarters of the Soviet KGB from 1940 to 1941 and from 1944 to 1991. Today, it is the site of the Museum of Occupation of Latvia that delves into the history of Soviet occupation in Latvia. There are guided tours that bring visitors into the basement prison cells, as well as an exhibition on the history of KGB activities. Anyone not caught up on their Eastern European history will have their eyes opened as to how Soviet intervention changed the course of Latvian life and continues to influence it to this very day!
---
Climb St. Peter's Church Tower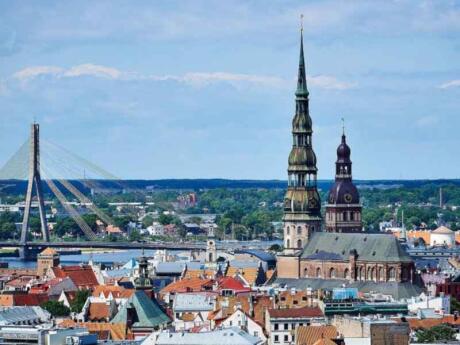 Just as popular for its art exhibitions as for the Insta-ready interior design, St. Peter's Church is a signature part of the Riga skyline. While it may have had the odd facelift here and there (who hasn't?!), there are still walls and pillars that have remained untouched sinnce 1209. Visitors can climb up to the top for fantastic views of Riga's Old Town, from the red roofs to the banks of Daugava River.
---
Admire the Riga Town Hall Square (Rātslaukums)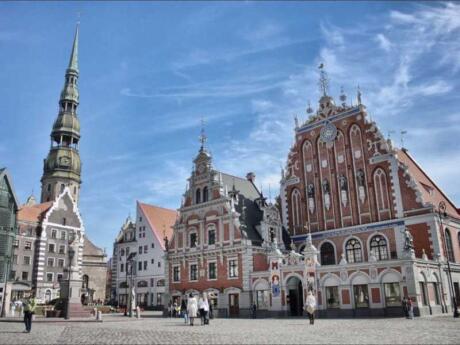 Rebuilt from the ashes of the market square, which was obliterated in the Second World War, Riga Town Hall Square stands poised and beautiful. Surrounded by the House of the Blackheads and Town Hall, you can practically feel the historical significance drumming beneath your feet.
---
Planning your trip
We've put together some handy hints and tips to help you plan your own trip to Riga. Read on to find out everything the gay traveler should know before they go.
Travel insurance: Even though Riga is a safe destination, you don't need to be in danger to wish you had bought travel insurance! Annoyances like losing your luggage, canceled flights, illness or injury can all ruin a trip, but at least if you have good travel insurance you know you can get your money back.
---
How to get there: Most visitors to Riga will fly into the Riga International Airport, although you may need to transit elsewhere in Europe, depending on how far away you will be coming from. If you're already in Europe it's also possible to get to Riga from many European cities by bus, train and car, or even by ferry from Stockholm. For those flying, the airport is about 10km (6 miles) out of the city, but you can only get to the city center via bus, taxi or (our top pick) a private transfer.
---
Visa requirements: Travelers from other Schengen Zone countries as well as countries such as the United States, Canada, Australia and the United Kingdom don't need a visa to visit Latvia for up to 90 days but do make sure you check your personal visa requirements to ensure you have the correct travel documents. Other nationalities may need to apply for a visa, so again, check before you make any travel arrangements for Riga!
---
Vaccinations: All travelers to Latvia should be up to date with routine vaccinations for things like measles, mumps, chickenpox etc. and covid-19. It's also recommended that travelers are vaccinated against hepatitis A and B. Make sure you check the CDC website and speak to your doctor or travel nurse before heading to Riga to ensure you have the required vaccinations.
---
Getting around: You can easily explore Riga's Old Town area on foot, but wear comfortable shoes as the uneven cobblestones can be hard to walk on! You can use trams, buses, minibuses, and trolleybuses to explore further. Alternatively, if you booked a two-day ticket for the hop-on hop-off bus you will be able to travel with ease between the major sights.
---
Currency: Latvia uses the Euro. The code is EUR and the symbol is €. $1 is worth about 85 Euro cents, and £1 converts to around €1.17.
---
Tipping culture: It's not obligatory to tip in Latvia, although it is appreciated. While in Riga we would generally round up a bill for taxi drivers and leave about a 10% for a restaurant bill, but make sure you check a service charge hasn't already been included.
---
Internet access: Free, decent WiFi is available throughout Riga, in cafes, restaurants, bars, hotels, hostels, even parks and bus stops! If you are planning to head outside of the city, or know you'll need a lot of bandwidth to do work or something, then we'd recommend bringing a portable WiFi device with you.
---
When to visit: Riga has a relatively mild climate, with cold winters and warm summers. Summer is the nicest time to visit, it's not too hot and there are plenty of fun activities to explore. This is also the peak season, so if you're looking to save money the shoulder seasons of spring and fall are also nice. Even winter in Riga is quite magical around Christmas time, plus you can enjoy snow sports nearby if you're a bit of a snow bunny.
---
Gay map of Riga
We've put together this gay map of (almost) all the places we've mentioned in this post to help you plan your own gay trip to Riga. We hope you use it to have a fabulous time in Riga!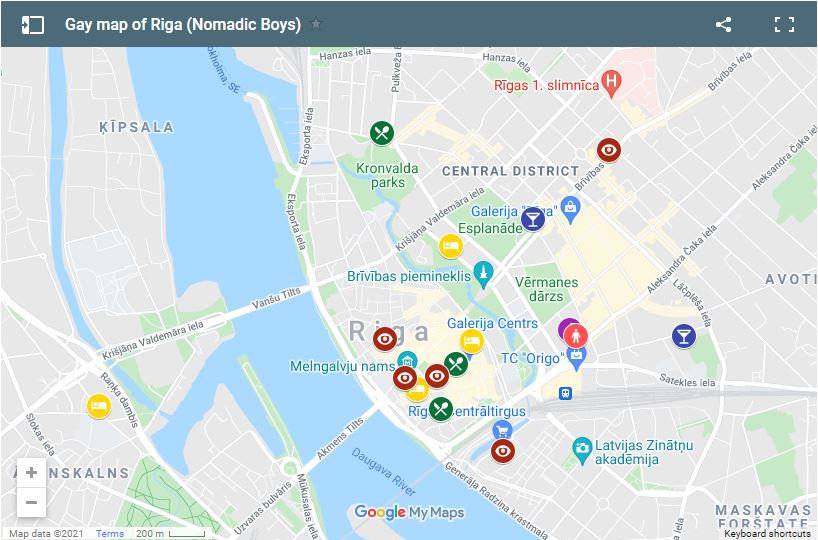 ---