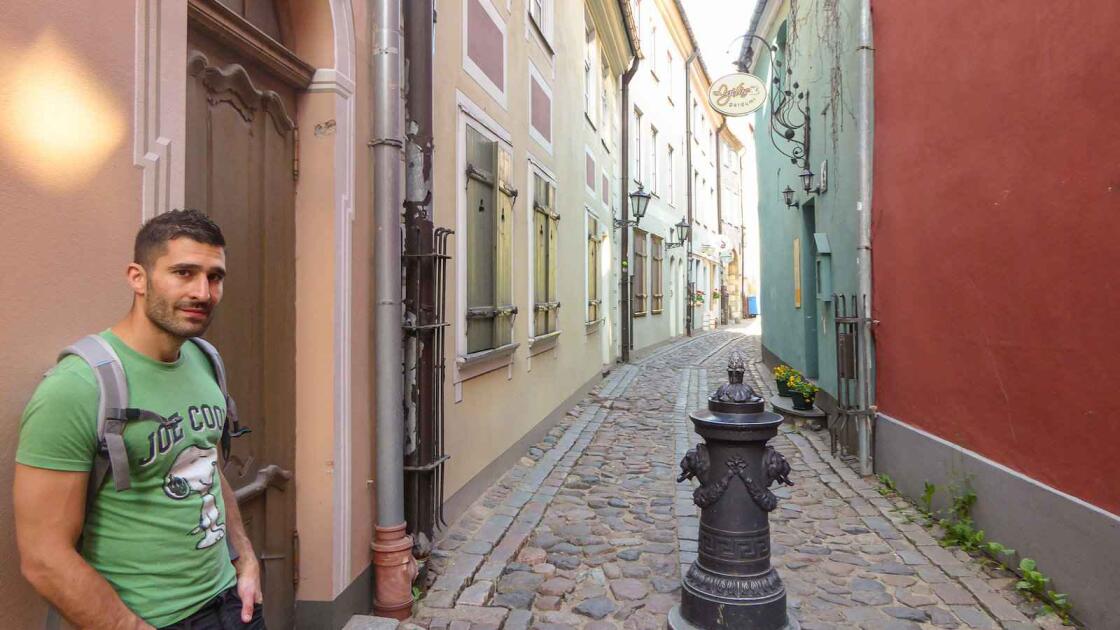 Throughout our travels in the Baltics, we were told by locals in Tallinn, Estonia that Latvian guys have six toes and horse heads!
---
"How on Earth can we debunk that myth for our readers, Seby?"
"I guess we're going to have to buckle down and head off to the local gay sauna… in the spirit of research!"
"Yes, research. Of course. Purely for research…"
---
Well, said trip to the sauna deflated this stereotype… but let's just say… something else about Riga men was very *ahem* horse-like!
Riga itself is a medieval fantasy land, with delightful cobblestoned streets, Gothic buildings, and old-fashioned charm. There is no other place that can make you feel as if you were dropped into the middle of a fairy-tale book. Who of the two of us would be Prince Charming do you reckon?
Before jetting off to the Latvian capital, we were expecting the weather to be cold and dreary. We imagined the people would be withdrawn and unfriendly. And as for navigating our way around the streets? We assumed it would be confusing and frustrating. Well, we couldn't have been more wrong (except for the navigation part, we totally got lost a bunch of times).
The city in the summer is warm and inviting… while the people couldn't have been more welcoming. We easily made friends at every place we went, and gay locals were more than happy to point us in the direction if we took a wrong turn. Without further ado, here is our gay guide to Riga:
Is Riga safe for gay travelers?
Short answer? Yes. But this is mostly due to the polite and non-confrontational nature of Riga locals. Latvians are friendly and humble by nature. They love welcoming foreigners to their city. Nine times out of ten, they'll be kind to anyone who shows appreciation for Riga.
That being said, anti-gay sentiments are rife. It is still an ultra-conservative nation, with far-right preachers, a strong Christian faith, and a morality-based education curriculum that preaches straight relationships as the only acceptable lifestyle.
LGBTQ activity is legal in Latvia, with the age of consent set at 16 for straight and gay couples. But gay marriage is outlawed, having been enshrined into their constitution in 2006. Attitudes are very much improving though. When their Foreign Minister, Edgars Rinkevics came out as gay in 2014, people were relatively supportive. And Baltic Pride is welcomed each time Riga hosts it. There are also lobbying groups vying for some form of legal recognition of LGBTQ couples.
If you ask us, Riga is steadily heading towards becoming a much more open and liberated city. All in all, don't be afraid to be open about your who you are. But when wandering around in the evening time, best keep the PDA to a minimum, especially if you spot a group of rowdy looking drunk (straight) guys.
The gay area of Riga
Hmmmm, we hate to say it, but there isn't really a specific gay area of Riga. Sure, there is the Top Club and a couple of gay saunas all based around Alfreda Kalnina. There are also a few gay-friendly bars dotted throughout the city. But outside of that, anyone looking for a "gay old time" will be left feeling rather blueballed.
Instead, LGBTQ visitors can check out the plethora of art galleries, museums, and markets, whilst soaking up the fairy-tale-like atmosphere. They may not be exclusively gay spaces, but hey, what LGBTQ person doesn't love an afternoon of wandering around an art gallery?
Let's face it. You weren't heading to Riga expecting the same vibrancy of New York, London, or Gay Berlin in the first place. Latvia is a much more understated city. And nightlife in general there is very quiet and small. Naturally the gay scene wouldn't be as big as their other European counterparts.
Gay hotels in Riga
Whilst there are no exclusively gay hotels in Riga there are many excellent gay-friendly ones to check out. There are options for every kind of traveler, whether you're looking to break the bank or keep to a tight budget. Here are some of the best gay hotels in Riga:
Gay bars in Riga
The gay nightlife in Riga is quite small but that doesn't mean it's non-existent. If you look hard enough you can find all sorts of gay friendly clubs and bars that go on until the wee hours of the morning. There aren't any gay bars in Riga but there are a handful of gay-friendly mixed ones where the queer community head to start the night, which we summarise here:
Gay clubs in Riga
As we said, there is very little for the LGBTQ community of Riga when it comes to nightlife. Though they do have one club! And that's what counts in our eyes! It's usually the main spot where gay people finish their night off, and for very good reason…
Gay saunas in Riga
In the era of Grindr and Scruff, the golden age of gay cruising is long gone. Don't get us wrong, we're glad the days of gay men having to pick up guys in a park are over. But meeting people on a dating app is not half as exciting as locking eyes with some cute guy in a sauna and letting your hormones take over. Here are the main gay saunas in Riga to hit up if you're also more nostalgic:
It may be teeny, but it packs a large punch on the gay scene of Riga. In fact, we rather like how small and intimate Gay Sauna is. It's also very laidback. The main complex only fits 12 people, with a Jacuzzi that welcomes only 5 guys and an infrared sauna that is only big enough for 2. If you fancy a date night with a loved one (or even some random dude you meet whilst cruising), the movie room has some *ahem* stimulating films on display… And when we say stimulating, we ain't talking about the intellectual kind…

Gay Sauna can be found at 8 Alfrēda Kalniņa Street. It is open daily until midnight.
Those at Bunker Cruising Bar aren't afraid to get a little uninhibited. So, if you show up with a free spirit and an open mind, you'll fit right in. They regularly throw underwear parties, gay cruising parties, and leather nights. And the wildest things you can imagine can go down there… Inside, there are dark rooms, a bar, a video room, and tons of cruising space. Younger guys (aged 18-21) get in free, otherwise, it's a small fee of €5. You'll get given free rubbers and lub as you head in.

You can find Bunker Cruising Bar at Alfreda Kalnina 4 (close to the TOP Club). It is open daily until 2am.
Gay events in Riga
More than any other Pride parade we've participated in, Baltic Pride felt the most like activism. Sadly, the Eastern bloc is lagging behind the rest of Europe on LGBTQ rights. So, events like Pride are desperately needed to provide visibility for the queer community. In the past, the event has faced pushback from the government and protest groups, but it is slowly becoming more welcomed in the city.
Baltic Pride (August)
It's like "pass the parcel" for Pride events as Estonia, Lithuania and Latvia take turns each year to host Baltic Pride. It usually takes place in August, with Riga taking the reins in 2021. Be sure to check their Facebook page to see when Riga is hosting it again.

Minority groups come together for a parade through the city, waving their rainbow banners and flags, making their presence known. The week is usually filled with all sorts of activity, with meet-up groups, club nights, and performances from LGBTQ international artists.
Where to eat in Riga
It goes without saying that we are total foodies and geek out over finding new dishes that we have never tried before. Riga was the perfect spot for us as it opened up a whole new palate of Eastern European cuisine that we never knew about. We know gay travelers (like us) can get a bit picky with their choices sometimes but please promise us you will try something different from one of our three favourite restaurants in Riga:
What to do in Riga
Time to plan out that itinerary. Now that we've gushed about how cosy the hotels are, how fun the bars and clubs are, plus how tasty the food is, we want to go over how to pad out your time in Riga. It's an eccentric and antiquated city, where you can't help but feel as if you've crossed into a different era with each turn of a street corner. Here are the best things to do for gay travelers in Riga:
Planning your trip
Gay map of Riga
We've put together this gay map of (almost) all the places we've mentioned in this post to help you plan your own gay trip to Riga. We hope you use it to have a fabulous time in Riga!