TERMS OF USE: There is a chance that some of the content on this page has changed since it was last updated. By reading this article, you consent to our Terms of Use and Disclaimer. Happy Travels!
DISCLOSURE: Some of our posts may contain affiliate links which we may receive a commission if you choose to book something through one of our links.
Puerto Rico – the gay gem of the Caribbean!
This is home of Latino pop gay icon Ricky Martin as well as some of the best RuPaul Drag Queens – Nina Flowers, Alexis Matteo, and Yara Sofia. There is a good reason why we rated Puerto Rico as the gayest place in the Caribbean in 2023!
The "Isla del Encanto" ("Island of Enchantment") also has an exciting gay scene, largely based in the capital city of San Juan, with hangouts like Oceano and The Bear Tavern, a gay beach in Condado, and no fewer than two Pride events – Winter Pride Fest in December, and Pride Puerto Rico in May/June. There is also an abundance of gay resorts in Puerto Rico to pick from which ultimately makes it one of the best gay vacations in the USA.
In this guide, we've sorted through some of the best gay resorts in Puerto Rico and given our two cents on which ones you should check out when planning your own gaycation here.
🏳️‍🌈 OUR GAY RESORT PICKS IN PUERTO RICO 🏳️‍🌈
Is Puerto Rico safe for gay travelers in 2023?
As one of the gayest places in the whole Caribbean, you know you're heading to a pink haven! Puerto Rico is very gay-friendly and super safe for LGBTQ travelers.
As Puerto Rico is part of the US Commonwealth, LGBTQ rights here are more or less in line with those in the USA. Gay marriage was legalized here in 2015, transgender people have been allowed to change their legal gender since 2018, and the definition of hate crımes was extended in 2002 to include offences towards the LGBTQ community.
That being said, as with all destinations, Puerto Rico is a small island with a large population of over 3 million. Therefore, petty crıme is inevitably going to be prominent in the big cities as much as it would be in New York, Houston or Phoenix, so apply the same common sense in relation to safety as you would back home.
COVID entry requirements for Puerto Rico
There are no longer any requirements for US travelers entering Puerto Rico.
What is the gay area of Puerto Rico?
Santurce in San Juan is the beating heart and soul of Puerto Rico's LGBTQ community. There are lots of gay bars, clubs, saunas, and restaurants here for gay boys in all shapes and sizes. The best gay bars to check out here include Oceano and The Bear Tavern. For the best drag shows, you'll want to be heading over to Circo, and for dancing, check out SX Club. If you're feeling frisky, PR's got you covered with the Xteamworks gay sauna!
During the day, most of the gay boys hang out at the Condado gay beach located in front of the Atlantic Beach Hotel.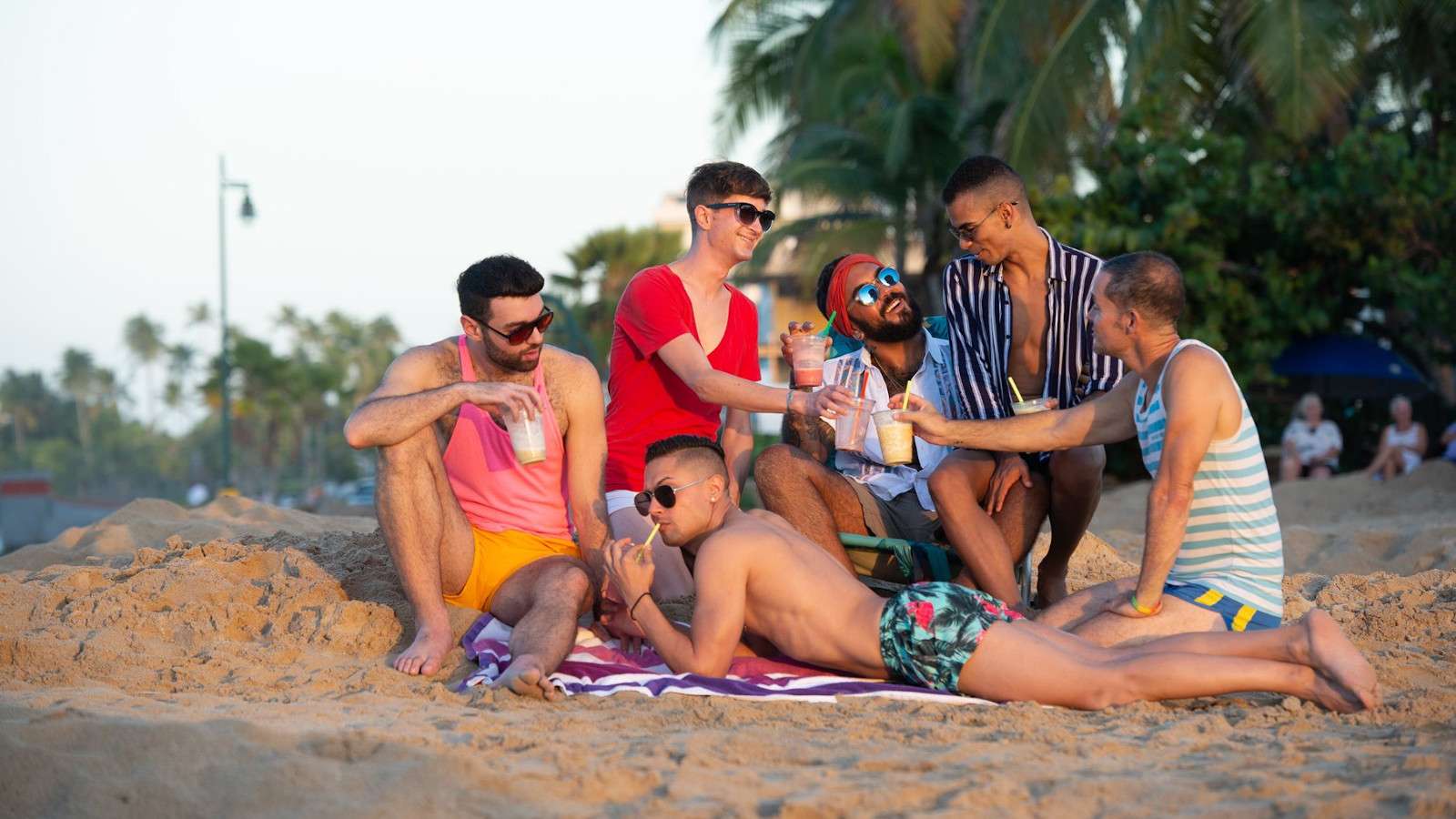 All-inclusive gay resorts in Puerto Rico
When it comes to all-inclusive options and gay resorts in Puerto Rico the main thing to bear in mind is that here it's not like the gay resorts of Fort Lauderdale or Puerto Vallarta which are large, uber gay, and very clothing optional! By comparison, the gay accommodation options in Peurto Rico are more low-key and boutique in feel. The closest you'll find to a gay resort in Puerto Rico, which is on par with those in FL or PV is Coqui Del Mar (See Below).
01
Coqui Del Mar
San Juan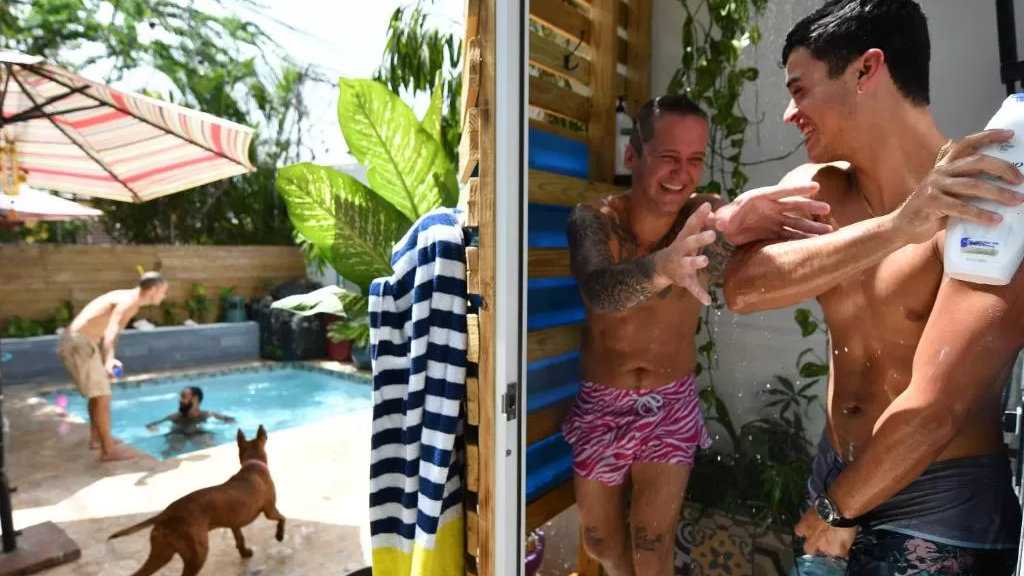 In a nutshell
---
Gay adults-only resort
Fully clothing-optional
It is "4/20 friendly" with designated outdoor areas for smoking
Just minutes walking distance to Ocean Park Beach
The Gayest Guest House in San Juan Puerto Rico!
Coqui Del Mar is the birthchild of American/French gay couple Rob and Vianney (honest they are super adorable – check out their wedding video in Bordeaux). It is a large guesthouse, fully clothing optional, and also very 4/20 friendly!
In Puerto Rico, going green(!) is legal for medical purposes, so the boys can help you obtain a medical license for it before you arrive. They allow outdoor consumption in designated areas but never indoors.
Coqui Del Mar is super famous amongst the gay community of Puerto Rico, especially for their weekly Saturday evening gay pool parties which get quite raucous! In terms of rooms, Coqui has many to choose from, ranging from a cozy poolside studio to a tropical cabana, an exclusive beach villa, and more. Other perks include two pools, Jacuzzi, a BBQ, and lounging areas. It's also just a few minutes' walking distance to Ocean Park Beach.
Prices at Coqui del Mar start from $100 per night:
---
STAY WITH A GAY LOCAL
Misterb&b is the Airbnb equivalent for the LGBTQ community. Unlike on Airbnb, you know your host is gay, voiding any nasty surprises when you check-in. It is also a great way to meet gay locals and discover the underground gay scene. Click below to get 10 € (or $10) off our first booking.
02
The Dreamcatcher
San Juan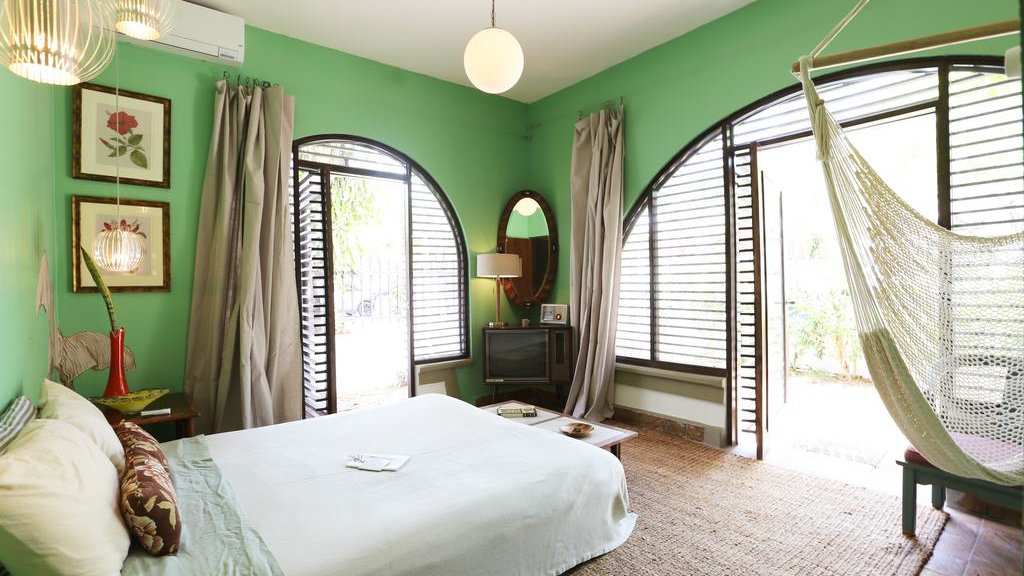 In a nutshell
---
Gay owned boutique hotel
Many activities: yoga, meditation, salsa nights, paddleboarding
Just 200 steps to the beach!
Not clothing-optional
The Dreamcatcher is truly unique because it is Puerto Rico's only "vegetarian gay owned hotel"! This means that everything on site is organic with a low carbon footprint, while all food is vegetarian or vegan and locally sourced by chef Jordan.
We love the focus given to the many activities that guests can sign up for, from morning yoga classes to meditation in the Zen Lounge, Salsa Nights, and paddle-boarding with Pablo. The location of The Dreamcatcher is our favorite thing about it – just minutes from the beach! It's also around 25 minutes walking distance to the Condado gay beach.
The Dreamcatcher has 9 rooms and 3 suites, each with its own unique style, all of them with air con! The Gallery Suite is particularly opulent, featuring a large arched door and full-on Bohemian decor, but the one that piqued our intrigue was The Goddess Suite – the largest of all their rooms, complete with hammock, private terrace, and outdoor shower.
Prices at The Dreamcatcher start from $209 per night:
---
03
Fairmont El San Juan Hotel
San Juan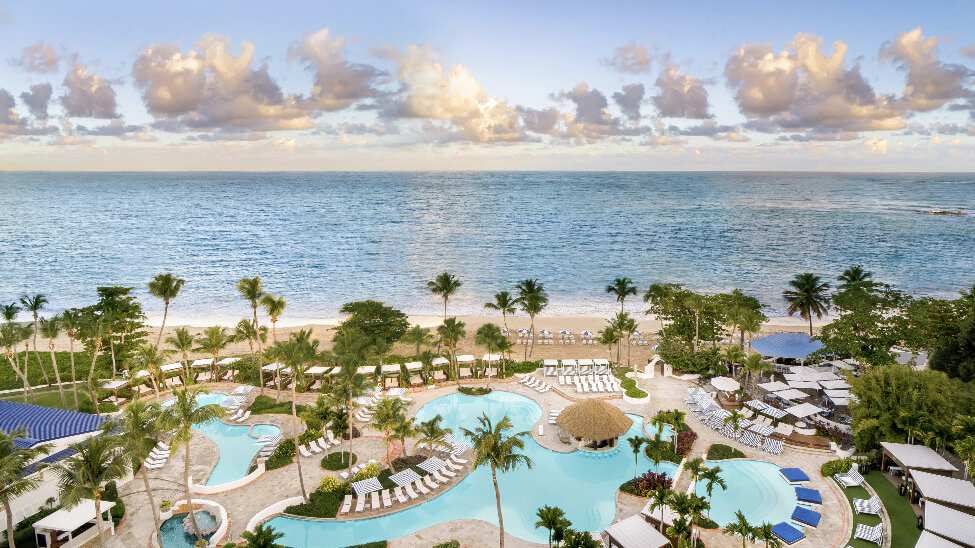 In a nutshell
---
5 stars gay-friendly resort
Four outdoor pools + a swim-up bar with luxury cabanas
Beachfront location on Playa Isla Verde
Not clothing-optional
Fairmont is famous for being a very gay-friendly hotel brand, known for celebrating diversity and welcoming everyone in our LGBTQ family! We've stayed at several Fairmont hotels and have always left with a fabulous smile on our faces. The Fairmont El San Juan is no exception. They welcome all LGBTQ travelers and staff won't bat an eyelid if two men ask to share a bed.
When there is a gay event taking place in Puerto Rico, such as Pride in May/June, the Fairmont always gets involved by hosting some of the events/parties.
It's also downright gorgeous here! Luxurious, indulgent, and totally captivating! Upon entry, you're welcomed with a glistening oval chandelier, which contrasts with the intricately carved mahogany and polished marble directly below. This opulence extends to the rooms – a choice of staying in the Grand Tower with pool/ocean/city view, or one of the pool villas which have plenty of outdoor space and very large bathrooms!
The big draw here however is the location: right by the beach!
Prices at the Fairmont El San Juan Hotel start from $300 per night:
---
04
Tres Sirenas Beach Inn
Rincon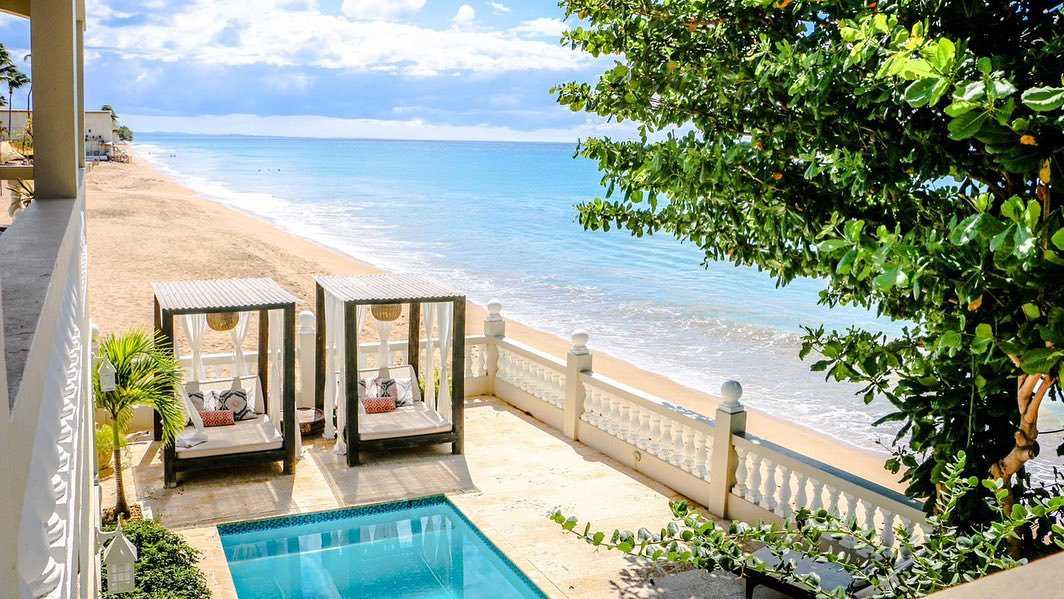 In a nutshell
---
Gay owned stylish boutique hotel
Outdoor pool, hammocks, and yoga classes
Oceanfront hotel located in Rincon (West Puerto Rico)
Not clothing-optional
Experience the dream of living "La Vida Sirena" is the tagline of this lavish lesbian owned boutique.
Lisa and Wanda are the power duo behind this dreamy and luxurious oceanfront gay guesthouse located in Rincon, the western tip of Puerto Rico. One word: sunsets! Every evening, be prepared to witness some of the most unforgettable sunsets. To get a feel of just how incredible Tres Sirenas truly is, we recommend checking out their Instagram.
Tres Sirenas ("three mermaids" in Spanish) is a two-story villa with a choice of five room options: two Ocean Rooms, the Ocean Front Studio Suite, the Sea View Apartment, and the Sea View Penthouse, each offering an ocean view (if the name wasn't obvious enough!) and private white-washed balconies.
Tres Sirenas also offers the option to rent one of two Concha Azul Villas located directly behind. Heads up – note the 4-night minimum stay booking policy (shorter stays are considered for last-minute bookings subject to availability).
Prices at Tres Sirenas start from $255 per night:
---
What to do in Puerto Rico?
Puerto Rico is a stunning spot with gorgeous beaches, lush jungle, historic towns and lots of local wildlife. You'll find plenty to do if you can drag yourself away from the beach!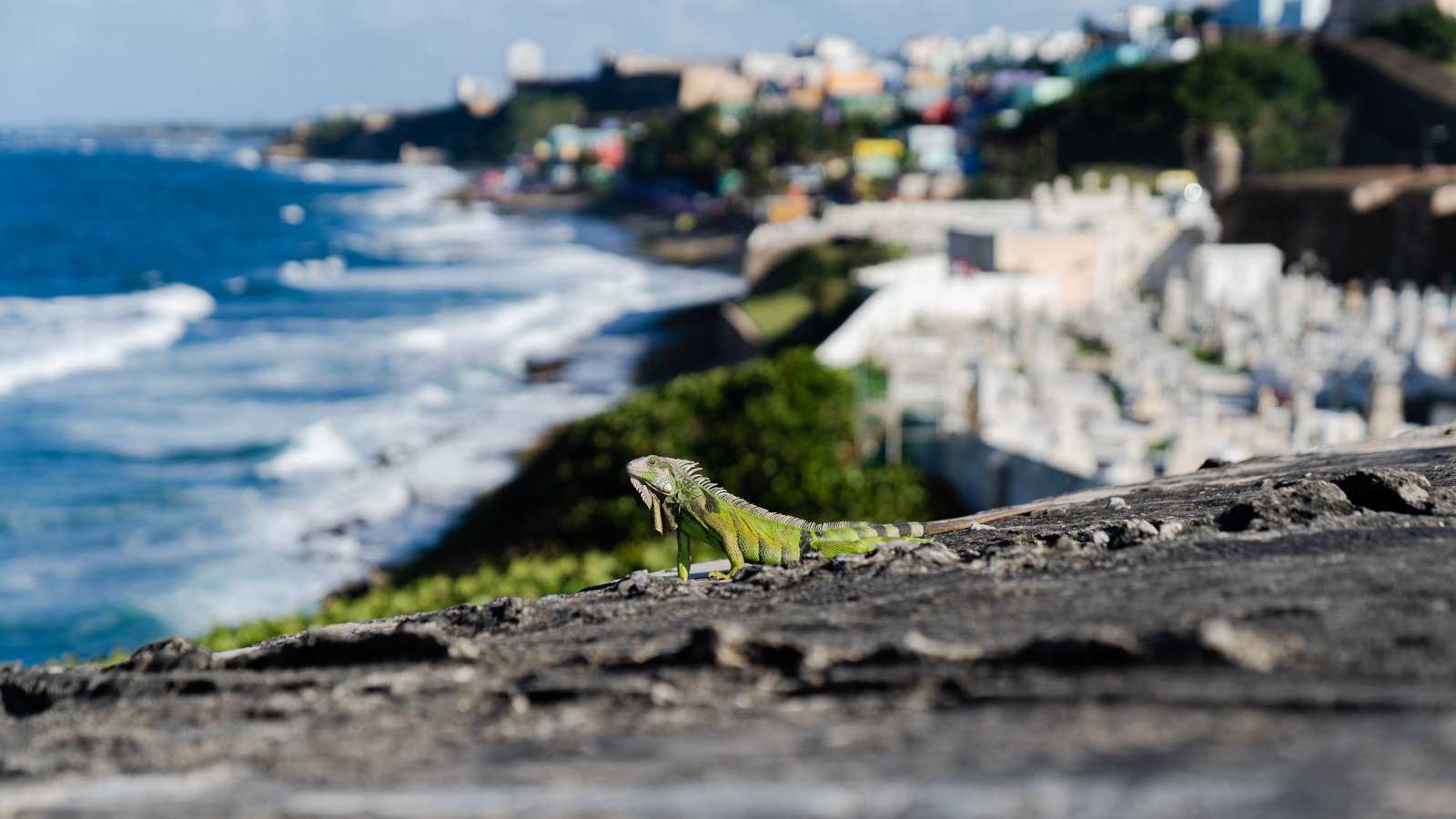 05
Andalucia Guest House
San Juan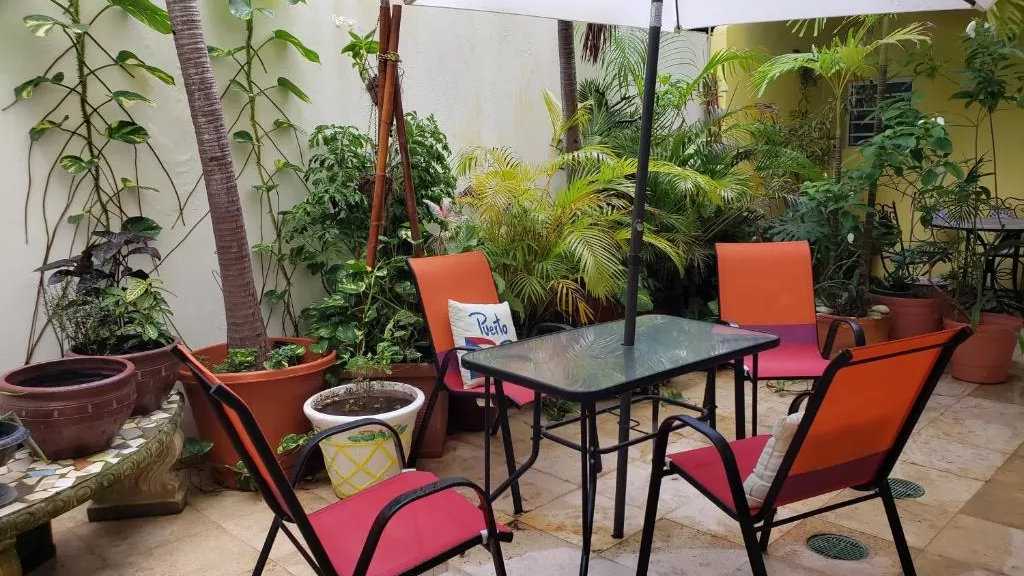 In a nutshell
---
Gay owned and gay-friendly affordable option
Not clothing-optional
Minutes away from gay bars like The Bear Tavern
Just 10 minutes walk to Ocean Park Beach
Esteban and Emeo are the gay couple from southern Spain (Andalusia to be more precise, hence the name!) who built this guesthouse.
The Andalucia Guesthouse is located in Ocean Park, around 10 minutes walking distance to Ocean Park Beach and a short cab ride to Condado gay beach. It's also just around the corner from The Bear Tavern and a short cab ride away from the gay bars/clubs in San Juan.
We think this hotel is ideal for solo gay travelers or LGBTQ tourists on a budget. It's not as lavish as some of the others in this list, but it's still comfortable and homely. Each room has air-con, blackout curtains, a private bathroom, and some with a kitchenette.
The communal areas are the perfect place to hang out and connect with other travelers especially on the 2nd-floor sundeck area and the tropical patio. But the main draw is the location and proximity to the beach. You can't beat that for the price. As a bonus, they let guests take beach towels and chairs to the beach, which is super handy!
Prices at Andalucia Guest House start from $89 per night:
Happy travels are safe travels
We recommend you always take out reputable travel insurance before your next vacation. What happens if you suffer from illness, injury, theft, or a cancellation? Many gay travelers forget about it and regret it when something happens. Better to pay a small price and have peace of mind and not worry.
---