TERMS OF USE: There is a chance that some of the content on this page has changed since it was last updated. By reading this article, you consent to our Terms of Use and Disclaimer. Happy Travels!
DISCLOSURE: Some of our posts may contain affiliate links which we may receive a commission if you choose to book something through one of our links.
These are the best gay hotels in Taipei for LGBTQ travelers exploring Taiwan.
Taipei is THE gay capital of Asia!
Gay marriage – tick! Large, exciting gay scene – tick! Largest gay Pride in all of Asia – tick! A gay god to worship and pray for the man of your dreams – major tick!
You read correctly, Taipei is the only place in the world that we know of where there is a temple dedicated to the gay god called Tu'er Shan. On top of all things gay, Taipei is a deeply historic, cultural, and super rewarding destination. And that's before we've spoken about the delicious food on offer in those many vibrant night markets across town! So as you can imagine from such a gay city – and one of the gayest places in Asia, there are tons of awesome gay-friendly hotel options to suit all budgets.
In this guide, we've summarised the best gay hotels in Taipei to check out based on our first-hand experience traveling the country as a gay couple. We've included a range of hotels to suit all budgets, including luxury, mid-range, boutique, and hostels. Some are exclusively gay, others gay friendly, but in all cases, no one batted an eyelid when two blokes rocked up at reception asking to share a double bed! Heads up – be sure to also check out our awesome and super detailed gay country guide to Taiwan to inspire your gaycation to what we rate as one of the most gay friendly nations in the world!
DON'T MISS OUT!
Join our newsletter
Subscribe now to receive in-depth FREE travel guides, along with inspiring stories, savvy planning tips, and exclusive discounts on gay tours.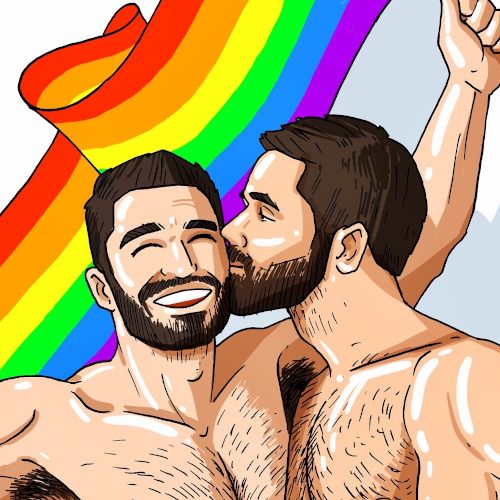 Where to base yourself in Taipei
Taipei is a huge city and there are pockets of fun to be found everywhere. With that said, the undisputed gay hotspot of Taipei has to be in Ximen (located in the Wanhua district). This is where you'll find the rainbow crossing and the iconic Ximen Red House, a historical building packed with tons of gay bars, clubs, shops, and more.
Some of the best-known gay bars of Taipei can be found in the Red House, which includes our favorite – Cafe Dalida, where the drag queens are outdone only by the hot waiters.
The only downside of basing yourself in the Ximen area is that you don't get much space for your money. Rooms here are famous for being pretty compact, so it's worth checking out places a little bit further out, particularly Zhongshan, Songshan, and the Xinyi District. These areas are renowned for their liberal and somewhat hipster identity.
Stay connected while you're in Taipei…
by renting a pocket WiFi device. We personally love doing this rather than trying to run around and find free WiFi when we want to post on Instagram! Not only does a pocket WiFi device allow us to connect multiple devices but we also know our connection is safe and secure. Read our complete guide to renting pocket WiFi in Taiwan for more info.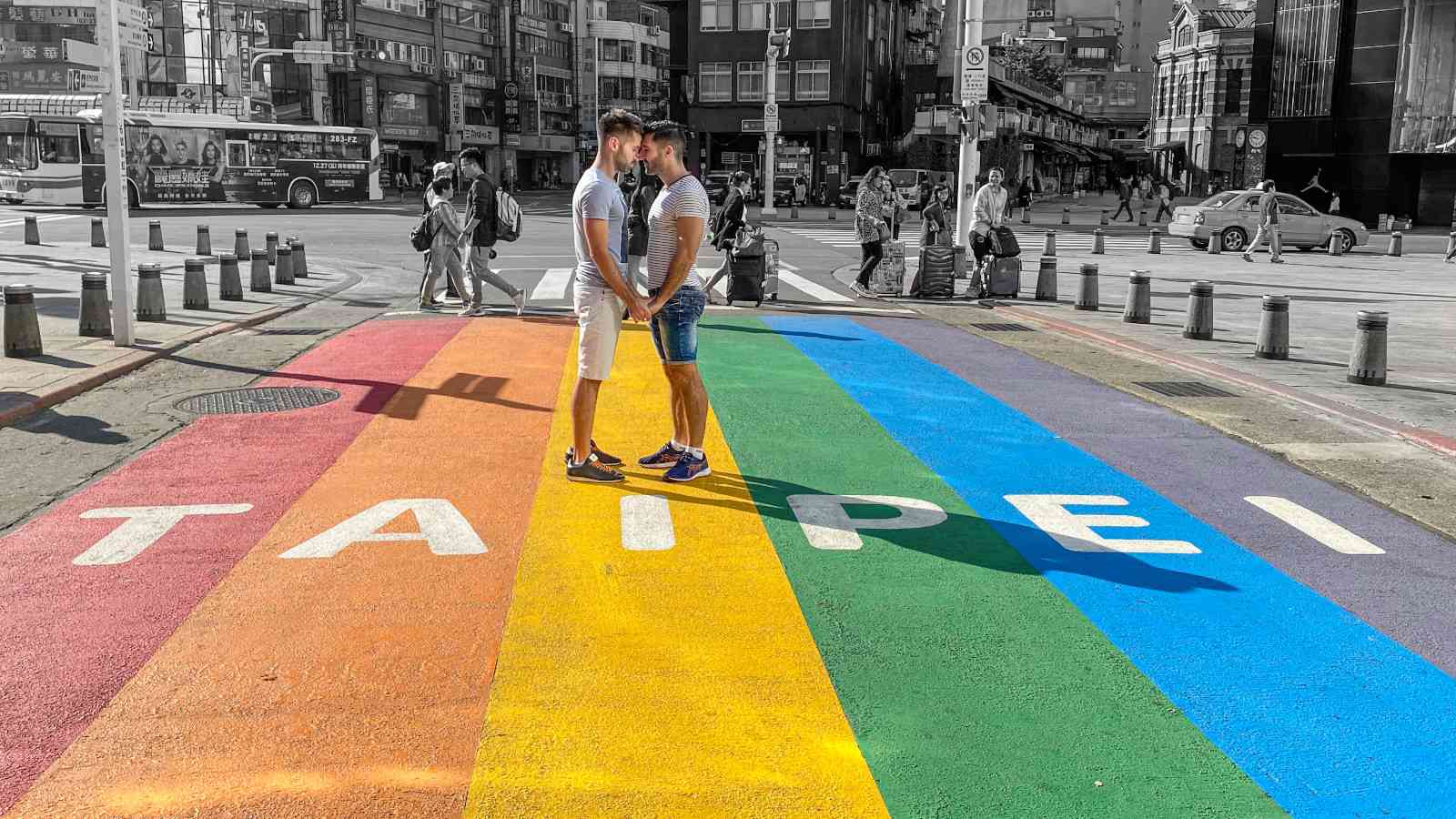 01
W Hotel
Xinyi District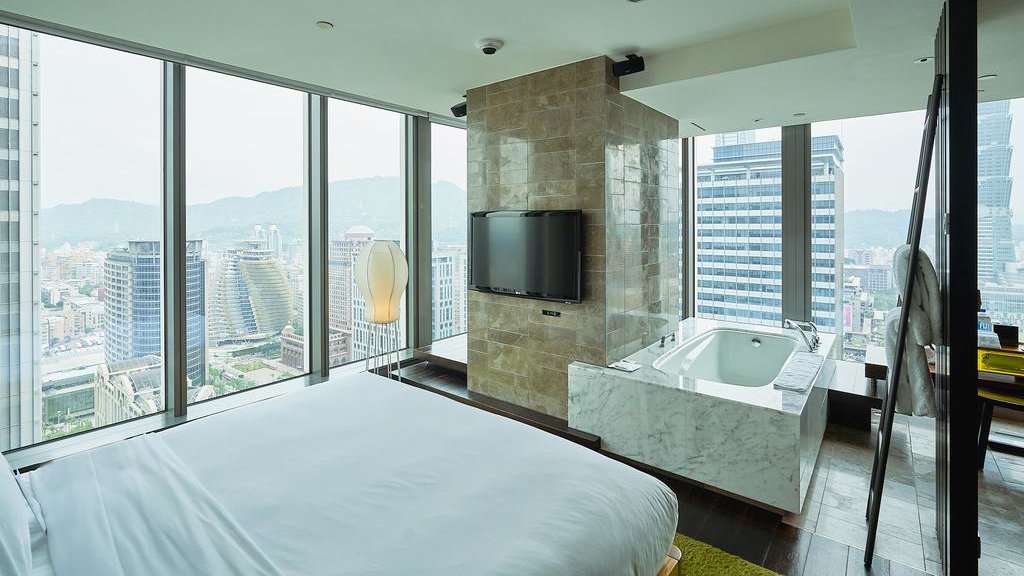 Why we love it
---
Incredible gay friendly hotel
Stunning swimming pool
Excellent gym and spa to enjoy
Delicious YEN celebrity restaurant on-site
In a city that's packed with luxury, the W Hotel Taipei sets new standards. We absolutely adored everything about the W, from the chic rooms to the unreal food on offer.
Located in Xinyi, the W is close to all of Taipei's major gay bars whilst the stunning Taipei 101 tower is just a short stroll away. This is the place to stay if you really want to be pampered while enjoying all the city has to offer.
Our room at the W Hotel made us feel like true VIPs, with floor to ceiling windows, signature linens, a funky audio system and locally-inspired decor. Waking up in the morning to the sight of Taipei sprawled out in front of us was a real highlight of our stay at the W, filling us with inspiration to explore every day.
Elsewhere in the hotel, we spent plenty of time enjoying the stunning WET outdoor pool area and being pampered at the AWAY spa. The FIT gym was an awesome place to work out and pump up the biceps before heading out to mingle on Taipei's gay scene.
We also dined at YEN, the hotel's celebrity restaurant, which left us blown away with its reinterpretations of classic Chinese fare. Needless to say, the staff throughout the W Hotel are discreet, respectful and incredibly gay friendly. This is to be expected as the W is something of a hub for high-flying gay guys visiting Taipei!
STAY WITH A GAY LOCAL
Misterb&b is the Airbnb equivalent for the LGBTQ community. Unlike on Airbnb, you know your host is gay, voiding any nasty surprises when you check-in. It is also a great way to meet gay locals and discover the underground gay scene. Click below to get 10 € (or $10) off our first booking.
02
Cho Hotel
Wanhua District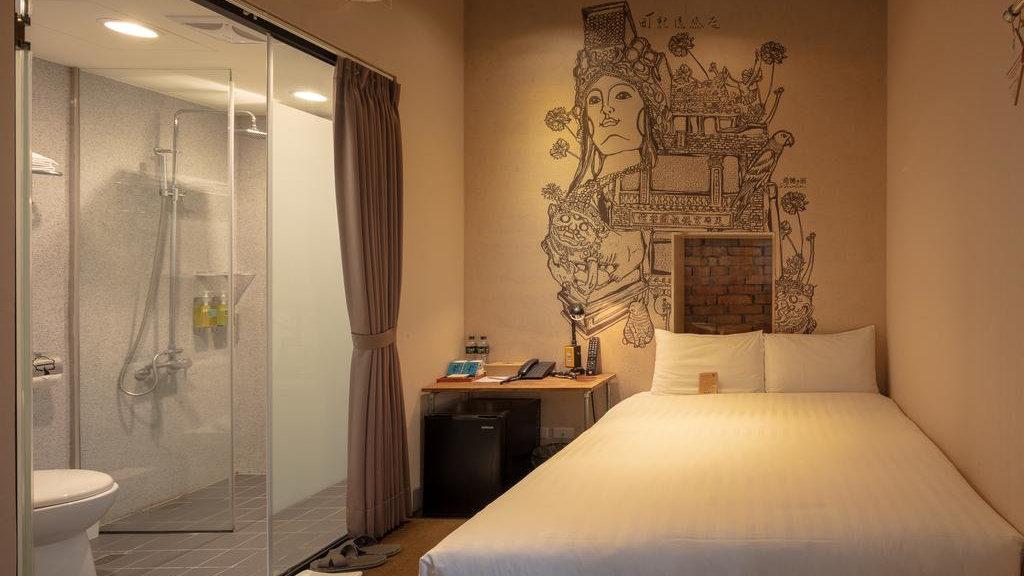 Why we love it
---
Chic, artsy and quirky hotel
Fun touches like arcade games!
Stone's throw from the Ximen Red House
Very welcoming to LGBTQ guests
Our favourite gay friendly hotels in Taipei! This lovely chic boutique hotel is located in Taipei's Wanhua District, a stone's throw from the city's gay hub. As a result, Cho Hotel is one of the most gay-friendly hotels in town and LGBTQ guests here are welcomed with open arms.
We loved the artsy vibe that permeates this entire hotel, with plenty of quirky touches throughout, from arcade games and bean bags to projections of arthouse Chinese movies in the lobby!
Our room was simple yet thoughtfully decorated, with the unique art and personal touches continuing to other parts of the hotel. We particularly loved the enormous bathroom with a power shower that we could've stayed under for hours each morning.
Cho Hotel is walking distance to the gay scene of Ximen Red House, which makes it a hub for gay travelers visiting the city. We spent plenty of time chilling in the lobby on the vintage couches chatting with other gay guys either just swapping stories or making plans for partying later on that night.
When it comes to a gay-friendly hotel with an unbeatable location and great value for money in Taipei, Cho Hotel is one of our top recommendations. With bags of character and style, this is far from your average mid-range chain.
03
Brother Hotel
Songshan District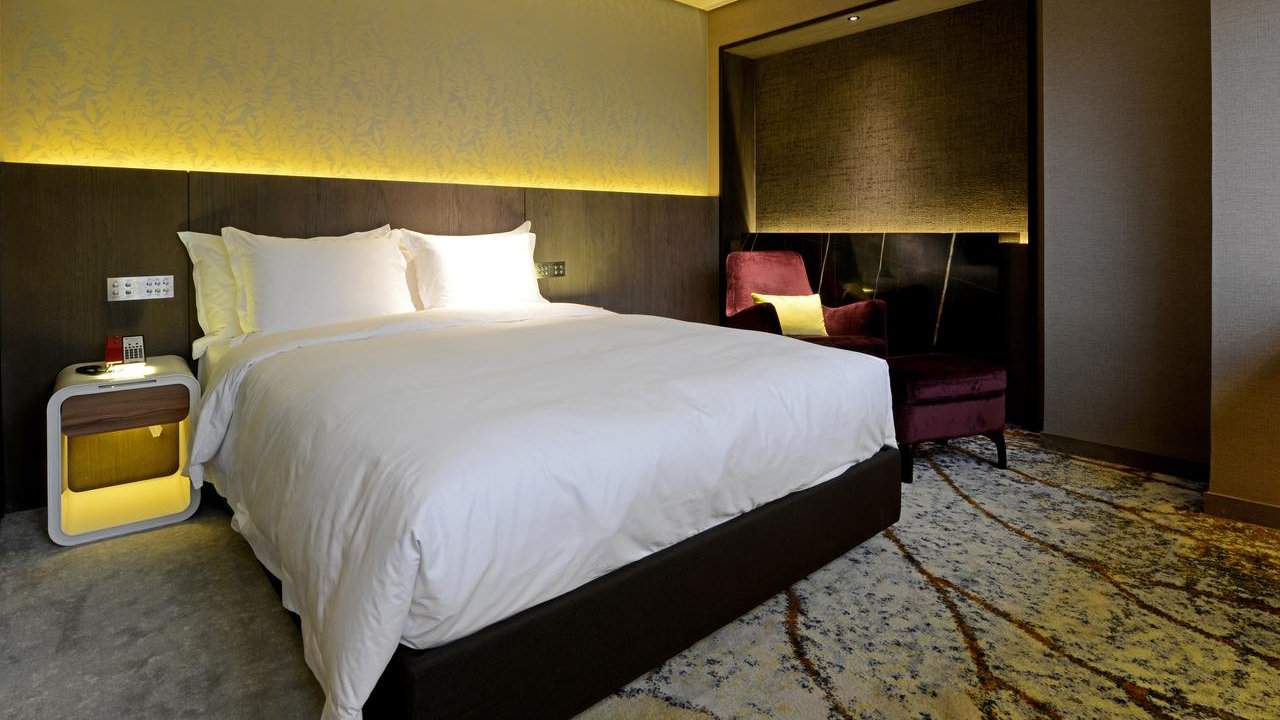 Why we love it
---
One of the most gay friendly hotels in Taipei
Conveniently close to an MRT station
SEVEN in-house dining options!
Gym and massage service
This is one of our top picks for mid-budget gay friendly hotels in Taipei, offering amazing value for money in an awesome location.
Brother Hotel sits adjacent to the Nanjing Fuxing MRT Station, so you can get around this huge city easily. It takes just 10 minutes by MRT to get to the Ximen Red House. This hotel's also close to the Liaoning Street Night Market where we ate some of the weirdest and most wonderful dishes of our stay in Taiwan (stinky tofu anyone?).
Brother Hotel is famed for being one of the most gay-friendly hotels in town, with the staff here extremely accustomed to welcoming LGBTQ guests. The rooms are super-modern and comfortable yet packed with characterful touches such as the unique flooring and quirky lighting.
One of the best places about this spot was the fact that it has no less than seven in-house dining options, from Japanese to tasty Dim Sum. Another culinary highlight is the Orchid Room, which is highly rated for its refined yet authentic Taiwanese cuisine.
Outside of indulgence, Brother Hotel also has a quality gym to keep the guilt to a minimum, whilst the massage service is the ideal antidote to the stresses of life in the big city.
04
Gs Gay Hotel
Songshan District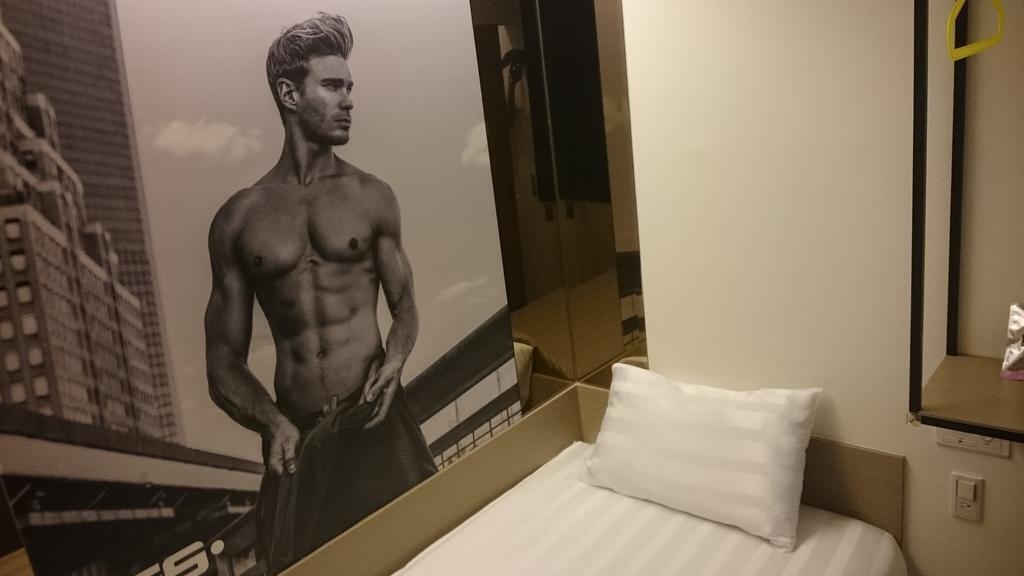 Why we love it
---
Taipei's only official gay hotel
Gay erotica throughout
Clothing-optional policy
Awesome sauna and communal showers
Fiercely proud and always fabulous, the Gs Gay Hotel is Taipei's official gay hotel. To be honest it's actually more of a hostel, with shared bathrooms and plenty of common areas in which to mingle with fellow guests.
This is definitely a fabulous spot for the young and fun who are looking to make new friends, but even a couple of old queens like us over 30s/40s will love staying here!
One of the most unique things about this gay hotel in Taipei is the relaxed clothing policy, which means that plenty of guests walk around the place in just their birthday suit! The sauna area is another awesome element to the Gs and the fact that it is guest-exclusive means you're always guaranteed a great spot.
The rooms at the Gs are basic but super-clean, with gay erotica splayed across every wall. They all have a shared bathroom and you can choose from either a dormitory set-up or your own private quarters. A real perk of staying at the Gs is the slew of free amenities available for use, including condoms.
The only downside with this intimate, friendly gay hotel is its location: it's not walking distance to Taipei's gay hotspot of Ximen Red House, so it's either a few stops on the metro or a short taxi ride. With that said, the all-inclusive vibe at Gs means that you could theoretically never leave this place at all!
DON'T MISS OUT!
Join our newsletter
Subscribe now to receive in-depth FREE travel guides, along with inspiring stories, savvy planning tips, and exclusive discounts on gay tours.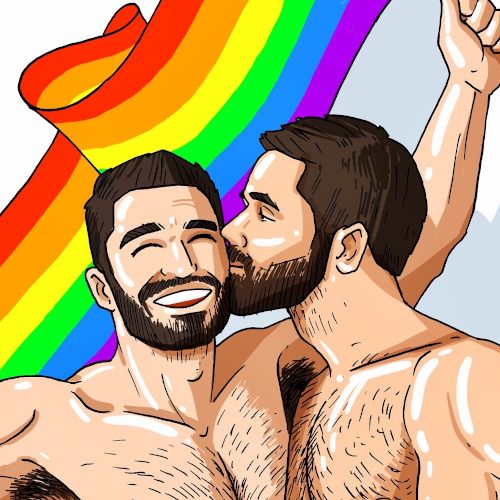 05
The Grand Hotel
Zhongshan District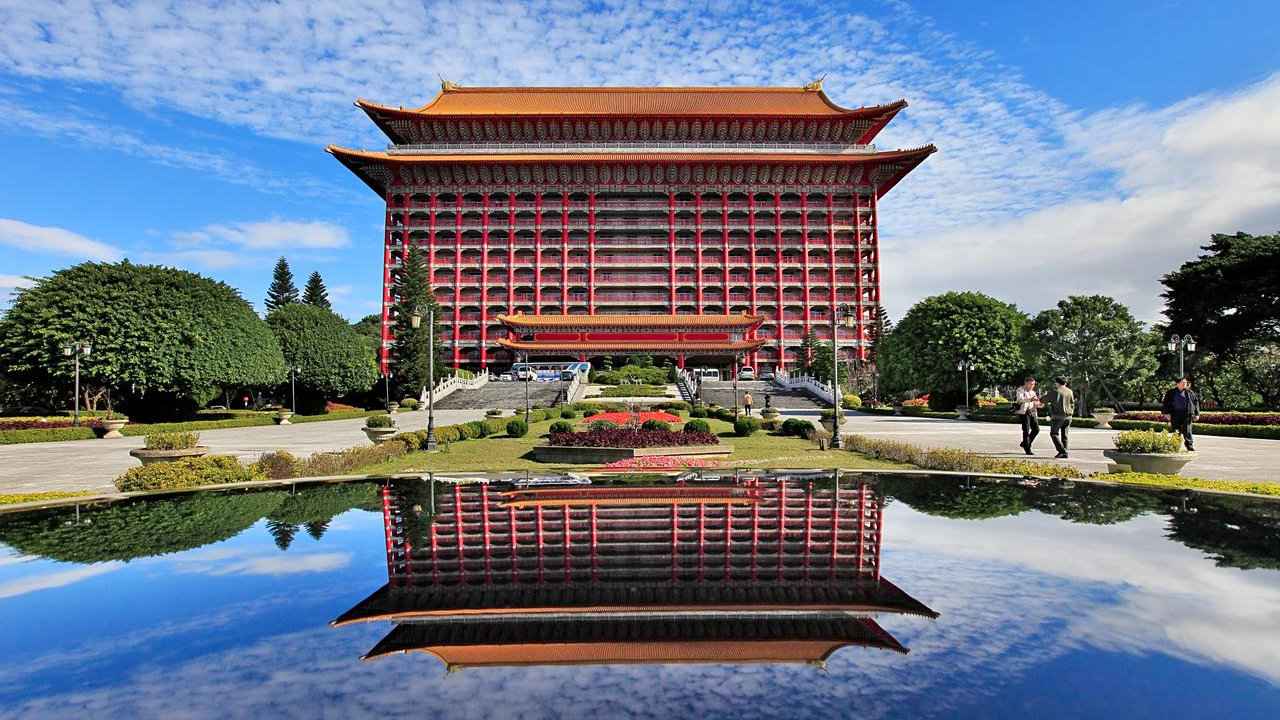 Why we love it
---
Beautifully grand and palatial hotel
Impressive outdoor swimming pool
Excellent gym and sauna
Four mouth-watering restaurants on-site
As the name suggests, this Taipei hotel is incredibly luxurious and large. Located in Zhongshan just a little outside the heart of the city, The Grand Hotel is one of the most opulent in town.
You'll feel like a superstar during your time here…no, like royalty! The design of The Grand Hotel is inspired by traditional Chinese palaces with its golden roof tiling and red columns.
The rooms are similarly elegant, blending modern and classical elements to devastating effect. The extra space that you'll enjoy here is bound to provide you with some peace in a city as densely populated as Taipei. Another thing we love about The Grand Hotel is the tranquil outdoor terrace with a seating area overlooking the lush grounds.
Elsewhere, the hotel continues to wow: one of the most impressive aspects of the Grand Hotel was the outdoor pool, which will provide you with some welcome respite from the madness of downtown. You'll also get to spend plenty of time working out in the state-of-the-art gym and relaxing in the sauna area, perfect to unwind after a night of hedonism out in Taipei.
Hungry? The four restaurants at The Grand Hotel will provide more than enough choice. One to look out for is the irresistible a la carte Cantonese fare served at the on-site Golden Dragon Restaurant, which is famous for serving some of the tastiest Dim Sum outside of Hong Kong!
06
The Tango Hotel Taipei Linsen
Zhongshan District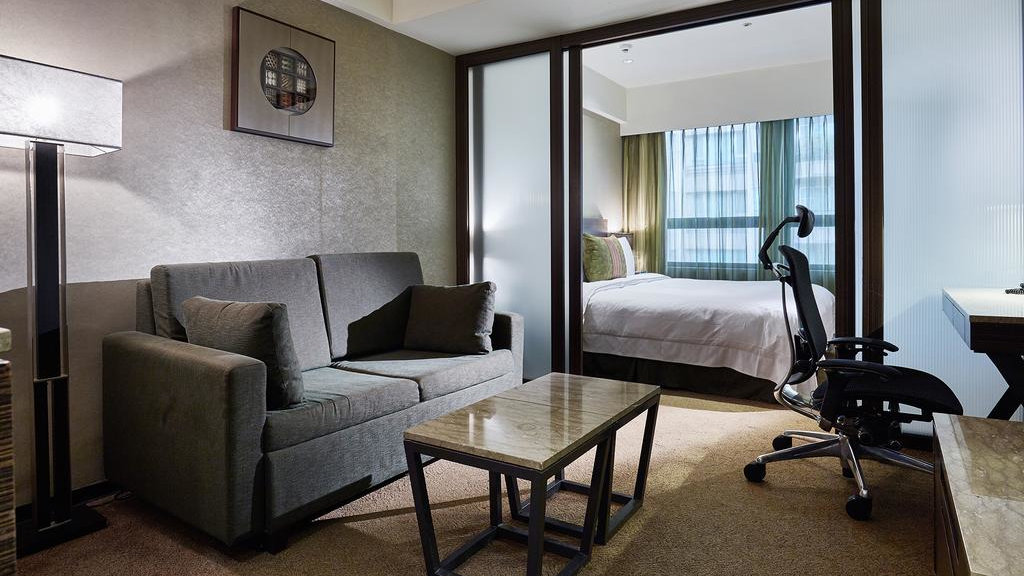 Why we love it
---
Very chic and classy hotel
Professional and gay friendly staff
Excellent business facilities
Fabulous fitness centre for keeping trim
This chic four-star hotel gets our vote thanks to a great location and some serious style. The Tango Hotel Taipei Linsen is a beautiful place to stay in the Zhongshan district, just a short walk from bustling Nanjing East Road.
Modern, elegant and comfortable, The Tango is a great option for LGBTQ travelers seeking style in Taipei. It's especially good for those combining business and leisure.
The suites at The Tango are pretty special! From the cushy seating area to the Jacuzzi bath, to the insane view of Taipei, everything about this hotel radiates class. Once you've managed to pull yourself away from the elegance of the room to head out, the ZhongShan MRT Station is just a ten-minute stroll away.
We have various gay friends who've stayed here who all agree that The Tango is super gay-friendly thanks to the amazing staff who are super professional and discreet.
The facilities at The Tango Hotel Taipei Linsen are rated as being second to none including a very modern fitness center as well as a business center if you need to drop a few emails to the Boss…
07
Westgate Hotel
Wanhua District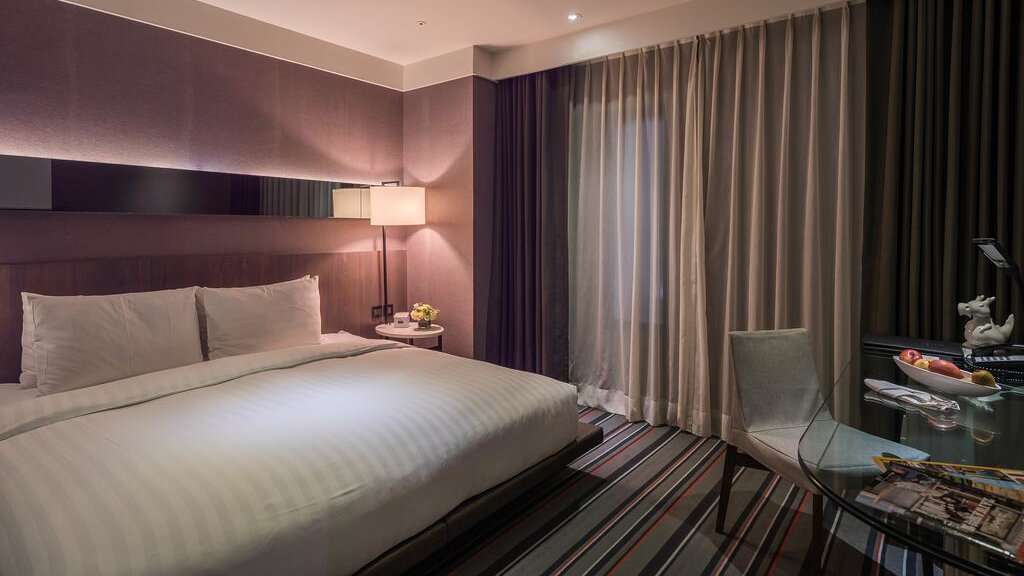 Why we love it
---
So close to the Ximen Red House
Elegant and modern design
Affordable luxury for gay travelers
Swanky in-house cafe/bar
Within strolling distance of the Red House Theater itself (it's literally just around the corner!), the Westgate Hotel has to go down as one of the top options for LGBTQ travelers visiting Taipei.
Whether you're here to party every night or simply to dip in and out of the gay hotspots as you please, this hotel offers a soothing oasis of calm at the heart of bustling Ximen in the Wanhua District.
You're bound to fall in love with the elegant modernity of this hotel. From the enormous, cozy beds to the slick decor of the dining area, every aspect of Westgate radiates class. When you're not living it up on Taipei's gay scene around the corner at Red House, we can bet you'll be found chilling in one of the Westgate's gorgeous rooms or sipping a coffee in the swanky in-house cafe/bar.
Westgate is a fantastic option for LGBTQ travelers in Taipei because not only is it on the doorstep of the city's legendary gay area, it also provides a level of affordable luxury that isn't common in Taipei. Throw in the fact that the staff here are incredibly gay-friendly (after all, Red House is right around the corner!) and you have one of the best places to stay for gay guys visiting the Taiwanese capital.
08
amba Taipei Ximending
Wanhua District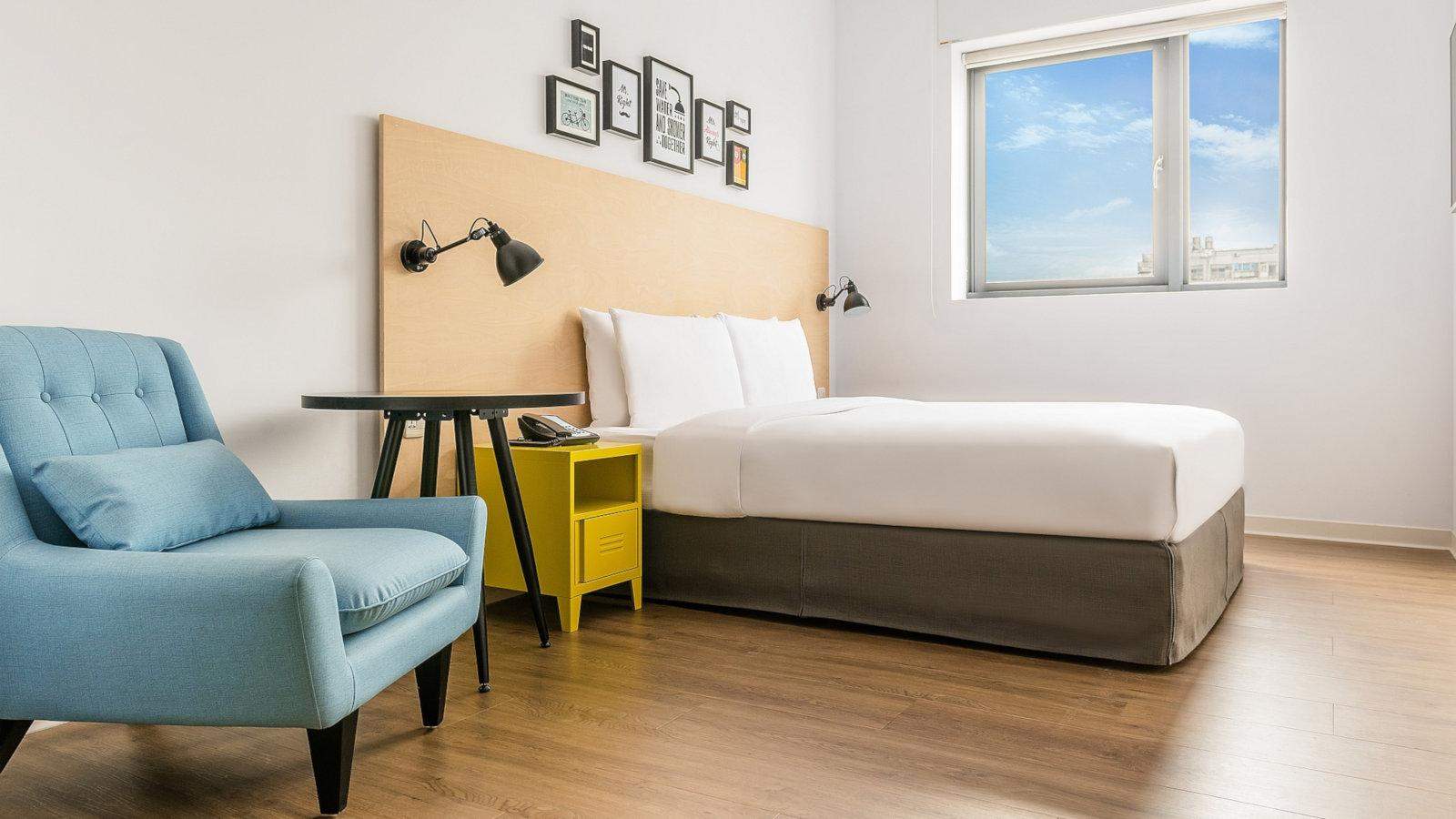 Why we love it
---
Very cool and quirky hotel
Just a few minutes from Ximen Red House
Super affordable but not a hostel
On-site music lounge and trendy restaurants
Just a few minutes from Ximen Red House and the LGBTQ delights on offer there, amba Taipei Ximending is a stunning pentagon-shaped building that has to be one of the most unique places to stay in the area.
You'll feel oh-so-cool during your time here, with the unique shape of the building complemented by other quirky elements such as an on-site music lounge, creative zone, and trendy restaurants.
Minimalism is key throughout. You'll love the stylishly simple decor in both the public zones and across all 160 rooms. This is a place that strongly proscribes to the popular idea of a minimalist lifestyle. Functionality is key at amba, with environmentally friendly aspects playing a key role throughout the hotel. For those guests seeking to keep their carbon footprint as low as possible, this is a top choice that nonetheless retains a feeling of high-end chic at all times.
The best thing about amba is the fact that it is a super affordable hotel located just minutes walking distance from the best gay bars of Taipei in the Ximen Red House zone. As we have mentioned, hip creative types will fall in love with amba. Not only is there a funky vibe throughout, the original works of art that line the walls in areas across the hotel add to a feeling of vibrance that you just didn't come across anywhere else in town.
09
San Want Residences Taipei
Zhongshan District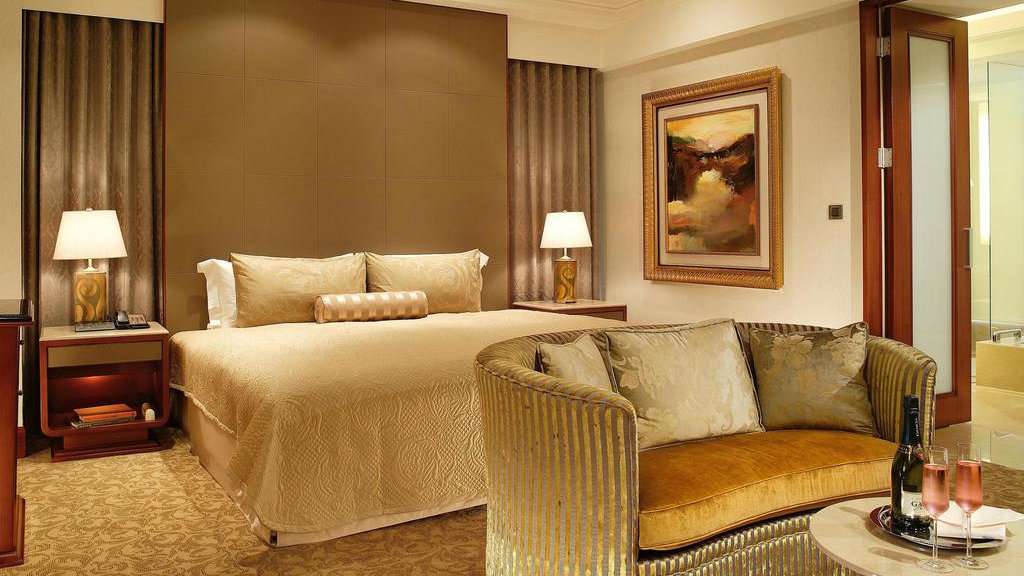 Why we love it
---
Stunning and opulent five-star hotel
On-site art gallery with local Taiwanese art
Luxurious sunken bathtubs and rain showers
Short train ride from Ximen Red House
Zhongshan is a popular spot for LGBTQ travelers in Taipei thanks to its cosmopolitan vibe and also because it's close to Ximen Red House – just a short train ride away.
At San Want Residencies Taipei, guests can enjoy a luxurious, palatial ambience that blends Taiwanese traditions with the kind of opulence you might expect in Venice or Paris. Ooh la la daaaarlings!
You'll feel like royalty at this five-star hotel on the Nanjing East Road, just a ten-minute stroll to the Zhongshan MRT. The rooms are a dream, a veritable hideaway from the madness of Taipei outside. Although the opulent decor and touches of luxury were amazing, what you'll love most about the rooms are the sunken baths and those lush rain showers. You'll find yourself spending hours getting ready!
One cool element about this place is the fact that it houses an art gallery showcasing the best of local Taiwanese talent. Far from being a soulless five-star hotel, San Want Residencies actively seek to show guests just how amazing Taipei cultural life is. Also – be sure not to miss their unique artwork on display.
For a true taste of luxury just a short trip from the gay zone of Taipei, this is a wonderful choice for LGBTQ travelers, who will find the staff here respectful, friendly and polite.
What to do in Taipei?
Taipei is BURSTING at the seams with things to do – from gorgeous ancient temples, the iconic Taipei 101, hot springs, and of course, the many bustling colorful night markets – a paradise for foodies!
This is one place you'll truly struggle to get bored in.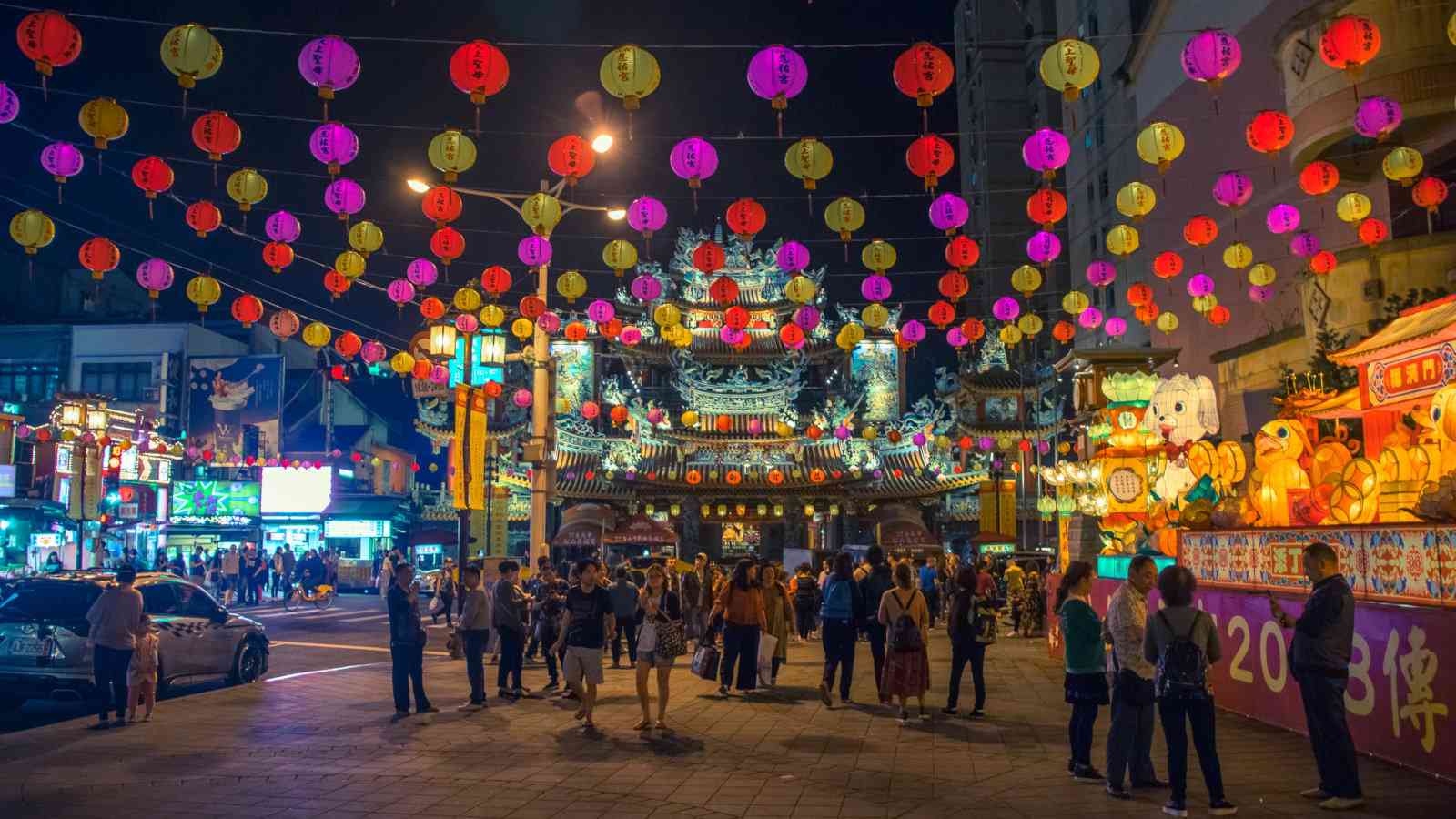 10
Ximen Wow Hostel
Wanhua District
Why we love it
---
Affordable and gay friendly
Walking distance to the Ximen Red House
Stylish and modern decor
Cool terrace overlooking the city
Ximen Wow is a super hip and trendy hostel that provides LGBTQ travelers in Taipei with an inclusive home away from home at the heart of Ximending.
Just a stone's throw from the gay hub of Ximen Red House, Ximen Wow Hostel is a young, vibrant place that's proud to be gay-friendly and super welcoming to all guests. The best part? You can easily walk to (then stumble back from) the gay bars and clubs!
It's only a two-minute stroll from the Ximen MRT and the enormous Ximending Shopping Area, so you'll be exceptionally well-connected during your stay at Ximen Wow. Inside the hostel expect a modern and stylish decor with a terrace and lounge as well as a shared kitchen. This is the type of place in which you're bound to meet plenty of new friends. Indeed, with such close proximity to Ximen Red House, odds are you'll meet one or two gay guys too!
Dormitories here come with air conditioning and a seating area, whilst the bathroom and toilet are shared with others in the hostel. As such, this is ideal for young people visiting Taipei who are looking to save on money by spending the night in shared accommodation. When it comes to stylish, affordable hostels in the center of Taipei close to the gay hub at Ximen Red House, things don't come much better than Ximen Wow Hostel.
DON'T MISS OUT!
Join our newsletter
Subscribe now to receive in-depth FREE travel guides, along with inspiring stories, savvy planning tips, and exclusive discounts on gay tours.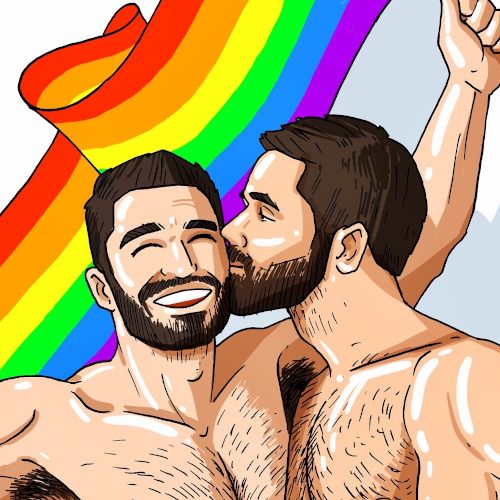 ---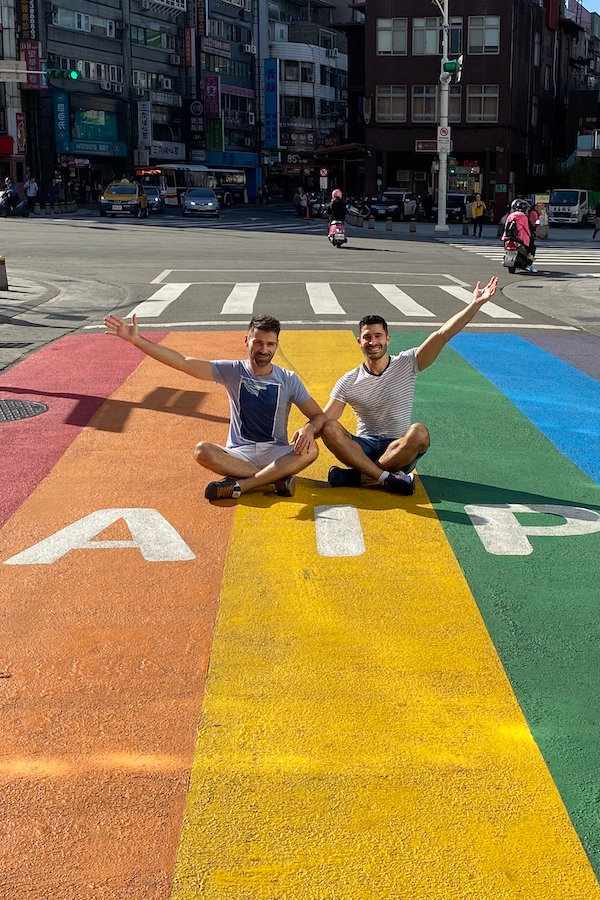 Happy travels are safe travels
We recommend you always take out reputable travel insurance before your next vacation. What happens if you suffer from illness, injury, theft, or a cancellation? Many gay travelers forget about it and regret it when something happens. Better to pay a small price and have peace of mind and not worry.