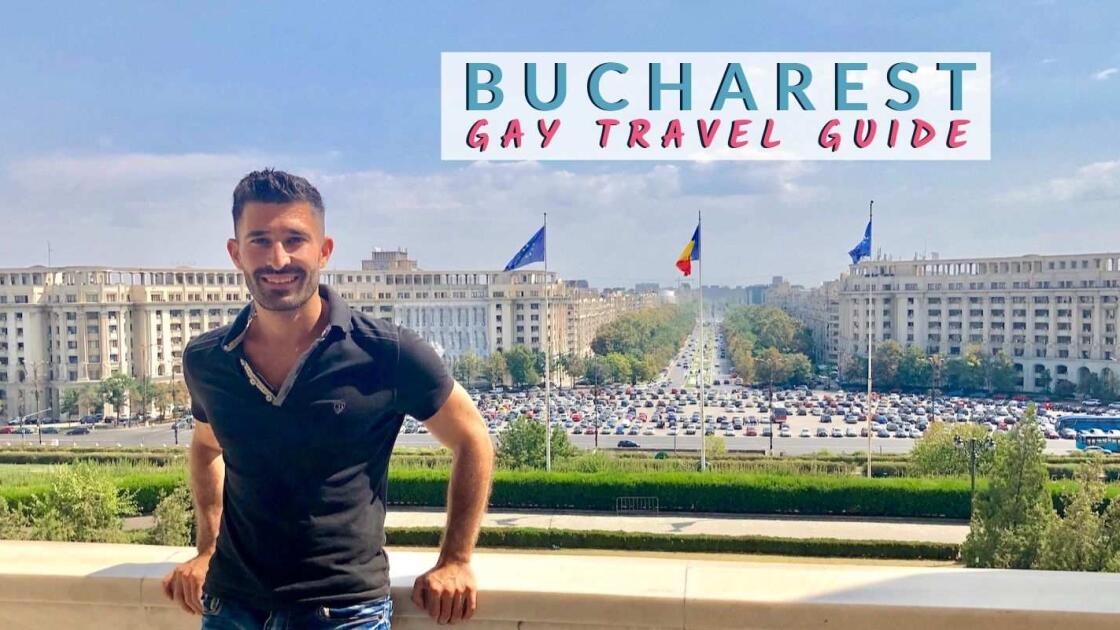 Bucharest, the capital city of Romania, is one of Europe's hidden gems. It's a fantastic city to explore – safe, with a rich history, many excellent bars, restaurants, a bustling Old Town, and even a (small) gay scene. This is a big deal for an Eastern European country like Romania where LGBTQ rights are sadly lagging behind the rest of Europe.
Bucharest is also very inexpensive compared to other European capitals, and easy to reach with all major budget airlines across Europe. Score!
We used Bucharest as our base to explore Romania – a stunning country, with some impressive mountain scenery in Transylvania in the north and even a beach in the Black Sea at Constantia in the south. Bucharest is located right in the middle of the country with the best connections to all other parts of Romania. It's also a super fun place to go out, whether in the vibrant nightlife of the Old Town or to one of the many gay and gay friendly places we set out in this guide.
This is our comprehensive gay guide to Bucharest from our personal experience and recommendations from friends with our favorite gay friendly hotels to stay in, the gay bars/clubs, events, things to do, and more.
Is Bucharest safe for LGBTQ travelers?
Romania is generally not regarded as a gay-friendly country, but that is changing! As with much of East Europe, homosexuality is a massive taboo in society, which can get you into a lot of trouble if you shout out loud about it. On the plus side, however, as part of its ascension to the EU in 2007, Romania was forced to adopt an array of anti-discrimination laws, particularly in relation to hate crime and hate speech. Laws to recognize civil unions are being discussed and the right to change legal gender was introduced as far back as 1996. And thankfully, in a 2018 referendum, Romanians voted against banning same-sex marriage!
Bucharest is the most cosmopolitan and accepting city in Romania, with a large LGBTQ community, a few gay places to hang out, and even an annual Pride taking place each June. Obviously don't come here expecting a gay scene like those in Fort Lauderdale or Barcelona, but as long as you're not too outlandish about your sexuality in public, you'll be absolutely fine and will have an awesome time.
Gay neighborhood in Bucharest
Whilst there is no official gay neighborhood in Bucharest, there are a few gay or gay friendly places to check out, mainly based in and around the Old Town, like Thor's Hammer, Q Club, and the queer-friendly Control Club.
There are also a number of mixed gay friendly places we've listed in this guide, which are popular hangouts for the local LGBTQ community and where we felt comfortable with PDAs. However, for a city with a large gay community (no seriously, you'll be super busy on your Grindr in Bucharest!) we felt that the city is lacking somewhat in LGBTQ hangouts.
Despite this, watch this space! We found a massive discrepancy between young and old: the older more Orthodox Romanians are extremely religious, stuck in old-fashioned ways, whereas the younger Millennial Romanians are very progressive, tolerant, and super savvy about LGBTQ issues. We think that it's only a matter of time until Bucharest evolves into an LGBTQ mecca of East Europe.
Arriving in Bucharest soon?
Where to stay in Bucharest
We struggled to find gay friendly hotels in Romania. Most places we contacted seemed to be under the impression we are two perverts who want to abuse children and fornicate in public. That's Romania for you sadly.
The listings below are places we have first-hand experience with and can confidently say they welcome LGBTQ travelers. But remember, things change, especially in relation to management and staff. For example, when researching, the Rembrandt Hotel was frequently listed by various sources online, but when we approached them, they were one of the places that dismissed us as perverts wanting to fornicate in public. So for peace of mind, we recommend calling ahead to make sure hotel staff are cool with two guys sharing a bed.
01
The Mansion Boutique Hotel
From the outside, the gay friendly hotel is extremely impressive. We immediately saw why they called themselves 'mansion' – the place is huge! Inside, you'll find high ceilings, shiny floors, crystals, and fabulous art. The lobby feels like a snapshot of Heaven with sleek furniture and bright natural light spilling in from the glass roof.
There are also different room types to choose from. From the Art Deco room for the Modernist obsessed geek to the Provence room for the refined minimalist. A delicious breakfast is provided for guests in the cafe/restaurant on the ground floor, while you're very close to the vibrant and exciting life of the Old Town area.
02
Hotel Trianon Bucharest
You can choose from standard or superior rooms and even apartments if you're traveling in a group. There are also a host of sights to see close by, from the Parliament Palace to the Cismigiu Gardens, Hotel Trianon thrusts you right into the heart of the city. The hotel is right next to the beautiful Cismigiu Park, perfect for a romantic stroll.
There's a restaurant on site that serves traditional Romanian and international cuisine, as well as a free buffet breakfast for guests. If you don't want to stay in a hostel but also don't feel the need to spend lots of money on a room that you won't be spending much time in any way, then Hotel Trianon is a wonderful gay friendly choice.
03
Little Bucharest Old Town Hostel
As part of your accommodation fee, Little Bucharest even offers a free walking tour! The common room is also a great space to meet fellow travelers, play board games and relax. We love the use of bright colors throughout the hostel plus the quirky little design details, especially the wall art and cushions.
Little Bucharest is a good budget option for LGBTQ travelers but remember, it's located right in the middle of the Old Town, which gets super noisy at night. If you're looking to party and be close to the gay scene then you couldn't find a more ideal location! But if you want peace and quiet, then this is not the place you want to be staying in Bucharest!
Gay bars in Bucharest
Bucharest has a small gay scene with a handful of gay bars and several really trendy queer friendly places to check out, most of which are located in and around the Old Town. If you don't want to head out alone you could join one of Gaily's nighttime tours of Bucharest's gay scene. These are some of our favorites places to hang out which we think you need to check out:
Thor's Hammer (
temporarily closed, keep an eye out for reopening updates! Updated June 2022)
Can you pick up Thor's Hammer? Thor's Hammer is the only official gay bar in Bucharest, located right in the heart of the Old Town. We love the outdoor terrace here. Weather permitting, it's a fun place to hang out. You'll quickly make friends with both locals and foreigners. Later in the evening, they also have some hilarious drag shows. Thor's Hammer is located at 12 Strada Blănari. It is open daily until 2 am, and until 4 am on Friday and Saturday nights.
No, it's not named after the incredible Janet Jackson song. Yet you definitely feel like you've stumbled into the middle of one of her music videos when you step into this club. From pumping, industrial-type music to a truly energetic mix of patrons, Control Club is a night out not for the faint-hearted. Our favorite gay-friendly bar in Bucharest, always attracts a large LGBTQ crowd, especially on Tuesday evenings when drinks are half price. Weekends are also busy, with the dance floor inside in full swing. The food here is delicious too, with a very mixed menu. Control Club is located at Strada Constantin Mille 4 and is open daily until around 6 am.
Linea/Closer to the Moon is a gorgeous rooftop bar in the Old Town serving some delicious cocktails, with a very cool 'man on the moon' mural. In winter they set up amazing cosmic igloos to sit in and stay cozy. It's quite a romantic spot to bring a date, attracting a very mixed and open-minded crowd. We had a few date nights here and felt comfortable kissing and holding hands. No one gave a damn or looked twice. Now THAT shows major progress! Linea is located at 17 Strada Lipscani and is open daily until around 2 am.
Is there life on Mars? The US may have used Apollo 11 to put a man on the moon, but Bucharest is going one step further and using Apollo111 to give the gays a good time. Apollo111 is a gay-friendly hipster bar, popular with a very Bohemian crowd. It's centrally located in an old industrial building, which used to be a printing house. With intergalactic style design, such as light fixtures in the shapes of globes, the bar creates an atmosphere that feels otherworldly. Apollo111 is located at 23-25 Ion Brezoianu Street and is open daily until 1 am.
Gay clubs in Bucharest
As with the bars, there's only one official gay club in Bucharest, located just outside the main town – Q Club. We've also set out a few other gay friendly ones we found based on recommendations from gay locals. There's also a gay night tour available for you to discover the best spots with a friendly local guide.
Q Club
The only official gay club in Bucharest, this is one very fun night out! Weekends are the best time to come when it gets busy with guys of all ages, both locals and foreigners. It's also quite large, with a dancing area downstairs and a cute outdoor chill-out lounge upstairs. Great music, fun crowd, and delicious cocktails, one of which is included with the price of your entry. What's not to love? Q Club is located at 61 Bulevardul Carol I and is open on Friday and Saturdays from 11 pm until 5 am.
Gaia Boutique is a popular mixed fashionista club. This is where you come dressed to impress in Bucharest! The club oozes the energy expected from the cosmopolitan bars in New York, with young crowds, delicious drinks, and smooth dance beats. Gaia Boutique is only open on Saturday evenings when parties go on until around 5 am. It's located at 39 Strada Banul Antonache.
Club Eden –
PERMANENTLY CLOSED – updated May 2022
Step into the garden of Club Eden! You may spot a few Adam and Adams, plus Eve and Eves…but one thing you won't find in this paradise is a snake (well, not a real one anyway)! Everyone we met here was genuinely lovely and the staff was super helpful. Located at the base of the Stirbei Palace, this gay friendly gem has some of the best electro parties in all of Bucharest. It's a mixed club, yet attracts a large queer crowd. The diverse mix of people allows for an electrifying atmosphere. Club Eden is located at Palatul Știrbei, 107 Calea Victoriei, and is open every day until around 2 am.
Gay events in Bucharest
The main gay event in Bucharest is Pride in May/June. Other cities around Romania have their own Pride events, especially in Cluj. We've also set out other gay-friendly events you should check out in Bucharest:
Attracting around 5,000 to 10,000 people each year, Bucharest's Pride just keeps getting bigger and better. This is a week-long festival of talks, film screenings, parties and, of course, a fabulous parade through the city center.
Having started back in 2004, the festival initially attracted some negative attention – with public debates being held as to whether the event should go ahead. Today, it is more popular than ever before.
For a country that continues to lag behind in equal rights for LGBTQ citizens, Pride events are vital to continuing the conversation. Seeing queer citizens being celebrated is truly beautiful, and we hope the event will help increase the visibility of the gay community and increase tolerance.
Dulce Sweet Streetfood Festival (June/July)
Calling all the sweet tooths! This festival is a confectionary enthusiast's dream. With stalls filled with chocolates, jellies, cakes, and ice cream, it feels like a Willy Wonka factory and a Katy Perry music video had a baby and then exploded!
We particularly love how it includes treats from all across the globe. There are so many different kinds of candies (from the likes of Asia and Africa) that we never would have otherwise tried. Then, of course, there were the traditional British and American snacks, like pancakes that we couldn't help but gorge over.
If you ever happen to be in Bucharest in late June, check and see if this festival is happening. Just be sure to prebook a visit to the dentist when you come home!
Summer may be over, but in Bucharest, they are determined to keep the party going! BalKaniK is an outdoor festival of world music, drawing top acts and singers to Bucharest at the beginning of autumn.
Spanning three days, the festival is an electrifying and exotic experience, with lots of alternative musical acts. As well as music there are traditional handicrafts, designer objects, workshops, hay couches, hammocks, circus shows, and art exhibitions to enjoy.
In what is the biggest annual art exhibition in Romania, Art Safari attracts over 125,000 art lovers each year from all around the world.
Showcasing both old and new art from Romania, the event is usually broken down into multiple exhibitions, each one with a different theme. There is even something for the kids, with guided tours and classes to help children fall in love with art!
It also gives artists the chance to meet with the public and share their latest works. Discussions on what inspires them often ensue, and it's just an all-out arty geek fest.
Dance baby dance!
Fusing together ballet, hip-hop, urban and classical, as well as some more traditional dance forms, this festival is a true celebration of movement.
Dance groups from all over the country compete in a competition for special awards and recognition. With judges sharing expert advice, the festival has become increasingly renowned. You can purchase tickets to see the different shows as well, just no saying that you can dance just as well ok?
Every city has one. Every city needs one. We wouldn't know how to gauge a place without one. We're talking about an international film festival, of course.
Bucharest's film festival allows visitors and locals to see the kind of art the city is making. It allows for social discussion to open up, and a sense of pride to be had. With plenty of genres to choose from, panel discussions, and stories to experience, the festival showcases the best of Romanian and worldwide cinema!
Best gay friendly restaurants in Bucharest
While a few years ago Bucharest was mostly only home to traditional Romanian cuisine, nowadays the number of trendy and more international places has multiplied. These are our favorite restaurants in Bucharest where gay travelers can go out for a delicious meal.
Caru' cu bere
---
Cismigiu Bistro La Etaj
---
Stadio
---
Origo
---
Pasajul Macca Vilacrosse
---
Best things to do in Bucharest
Sometimes dubbed "Little Paris" for its Beaux-Arts-style palaces, municipal buildings, and museums, Bucharest is a surprising destination with beautiful streets to explore. Gay travelers will find a wide variety of fun activities to do. These were our favorite things to do in Bucharest:
Gay tour of Bucharest
---
Exploring the old town
---
Parliament Palace
---
Triumphal Arch
---
Piata Unirii Park
---
MARe
---
Regele Mihai I Park
---
National History Museum
---
Food and drink tour
---
Village Museum
---
Best day trips from Bucharest
For LGBTQ travelers wanting to include a bit of Dracula mythology with their trip, there are a lot of options you can do as part of a day trip. The most popular are the day trips to either or all of Bran Castle (aka Dracula Castle), Peles Castle, and Brasov. Here's a summary of the best ones to check out:
Bran Castle
---
Peles Castle
---
Brasov
---
Rasnov Citadel
---
Poenari Castle
---
Planning your trip to Bucharest
We've put together some handy hints and tips to help you plan your own trip to Bucharest. Read on to find out everything the gay traveler should know before they go.
---
---
---
---
---
---
---
---
---
---
---
---
---
Gay map of Bucharest
This is our gay map of Bucharest to show you where everything we've mentioned in this article is located. Use it to find out where all the best gay friendly hotels, bars, and activities are for your own visit!
---