The Flower Island Resort is a paradise like getaway: your own tropical heaven away from everything.
It is located North East from Palawan island in the Philippines: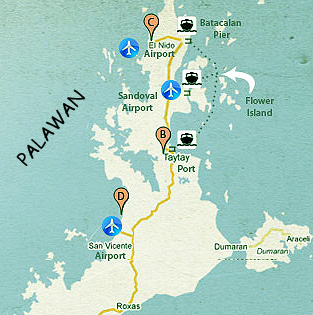 There are various ways to reach it as set out on Flower island Resort website, but the most popular is via a James Bond style speedboat from the nearby pier in Tay Tay on the mainland.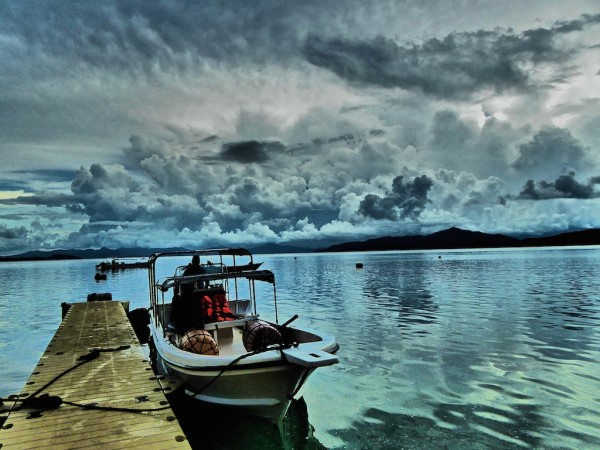 YOUR OWN PRIVATE BEACHFRONT COTTAGE
The cottages are beach facing. They are spacious, beautifully decorated, each with a four poster bed and mosquito net. They have their own private balcony area with hammock to relax the hours away and take in the glorious sunsets every evening.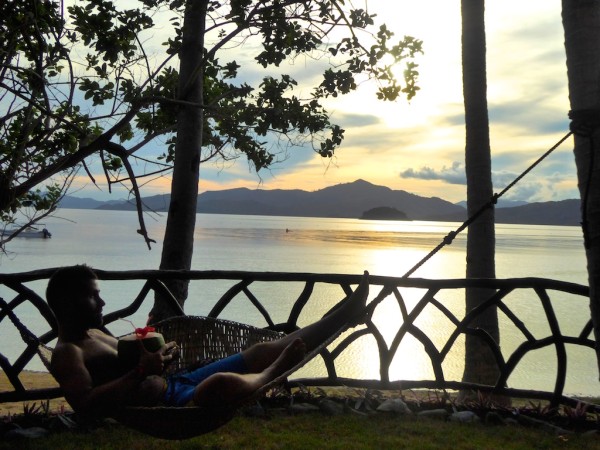 THE BEST SNORKELLING EVER!
The corals surrounding the island are untouched and thriving with life.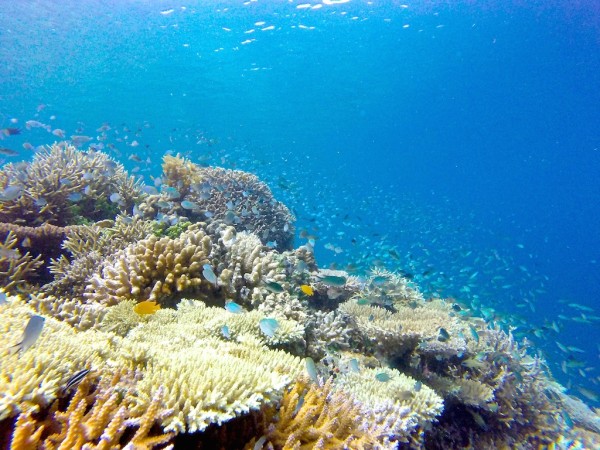 You can spend hours every day snorkelling around the island. All snorkelling equipment is provided and the staff can take you out on the speedboat further afield to explore other corals where you will be completely alone!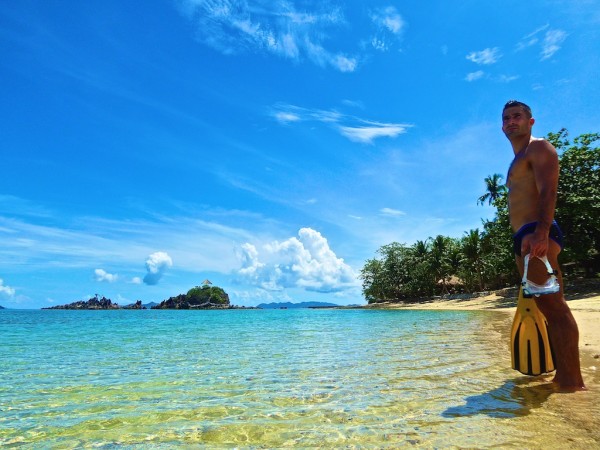 We saw turtles on a number of occasions as well as a plethora of tropical fish. They also have some giant clams in the house coral directly in front of the main beach: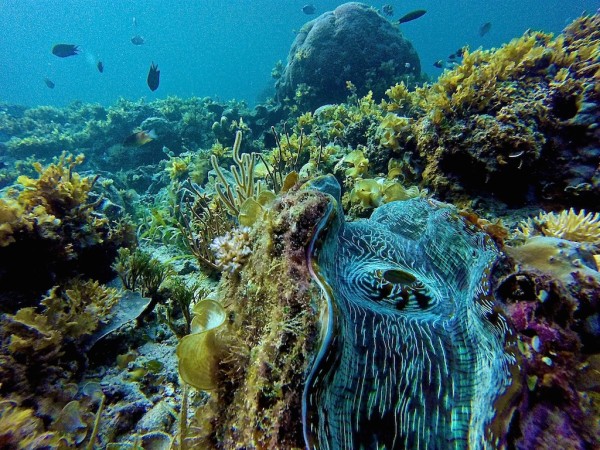 LEARN ABOUT PEARL FARMING
The Flower Island Resort is surrounded by numerous pearl farms and most guests are invited to visit one of them during their stay, which we highly recommend.
The Philippines specialises in producing golden pearls. It's a very complex process, taking over 2-3 years to produce the "perfect" shaped and golden coloured pearl.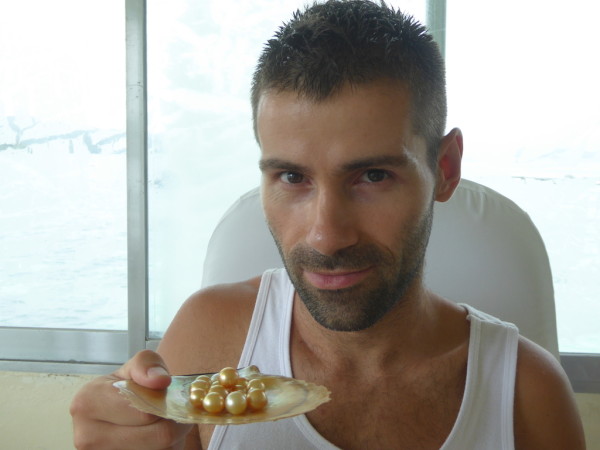 The location of the farms is kept secret and the farms well guarded to prevent thefts, which are unfortunately common.
The final product is of course stunning (and very expensive!):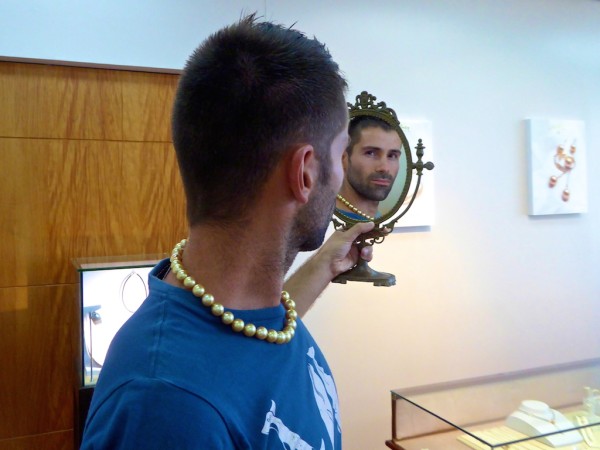 HOW TO KEEP FIT ON THE ISLAND?
Well let's be honest, most folk will just want to relax here and do nothing else. And there's no better place for it! It's a perfect place for meditation because it's so peaceful with a handful of guests at most and never more than a few dozen people on the entire island.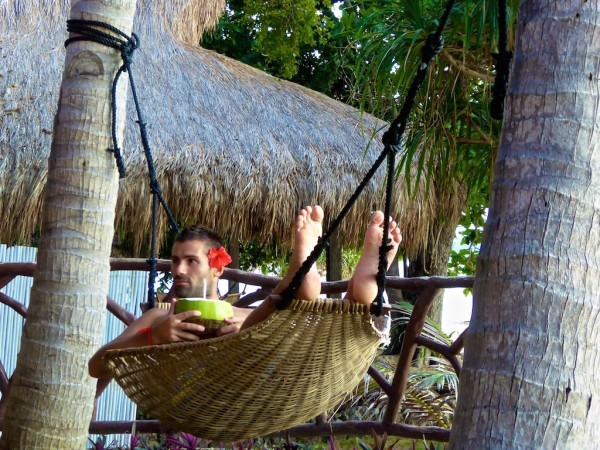 If you want to keep fit and active, there's plenty to do. Snorkelling itself is hours of fun and quite exhausting.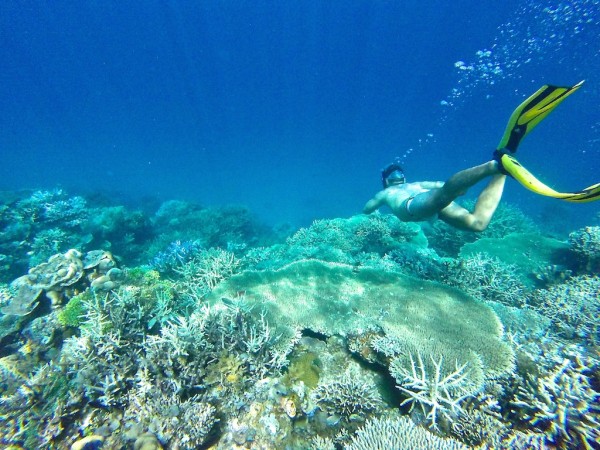 In addition, there's a stone path going around the island for running enthusiasts. A complete cycle around the entire island is around 1.7km / 1 mile. You can also hike up to the lighthouse in the centre, which takes around 10-15 minutes.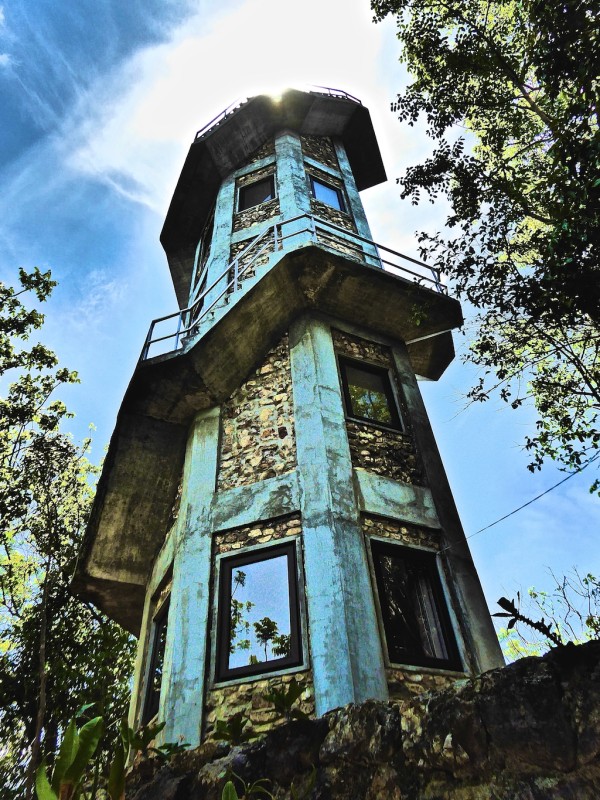 The views from the lighthouse give you a 360 degrees picture of the surrounding area. There are also sleeping options at the lighthouse. This is definitely worth it just for some of the incredible views you can wake up to.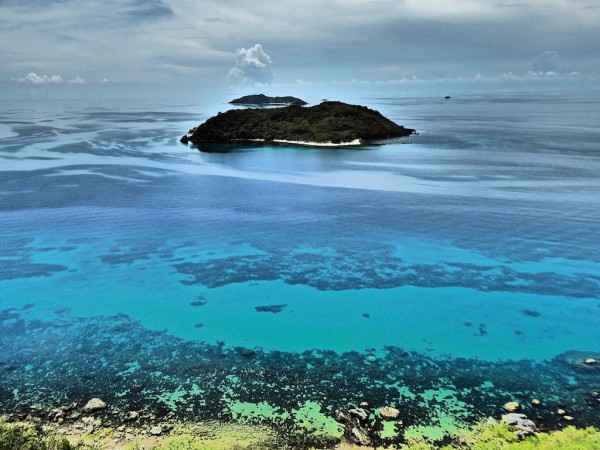 THE PROFESSIONAL AND GAY FRIENDLY STAFF
The staff greeted us with shell necklaces and big smiles on arrival. They welcome gay couples and are keen to promote themselves as pink friendly.
They took this to a whole other level on our final evening, when they arranged a brilliant dance show, which included a topless performance from the male staff (!)
Find out more on their Booking.com listing.
AND THOSE SUNSETS!
Oh…did we mention those stunning sunsets…?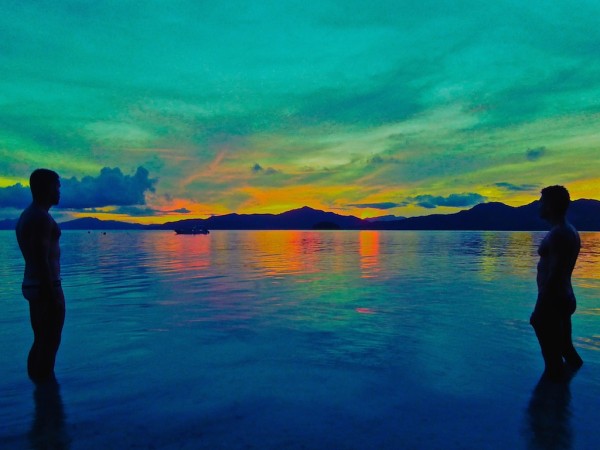 …which we were spoilt with every evening?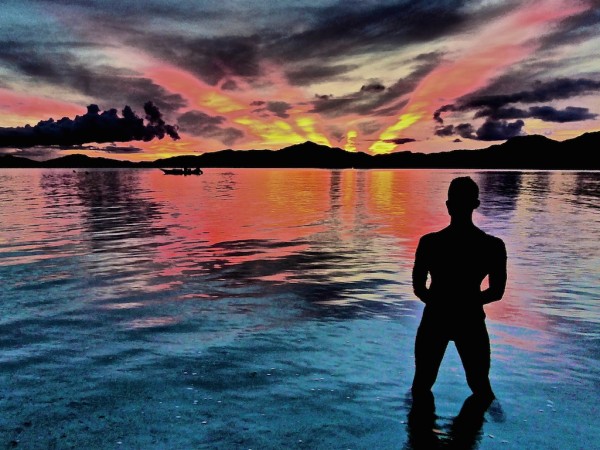 OUR FAVOURITE TRAVEL TIPS
⭐️ TRAVEL INSURANCE — We recommend you always take out travel insurance before your next vacation. What happens if you suffer from illness, injury, theft or a cancellation? With travel insurance, you can have peace of mind and not worry. We love World Nomads travel insurance and have been using it for years. Their comprehensive coverage is second to none and their online claims process is very user friendly.
⭐️ SAFETY & SECURITY — All travelers (gay or not) can sometimes encounter danger when traveling. CloseCircle is your "virtual body guard" mobile app which provides security alerts and support wherever you are in the world. They have a 24/7 emergency response team monitoring their users who will contact you immediately if the SOS swipe button is activated. Support can include anything from practical advice, to free evacuation from areas with extreme weather or security risks. You can read more about CloseCircle in our article about how to stay safe whilst traveling.
⭐️ ONLINE ANONYMITY — A VPN (Virtual Private Network) is a must in many countries: it allows you to surf anonymously and maintain your privacy whilst traveling. You'll particularly need it in countries where gay dating apps are blocked by the government. We recommend ExpressVPN, a reliable and cost effective service which we used and loved during our travels.
⭐️ HOTELS or APARTMENTS — When we plan a trip, we always look for the best hotel deals. We love Booking.com because not only do they have a comprehensive listing of accommodation options, they also offer the best prices. Added bonus: they provide 24/7 support and free cancellation for most listings.
⭐️ SIGHTSEEING and ADVENTURES — When we travel somewhere, we like to seek out the best experiences, whether it is cooking with locals in Bangkok, hiking on a glacier in Patagonia, or going on a wildlife safari in Sri Lanka. Our favorite place to look is GetYourGuide because they have over 30,000 highly rated activities, a user-friendly booking process with free cancellation and a 24 hour customer support.
This article contains affiliate links. If you click on them, we may receive compensation which keeps our website alive and helps us bring you to more destinations.