A day cycling in Yangshuo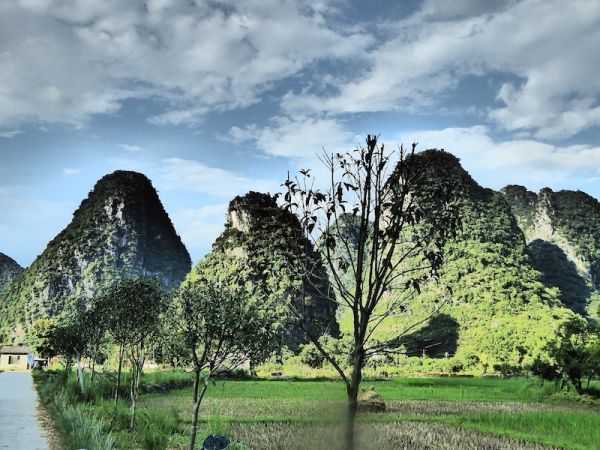 Yangshuo is a town in China's tropical south Guangxi province.
Yangshuo is surrounded by a stunning scenery of phallic looking "karst" limestone hill formations.
There are over 70,000 of these formations and are unique to this part of China.  The stunning scenery is great for outdoor activities, especially cycling:
We rented bikes from the excellent Bike Asia shop in Yangshuo.  They charge 70 yuan (around £7) for a day's bike rental.  But they were the only bike outlet in Yangshuo who had decent, clean and modern bikes.
Bike Asia also give you a free detailed map when you rent a bike from them (otherwise they charge 10 yuan – around £1 for them).  We highly recommend their maps because the bicycle routes are detailed clearly.
And, they were one of the only ones who not only knew what helmets where, but also supplied them as part of the rental!
Cycling in Yangshuo
We chose to just rent bikes and cycle ourselves and not go on expensive tours.
Yangshuo is unfortunately spoiled by mass tourism and it feels like the entire community there is trying to rip you off and get you involved with mass tours.
We found some helpful information online in particular the route that takes you to the Baisha village through to Yulong Bridge, which runs perpendicular to the Yulong River the surrounding area.
We found this map helpful, following the green "Back road to Baisha" route going from Yangshuo to Baisha, then the purple "Dragon Bridge" route returning to Yangshuo:
This route is a total of around 35 kilometres and the first part is a mainly uphill cycle to Baisha from West Street in Yangshuo via Shi Ban Qiao village.
The pretty Yulong "Dragon's" Bridge is the half way point of this route.  It's a nice place to stop for a refreshing dip in the Yulong river and of course to pose/admire the beautiful scenery:
After a sweaty day's cycling, a swim in the Yulong river is always warmly received:
Xingping village and the 20 yuan Chinese bank note
Xingping village is another popular destination for cyclists in Yangshuo with a beautiful view of the river between the karsts:
This is also the image used on the back of the Chinese 20 yuan (around £2) bank note:
Naturally, this attracts a lot of tourists, especially excitable Chinese girls who like having their photo taken with non Chinese folk like us (Stefan always obliges on condition he gets to wear their dramatic sunglasses):
Feeding two greedy boys
After a day's cycling in Yangsho, we were starving.  Yangshuo has a wide offering of some great street food and tropical fruits which excited these two greedy boys a lot, in particular:
Taro Chips:
Spicy tofu – delicious street food in Yangshuo:
Tropical fruit in Yangshuo:
This part of China is great for tropical fruit – cheap and sold everywhere, from dragon fruit, mangosteen, passion fruit to delicious sweet mango:
After cycling in Yangshuo and sampling its culinary delights (including a great cooking adventure with the Yangshuo cooking school), we said a fond farewell and boarded the train to venture into China's Yunnan province:
For more, watch our China travel video as we ate our way from Beijing in the North all the way to the south via Pingyao, Xi'An, Shanghai, Yangshuo through to Shangri-La: