Our guide to Siem Reap gay bars, Cambodia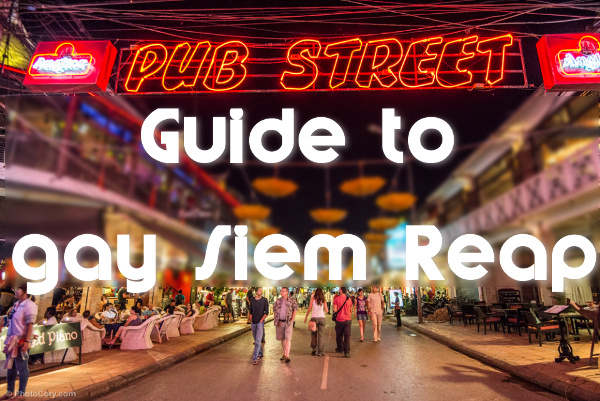 We visited Siem Reap during the Buddhist New Year in mid April.
It was crazy busy with exciting street parties every evening and everyone throwing water and talcum powder on each other (it's their way of wishing each other good luck and a happy new year!)
We also discovered a busy and growing gay scene in Siem Reap, much like the gay scene in Phnom Penh.
SIEM REAP BEST GAY BARS
The Siem Reap gay bars are fun and kept us happily entertained during our stay in Siem Reap. They are all centrally located near the popular Pub Street.
#1 

Linga Bar

Linga bar is the longest running gay far in Siem Reap. It is a cozy bar with the occasional drag show.

It is located opposite Angkor Famous on Pub Street Alley and draws a mainly touristy crowd.
#2

 Miss Wong Cocktails Bar

Miss Wong is a gay owned bar famous for its cocktails, named after the half French, half Chinese Valerie Howe who was the subject of this famous painting by Vladimir Tretchikoff:

Miss Wong bar is located near Pub Street on a road called The Lane and they also have a Facebook page for more information.

We enjoyed a few cocktails here during the Khmer New Year where we took refuge from the chaotic throwing water and talcum powder outside:
GAY FRIENDLY ACCOMODATION IN SIEM REAP
There are a variety of gay friendly accommodation options in Siem Reap to suit all budgets. The two that stood out for us were:
#1

Men's only hotels
MEN'S RESORT AND SPA
Book online
Men's only gay hotel, quiet and private, located a few minutes ride away from Pub street.
Prices start from $75 / £50 a night, breakfast included.
#2

Gay Friendly hotels in Siem Reap
THE MANSION SIEM REAP
Book online
Very gay friendly staff and beautiful surrounding.
 For around $25-30 a night for a room, you get a lush tropical garden, a large swimming pool and a delicous breakfast.
THE PRIVILEGE FLOOR IN LOTUS BLANC
Book online
Romantic stay in Siem Reap.
Amazing Buffet breakfast and beautiful swimming pool.
Prices start from $130 / £85 for a double room with breakfast.
You can read more about the gay bars of Phnom Penh and watch our Cambodia travel video.