Snorkelling and kayaking in the crystal waters of El Nido, Palawan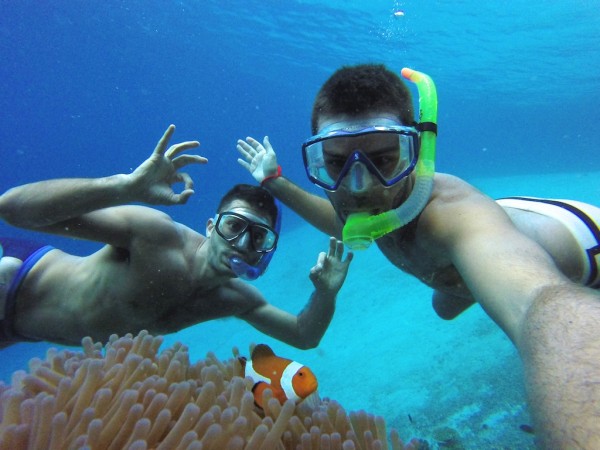 Palawan island in the Philippines has some of the most stunning marine wildlife we've seen on our trip in Asia, which made snorkelling in El Nido a particular highlight.
The surrounding limestone karsts with hidden lagoons and coves also makes kayaking around El Nido a fun activity. We love both snorkelling and kayaking, so we were in fitness heaven here.
THE TOURS: WHICH ONE TO CHOOSE?
When you arrive in El Nido, you will quickly get accustomed to the 4 main tours offered by all agencies: A, B, C and D (D sometimes called the Cadlao Kayak tour):
The tours are tightly monitored by the local government of Palawan, which has strict planning laws in place to preserve the environment and protect it from over development.
We chose Tour C (for snorkelling) and Tour A (for kayaking). These are the most popular and the ones you should definitely do if you are limited with time.
We highly recommend El Nido Boutique & Artcafe because they have excellent new equipment and their crew and team clearly enjoy their job, which made the tours highly enjoyable.
KAYAKING IN EL NIDO: Tour A
Tour A with Artcafe is the best option for kayaking. Their kayaks are light and responsive, which makes steering them a lot of fun. Tour A also includes beach time and a bit of snorkelling. The first two stops are kayaking based around Miniloc Island.
#1

Kayaking in the Small Lagoon of Miniloc Island

Miniloc island is surrounded by stunning limestone karsts protruding up from the sea. It's like something from a movie scene and incredible to kayak through.

The Small Lagoon is located on the cove of Miniloc island accessible through a small entrance with 2 giant limestone rocks which you can swim or kayak through.

The area inside is fun for swimming or kayaking and although gets quite crowded, the tranquil turquoise-green waters surrounded by limestone karsts make it memorable.
#2

Kayaking in the Big Lagoon of Miniloc Island

The Big Lagoon is impressive, stretching in from the sea through a narrow passageway, accessible only with a kayak. This was our favourite part of kayaking in El Nido because most people prefer to stay on their boat and skip it, so you have it all to yourself.

The Big Lagoon goes in quite deep and becomes quite narrow creating an Indiana Jones like environment.
#3

Shimizu Island: snorkelling and lunch

Shimizu is an island with limestone cliffs. It is surrounded by a healthy coral reef with a dramatic drop into the deep blue: perfect for some snorkelling and practising a few dance moves (!) underwater…

Shimizu island is also a popular lunch stop where the Artcafe staff prepared a delicious barbecue. This BBQ fish was meant to be shared by everyone in our group, but greedy Sebastien was just too quick for everyone…
#4

Seventh Commando beach

The final stop was at the popular Seventh Commando beach on the main land of Palawan Island. It has a long white sandy beach lined with palm trees, making it a popular final stop for the island tours.

It also makes a nice spot for a Halo Halo, one of our favourite Filipino traditional foods.
SNORKELLING IN EL NIDO: Tour C
Tour C is best for snorkelling in El Nido and goes to the islands of Matinloc and Tapiutan.
As diving and snorkelling enthusiasts, we always seek out snorkelling opportunities wherever possible and always carry our own masks during our travels just in case.
#1

Snorkelling at Matinloc Island

The first snorkelling stop on Tour C is Matinloc Island with a 100m beach strip of white sand surrounded by healthy coral with a busy fish scene going on.

The sea floor surrounding the beach slopes down gradually and the water deepens only after about 10 metres in. The snorkelling here is perfect for diving down, swimming with the marine life and of course for more funky dance moves:
#2

Snorkelling at Tapiutan Island

Tapiutan Island is rich with healthy coral and marine life, making it ideal for snorkelling. It is the most remote island in the bay and as the final stop on this tour, most people just stayed on the boat or beach to relax, leaving the deep blue see all to us to enjoy.

We loved it!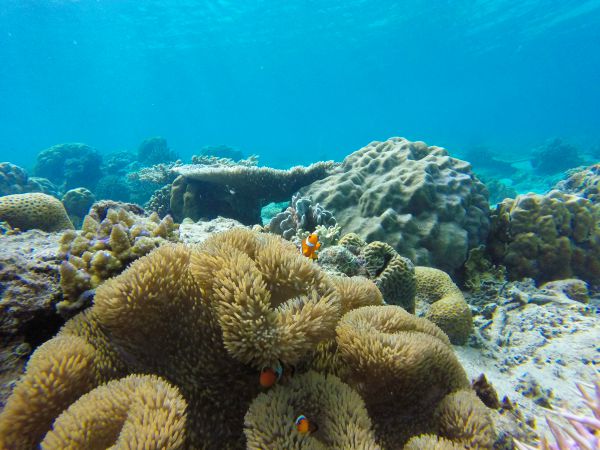 The marine wildlife at Tapiutan is plentiful and we saw a variety of colourful coral, lots of blue starfish, Clownfish (Nemo), Bannerfish, sea urchins and many more.
See if you can spot Nemo and the Bannerfish in our short video clip from our snorkelling at Tapiutan island.
To watch more, check out our full Philippines travel video as we swam our way through Boracay and Palawan in our Philippines travel video.