TERMS OF USE: There is a chance that some of the content on this page has changed since it was last updated. By reading this article, you consent to our Terms of Use and Disclaimer. Happy Travels!
DISCLOSURE: Some of our posts may contain affiliate links which we may receive a commission if you choose to book something through one of our links.
These are our top Patagonia highlights from the stunning treks in Torres del Paine to seeing Magellanic penguins up close in Chubut.
Ready for the best trekking adventures of your life?
Patagonia blew our minds. Very few places in the world can match the incredible landscape in places like El Chaltén or Torres del Paine. We had some of the most rewarding trekking adventures here and would happily return for more. And it gets better – the region also has so much wildlife to discover, like the Magellanic penguins in Chubut or the orcas in Puerto Madryn, to name a few!
Patagonia is a vast chunk of land that sits on the southern end of the South American continent, split between Chile and Argentina. It includes a mix of landscapes including the Andes mountains, lakes, fjords, glaciers, desert, steppes, and ocean – Atlantic on one side, Pacific on the other.
We spent a month traveling across Patagonia focusing on the Chubut region and Santa Cruz in Argentina, then in Torres del Paine in Chile. To inspire your Bucket List, we've put together some of the best Patagonia highlights and experiences from our trip here.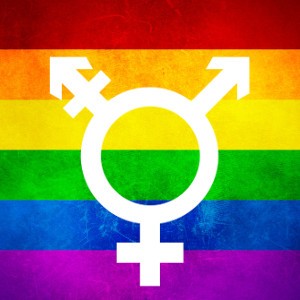 Advice for LGBTQ travelers to Patagonia
Argentina and Chile make up Patagonia – two progressive and gay-friendly countries, especially Argentina. Patagonia is one of the more touristic parts of both countries, so locals are more accustomed to dealing with LGBTQ travelers. We never had any problems booking double beds in any of the guesthouses or hotels we stayed at in either country. Homophobia is still quite prevalent, particularly in rural parts of Chile, which is the more socially conservative of the two countries, so take care with PDAs in small towns and villages.
1. Marvel at the iconic peaks of Torres Del Paine, Chile
We're going to call it – THE most stunning, jaw-dropping, breathtaking photos from all our travels are from Torres del Paine. This is our #1 Patagonia highlight – we've blown these photos up to decorate our walls back at home, have them as screensavers on all our devices, and have shared them like crazy across our social media.
That's how awe-inspiring this place is!
Torres del Paine refers to the three distinct granite peaks of the Paine mountain range, which require a pretty intense trek. For most, this is the climax of the W or O multi-day treks, but you can also see them as part of a pretty full-on 8 hour, 11 miles (18km) hike. These unique towering peaks are visually pleasing because the three granite peaks rise above a pretty blanket of snow which all reflects in the shimmering turquoise lagoon at the bottom.
The landscape leading up to the 3 towers is a mix of beautiful valleys, glaciers, pristine lakes, rivers, waterfall, and of course, mountains, which is what makes the entire trek here so rewarding and memorable. For more practical tips, read about what to pack for a hiking holiday in Patagonia.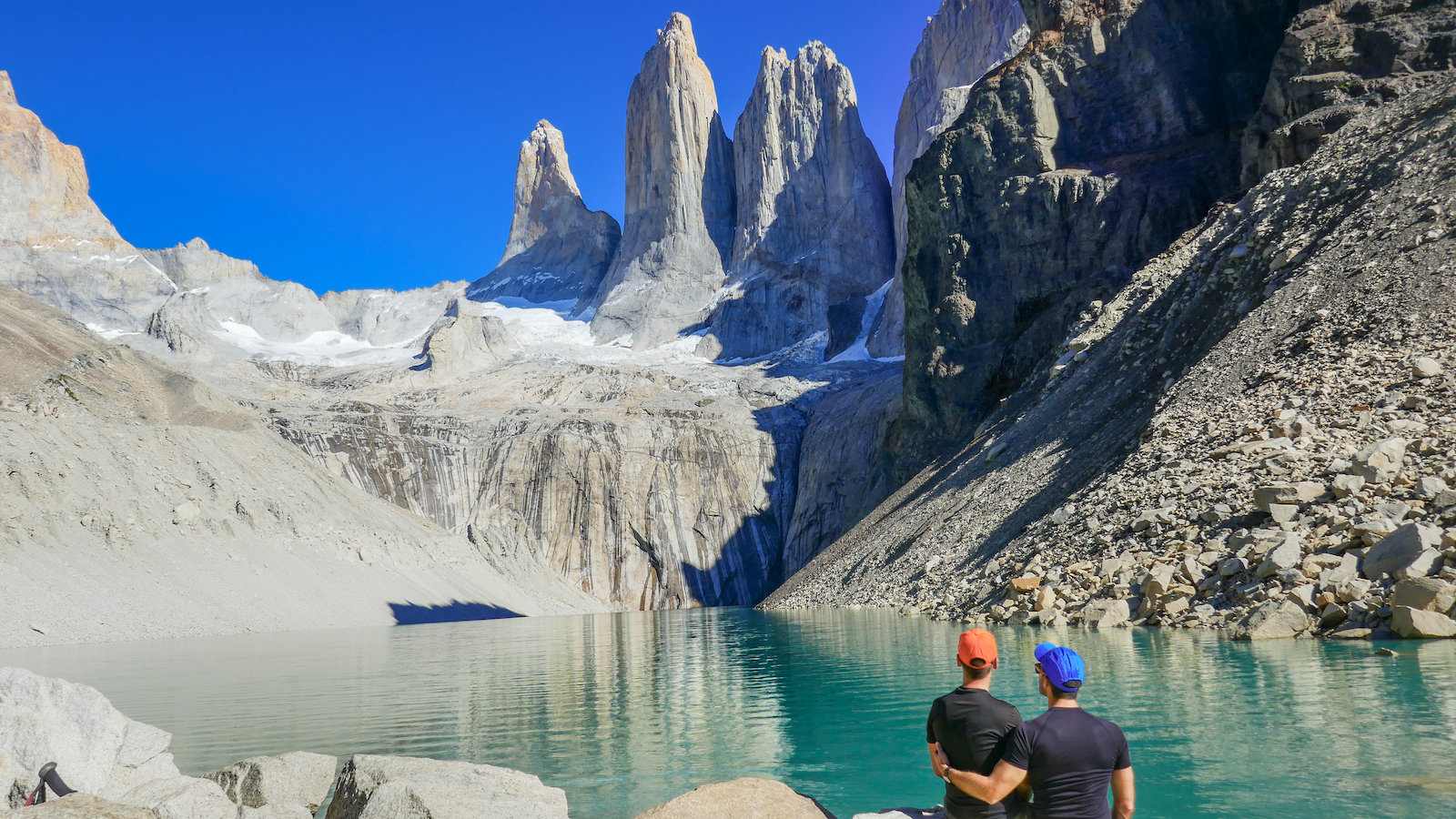 2. Hike the Perito Moreno Glacier in El Calafate, Argentina
After hearing so much talk about climate change and icecaps melting, it really puts it all into perspective when you come face-to-face with one!
The Perito Moreno Glacier is one of the most popular highlights of Patagonia. It is a huge ice formation, around 22 miles (35km) long (the size of Buenos Aires city), with a depth of up to 590 feet (180m). It is part of the UNESCO-listed Los Glaciares National Park. It's also famous for being one of the few glaciers in the world that is not retreating, although it is predicted to lose around 60% of its current ice volume by 2100.
We hiked across Perito Moreno as part of a tour, which was probably one of the most unique things we've ever done in our lives! As you can imagine, walking with crampons is not an easy task:
"Take short steps and walk like penguins!"
This was the advice given by our guide to walking uphill on crampons, especially after Sebastien fell flat on his face trying to replicate the dance moves to Let It Go…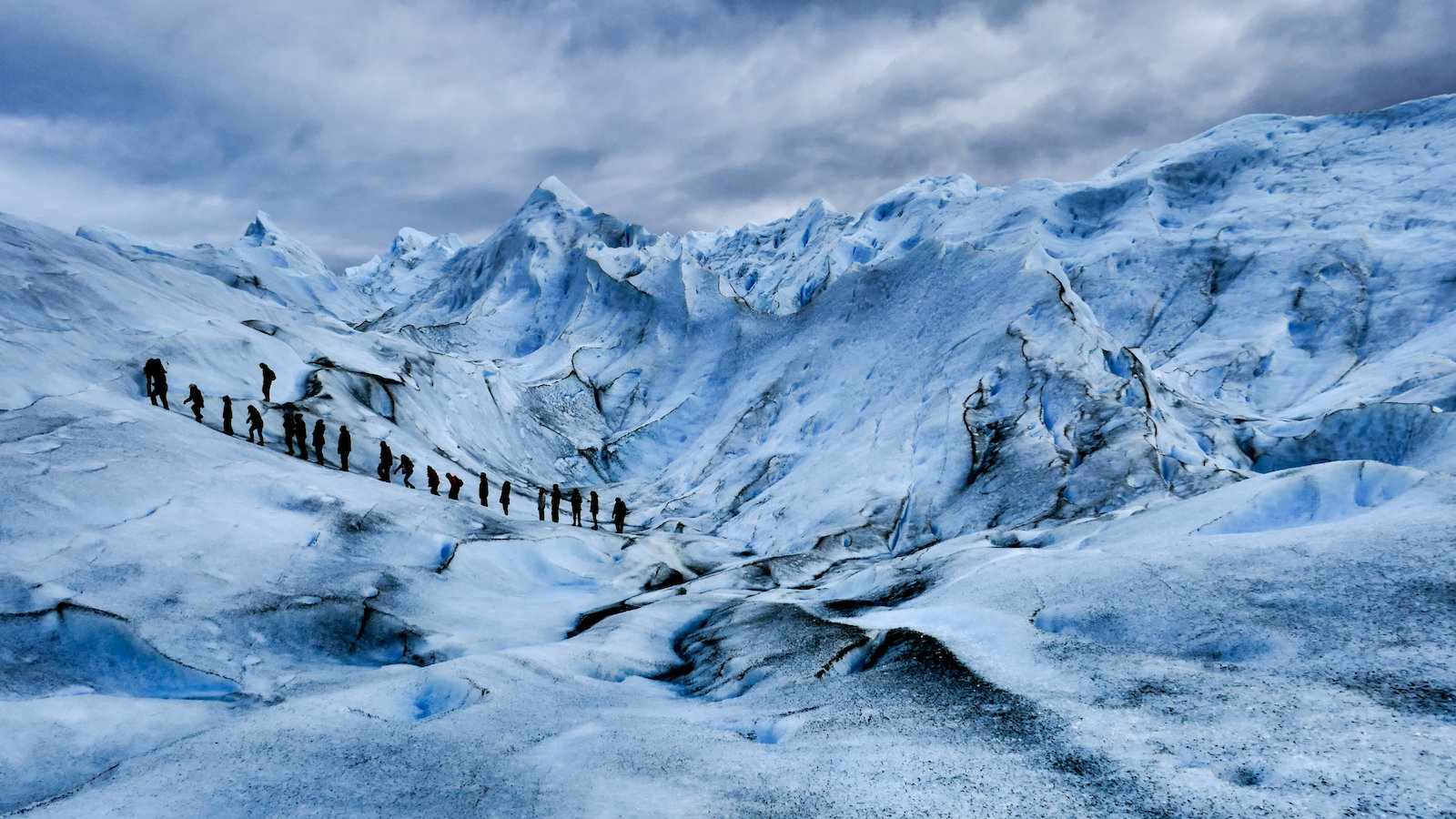 3. See the Magellanic Penguins in Chubut, Argentina
As a long-term gay couple, we always identify strongly with penguins…you've all read about the adventures of Ronnie and Reggie, the gay penguin couple at London Zoo, right? So we naturally jumped at the chance to see these cute creatures close up in the wild!
Punta Tombo on the coast of the Chubut province in Argentina is home to the largest colony of Magellanic penguins in Latin America. They are around 1.5 feet (0.5m) tall and are absolutely adorable!
Around 1 million Magellanic penguins gather in Punta Tombo between mid-September and mid-April when they come to nest, mate, breed and moult (shed their feathers). Interestingly, between April-September they migrate to the warmer climates in South Brazil, where they stay in the water the entire time, even when sleeping.
When you meet them, they study you in a way where they turn their head from side to side. This is because their eyes are located on the sides of their face so they need to do this to maximise their field of vision. But get too close to them and this happens:
4. Trek to Mount Fitz Roy in El Chalten, Argentina
We appreciate we've really raved about the three impressive Torres del Paine towers above (and for good reason!), but the trek to Mount Fitz Roy in El Chaltén in Argentina is another highlight of Patagonia which completely captivated us.
El Chaltén is a cutesy village in the Los Glaciares National Park. It is surrounded by the Cerro Torre and Mount Fitz Roy. The village serves as the starting point to many of the treks into these mountains. The best is the intense 8-hour circuit to "Laguna de Los Tres", a lake that sits just in front of the Fitz Roy mountain peak. The view here is simply glorious! The snow-capped mountain peaks tower above the crystal blue lake offering quite a majestic backdrop.
The Laguna de Los Tres trek is also exciting because as well as being rewardingly intense, you pass through woodland, a range of grassland, steppe, and also spot a whole range of wildlife like the Huemul endemic deer. Find out more in our article comparing trekking in Torres del Paine and El Chaltén.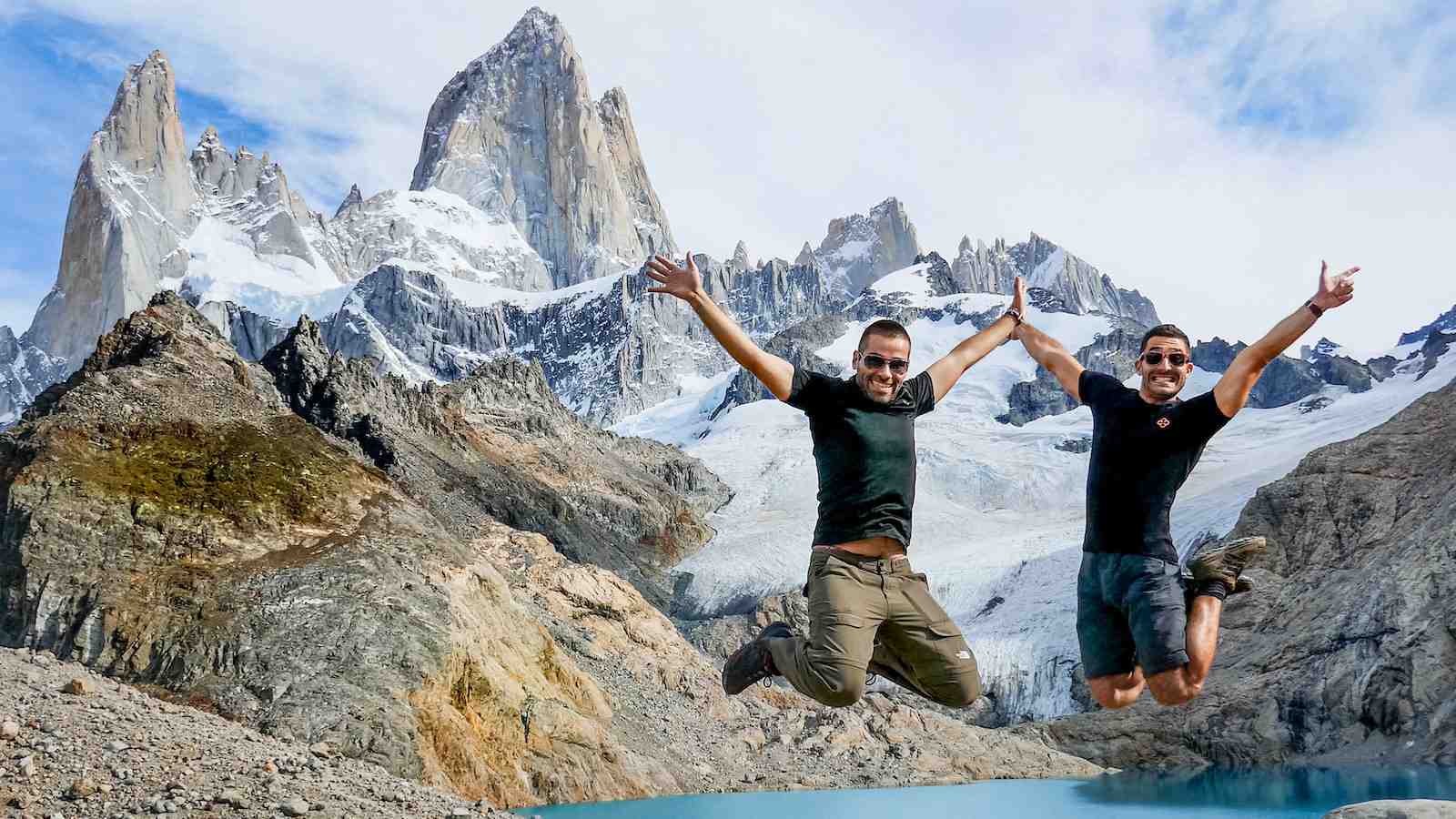 5. Swim with sea lions at Punta Loma, Argentina
There is nothing in this world that can melt your heart as much as sea lion pups playing in the water. Forget all those cutesy cat videos you share on Facebook, this is the legit new trend of 2023!
Young sea lions really are like puppies. They are curious, playful, and will steal your heart. We've previously snorkeled with sea lions in the Galapagos and also in Lima, Peru, but at Punta Loma near Puerto Madryn, you can get even closer to them in the water with some even climbing on top of you!
Swimming with sea lion pups at Punta Loma can be done throughout the year, but the ideal time is between October to March when the pups are mainly found playing in the water and therefore most likely to come and interact with you. We went with Abramar Buceo Aventura in Puerto Madryn, who provided us with all the equipment and also have their own boat to take you to Punta Lomo (and back).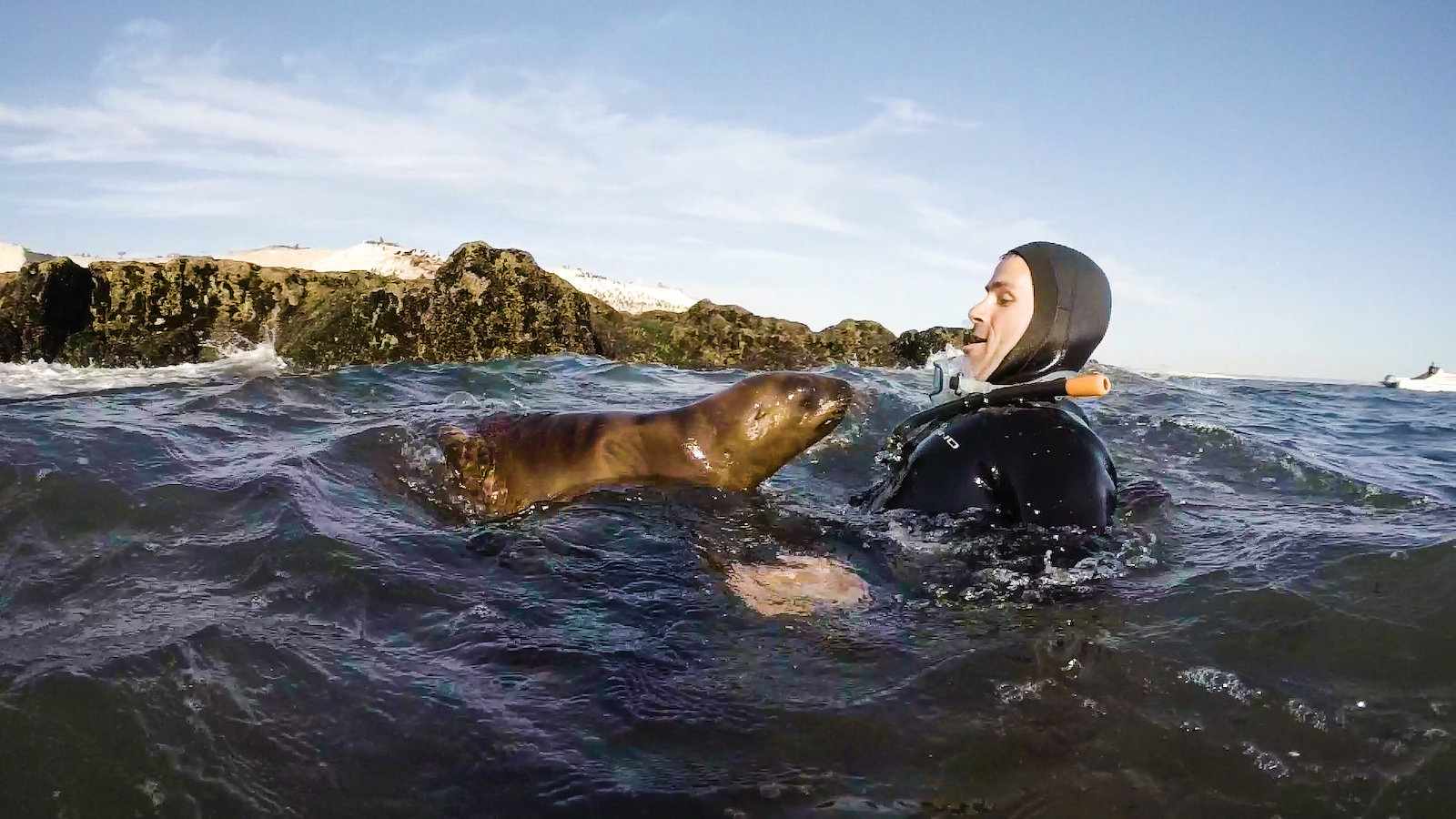 6. Stay in a yurt in Torres del Paine, Chile
Since our travels in the Gobi desert in Mongolia where we got to stay with nomadic families in their gers/yurts, we jumped at the chance to this again in a more luxurious way! Staying in a yurt at the Chile Patagonia Camp certainly ranks as one of our most unique highlights of Patagonia.
Located near the entrance of the Torres del Paine National Park by the shores of Lake Toro, the camp is surrounded by the Toro Lake and the Paine Massif in Torres del Paine – i.e. we went Insta Story crazy here!
The yurts are the epitome of opulence. As well as being super stylish, each one has a private bathroom, comfy king-sized beds, and even central heating! To cap it off, they have views of the stars through a central window in the roof. The Chile Patagonia Camp also takes care of all your meals and activities – including various daily treks into the Torres del Paine National Park and kayaking on the Toro Lake.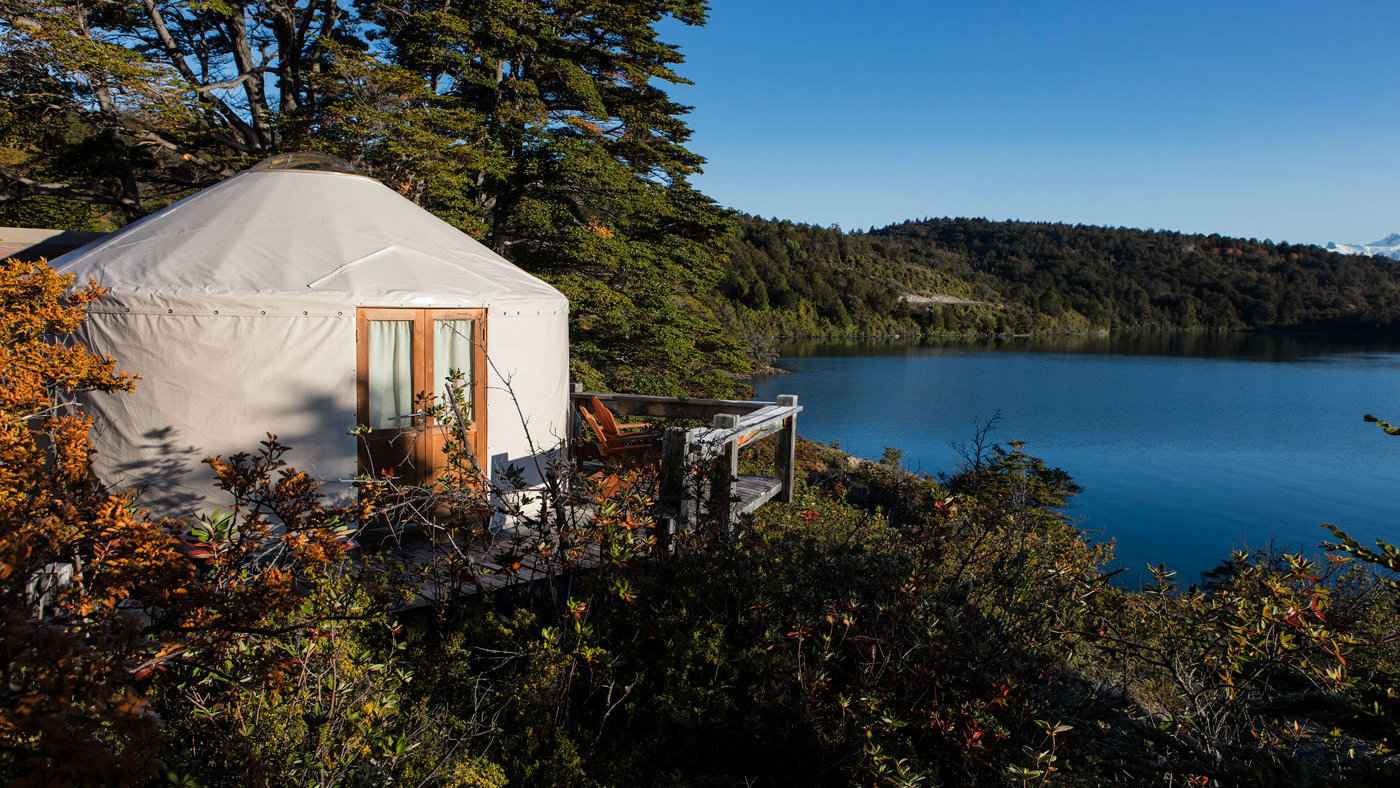 7. Take a road trip through the Carretera Austral, Chile
The Carretera Austral is one of the most famous road trips, taking you through some of the most dramatic of all the Patagonian landscapes.
The actual road is called "Ruta 7", which means 'route #7' and is nicknamed the Carretera Austral, which translates to "Southern Highway". It starts in Puerto Montt and goes all the way down to Villa O'Higgins in southern Chile covering 770 miles (1,240 km).
As far as road trips go, this one is going to top everything you've done to date! On this adventure we got to see beautiful mountains, rivers, glaciers, waterfall, valleys, fjords, volcanoes, and loads of nature. The best part is that you get to do it at your own pace, doing as many stopovers/camping trips as you want.
Some of the best stopovers along the Carretera Austral include the Pumalin Park, the Queulat National Park, a small side trip to Rio Futaleufú, the castle-like peaks of Cerro Castillo, Puerto Rio Tranquilo, and the Rio Baker.
8. Cruise in Los Glaciares National Park in Santa Cruz, Argentina
Up to now, our Patagonia highlights have been dominated by one intense mountain hike after another! But if you fancy something more chilled, then you need to take a cruise along Lago Argentino in Los Glaciares National Park. It's a relaxing way to get up close to the glaciers with minimum effort!
The cruises in the Park take place along the Lago Argentino, located in the Santa Cruz region of Argentina. It is one of the largest lakes in South America encompassing a colossal 566 square miles (911 square kilometers).
The boat tours along the Lago Argentino follow the same route, first passing the "Upsala Glacier", then the "Spegazzini Glacier" before looping round to see parts of the famous Perito Moreno Glacier (see above). On our tour, we saw massive chunks of ice splitting off the glaciers and crashing into the lake below…quite a harrowing image of climate change!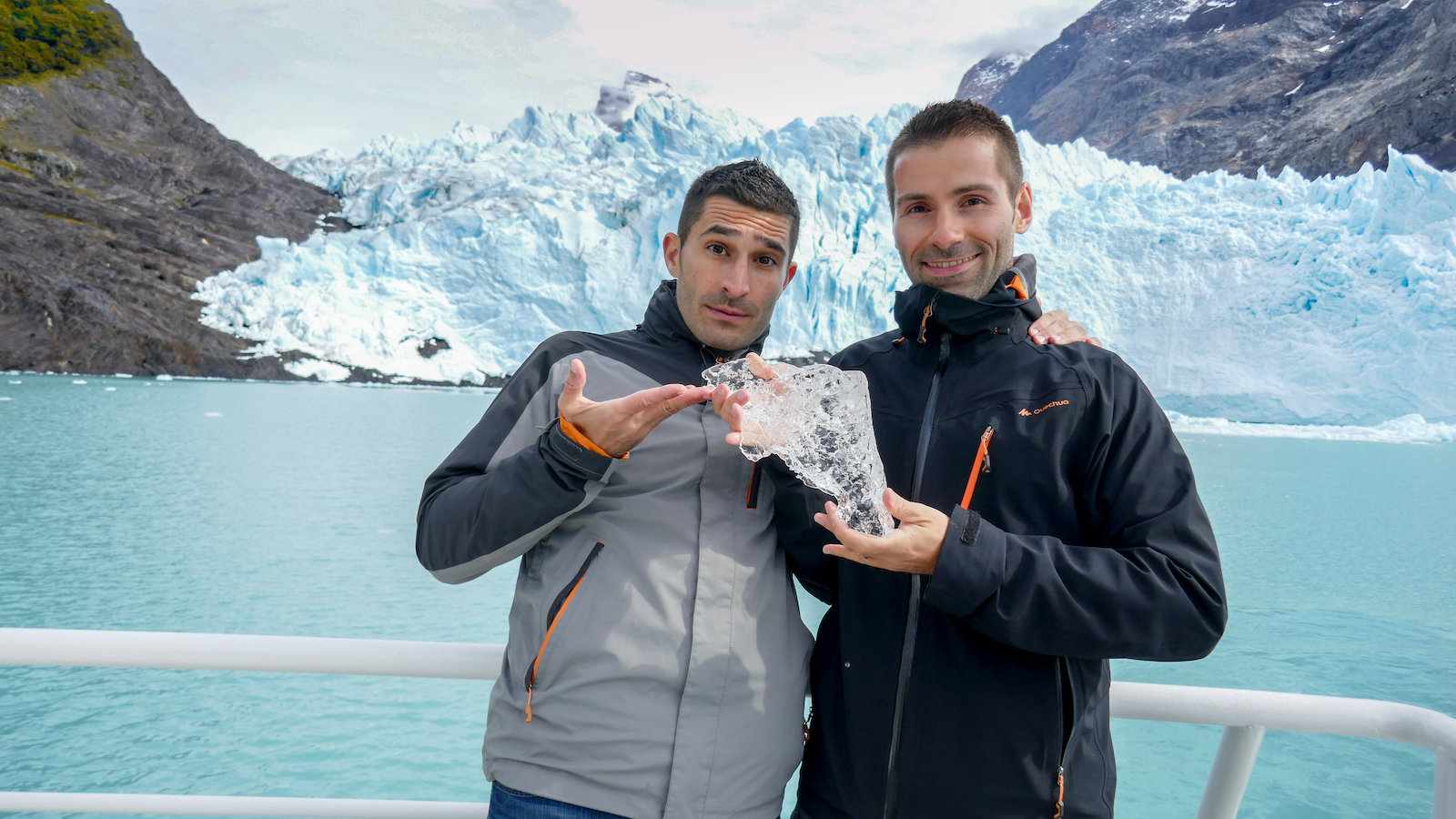 9. Discover the guanaco and other Patagonian wildlife
Guanacos are one of the many unique wild animals to spot in Patagonia. These guys are related to camels (minus the distinctive hump), llamas, vicuñas, and alpacas. They're very camel-like, standing proud with a long slender neck whilst being uber-cute at the same time with those beautiful long-lashed eyes!
As well as in Patagonia, Guanacos can also be found in southern Peru, western Bolivia, and even on the Falkland Islands. They are true survivors, having thrived in some pretty extreme conditions – from the arid Atacama Desert to the rainy/windy climate of Torres del Paine.
Other wildlife endemic to Patagonia to look out for includes the Patagonian puma, the Patagonian grey fox, Patagonian armadillo, huemul deer, and Humboldt's hog-nosed skunk. We also saw a whole range of impressive wildlife across our trip in Patagonia such as the Andean condor, penguins (see above), and orcas (see below) to name a few. However, the guanaco stood out for us because they were so prevalent during our many treks in Patagonia, and we'd never seen an animal quite like them before!
10. A zodiac tour to the San Rafael glacier, Chile
The San Rafael glacier is often considered the little sister to Perito Moreno, but is more difficult to reach so doesn't get as busy. This was reason enough for us to check it out. Whilst we loved Perito Moreno, it was pretty packed with tour groups when we went so it was quite special to be up close to a glacier with few tourists around!
The San Rafael Glacier is located in the San Rafael National Park, which is on the Pacific coast in southern Chile. The park covers a good 4 million acres and is pretty remarkable thanks to its varied scenery of canyons, lakes, rivers, glaciers, and a large 10 mile (16km) fjord.
The way to get up close to the San Rafael glacier is via a boat tour, which takes you right up to the glacier's wall. This is a wall that's 1.25 miles wide and 164 feet tall! But watch out – icefalls are pretty common here…
11. Enjoy the views from The Old Patagonian Express in Chubut, Argentina
The Old Patagonia Express is a steam train that goes from Esquel to Nahuel Pan in the highlands of Chubut in Argentina.
It was built in the 1920s to connect the local settlements but was stopped in the 1990s due to lack of profitability. Today, La Trochita has been revived for tourism and is a great way to enjoy the views across the Patagonian steppe.
The formal name for this train is the Old Patagonia Express, but it's more colloquially known as La Trochita, which means little gauge. The nickname comes from the small gauges the trains run on, deliberately designed in this way because they were cheaper to produce than normal-sized gauges.
As far as train adventures go, it's a pretty quirky ride! For us La Trochita felt like we were in a cutesy children's toy train slowly making our way through the Patagonian landscape waving to locals in the villages we passed by!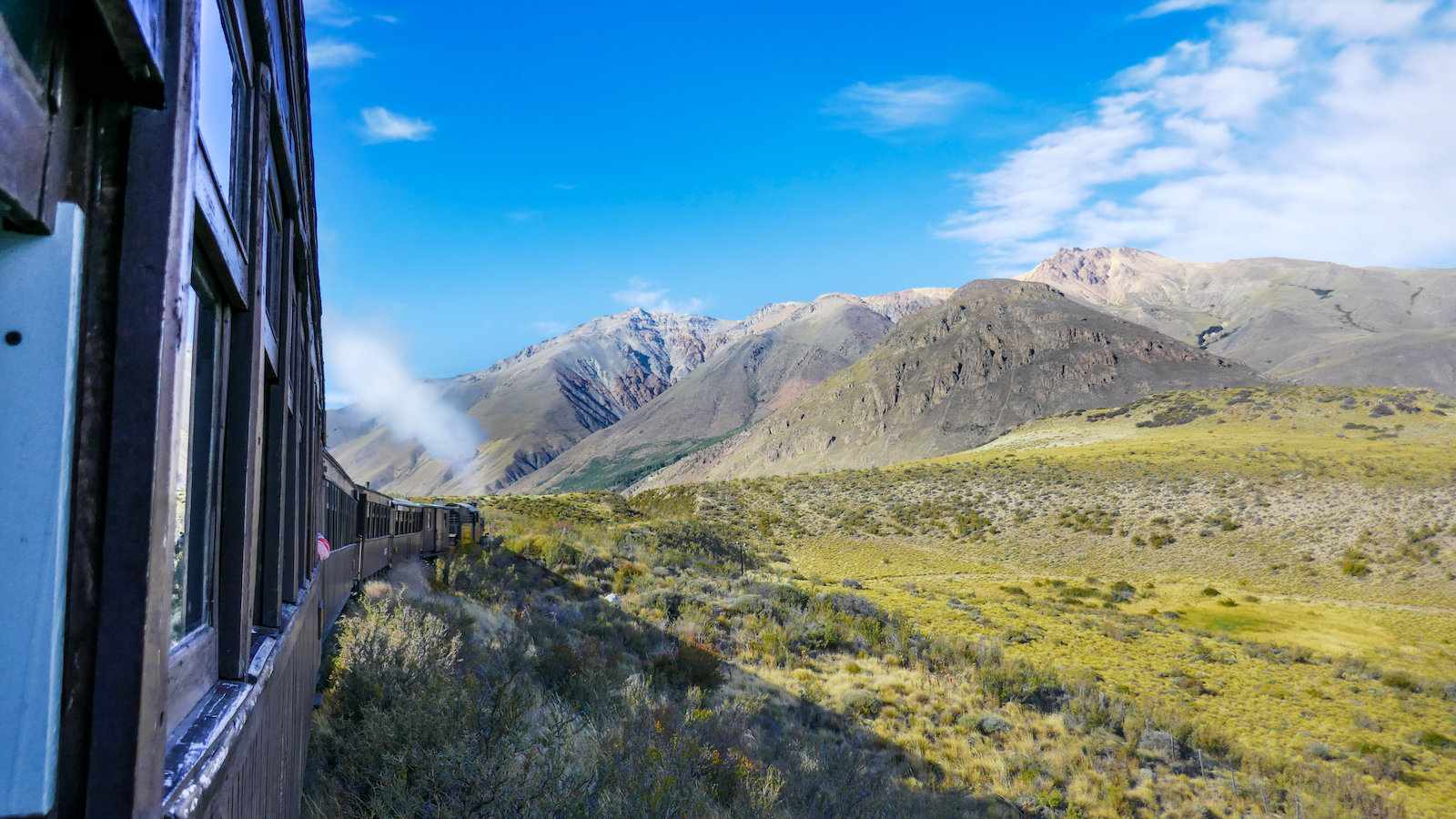 12. Visit the marble caves of General Carrera Lake, Chile
The Capillas de Mármol (marble caves) are a series of sculpted caves in the General Carrera Lake on the Chilean side of Patagonia. They date back centuries – over 6,000 years to be exact, formed by waves crashing up against the calcium carbonate formations.
What impressed us most is the iconic blue shadow on the caves, which is in fact the reflection of the lake's indigo waters of General Carrera Lake. But 'why's the lake so blue?' we kept asking during our tour here… The lake is fed by the river coming off the nearby glaciers. These glaciers contain small particles. When the ice from these glaciers melts, the small particles remain suspended in the water and refract the blue part of sunlight. Hence the distinct blue color of this lake!
Other impressive formations to check out along the General Carrera Lake include the Marble Chapel and Marble Cathedral – both are intricate caverns, columns, and tunnels that have formed over thousands of years.
13. Spot the Orcas in Puerto Madryn, Argentina
Puerto Madryn is one of the most famous places to go to in Latin America for whale watching. Between June and December, these 40-ton mammals come here to give birth and look after their newly born calves for a few months before migrating to the colder waters of Antarctica for the rest of the year.
The waters around Peninsula Valdes near Puerto Madryn are also prime spots for orcas, particularly in January to April and then in October to December when they come to feed on their favourite prey: elephant seal pups.
Check out our article about maximising your chances of spotting Orca whales in Peninsula Valdes and in addition, our gay guide to Puerto Madryn for the best places to stay, go out and other things to do in and around the city.
To learn more about these extraordinary and highly intelligent mammals, check out the touching and quite harrowing documentary Black Fish:
14. Have Welsh tea in Chubut, Argentina
The Chubut province of Argentina is home to one of the largest Welsh communities with 20% of its inhabitants having Welsh genetics. This dates back to 1865 when the first Welsh settlers moved here in large waves of emigration, looking for religious freedom.
In Chubut, you'll find Welsh settlements in places like Trevelin, Trelew, and Gaiman, where Welsh is still spoken, road signs are written in Welsh and the Eisteddfod festival is held every October. Welsh tea is also very popular here, with an elaborate spread of sandwiches, jams, and different cakes, including the fruity Welsh cake.
And look, as cliche as this may sound, we had to check out the Ty Te Caerdydd in Gaiman, which Princess Diana famously visited back in 1995. After all, she is a massive queer icon, so if Princess Di had tea here, then so would we!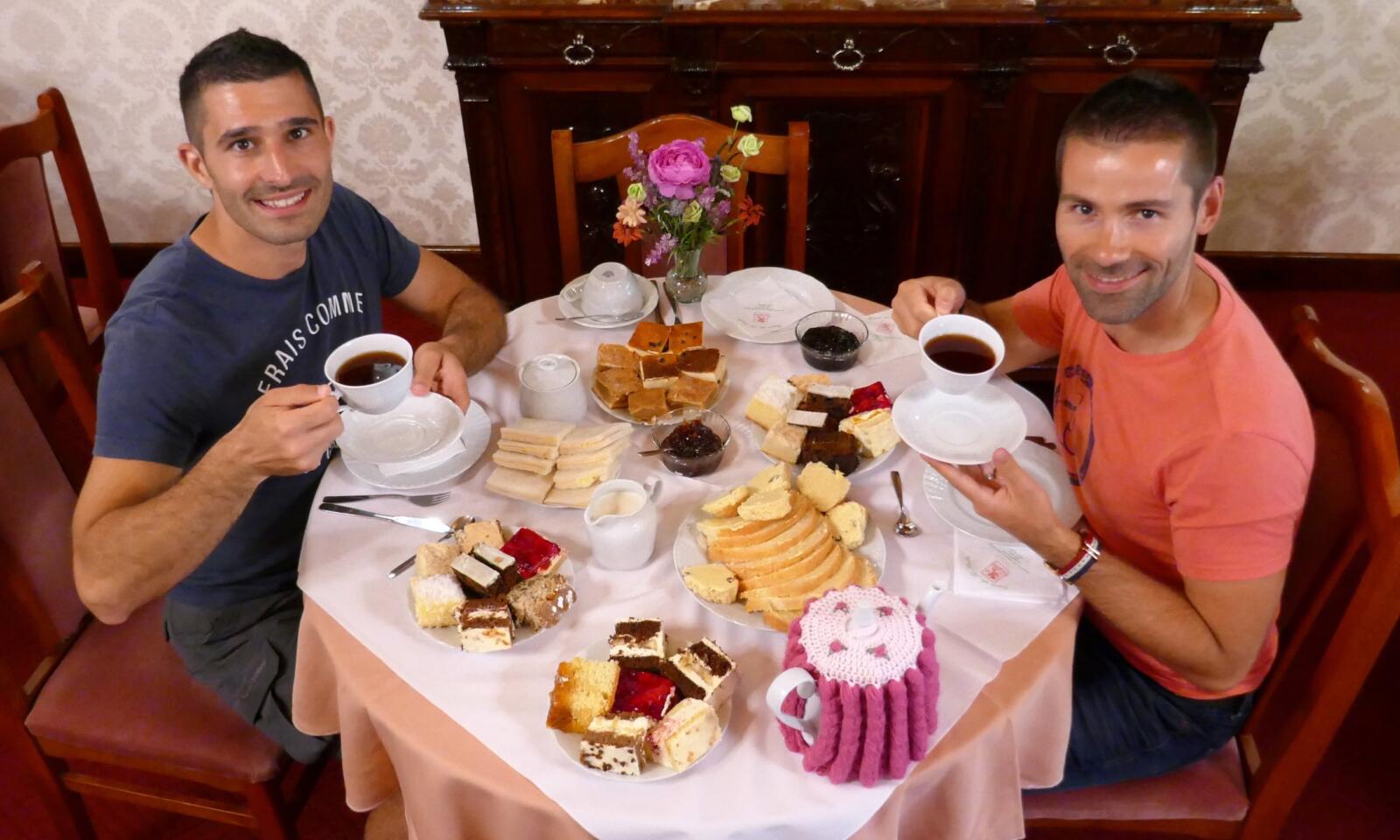 15. Try Pantagonian delicious cuisine
We've talked at length about trekking, wildlife, and Instagrammable landscapes, but Patagonia has its own unique cuisine worth discovering. Here are some of our favorite culinary highlights from Patagonia:
lamb: in Patagonia, lamb dishes are very popular. We recommend visiting the 25 de Mayo Estancia in El Calafate for a traditional meal where you can also participate in sheep shearing.
seafood: the Patagonian coast has delicious seafood, particularly the large juicy langostinos (shrimp), calamar (squid), and prawns in Puerto Madryn. Some of the best seafood restaurants in the city include Nautico Bistro de Mar and En Mis Fuegos.
Calafate Pisco Sours: Calafate is a bush that grows in Patagonia and produces a blueberry-like fruit. In Chile, this is the star ingredient for the Calafate Pisco Sour cocktail. Be careful though, it's strong and very easy to drink!
Italian comfort foods: Argentina had a strong influx of emigration from Italy over the last century. As such, you will sample some great Italian food here. Our favorite Italian gourmet experience was at Don Chiquino in Esquel.
---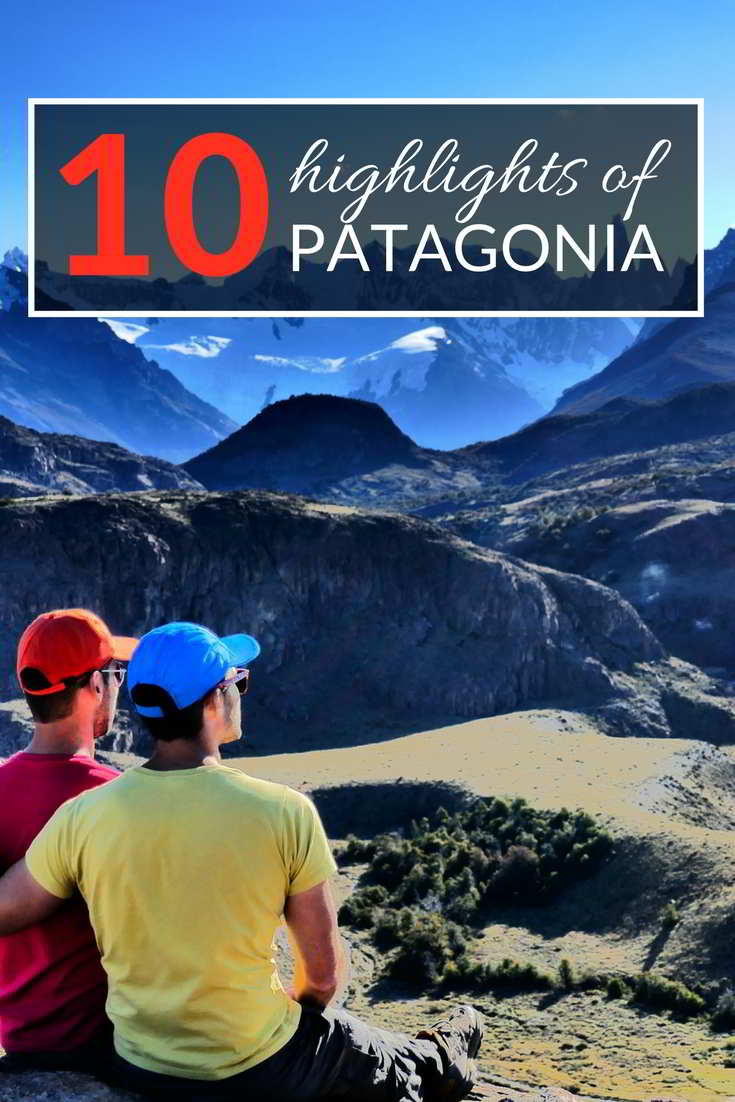 Happy travels are safe travels
We recommend you always take out a reputable travel insurance before your next vacation. What happens if you suffer from illness, injury, theft, or a cancellation? Many travelers forget about it and regret it when something happens. Better to pay a small price and have the peace of mind and not worry.