"Lift your head up higher Stefan, your upward-facing dog is sloppy again!"
Shakira the Sea Lion pulled no punches with her yoga pupils. She's one of the 50,000 Galapagos sea lions endemic to these volcanic islands and also part of the welcoming committee when you first set foot on her home land.
The sea lions were our favourite memory from our luxury cruise in the Galapagos. Their curious and playful nature will completely charm you. They love to pose, are totally unafraid, noisy and highly entertaining.
But it's not only just about the sea lions. There are many other highlights to visiting the Galapagos: giant tortoises, marine turtles, rays, sharks and so many different bird sightings to name a few. Of course doing this on a luxury cruise aboard one of the world's most exclusive yacht charters is the icing on the cake!
The Passion is the largest charter yacht in this archipelago, offering a 5 star Galapagos luxury cruise. It is 48 metres (159 feet) long, with four decks, including a panoramic sky lounge, a second lounge area with screen for presentations, separate dining room, discreetly secluded spacious sun decks, Jacuzzi, bar and a whole lot more…all for just 12 people! This is exclusivity at it's best, with a 1:1 ratio of crew to passengers.
You cannot beat the Passion for its charm, elegance and relaxed vibe. This is a barefoot luxury experience and we were extremely proud to host our first Nomadic Boys gay luxury cruise to the Galapagos Islands aboard this mighty vessel.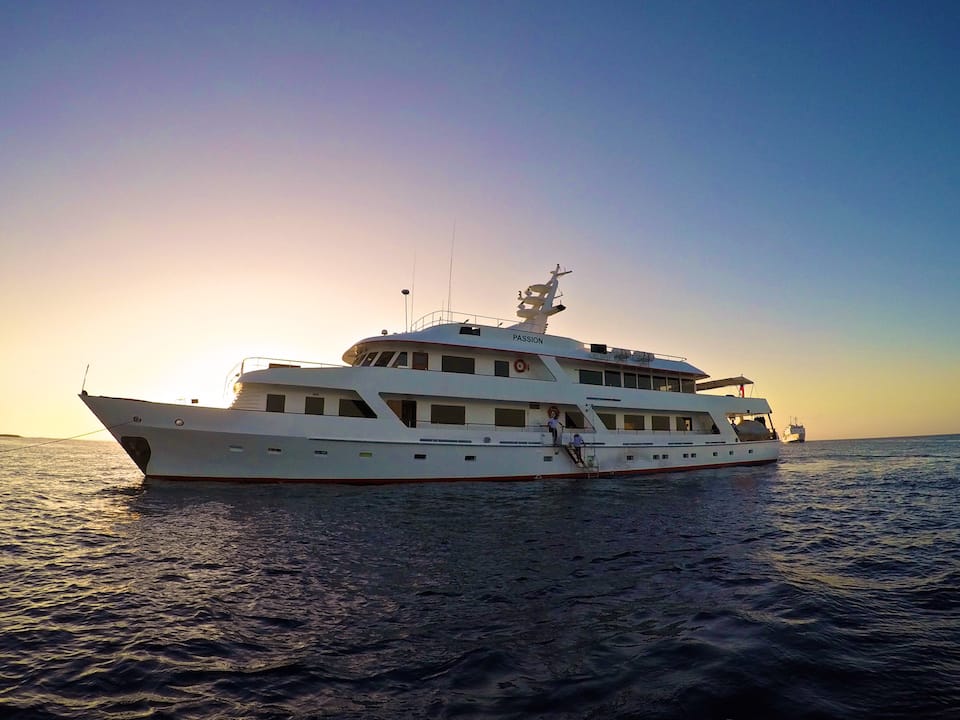 THE CABINS ON THE PASSION YACHT
There are 6 plush cabins available on the Passion, enough for just 12 people. All cabins are fully air-conditioned with amenities like hair dryers, 110 / 220 volt outlets and USB chargers.
#1

The Staterooms

The 4 spacious staterooms each have their own private bathrooms including bathtub with shower. You get very comfortable in your cabin, making it extremely difficult to leave at the end of the cruise. They're tastefully decorated with a teak wooden finish and portraits featuring various Galapagos wildlife.

And those beds…oh my: getting up after a siesta for the afternoon island excursion is extremely difficult!
#2

The VIP Suites

Now THIS is the way to cruise in the Galapagos in style. The two luxury cabins aboard the Passion are much larger than the staterooms and each has its own private lounge area, along with no fewer than two private bathrooms.
VIP Suite: located at the stern of the ship on the same deck as the staterooms.
Master Suite: located at the bow of the ship on the same deck as the dining room and lounge. It has the best views of all the cabins.
For more information, take a virtual tour of the Passion yacht or read more about it here. Remember to quote the code NOMADIC5 when booking to claim an exclusive 5% discount.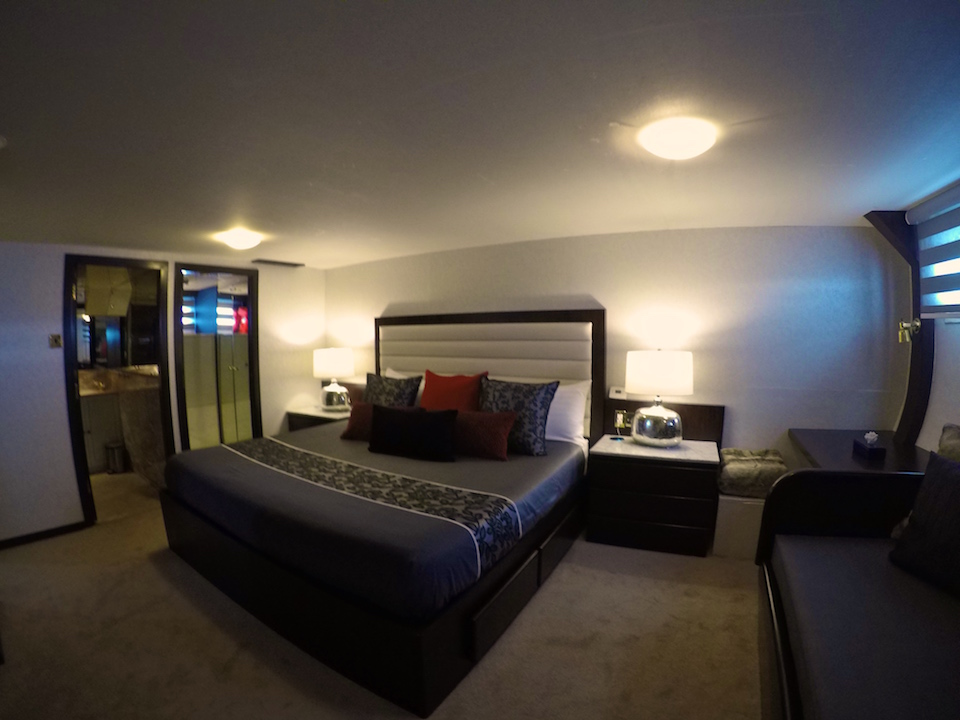 SERVICE ON BOARD THE PASSION
With a passenger crew ratio of 1:1, we were treated with a first class and personalised service.
Pampering started from the moment we stepped on board. After every excursion, we were warmly welcomed with a fresh hand towel, refreshing drinks and snacks. Within the first day most of the crew remembered our names, how we like our eggs cooked, how many sugars in our coffee and our favourite evening cocktail choice.
The bar is stocked up with every alcoholic beverage you can imagine. Fancy a Margarita? Pisco Sour? Old Fashioned? Carlos the barman's got you covered and will also blow you away with his own unique cocktail recipes.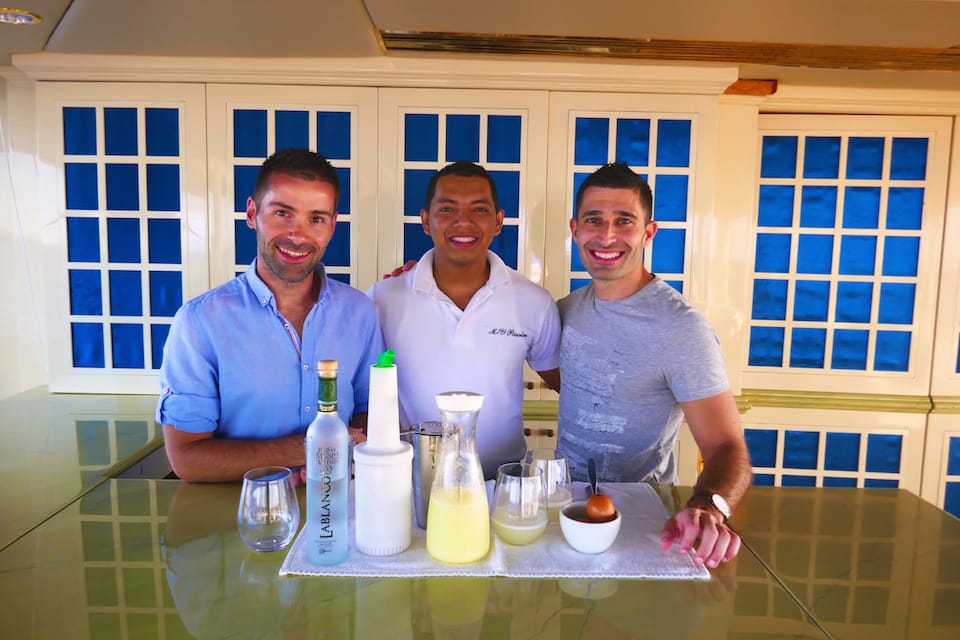 Each time we entered and left our rooms, even for a second, the staff would promptly go in and make it spotless. This would even include ironing our bed sheets to a crisp perfect finish! This is an example of the high standard of service you can expect on board the Passion.
Having a smaller group compared to other charters also meant that our excursions and activities were more involved, allowing closer interaction with our guide and the wildlife. Everyone had an amazing time!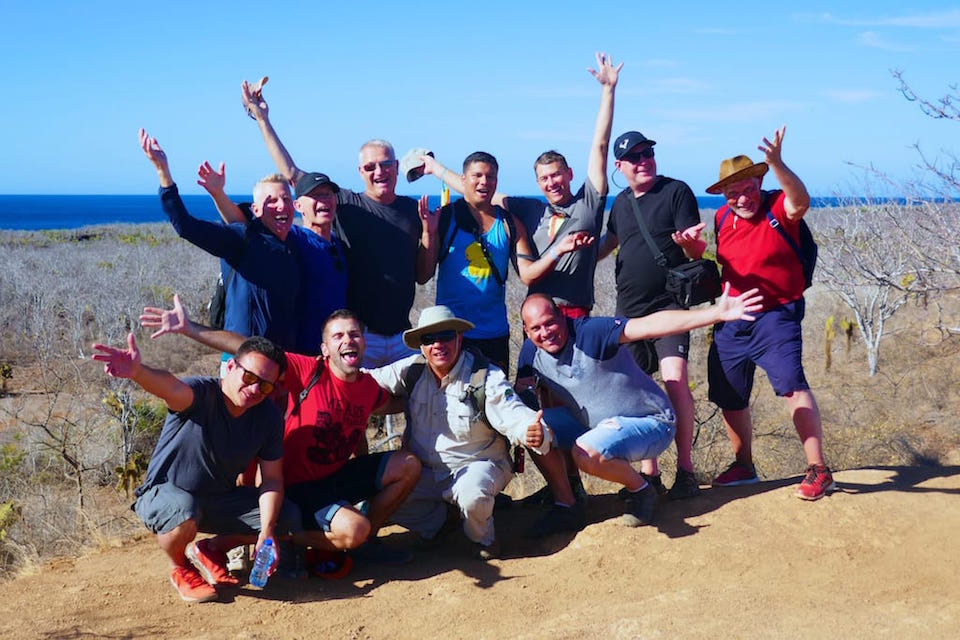 DINING ON THE PASSION
Without doubt the gourmet food was worth the cruise in itself. Every meal was thoughtfully prepared and expertly served.
The chef catered his menu to the tastes and needs of the group, serving a mix of international and Ecuadorian food. Some favourites included sushi, lobster, delicious cheese platters and some killer desserts like tres leches.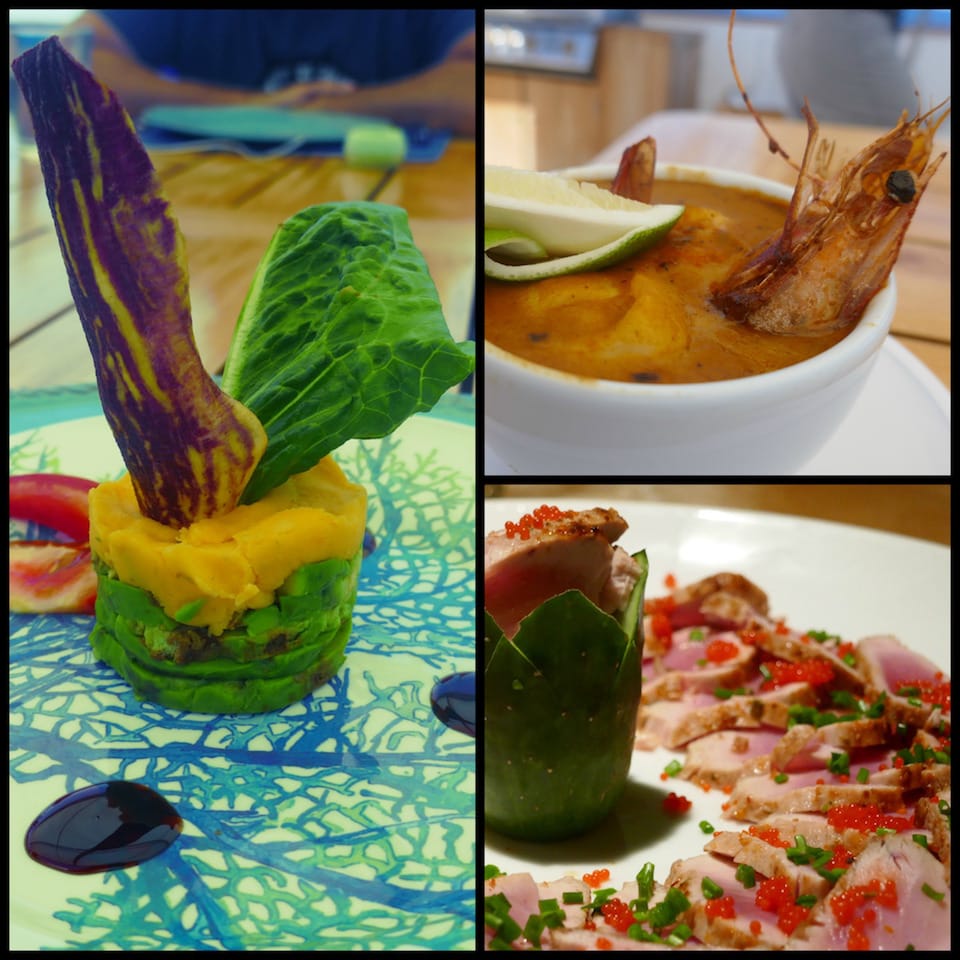 If that wasn't enough, the dining environment made each meal a memorable experience. Whether we dined formally in the elegant dining room, or al fresco underneath the moonlight on deck, the experience was wonderful.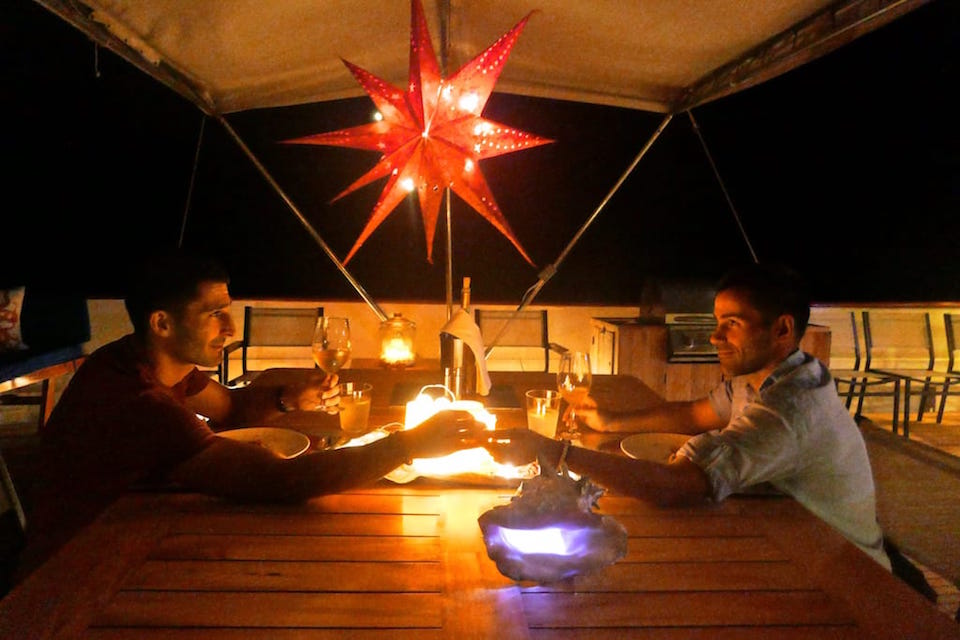 ACTIVITIES DURING THE CRUISE
Our 8 days luxury Galapagos cruise was packed with activities and excursions, visiting dramatic landscapes and interacting with the wildlife. Every evening, we would sit down with our guide in the main lounge to review the next day's activities and prepare us for the excitement ahead.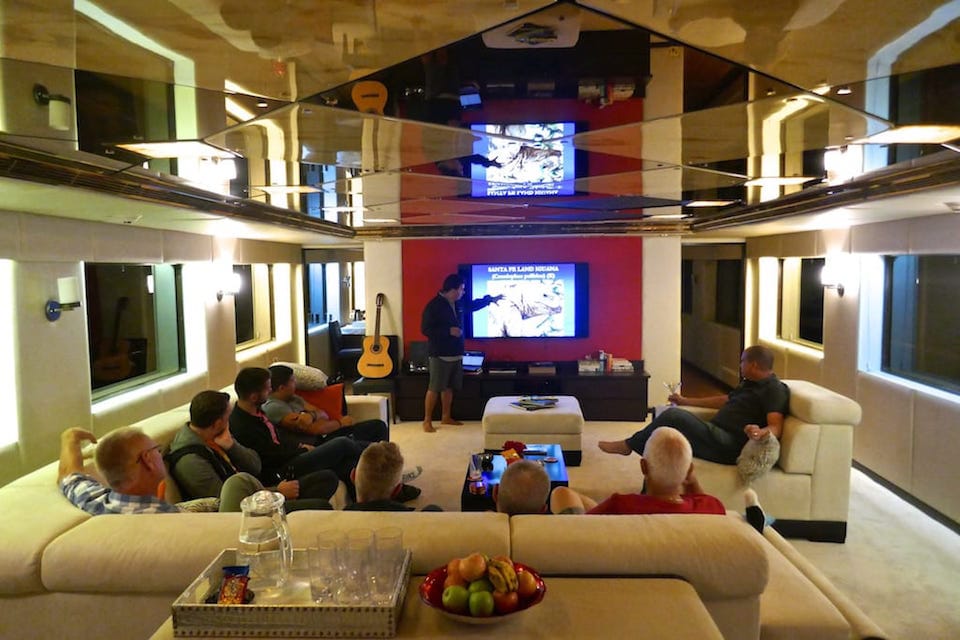 #1

Island Excursions

We had at least 2 island excursions every day, one in the morning after breakfast, the second in the afternoon after lunch.

This is where you really appreciate the advantage of seeing the Galapagos Islands on a cruise instead of island hopping from a base in Puerto Ayora. Every evening, the yacht docks at the site we would be visiting the next day, making it very convenient and maximising your time in the islands.

Each Galapagos island has its own unique landscape or is famous for a particular species of animals. For example, Genovesa is commonly referred to as bird island because of its steep cliffs, which provide a home to many sea birds. Or Rábida is nicknamed the red island because of the high amount of iron in the lava, which gives it its distinct colour.
Santiago was our Galapagos guide during the cruise. He is extremely passionate about the islands, the different landscapes, wildlife and history of the archipelago.
Santiago is also a dive master, which was ideal during our snorkelling trips as he was able to spot underwater wildlife just as effectively as he could above land.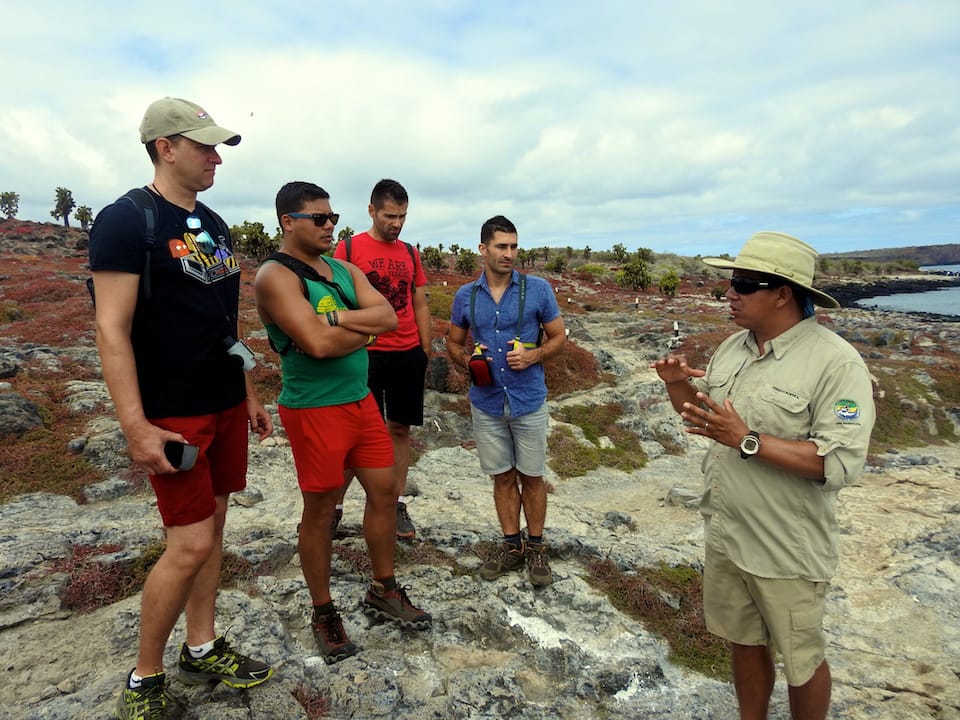 #2

Snorkelling in the Galapagos Islands

It's not just above ground we got close with the wildlife. There were many opportunities for snorkelling and discovering the rich underwater world surrounding the Galapagos Islands where manta rays, tropical fish, playful sea lions and even a few sharks awaited us.
We had the opportunity to swim and snorkel in the Galapagos waters almost every day, especially around the islands of Genovesa, Bartolomé, Rábida, Santa Fé and Española.
Our stand out highlights from our Galapagos luxury cruise was snorkelling with the playful sea lion pups off the coast of Española Island.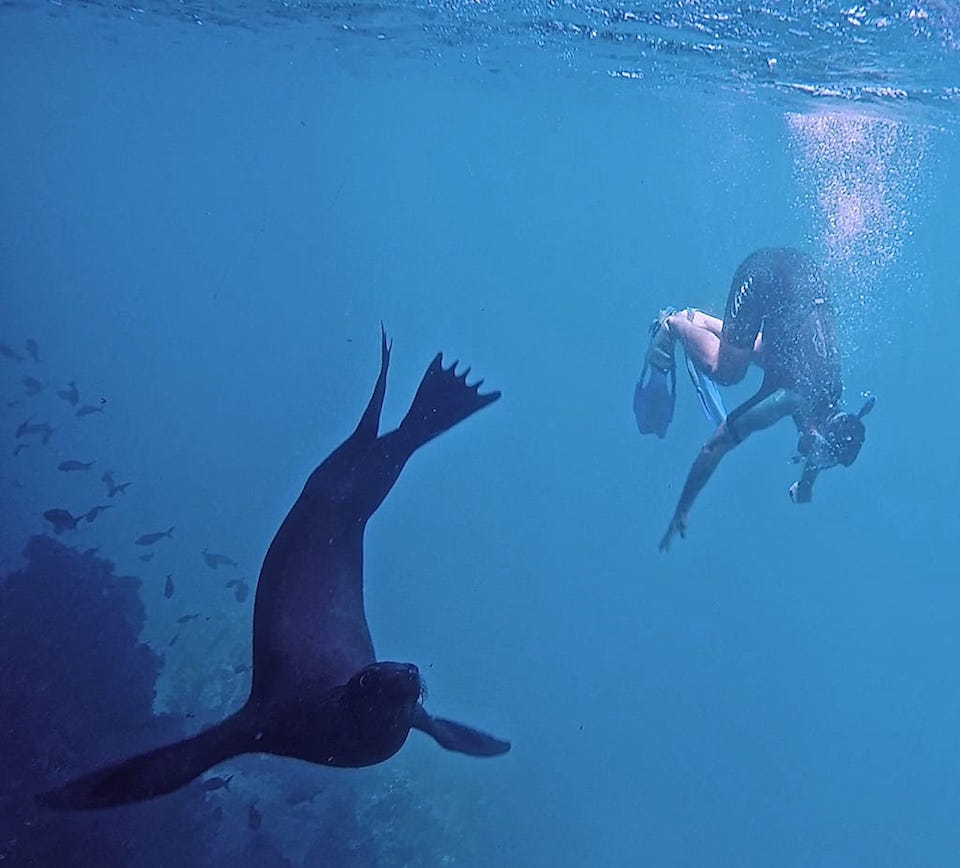 #3

Other things to do on the Passion
There are many things to do aboard the Passion. For example, there's an excellent library in the main lounge with many books and DVDs about the Galapagos. In addition, the Sky Lounge is the perfect place to enjoy a few cocktails whilst watching the sunset.
Our favourite activity was relaxing in the Jacuzzi on the sun deck with a glass bottle of champagne to hand.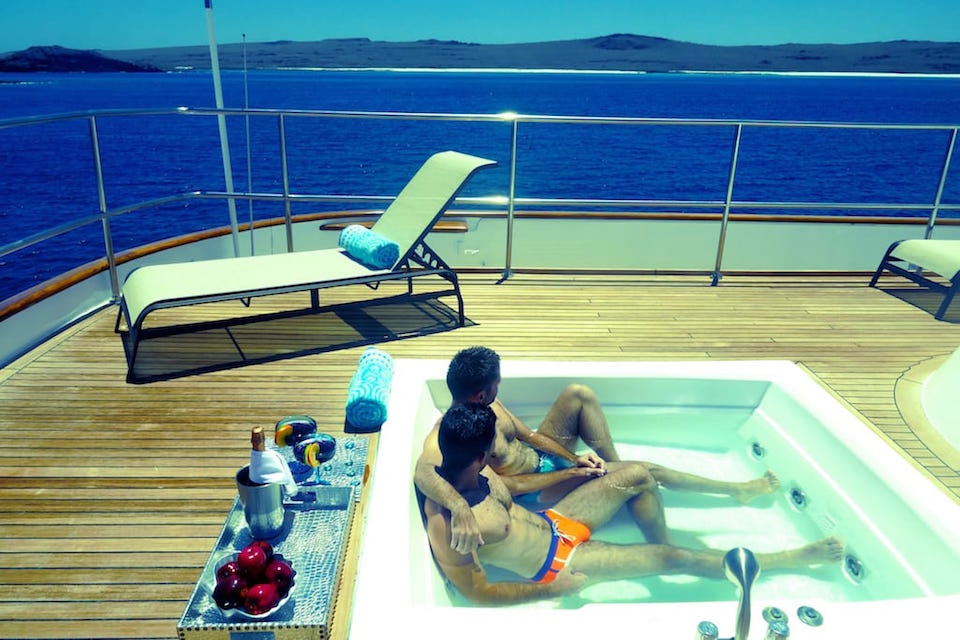 ITINERARIES IN THE GALAPAGOS
The Galapagos itineraries are tightly controlled by the Ecuadorian government and the Galapagos National Park because of their sensitive environment. The Passion Yacht offers two itineraries, spread over 8 days / 7 nights: the Western Islands itinerary or the Eastern Islands itinerary. You can also combine both over a longer 15 days / 14 nights itinerary.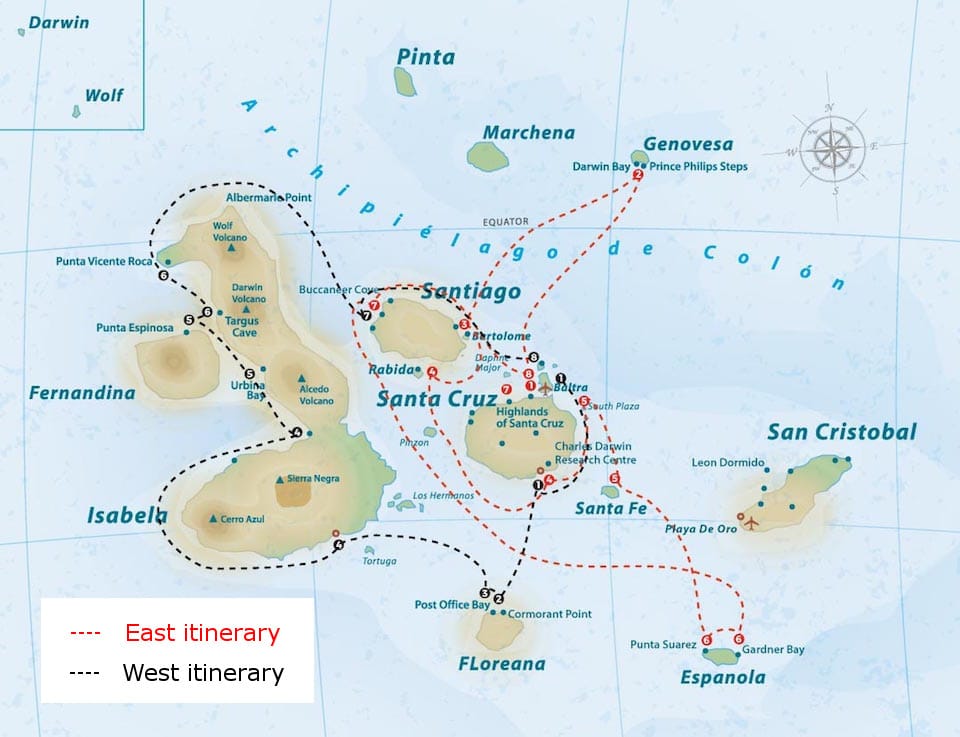 The main difference between the two itineraries is that the Western islands are younger and larger, offering more dramatic landscapes. The Eastern Islands are older, and as a result, they have had more time to develop vegetation. This also makes them greener, therefore attracting more wildlife.
You can read more about the East Islands Galapagos itinerary we experienced on board the Passion luxury yacht.
Watch our Galapagos video
For more inspiration, watch our Galapagos video right here:
OUR FAVOURITE TRAVEL TIPS
⭐️ TRAVEL INSURANCE — We recommend you always take out travel insurance before your next vacation. What happens if you suffer from illness, injury, theft or a cancellation? With travel insurance, you can have peace of mind and not worry. We love World Nomads travel insurance and have been using it for years. Their comprehensive coverage is second to none and their online claims process is very user friendly.
⭐️ SAFETY & SECURITY — All travelers can sometimes encounter danger when traveling. CloseCircle is your "virtual body guard" mobile app which provides security alerts and support wherever you are in the world. They have a 24/7 emergency response team monitoring their users who will contact you immediately if the SOS swipe button is activated. Support can include anything from practical advice, to free evacuation from areas with extreme weather or security risks. You can read more about CloseCircle in our article about how to stay safe whilst traveling.
⭐️ ONLINE ANONYMITY — A VPN (Virtual Private Network) is a must in many countries: it allows you to surf anonymously and maintain your privacy whilst traveling. You'll particularly need it in countries where dating apps are blocked by the government. We recommend ExpressVPN, a reliable and cost effective service which we used and loved during our travels.
⭐️ HOTELS or APARTMENTS — When we plan a trip, we always look for the best hotel deals. We love Booking.com because not only do they have a comprehensive listing of accommodation options, they also offer the best prices. Added bonus: they provide 24/7 support and free cancellation for most listings.
⭐️ SIGHTSEEING and ADVENTURES — When we travel somewhere, we like to seek out the best experiences, whether it is cooking with locals in Bangkok, hiking on a glacier in Patagonia, or going on a wildlife safari in Sri Lanka. Our favorite place to look is GetYourGuide because they have over 30,000 highly rated activities, a user-friendly booking process with free cancellation and a 24 hour customer support.
This article contains affiliate links. If you click on them, we may receive compensation which keeps our website alive and helps us bring you to more destinations.
Pin to read later