Moscow was our second stop over in Russia after our time in St Petersburg. It was also the starting point for our Trans Siberian railway adventure.
We arrived in Moscow on Thursday 12 June: National Russia Day and stayed with our friends Toly and Alex. You'll quickly find out that every other guy in Russia is called Toly or Alex.
For first timers like us, we recommend The Crowded Planet's excellent guide about things to do in Moscow.
Moscow is huge. With 12 million people living here, it's Europe's largest city after Istanbul (14 million). A ride in the Metro during rush hour is one way to get a feel of how crowded it can get…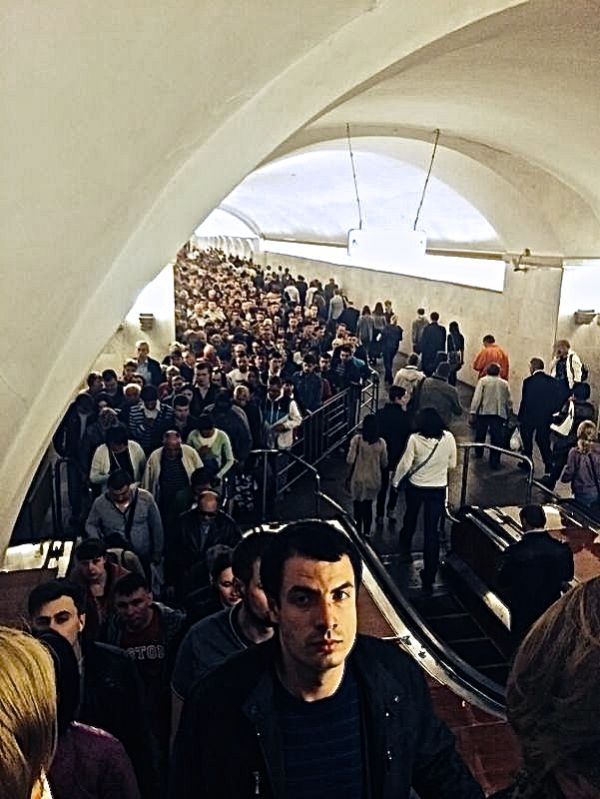 Bags dropped off, and Alex and Toly drove us to the suburbia town of Strogino where they'd organised a massive BBQ picnic with all their gay friends.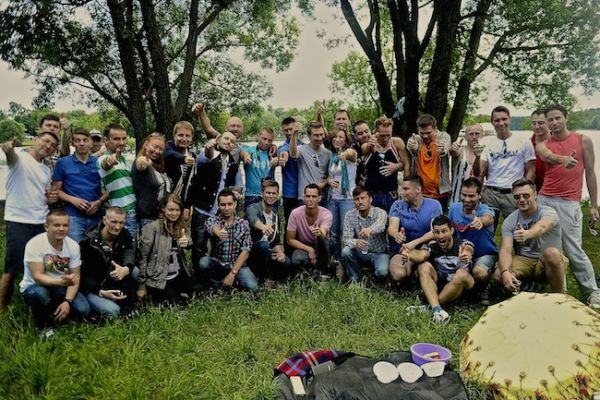 Gay Moscow / Russia?
We arrived in Russia at the height of the whole anti gay backlash or "Western media hysteria" as our local friends kept pointing out.
"The West hates us so don't believe everything you read"…we were commonly told by them.
Sadly despite their warnings, we didn't join our friends when they all went out to the gay bars and clubs. This was one of our first stop in our big trip and we feared a police raid of some sort.
Being gay is not illegal in Russia, since 1993 in fact. But over the last 5/6 years, the government has done everything possible to make it hard for the LGBT population here, such as banning pride parades, passing anti gay laws (similar to Section 28 in UK back in the Thatcher era in the 1980s) and more.
In reality, as long as you're conservative with your behaviour, there's nothing to fear. Russians are in any case very unexpressive people at first and rarely display any form of public emotion – until the vodka kicks off of course.
After travelling as a gay couple in Asia for 2 years, in countries which outrightly ban homosexuality (like India, Sri Lanka, the Maldives, Myanmar, Malaysia etc), with hindsight we look back at our Russia memories with slight regret at our tentative behaviour and definitely want to return to experience the pink side to Moscow.
Moscow's Metro
Moscow's metro is impressive: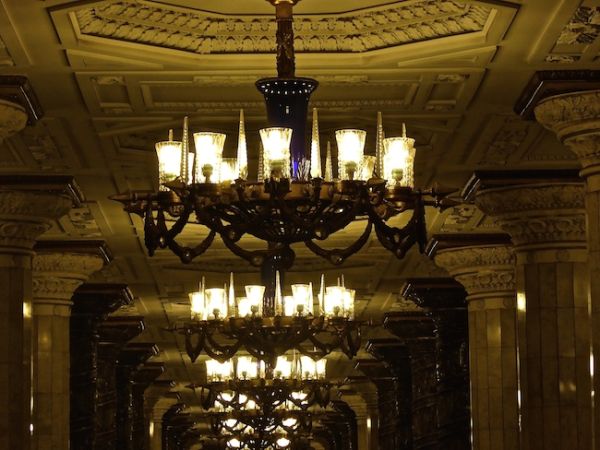 Each station looks like you've just stepped into a large underground museum, classically decorated with beautiful columns everywhere: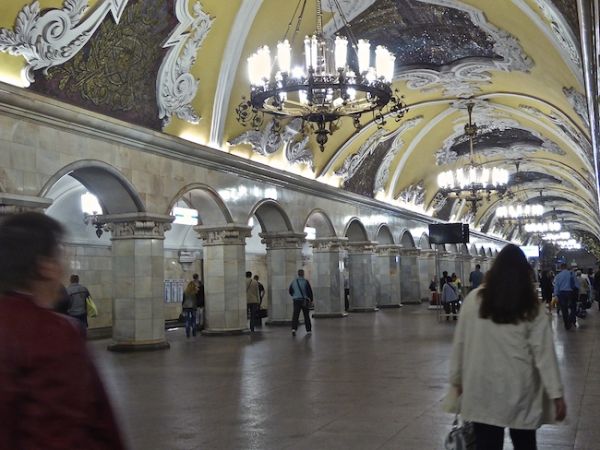 Almost every station is deep. Think Angel Islington escalators in London deep, but almost double. At the bottom of each escalator is a little old lady in a hut guarding things making sure everything is safe and sound.
A ride on Moscow's metro is a tourist attraction in itself.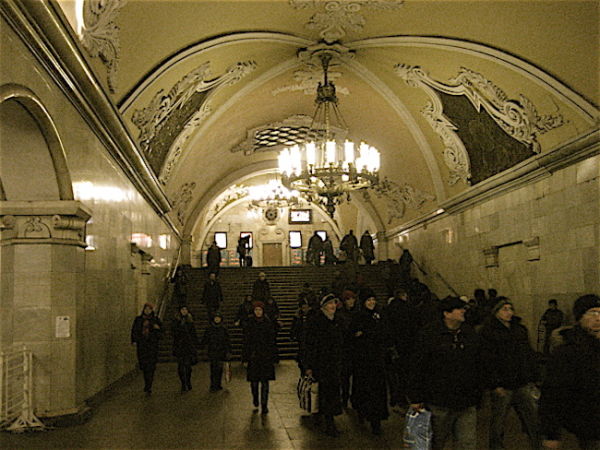 The Kremlin
The Kremlin is the official residence of the Russian government. The flag is always flying, apparently to show to the Russian people that the President is always in residence and working away. Truth is that the official Government institutions and administrations take place in the Kremlin and the President lives elsewhere in a location no Russian is allowed to know!
Around the Kremlin is a park with an eternal flame burning outside the Tomb of the Unknown Solider. This was built to honour the Soviet soldiers killed during World War II and is guarded by two soldiers: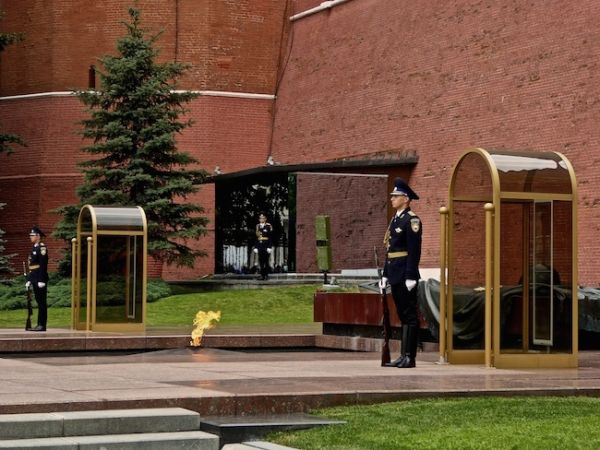 The two soldiers guarding the Tomb of the Unknown Soldier are specifically chosen to be identical, to have the same youthful looks and blond/blue eyed image.
Every hour, the soldiers change, to the admiration of the tourists: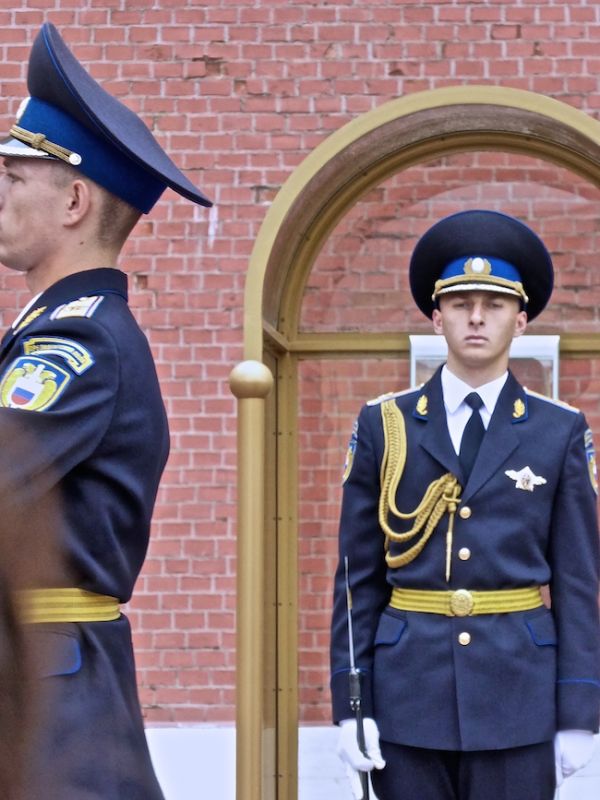 And naturally, we had to be all 21st century, and get a selfie: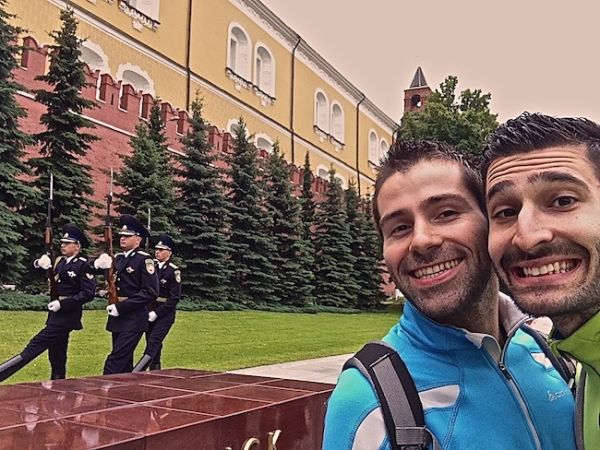 We visited the Kremlin thinking that we would learn about the Russian political institutions and the history. Unfortunately, a visit inside is just to a few churches with nothing about the political history or the workings of the Russian government.
Interestingly, all of Russia's princes and Tsars were buried at the Kremlin's Cathedral of the Archangel Michael until 1712 when the burial place was moved to St Petersburg's Peter and Paul Cathedral after St Petersburg was made the new official capital.
They did have a great big cannon inside the Kremlin which made for this interesting snap: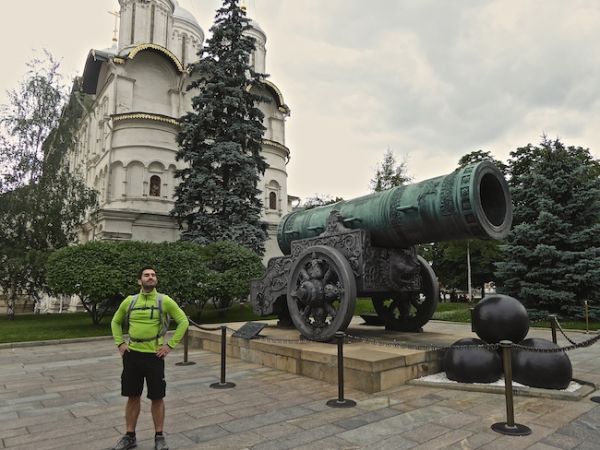 The Red Square
The Red Square is located next to the Kremlin and it is impressive.
Red in Russian means beautiful and was initially used to describe St Basil's Cathedral (see below) but later used generically for the whole square.
25 years ago, you would have struggled to even set foot here as a tourist. Now things have since changed a great deal.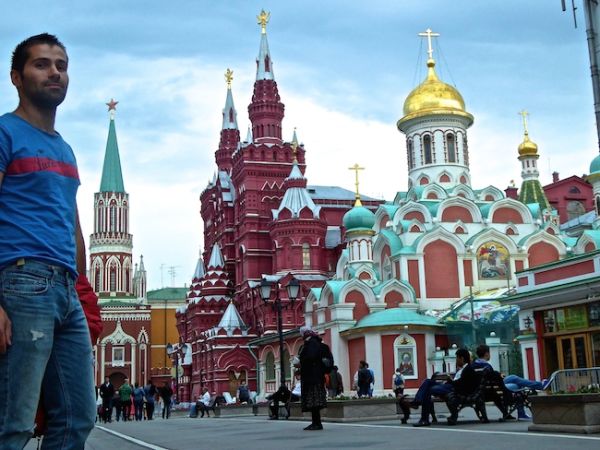 The Red Square boarders the Kremlin walls outside of which are the burial spots of Russia's great leaders from Lenin onwards. Lenin's body however is the only one which is not buried and was instead preserved after his death. His body is laid out in a heavily guarded and darkened mausoleum for the public to come and see (in a heavily guarded darkened room).
The queue to see Lenin's body is large. Once inside the tomb, you have to keep walking through to see what looks like something taken from Madame Tussaud's. (You then try hard to control your laughter as you hear lots of tourists tripping up on the final step by the exit in this darkened room and wonder how the guards manage to keep such a straight face all day).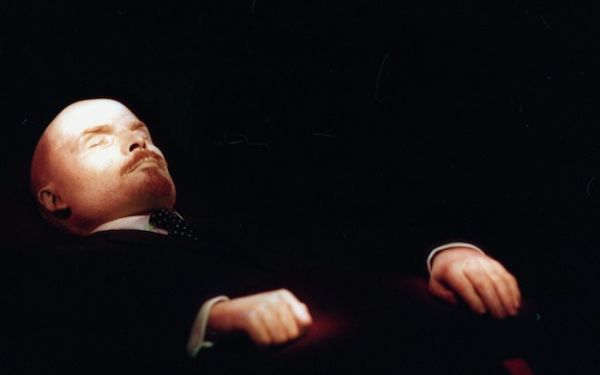 Red Square also houses a large up market shopping centre, which translated is called, GUM. At night it lights up and looks like Christmas: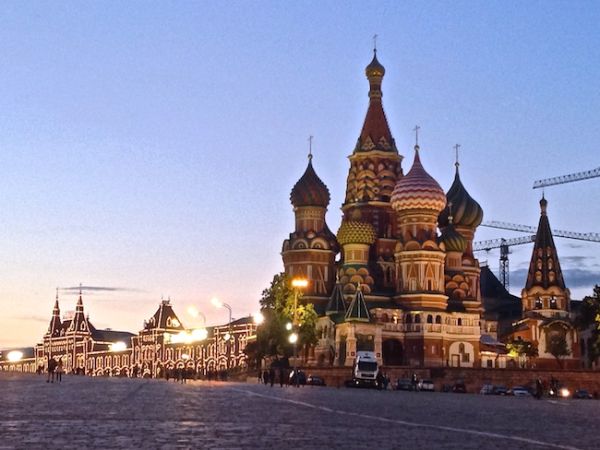 St Basil's Cathedral
St Basil's Cathedral was our highlight in Moscow. We loved this building. It is probably one of the most impressive we've seen, and boy did we enjoy posing by it: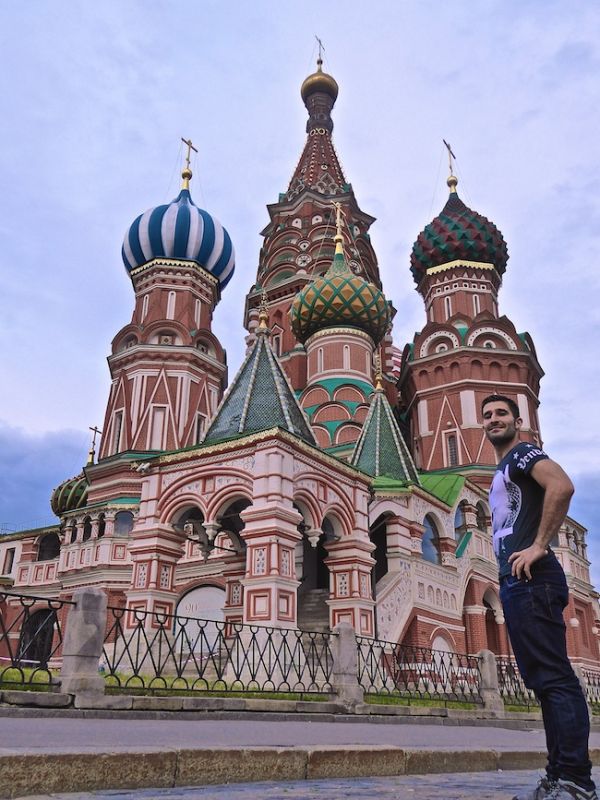 St Basil's Cathedral is located in Moscow's Red Square next to the GUM building. It resembles a Mosque, which is quite unique for a Russian Orthodox building. St Basil's Cathedral was commissioned by Ivan the Terrible in the 1500s to celebrate the capture of the then Arabic city of Kazan. Hence its mosque-esque features.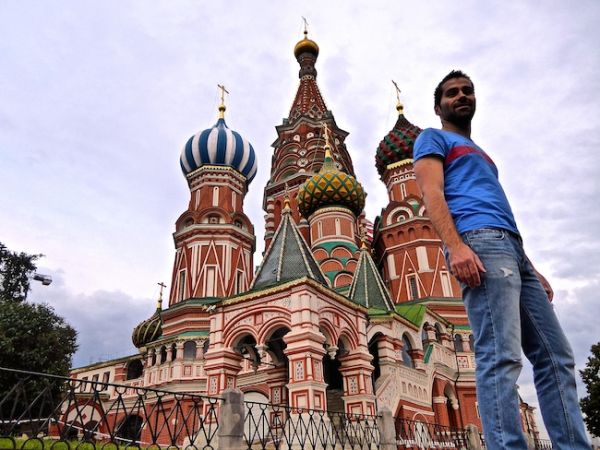 Moscow was our final break away from Europe before starting our Trans Siberian railway adventure across Russia.
OUR FAVOURITE TRAVEL TIPS
⭐️ TRAVEL INSURANCE — We recommend you always take out travel insurance before your next vacation. What happens if you suffer from illness, injury, theft or a cancellation? With travel insurance, you can have peace of mind and not worry. We love World Nomads travel insurance and have been using it for years. Their comprehensive coverage is second to none and their online claims process is very user friendly.
⭐️ SAFETY & SECURITY — All travelers can sometimes encounter danger when traveling. CloseCircle is your "virtual body guard" mobile app which provides security alerts and support wherever you are in the world. They have a 24/7 emergency response team monitoring their users who will contact you immediately if the SOS swipe button is activated. Support can include anything from practical advice, to free evacuation from areas with extreme weather or security risks. You can read more about CloseCircle in our article about how to stay safe whilst traveling.
⭐️ ONLINE ANONYMITY — A VPN (Virtual Private Network) is a must in many countries: it allows you to surf anonymously and maintain your privacy whilst traveling. You'll particularly need it in countries where dating apps are blocked by the government. We recommend ExpressVPN, a reliable and cost effective service which we used and loved during our travels.
⭐️ HOTELS or APARTMENTS — When we plan a trip, we always look for the best hotel deals. We love Booking.com because not only do they have a comprehensive listing of accommodation options, they also offer the best prices. Added bonus: they provide 24/7 support and free cancellation for most listings.
⭐️ SIGHTSEEING and ADVENTURES — When we travel somewhere, we like to seek out the best experiences, whether it is cooking with locals in Bangkok, hiking on a glacier in Patagonia, or going on a wildlife safari in Sri Lanka. Our favorite place to look is GetYourGuide because they have over 30,000 highly rated activities, a user-friendly booking process with free cancellation and a 24 hour customer support.
This article contains affiliate links. If you click on them, we may receive compensation which keeps our website alive and helps us bring you to more destinations.