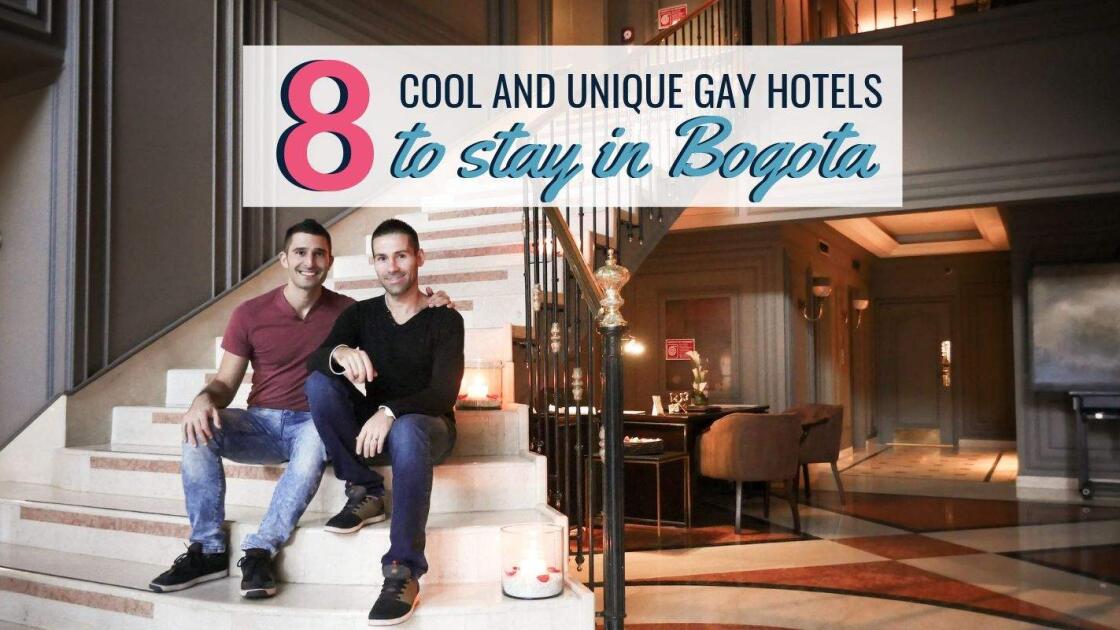 This is our list of the best and most unique gay hotels in Bogota, Colombia, for LGBTQ travelers.
Bogota is home to one of our favourite gay scenes in Latin America. Why? Well in one short word: Theatron!
Theatron is the highlight of the Bogota gay scene, and in our opinion, the best gay night out we've had in all of South America! It is a former converted theatre (hence the name), where around 5,000 gay boys come to party every weekend in this gigantic complex with 13 clubs spread over 5 floors. We'd happily plan a trip to Bogota just for a night out here.
We've been to Bogota numerous times during our big trip around Latin America, mainly for a party weekend at Theatron. So based on all our first-hand experience visiting, we've put together this guide to the 8 most gay-friendly hotels to stay in Bogota.
DON'T MISS OUT!
Join our newsletter
Subscribe now to receive in-depth FREE travel guides, along with inspiring stories, savvy planning tips, and exclusive discounts on gay tours.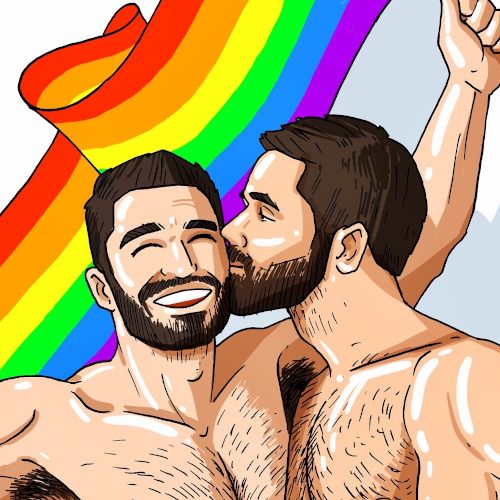 Best area to stay in Bogota
Theatron is, of course, one of many highlights of the gay scene of Bogota. The area around it is called "Chapinero", and it's where the majority of the city's best gay hangouts can be found. This is also one of the city's more classy areas, with the best restaurants and boutique hotels. We always choose Chapinero as our base in Bogota so we can be close to the gay scene. For more, be sure to check out our detailed gay travel guide to Bogota.
We also used the downtown touristic area of "La Candelaria" as a base on a few trips to Bogota. The downside is that it's around 30-45 minutes taxi ride away from Chapinero (longer if the notorious Bogota traffic gets really bad, which is super common). However, Candelaria has a really cool vibe due to the large density of students based here, along with some incredible street art. It's also close to the city's best tourist attractions like the Gold Museum (Museo Del Oro) and the funicular station to climb up to the ubiquitous Mount Monseratte that dominates Bogota's skyline. Candelaria also has some of the best inexpensive hotel options – handy if you're travelling on a budget.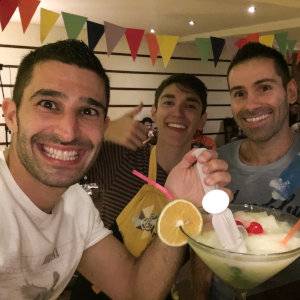 Experience Bogota's gay nightlife on a tour
Our friends at The Queer Scout, an excellent gay local tour company, offer a gay nightlife tour of Bogota. We found this to be a fantastic way to discover the gay scene. You'll be greeted by a gay local guide, who'll take you to the best gay bars and clubs in Bogota for an unforgettable night out! We've partnered up with them to offer our readers an exclusive 5% discount off their gay tour.
01
Sofitel Bogota Victoria Regia
Chapinero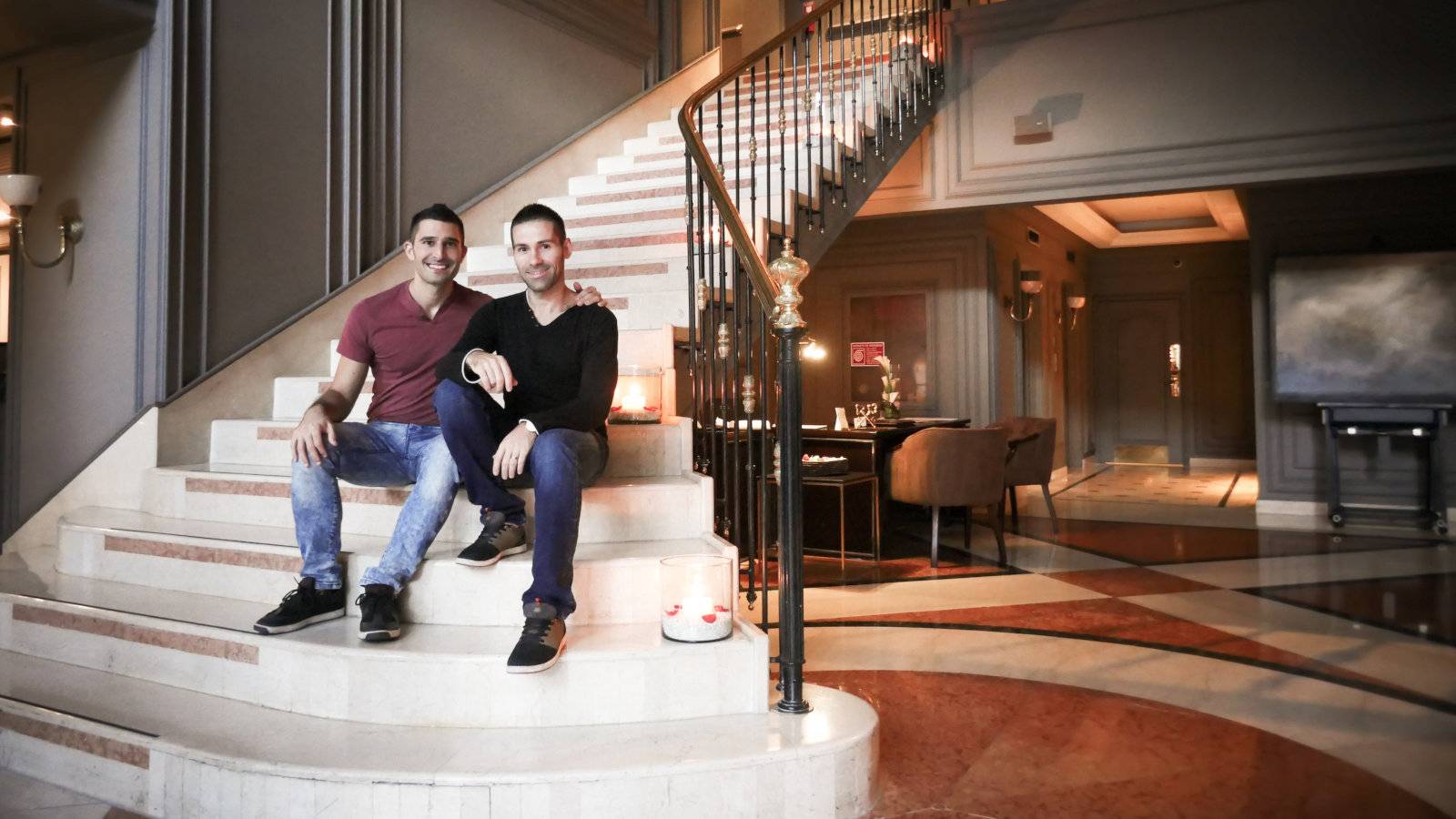 Why we love it
---
Stunning luxury hotel
Incredibly comfortable beds
On-site gourmet restaurant
Great location in Chapinero
The Sofitel Bogota Victoria Regis is Bogota's first luxury hotel and boy is it super luxurious!
We absolutely adored our stay here, from the incredibly comfortable beds to the gay-friendly and helpful staff, to the wonderful in-house restaurant!
It's located in the northern end of Chapinero, by "Parque 93", which is where the best restaurants can be found. It's a short taxi ride or around 20 minutes walking distance to the main gay bars of Bogota.
Did we mention the beds already? The Sofitel in Bogota has the most amaaaazing beds, that make you feel like you're sleeping in a cloud. As well as having a feather comforter and 400 thread count sheets they even have a pillow menu so you can choose your desired softness (or firmness)!
The on-site restaurant "Basilic" serves a delicious mix of Meditteranean, French and Colombian fusion cuisine. You're also walking distance from Andres DC, one of the coolest restaurants in Bogota. The Sofitel also features a bar for romantic cocktails before heading out, as well as a gym to pump up those lats before going topless in Theatron…!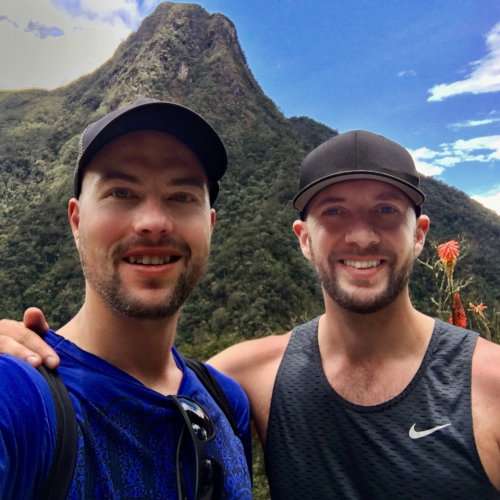 Explore Colombia on a gay tour
Out Adventures' brand new Colombia tour is hotter than Maluma! Beginning in Bogotá, the carefree escape will have you shaking your arepa at the largest LGBTQ club in the Americas, hiking humid jungles in Tayrona National Park and soaking up the country's sand, sun and sea in coastal Cartagena. The optional gay salsa class, food tour and snorkeling excursion make this adventure muy caliente!
02
Hotel Gay San Sebastian
Chapinero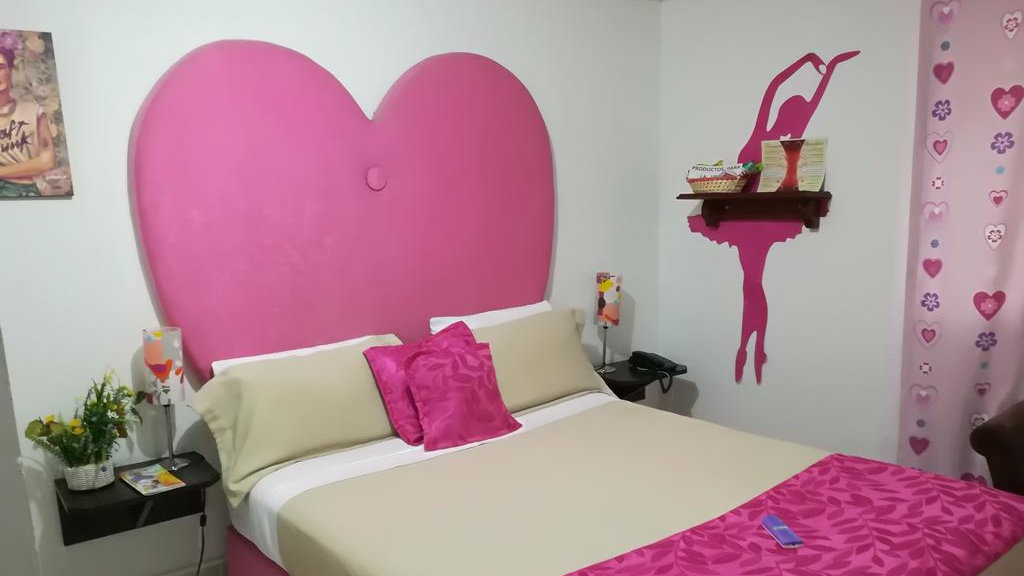 Why we love it
---
Exclusively gay hotel
Located in the heart of gay Chapinero
Bright and colourful
Sauna and terrace for relaxing
Hotel Gay San Sebastian is Bogota's one and only exclusively gay hotel.
This isn't a luxury hotel, but it's perfect if you want a cute, cosy and romantic stay with really friendly staff.
All the rooms are bright and colourful, while one even has a pink ballerina-theme (in the picture). The rest are different hues if you're not so into hot pink!
The hotel is located right in the heart of Chapinero, just three blocks away from Theatron, which makes it super handy if you're coming to Bogota just to party.
The sauna and the sun terrace of San Sebastian are the perfect places for chilling and resting that Theatron hangover. And if you just can't be bothered to move anywhere at all, they offer room service.
Reception is open 24 hours a day and the whole building is very secure. There's also an on-site restaurant and bar. Note that this hotel shows up on Booking.com as 'Hotel Boutique San Sebastian' but it's definitely the same one.
What to do in Bogota?
We found so many fun things to see and do when visiting Bogota. With lots of excellent coffee, food and street art, there's something for everyone!
03
DoubleTree by Hilton Bogota Parque 93
Chapinero
Why we love it
---
Very gay-friendly and close to the Chapinero gay scene
Luxurious accommodation
Heated rooftop pool and excellent gym
On-site bars, cafe and restaurant
Hilton Hotels is one of our favourite gay-friendly hotel brands. They genuinely care about our LGBTQ community and don't just stick a rainbow sticker on their branding during Pride month – they're with us 365 days a year!
When staying at a Hilton hotel, you KNOW you're in good safe hands as a gay traveller, wherever you are in the world. The staff are so friendly and go out of their way to ensure you have a comfortable stay.
This Hilton hotel (there are several in Bogota) is no exception. It's located in the northern end of Chapinero, close to Parque 93. Just like the Sofitel, it's a short taxi ride or around 20 mins walking distance to Theatron. The heated indoor pool with views over the city is a stunning highlight. There's a sleek and modern gym for keeping fit, also with gorgeous views from the windows to keep you motivated.
Rooms at the DoubleTree are spacious and plush. We recommend booking one of the suites to enjoy a private romantic Jacuzzi together. If you don't feel like heading out to eat then you can dine in the Agata restaurant or the Big Bang Coffee and Bar, which is more like a cool pub. The Sky terrace is also a gorgeous spot for your morning coffee or a wine in the evening. There's even a reading room with a fireplace to curl up in front of on those cold nights here in the Andes mountains.
STAY WITH A GAY LOCAL
Misterb&b is the Airbnb equivalent for the LGBTQ community. Unlike on Airbnb, you know your host is gay, voiding any nasty surprises when you check-in. It is also a great way to meet gay locals and discover the underground gay scene. Click below to get 10 € (or $10) off our first booking.
04
W Bogota
Usaquen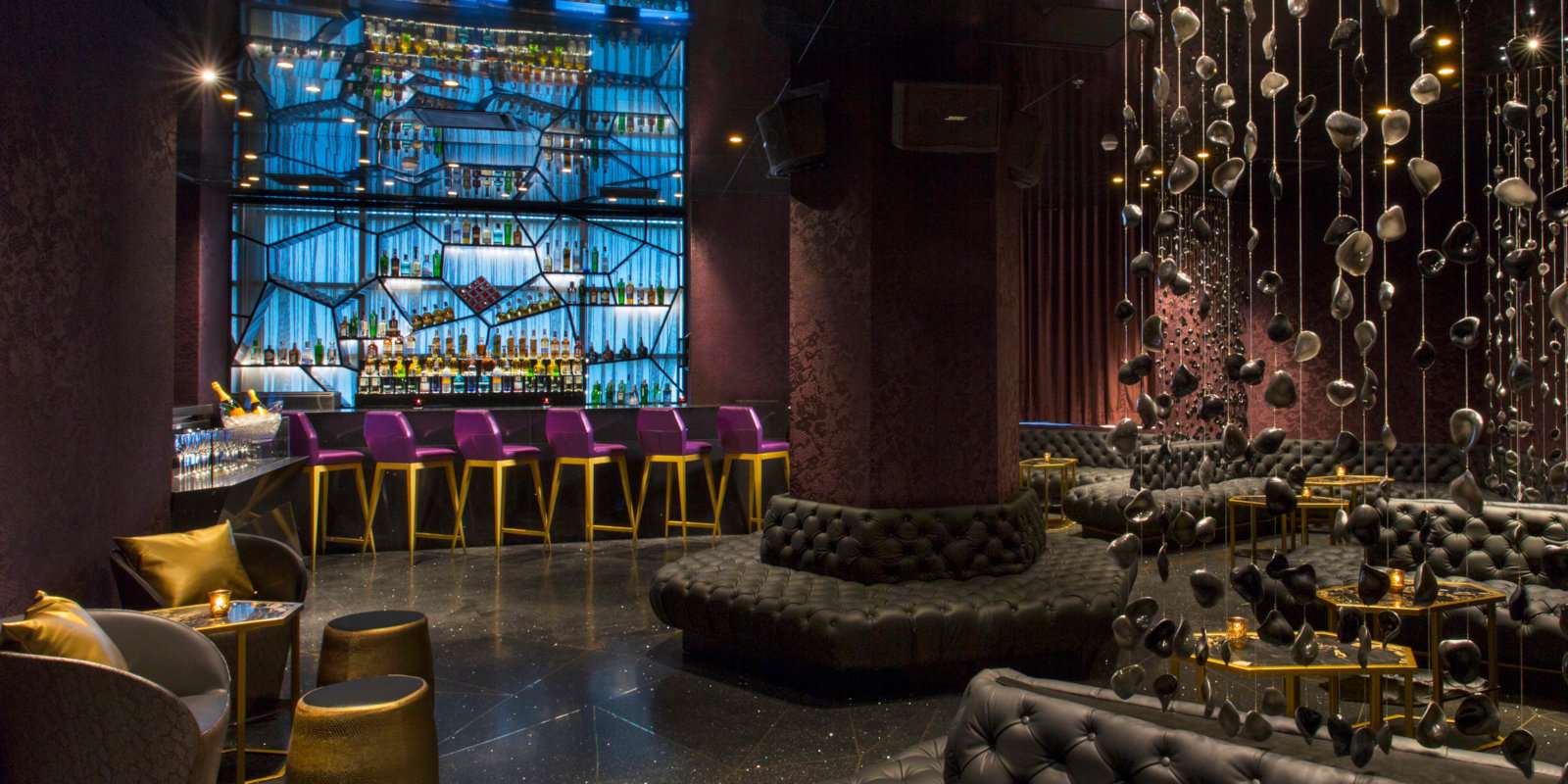 Why we love it
---
Gorgeous luxury hotel
On-site spa, swimming pool and fitness centre
On-site restaurant and 2 bars
Pet-friendly!
The W is another of our favourite gay friendly hotels to stay in Bogota. It is super notorious for not only being gay-friendly but also for being very hip and trendy. The W is also one of the main sponsors of any gay events taking place in the city.
This particular W is located in the Usaquen district, which is around 20-30 mins taxi ride away from Theatron and the Chapinero gay area, but it's oh so worth the trip if you're looking for opulent luxury. Just check out the gorgeous colour theme of the glamorous W lounge bar above.
Not only do they have the beautiful lounge bar but there's also a microbrewery and a restaurant serving American 'farm to table' delights. Don't worry about counting calories though, because the huge fitness centre and swimming pool are pre-clubbing training(!) while the "Away Spa" can provide lots of pampering.
The rooms are super luxurious with lush decor, but also kind of quirky and futuristic looking, with amazing views over the city to the mountains. And even though this is a luxury hotel, it's also pet-friendly, with a wide variety of services to keep both you and your four-legged friend comfortable during your stay.
DON'T MISS OUT!
Join our newsletter
Subscribe now to receive in-depth FREE travel guides, along with inspiring stories, savvy planning tips, and exclusive discounts on gay tours.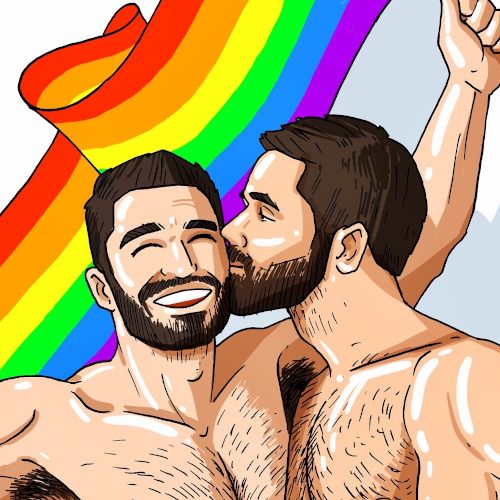 05
Four Seasons Hotel Casa Medina Bogota
Chapinero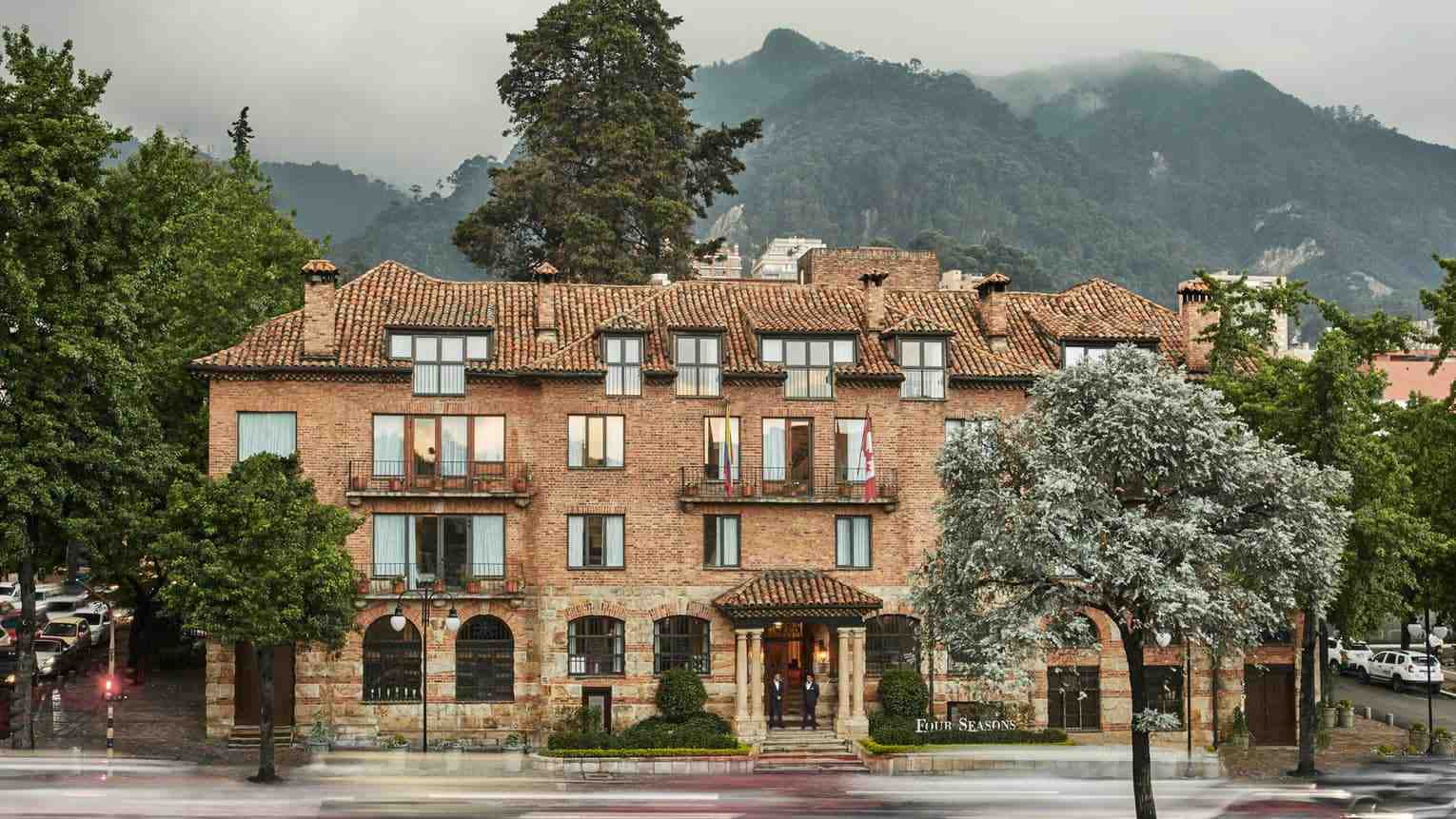 Why we love it
---
Stunning historic building
Truly luxurious hotel
On-site spa with great treatments
Beautiful atrium restaurant with delicious cuisine
Right in the middle of Chapinero, just 15-20 mins walking distance to Theatron is the glorious Four Seasons Hotel Casa Medina.
There are actually 2 separate Four Seasons in Bogota, but the Casa Medina is our top pick. Located in a historic building featuring beautiful beamed ceilings, hand-crafted floors, wooden furnishings and leather armchairs, you really feel like you're part of some old-world aristocracy (or a princess!) while staying here.
The entire building exudes colonial-style grandeur, with courtyards featuring ivy crawling up the brick exteriors and an indoor green wall in the Castanolyes atrium restaurant/bar. Castanolyes serves delicious Mediterranean cuisine and it's also the ideal place to have a cocktail here before heading out for the evening.
All of the rooms have a private bar and marble bathrooms. There are also plush bathrobes and slippers provided for your comfort. The on-site spa is an absolute haven of pampering and relaxation. You can have a massage or a beauty treatment such as a Colombian green-coffee wrap to improve skin appearance. And of course the most important – obligatory 24/7 fitness centre, complete with steam room.
06
Hotel Casona del Patio
Chapinero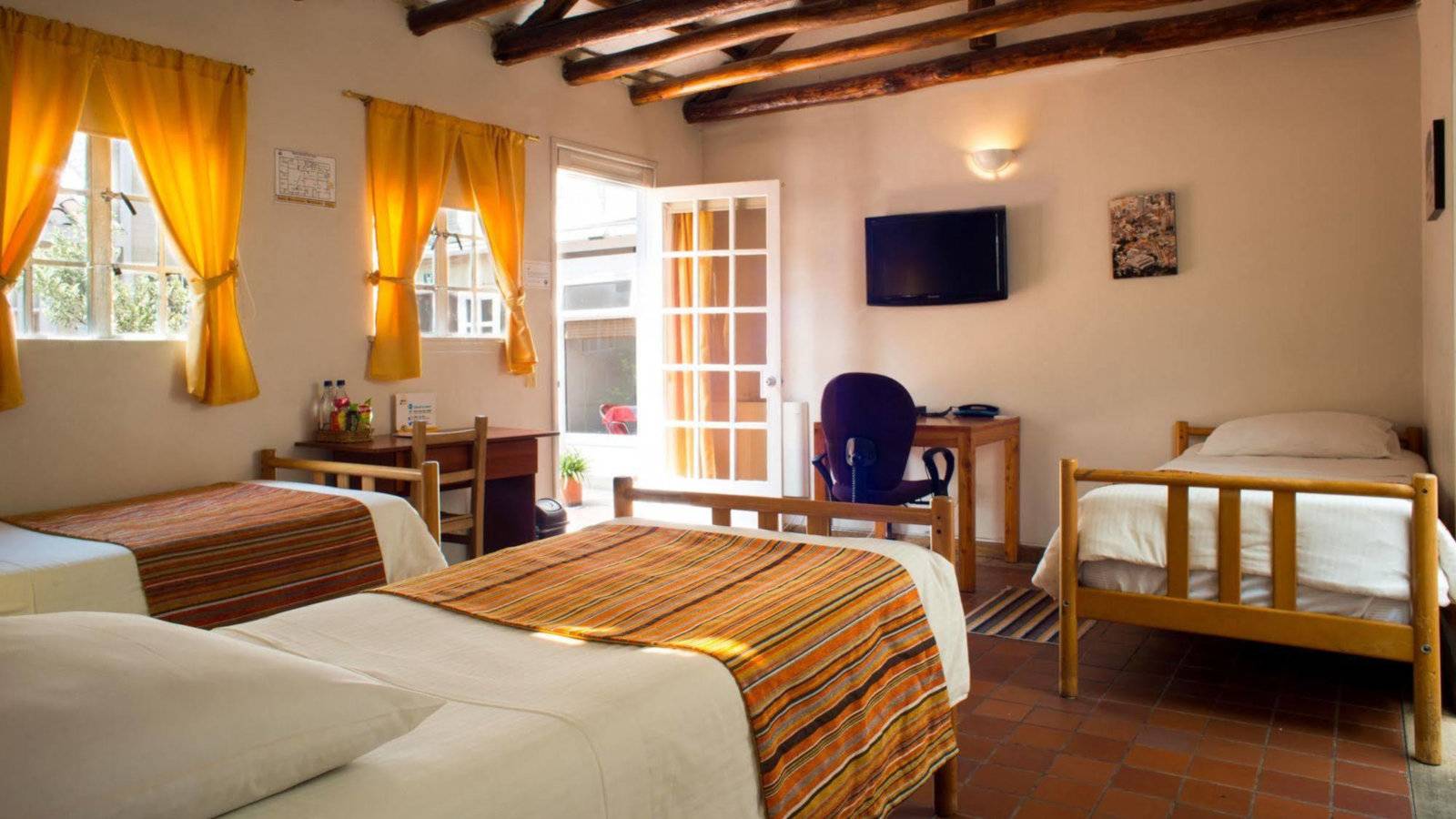 Why we love it
---
Charming bed and breakfast
Quiet location in the gay area
Free daily breakfast
Terrace/patio and library for relaxing
Hotel Casona is a charming hotel/B&B, which welcomes gay travellers. It is located in a quiet part of Chapinero but is still easy walking distance to Theatron and the exciting gay bars of Bogota.
We loved the personable feel of Casona del Patio and definitely recommend it if you're looking for a low budget gay-friendly hotel to stay in Bogota.
The staff are absolutely wonderful too. From the moment of booking to the end of our stay, they made us feel totally welcome – there was never any issue about us being a gay couple (they were very clear about this from the start when we asked them).
Located in a 1950s English style house, Casona is lovely in a rustic kind of way. The patio and terrace are beautiful spots to relax or enjoy your free breakfast. The rooms are bright and cosy, with room for families or multiple guests as well as private doubles.
There's a library where you can exchange books and enjoy a good read on one of the comfy couches while tea/coffee is always available free of charge. Casona del Patio is an excellent combination of peace and tranquillity that's still close to all the gay nightlife of Bogota.
07
Graffiti Hostel
Candelaria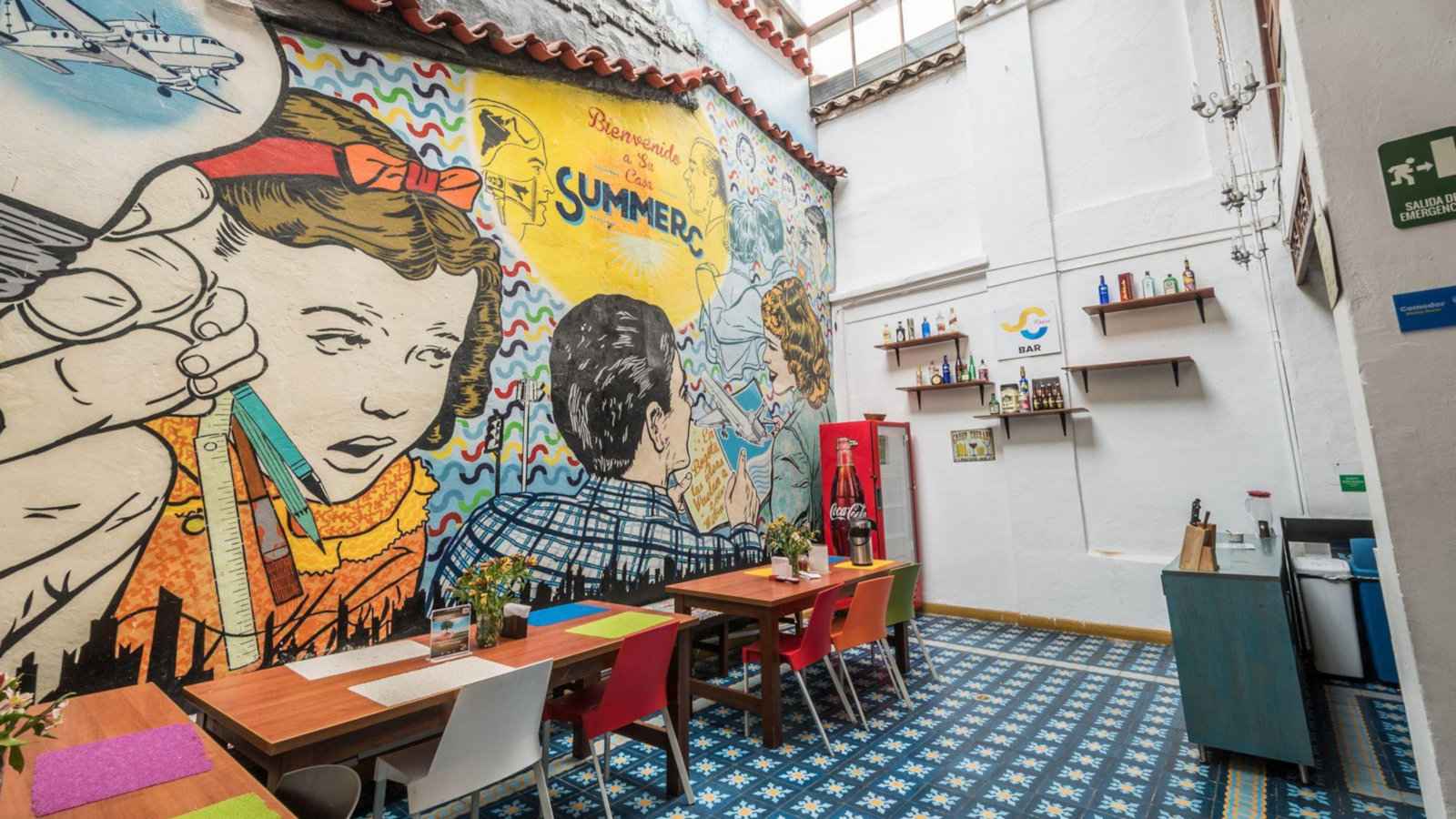 Why we love it
---
Funky murals and pops of colour everywhere
Very affordable
Fun activities on offer
Free breakfast included
For a truly hip choice of budget accommodation in Bogota, you have to check out the gay friendly Graffiti Hostel.
The major drawcard is, of course, the colourful murals/graffiti art throughout the hostel, as well as the brightly painted cushions, candles and birdcages.
There are also lots of quirky decorative aspects like the bathtub-turned-coffee-table filled with books you can exchange or just read while there.
As well as being great for gay travellers on a budget, Graffiti Hostel is also pet-friendly, and you can sleep in a private room if you don't feel like staying in a dorm. The shared kitchen is good for doing your own cooking to keep costs down, while a simple yummy breakfast is also provided each day.
We love how many fun activities are offered here, as well as the opportunities for socialising with other guests. There are foosball tables, board games and a PlayStation in the shared games room. You'll be walking distance from the main tourist attractions in La Candelaria although to get to the gay scene in Chapinero, you'll need to factor in a 30 minutes(ish) taxi ride.
08
Masaya Hostel Bogota
Candelaria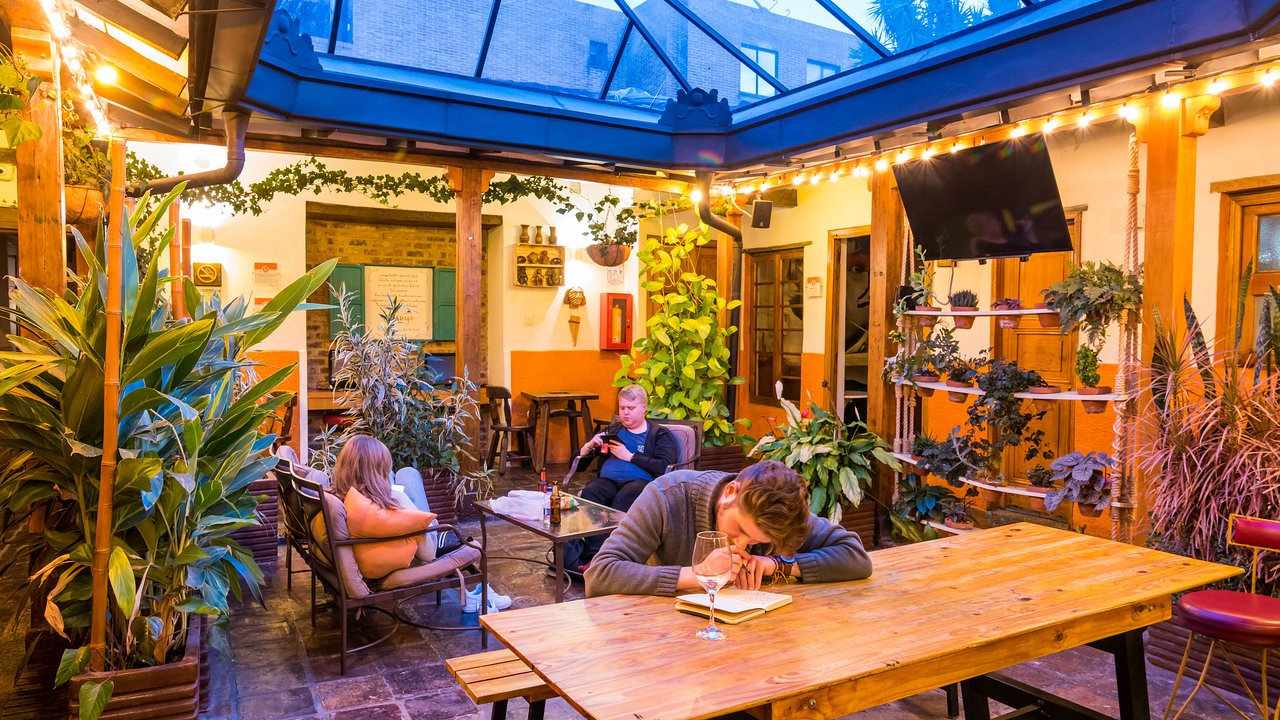 Why we love it
---
Gay-friendly budget accommodation
Lovely shared relaxation areas
Lots of fun activities
Beautiful old building
Another great choice for gay-friendly budget accommodation in Bogota is Masaya Hostel.
In fact, we'd be hard-pressed to choose a favourite between Masaya and Graffiti because both are very cool!
Masaya Hostel is located in a big old colonial house in the historic Candelaria district. Even though it's a hostel there's 24/7 front desk service and security at all times.
We particularly love the shared relaxation areas at Masaya, like the greenhouse with glass roof (pictured), as well as the outdoor patio that's packed with hammocks and pallet couches. There are also ping pong tables, books for exchange, a TV room and a computer room, so you'll never run out of things to do.
Rooms at Masaya are a mix of bunk beds in dorms or private rooms with shared bathrooms. There's a fully-stocked kitchen for doing your own cooking and a small bar for drinks in the evening, which sometimes has events like Salsa nights or cooking classes for guests. However, just like the Graffiti hostel, Masaya is a pretty long taxi/Uber ride away to the gay scene in Chapinero.
DON'T MISS OUT!
Join our newsletter
Subscribe now to receive in-depth FREE travel guides, along with inspiring stories, savvy planning tips, and exclusive discounts on gay tours.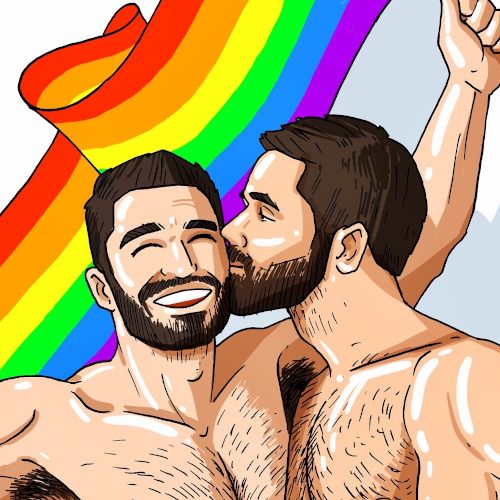 ---
Like this post? Pin it