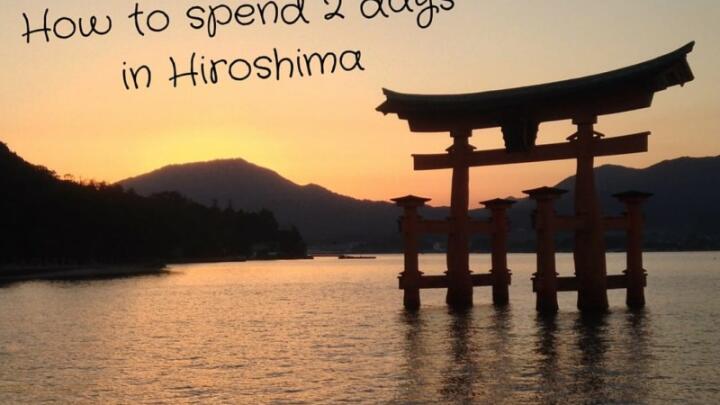 Hiroshima has a very sad history. It was one of the Japanese cities completely annihilated by an atomic bomb (nicknamed Little Boy) during the Second World War.
Like Auschwitz in Poland or the Killing Fields in Cambodia, Hiroshima is an important place to visit. It makes for an emotional and harrowing experience, but important nonetheless.
The city itself is a chilled place to hang out it and you have to try the famous and yummy okonomiyaki (Japanese pizzas).
The nearby island of Miyajima is a fun day trip to see the giant Torii Gate and meet the cheeky and forever hungry wild deer.
In this guide we show the best way to maximise your time and how best to spend 2 days in Hiroshima.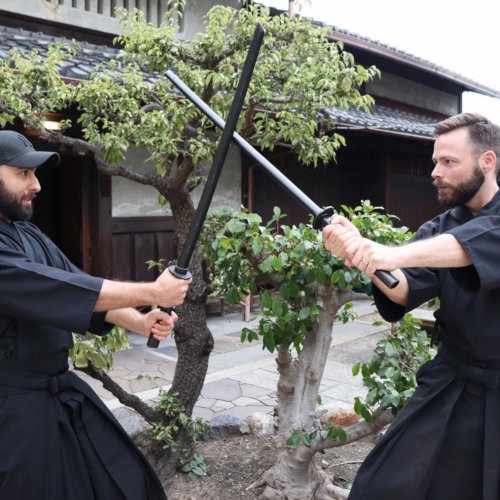 Experience Japan on a gay tour
Psst! Want in on a secret? Our friends at Out Adventures recently launched a super kawaii tour of Japan. On this all-gay foray, travelers will ride the Shinkansen bullet train between Osaka, Kyoto, and Tokyo. Highlights include a street food tour, samurai experience, a night in an authentic onsen, and an evening in Tokyo's gay district, Shinjuku Ni-chōme.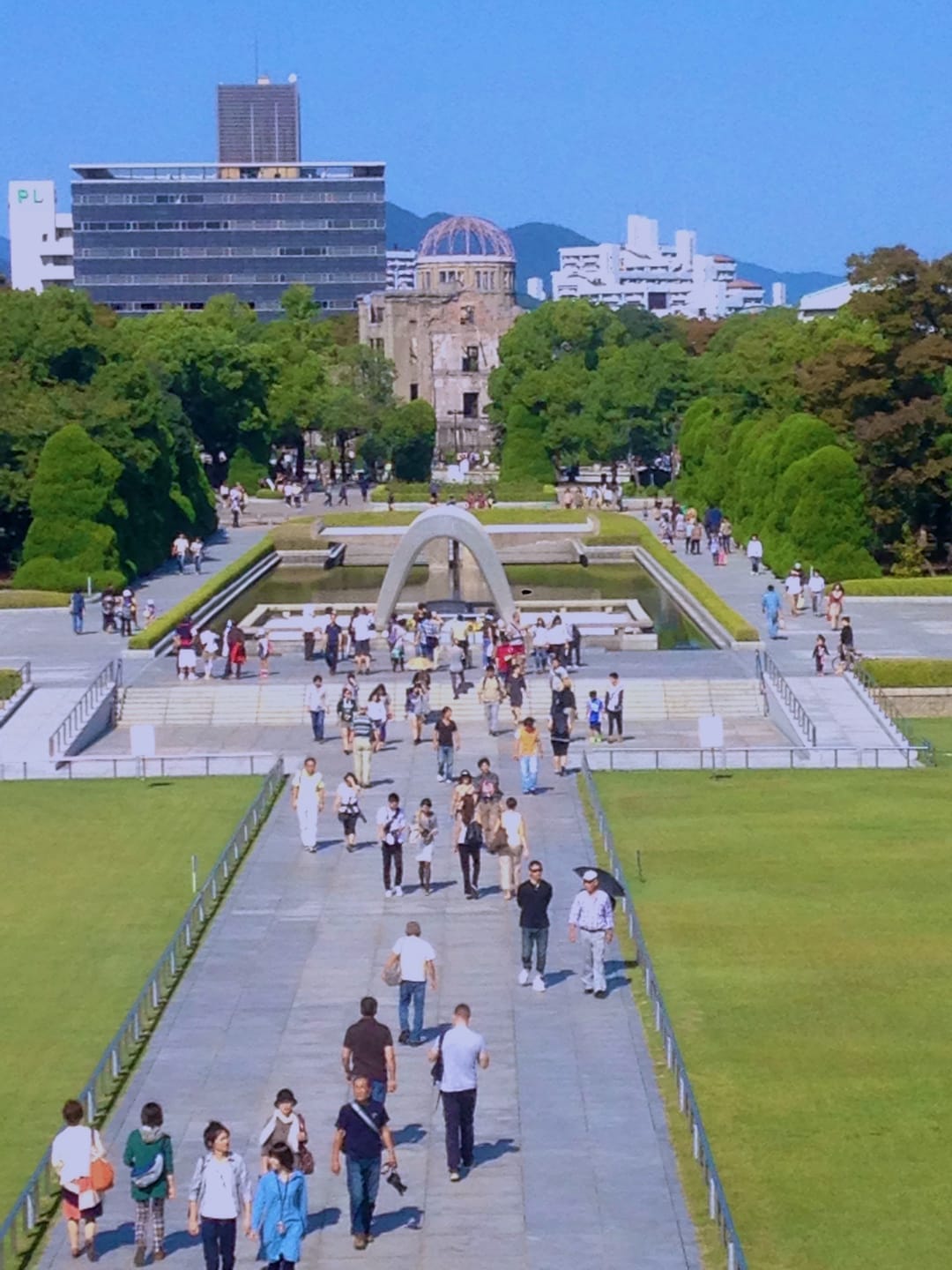 DAY

#1

Peace Memorial Park and discovering okonomiyaki
Your first day in the city will be an educational one, learning about its tragic history.
The Peace Memorial Park of Hiroshima
The Memorial Park is in the heart of the city with a number of memorials, monuments and the Peace Memorial Museum itself.
The actual location of the Hiroshima Peace Memorial Park used to be Hiroshima's busiest downtown commercial and residential district before the nuclear bomb explosion.
The bomb hit at 8:15am on a sunny day in August 1945 just above what is now the A-Bomb Dome. It instantly killed over 70,000 people within a 2km radius.
The A-Bomb Dome used to be Hiroshima's Industrial Promotion Hall and was one of the few buildings to survive the bomb.
By survive we mean some of its skeletal structures remained in tact. It has since been retained as a visual reminder.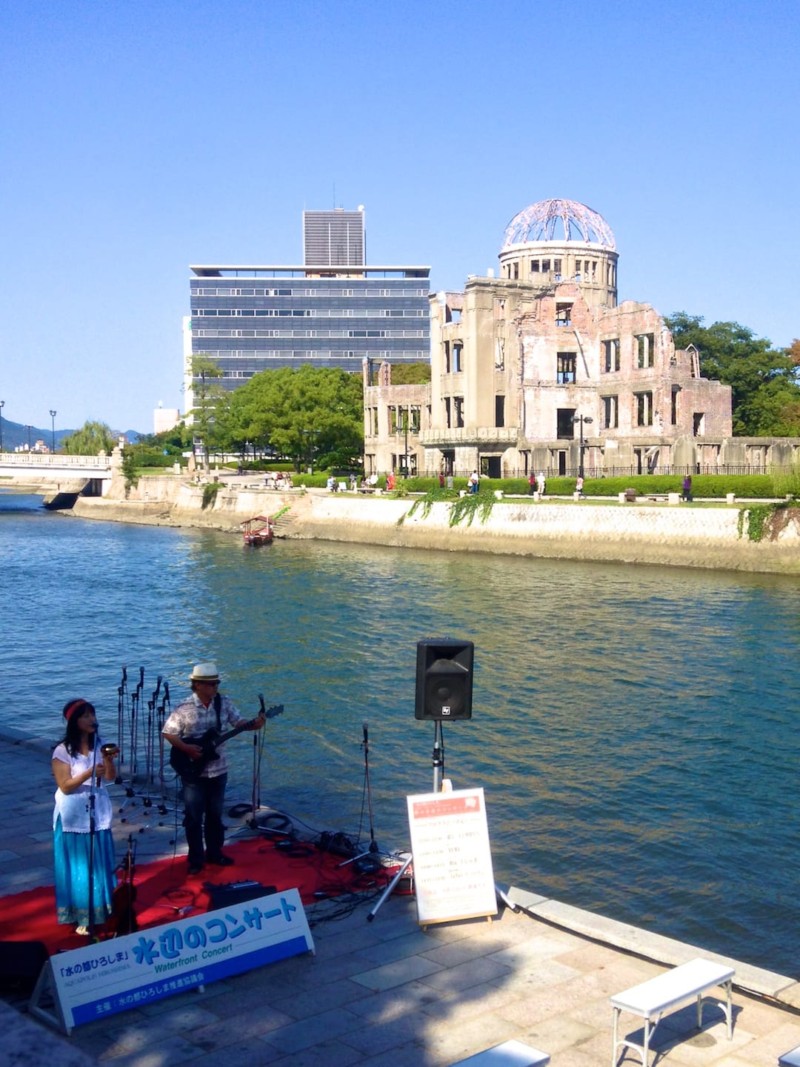 One of the most shocking elements of the atomic bomb in 1945 was how pre-planned the whole things was. For example, there was a formal process undertaken to "select" which cities would be bombed. Hiroshima was selected over other cities like Yokohama or Kyoto because it escaped much of the bombing during the Second World War. Therefore the full effects of the nuclear bomb could be "tested" here.
So once Hiroshima (and later Nagasaki) were "selected" as the target cities for the atomic bombs, the Allies' policy was to then minimise any general bombings over these two cities so they could truly test the full effect of the nuclear bombs.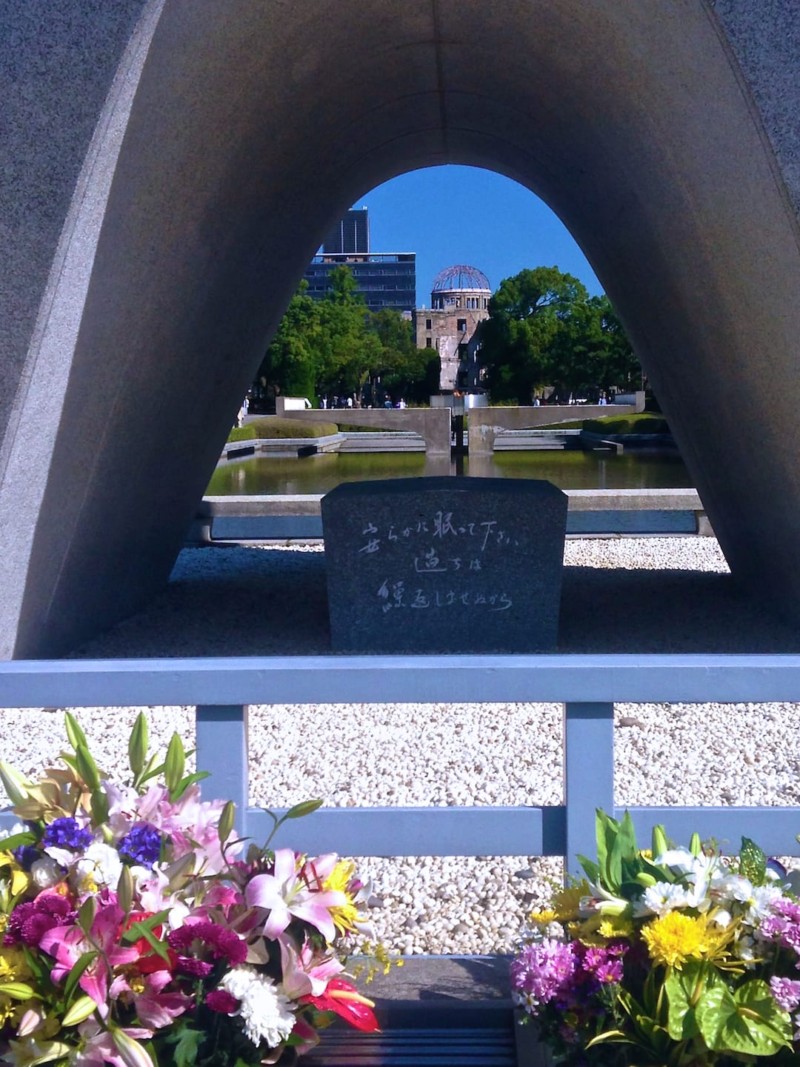 Trying tasty okonomiyaki!
After such a long sombre day in the Memorial Park, a fun light evening is in order. And Hiroshima down town is a great place for it. It has a young, buzzy and very friendly atmosphere.
We spent our second day seeking out the best place to try the famous specialty of the city and one of our 10 favourite traditional foods of Japan: okonomiyaki or 'Japanese Pizza'.
Hiroshima battles with Osaka over who makes the best okonomiyaki. Each city swears that its okonomiyaki is the best!
Okonomiyaki are literally Japanese savoury pancakes dolled up with a variety of fillings including various meat and vegetables. The Hiroshima variant usually includes more cabbage than its Osakan competitor.
In addition, it is often cooked and served with a layer of fried noodles. The Hiroshima okonomiyaki is locally referred to as Hiroshima-yaki – and it's GOOOOD!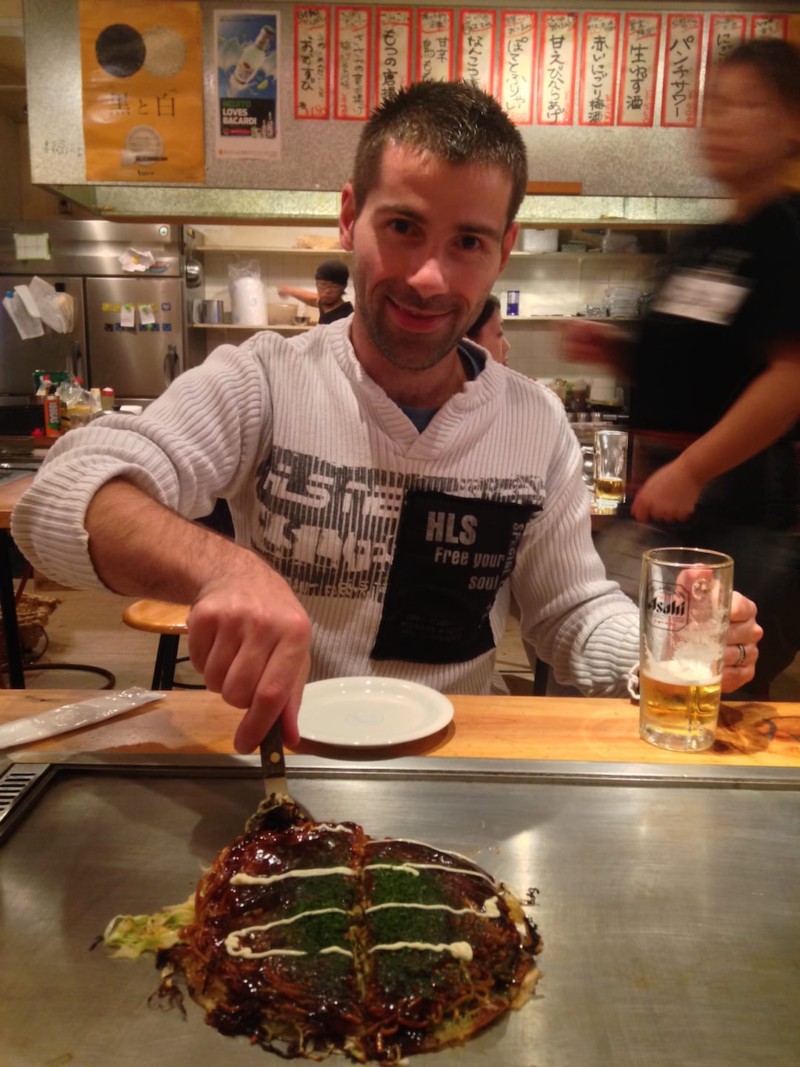 DAY

#2

Miyajima day trip and the hungry deer
Miyajima is a small island less than an hour away from Hiroshima and makes for a fun day trip. It is famous for its giant iconic Torii Gate.
A Torii is a Japanese gate, which marks the approach and entrance to a shrine. They are made from wood and painted either orange or black.
At high tide, the giant Torii at Miyajima looks like a small island by itself: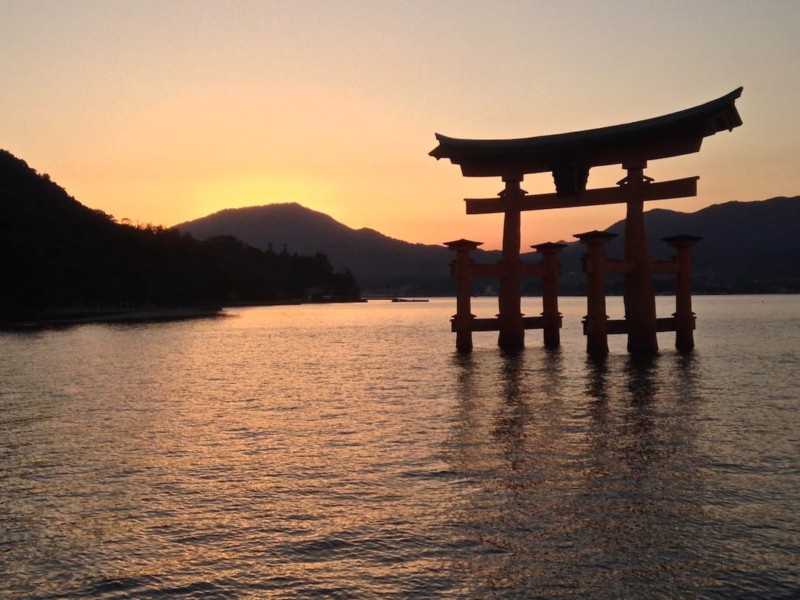 Miyajima is also home to the very cute wild deer. They are tame and roam the streets looking for food. At the slightest sound of plastic rusting, they will come running to you! It's quite funny watching the deer rummage through the handbag of an unsuspecting tourist trying to find anything to munch on.
This cheeky deer stole Stefan's banana when he sat down to have a quick snack (it devoured everything – including the skin!):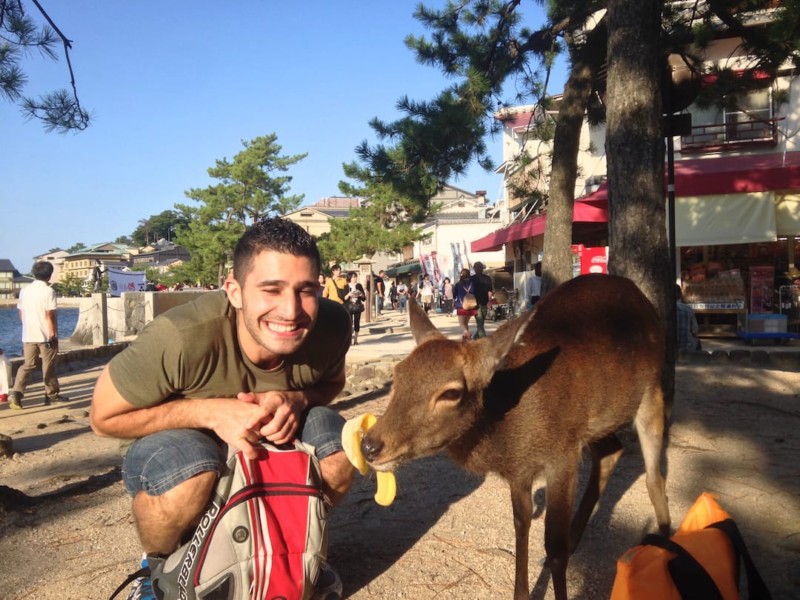 However, you can't help feeling sorry for the deer. They seem to be genuinely starved and not being taken care of properly. A common sight on Miyajima is the deer rummaging through all the plastic in the public bins, like scavengers, trying to find anything to eat.
There's plenty of delicious street food options at Miyajima including a variety of fresh fish food. Our favourites included freshly grilled oysters and barbecued fish sticks.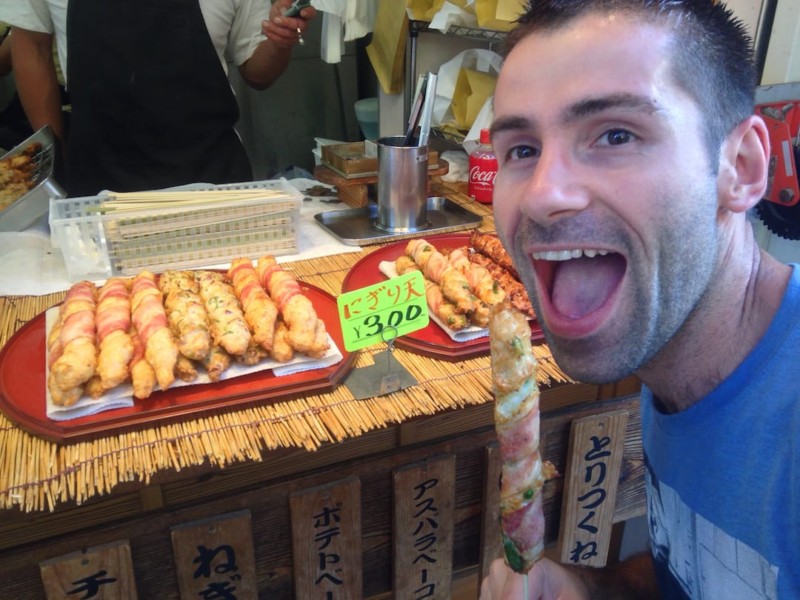 Back in Hiroshima down town for dinner? Surely another excuse for more okonomiyaki right?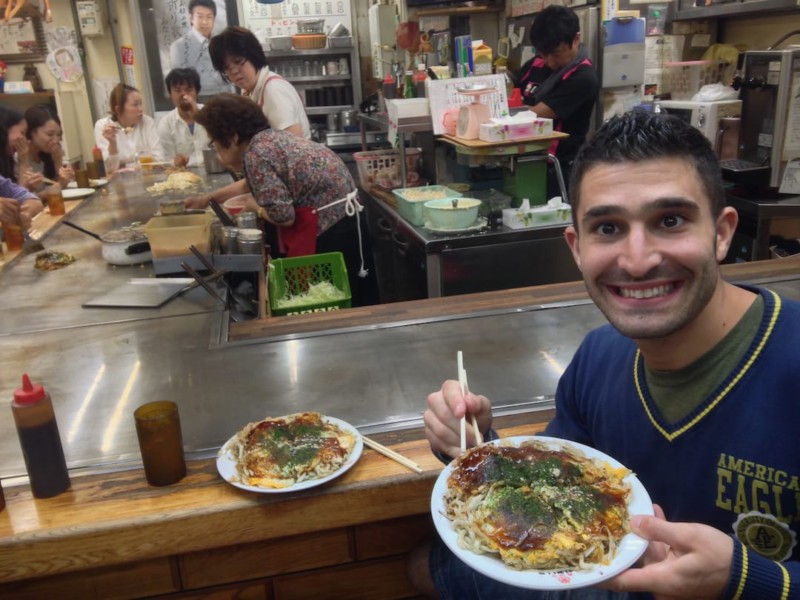 Travel recommendations to Japan
Train saving tips: Depending on how many trains you plan to take in Japan, it may be worth investing in a 7 days JR Pass ($250), which allows you unlimited travel throughout the country for 7 consecutive days. But you must buy it from an agent before you go.
We personally used Japan Rail Pass. They offered the best prices and would definitely recommend them.
Tour operator: We travelled independently to Japan but we're often asked if we can recommend a good tour company. We've partnered up with Out Asia travel who offer luxury private tours and tailored itineraries to Japan. These guys are locals, passionate travellers and have a real insight of Japanese culture. They are offering our readers an exclusive 5% discount for bookings of 7 days or more when you quote NOMADIC5 in your enquiry.
FILL OUT THIS FORM TO ENJOY A 5% DISCOUNT FOR YOUR HOLIDAY TO JAPAN
Travel insurance: Whether you go diving, hiking or just lay on the beach all day long, you need travel insurance. We use World Nomads because they offer considerable coverage especially for adventurous travellers. They also make it easy to make a claim as it's all done online.
Flights: To fly to Japan and within, we recommend Skyscanner. Their website is very easy to use and they always offer the best prices. You can even search for the cheapest flights for any given month.
Hotels: Japan has a huge diversity of accommodation options. It is not the cheapest country to travel in but we found that quality is consistent with the price you pay. When we plan a holiday, we use Tripadvisor to research about the best places to stay and activities to do. We also use Booking.com to find the best deals and to book accommodation online.
Happy travels are safe travels
We recommend you always take out travel insurance before your next vacation. What happens if you suffer from illness, injury, theft or a cancellation? With travel insurance, you can have peace of mind and not worry. We love World Nomads travel insurance and have been using it for years. Their comprehensive coverage is second to none and their online claims process is very user friendly.
FOR MORE INSPIRATION
Pin to read later