TERMS OF USE: There is a chance that some of the content on this page has changed since it was last updated. By reading this article, you consent to our Terms of Use and Disclaimer. Happy Travels!
DISCLOSURE: Some of our posts may contain affiliate links which we may receive a commission if you choose to book something through one of our links.
Here are the top gay tours in Tokyo for LGBTQ travelers to get to know the city.
An urban jungle of intense energy, electric colours and lights. Yet it all flows together in an impressive orderly manner, absolutely nothing out of place.
This is Tokyo. It's absolutely mad, like nothing you'll ever experience! A frenetic city of almost 15 million people, yet somehow doesn't ever feel crowded – unless you take the metro at rush hour…try this just once to experience it, but otherwise, to be avoided!
Every time we visit Tokyo it always feels like a culture shock and we love it! It gives us everything we want no matter how many times we visit. And as a bonus, it has a terrific gay scene with over 300 gay bars crammed in the tiny Shinjuku Ni-Chome district. We recommend checking out our detailed gay guide to Tokyo for more about this.
Whether you've been to Tokyo before or this is your first time, there are a variety of excellent gay tours you can join to explore the best the city has to offer from experiencing the Shinjkuku gay scene with a local LGBTQ guide or learning about the city's history with an LGBTQ focus. We've put together some of the best gay tours in Tokyo for LGBTQ travellers to check out right here: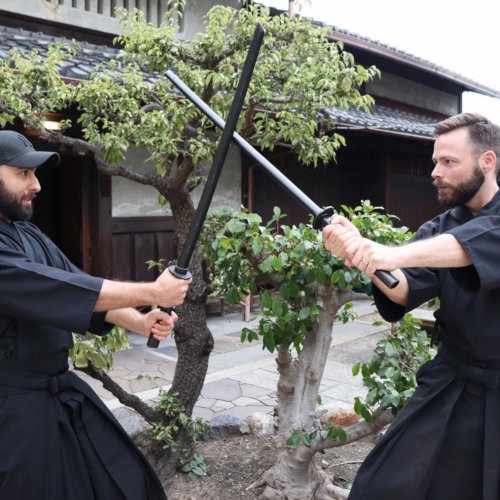 Experience Japan on a gay tour
Psst! Want in on a secret? Our friends at Out Adventures recently launched a super kawaii tour of Japan. On this all-gay foray, travelers will ride the Shinkansen bullet train between Osaka, Kyoto, and Tokyo. Highlights include a street food tour, samurai experience, a night in an authentic onsen, and an evening in Tokyo's gay district, Shinjuku Ni-chōme.
01
Gay Night Tour of Tokyo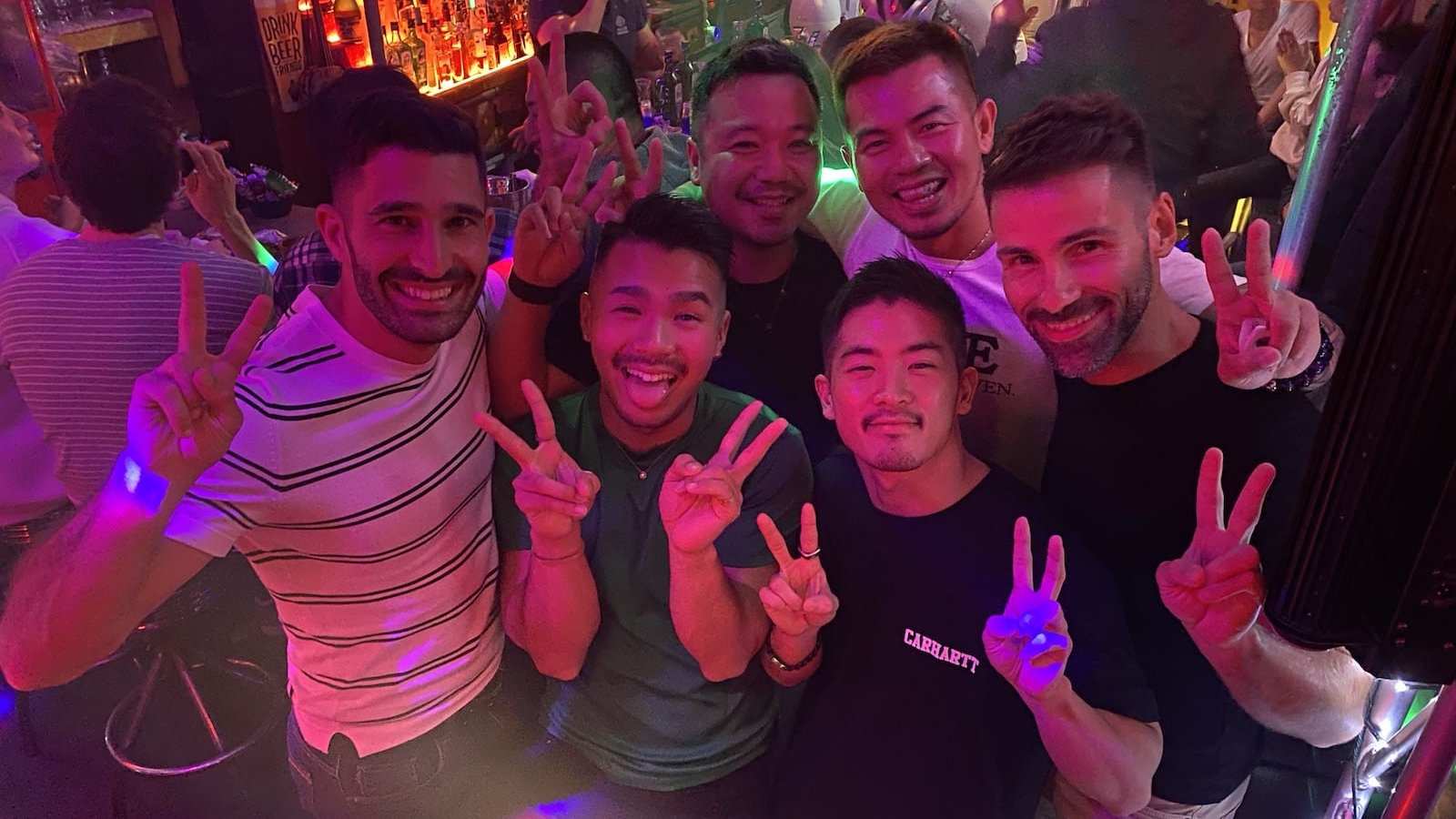 If you just want to party with cute Japanese local guys!
To experience Tokyo's gay nightlife through the eyes of gay locals, we recommend joining this excellent tour of the gay scene. Remember above when we said there are over 300 gay bars? We weren't kidding! The majority of Tokyo's gay bars are tiny spaces all packed together in the Shinjuku Ni-Chome district.
The one downside of this is that a handful of these small gay bars do not welcome foreigners and may even refuse you entry if you're not local or know someone local to take you. Therefore having a gay local showing you the gay scene of Tokyo is the perfect way to get you into such bars as well as steering you through this wacky minefield of Tokyo queerness!
This particular tour will show you both the main gay bars like Arty Farty and Campy! as well as one of the smaller local ones like Usagi. We love that your gay guide will take the time to first get to know you and what you're into so he can tailor the tour around this.
TIP: check out the Queer Eye Japan version – the Fab Five take on Japanese queer culture and it's absolutely fascinating to watch! They also showcase the Shinjuku gay scene including places like the New Sazae club (a favourite of Freddy Mercury's).
STAY WITH A GAY LOCAL
Misterb&b is the Airbnb equivalent for the LGBTQ community. Unlike on Airbnb, you know your host is gay, voiding any nasty surprises when you check-in. It is also a great way to meet gay locals and discover the underground gay scene. Click below to get 10 € (or $10) off our first booking.
02
Lesbian Night Tour of Tokyo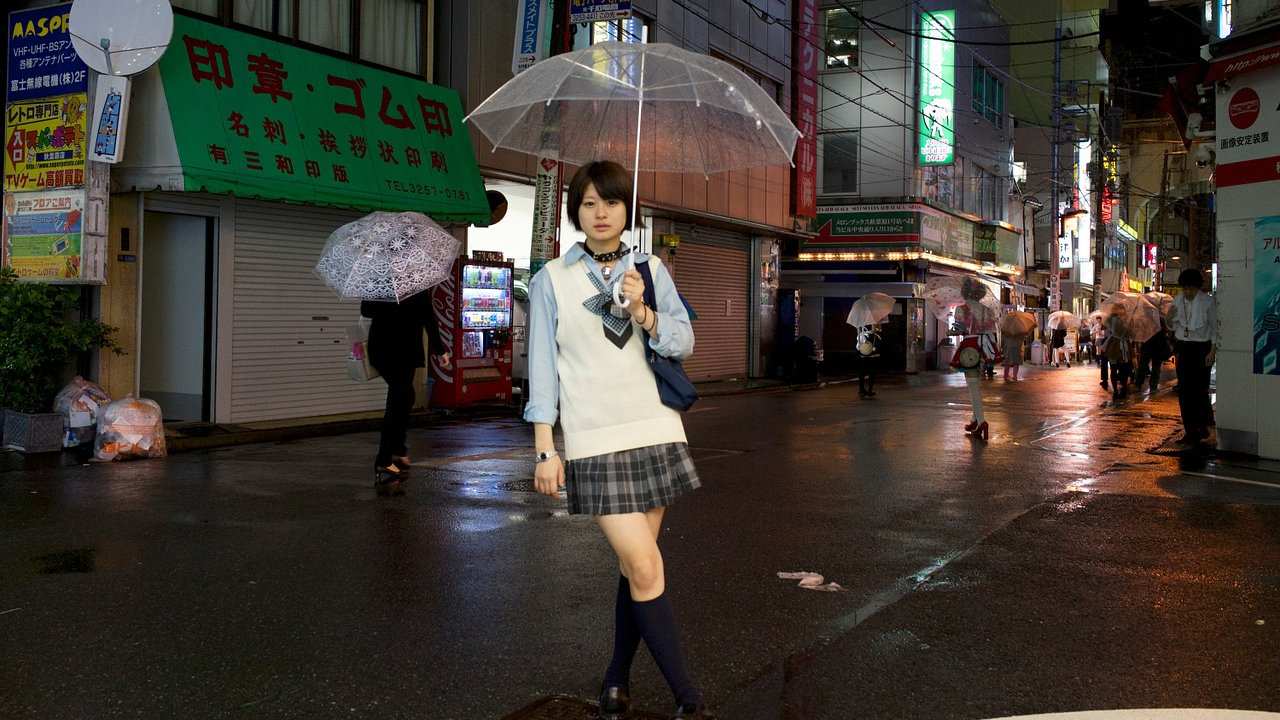 "You Harajuku girls, damn, you've got some wicked style!"
Don't worry ladies, you're not left out! There's also a fabulous Tokyo nightlife tour for the lesbians to join and get introduced to the gay scene with a local lesbian guide. Since your guide is a local, she knows all the inside scoop on lesbian events and parties too, like the famous Goldfinger bar's monthly women-only party.
Obviously, we haven't been on this tour personally, but from reviews we've read online and speaking with lesbian friends, we can assure you that this is a fun girls' night out. You'll get to visit a bar owned by a lesbian couple on your first stop, which is also the perfect spot to get to know your group.
While this lesbian tour is available from Wednesday-Sunday nights, the best night to join is Saturday as that is when many of the gay bars in Ni-Chome have girls-only nights. You'll still have a good time on other nights, but some of the bars and clubs may be mixed, so try to join on Saturday if you want to keep it as boy-free as possible!
Luckily your guide will also adapt the tour to meet the group's interests, so you may spend time at cosy venues, hip and hopping clubs or somewhere you can howl at the moon while doing a spot of karaoke. Once you've had a taste and got some recommendations you'll also be ready to explore more of the nightlife by yourself if you're staying for a while.
03
Then and Now: Tokyo LGBTQ cultural tour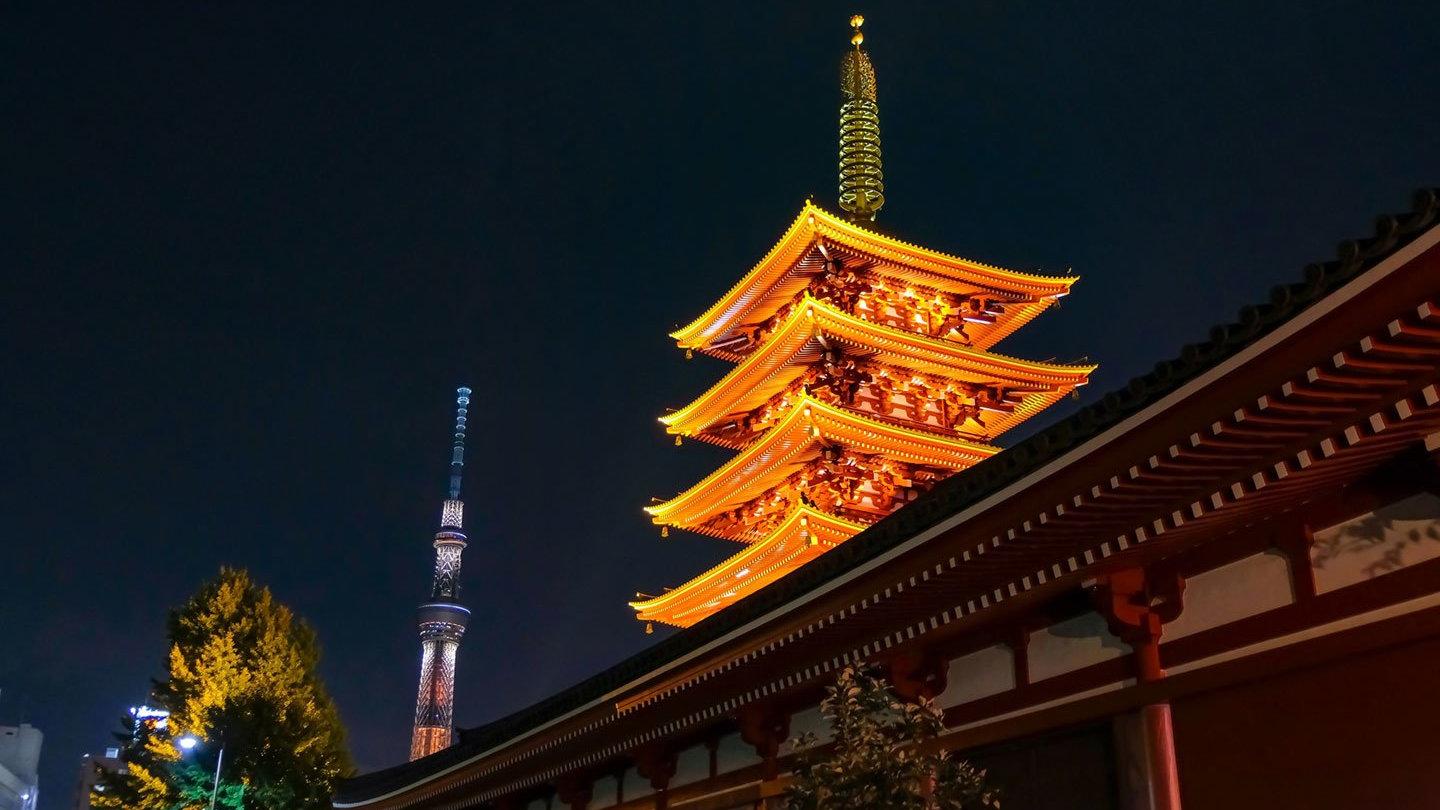 See Tokyo's juxtaposition of old and new with an emphasis on the gay scene's history.
If you'd like to explore gay Tokyo without quite so much focus on bars and drinking (although still with a little bit included!) then you'll love this historic tour. What we like about it is that as well as exploring the Ni-Chome gay area, you also get to discover a completely different neighbourhood – Asakusa.
Sometimes it's quite nice to venture beyond the gay scene eh?
But in all seriousness, Asakusa is one of Tokyo's cultural hubs, with some pretty impressive temples to check out, especially the Sensō-ji Buddhist temple (dedicated to the bodhisattva Kannon in case you were wondering!) Dinner at a local restaurant is also included as part of this tour – eat the way they do: lots of tasty yakitori washed down with a few highballs and some Asahi cold beers!
Once culture and dinner is over, the gay tour concludes with an exploration of the gay area including a few local bars. At this point of the tour, we suggest gay nerds (like our Seby) tell their guide they want to explore one of the many gay books and game stores. Our guide was so knowledgeable about gay history in Japan and explained everything in a very entertaining way – full of animation, camp as tits! Towards the end of the evening, he concluded the tour by giving us pointers on the hottest bars and clubs to check out that evening.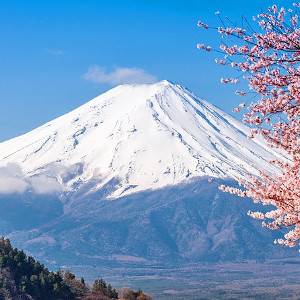 Your personalised gay friendly itinerary to Japan
We've teamed up with the excellent gay travel agency OUT Asia to offer our readers an exclusive 5% discount off the total cost of any trip to Japan you book with them. They specialise in crafting tailored trips and itineraries for LGBTQ travelers to Japan.
04
Private LGBTQ Tokyo tour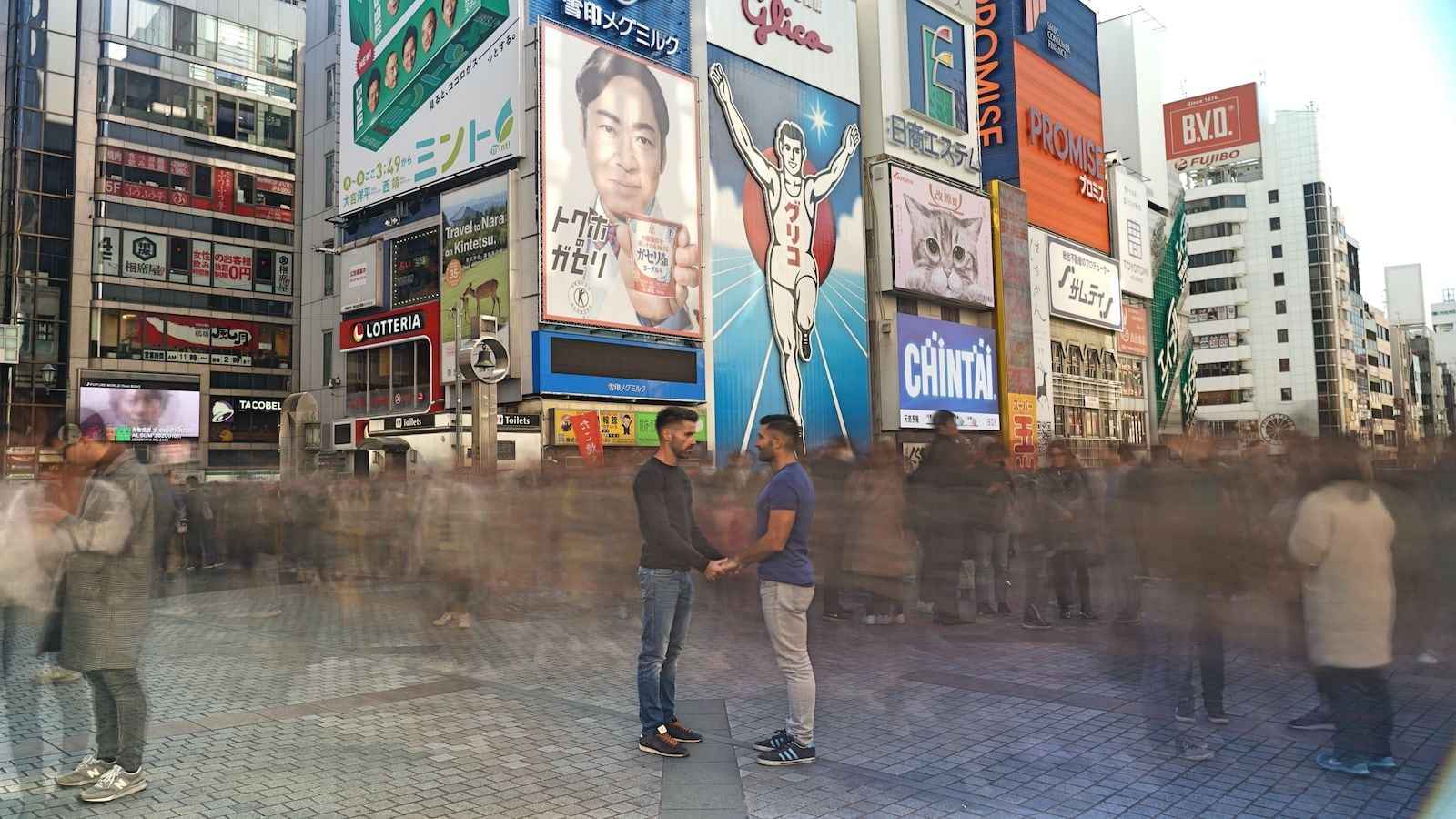 What can we say, we love some personalised attention!
For those of you who don't quite fancy any of the previous gay group tours, there's always the option to get a totally personalised itinerary made just for you! Obviously they're more pricey, but it's the best way to explore the city with a friendly LGBTQ guide who'll take you to places you'll love based on your personal interests.
Whether you want to visit the gay bars and clubs of Shinjuku or just be shown around the best shops in the Harajuku district, you'll be able to feel completely comfortable in the company of your own personal gay guide who'll quickly feel like your new sister.
Some suggestions of how to tailor such a tour…if you want to explore Japan's culture and history, ask them to take you to a real-life sumo wrestling match, or visit comic-book stores in the geeky Akihabara district. And our favourite: experience the feel of being in a traditional Japanese onsen. This is super relaxing as well as the perfect cure for jet lag!
This company also organises private gay tours in cities other than Tokyo like Osaka, Kyoto, Nara and Kobe.
05
Gay tour of Japan that includes Tokyo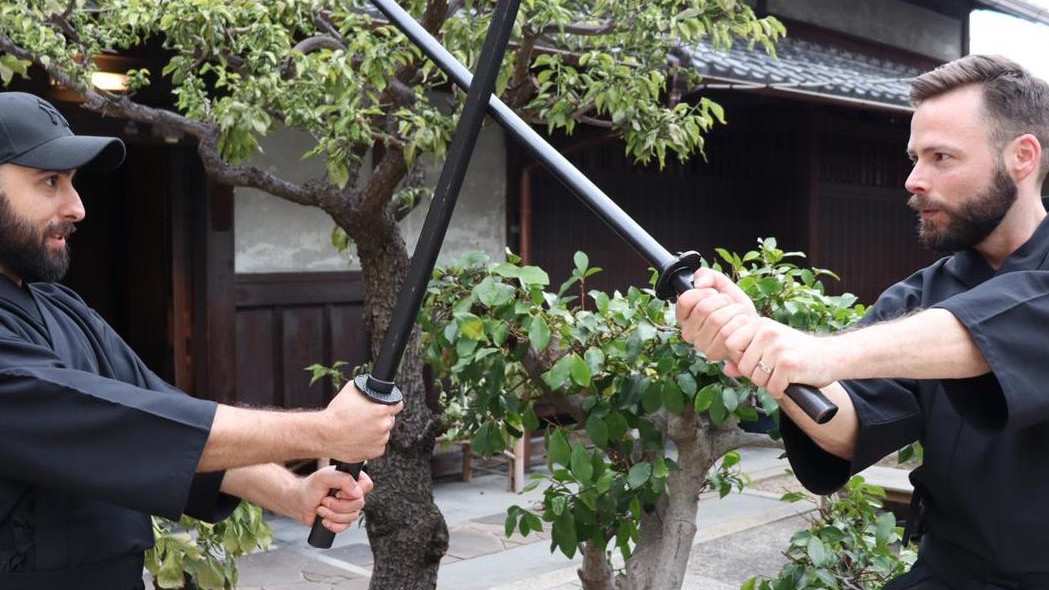 Finally, Tokyo is only one (albeit very big) part of why we love Japan so much. Other cities and destinations in The Land of the Rising Sun that are worth a visit include Osaka, Kyoto, Nara and Hakone. If you're looking to get a taste of the megalopolis before ticking off a few of these other well-known destinations, Out Adventures offers an excellent all-gay tour.
On their overview tour you'll ride the Shinkansen bullet train between three major bases: Kyoto, Osaka and Tokyo. From these three cities you'll discover the country's big city vibe and zen countryside.
Some of the tour's most exciting activities include boarding a pirate boat on Lake Ashi to view Mt. Fugi, a streetfood tour in Osaka's Dotonburi District, and (our favourite) a samurai experience where you'll dress up as and learn about Japanese samurais. Of course, the tour wraps in Tokyo and includes many highlights mentioned in the previous tours.
---
Like this post? Pin it