TERMS OF USE: There is a chance that some of the content on this page has changed since it was last updated. By reading this article, you consent to our Terms of Use and Disclaimer. Happy Travels!
DISCLOSURE: Some of our posts may contain affiliate links which we may receive a commission if you choose to book something through one of our links.
Our gay Bocas Del Toro travel guide is an essential read for all LGBTQ travelers to Panama, setting out the best gay hotels to stay, where to go out, where to eat, what to do, and more.
Two gay boys hanging out on Bluff beach with no one around, except a few friendly Golden Retrievers, the palm trees and the gorgeous backdrop of the Caribbean.
Sounds like heaven right? We celebrated Stefan's birthday in Bocas del Toro in Panama, an area with a wide mix of people who do not care about your sexuality. We found it to be very relaxed, with an incredibly tolerant and friendly vibe. Many LGBTQ ex-pats have even chosen Bocas as a place to live or set up a new business, so there's a handful of gay-owned places here to check out too.
Bocas town is popular with backpackers and surfers, which gives it a hippie-like vibe. We chose to base ourselves further up the island at Bluff Beach, away from all the crowds.
We absolutely loved our holiday at Bluff Beach and definitely recommend it to other LGBTQ travelers looking for a private and romantic slice of Caribbean paradise. We've collated all our findings of the best things to see and do in Bocas del Toro in this guide so you too can have a fabulous holiday.
Where is Bocas del Toro?
Bocas del Toro province is in northeast Panama on the Caribbean coast and next to the border with Costa Rica. It includes a chain of 9 islands, each with its own unique charm and character. Temperatures here rarely drop below 20 degrees (68 Fahrenheit), and when it rains, it's just a quick tropical burst of showers before it quickly clears.
Bocas is the main town and transport hub into the region, located on Colon Island. You can reach it via daily flights to/from Panama City (45 mins) or overland by bus from Panama City to Almirante (around 11 hrs), followed by a boat from Almirante (30 mins).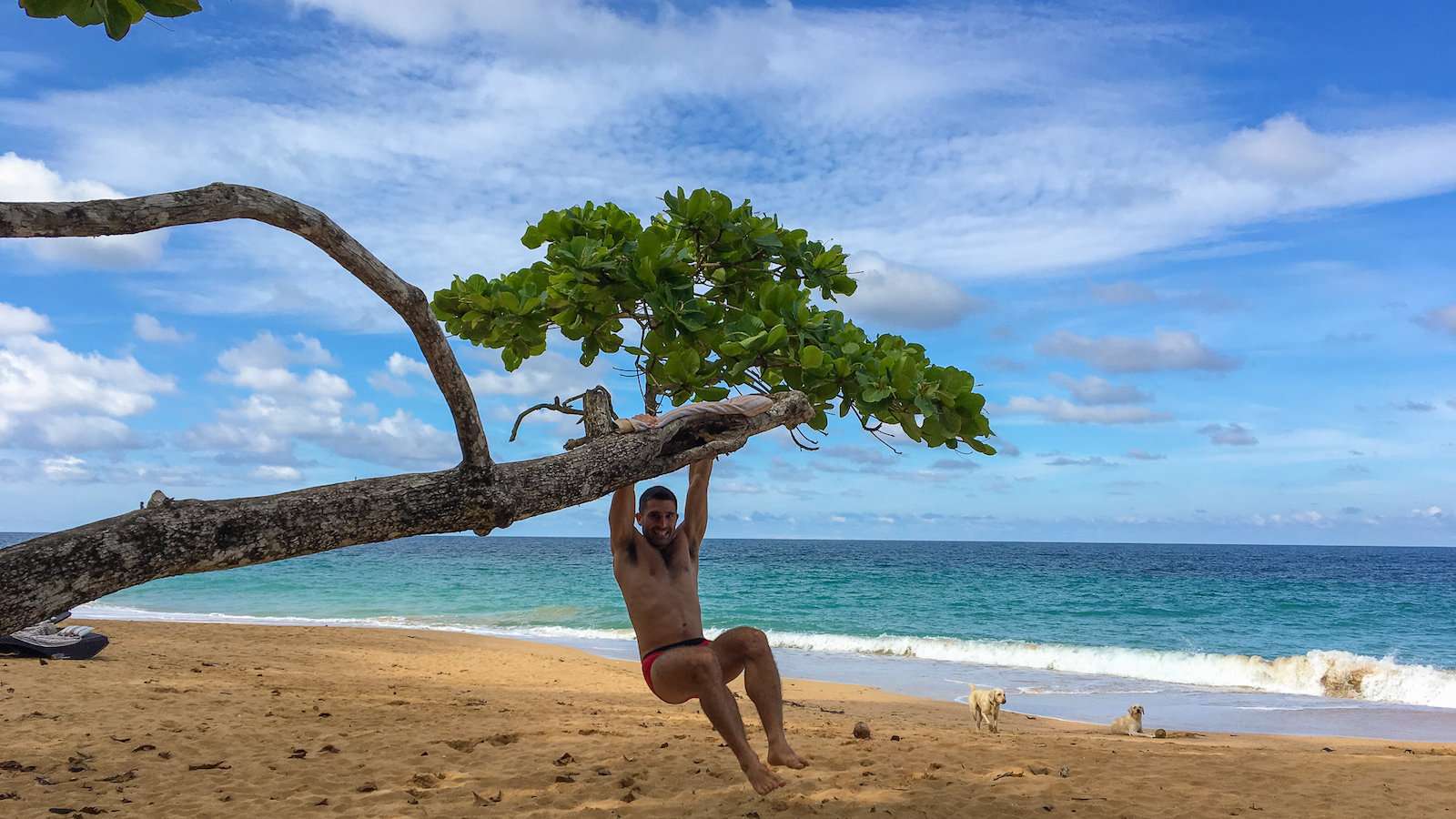 Is Bocas del Toro safe for gay travelers?
Short answer, absolutely! On the one hand, Panama is indeed a very conservative country with a strong influence from the Catholic Church. So whilst LGBTQ laws in Panama are not as progressive as its Latin neighbors, like Colombia or Costa Rica, things are rapidly changing, with civil union legislation well underway.
In Bocas del Toro even more so. There may not be a big gay scene here with circuit parties and pride parades, but it's still a very open-minded and tolerant paradise, with a very relaxed vibe. For this reason, we say it truly is ideal and totally safe for gay couples.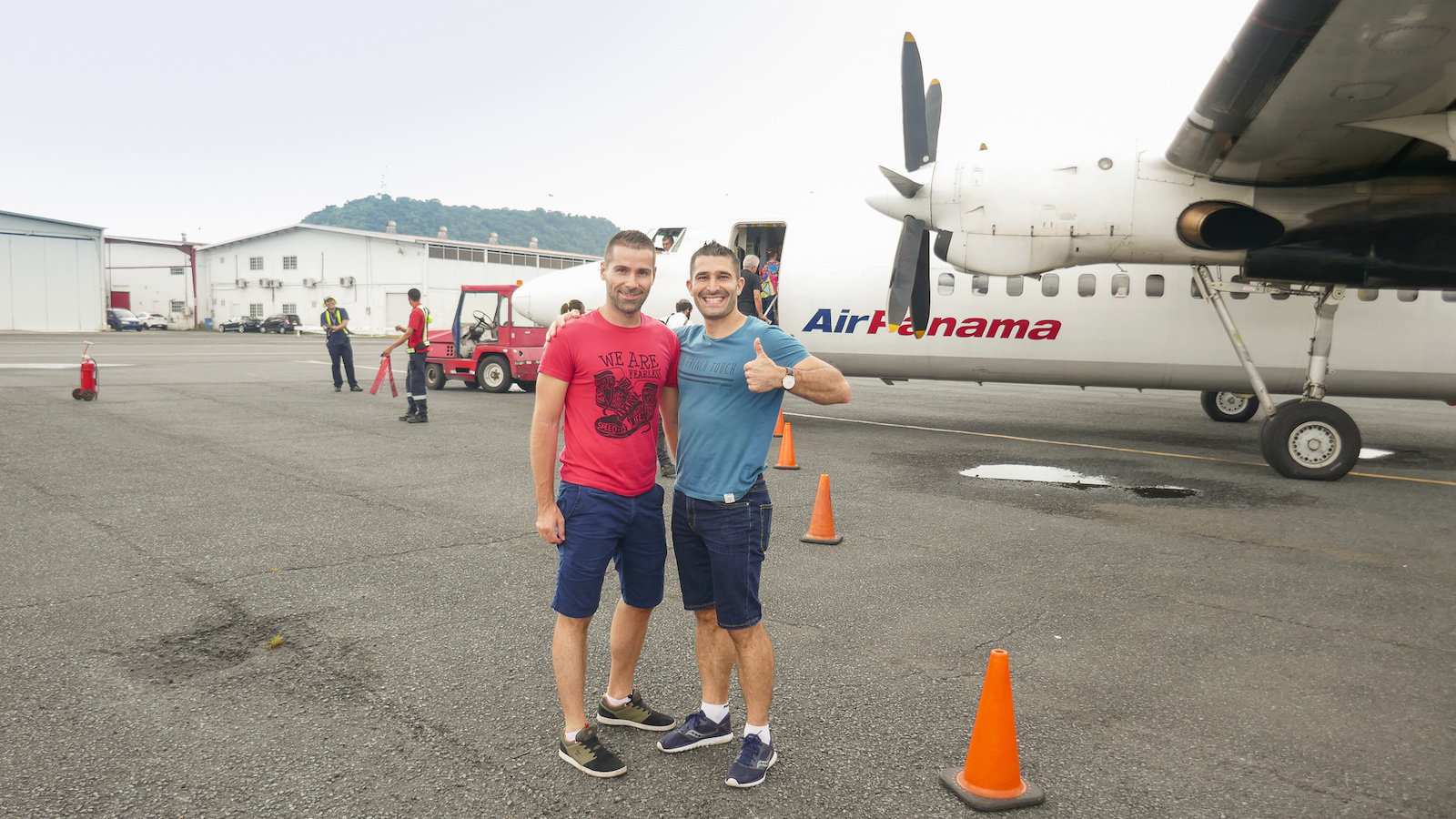 Gay hotels in Bocas del Toro
Most hotels in Bocas del Toro are gay friendly and welcoming to all LGBTQ travelers. The following are the two best ones we found that are either gay-owned or gay-managed: one for budget travelers and one for that touch of luxury!
01
Island Plantation
gay-owned and adults-only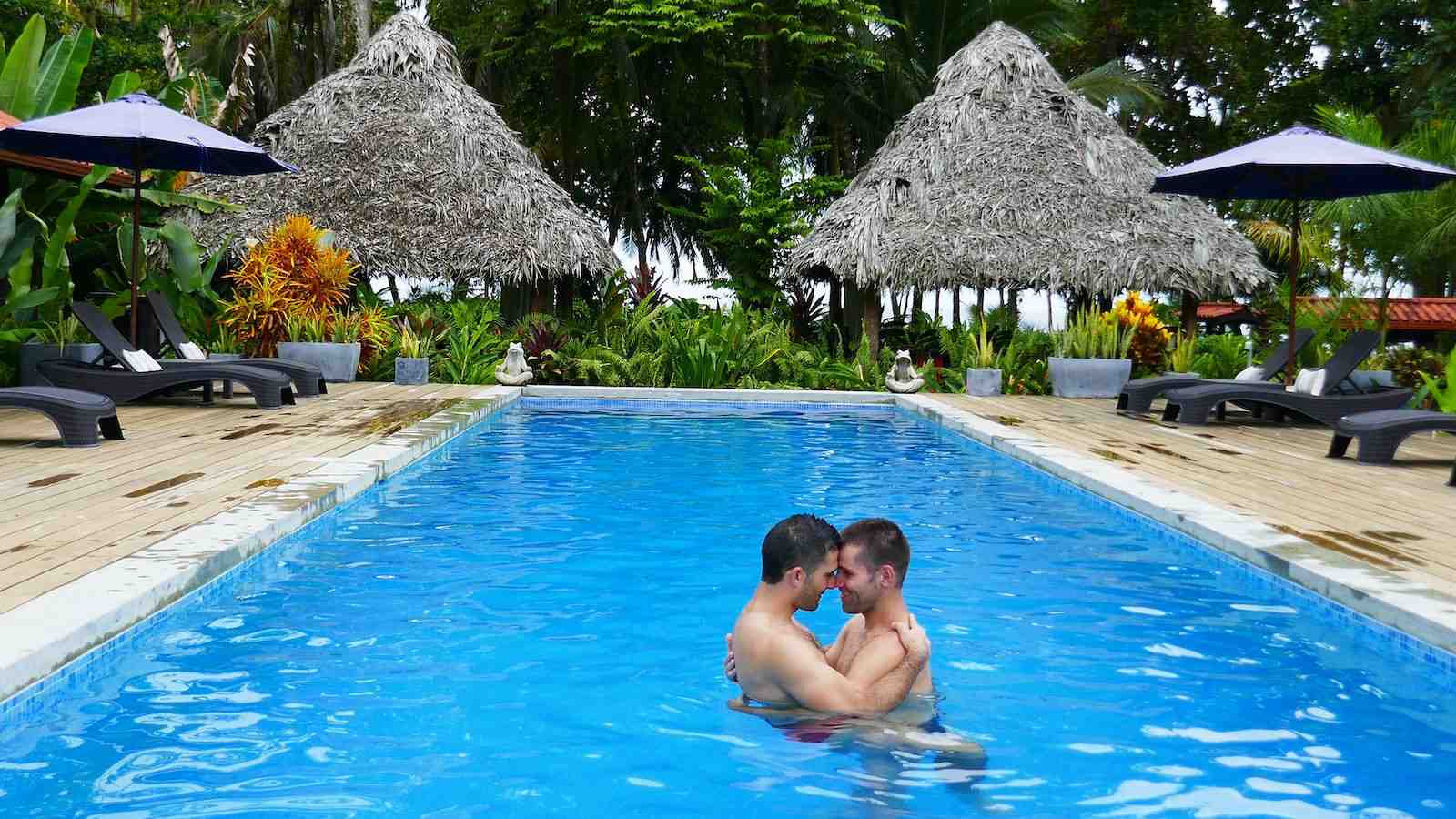 Why we love it
---
Eco-friendly beachfront jungle resort
Adults-only and very gay friendly
Opportunities to see plenty of wildlife
Excellent restaurant and beach bar!
Gay couple Herolf and Chris chose this specific spot on Bluff Beach to set up their hotel and we totally understand why! It's a good 20 minutes drive away from the hustle and bustle of the main town so has fewer crowds.
The beach here is completely unspoilt as well, and its remoteness means you usually have it all to yourself. Then there's the stunning pool surrounded by plants. Talk about romantic!
The hotel is absolutely stunning. It has just ten Balinese style jungle rooms, each with its own private outdoor space. We also loved the tiled outdoor pool, which is perfect for lounging in when the waves at the beach are too rough. The whole property is the ideal blend of beach getaway and jungle encounter, nestled within forty-three acres of rainforest. If you like animals you will adore it here, since you might spot sloths in the trees or get to see turtles hatching on the beach!
Most of the staff are also gay, super cute and friendly. The service is impeccable, with all sorts of little extras to make your stay heavenly. Everything is done with a smile from the minute you arrive and are welcomed with a fresh beverage. For even more relaxation you can do yoga and meditation on-site, or perhaps book yourself in for a pampering massage.
Island Plantation also has one of the best restaurants in the area, especially rated for their yummy thin-crust pizzas (read more about that below). We ended up having most of our meals here for this reason. This is a hidden gem worth checking out in your travels in Panama, especially if you like to travel mindfully as the property is self-sufficient and off-the-grid.
STAY WITH A GAY LOCAL
Misterb&b is the Airbnb equivalent for the LGBTQ community. Unlike on Airbnb, you know your host is gay, voiding any nasty surprises when you check-in. It is also a great way to meet gay locals and discover the underground gay scene. Click below to get 10 € (or $10) off our first booking.
02
Lula's Bed and Breakfast
gay-friendly and adults-only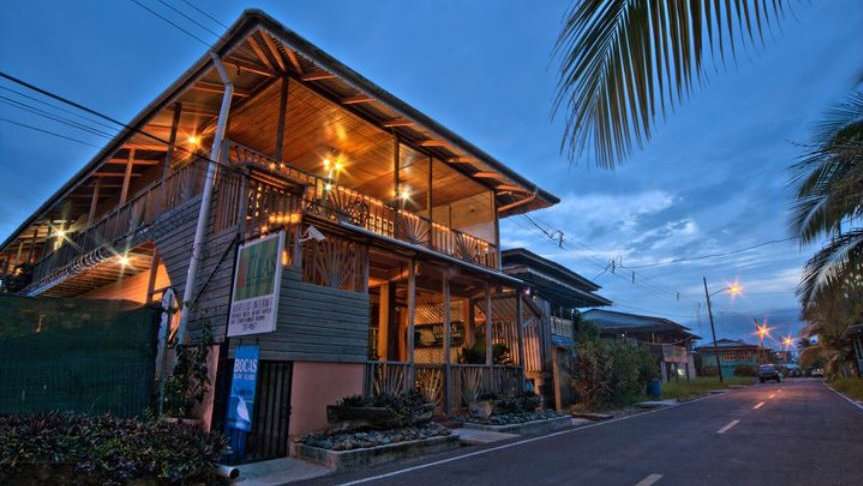 Why we love it
---
Gay-friendly adults-only bed and breakfast
Located in the heart of Bocas town
Delicious breakfast options
Affordable and comfortable
Lula's is a very gay friendly bed and breakfast, located in Bocas town, so it's handy if you want to be close to all the nightlife. We were really impressed by all the excellent reviews, which praise the high standard of service.
We didn't stay here though because we preferred a more luxurious romantic beach experience to celebrate Stefan's birthday.
Even though Lula's is in the main part of Bocas town it's located down a side street which means you will still get a good night's sleep. But if you want to party, everything is just a quick walk away. Lula's is also perfect for travelers on a budget, as the rooms are very affordable, without sacrificing comfort or cleanliness.
One of the highlights is the service, the staff go out of their way to ensure all guests have a wonderful stay. They are happy to help you arrange tours and give you plenty of tips on the best places to explore nearby. Breakfast each day is included in your stay, and there's a wonderful selection of yumminess on offer, from pancakes to eggs (how you like them) to granola with yogurt or even breakfast burritos.
There's a small communal kitchen where you can heat up food or make simple things like sandwiches (it's not really for cooking huge meals) but we love the little "honor bar" system they use for a fridge stocked with beer and soft drinks. There's also a lovely outdoor space on the upstairs balcony with hammocks, table and chairs to enjoy the sunset.
---
Gay bars in Bocas del Toro
The place where you're likely to find any bars is in Bocas town. However, this is a small town, so don't expect any sort of real gay scene here. If you want to party, we recommend getting that out of your system in the gay scene of Panama City. Nonetheless, most places cater to the surfer/ex-pat community, so we found them to have a very tolerant and hippie-like vibe.
BomBom Beach Bar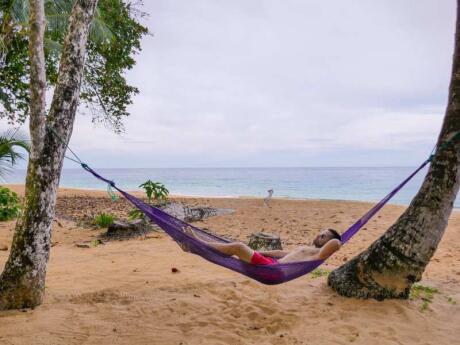 During the day, we loved hanging out at Island Plantation's own BomBom beach bar. They serve delicious cocktails as well as beers and, of course, the infamous pizzas straight out of their wood-fired oven. This is a true "dig your toes into the sand while sipping tropical cocktails under fluttering palm trees" kind of beach bar, and perfect for capturing that relaxed island holiday feeling.
Open: Daily from 11am until 6pm
Located: At Island Plantation on Bluff Beach Road, Bocas del Toro
---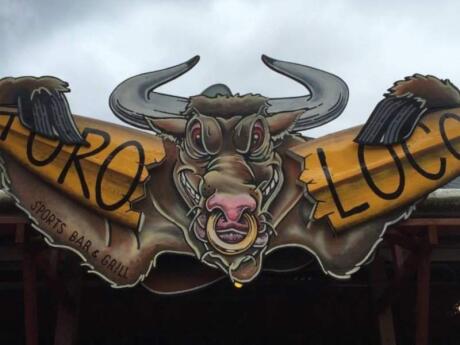 Look, we're not usually big fans of "sports bars" but the Toro Loco is not your usual sports bar. Yes, they show sports on the TV but they also have regular live music nights, a fun crowd, delicious bar food, and some cool extras. We like it because the crowd is usually a hip mix of locals, tourists, and ex-pats plus you can play things like Twister, darts, old-school arcade games or 'Tiki toss'! Their chili and burgers are also amazing, so it's a nice spot for lunch or dinner.
Open: Every day from 11am until midnight
Located: Calle 1A, Avenida Central, Bocas del Toro
---
Where to eat in Bocas del Toro?
Panama has plenty of delicious dishes to keep you satisfied, most of which you will be able to sample while you're in Bocas del Toro. These are our favorite places to eat in town which are all gay friendly but make sure you also do some exploring of your own!
We mentioned it briefly before but the restaurant at Island Plantation definitely deserves its own entry. La Pizzeria is nestled within the resort's lush garden with tiki torches lighting up the night and the best authentic Italian wood-fired pizzas we've tasted in a good long while. You can also enjoy delectable pasta dishes but we really loved the thin-crust pizzas and the fact that you can have them anywhere you like – even poolside or on the beach!
---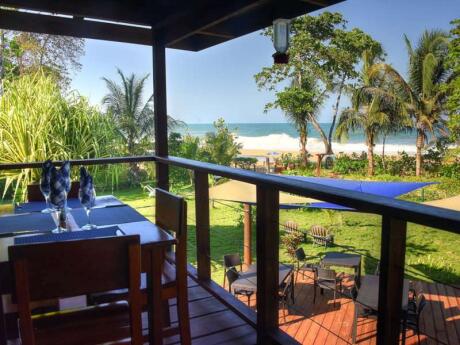 According to TripAdvisor, The View is the best restaurant on Bluff Beach and according to us, it's one of the best in Bocas del Toro! It's part of the Oasis Bluff Beach Bed and Breakfast but you can still enjoy the restaurant if you're not staying there. As you might guess from the name, the views here of the beach are stunning while the food is also incredible. Their steaks are sublime and they also do an excellent barbecue on Sundays – as well as pretty fantastic cocktails.
---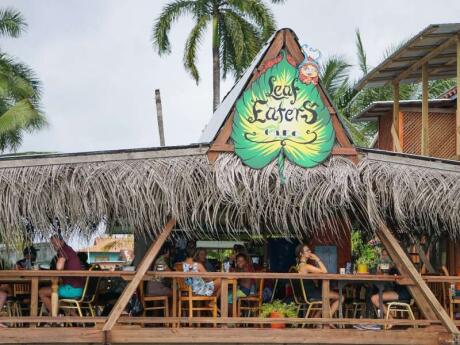 Vegetarians and vegans alike will adore Leaf Eaters Cafe, where everything on the menu is plant-based. This includes things like burgers made with bean or quinoa patties and tacos made with textured vegetable protein instead of meat. Their breakfast pancakes and other sweet treats are also to die for, along with excellent coffee. We also loved having one of their yummy smoothies or a cocktail in the afternoon while enjoying the waterfront views.
---
Top things to do in Bocas del Toro
There is so much to do in Bocas del Toro, especially if you like active exploring or trying out all the beaches. Here are our personal favorite picks of activities for gay travelers to do in Bocas del Toro.
Island hopping and snorkeling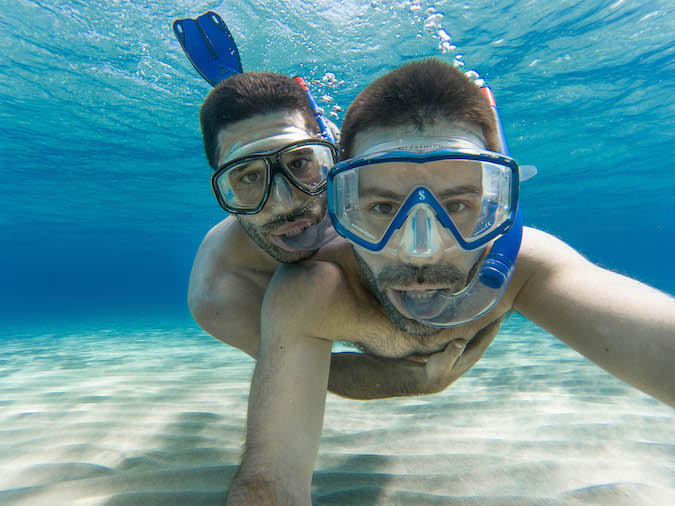 It may seem counterproductive but one of the must-do things in Bocas del Toro is to get out of Bocas town and explore further afield. The islands that make up the Bocas del Toro archipelago are ideal for snorkeling and wildlife spotting on an island-hopping tour. We particularly liked snorkeling around the Zapatilla islands and the chance to look for sloths on Sloth Island. The waters here are crystal-clear while the beaches are soft white sand, perfect for a spot of sunbathing.
---
Beach time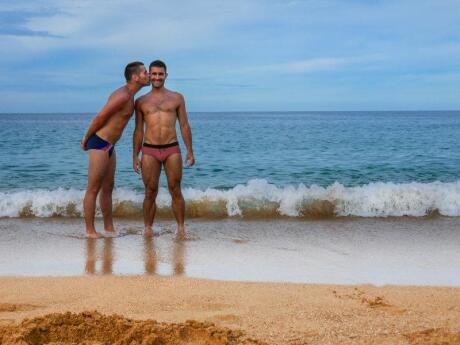 You don't need to get on a boat or book a tour to enjoy the best of the area though, it's all about chilling on the beach here. There are plenty of gorgeous beaches within walking distance of Bocas town, like Bluff Beach where the Island Plantation resort is located. Playa Bluff is the largest beach on the main island as well, so there's ample room for everybody even though there usually aren't many people around. Another worth checking out is Starfish Beach – rated as one of the top 10 beaches in the world!
---
Rent bikes and explore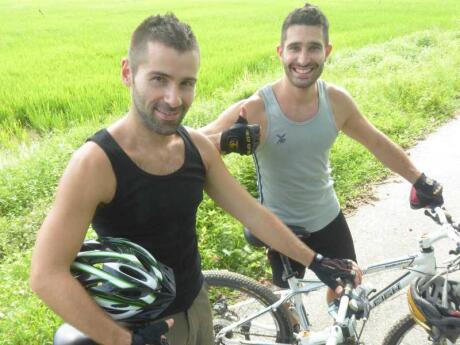 While you can explore Bocas del Toro by walking, some parts are easier, and more fun, to get to by bicycle. There are plenty of places where you can rent bikes in town and then go adventuring. We really enjoyed cycling up to Punta Bluff to see the massive waves that only really experienced surfers would attempt. We didn't swim here though, as the rip tides can be quite dangerous but it makes a killer backdrop for one's afternoon mediation.
---
Exploring mangroves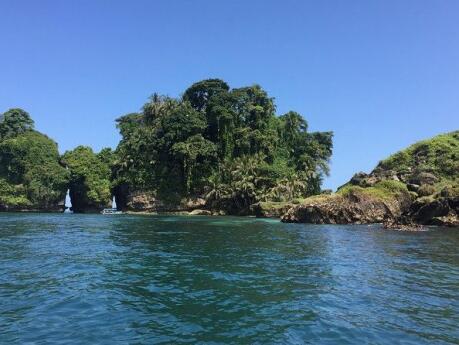 As well as beaches, Bocas del Toro is also home to beautiful mangroves that can be enjoyed with snorkeling. This speedboat tour heads to Mangrove Point, where you can snorkel among the mangroves AND a sunken ship as well as including stops at some of the more remote beaches we already mentioned. It also takes you to Bird Island, which was named so because it resembles the shape of a bird, although it also attracts a lot of migratory birds if you're into bird-watching!
---
See baby turtles hatching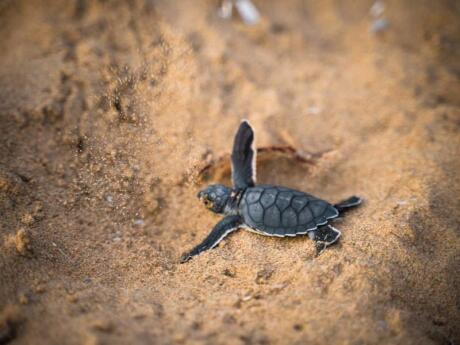 Seeing baby turtles hatching is an incredible once-in-a-lifetime sight that you might get to see on Bocas del Toro if you're lucky. When we stayed at Island Plantation, we saw plenty hatching one evening and then crawling towards the sea. It was magical! You can also visit the Sea Turtle Nesting Booth in Parque Simón Bolívar in the middle of Bocas town to sign up for a tour of the Bluff Beach Municipal Reserve. Here you'll get to see lots of turtle nests during a guided night-time tour.
---
Plan your trip to Bocas del Toro
We've put together some handy hints and tips to help you plan your own trip to Bocas del Toro. Read on to find out everything the gay traveller should know before they go.
Travel insurance: We never travel without the security of travel insurance and definitely recommend you also organise it before heading to Bocas del Toro. We have been using Heymondo Travel Insurance for years and love them! Their cover is comprehensive and affordable, plus it's really easy to make a claim online when you need to.
---
How to get there: Bocas Town is the main town and transport hub into the region, located on Colon Island. You can reach it via daily flights to/from Panama City (45 mins) or overland by bus from Panama City to Almirante (around 11 hrs), followed by a boat from Almirante (30 mins).
---
Visa requirements: Travellers from most EU countries, USA, Canada and Australia do not need a visa for up to 90 days as a tourist in Panama. However, when you check-in for your flight, your airline will require you to show that you have a return/onward travel ticket. Make sure you check if you need a visa before you book anything for Bocas del Toro.
---
Getting around: Bocas Town is small enough to get around by walking or you can rent bicycles or get a taxi to go further afield. There are also many water taxis to explore nearby islands and a bus that takes you to Drago Beach – Starfish Beach is a short walk from there. Check out this guide for more info on getting around in Bocas del Toro.
---
Power Plugs: The power sockets in Panama are the same as those used in North America, Central America, China and Japan. If you are traveling from somewhere else (like Europe or Australia) then you will need to bring a travel adaptor with you.
---
Vaccinations: All travellers to Panama should make sure they're up to date with routine vaccinations like measles, mumps and chickenpox. Most travellers should also be vaccinated for hepatitis A and typhoid. Some travellers may also need vaccinations for hepatitis B, yellow fever, malaria and rabies, depending on what you'll be doing and where you'll be going. Check the CDC website for the most up to date info and also speak to your local doctor or travel nurse before heading to Bocas del Toro.
---
Currency: The currency used in Bocas del Toro and the rest of Panama is simple – it's the US dollar! £1 converts to around $1.24 and €1 to around $1.08. We recommend downloading the XE Currency app before you go.
---
Tipping culture: Tipping is not generally expected in Bocas del Toro and locals will just round up to the nearest dollar. Most restaurants will include a 10% service charge, but if not, that's a good ballpark figure for your gratuity. For tour guides, we were recommended to give a tip of around $10 per day, but note, it is discretionary and not expected. You can read more about tipping etiquette in Panama here.
---
Internet access: The larger hotels and hostels in Bocas del Toro provide good free WiFi if you need to get online but most of the time the focus here is to get outside rather than sitting at your computer all day! If you will need to get some work done, or just can't bear to be away from Instagram (hey, no judgement!) then we suggest bringing a portable WiFi device with you.
---
Accommodation: We love using Booking.com to choose our accommodation in Bocas del Toro. They have an excellent selection at great prices and many listings include free cancellation which is ideal if you like to be a bit spontaneous when traveling. Their online customer support is also excellent and available 24/7.
---
Sightseeing and adventure: We also love to use GetYourGuide for booking fun things to see and do in Bocas del Toro. They offer so many interesting tours and activities around the world with lovely customer support available online 24/7. It's also really easy to book your activities online.
---
When to visit: The weather is warm in Bocas del Toro year-round but winter brings big storms which are great if you're there to surf but not so great if you want to explore the small islands or lounge on the beach. The driest/sunniest months to visit are January to May and then September/October. September and October are our favorite months as the sea swell is low so it's perfect for snorkeling! Plus this time is not as busy with tourists so prices are lower.
---
Gay map of Bocas del Toro
We've made this map for you which shows all the best gay friendly places in Bocas del Toro that we've mentioned in this guide. Use it to help plan your own fabulous trip to Bocas del Toro!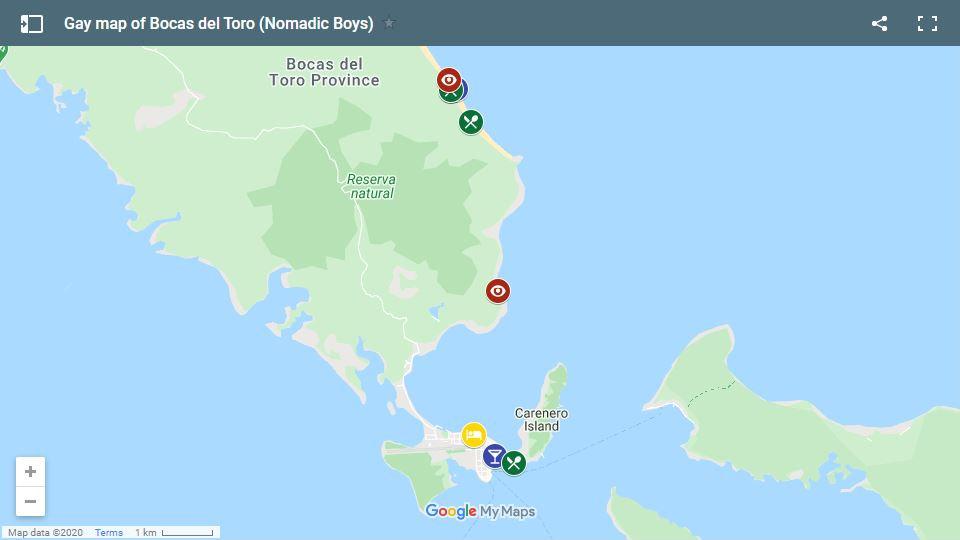 ---