TERMS OF USE: There is a chance that some of the content on this page has changed since it was last updated. By reading this article, you consent to our Terms of Use and Disclaimer. Happy Travels!
DISCLOSURE: Some of our posts may contain affiliate links which we may receive a commission if you choose to book something through one of our links.
Read about some of the best traditional foods of Argentina to try from Bife De Chorizo, milanesas, empanadas, choripans, alfajores… and many more.
PHWOOOAAAR Argentina – all that delicious meat… you truly spoil us!
Before we start, a big disclaimer from us – this is not an article for vegans and vegetarians. Argentina is a meat lover's paradise where some of the best foods are almost entirely meat-based.
When it comes to its steaks, Argentina is world-famous (all those "Gaucho" restaurant chains for example!) so we were super excited to try it in the actual country. When traveling around Argentina, "steak hunting" became our daily pastime, particularly in the capital, Buenos Aires – "which parilla shall we try out tonight?"…"which cut shall we try next?"..
The Argentinean cuisine does, of course, have a lot to offer beyond its famous steaks, but let's face it, for most foodies coming here, this will be top of your culinary bucket list. As should the wine…and the milanesas…empanadas…choripans…alfajores…and…and….!
We'll stop salivating now and urge you to read on to find out more about some of the best traditional foods of Argentina.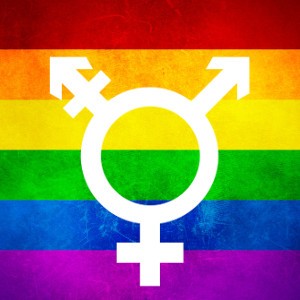 Advice for LGBTQ travelers to Argentina
Argentina is gay friendly and in our opinion, one of the most gay friendly countries in the world becoming the first place in South America to legalise gay marriages back in 2010. Buenos Aires has a huge gay scene, with something to cater for everyone. Read more in our gay travel guide to Buenos Aires. LGBTQ travelers should, however, take note that homophobic machismo attitudes still prevail across the more rural areas of Argentina, so if heading outside the main cities and towns, be cautious of this. Read more in our interview with Juan from Buenos Aires about gay life in Argentina and use our Argentina gay country guide to inspire your trip.
Where does Argentinian food originate from?
The food of Argentina is a testament to how diverse the country is, with cuisine influenced by the Spanish colonizers during the colonial period, then a later influx of Spanish and Italian immigrants during the 19th/20th centuries. In fact, Argentina had more immigrants between 1853 and 1955 than the United States!
Argentina is a big country, so there's a lot of cultural diversity and a wide range of regional dishes. Along with Spanish and Italian, immigrants from a variety of cultures have contributed to the cuisine of the country.
One major part of the Argentine diet that's the same pretty much everywhere is the prevalence of meat. Argentineans eat more red meat than any other country in the world, which you will most often see in the form of their yummy asados, a type of Argentine barbecue. Beef, pork and poultry are all produced and consumed, although beef is the biggest industry, along with dairy.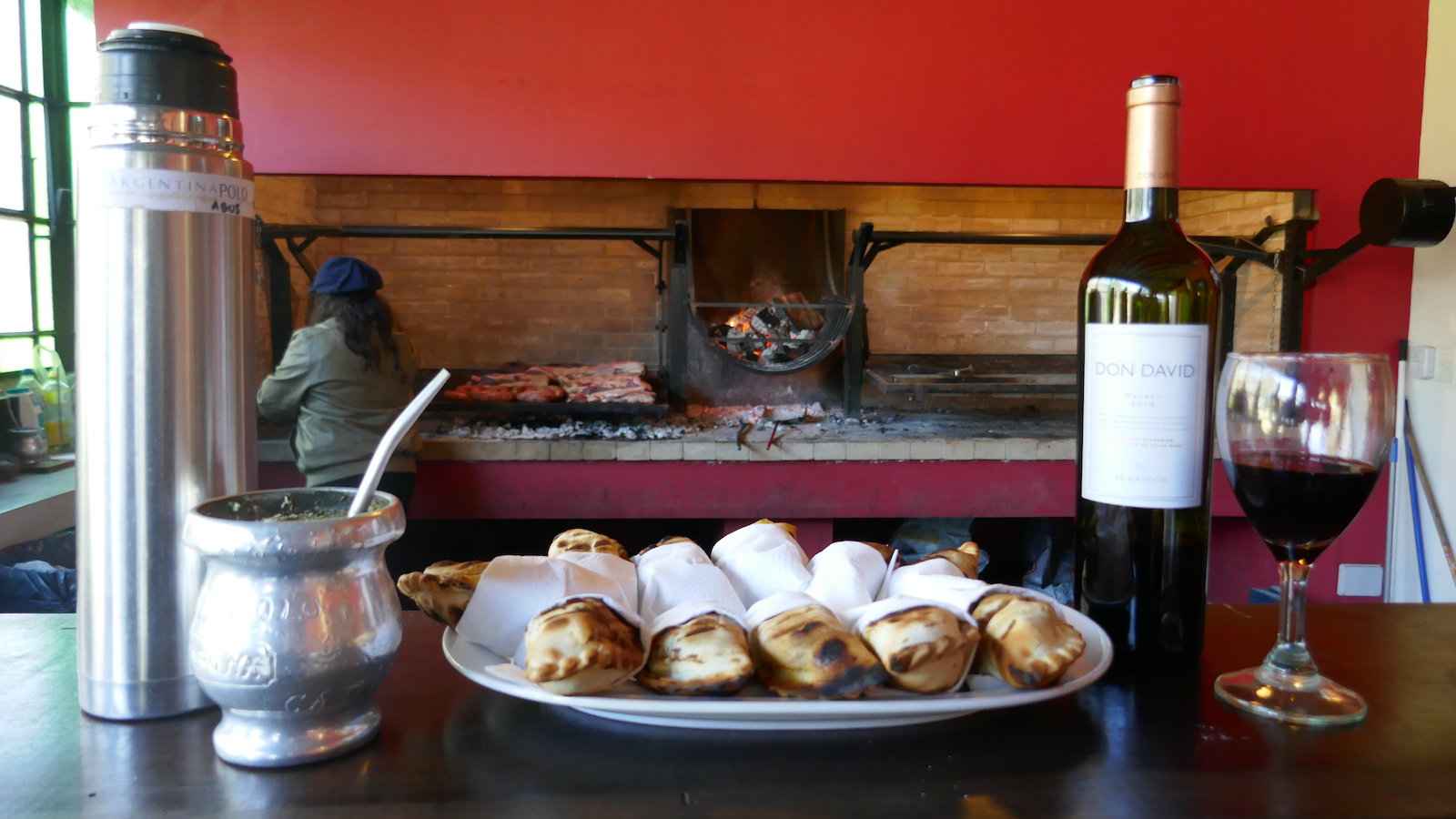 1. Bife de chorizo – our favorite Argentinean steak
According to The Cattle Network, Argentina is 1 of 5 countries in the world that has more cattle than people – Uruguay, Brazil, New Zealand, and Australia being the other 4. The best way to enjoy a good steak in Argentina is at a parilla (pronounced parisha in the Argentinean dialect). These are the steakhouses, with some of the best found in downtown Buenos Aires.
The parilla is the name of the large iron grill in which the meat is barbecued, and the occasion of going face down in large plates of barbecued meat with friends, laughter and plenty of wine is called an asado. Our personal favorite cut of beef to eat at an asado or a parilla is the bife de chorizo, otherwise known as sirloin steak, and sometimes New York steak.
Bife de chorizo is the prime cut of steak, so if you're in Argentina having some of the best beef in the world, you might as well go the whole way and have the best cut too!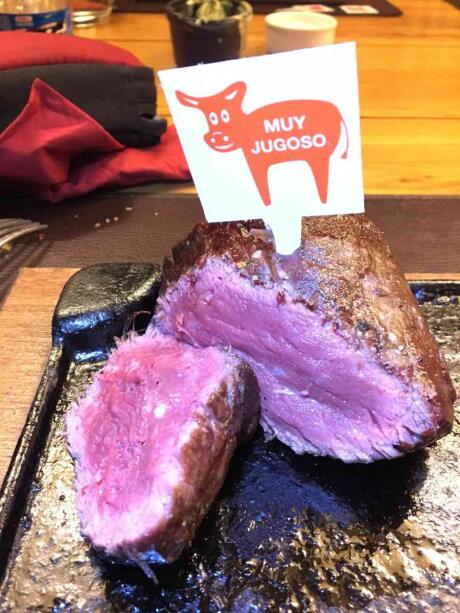 2. Milanesa a la Napolitana
Milanesas are breaded seasoned meat fillets, dipped into a whipped egg mix, covered in bread crumbs, and fried. They are like Austrian schnitzels but made with beef instead of pork. They were initially brought to Argentina by immigrants from Milan in northern Italy. Of course, once the dish arrived in Argentina, it was given a whole new lease of life!
The milanesa a la napolitana takes plain Milanesa to a whole new level, coating the end product with tomato sauce, mozzarella and either ham or prosciutto. This version was named after the restaurant Nápoli in Buenos Aires where it was created in the late 1940s, and it's now become one of the most popular Argentinean snacks.
It's often served for lunch, with French fries or a salad, and the leftovers used to make a handsome sandwich. Try to taste the other Milanesa variations if you're in Argentina, but if you can only have one, then make it a Milanesa a la Napolitana!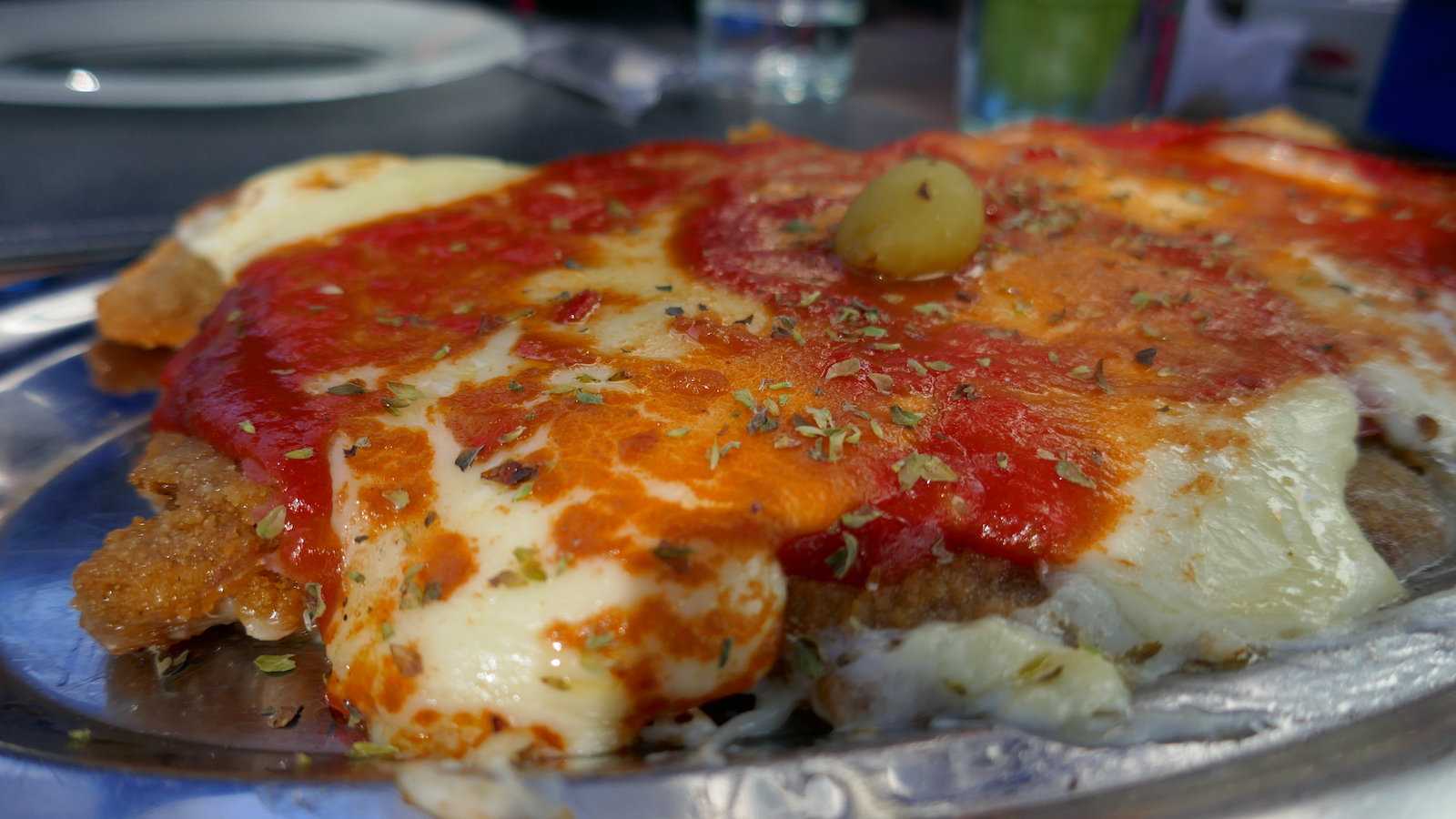 3. Provoleta – grilled Provolone cheese
Of course, you can always take it one step further and, instead of having a Milanesa smothered in melted cheese, just have the cheese! Another Argentinean dish with Italian influences, provoleta, is an Argentinean dish made from provolone, an Italian aged cheese.
This plate of melted cheesy goodness is made by slapping a chunk of provolone cheese into a skillet and then grilling it until it's the perfect mix of melted on the inside/slightly crispy on the outside. It's usually topped with chili flakes and oregano then served with an olive oil drizzle to really enhance the flavors. You are likely to see it on menus in Argentinean restaurants as an appetizer, or at an Asado.
For something so simple, provoleta is quite an incredible foodie experience, a must for anyone who loves a good old-fashioned grilled cheese. For anyone who's lactose-intolerant, we can only weep for you that you can't fully enjoy a slice of this mouthwatering dish!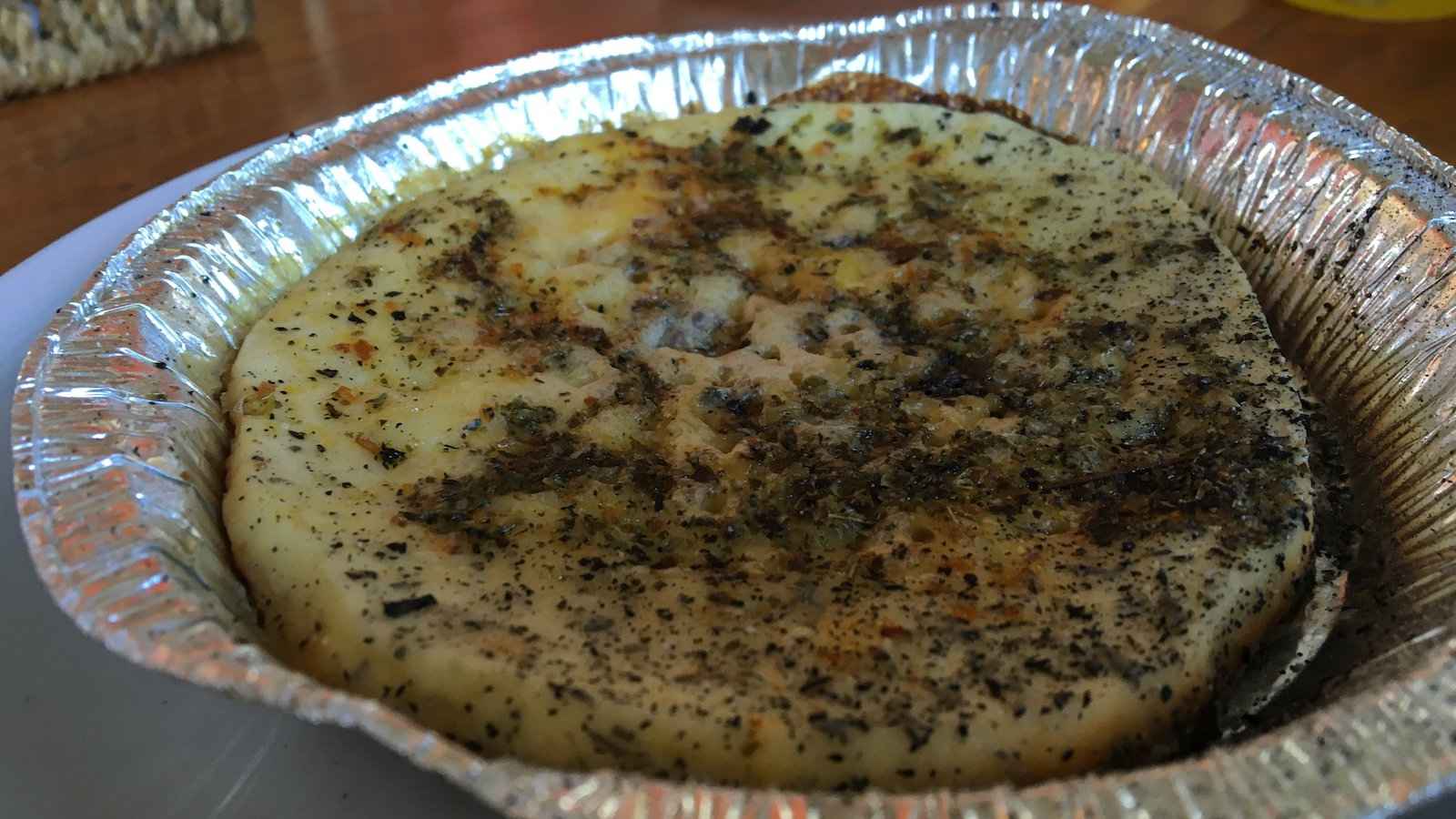 4. Chimichurri: the Argentinean pesto
Chimichurri is the Argentinean pesto, an uncooked sauce which is usually used to marinate grilled meats, as a dipping sauce for bread, or spread on choripáns and empanadas. It's pretty much the go-to condiment for Argentineans, as ubiquitous as ketchup is in the USA.
There is no uniform recipe, but our recipe for Argentinean chimichurri includes finely chopped parsley, minced garlic, olive oil, dried oregano, chili pepper, and vinegar. Chimichurri usually comes in a red or green version, with bell peppers and/or tomatoes added to the parsley base to make the red version. The end result is a tangy garlicky type of salsa, which pairs very well with any red meat.
In an Argentinean restaurant, you will first be presented with a bread basket, which will come with a variety of dipping sauces, including chimichurri. Other popular sauces include Criolla (tomatoes and raw onions, pronounced criosha) and provencal (chopped parsley and garlic in oil).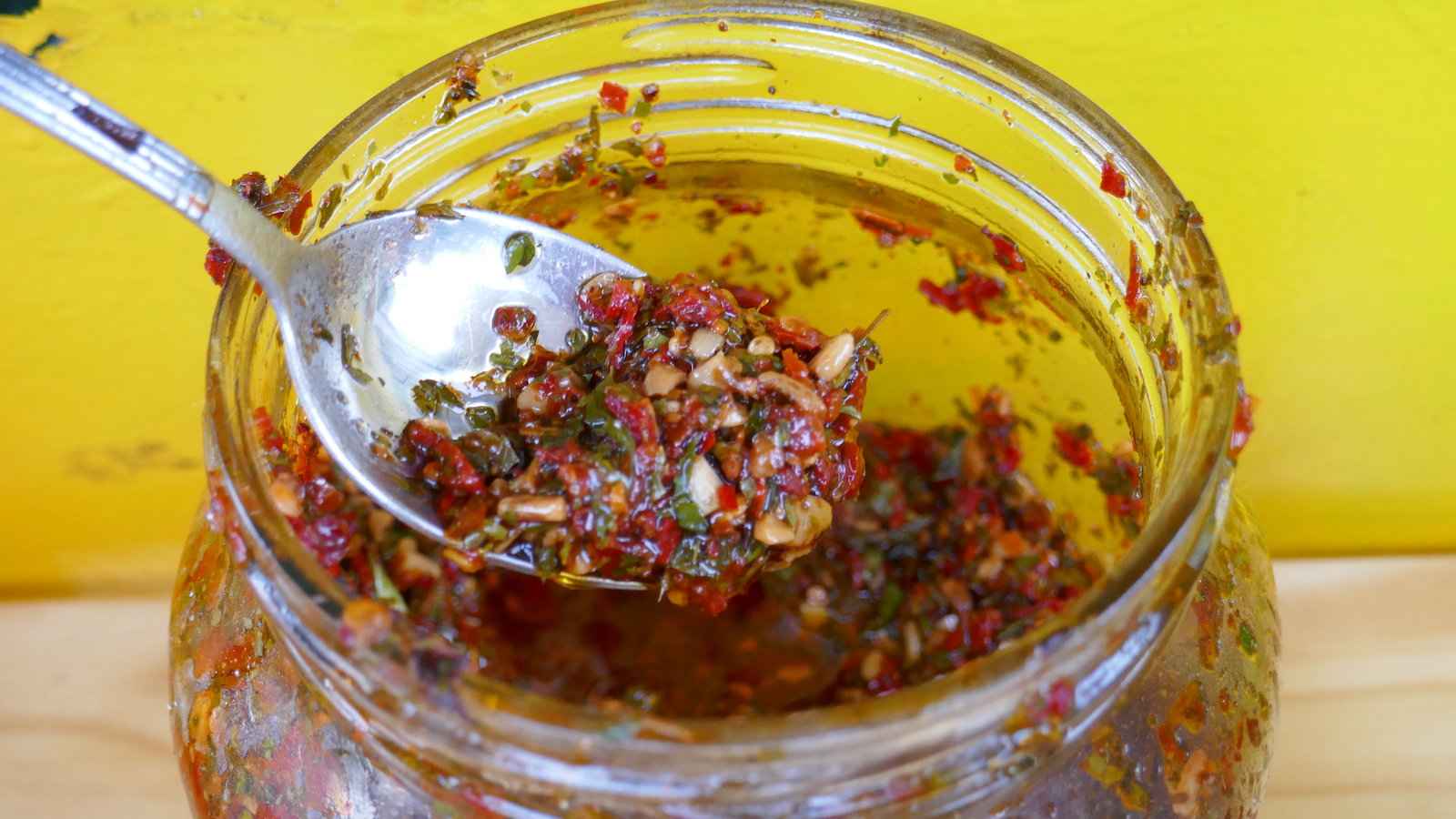 5. Tucuman empanadas
Empanadas are stuffed pastries with a variety of fillings, which are then fried or baked. Beef is the most common one but it's confusingly called Carne, which means meat. Other popular fillings include Pollo (chicken – pronounced posho in Argentina), queso (cheese), jamón (ham), and atún (tuna).
Empanada comes from the Spanish word empanar, meaning to wrap and there's a whole code about the correct way to wrap/fold them, depending on what the filling is. It's thought that the dish itself was brought to Argentina by the Spanish, who in turn got it from the Arabs who inherited it from the Persians…
We found that the specialty empanadas from the Tucumán region were the best, although they're also a bit different from other types. The dough is made with flour and beef fat, while the fillings include meat with ingredients like raisins, onions, hard-boiled eggs, paprika, and cumin. Tucuman empanadas always nicely compliment a delicious glass of local wine.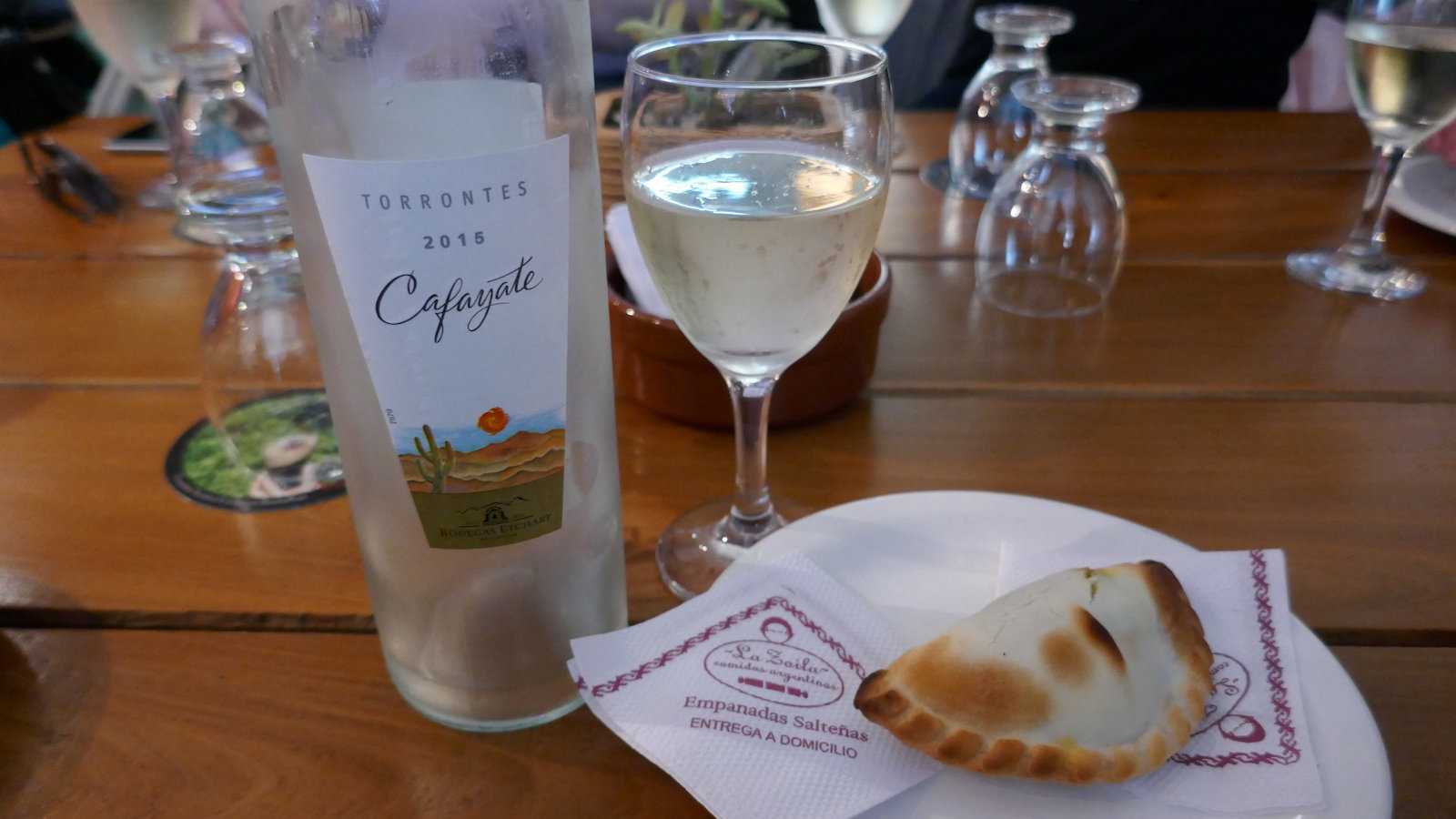 6. Tira de Asado (Argentinean beef ribs)
When you hear the word Asado in Argentina, it can either be referring to the act of having a big barbecue or it can be the word used for ribs, which are cooked at an Asado. Confused yet? Asado de Tira (or Tira de Asado) might make more sense, as this is the name of short-cut ribs (also called spareribs), which are absolutely delicious when cooked on a Parilla (grill).
Argentinean ribs are cut slightly different than the ones that are popular in other cuisines, which makes them suitable for grilling rather than needing a long cooking time. Typically, Tira de Asado is only seasoned with a little salt before cooking then, of course, amply covered with chimichurri when ready to eat!
Since Tira de Asado are small, they aren't cooked long, just until they're crispy on the outside and tender inside. Make sure you have a glass of Malbec to pair with the delicious meat and enjoy…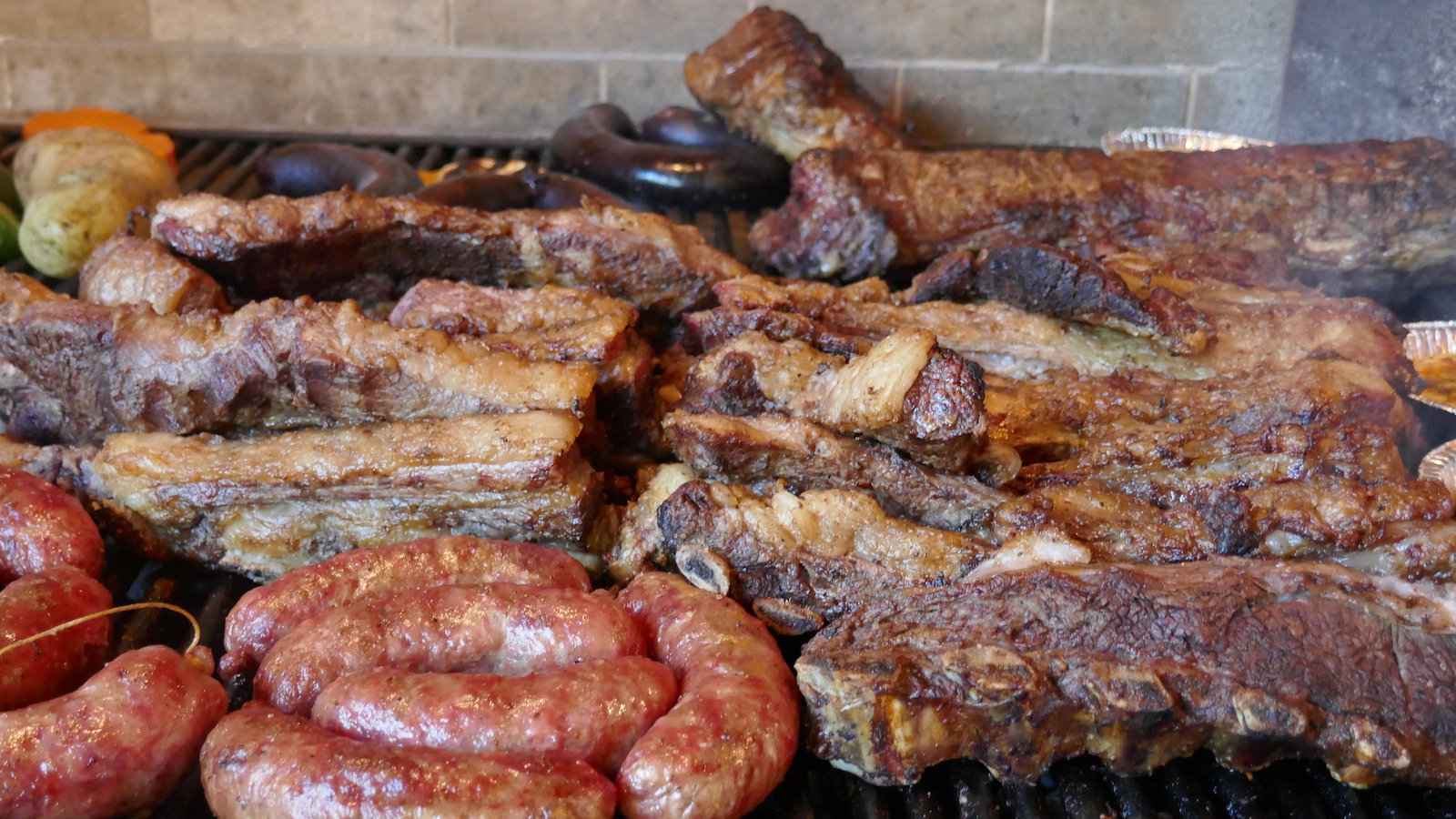 Dulce de leche is like the bl00d of Argentina. It's made by caramelising condensed milk and used in nearly all of Argentina's desserts: anything sweet will be sure to have plenty of dulce de leche, from ice-cream toppings, to spreads for bread and as a drizzle for over pancakes.
Alfajores are cookies comprised of 2 biscuits sandwiched together with different fillings, the most popular is dulce de leche, which is then coated with grated coconut. They're kind of like a French macaron, but the biscuits are more like shortbread in taste and texture. Alfajores originated in the Arab world, brought to Spain by the Moors and then to Argentina. Nowadays Argentineans eat them all day long, consuming more alfajores than anyone else in the world!
The Sebastien inspired version of alfajores took the recipe to a whole new level by multiplying the dulce de leche content and then dipping the final product into melted chocolate before saying "goodbye abs":
8. Choripán: the Argentinean hot dog
Choripán is the Argentinean hotdog equivalent, with grilled pork or beef chorizo sausage and salad served between slices of a baguette or marraqueta roll. The name describes its ingredients: chori for the chorizo and pan meaning bread.
The chorizo for choripán is grilled and then split down the middle to make this tasty snack. The best way to enjoy one is to smother it in chimichurri, while in some regions it may also be served with caramelized onions, pickled aubergines, green peppers, and/or other toppings.
Like empanadas, choripáns are finger food, which you're likely to eat as an appetizer at an Asado or as a snack at a Boca Juniors football match. You'll find them at street food festivals and sports events all over Argentina – the ease of being able to eat them on the go is just one reason they're so popular. The other is because they're so delicious!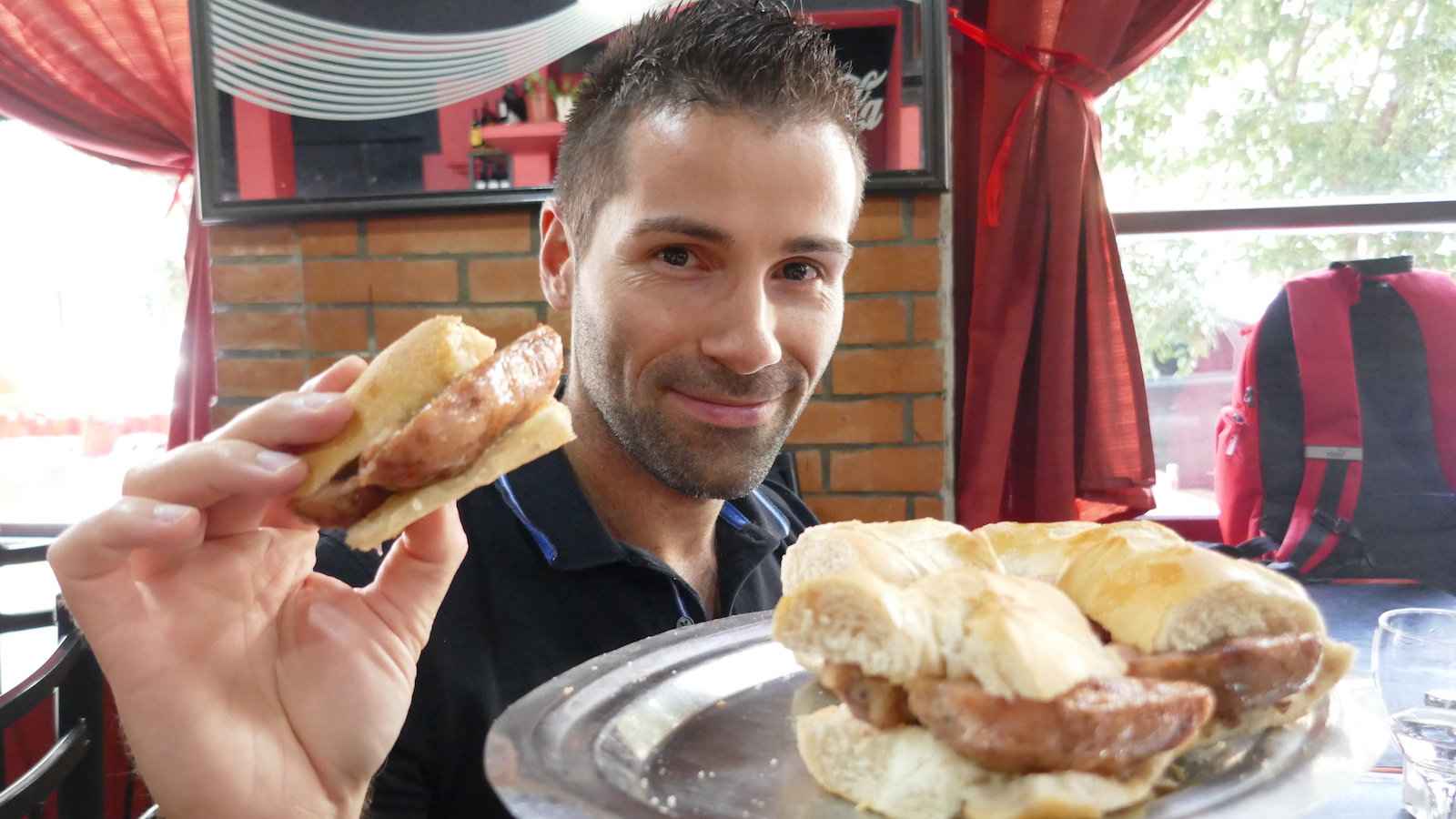 9. Medialunas – Argentinean croissant
It seems like Argentina has its own version of a lot of dishes from other countries, doesn't it? Medialunas are another example since they obviously closely resemble a French croissant. The word medialuna means "half-moon", which describes the curved shape they have, like croissants.
Argentine medialunas are smaller than croissants, denser, slightly sweeter, and gooier. They're often glazed with a rum-and-sugar mix but otherwise served plain. While many Argentineans make them at home they're also available at bakeries throughout the country. They are especially popular for breakfast – washed down with some strong coffee.
Medialunas are often served with sweet spreads like jam, dulce de leche, or chocolate. As well as being perfect for breakfast they're also readily available for an afternoon snack when you need a hit of sugar. Called merienda, afternoon tea in Argentina is definitely required when most people don't have dinner until 10 pm or later. Swap out coffee with some yerba mate for a quintessential Argentinean merienda.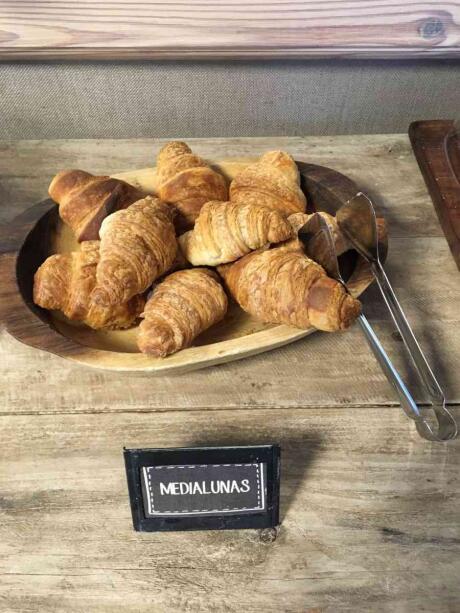 10. Fugazza, the Argentinean pizza
Fugazza is another Argentinean dish where it's easy to see the Italian influence on Argentine cuisine. It's basically the Argentinean version of pizza, but with several differences which make it distinct from what most people imagine when thinking of pizza.
Argentinean Fugazza is made with a base of dough that resembles foccacia or sourdough and is super-thick. The traditional toppings are light on the sauce, heavy on the cheese (generally mozzarella with parmesan) and usually includes plenty of caramelized onions. Oregano and olive oil top off this simple but delicious delicacy. When we say this is a cheesy pizza we really mean it too! Fugazza just isn't fugazza unless it's dripping in cheese.
You can also get fugazza with different toppings, like spicy pork sausage, ham, spinach, olives, and bell peppers. If you like deep-dish pizza, you'll probably love fugazza. If it's not quite cheesy enough, try the fugazetta which is basically a stuffed-with-cheese version of fugazza.
11. Yerba Mate tea
Yerba mate (pronounced MAHteh) is the most popular drink in Argentina: it's engrained in the culture, the focal point in social gatherings, and handed around for everyone to share.
Mate is a black herbal tea made from the yerba mate herb, grown in the Northeast provinces of Misiones and Corrientes. To make mate the plant's leaves are dried and then ground into a powder. This powder is then placed in a gourd (the mate pot), hot water is added and it is sipped from a metal straw (the bombilla).
Similar to black tea, mate has a good kick of caffeine as well as all the other health benefits of tea. A common sight in Argentina is locals holding the flask of hot water in one hand and the iconic mate gourd in the other. Preparing the perfect mate is considered an art form by locals, one which I almost mastered to a T in Buenos Aires:
12. Carbonada criolla (beef stew)
Here's a dish that's distinctly Argentinean, thought to have been developed by the gauchos, Argentina's version of cowboys. It's basically a stew that's left to cook in coals while the gauchos went off to work during the day. But there are several things that set carbonada apart from your typical stew!
To start off, you've got your usual stew ingredients. Firstly, there's meat, usually beef (since it came from the cattle ranchers) along with potatoes, carrots, sweet potato, tomatoes, and peppers. Then there's also corn, still on the cob, along with dried fruit like apricots, pears, raisins, and peaches. The final unique aspect of this sweet and savory stew is that it's traditionally cooked inside small hollowed-out pumpkins.
Once the stew has cooked slowly in the coals, it's eaten directly out of the pumpkins. The remaining pumpkin flesh is also used to enrich the flavors, but using the pumpkin as a "plate" substitute means minimal washing up! Of course, if you want to attempt carbonada criolla at home, you can cook it in a pan or just put the filled pumpkins in the oven.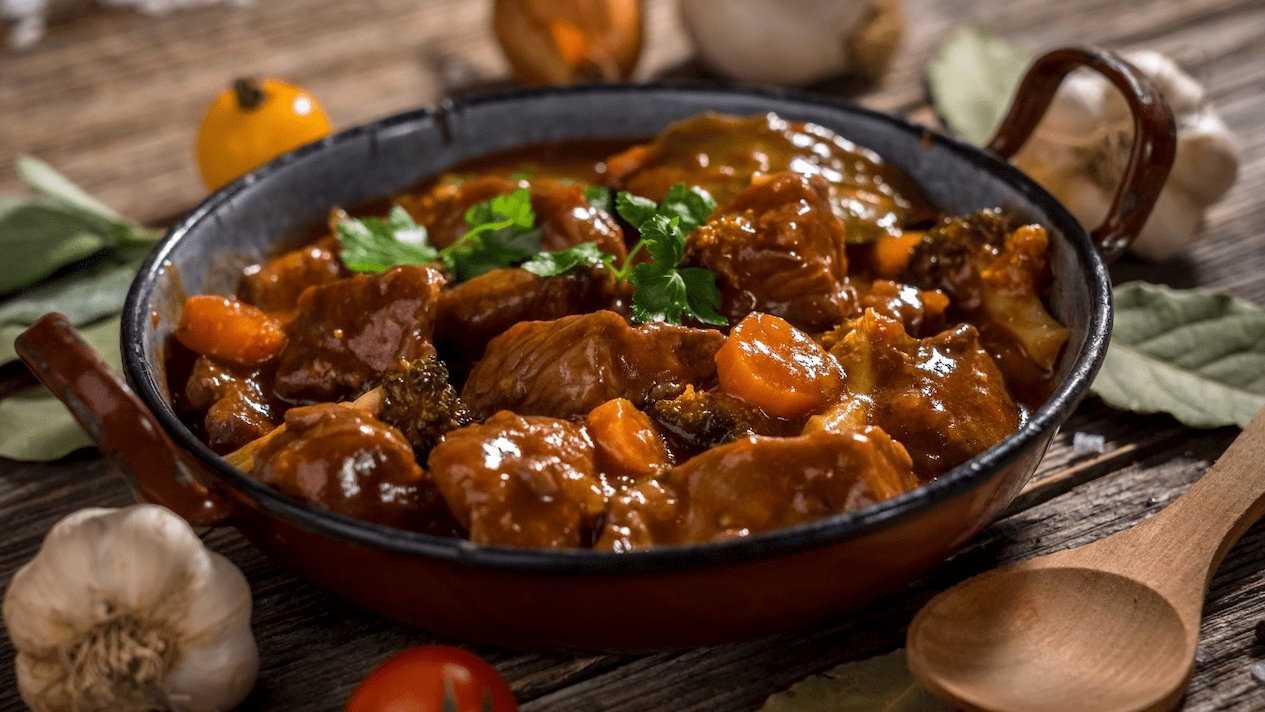 13. Helado de dulce de leche y tiramisu
According to National Geographic, Argentina is one of the top 5 places in the world to have the best (ice cream). Argentinean ice cream is called helado (from the Spanish word for ice cream), similar to gelato. This is one of the many strong Italian influences in the country as a result of the mass emigration between 1857-1940.
The Italian immigrants brought gelato and Argentina embraced it and made their own version of gelato crossed with traditional ice cream. The result? Helado. Opinions about where you can try the best helado in Argentina vary with immense volatility. The Porteños will say it's in Buenos Aires, the Rosarians will swear it's in Rosario, the Cordobeses will have you believe it's in Córdoba, etc…!
You can be sure a Helado in Argentina will blow your mind, particularly the more unique flavors like Dulce de Leche or tiramisu!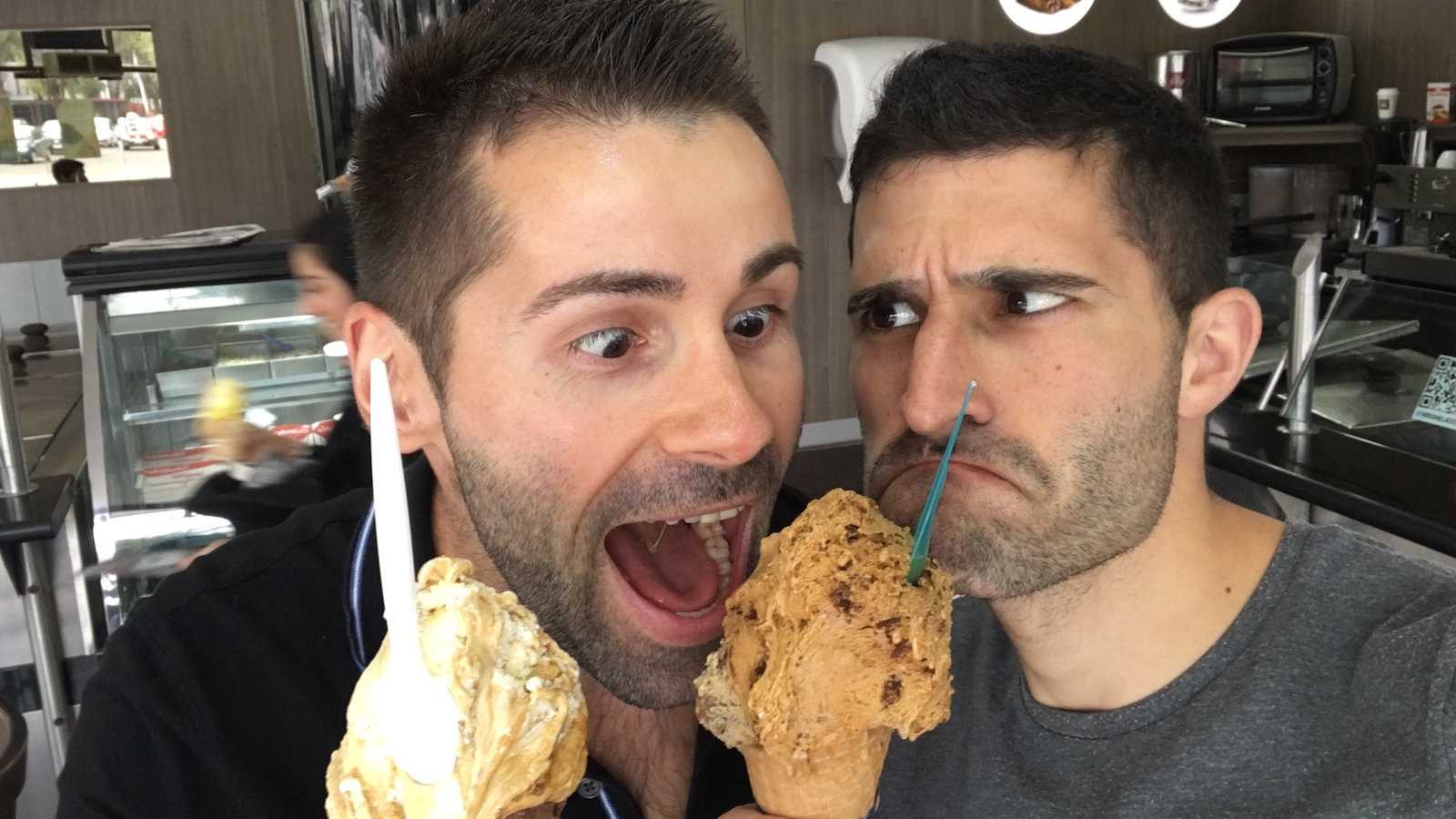 14. Pacú a las brasas: the fish with human teeth
Argentina has a strong affinity with rivers, especially in the Northeast. During our road trip through Corrientes and Misiones, we discovered many delicious freshwater fish specialties to try like surubi, Boga, dorado, and our favorite, pacú.
We had a delicious pacú with Criolla salad dish at the excellent Puerto Valle hotel in the Esteros del Ibera, but while pacu is quite tasty it's also a fish with a weird secret – they have unusual square-like teeth, very similar to ours! The pacu fish is related to the piranha but is omnivorous rather than carnivorous, feeding on plants in freshwater rivers of South America.
While they're not flesh-eating like piranhas, the pacu fish does have a strong bite, often feeding on nuts that have fallen from trees into the water. Funnily enough, this fact led to the erroneous belief that the pacu liked to grab men's testicles! Don't worry, this isn't true, although we don't recommend sticking your finger (or other body part!) into the water near one to test out this theory…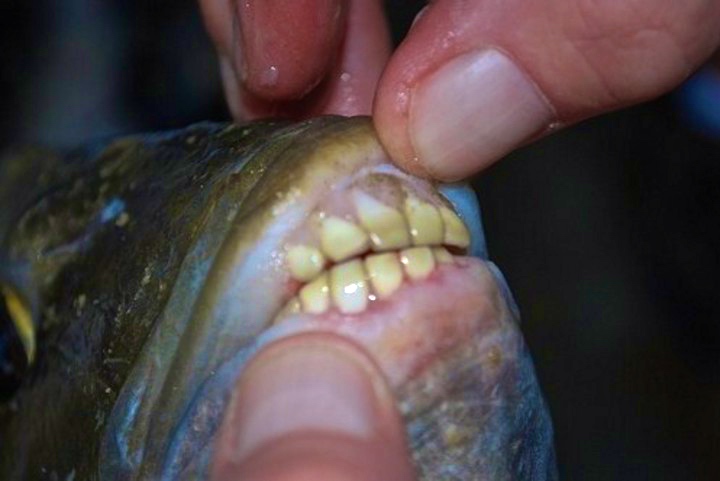 15. Torta negra galesa – Patagonian Welsh cake
Did you know that Argentina has one of the largest Welsh communities in the world (outside of Wales)? They are mainly found in the southern Chubut region of the country. The Welsh migration happened around 1865. Along with their language, culture, and customs, they also brought with them their love of Afternoon Welsh Tea!
If you're in the Chubut region you can find Welsh teahouses serving tea, sandwiches, and cakes, including the torta negra galesa, also known as the Patagonian Welsh Black Cake. When the Welsh settlers arrived in the region they found it was quite isolated and received harsh weather. They needed a food that would keep for a long time so they came up with this fruit cake that also reminded them of home.
The Patagonian Welsh black cake is very similar to the fruit cake traditionally served at weddings and Christmas in Wales – a rich cake filled with candied fruit, nuts, spices, brandy or rum, and molasses. The result is rich, moist, filling, and oh so very delicious!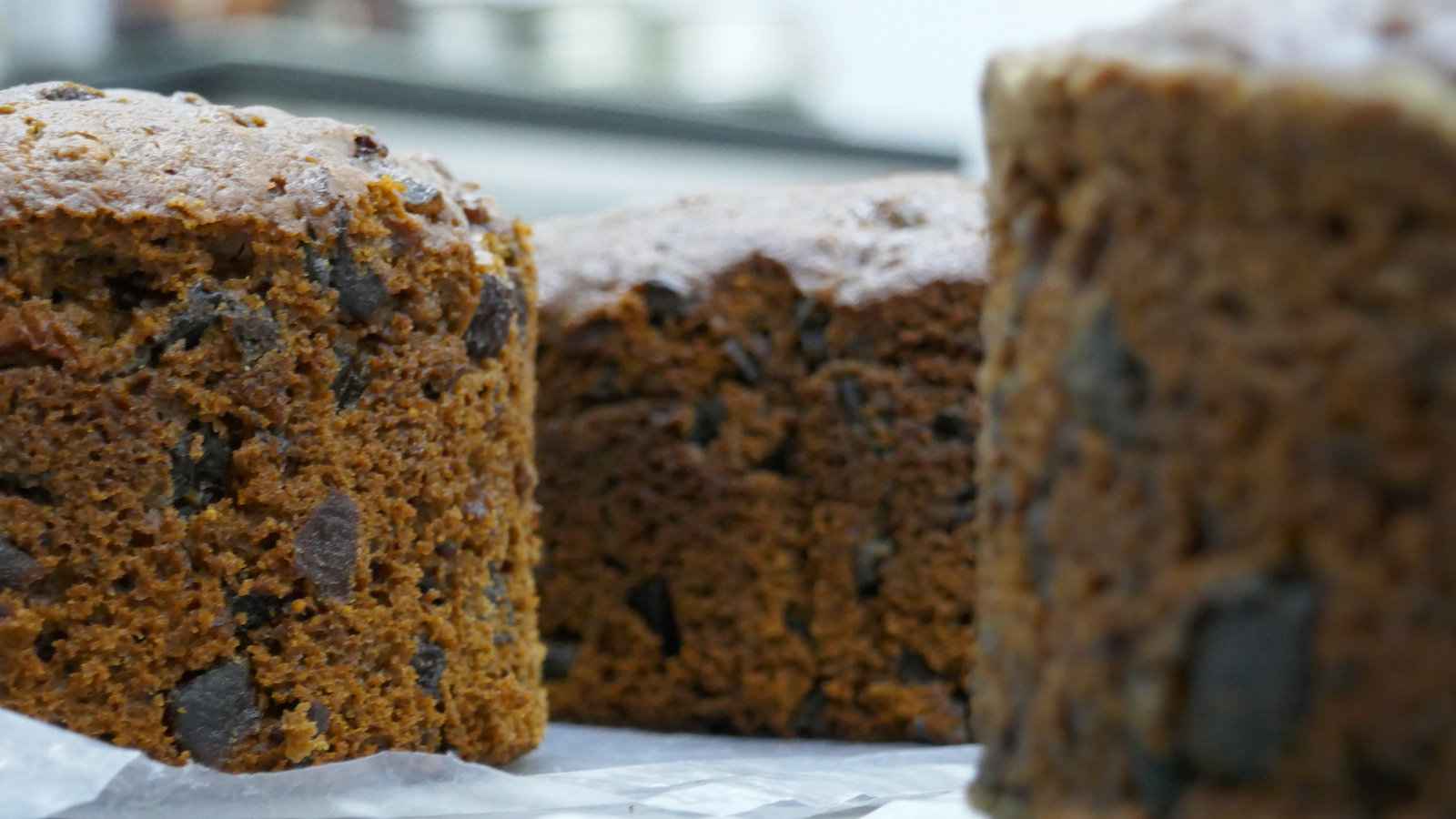 ---