TERMS OF USE: There is a chance that some of the content on this page has changed since it was last updated. By reading this article, you consent to our Terms of Use and Disclaimer. Happy Travels!
DISCLOSURE: Some of our posts may contain affiliate links which we may receive a commission if you choose to book something through one of our links.
We used to always wonder, what makes America the land of the free? It wasn't until we discovered their world of gay saunas that we truly understood!
Always busy, always fun, always liberated. Let's just say that American guys don't hold back when it comes to enjoying their time at a gay sauna. From getting off in the steam rooms to freely complimenting each other in the open showers to throwing underwear parties, it truly is a free for all zone.
It also begs the question: Why are gay guys so obsessed with saunas?
Well, why WOULDN'T we be? They're big, hot, sweaty rooms, full of dudes in their birthday suit, with no judgments or diva attitudes. They are a place for queer men to find each other, socialize and relax, maybe even indulge in some hanky panky (away from the prying eyes of hetero-society), and who knows, even find Mr. Right.
So, with all that in mind, check here is our list of the 10 best gay saunas across the USA:
If you think Fort Lauderdale couldn't get any gayer, wait until you hear about Club Fort Lauderdale. It's one of the city's most popular gay saunas, fitted with a state-of-the-art gym, outdoor heated pool, and a massive dry sauna. Oh, and it's open 24/7… one of many reasons we rate it as one of the best gay saunas in the USA.
There are plenty of movie rooms to pop in and out of – though something tells us you won't be seeing the latest blockbusters in there (a c0ckbuster, perhaps?). These films will certainly get you in the mood to visit one of the dark rooms. One contains a sling, the other contains various-sized holes in the wall… which one are you up for?!
And if you aren't up for being too naughty, you can chill out in the heated swimming pool and enjoy conversation with fellow guests. They offer a daily rate, but if you're staying in the area for a while, then get their 6-month membership, which costs around $40.
Read more about the local gay scene in our detailed gay guide to Fort Lauderdale.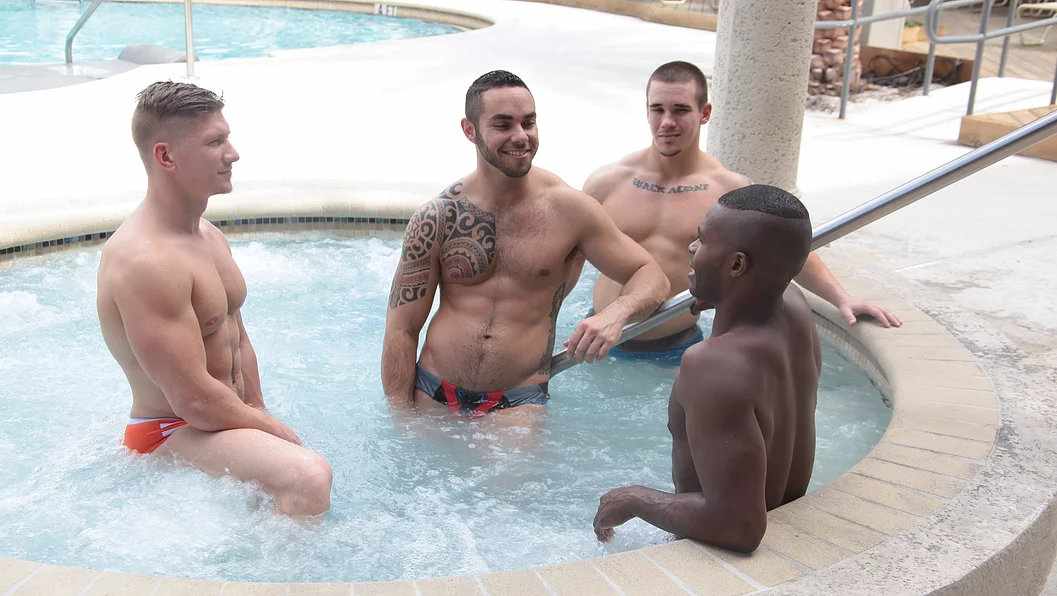 A place so enthralling, that even looking at their website will get you hot and bothered!
Steamworks Berkeley is open 24/7, all year round – as they know temptation never takes a day off. In this top gay sauna, there are plenty of private rooms for you to get frisky in, all of which contain flat-screen TVs to play adult film favorites.
The wet zone is exactly what you think it is. A huge multi-man whirlpool, with open showers and eucalyptus steam rooms, where guests can hang out (take that as literally as you like). It also contains two dry saunas to unwind in. If you're in a party mood, their live DJ sets are perfect for pumping and grinding to, with heavy dance music pulsing off the walls.
College students get a 90-day pass for free. Though for a sauna this fabulous, prices are fairly reasonable. $25 gets you a 6-month pass, with $7 giving you 30 days. Read why we rate San Francisco (right next door to Berkeley) as one of the gayest places in the USA.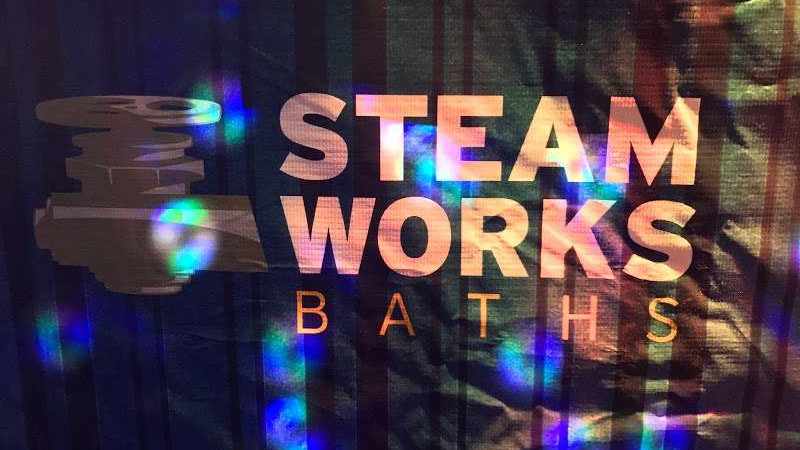 3. East Side Club NYC in Manhattan, New York
New York isn't known for being the friendliest city in the world… but that all changes when you cross the threshold into the East Side Club. Guests here are open-minded, playful, and totally up for getting to know gay strangers.
Situated in the same building as Lips (yep, the restaurant where drag queens perform whilst you eat), this salacious, sweaty, and tantalizing gay sauna, has been around since the 70s. And it ain't going anywhere anytime soon!
There's so much to get up to. Whether you want to kick back and watch a movie in their video rooms, chill out in their lounge while chatting with fellow sauna goers, or cosy on up with a stranger in the sauna/steam rooms, you'll be overwhelmed with fun options.
It's a perfect gay cruising spot, where you can escape into private rooms from $7 an hour (or rent for a whole weekend from $28). For more fun in the Big Apple, be sure to check out our guide to the best gay bars in NYC as well as our take on the awesome New York Pride.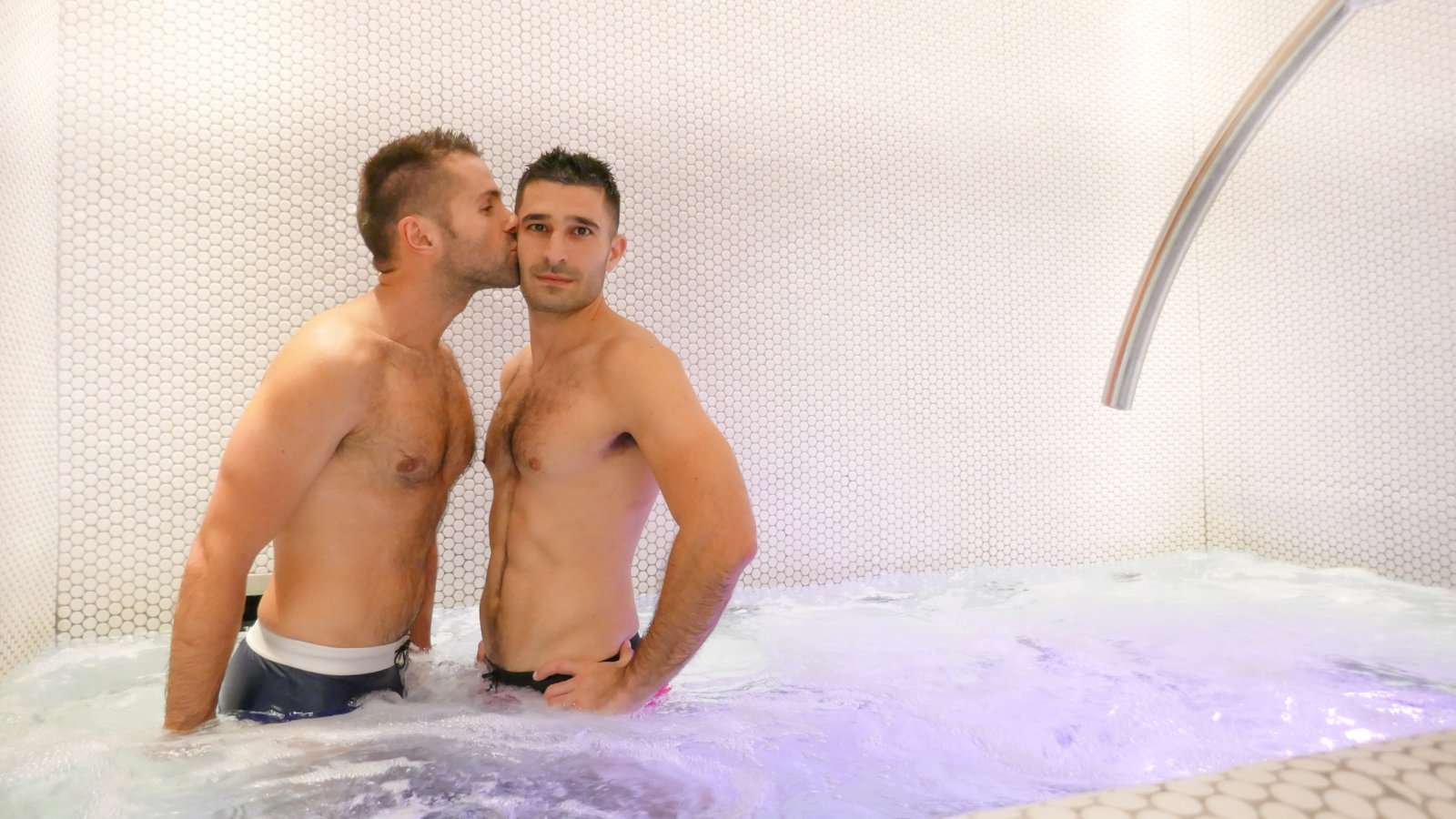 4. Eros in San Francisco, California
Who says weekdays have to be boring? There's always something going on at the Eros gay sauna in the heart of San Francisco.
Discover the dry sauna, steam room, and open showers, where gay men get up to all sorts of mischief. Discounts are available during the week depending on the theme. Wear leather on Monday. Bring a buddy on Tuesday. Wear just your underwear on Wednesday. Thursdays give 18 to 29-year-olds admission for just $10.
Every Friday has a different event, from party dress, to bear nights, and glow-up jewelery. And if you aren't in the party mood, why not join their nude yoga class? It takes place every Tuesday and is a great way to relieve tension (without doing the hanky panky), as well as connecting body and spirit.
Though if you are up for some dirty play, every second Thursday is for gay cruising. Come by, check out the guys, and embark on a naughty adventure at this top USA gay sauna!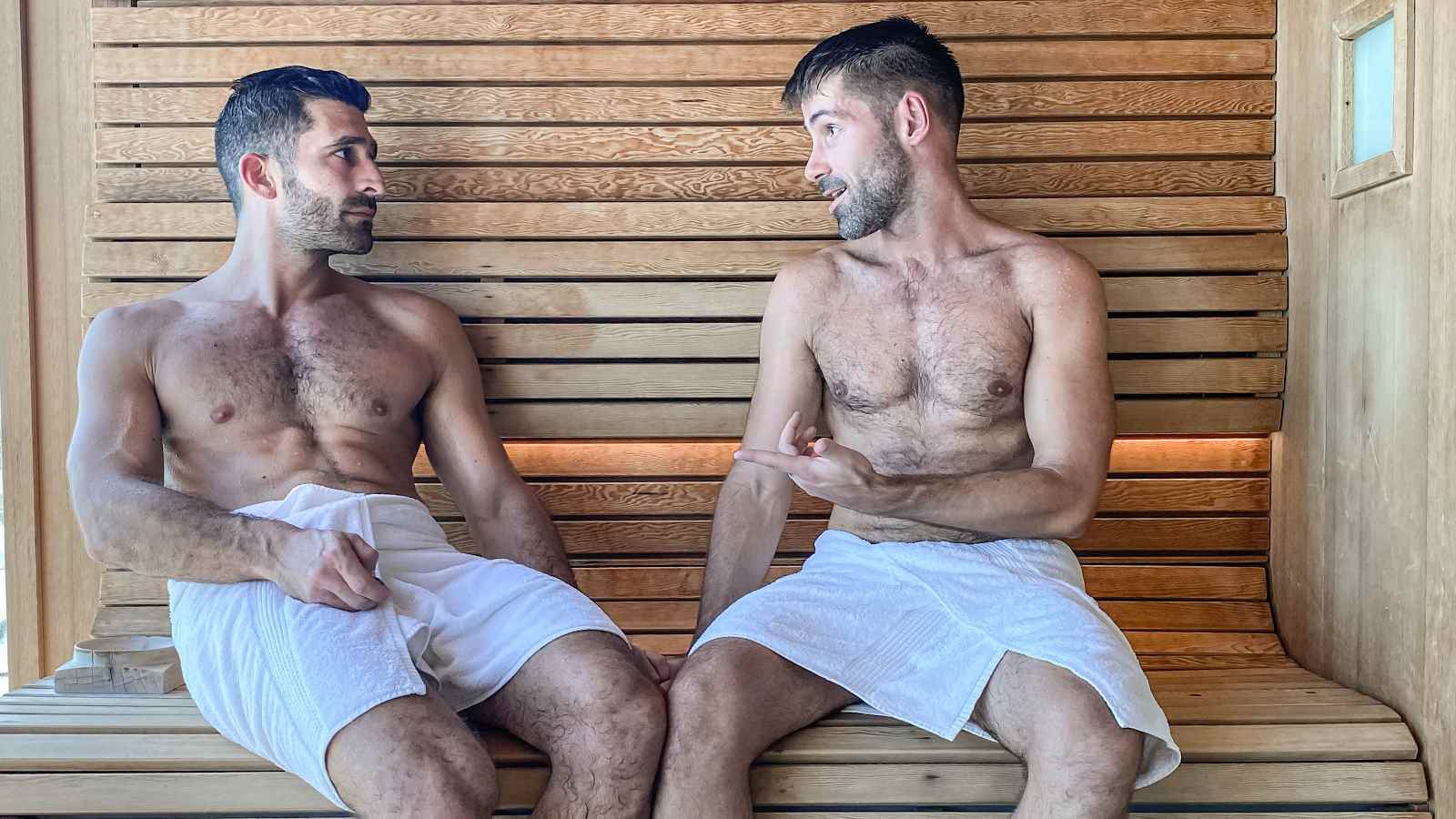 Is there anything Club Orlando doesn't have?
There are movie rooms to enjoy a film or two. A steam room to get all hot and sweaty in. A pool to cool down in and play some volleyball. Plus a hot tub to unwind, talk to strangers, and enjoy a drink in. Clothing is optional throughout this gay sauna, and you can rent private rooms by the day (perfect for a quickie!).
Their gym is state-of-the-art and not only offers a great place to work out in but also a space to get tested. Staff conducts free STI tests, on top of giving out free rubbers and "SafeSex" tips on the 4th Friday of every month. We love this commitment to health and spreading awareness around STIs – definitely something all USA gay saunas should do more of!
One-time memberships is $12, with $40 giving you 6-month access. Oh, and 18–24-year-olds go free! Note: dressing rooms and lockers incur additional fees.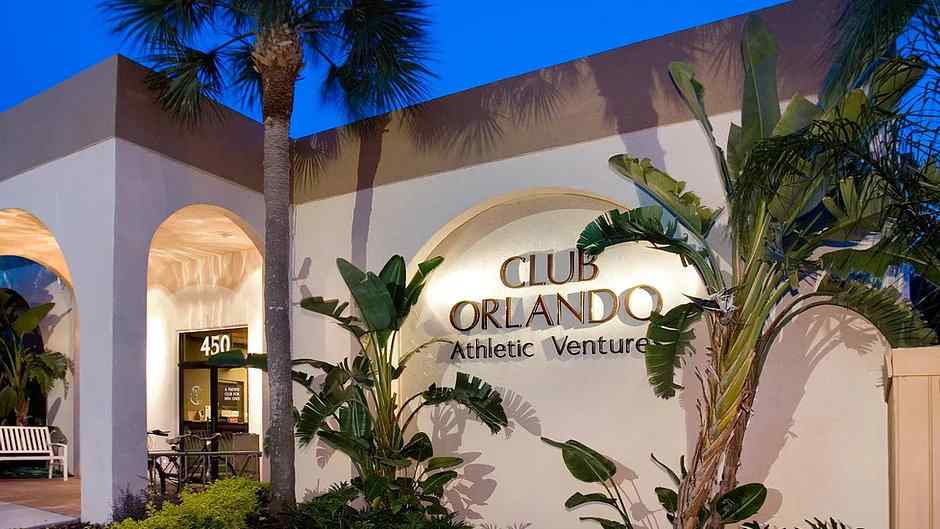 6. Crew Club – Washington DC
The hottest and best gay sauna and bathhouse in Washington DC. Crew Club is open to everyone of all sizes and all ages – over 18 years of course!
Located in DC's Logan Circle neighborhood, the Crew Club gay bathhouse has an obligatory steam room, showers, hallways to get lost in(!), a sauna, a large darkroom, and lots of private cubicles. Crew Club has become so popular that it's frequently rented out by certain (ahem!) content creators as a venue to shoot and host collabs…
Entry requires you to purchase a membership on entry and on top of this locker rental. They make a point of trying to entice younger guys by offering 18-24-year-olds free membership and locker access. Otherwise, look out for their half-price entry offers on Tuesdays and Thursdays from 4 pm to midnight. Remember to bring your ID with you – they are strict about checking this. For the latest prices and offers, check their website.
Towels are provided to wear, but if you want to go around wearing nothing that is also acceptable – as are jockstraps, harnesses, swimsuits, or underwear. We recommend bringing your own flip-flops or sandals to wear for walking around as these are not provided.
Crew Club is conveniently open all day every day. It is located at 1321 14th St NW Washington D.C.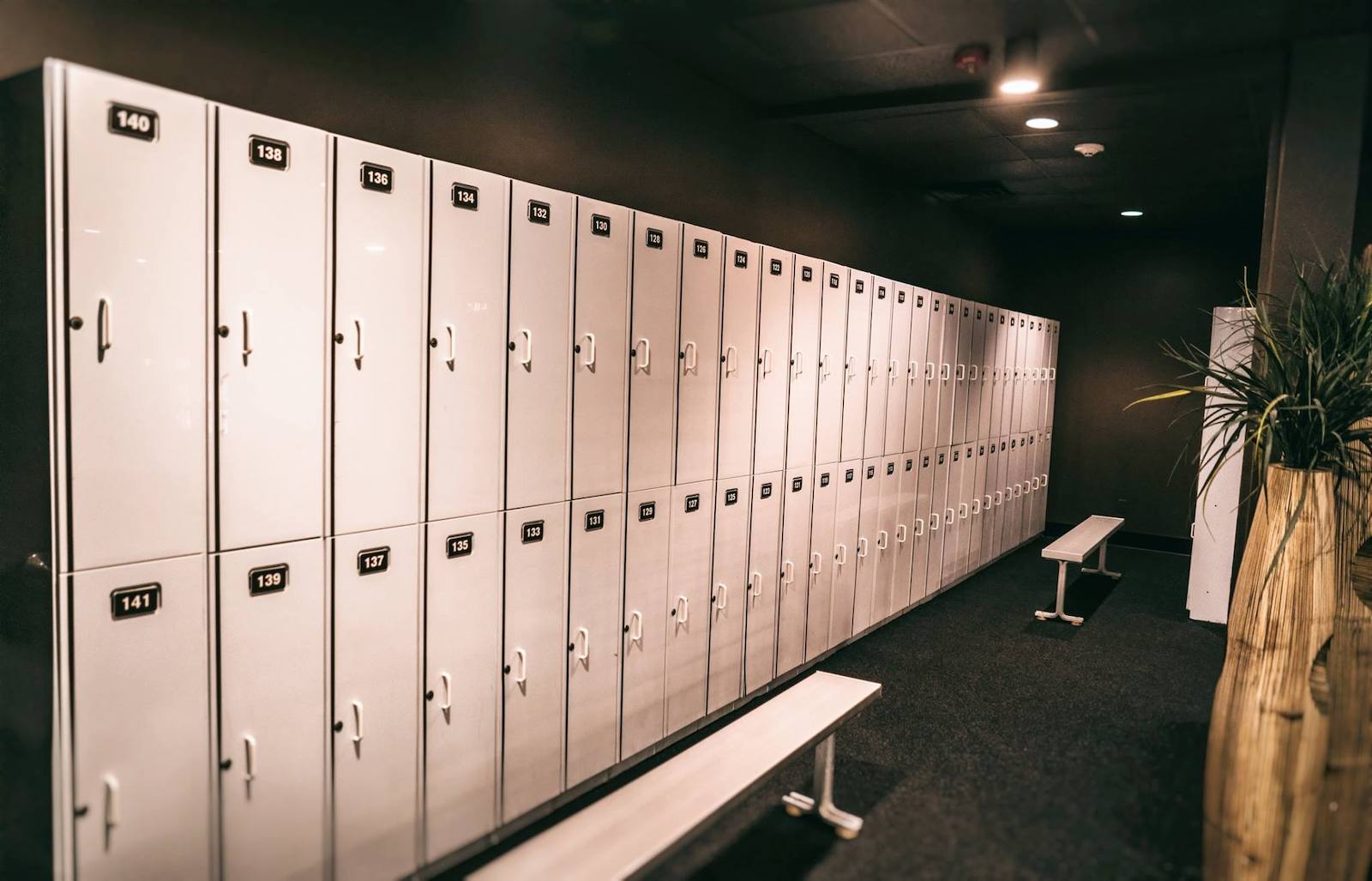 Ok, ok, we're kinda cheating with this one, as it's more of a gay resort than a sauna. But hey, with a heated pool, outdoor shower, indoor or outdoor Jacuzzis, steam room, dry sauna, sundeck, 24-hour gym and all-men policy, it's basically a huge, fancy spa – and as far as we're concerned, easily one of the best gay saunas in the USA. Except here, you get to sleep over!
Bedrooms are cosy and modern, with TVs that stream non-stop adult films. When you're not busy doing the deed, you'll want to be out meeting fellow guests. The bar/café is one of the best hangout spots, especially during Happy Hour. This takes place every day between 5-6:30 pm, where you have free range of the bar's premium cocktails. Trust us, you'll want to take full advantage of that when you have the chance.
On Wednesdays and Sundays, you'll enjoy gay pool parties, where you can wear as little as you like. And on Monday, gorge on the delicious BBQ ribs that the kitchen whips up. Island House has been described as a gay man's playground… and we concur! For more of the fabulous Key West, check out our detailed rundown of the gay scene of Key West.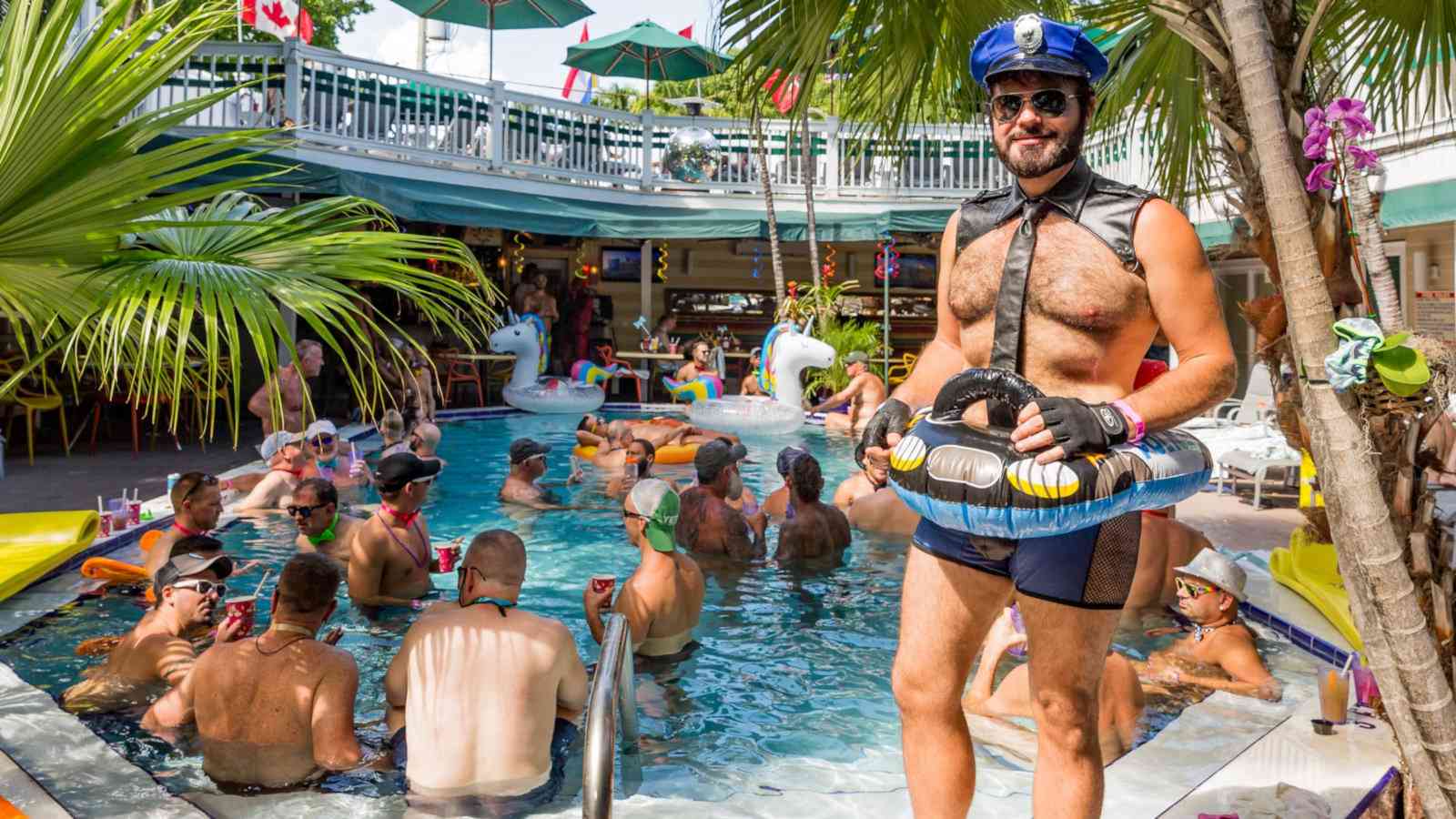 You know what they say: "everything's bigger in Texas"! Bigger saunas, bigger guys, bigger di- *cough cough*…
There is much to get up to in this epic gay sauna. Whether you fancy a chilled-out day by the pool or in the steam room, or an intense workout in the gym, Club Dallas has your back… and your front…
Their gym also has a no-@sshole vibe, where all bodies and fitness levels are welcome to exercise, without judgment from the vain gym rat type. Whether you are gay, bi, straight, or FTM transgender, Club Dallas welcomes you!
If you're aged 18-24, you can go free. Otherwise, you can pay a weekday/weekend pass of $8/$10. Or if you'll be hanging around down South for a while (oops… didn't mean for that to sound dirty – promise!), you can pay for a 6-month membership for $32. Though bear in mind, lockers and private dressing rooms cost extra.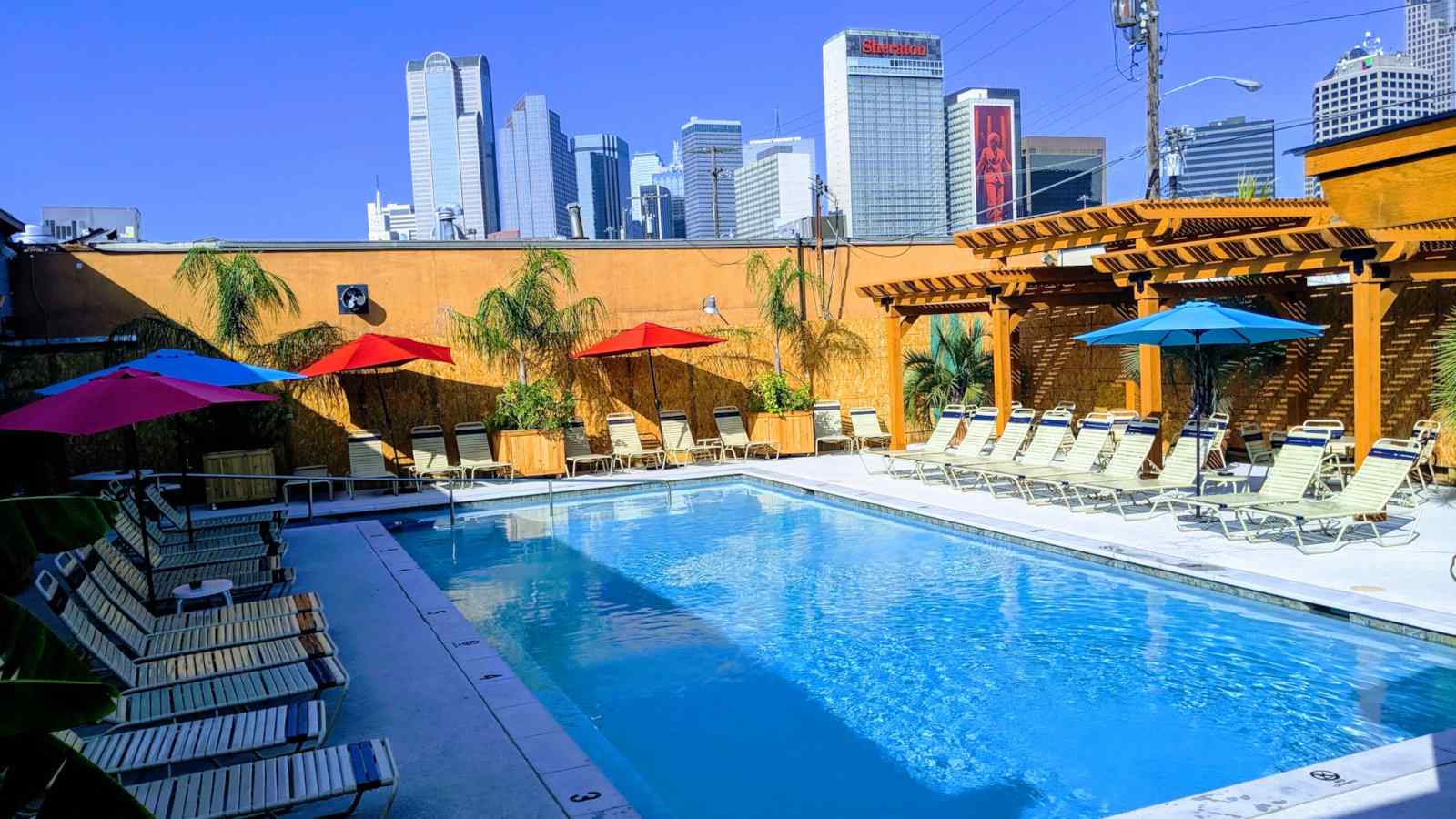 Club San Diego is a health club that brings men from across the LGBTQ community together. Inside, you'll find dry saunas, open showers, and private rooms with slings. Nudity is allowed in all wet areas… and guests do NOT hold back from celebrating that rule!
They host regular gay events, such as Pride parties, complete with pop music, cocktails, and exotic boy dancers. They've thrown Pineapple parties, where swiηgers of all orientations are welcome. And, of course, plenty of underwear parties, where people of all shapes and sizes are celebrated.
But our favorite event is their monthly Cumunion party(!), which celebrates all things Lust and Thrust. It's bold, daring, and utterly scandalous…
They also have an online shop, which sells everything you could need for a saucy night-in, including poppers, cock rings, lubricants, dildos, and erection pills. That's one hell of a shopping list and also why Club San Diego ranks as one of the top gay saunas in the USA!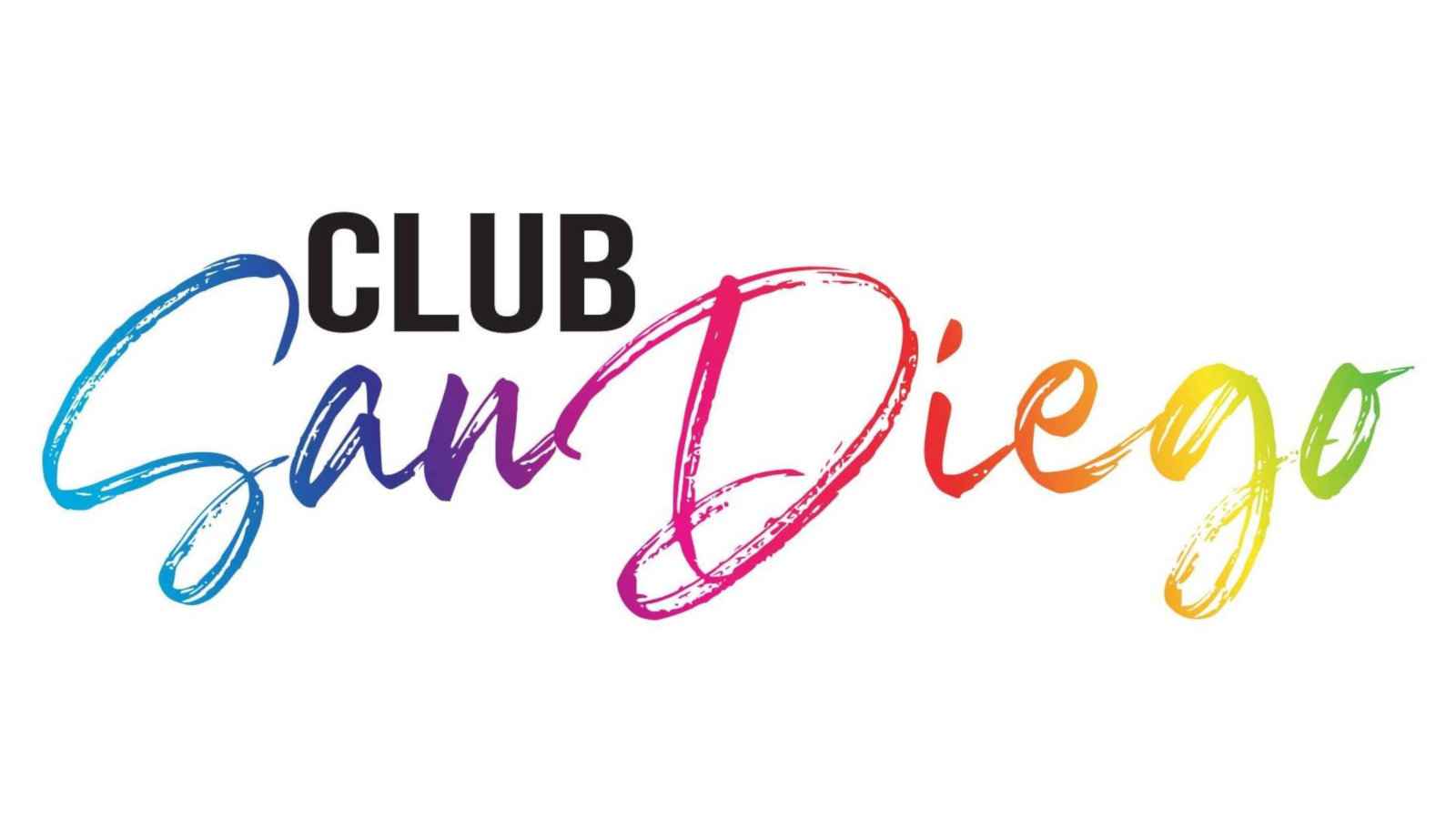 No problem here, Houston. In fact, it's the exact opposite.
Club Houston is utterly Gay Heaven… a sanctuary away from the towering skyscrapers and bustling city life. You'll likely get chatting with the friendly, local Texans, plus tourists from around the world. All the while basking in the gay sauna's relaxing atmosphere.
Whether you are in the mood for some sunbathing, a dip in the heated pool, a refreshing visit to the steam room, or distress in the sauna, Club Houston has you covered. The sauna runs free HIV testing Monday – Thursday (each day is conducted by a different HIV/AIDS awareness charity).
One-day visits are available for $10. But we think the 6-month membership for $30 is totally worth it, especially if you are in Houston for a few days or weeks and plan on making multiple trips. Usage of the lockers and dressing rooms do have additional fees though.