TERMS OF USE: There is a chance that some of the content on this page has changed since it was last updated. By reading this article, you consent to our Terms of Use and Disclaimer. Happy Travels!
DISCLOSURE: Some of our posts may contain affiliate links which we may receive a commission if you choose to book something through one of our links.
Did you know that the gay resort town of Palm Springs wasn't always… GAY?
Back in the early 20th century, Palm Springs was the holiday destination of choice for the likes of Frank Sinatra, Dean Martin, and Sammy Davis Jr. They, among other Hollywood royalty, would swarm to the city when they weren't filming some big blockbuster movie. Imagine how fabulous it would have been to see the likes of Marilyn Monroe, Ava Gardner, and Elizabeth Taylor partying around the clubs and bars?
Located just 2 hours away from the "City of Angels" Los Angeles, Palm Springs was the perfect getaway for stars looking for a break but still abiding by a strict policy that meant they had to stay within two hours of the studio at all times.
Today, it is still a popular destination for the famous elite and one specific demographic… the gays! In fact, it's one of (if not the) gayest cities in the United States! Not only is there a massive portion of residents who identify as gay (it's estimated that half of all retirees here are LGBTQ), but the entire governing council are made up of queer people. Umm, can we live here forever, please?
While Palm Springs may be particularly popular for young travelers due to its proximity to the Coachella Festival, it's really the gay's turf. There are a high number of gay-owned businesses, from clubs to bars, restaurants to shops, and of course, clothing-optional gay resorts.
With all that in mind, we've put together our list of the best gay resorts Palm Springs has to offer.
🏳️‍🌈 OUR GAY RESORT PICKS IN PALM SPRINGS 🏳️‍🌈
01
Twin Palms Resort • Clothing optional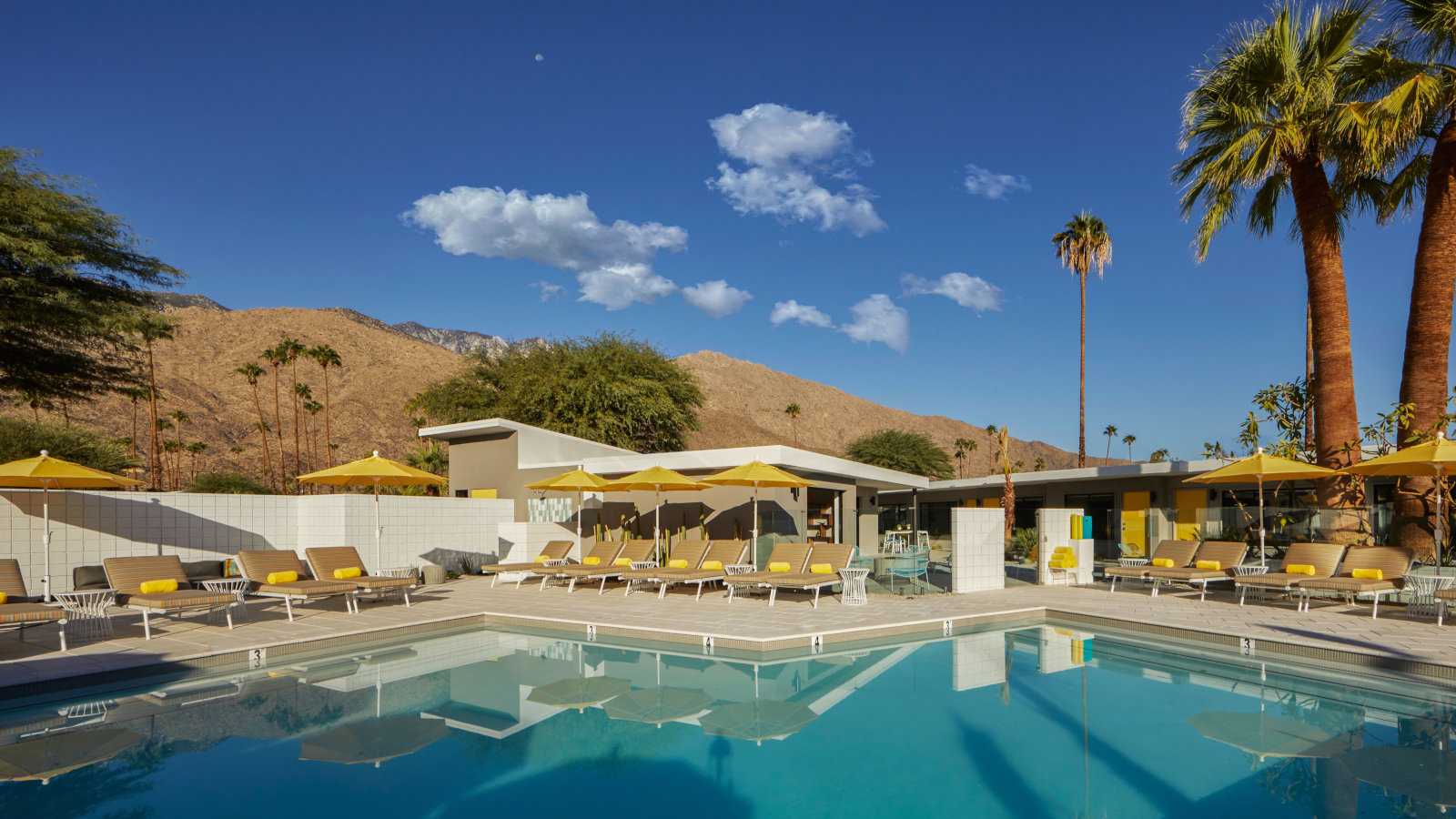 In a nutshell
---
One of the newest and most modern gay resorts in Palm Springs
Many free amenities including complimentary breakfast and lunch
Communal pool, lounge, spa and fire pit
Luxurious rooms with walk-in rain showers and bathtubs
Twin Palms Resort is possibly the newest babe on the Palm Springs gay resort scene, a fabulous spot by the same team who created the Santiago Resort.
Not only is this resort a gorgeous haven for gay men to have fun but they offer SO MANY cool free amenities for guests! From free bikes to free parking as well as complimentary breakfast AND lunch, you will feel well and truly pampered here.
The large pool with its chic yellow sunbeds and umbrellas is the ideal spot for relaxing during the day, as you work on your tan and splash about with all your new friends. Located in a fully renovated mid-century modern property, the rooms at Twin Palms are bright and airy, with fresh decor in their signature blue and yellow.
Along with the swimming pool, there's a big 12-man spa to relax in, as well as a communal fire pit. Everything here is conducive to socialising with the other guests, although your room will also be a calming retreat if you need a break – with king-size beds and comfy linens as well as marble bathrooms with walk-in rain showers.
On top of everything else, the views of the surrounding mountains are to die for and the staff are just so attentive and friendly!
Prices at Twin Palms Resort start from $271 per night:
---
02
Santiago Resort • Clothing optional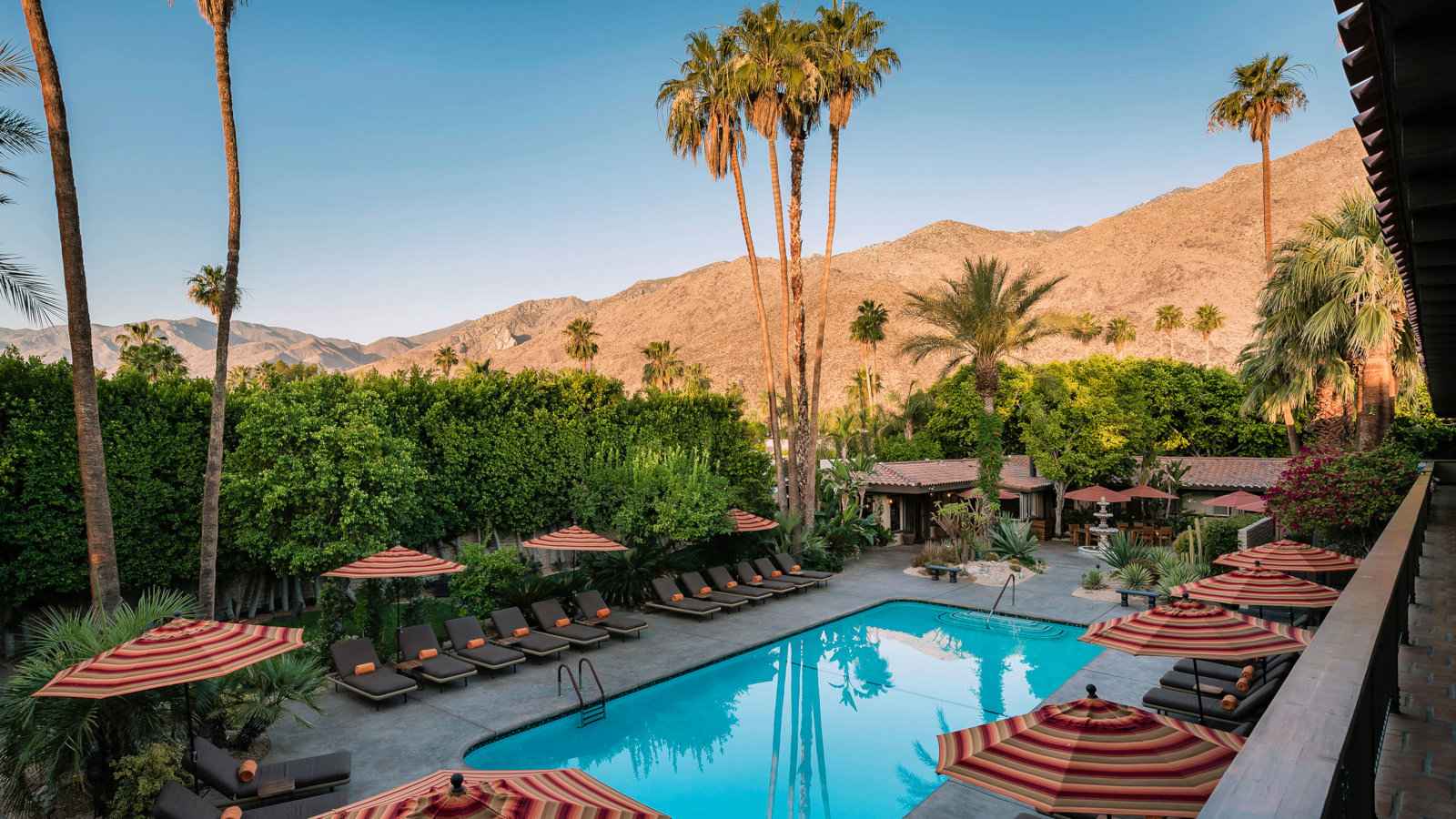 In a nutshell
---
Luxurious gay men's resort
Clothing-optional
Outdoor showers, firepit and spa
Massive heated swimming pool
The Santiago Resort is a gay paradise within a paradise.
It is where luxury meets liberty, and there isn't a speck of this gay clothing optional resort that isn't touched by extravagance. With its gorgeous arid colors, tropical furniture, and nature-infused décor, you'll feel inspired to take full advantage of the clothing-optional policy and soak up the carefree and primal atmosphere.
The gay resort features an outdoor spa, an outdoor two-man shower, two-man rope hammocks, and astonishing mountain views. The expansive swimming pool area is where most of the guests hang out during the day and get to know one another.
There are four types of rooms to choose from, including a deluxe suite that contains a private patio.
Hosts Kent and Bill lead an incredible team that is proficient in tailoring an experience that is unique to each guest. Whether you want to be fully pampered and treated like the queen that you are or you are looking for some alone time to recharge those batteries, the staff will do whatever it takes to make your stay fabulous.
Prices at Santiago Resort start from $159 per night:
---
STAY WITH A GAY LOCAL
Misterb&b is the Airbnb equivalent for the LGBTQ community. Unlike on Airbnb, you know your host is gay, voiding any nasty surprises when you check-in. It is also a great way to meet gay locals and discover the underground gay scene. Click below to get 10 € (or $10) off our first booking.
03
The Hacienda at Warm Sands • Clothing optional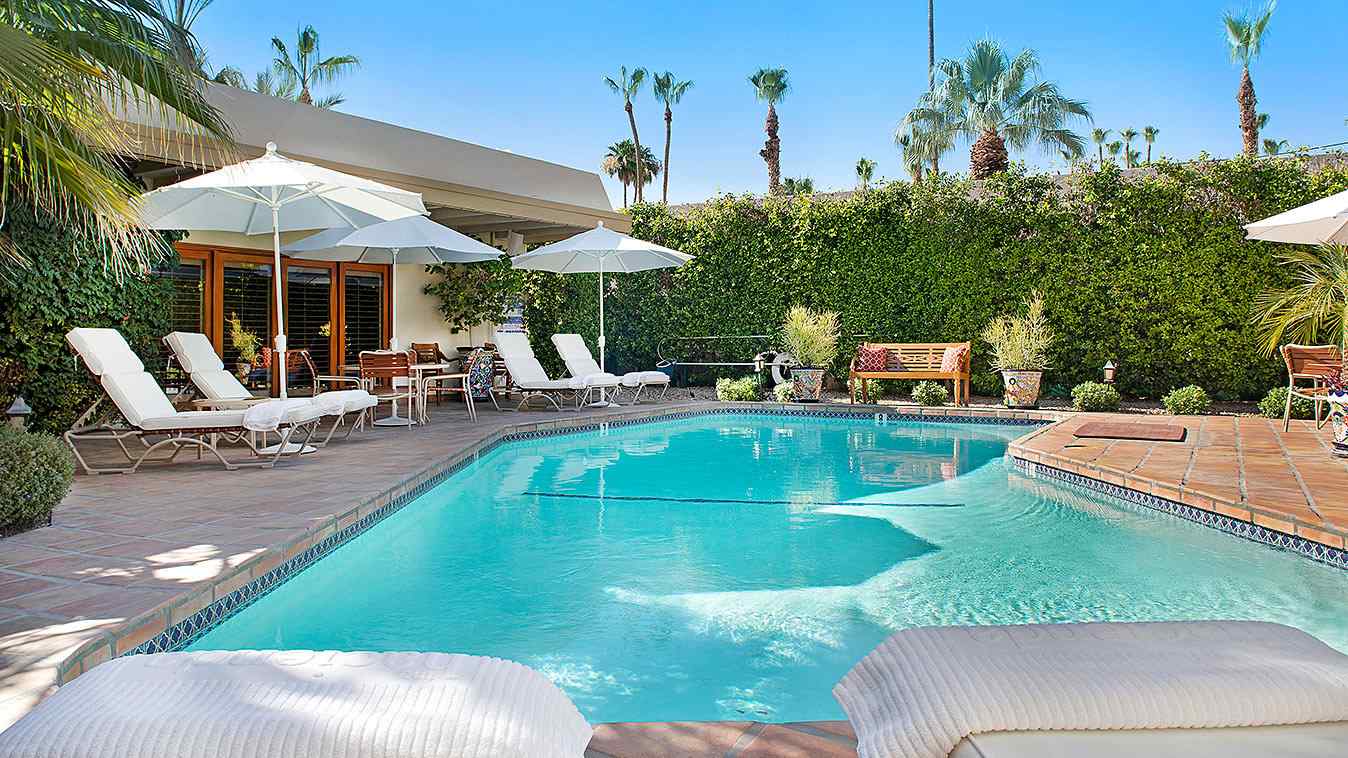 In a nutshell
---
Clothing-optional gay men's resort
1:1 staff to guest ratio
Small amount of guests for a quiet getaway
Incredible mountain scenery
Tiny, cozy, and intimate. Not what you'd expect for a high-end gay resort in the heart of the LGBTQ mecca that is Palm Springs.
And yet, Hacienda makes up for its demure size with its massive personality, fabulous amenities, and incredible location. Shrouded in lush foliage and encased by the San Jacinto Mountains, this men-only resort is a tucked-away piece of bliss.
There are two clothing-optional swimming pool areas and a jetted in-ground spa, perfect for unwinding and living it up au naturel.
The 1:1 staff to guest ratio helps make the experience that much more special. The team is there to ensure every one of your needs is met and you are pampered for the gawds.
There are only 9 suites available so bookings should be made well in advance. To really spoil yourself, go for the Deluxe Suite, which offers panoramic views of the mountains, as well as easy access to the pool area.
The gay resort is close to a wide selection of restaurants, clubs, bars, and museums. So even though it may feel as if you are hidden from the world, you are only a 4-minute Uber ride away from all the fabulously gay action.
Prices at The Hacienda at Warm Sands start from $239 per night:
---
04
Vista Grande Resort • Clothing optional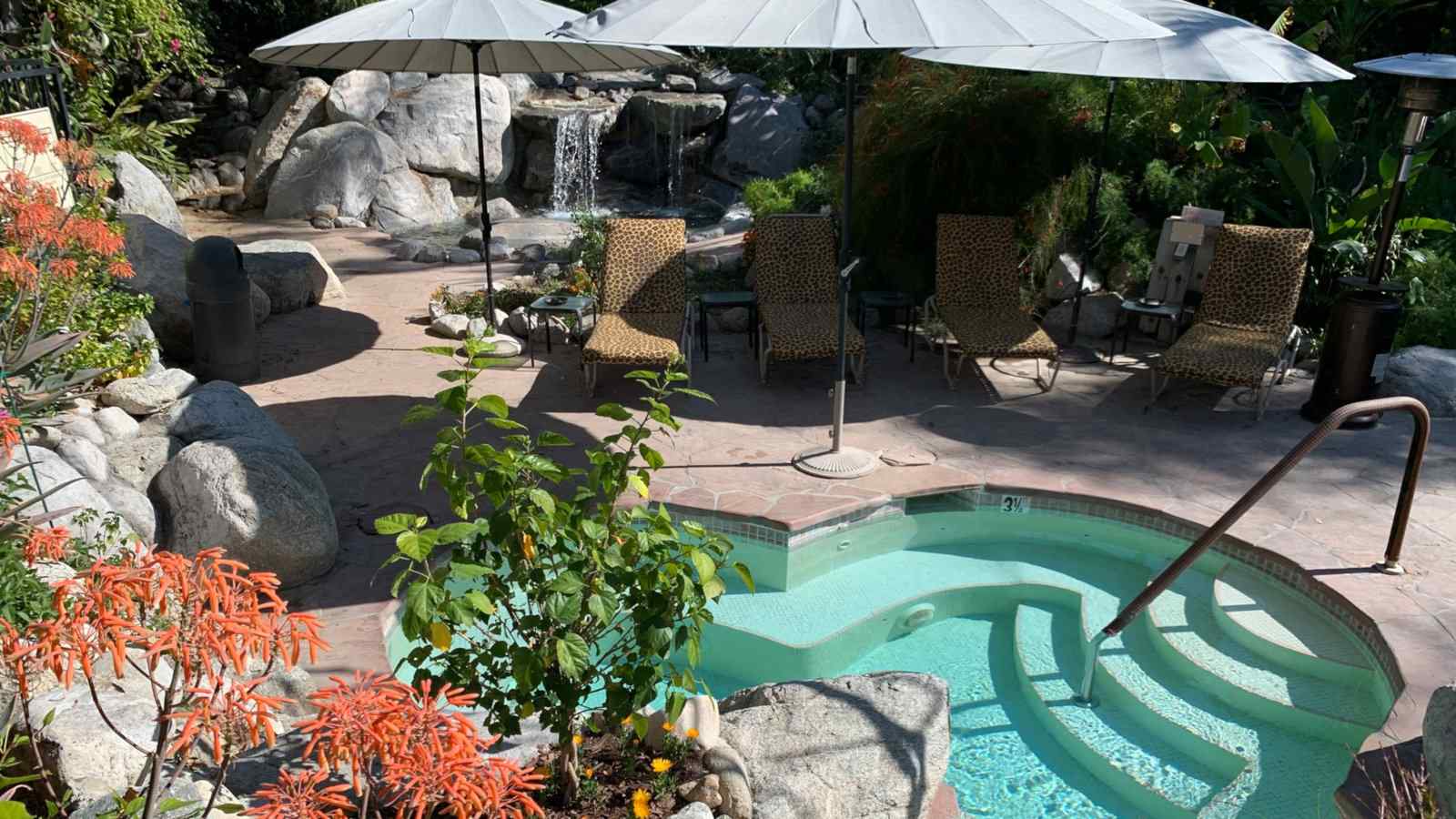 In a nutshell
---
Clothing-optional gay men's resort
Centered in the Warm Sands district
2 swimming pools and a 16-person spa
Lush and relaxing gardens
In this Garden of Eden, it's all about Adam and Steve. Eve who?
Lush gardens, plunging waterfalls cascading into whirlpools, steam rooms, and hot tubs, Vista Grande is undoubtedly a little slice of gay Heaven on earth.
Situated in the center of the Warm Sands district, a gay traveler's hotspot, you'll be close to tons of gay clubs, bars, shops, and restaurants to visit. A 4-minute Uber drive to be exact.
Or if you'd rather stay around the gay resort, you can choose between chilling in one of two heated swimming pools. Or perhaps sunbathe under the cool micro-fine water misters on the padded lounge chairs. They even let you splash around in the waterfall, hang out in the lagoon, or take a snooze on the rocks.
The spa can allow for up to 16 people at a time, where you can comfortably enjoy the hot tub bubbles whilst chatting with fellow guests. Or visit the steam room in all of its Italian penny tile glory.
Prices at Vista Grande Hotel start from $163 per night:
---
05
INNdulge • Clothing optional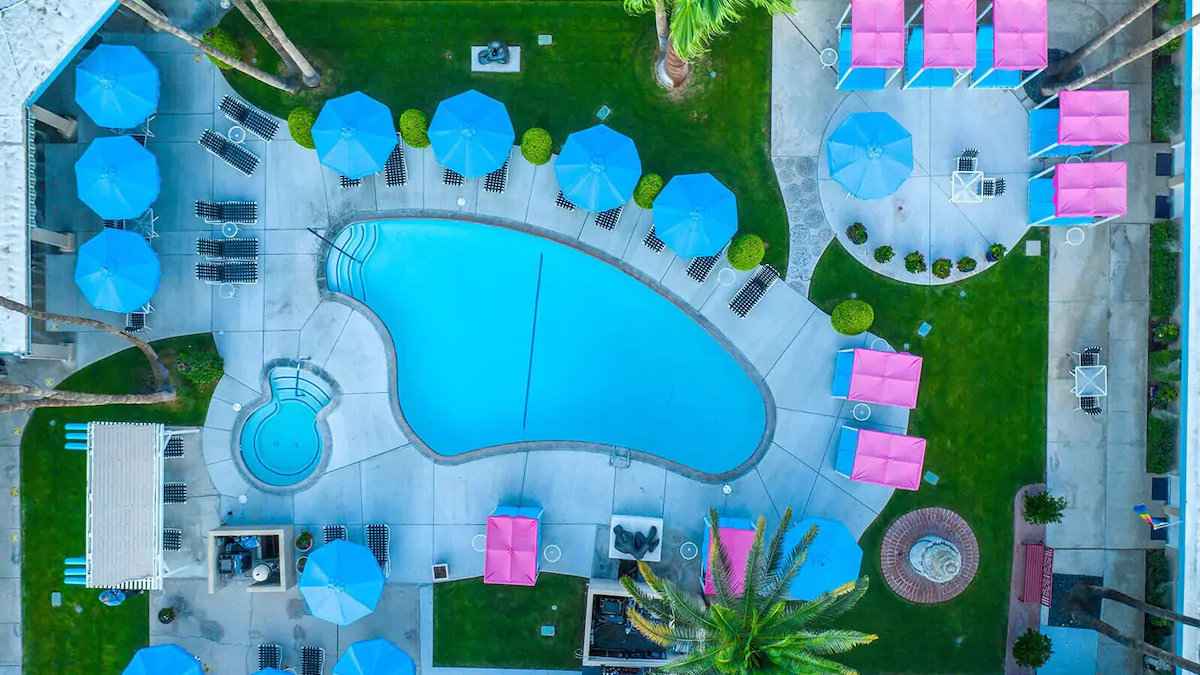 In a nutshell
---
Clothing-optional gay men's resort
Sociable atmosphere with pizza nights
Swimming pool and 12-man hot jacuzzi
Close to tons of gay bars/clubs
Be pampered. Get spoiled. Indulge at INNdulge!
Not only is it one of the most popular gay clothing optional resorts in Palm Springs, but it's one of the top-rated resorts in all of California. Located in the Greater Palm Springs area, the resort is a 5-minute drive away from tons of restaurants, gay clubs and bars, and various other must-see sites.
There is a great emphasis on socializing amongst guests, with Thursday pizza nights and weekend gay pool parties. And if that weren't enough, there is also a 12-man hot jacuzzi. So, you're guaranteed to make some new friends. Oh, and a clothing-optional policy throughout the resort. What could be better?
The staff at INNdulge are lovely and really take the time to get to know their guests. They're always happy to get whatever it is you may need or suggest a fun day out in the Palm Springs area.
Rooms are comfortable, spacious, and modern. Decorated with the most beautiful white and ocean blue furniture, just walking into your room at the end of each day will feel like the ultimate cleanse. Oh, there is also suggestive artwork hanging on the walls… It's all about balance, right?
Prices at INNdulge start from $221 per night:
---
06
Desert Paradise Resort • Clothing optional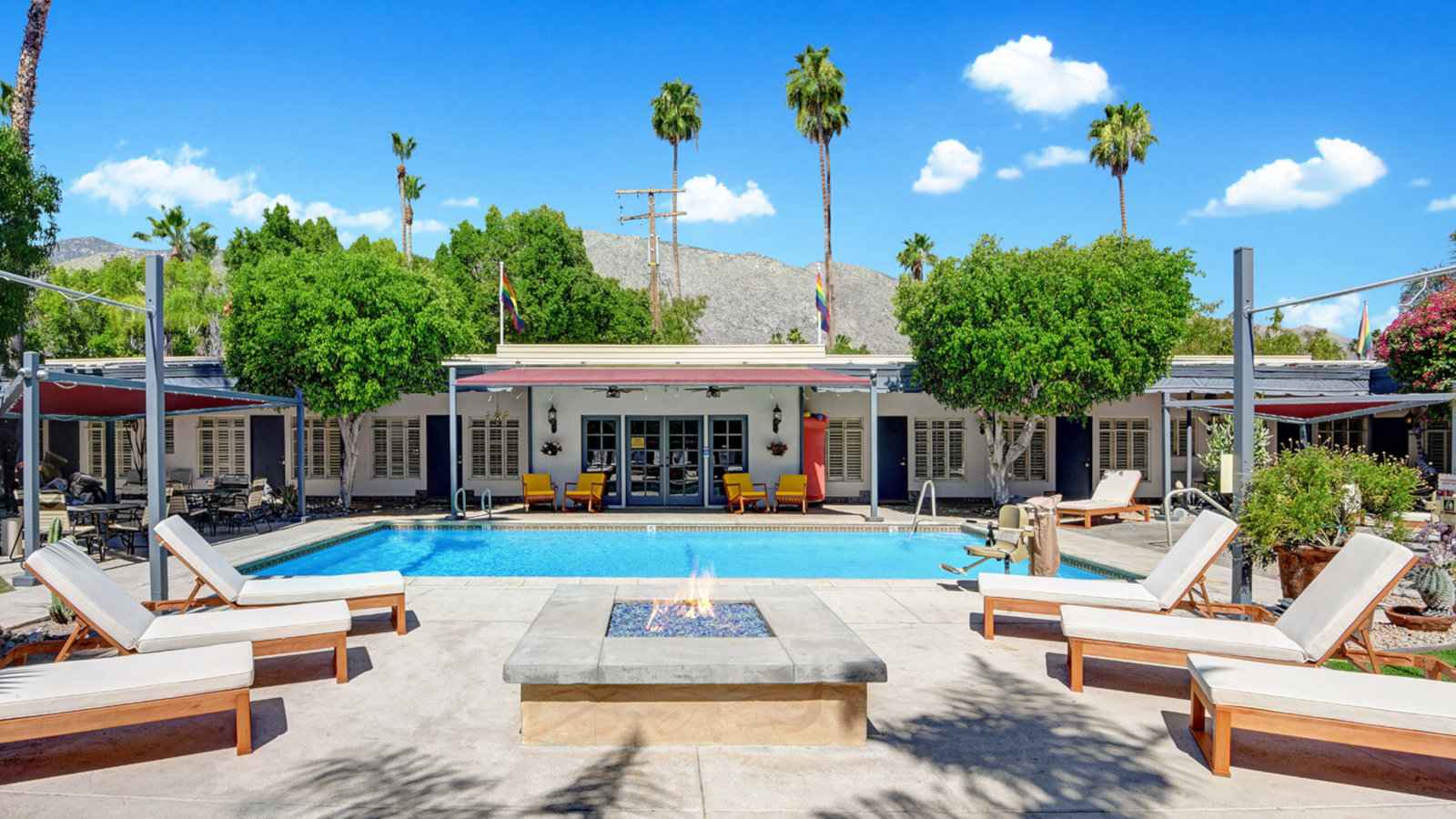 In a nutshell
---
Clothing-optional gay men's resort
Massive swimming pool, heated hot tub and outdoor showers
A tropical atmosphere perfect for unwinding in
Mountainous views
For those who crave a lost-in-the-desert fantasy, this gay resort is the perfect getaway. It is like an oasis that exists within the bustling cosmopolitan of Palm Springs. Though when you feel up to exploring the city, it's just a short drive (or a 20-minute walk) to the thriving Palm Spring Canyon Drive where there are lots of clubs, bars, and attractions to visit.
Tropical gardens, cacti plants surrounding a saltwater pool, and wooden sculptures galore, the clothing optional resort pulls out all the stops in creating an arid-like environment for guests to relax in. There are also outdoor garden showers that will help unleash the naturist that lives inside you.
The rooms are decorated with either wooden or rock interior paneling, which only intensifies the natural ambiance.
Manager Charles is the sweetest man ever, going to extraordinary lengths to make everyone's stay special. Whether it's fulfilling a request or just having a friendly chit-chat about your day, he is truly the heart of this gay resort.
Prices at Desert Paradise Resort start from $169 per night:
---
What to do in Palm Springs?
Palm Springs is mostly about relaxing by the pool and partying, but there are other fun things to do if you can drag yourself away. For some excitement, you can join interesting tours, go hiking or more!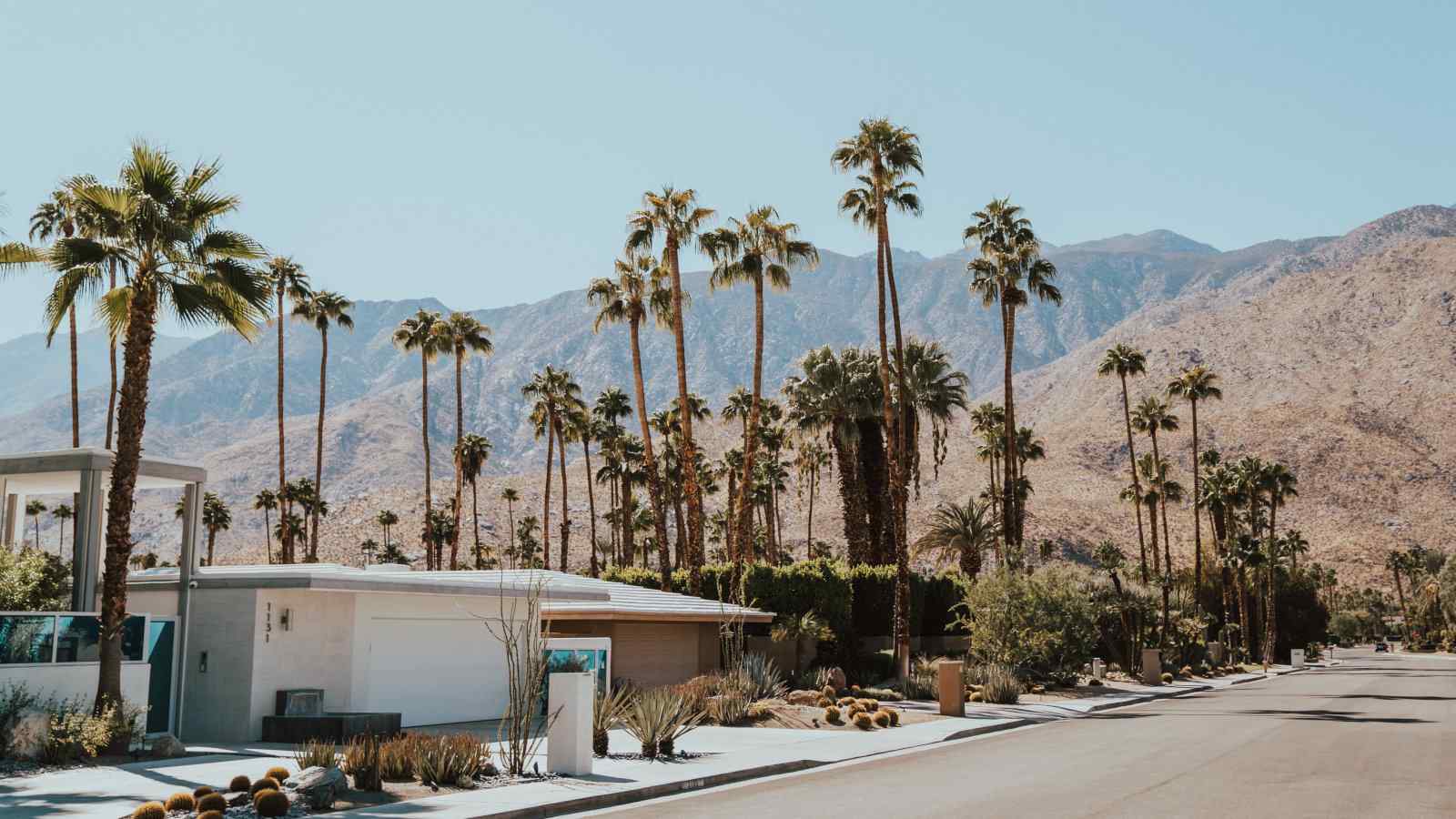 07
El Mirasol Villas • Clothing optional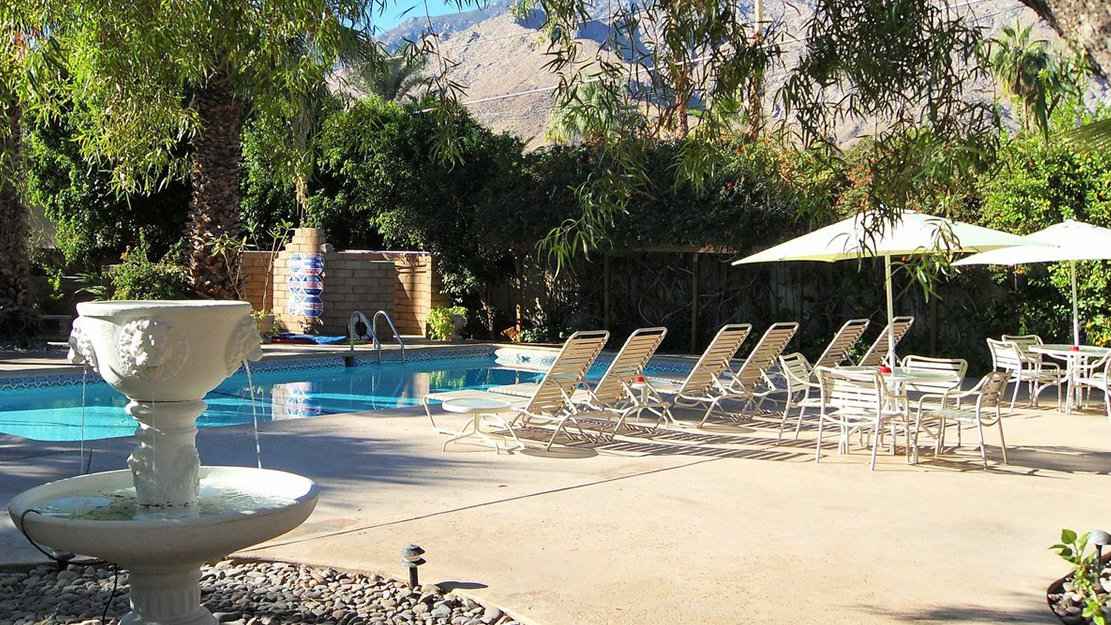 In a nutshell
---
Clothing-optional gay men's resort
Rustic décor and soothing atmosphere
Swimming pool and eucalyptus steam room
Close to a bustling district with bars and clubs
You gotta respect the OG! El Mirasol was the very first gay men's resort in Warm Sands – operating exclusively as a gay resort since 1975, although it was originally built by Howard Hughes in the 40s!
Today, it is run by a fabulous team, headed up by resort hosts Paul and Bruce. The entire staff is beyond welcoming and really knows how to make every guest feel cared for.
Each room exudes a rustic, cabin-in-the-woods aesthetic with wood-framed furniture and warm colors. The bungalow super deluxe studio is a real treat, with a private poolside patio, full-sized kitchen, and exquisite mountain views. Each morning, you'll also enjoy a complimentary continental breakfast to kickstart your day of, well, total relaxation.
The resort features the likes of citrus trees, fountains, and botanical gardens dotted throughout the compound. Hangout areas like the clothing-optional swimming pools, jacuzzi, and eucalyptus steam room are great for getting to know your fellow guests. As the resort is within walking distance to tons of bars and clubs, we highly encourage making some friends in the day and hitting up the town by night.
Prices at El Mirasol Villas start from $119 per night:
---
08
Triangle Inn • Clothing optional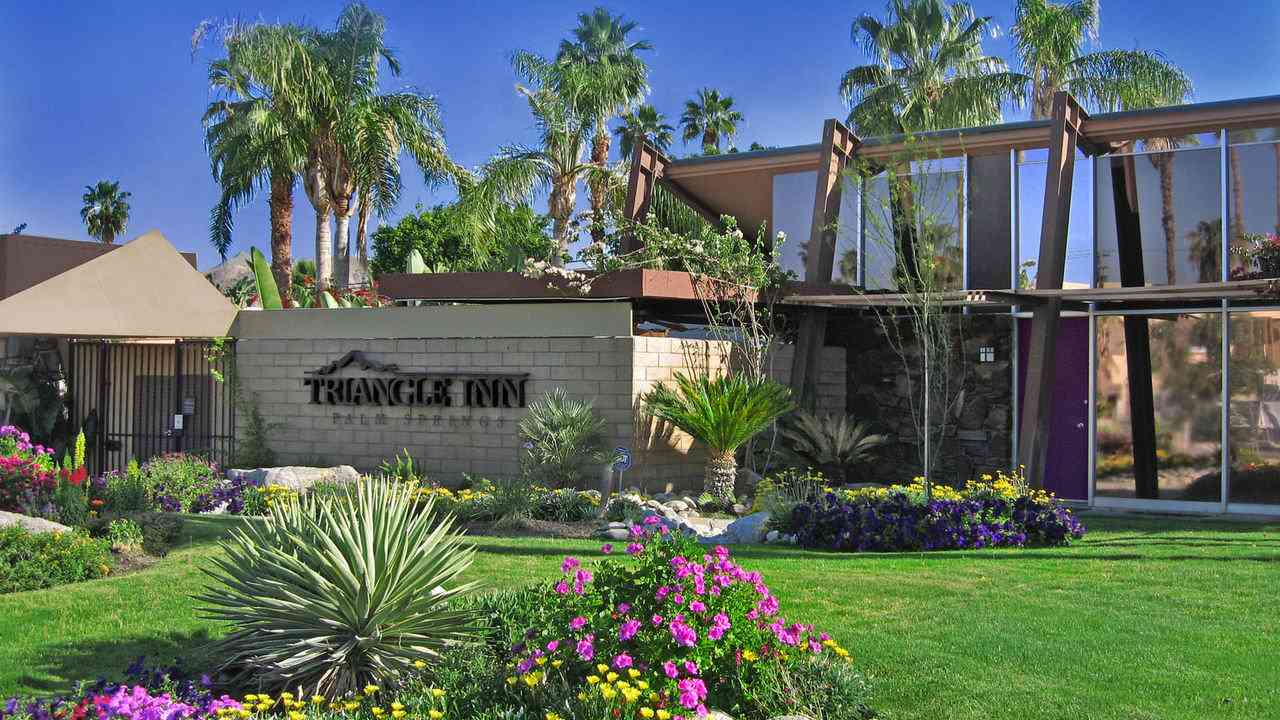 In a nutshell
---
Clothing-optional gay men's resort
Lush gardens
Walled compound for complete privacy
Fabulous pool and hot tub
Award-winning? Check! Historic? Check? Clothing optional? Check check! The Triangle Inn definitely checks all the boxes when it comes to a perfect gay holiday in Palm Springs.
Hosts Stephen and Michael do an incredible job at making sure every guest feels welcome and attended to. They go above the mark in ensuring their gay resort maintains its cool charm and happy atmosphere.
Picture it: lush tropical gardens, a sparkling swimming pool, soothing jacuzzi, outdoor misting system, large sundecks, and spectacular mountain views – all within a private walled compound so you can feel free to let it all hang out.
You can stay in one of just eight suites, so it never gets too crowded here. These suites are clean, cosy and tastefully decorated. They all come with a kitchen or kitchenette, although breakfast is served poolside each day, so you won't need to worry about that! There are also afternoon mixers so you can socialise with your fellow guests.
The Triangle Inn is located just one block away from the famous Palm Canyon Drive, so you can easily hit up all the gay bars and clubs each evening.
Prices at Triangle Inn start from $145 per night:
---
Happy travels are safe travels
We recommend you always take out reputable travel insurance before your next vacation. What happens if you suffer from illness, injury, theft, or a cancellation? Many gay travelers forget about it and regret it when something happens. Better to pay a small price and have peace of mind and not worry.
---