While visiting Laos in March 2015, we discovered that we would need a visa for our future travels in Vietnam as we would be staying there more than 15 days.
As of July 2015, the Vietnamese government announced that visitors from UK, Germany, France, Italy and Spain will be exempt from a visa on arrival if their stay is up to 15 days.
As this did not apply to us, we had to get our visas in Luang Prabang (North Laos), where apparently it's one of the cheapest places to get your Vietnamese visa compared to other places in Southeast Asia like Bangkok or Vientiane.
If you would like to avoid the hassle of applying for the visa yourself, you can do it online by using the services of an agent such as www.visa-vietnam.com, which will take care of the whole application for you.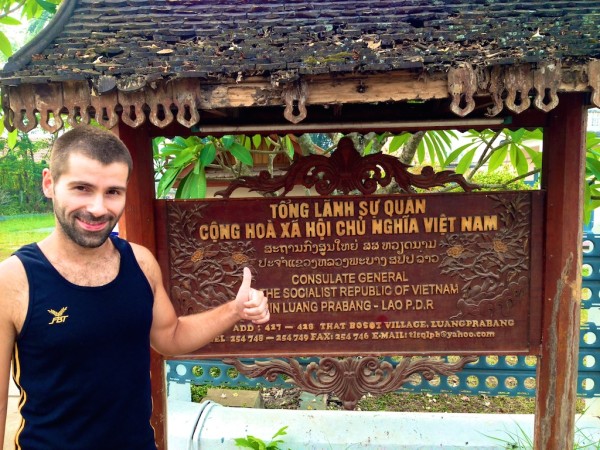 Where is the Vietnamese Embassy in Luang Prabang?
The Embassy is located at: 417-418 That Boset Village, Luang Prabang, which is around 15-20 minutes walk from the night market in the centre:
Vietnam visa in Luang Prabang: first visit to the Embassy
This was the easiest visa application we have done to date. The only thing we needed was a photo (obviously money and passport as well!).
At the Embassy, we completed the very simple application form, paid the $60 dollar fee each handed our passport and photo and given a receipt to return in 3 working days. You can pay more to get it sooner, but we had a whole week in Luang Prabang.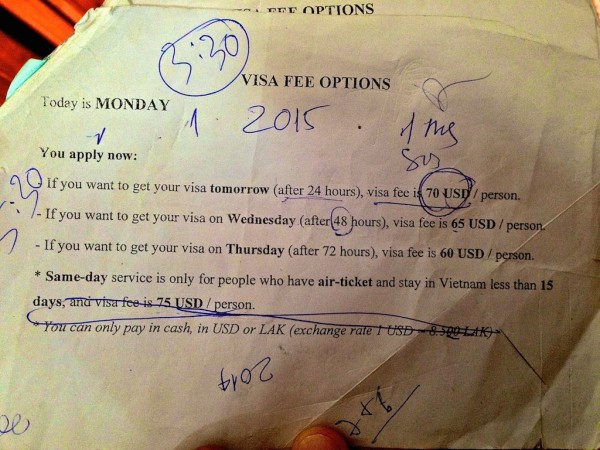 The opening hours of The Embassy are 8-11:30am and 1:30-5pm Monday to Friday. We went at 8am on a Monday morning expecting to queue for ages as we had done for our visa for Myanmar in Bangkok and our visa for India in Kathmandu.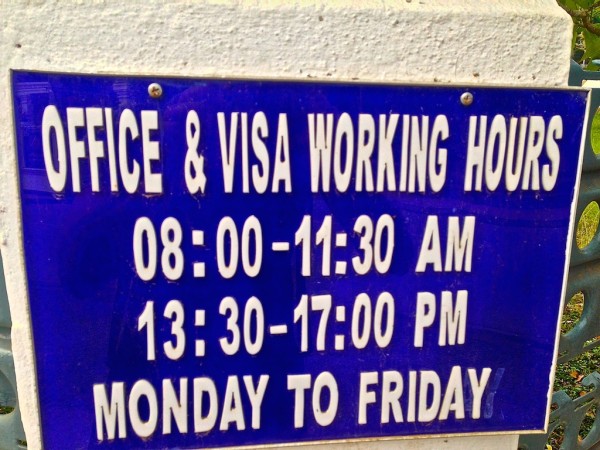 In fact the Vietnamese Embassy in Luang Prabang was not busy at all. We were in and out in 30 minutes.
Vietnam visa in Luang Prabang: second visit to the Embassy
Our second visit was in the afternoon to collect our passports. This was very simple. No queue, no fuss and very quick.
Taking our selfie took longer then picking up the visa.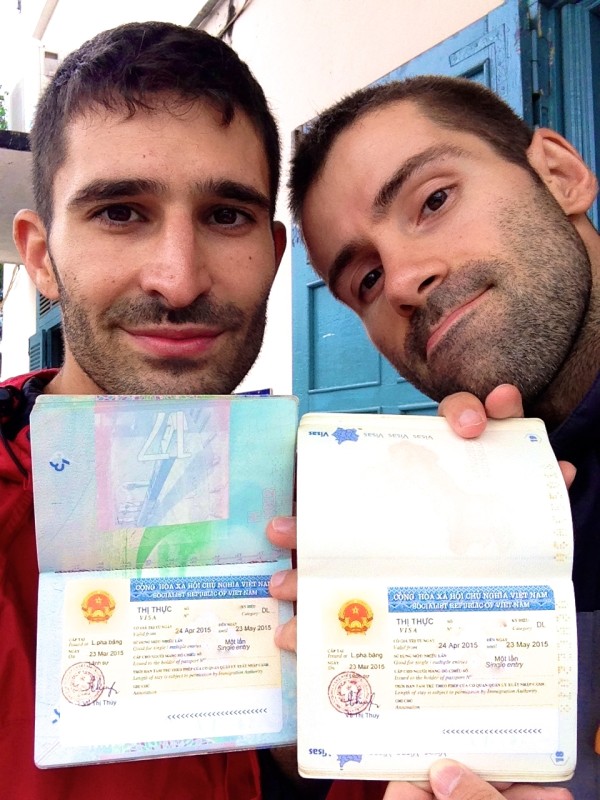 For more inspiration, check out our Vietnam video as we travelled from Saigon in the south all the way to Hanoi in the north:
OUR FAVOURITE TRAVEL TIPS
⭐️ TRAVEL INSURANCE — We recommend you always take out travel insurance before your next vacation. What happens if you suffer from illness, injury, theft or a cancellation? With travel insurance, you can have peace of mind and not worry. We love World Nomads travel insurance and have been using it for years. Their comprehensive coverage is second to none and their online claims process is very user friendly.
⭐️ SAFETY & SECURITY — All travelers can sometimes encounter danger when traveling. CloseCircle is your "virtual body guard" mobile app which provides security alerts and support wherever you are in the world. They have a 24/7 emergency response team monitoring their users who will contact you immediately if the SOS swipe button is activated. Support can include anything from practical advice, to free evacuation from areas with extreme weather or security risks. You can read more about CloseCircle in our article about how to stay safe whilst traveling.
⭐️ ONLINE ANONYMITY — A VPN (Virtual Private Network) is a must in many countries: it allows you to surf anonymously and maintain your privacy whilst traveling. You'll particularly need it in countries where dating apps are blocked by the government. We recommend ExpressVPN, a reliable and cost effective service which we used and loved during our travels.
⭐️ HOTELS or APARTMENTS — When we plan a trip, we always look for the best hotel deals. We love Booking.com because not only do they have a comprehensive listing of accommodation options, they also offer the best prices. Added bonus: they provide 24/7 support and free cancellation for most listings.
⭐️ SIGHTSEEING and ADVENTURES — When we travel somewhere, we like to seek out the best experiences, whether it is cooking with locals in Bangkok, hiking on a glacier in Patagonia, or going on a wildlife safari in Sri Lanka. Our favorite place to look is GetYourGuide because they have over 30,000 highly rated activities, a user-friendly booking process with free cancellation and a 24 hour customer support.
This article contains affiliate links. If you click on them, we may receive compensation which keeps our website alive and helps us bring you to more destinations.