How to get a Vietnam visa in Luang Prabang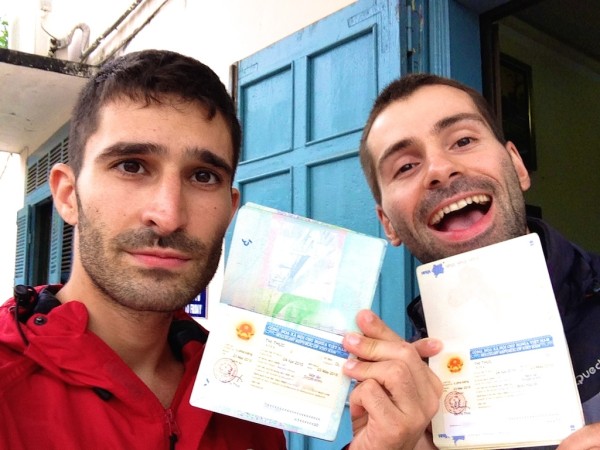 While visiting Laos in March 2015, we discovered that we would need a visa for our future travels in Vietnam as we would be staying there more than 15 days.
As of July 2015, the Vietnamese government announced that visitors from UK, Germany, France, Italy and Spain will be exempt from a visa on arrival if their stay is up to 15 days.
As this did not apply to us, we had to get our visas in Luang Prabang (North Laos), where apparently it's one of the cheapest places to get your Vietnamese visa compared to other places in Southeast Asia like Bangkok or Vientiane.
If you would like to avoid the hassle of applying for the visa yourself, you can do it online by using the services of an agent such as www.visa-vietnam.com, which will take care of the whole application for you.
Where is the Vietnamese Embassy in Luang Prabang?
The Embassy is located at: 417-418 That Boset Village, Luang Prabang, which is around 15-20 minutes walk from the night market in the centre:
Vietnam visa in Luang Prabang: first visit to the Embassy
This was the easiest visa application we have done to date. The only thing we needed was a photo (obviously money and passport as well!).
At the Embassy, we completed the very simple application form, paid the $60 dollar fee each handed our passport and photo and given a receipt to return in 3 working days. You can pay more to get it sooner, but we had a whole week in Luang Prabang.
The opening hours of The Embassy are 8-11:30am and 1:30-5pm Monday to Friday. We went at 8am on a Monday morning expecting to queue for ages as we had done for our visa for Myanmar in Bangkok and our visa for India in Kathmandu.
In fact the Vietnamese Embassy in Luang Prabang was not busy at all. We were in and out in 30 minutes.
Vietnam visa in Luang Prabang: second visit to the Embassy
Our second visit was in the afternoon to collect our passports. This was very simple. No queue, no fuss and very quick.
Taking our selfie took longer then picking up the visa.
Travel recommendations to Vietnam
Flying in Vietnam: Airfares in Vietnam can be very cheap if you do your research and book in advance. For example, flights from Ho CHi Minh to Hanoi come as low as $30 (£25) one-way. We recommend using Skyscanner to find the best prices for any given month.
Visa in Vietnam: Depending on your nationality and the number of days you plan to stay in the country, entry requirements may be different. We recommend using the services of a reputable agency such as www.vietnam-visa.com to obtain your visa.
Travel insurance: Whether you go diving, hiking or just lay on the beach all day long, you need travel insurance. We use World Nomads because they offer considerable coverage especially for adventurous travellers. They also make it easy to make a claim as it's all done online.
Hotels: Vietnam has a huge diversity of accommodation options. We recommend Tripadvisor to research about the best places to stay and activities to do. Use Booking.com to find the best deals and book your accommodation online.
Tour operator: We travelled independently to Vietnam but we're often asked if we can recommend a good tour company. We've partnered up with Ocean Travel, a gay friendly tour company who offer luxury private tours and tailored itineraries to Vietnam. They also offer gay tours to Saigon. We have negociated for our readers an exclusive 5% discount for bookings of 7 days or more when you quote NOMADIC5 in your enquiry.
Fill out this form to enjoy your 5% discount to your holiday to Vietnam
For more inspiration, check out our Vietnam video as we travelled from Saigon in the south all the way to Hanoi in the north: